As one of the many crypto trading platforms available in the market today, Bitcoin Empire advertises itself as one that "is making people rich". It claims to allow users to earn huge returns through Bitcoin trading and that "members of the group imperceptibly become owners of huge fortunes". While these are rather tall claims, we will examine the platform's website and break down its features in this review of Bitcoin Empire.
Bitcoin Empire Summary
Here is a quick rundown of some of the main features that you should know about Bitcoin Empire. We suggest you examine these carefully yourself to determine whether they align with your interests.
| | |
| --- | --- |
| Type of Platform | Advanced cryptocurrency trading |
| Minimum Deposit | $250 |
| Claimed Success Rate | Not Specified |
| Supported Cryptocurrencies | Bitcoin, Litecoin, Ethereum, and their trading pairs |
| Mobile App | Web-based Bitcoin Empire app for browsers |
| Withdrawal or Deposit Fees | None |
| Customer Service | Claims to offer 24/7 support |
Cryptocurrencies are unregulated. Trading with unregulated brokers will not qualify for investor protection.
What is Bitcoin Empire?
Bitcoin Empire is self-promoted as an innovative cryptocurrency platform that states some of its users can get rich with crypto, according to its website. It claims to provide all the tools and resources that traders require in their day-to-day life for making the most out of crypto trading. However, all these features and claims can be accessed only once you have registered on the platform and made a minimum deposit of $250.
According to the Bitcoin Empire website, its users feel protected and confident while trading, knowing that their sensitive information is safe. Following a quick registration process, the platform advertises that it offers the most efficient tools for trading the leading cryptocurrency, Bitcoin, and "other" cryptocurrencies, though it does not specify which ones.

The user can apparently use the platform to establish specific trading parameters in line with their preferences. Based on these parameters, the account manager then searches for transactions that satisfy the client's requirements and provides trading solutions.
The Bitcoin Empire also has a web-based mobile app, according to the website, though we could not find any more information on it. This Bitcoin Empire app can reportedly be used anywhere, on any device with a stable internet connection. The platform does not charge any kind of fees, commission, or transaction charges, according to the website.
Who Created Bitcoin Empire?
The Bitcoin Empire website does not mention anything about its creators, and it isn't clear if the platform was started by an individual or a group. There is no information about their background and expertise either, or why they created the platform.
Even though platforms for trading cryptocurrencies sometimes have anonymous creators, users of such platforms must weigh the dangers before making a choice. It always helps to know exactly who a platform's creators are, what they believe in, and how they plan on developing the platform ahead.
Bitcoin Empire Pros and Cons
Most of the claims and services that Bitcoin Empire enlists on its website are comparable to similar advanced crypto trading platforms doing the rounds today. However, some clear drawbacks could tempt traders to choose an alternative platform.
For your convenience, we have summarized Bitcoin Empire's pros and cons in the following section for a quick understanding.
Pros
Claims to work on any kind of device (computers, smartphones, tablets, etc.) with a stable internet connection.
Claims to provide up-to-date market data and trading processes for users irrespective of location.
Claims to provide 24/7 customer support through the website.
Claims to support Bitcoin trading along with other cryptocurrencies.
Claims to be suitable for all types of traders, whether beginner or experienced.
Claims to offer an intuitive, easy-to-use interface that allows traders to learn skills, monitor the market, and execute trades faster.
Cons
The platform's success rate is not disclosed on the website.
The claim that platform users make at least $1,100 a day is not verified or reviewed.
No historical data about the platform's performance is available on the website or other forums.
The minimum deposit of $250 for traders to open an account on the platform is quite high.
There is no information available regarding the platform's creators.
Other than Bitcoin, there is no information on the number or type of other cryptocurrencies supported on the platform.
There is no mention of a demo trading account option on the website.
How Does Bitcoin Empire Work?
Like other crypto trading websites that specialize in the same niche, Bitcoin Empire claims to streamline the complicated cryptocurrency trading landscape for users with its "cutting-edge" features.
Due to the erratic nature of the crypto market, traders are forced to spend hours monitoring the markets to minimize their losses. Bitcoin Empire claims to provide an impressive solution to this problem, helping users choose profitable trades while saving time and effort.
According to its website, Bitcoin Empire helps increase trading accuracy and profitability for its users. Its built-in tools help traders explore the market for the best opportunities before executing trades on their behalf. It also provides charts and signals that let traders study altering price trends.
The trading program claims to represent you and carry out transactions on your behalf, even if you are not present in person to supervise the trades. Traders can access the latest crypto developments and see how they might affect the market, according to claims.
According to the platform, both newbies and veterans in crypto trading can use Bitcoin Empire to upgrade their skills, learn in-depth about the market, and make better trading decisions for the biggest profits. However, there is no information provided on the Bitcoin Empire website regarding the prospective success rates of these claims.
Which Devices Can be Used to Access Bitcoin Empire?
We discovered that you could use all standard devices to access the Bitcoin Empire website. Regardless of whether you are using a desktop computer, laptop, smartphone, Android device, or iOS device, you will be able to access all the website content and options.
Bitcoin Empire Supported Countries
The "Terms of Use" page on the Bitcoin Empire website claims that it is a global website and hence can be accessed from any country worldwide. However, it also specifies: "Although the Website may be accessible worldwide, not all functions or Services offered on the Website are suitable or available for use in all countries. The Operator reserves the right to limit, at its discretion, the provision and quantity of any function or Service to any person or geographical region."
We assume that since there are no KYC requirements on the website, anyone anywhere may be able to use the sign-up process to access the platform. Access to the website was free for our review group.
Bitcoin Empire Key Features
According to the Bitcoin Empire website, it is a cutting-edge cryptocurrency trading platform with industry-leading features. In the following section, we have detailed the list of features that the platform claims to have.
Our investigation shows that there is no fee to start trading on the site. The official website also claims that there are no deposit, withdrawal, or transaction fees. Unlike other cryptocurrency trading platforms, Bitcoin Empire does not charge any brokerage fees, commissions, or hidden fees. It claims that users will always have full control over their funds, which can be withdrawn at any time.
Accurate Trades
Bitcoin Empire's website claims that its cutting-edge software application carries out trading operations on behalf of users with great precision and accuracy. In doing so, the platform claims, it ensures that users do not miss out on potentially profitable opportunities at any time of the day.
Instant Transactions
Users of Bitcoin Empire have immediate access to deposits into and withdrawals from their trading accounts, as per the website. The cutting-edge technology deployed by the platform can enable trades in 0.01 seconds, according to claims. The platform also claims to be the most consistent trading app on the market.
Cryptocurrencies are unregulated. Trading with unregulated brokers will not qualify for investor protection.
Is Bitcoin Empire a Scam?
The claims made by Bitcoin Empire on its website that it ensures advanced crypto trading insights, updates, and accurate signals for traders of all levels of experience are still unsubstantiated. The performance of the platform and even independent reviews of these functionalities are scant.
Also, while the platform has a table of "live profit results", there is no way to verify if the claims, figures, or traders are real. The website claims on its home page that group members sustain a high ROI from using the Bitcoin Empire app, but lacks detail. There is also no information available on the platform's founders, current team, or future roadmap for their product.


Some of the marketing claims on the site have now been adjusted or removed, giving it a more professional experience.
The lack of information and authenticity of claims make it difficult to say if Bitcoin Empire is a scam or genuine. We would advise all traders to exercise caution if they are not satisfied with the platform's lack of details on its team, success rate, and results.
See our other reviews of online trading platforms in the 'robot' sector for some Bitcoin Empire alternatives.
What is the Minimum Deposit on Bitcoin Empire?
To begin trading on Bitcoin Empire, a $250 minimum deposit is required. Only after making this deposit may users access features like customer support and trading insights.
Bitcoin Empire Customer Support
The Bitcoin Empire website claims to offer 24/7 customer support for users who need support in navigating the platform or find themselves stuck anywhere. However, we were unable to confirm these claims or the effectiveness and speed of the customer service.
How to Use Bitcoin Empire?
Once you have gone through the platform's features in detail, here is a brief overview of how to start using the platform.
Step 1: Create a Bitcoin Empire Account
Visit the Bitcoin Empire website – which appears to have changed layout – enter your name, email address, and phone number. Immediately after registration, the website claims, all new members of the group receive software for trading digital assets.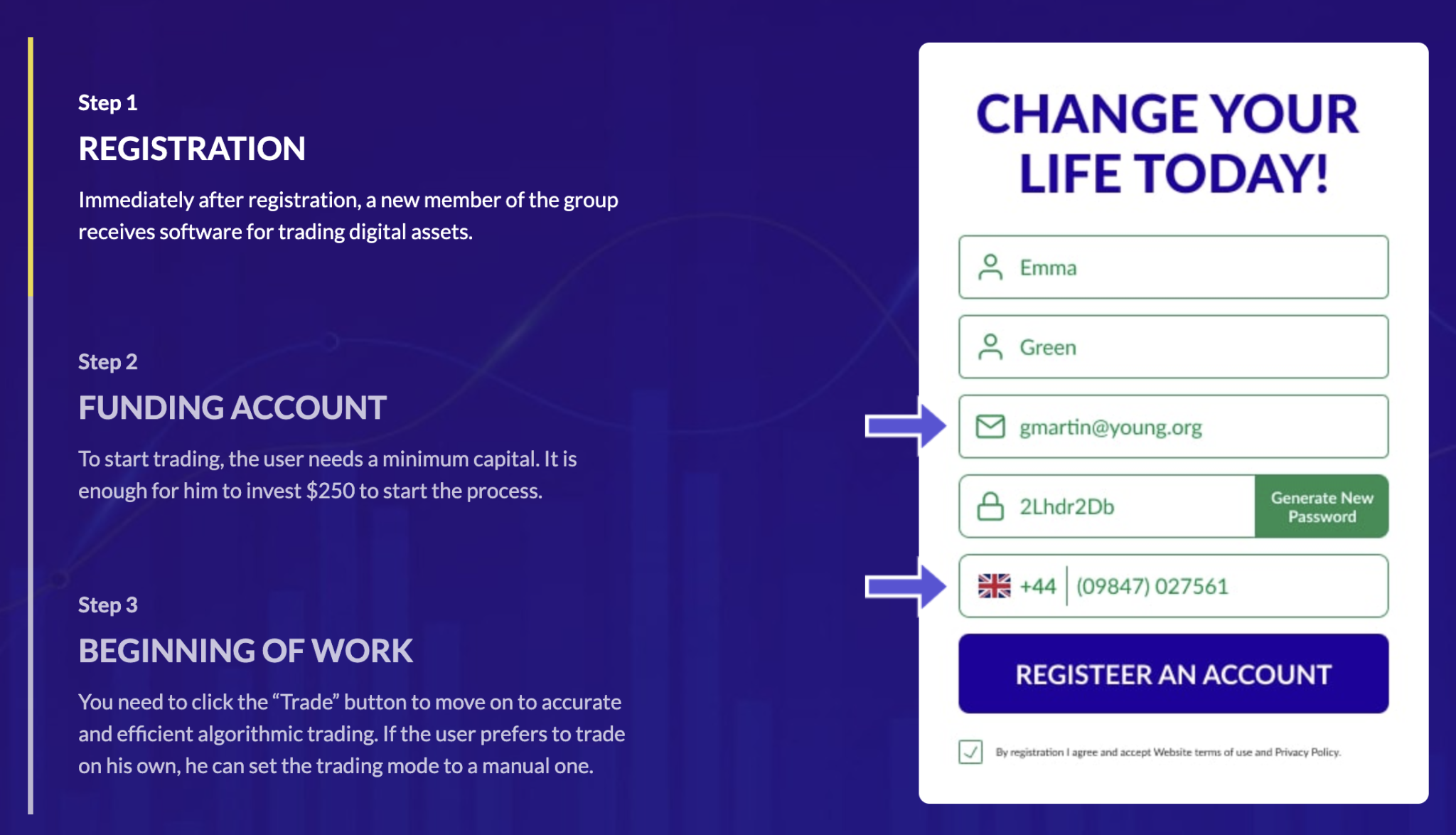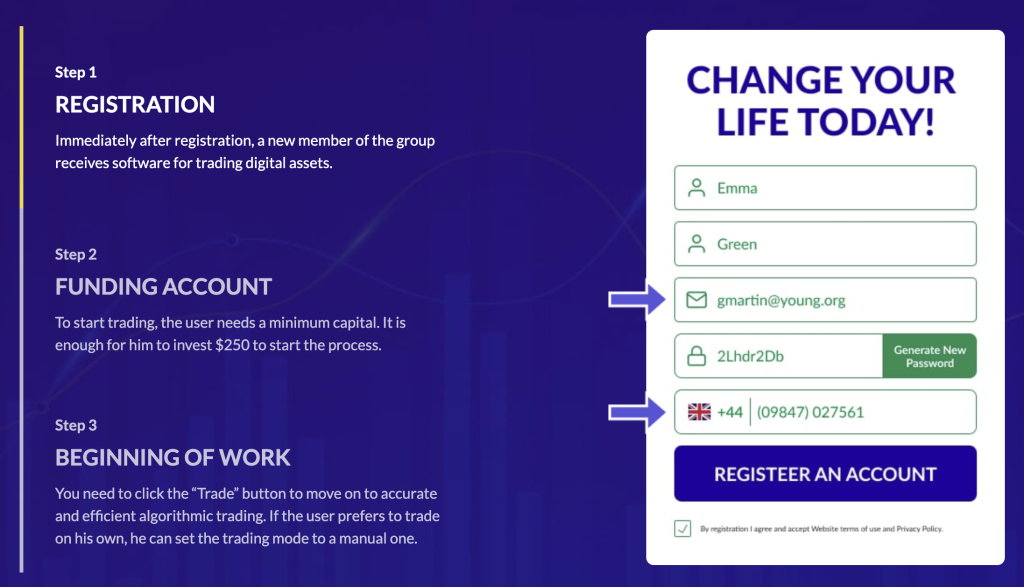 Step 2: Make a Deposit
The next step is funding your account. $250 is the minimum required capital to start using the platform. Bitcoin Empire will also ask you to input details like your birthday, phone number, email, and complete address at this stage.
Step 3: Begin Trading
Once the account has been paid, you can head to the "Trade" button to start using the platform's supposedly "accurate and efficient algorithmic trading" features. Users also have the option to trade on their own by setting the trading mode to a manual one.
Is Bitcoin Empire Legit – The Verdict
This summary of the Bitcoin Empire trading platform was created by looking at the platform's primary website while also evaluating reviews on several independent sources. However, we discovered that it was impossible to verify most of the platform's claims. There is no way for one to confirm whether their claimed profits, features, and benefits are real unless one deposits $250 on the platform and starts trading.
Alternative trading bots that offer more authenticity and transparency into their functioning and team may be a better option. Many of these platforms have encouraging web reviews and genuine testimonials as well. Overall, considering the lack of information on the Bitcoin Empire website, we can't determine whether it is legit or not.
Cryptocurrencies are unregulated. Trading with unregulated brokers will not qualify for investor protection.
FAQs
Does Bitcoin Empire Have a Minimum Deposit?
Does Bitcoin Empire Support ETH?
Is Bitcoin Empire Accurate?