Bitcoin Investor is a recently introduced cryptocurrency trading platform that positions itself as one of the top choices in the current market. Although crypto exchanges and similar entities also offer trading options, there is a growing preference among users for dedicated trading platforms with more advanced tools and technical indicators.
By specializing in crypto trading, platforms like Bitcoin Investor aim to provide a more streamlined and focused experience for users. But is Bitcoin Investor safe to use? In this review we shall assess the available information about the platform in an attempt to verify its authenticity.
Bitcoin Investor Summary
Below is a summary of the information on the Bitcoin Investor site:
| | |
| --- | --- |
| Type of Platform | Bitcoin trading, with support for major altcoins |
| Minimum Deposit | $250 |
| Claimed Success Rate | 80% |
| Supported Cryptocurrencies | Bitcoin, Litecoin, Ethereum and more |
| Mobile App | No Bitcoin Investor app |
| Withdrawal or Deposit Fees | None |
| Customer Service | Yes, for registered accounts |
Cryptocurrencies are unregulated. Trading with unregulated brokers will not qualify for investor protection.
What is Bitcoin Investor?
Bitcoin Investor positions itself as a trading platform designed to support traders in their trading endeavors. The platform claims to offer tools that help users adapt to the ever-changing market landscape, allowing them to make smarter trading decisions.
According to the website, these tools have the potential to change traders' perspectives and enhance their trading choices.
The platform aims to be a helpful companion for those who have experienced financial losses in the past, often due to following misleading information or unreliable online market trends. By automating the process with algorithmic trading techniques and providing a streamlined approach, Bitcoin Investor seeks to assist investors in potentially generating profits.
However, during our research, we found that Bitcoin Investor lacks complete information in several aspects. While the website provides general information about Bitcoin, cryptocurrency trading, and related concepts, it lacks essential details about the platform's specific features and user experience.
This lack of comprehensive insights into functionality raised concerns, as the homepage prioritized irrelevant information instead.
Who Created Bitcoin Investor?
The Bitcoin Investor website does not provide any information about its creators, leaving it unclear whether the platform was initiated by an individual or a group. Details about the background, expertise, and motivations of the creators are also absent, making it challenging to ascertain their intentions behind establishing the platform.
While it is not uncommon for cryptocurrency trading platforms to have anonymous creators, users should carefully consider the potential risks before making a decision. Having knowledge of the platform's creators, their values, and their plans for future development can provide valuable insights and help users make informed choices.
Bitcoin Investor Pros and Cons
During our review of the Bitcoin Investor website, we identified several pros and cons associated with the platform. It is important to consider these factors before making a decision about using the platform.
Pros
Demo trading available
Compatible with a majority of devices
Claims to be highly secure
Customer support available
Suitable for beginners and experienced traders
Easy-to-navigate website
No fees charged
Cons
Not available in the US
Success rate is not verified
High $250 minimum deposit
How Does Bitcoin Investor Work?
When it comes to Bitcoin Investor, it can be challenging to find detailed information about how the trading platform operates. The website does not provide clear explanations of the services it offers or the methods it uses to ensure a smooth trading experience for users.
While Bitcoin Investor does not explicitly rely on a trading robot like many other crypto-only platforms, it highlights the role of an account manager who carries out trades on behalf of users and transfers profits to their trading accounts. This approach may seem appealing as it combines human expertise with cryptocurrency trading.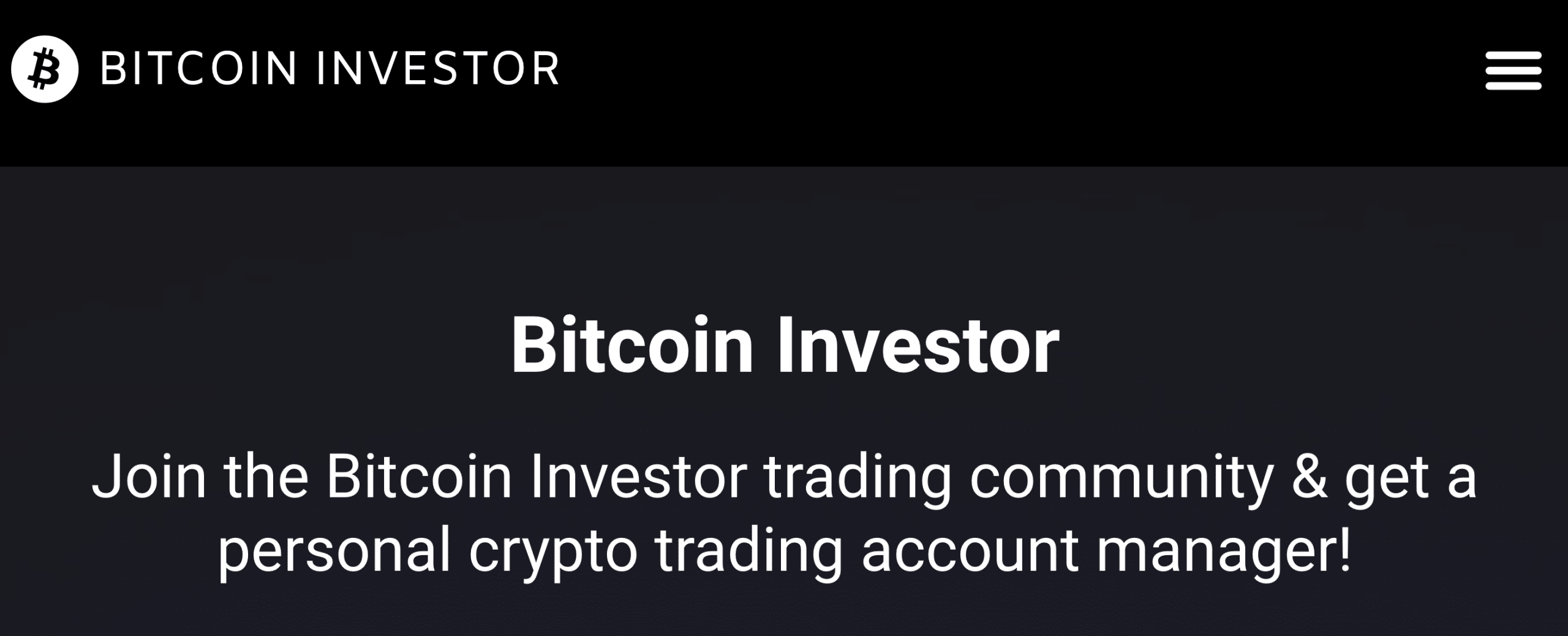 However, the entity lacks transparency when it comes to the specific strategies employed by the account manager to make trading decisions. Additionally, relying on an account manager means giving up full control over your trades. While their assistance can be valuable, it would be beneficial to have more information about the qualifications and knowledge of the account manager regarding your investments.
Fortunately, Bitcoin Investor states that it provides a customer support team to assist users, although access to this support is typically limited to those who have already created an account. For newcomers to the platform, reaching out to the support team may pose challenges.
Considering these factors, it is advisable to start with a small deposit to test its features and read a range of user reviews before committing to trade on the Bitcoin Investor platform.
What Devices Can be Used to Access Bitcoin Investor?
The Bitcoin Investor platform claims to support multiple devices. While exploring the platform, we noticed that the most compatible devices might include:
Mobile Phones
Tablets or Ipads
PC or Laptops
Bitcoin Investor Supported Countries
Bitcoin Investor asserts that it has a global presence, indicating that the platform is accessible to users worldwide. However, it should be noted that the website explicitly states that the platform is not available in the United States, as well as in other countries where cryptocurrency trading is completely restricted.
According to some Bitcoin Investor testimonials, it can be accessed using a VPN.
Bitcoin Investor Key Features
During our review of the Bitcoin Investor platform, we identified several noteworthy features. These include:
24/7 Customer Support
Recognizing the importance of addressing user queries and concerns, Bitcoin Investor emphasizes its 24/7 customer support system. Users can apparently reach out to the dedicated customer support team at any time for prompt assistance and resolution of any doubts or issues they may encounter.
Intuitive Dashboard
While specific details about the trading dashboard are limited, Bitcoin Investor claims to offer a user-friendly and powerful trading tool. The platform aims to simplify the trading process, particularly for individuals with limited time. The dashboard may feature intuitive options that streamline order placement and exit processes, potentially automating them for greater convenience. This aligns with the platform's objective of making trading easier and more accessible to users.
Demo Trading
Users of Bitcoin Investor are provided with a valuable opportunity to explore the platform through a demo account, as per the website.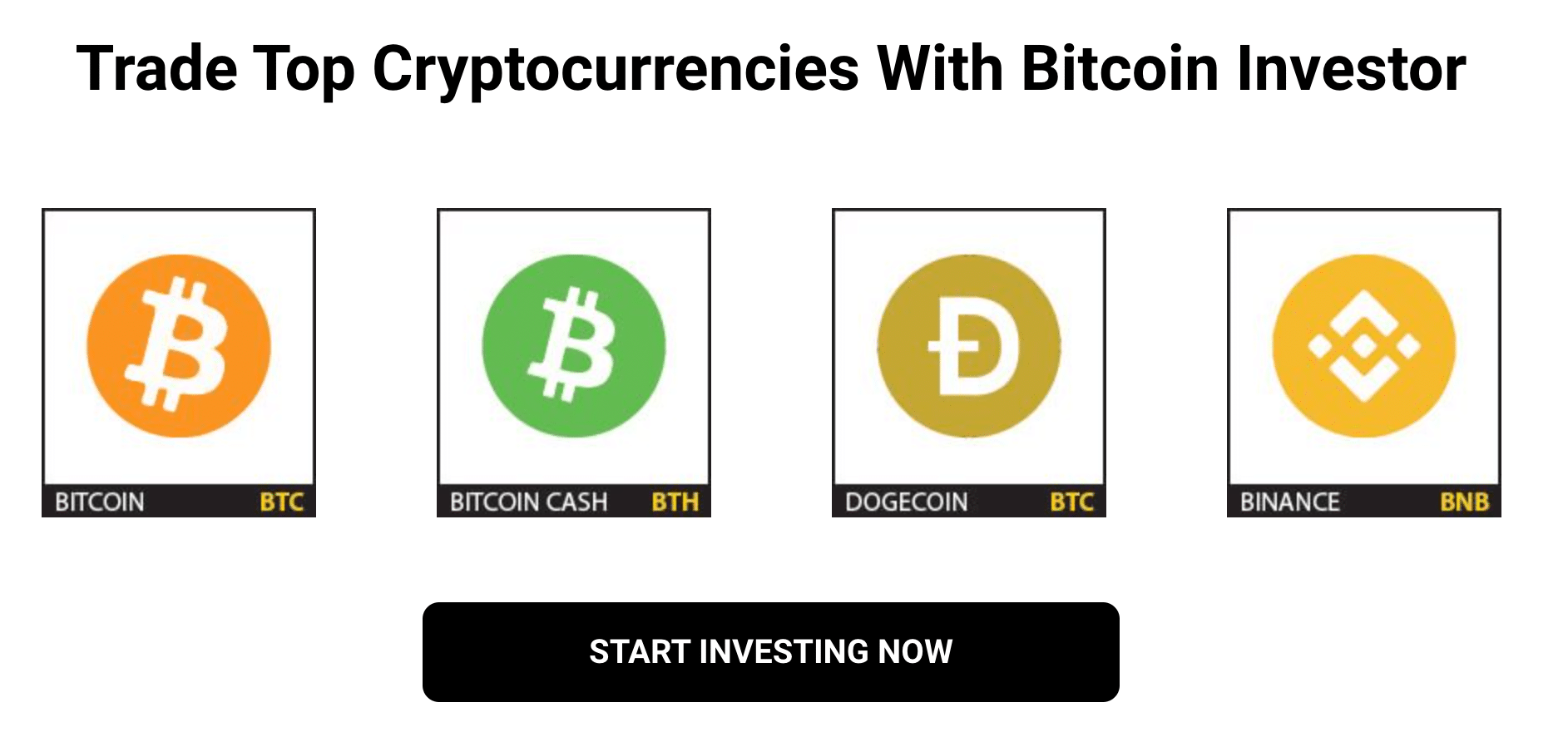 This demo account is stated to be available free of charge and allows users to familiarize themselves with the platform's functionalities, including information on buying and selling the major cryptos it supports.
Account Manager
Bitcoin Investor also provides users with the support of an account manager. This account manager plays a vital role in assisting users with trade ideas, providing market updates, and keeping them informed about relevant news. This personalized approach aims to enhance the user experience and instill confidence in traders who may prefer guidance alongside automated trading.
Cryptocurrencies are unregulated. Trading with unregulated brokers will not qualify for investor protection.
Is Bitcoin Investor a Scam?
It is important for users to exercise caution and conduct thorough research before engaging with the platform. While we cannot definitively label it either a legitimate tool or a scam, there are certain red flags to consider.
The platform lacks detailed information about its dashboard, which is a critical component of the trading ecosystem. Additionally, it does not provide access to customer support or other features without requiring a significant $250 deposit, which raises some doubts.
The overall authenticity and legitimacy of the platform remain uncertain due to the limited information and lack of evidence provided. Given these circumstances, it is strongly recommended that users proceed with caution and carefully evaluate the platform before committing to trading with Bitcoin Investor.
What is the Minimum Deposit on Bitcoin Investor?
To fully explore the features and benefits of the Bitcoin Investor platform, users are required to make a minimum deposit of $250. This deposit is essential to gain access to various aspects of the platform, including customer support, a demo trading account, and a glimpse of the real dashboard.
These features and resources are made available to users once the deposit is made, allowing them to experience the platform's functionalities and make informed trading decisions.
Bitcoin Investor Customer Support
Bitcoin Investor claims to offer a 24/7 customer support system to assist users with any inquiries or issues related to the platform. This means that users can reach out to the support team at any time, day or night, for help and guidance.
Whether users have questions about account setup, trading features, or technical difficulties, the customer support team is supposedly available round the clock to provide prompt assistance and resolve any concerns that users may have.
How to Use Bitcoin Investor?
If deciding to create a Bitcoin investor account, the steps are:
Step 1: Visit the Official Website
To begin trading with Bitcoin Investor, start by visiting the Bitcoin Investor website. There, you will be prompted to provide your full name, email address, and phone number.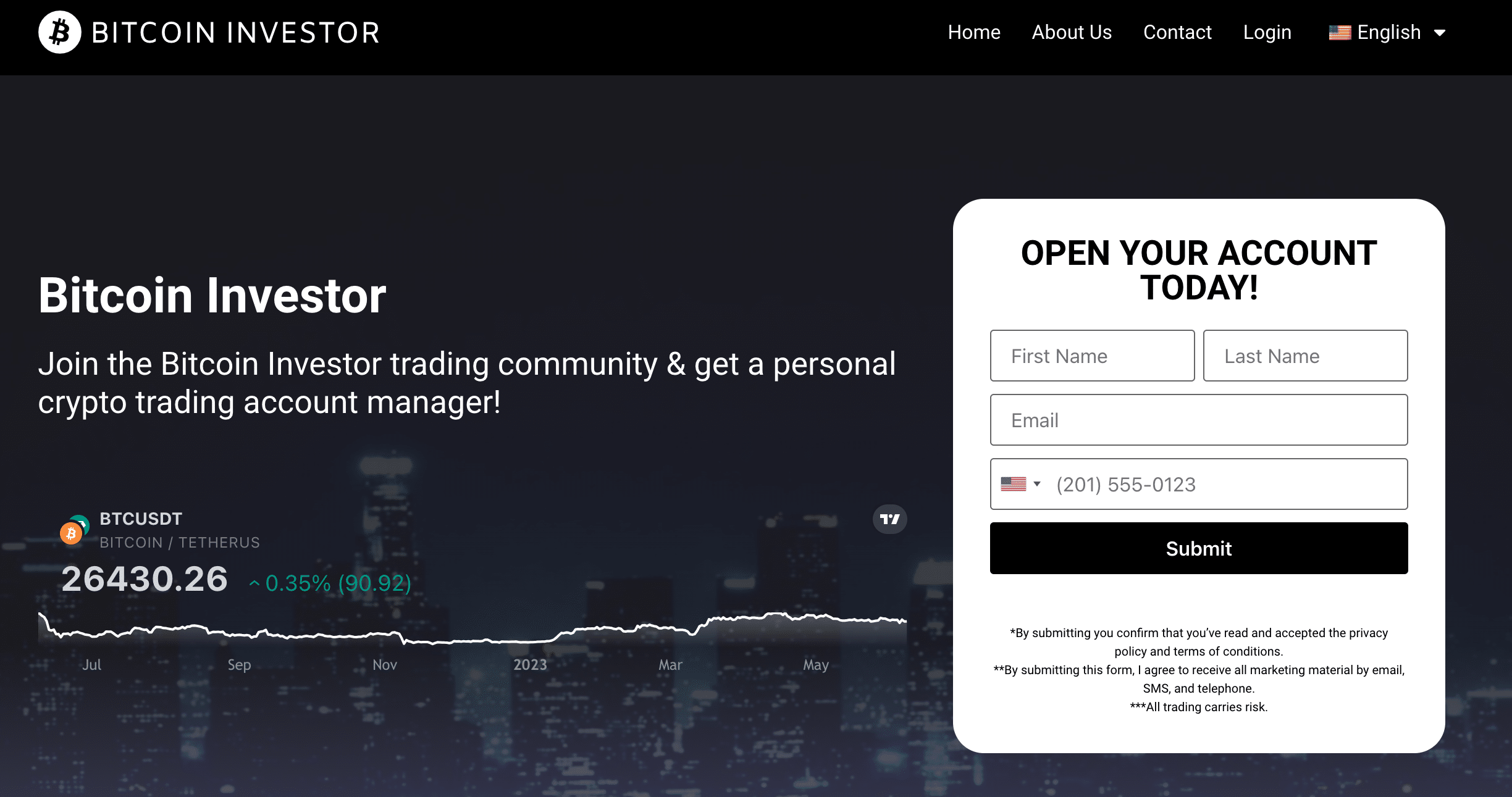 To communicate only via email, it appears possible to enter a burner number.
Step 2: Deposit Funds for Trading
Before you can start trading, it is essential to deposit funds into your account. The platform supports various payment methods, including bank wire transfers, credit, and debit card payments, as well as e-wallets. Choose the payment method that suits you best and follow the instructions to complete the deposit process.
Step 3: Explore Demo Trading (Optional)
While not mandatory, it is recommended to take advantage of the demo trading feature offered to users. The demo account allows you to practice trading with virtual funds, providing a risk-free environment to familiarize yourself with the platform's functionalities. It is a valuable opportunity to gain experience and confidence before proceeding to live trading.
Step 4: Engage in Live Trading
Once you have completed the demo trading phase and feel ready, you can move on to live trading. Keep in mind that live trading involves real funds and carries actual market risks. While the results may differ from those achieved during demo trading, it is important to approach live trading wisely. Always ensure that you make informed decisions based on market conditions and your trading strategy.
Is Bitcoin Investor Legit – The Verdict
This review aims to evaluate the Bitcoin Investor trading platform. However, since there is limited information available online and on the website, it is challenging to determine if the platform is legitimate. To make a well-informed decision, it is important for investors to be cautious and do their own research before signing up and investing with the platform.
This includes reading reviews from other users and seeking reliable information about the platform. Remember to approach any investment opportunity carefully and consider your own risk tolerance before making any decisions.
For some alternatives to using Bitcoin Investor, see our list of the best cryptocurrency to invest in today.
Cryptocurrencies are unregulated. Trading with unregulated brokers will not qualify for investor protection.
FAQs
Does Bitcoin Investor have an automated trading system?
Does Bitcoin Investor Provide an Account Manager?
What is the fee structure of Bitcoin Investor?