Making profits using cryptocurrencies has taken over the investing world, and rightly so. A huge number of investors across the globe today make thousands of dollars on a regular basis by trading in this asset class, thanks to its high volatility. But for this, they need to have access to high-quality trading platforms that can help them strategize and open positions that could reap profitable rewards.
The Bitcoin Rush website claims to to have developed one such platform, packed with the necessary tools to help beginner investors in their trading journey. But is it really as trustworthy as it claims to be? This is exactly what this review aims to find out. Read on, as we take a look at every available information about the platform to finally verify its authenticity as a trading platform.
Bitcoin Rush Summary
Before starting to consider Bitcoin Rush as an option for your trading needs, it is important to take a look at the specifics of the platform. This table will provide a brief overview of the platform and some insightful details.
| | |
| --- | --- |
| Type of Platform | Advanced cryptocurrency trading |
| Minimum Deposit | $250 |
| Claimed Success Rate | N/A |
| Supported Cryptocurrencies | BTC, ETH, LTC, DASH, BNB, BCH and more |
| Mobile App | Not yet available |
| Withdrawal or Deposit Fees | 1% fee after 10 free withdrawals per month |
| Customer Service | 24/7 |
Cryptocurrencies are unregulated. Trading with unregulated brokers will not qualify for investor protection.
What is Bitcoin Rush?
Bitcoin Rush claims to be an automated trading platform designed for investors to generate passive income from the cryptocurrency market. The platform apparently utilizes automated processes and robots, making it a smart system.
The proprietary system of Bitcoin Rush reportedly incorporates AI into crypto, using an algorithim that assists in identifying lucrative trades and predicting cryptocurrency price fluctuations. The volatile nature of the crypto market makes it challenging for traders to keep up with market prices and opportunities, leading to the loss of funds or opportunities to earn profits. However, with Bitcoin Rush, traders can keep up with the market and safeguard their transactions from the effects of volatile market movements.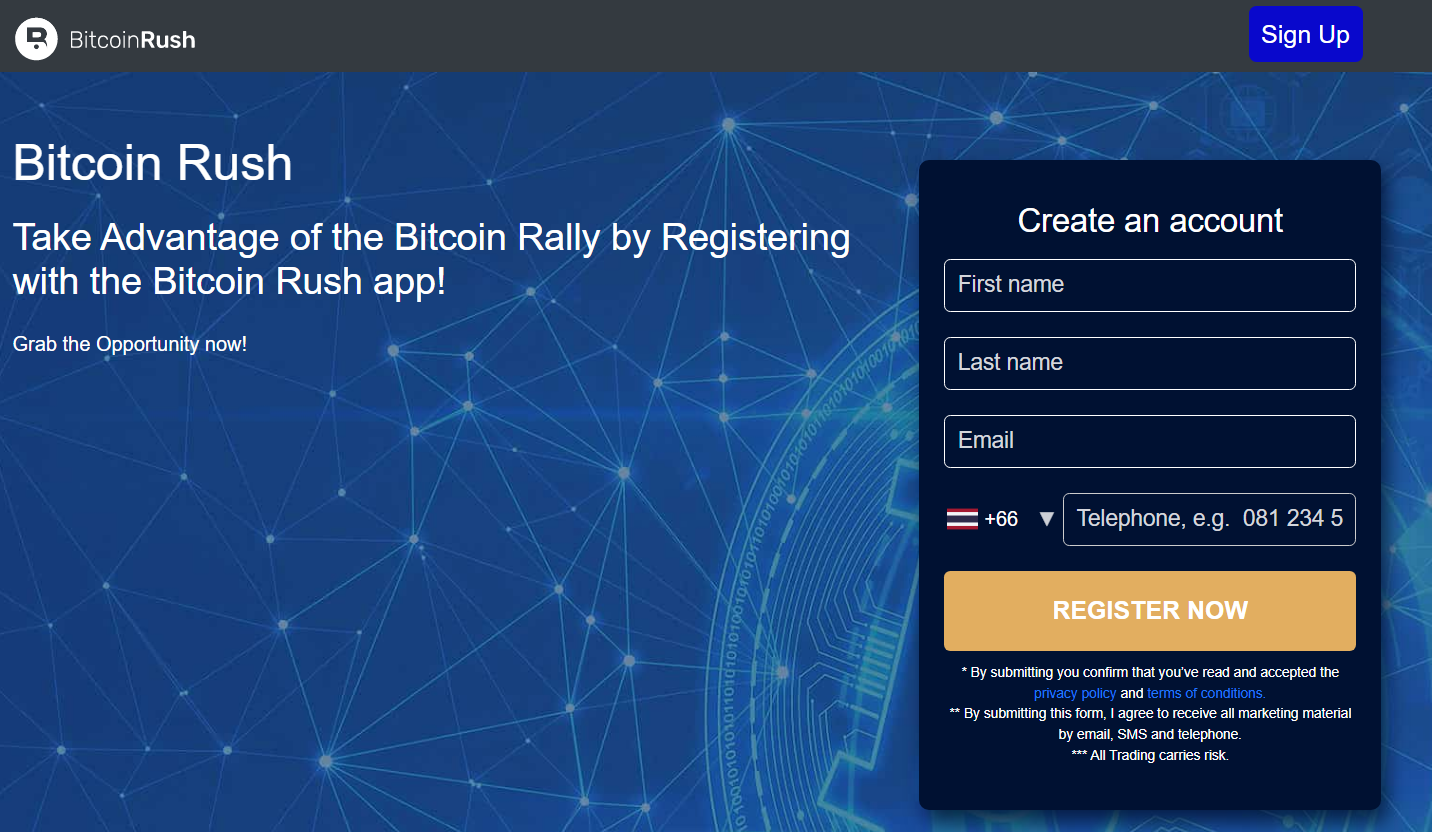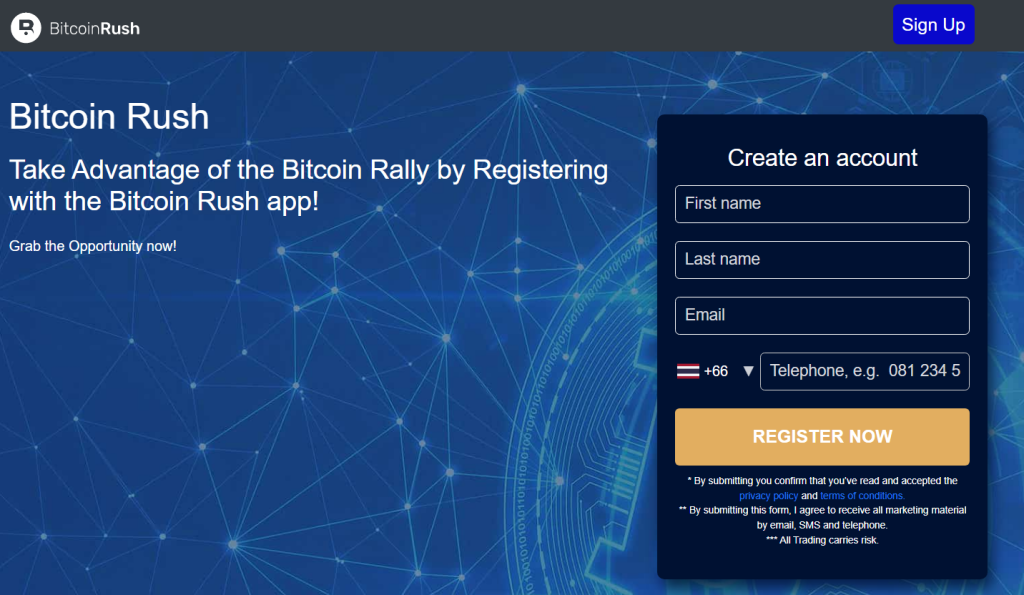 The Bitcoin Rush platform claims to analyze a vast amount of historical data and evaluate multiple market signals, charts, and statistics to forecast profitable trades. This process aims to identify a pattern in asset price movements and execute trades with high profitability rates. Moreover, traders do not require specialized knowledge in crypto price movements to use the platform as the bot is configured to operate with minimal or no input from the investor, apart from their investment capital.
Bitcoin Rush can be accessed in more than 165 countries and is supposedly a license-free entity. As per the website, the platform received over 500k registrations in the last year, of which, more than 90% of the users are still active. While this does make the platform look like a high-demand entity, no proof of such high engagement was found by us. So, we would start by warning investors to be highly careful while engaging with the platform based solely on the claims made by them on the website.
Who Created Bitcoin Rush?
As per information available on the internet, Bitcoin Rush's creators are reportedly a group of former Wall Street investment managers with extensive financial experience as software engineers, quants and expert traders. Their expertise in the trading industry is believed to enhance the platform's overall performance.
Additionally, the team is purported to continuously monitor the latest market trends and changes to gain insights and improve Bitcoin Rush's ability to manage crypto investments efficiently. However, it should be noted that the platform lacks a dedicated section showcasing the team or its members' images, making these claims difficult to verify. Therefore, we would reiterate exercising caution while evaluating such information.
Bitcoin Rush – Pros and Cons
Similar to the other trading robot platforms we've reviewed, there are some advantages and disadvantages to consider with the Bitcoin Rush system:
Pros
AI-powered platform
24-hour payouts when withdrawals are initiated
Available in more than 165 countries
Free demo account
Efficient customer support
Cons
High $250 minimum deposit
Only registered users can get in touch with customer support
No dedicated mobile app
Cryptocurrencies are unregulated. Trading with unregulated brokers will not qualify for investor protection.
How does Bitcoin Rush Work?
While its operating mechanism has not been explained in detail on the Bitcoin Rush site, the platform does claim to have an automated system that traders can take advantage of. This system allows users to earn passive income from the cryptocurrency market without having to physically be present at all times.
Initially, it utilizes a trading platform that scans the market for profitable trade opportunities that can increase the trader's principal amount per trade. The trading platform then purchases the trade and waits for the right time to exit the market to ensure maximum profits. The Bitcoin Rush trading platform also boasts of having a simple and user-friendly working mechanism.
Users can activate the trading platform at any time to start scanning the market for profitable trades. The trading platform uses the funds available in the investor's Bitcoin Rush account to secure a good trade. After each trading session, the platform calculates the earnings of each investor using an in-built payout system.
One can simply provide some of their personal details and register their account instantly. It verifies the information provided before allowing the investor to use all the features available on Bitcoin Rush. After registering an account, the next step is to fund the account with a minimum deposit of $250. This minimum deposit is the first cost investors incur to use the trading platform. The platform also provides a demo account, which cannot be run without first making a deposit.
Bitcoin Rush supports several payment methods, including bank transfers, credit/debit cards, etc. Once the deposit is made, users can test the platform using the demo trading feature to understand how the trading process works.
The platform offers users a chance to study how the trading process works using the demo trading feature. Once the investor is satisfied and trusts the system, they can move on to live trading. The trading process on the Bitcoin Rush platform seems straightforward, as investors only need to set a stop-loss limit order and activate the trading platform.
What Devices Can You Use to Access Bitcoin Rush
One of the best parts about Bitcoin Rush is that you can freely use it on almost any device that has a web browser. The most recommended and commonly used devices to access Bitcoin Rush are:
Tablets and ipads
PC Browsers
Smartphones
Bitcoin Rush Supported Cryptocurrencies
Bitcoin Rush apparently supports multiple cryptocurrencies and keeps adding more assets to its arsenal. However, the website currently shows trading options for only about 14 cryptocurrencies including Bitcoin, Ethereum, Litecoin, Ripple, Cardano, Dash, Bitcoin Cash, Ethereum Classic and more.
Bitcoin Rush Supported Countries
The availability of Bitcoin Rush across multiple countries has been made very evident on the website itself. According to the website, the platform can be easily accessed in countries about 165 countries. It is license-free and can be used via web browsers. The traders in restricted locations can also ideally use the platform by connecting their device to a Virtual Private Network (VPN).
Bitcoin Rush Main Features
Below are some of the capabilities of the platform according to the Bitcoin Rush website:
High Accuracy
It is common for trading platforms to boast about their accuracy percentage on their websites. However, the same cannot be said for Bitcoin Rush, since it does not mention anything about the accuracy percentage of trades on the homepage. However, the platform does mention that it has a high rating and performs exceptionally well, which despite being just a claim, maybe something worth noting.
Quick Withdrawals
​​There are numerous automated trading platforms available online, but some present difficulties for investors when attempting to withdraw earnings. Such complications may lead to unfavourable publicity for the platform. Bitcoin Rush, however, asserts its capability to expedite withdrawals within a 24-hour time frame, rendering it an attractive option for investors seeking prompt access to their profits subsequent to trading.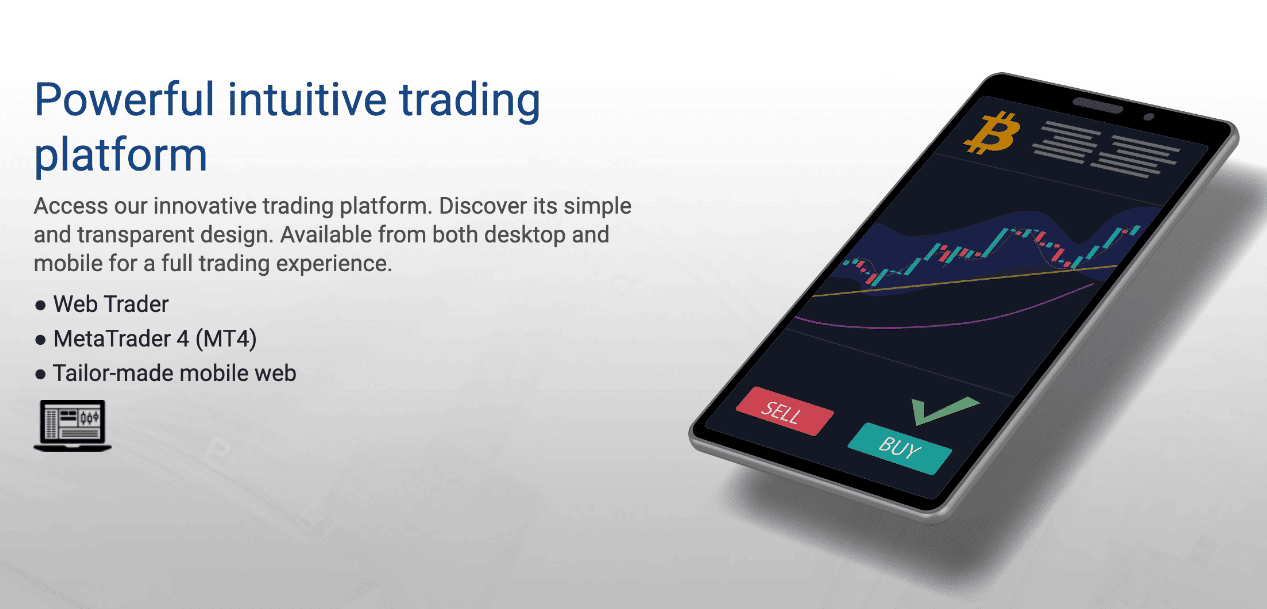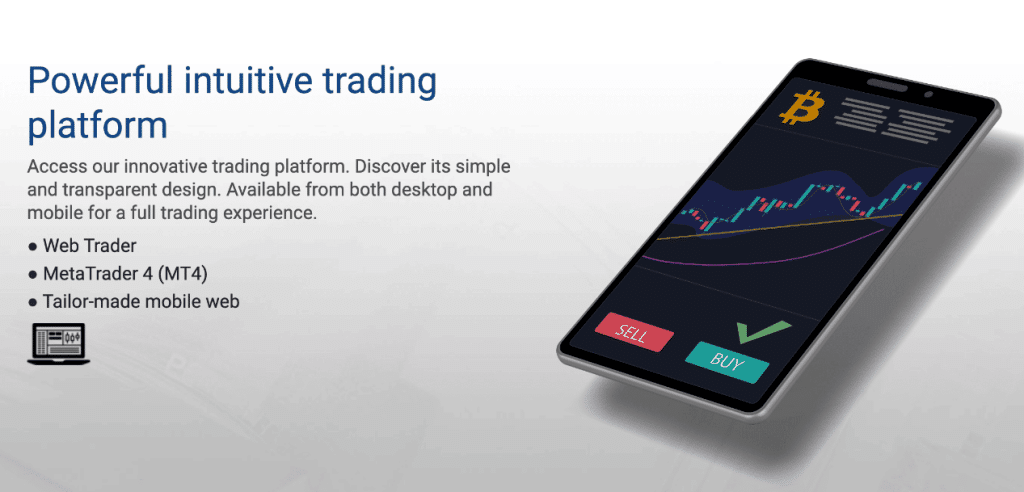 Multi-Asset Platform
Bitcoin Rush is a multi-asset platform, which means that a trader does not need to run from one platform to the other simply to gain trading access to a variety of cryptocurrencies. It supports multiple tradeable cryptos, and the number may only rise in the future as per the website since Bitcoin Rush does keep adding more cryptocurrencies gradually.
High Security
Bitcoin Rush asserts the implementation of top-notch security measures to safeguard investors' assets, thereby mitigating the risk of data theft. Additionally, the platform enforces KYC requirements, thereby ensuring adherence to AML compliance standards. However, the website does not provide official information about its regulatory status.
Is Bitcoin Rush a Scam?
When it comes to the crypto trading platform Bitcoin Rush, it is not necessarily appropriate to label it a scam, but it is difficult to establish its legitimacy due to several inconsistencies. Notably, there is a lack of pre-deposit information available, which is concerning from our perspective.
Furthermore, prior to making a minimum deposit of $250, users are not provided with any social media handles or alternative means of contacting the platform. Although Bitcoin Rush promotes a number of impressive features, no substantial evidence is offered to corroborate these claims.
Given the lack of information and data supporting the platform's legitimacy, it is challenging to conduct a comprehensive evaluation. As such, while we cannot provide a definitive conclusion, we strongly urge users to consider all risks involved while engaging with a platform like Bitcoin Rush.
What is the Minimum Deposit to Start Trading on Bitcoin Rush?
The minimum deposit to start trading on the Bitcoin Rush platform is $250. This deposit is vital to gain access to the top features of the platform like customer support, the trading dashboard, demo trading etc.
Bitcoin Rush Customer Support
According to the information available on the Bitcoin Rush website, customer support can only be accessed after users have completed their registration and made the minimum deposit of $250. Once this requirement is met, users can reach out to the support team via email or live chat to receive assistance with any issues they may encounter.
How to Use Bitcoin Rush
The process for registering with Bitcoin Rush is relatively simple. Prospective users must first read and understand the terms and conditions and privacy policy outlined on the website and familiarize themselves with the platform. If they choose to proceed, they can follow these steps:
Step 1: Visit the Bitcoin Rush Website
To begin the registration process, users should visit the Bitcoin Rush website and create a new account by providing their name, email address, and phone number.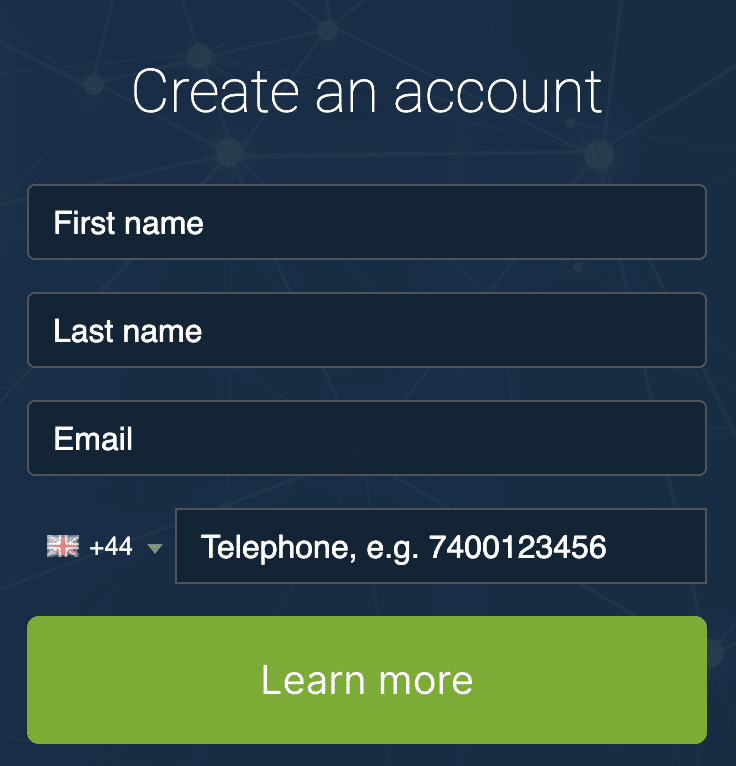 Step 2: Make a Minimum Deposit
To gain access to the trading platform, users must deposit at least $250 as mentioned previously in the article.
Step 3: Start Trading with Bitcoin Rush
Once the deposit has been processed, users can begin trading a variety of cryptocurrencies with Bitcoin Rush.
Is Bitcoin Rush Legit? – Final Verdict
This comprehensive review aims to provide a thorough evaluation of the Bitcoin Rush trading platform. However, due to the limited online presence of the platform and the scarcity of information on the website, it may be challenging to provide a definitive verdict on its legitimacy.
Given the lack of publicly available data and limited information provided on the website, it is recommended that investors exercise caution and perform their own due diligence before registering and investing on the Bitcoin Rush platform. This includes conducting thorough research on the platform and reading reviews and feedback from other users.
Cryptocurrencies are unregulated. Trading with unregulated brokers will not qualify for investor protection.
Bitcoin Rush FAQs
Is Bitcoin Rush supported in all countries?
What is the minimum deposit of Bitcoin Rush?
How many cryptocurrencies does Bitcoin Rush support?