The blockchain industry has seen volatility within all categories of cryptocurrencies over the past couple of years. This increased volatility can be capitalized upon through the right trading systems – there has been a rise in new trading platforms and companies that deal with helping beginners to trade. Bitcoin Union is one such platform and claims to be a fan favorite.
But does the platform really live up to its hype? To decode this, this Bitcoin Union review attempts to analyze the site's claims and third-party testimonials.
Bitcoin Union Summary
Here is a summary of some of the most important components of Bitcoin Union before we get started:
| | |
| --- | --- |
| Type of Platform | Advanced cryptocurrency trading |
| Minimum Deposit | $250 |
| Claimed Success Rate | Not Specified |
| Supported Cryptocurrencies | BTC, LTC, ETH, DOT, XRP, BCH etc |
| Mobile App | No Bitcoin Union app |
| Withdrawal or Deposit Fees | None |
| Customer Service | Claims to offer 24/7 support |
Cryptocurrencies are unregulated. Trading with unregulated brokers will not qualify for investor protection.
What is Bitcoin Union?
Bitcoin Union has apparently positioned itself as a comprehensive trading platform that supports multiple currencies, providing users with a user-friendly trading experience. It claims to leverage advanced algorithms in its automated trading system to accurately predict the future price movements of cryptocurrencies.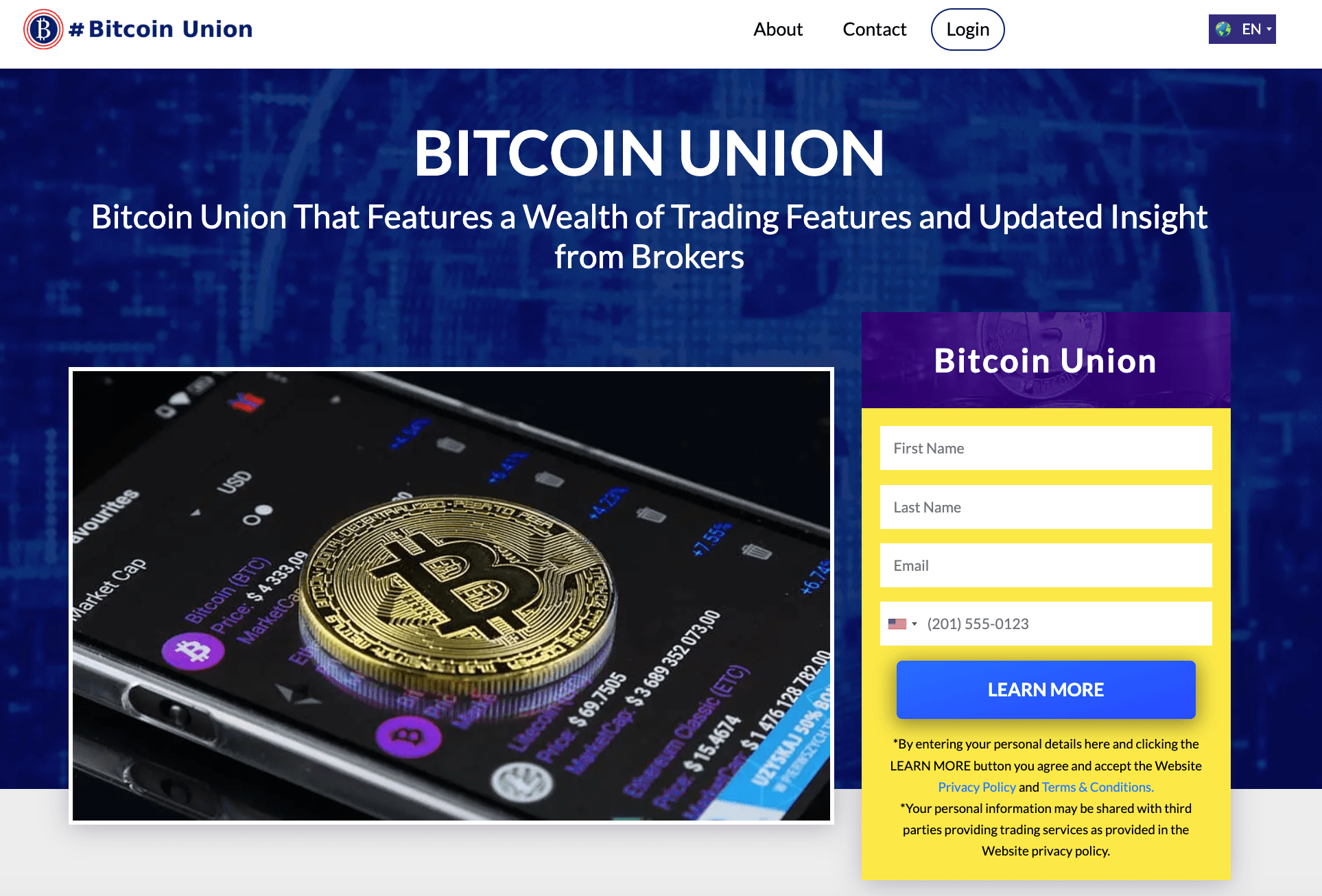 According to Bitcoin Union, its advanced trading technology enables investors to earn income passively from the cryptocurrency market. The platform asserts that it incorporates algorithms to identify profitable trading opportunities and forecast fluctuations in cryptocurrency prices. Recognizing the volatile nature of the crypto market, Bitcoin Union states that it safeguards transactions against the impact of market movements, offering protection to traders.
Bitcoin Union emphasizes its robust analytical capabilities, utilizing extensive historical data, market signals, charts, and statistical indicators to identify patterns in asset price movements. By doing so, the platform claims to execute trades with a high potential for profitability.
Another notable feature of the trading platform that we came across was its user-friendly approach, aiming to make cryptocurrency trading accessible even to individuals without extensive knowledge of price dynamics. The platform asserts that its trading robot requires minimal input from investors, focusing primarily on their capital investment.
Who Created Bitcoin Union?
A majority of trading platforms often feature a dedicated section for their creators. However, it seems to be a growing trend where founders choose to remain anonymous. This seems to be the case with Bitcoin Union too. In fact, there is no mention of the core team or any other company name that could be affiliated with the platform.
We did notice some rumors about the platform being controlled by celebrities like Elon Musk, but since there is no proof to back this, we didn't delve into it further.
Bitcoin Union Pros and Cons
Every crypto trading platform has its own set of advantages and disadvantages. In order to completely assess the platform, however, it is vital that one remains aware of both aspects. Listed below are the pros and cons of the Bitcoin Union platform.
Pros
Supports multiple cryptocurrencies
Claims to have a high success rate
Automated trading feature
Simple but efficient interface
Provides a demo account for registered users
Cons
Has a high $250 minimum deposit
Slow customer support
Limited information on the website
The exact success rate is not mentioned by the platform
How does Bitcoin Union Work?
While there is no precise information or link that talks in depth about it, Bitcoin Union boasts that with their automated broker software system, traders can purportedly generate profits without the need for constant monitoring.
Apparently, the platform employs an advanced trading system that scans the market for profitable trade opportunities constantly, maximizing investors' potential returns. Once a trade is identified, the platform executes the purchase and strategically waits for the ideal exit point to maximize profitability.
Bitcoin Union has highlighted on its website that it prides itself on its user-friendly and straightforward trading platform. According to its homepage, the registration process is also fairly quick and hassle-free. Users are asked to provide their personal details, which the platform verifies before granting access to its full range of features.
Once registration is complete, users are prompted to fund their accounts with a minimum deposit of $250, as mentioned on the homepage. The platform asserts that this initial deposit is crucial for the effective use of the trading platform's variety of features. One must remember that Bitcoin Union does not offer a demo account without an initial deposit.
In terms of funding, the platform claims to support various payment methods, including bank transfers, credit or debit cards. After making the deposit, users are said to gain access to a demo trading feature, which allows them to better understand the platform's functionality and the intricacies of the trading process.
Which Devices Can be Used to Access Bitcoin Union?
While there was no explicit information about devices that Bitcoin Union is compatible with, we found that a majority of devices support it. Mobile phones, laptops, PC, tablets etc are some devices that we assume will be able to support the platform and provide a smooth trading experience for users.
Bitcoin Union Supported Countries
The platform does claim to have a global presence, which allows us to believe that users across the world can access Bitcoin Union. However, it does mention towards the bottom of the website that the platform is not accessible in the UK due to restrictions. The same can be assumed for the US and some other countries that may have a complete ban on cryptocurrencies.
Bitcoin Union Key Features

There are some features that Bitcoin Union has highlighted across its page. Some of these features are:
Instant Registration
Accessing the features of Bitcoin Union is a swift and simple process. Users can register instantly by providing basic contact details, allowing them to quickly get started on the platform. The only thing to remember is that the $250 initial deposit is required to unlock the features that Bitcoin Union claims to provide.
Auto-Trading Feature
Trading is the primary focus of Bitcoin Union, supposedly offering users the advantage of potential profits through automated trade decisions made by the platform itself. Users can reportedly rely on the system's strategic capabilities, even without their active involvement.
Bitcoin Union hasn't mentioned an exact number when it comes to the success rate, unlike other platforms we reviewed, which include Bitcoin Formula and Immediate Edge. However, it does state that the success rate of its algorithmic trading system is high.
Demo Trading Account
Bitcoin Union promises to offer users the opportunity to practice and develop trading strategies through a demo trading feature. The platform claims that this allows users to gain valuable experience and confidence before engaging in actual trading activities.
Cryptocurrencies are unregulated. Trading with unregulated brokers will not qualify for investor protection.
Is Bitcoin Union a Scam?
Bitcoin Union is a trading platform that claims to offer attractive features for traders. However, it's important to be cautious about the platform's claims since they can't be easily verified. While it's too early to call it a scam, it may not be completely legitimate either.
The website lacks important information, making it difficult for users to fully understand what they're getting into. Another concern is the minimum deposit required to access the platform. It's unclear where the funds go and if users will actually get the promised access. There's also a lack of user feedback or reviews, adding to the uncertainty surrounding Bitcoin Union's reliability.
All these factors may not necessarily put Bitcoin Union in a bad light. However, we would advise interested traders to be careful when engaging with the platform.
What is the Minimum Deposit on Bitcoin Union?
Users must make a minimum deposit of $250 to gain access to the platform and explore its features. They need to add this amount to their account before they can engage in trading activities, including demo trading.
Bitcoin Union Customer Support
Ensuring dependable customer support is essential when dealing with valuable assets such as cryptocurrencies. Bitcoin Union states on its website that it acknowledges this, although users must first register and make the minimum deposit to access this service. Based on reviews and online articles, users can contact the Bitcoin Union team via email and live chat for assistance with account-related inquiries or issues.
However, it may be best to conduct independent research, as there have been some negative reviews regarding the response speed of the customer support team.
How to Use Bitcoin Union?
Traders who wish to potentially use Bitcoin Union can follow these steps to set up their account and start trading on the platform right away:
Step 1: Sign Up as a New User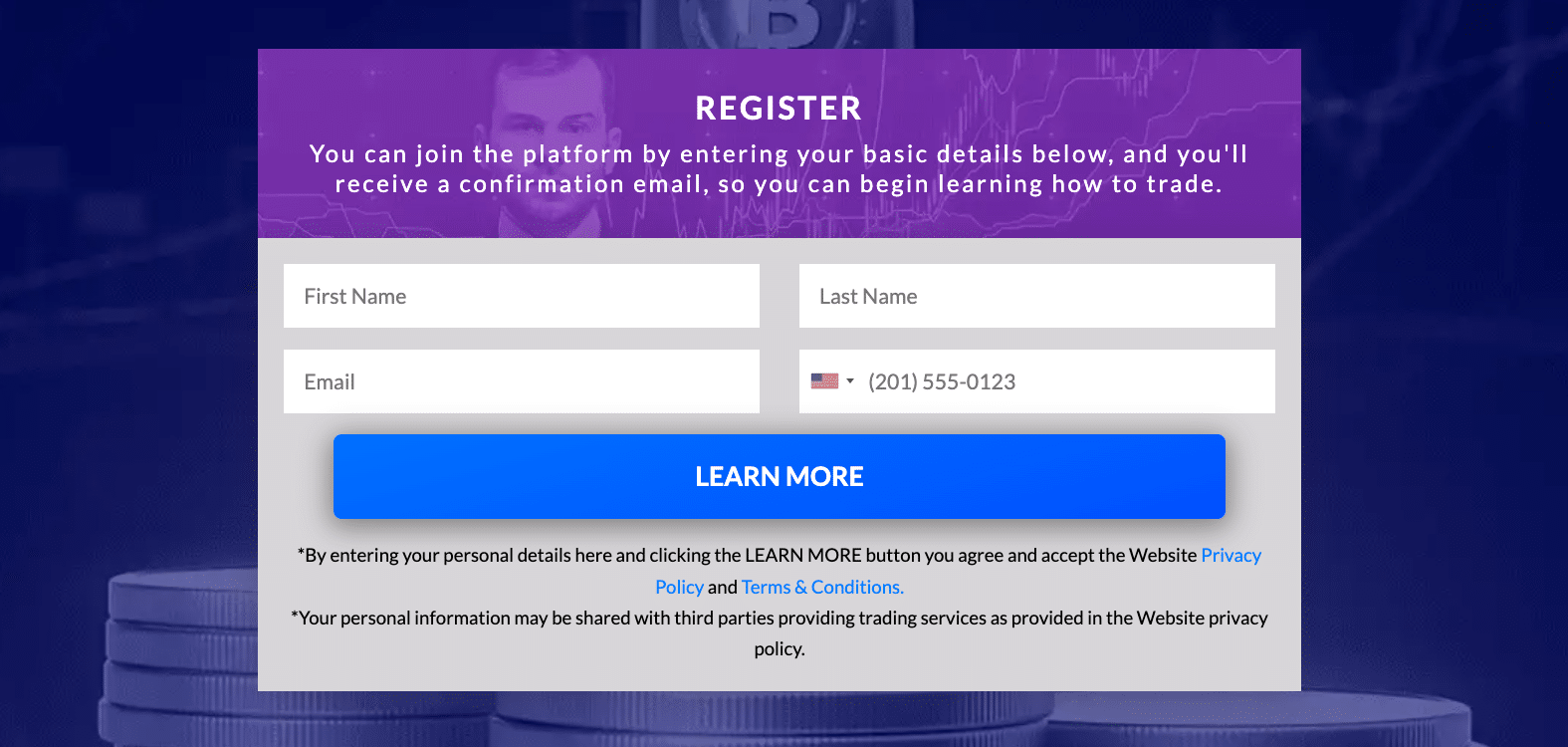 Begin by visiting the official Bitcoin Union website. Initiate the registration process by providing essential details, including your name, email ID, and phone number.
Step 2: Complete the Minimum Deposit
Once your account is successfully created and verified, proceed to make a minimum deposit, which amounts to $250. You can choose from a variety of payment methods, such as credit cards and supported e-wallets to fulfill this requirement.
Step 3: Start Trading on Bitcoin Union
With your deposit confirmed, you can now explore the diverse range of cryptocurrencies offered by Bitcoin Union (if they are available). Analyze investment opportunities, make well-informed decisions on the demo trading account, and only move forward with live trading if Bitcoin Union meets your requirements.
Is Bitcoin Union Legit – The Verdict
While the platform presents itself as a promising trading option, the absence of concrete evidence raises concerns about the accuracy of its claims. The limited availability of information and data significantly hampers the verification process of the entity's authenticity.
We also noticed that there were no major reviews or feedback from reliable sources, and the platform's absence from social media added to the risk factor for traders.
For this reason, we would recommend users exercise caution, conduct thorough research, and carefully evaluate Bitcoin Union before depositing a large amount of capital to trade with.
Cryptocurrencies are unregulated. Trading with unregulated brokers will not qualify for investor protection.
FAQs
What is the success rate of Bitcoin Union?
Does Bitcoin Union have a dedicated mobile app?
What is the minimum and maximum deposit of Bitcoin Union?