Are you looking to trade some of the best cryptocurrencies right now? Our Bitcoineer review will take a closer look at this cryptocurrency trading platform that claims to offer trading access to some of the best digital assets.
After going through all the platform features and reviews, we will decide whether Bitcoineer is a scam or a legitimate trading platform.
Bitcoineer Platform Overview
In the table below, we mention some of the important aspects of Bitcoineer's trading platform. Continue reading to find out about Bitcoineer's supported assets, accessible devices, customer support departments, and minimum deposits.
| | |
| --- | --- |
| Type of Trading | Crypto |
| Success Rate | Not Specified |
| Cryptocurrencies Available | BTC, ETH, BNB, XRP, and more |
| Available on Mobile? | No (But accessible via mobile browsers) |
| Withdrawal or Deposit Fees | None |
| Customer Support | Live Chat and Email |
| Withdrawal Speed | 24 hours |
| Minimum Deposit | $250 |
Cryptocurrencies are unregulated. Trading with unregulated brokers will not qualify for investor protection.
What is Bitcoineer?
According to the Bitcoineer website, its founders have developed a streamlined new trading platform that lets users buy and sell digital assets including BTC and altcoins. When looking for the top cryptocurrency trading platforms, users often consider the fees and costs involved.
However, Bitcoineer claims to charge no fees on any trading activities. The platform also claims to give access to the buying and selling of some of the best cryptocurrency tokens, such as Bitcoin (BTC) and Ethereum (ETH).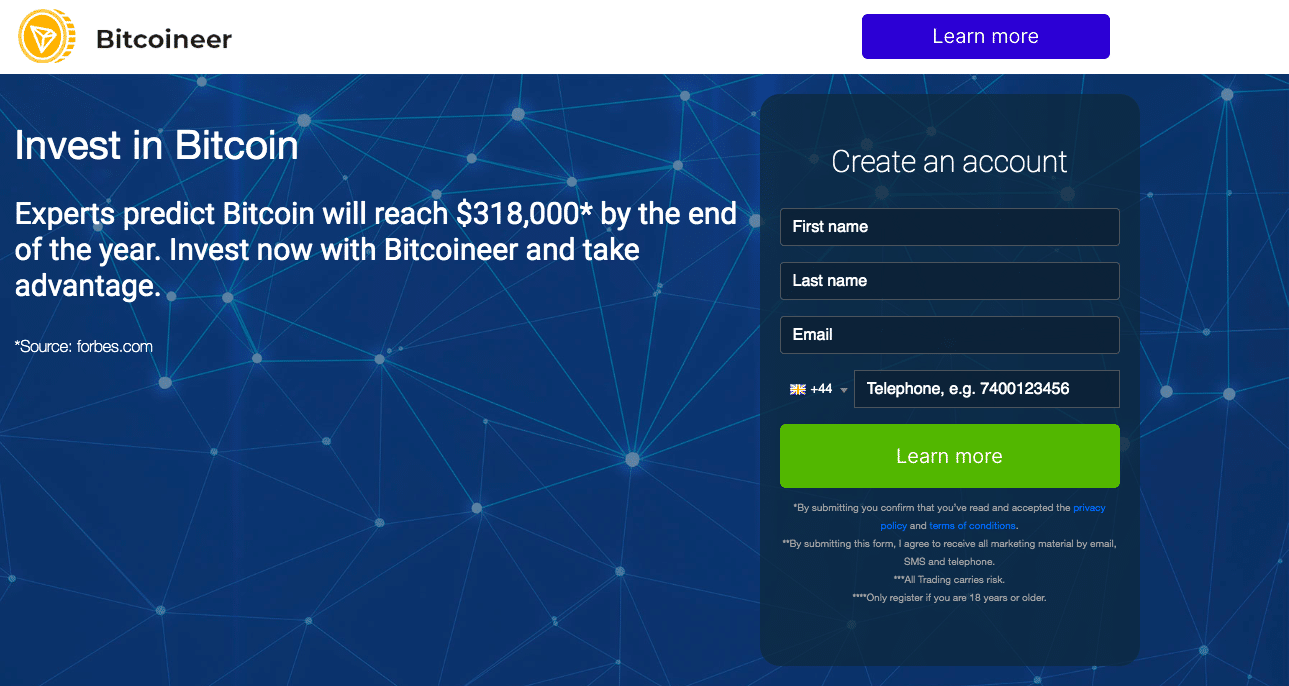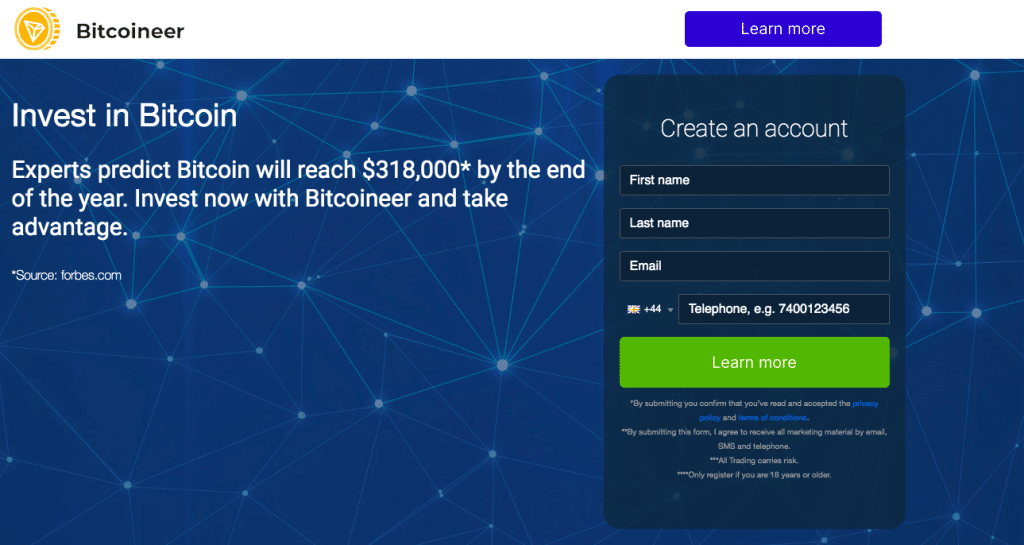 Now may be a good time to invest in these assets since they are available at a lower price than their all-time highs (ATHs). Moreover, Bitcoin and other altcoins have increased in the past few months. Despite growing by nearly 40% in the past month, BTC is still 59% below its all-time high.
Therefore, investors may want to re-enter the markets now. On Bitcoineer, users can apparently trade other altcoins, including DASH, XRP, ADA, BNB, and more.
The platform also claims to give access to a demo account, which lets users practice trades with virtual money. Through the customer support team, one can solve any account-related issues. Bitcoineer also states that users can withdraw and receive their funds within 24 hours.
However, Bitcoineer offers a limited amount of information on the website. The platform founders are anonymous, which makes it difficult to verify any of the claims made. We have also found very few customer testimonials on Trustpilot and similar websites. Therefore, we cannot make an assumption about the public's reception of this trading platform.
Who Created Bitcoineer?
The Bitcoineer website does not have an 'About Us' page or provide any details about the creators of this organization. Since there are no social media accounts run by the organization, we could not contact any team members to learn more about the development team or owners of this trading platform.
Bitcoineer has a similar name to 'Bitcoin Era' another popular crypto related tool but the two appear to be unrelated.
Bitcoineer Pros & Cons
Here is a list of the pros and cons of Bitcoineer's trading platform.
Pros
Fast registration process
Does not charge any account-related fees
Offers a demo account and customer support options
Fast withdrawal times (maximum 24 hours)
Cons
Charges a high minimum deposit of $250
The platform founders and creators are unknown
Cryptocurrencies are unregulated. Trading with unregulated brokers will not qualify for investor protection.
How Does Bitcoineer Work?
Unlike other crypto trading exchanges, Bitcoineer does not offer many details on how its platform works. There is nothing known about the features one can access or the user interface or layout.
Users must create a new account by entering their personal information and then make a minimum deposit of $250. After completing these steps, Bitcoineer claims to give access to the dashboard and all the included features. The Bitcoineer website also mentions that users can integrate other web-based trading platforms.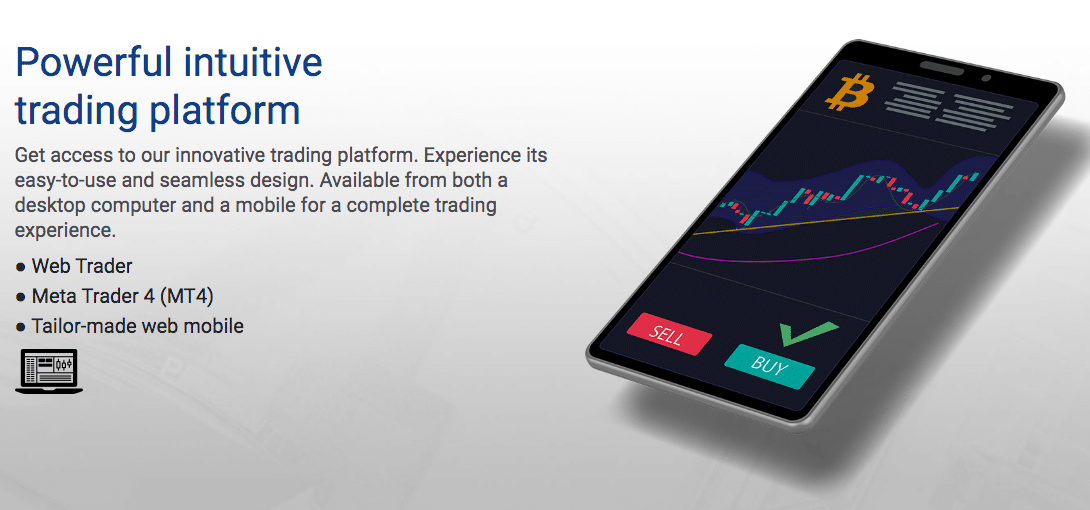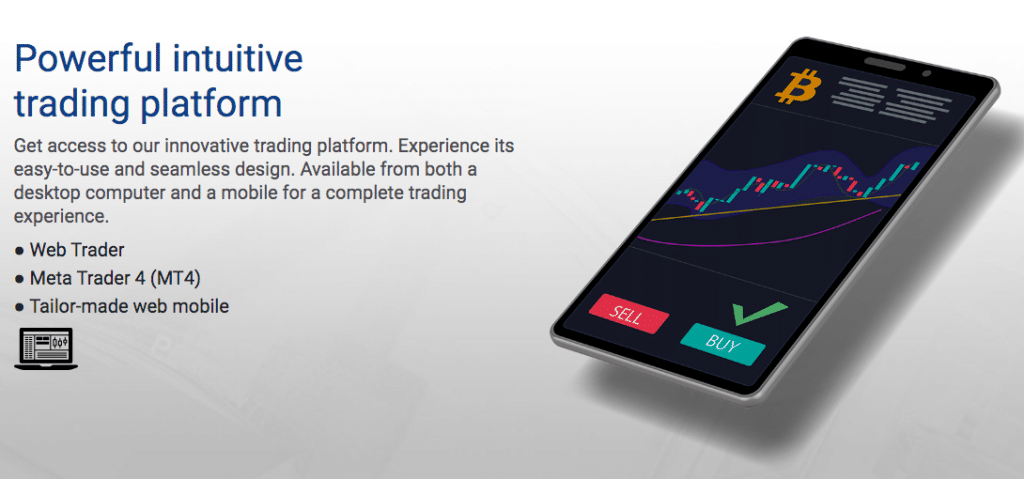 For instance, Web Trader is one of the trading platforms that can supposedly be integrated with Bitcoineer. Web Trader can be accessed without downloading any additional software. Users can execute new crypto trades on this platform by leveraging features such as Take/profits and Stop/losses.
Another platform accessible with Bitcoineer is Meta Trader 4 – which is used for trading a variety of assets, including cryptocurrencies. This platform has various mathematical tools to help one conduct technical and fundamental analysis.
However, the limited data makes it difficult to confirm the platform's authenticity. We recommend only investing in trading platforms after properly going through the terms and conditions. Users should also familiarize themselves with the risks involved before investing in such volatile markets.
Which Devices can be Used to Access Bitcoineer?
To begin using the Bitcoineer trading platform, users can connect with the following devices:
Mobile devices (Web-based browsing)

iPads and other tablets

Laptops and Desktops
Bitcoineer – Supported Countries
After going through other Bitcoineer reviews, we have found that this trading platform can be accessed in the following countries:
Nigeria

Canada

Italy

Germany

United Kingdom

South Africa

Mexico

Singapore
Interested users from the United States of America can access Bitcoineer with a VPN device.
Bitcoineer – Top Features
Now, let's take a closer look at some of the features which Bitcoineer claims to provide:
Commission-Free Trading
On Bitcoineer, one can apparently buy and sell cryptos without paying any commission or spreads on the transaction. Moreover, no subscription fees are required to be paid, nor are there deposit or withdrawal charges.
Paper Trading Accounts
Bitcoineer claims to support paper trading accounts on its platform. Paper/demo trading platforms come pre-loaded with virtual funds. This way, investors can make new trades without worrying about losing any money.
A paper trading platform may be beneficial for new users who want to get a better understanding of the trading dashboard or features. This platform can also be used to practice new trading strategies and evaluate the potential outcome.
Buy and Sell Top Digital Currencies
On Bitcoineer, a user can begin trading some of the most popular crypto tokens, such as Bitcoin and Ethereum.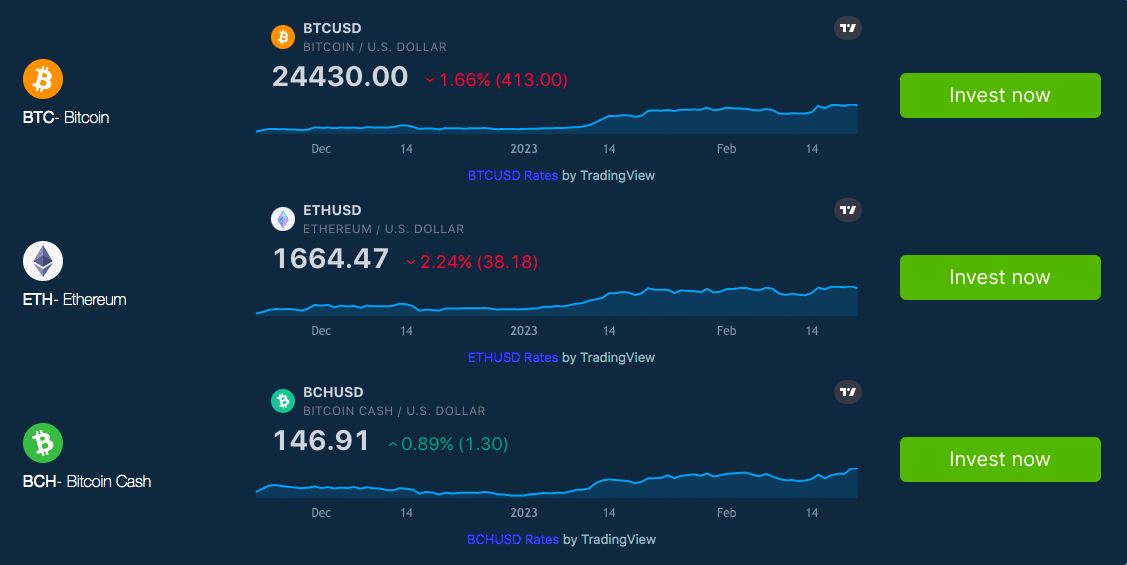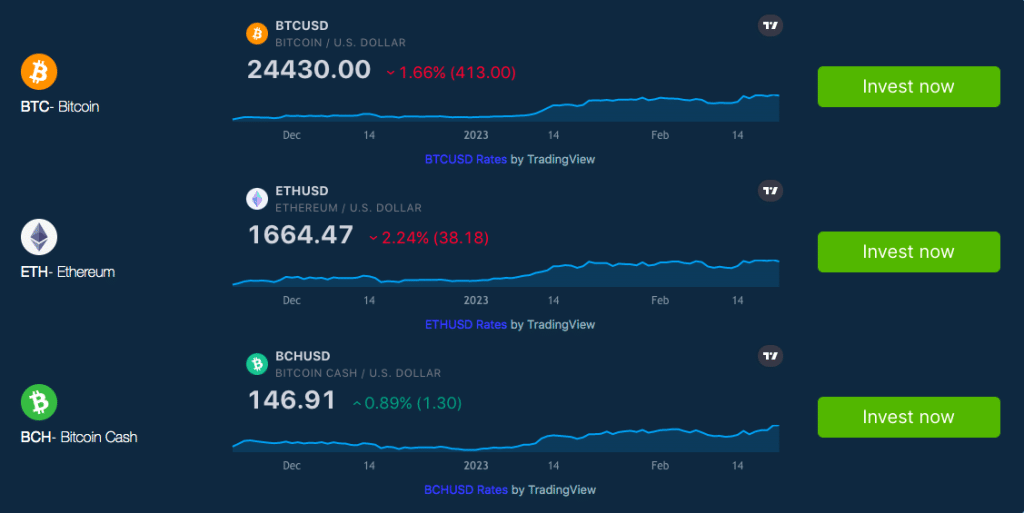 Other altcoins such as Dash (DASH), Ripple (XRP), Cardano (ADA), and Ethereum Classic (ETC) can also be traded on Bitcoineer.
Is Bitcoineer Legit or a Scam?
To determine whether Bitcoineer is a scam or a legit platform, we have reviewed all the website's claims and even read other platform reviews. We have learned that the platform claims to support many additional trading features, such as customer support teams, multiple payment options, and demo accounts.
However, there is also a lack of transparency in the information Bitcoineer offers on the website. Except for the account creation steps, not much else data is offered about Bitcoineer. There is also nothing known about the founders of this organization.
Due to a lack of social media profiles or customer reviews, we cannot verify the legitimacy of Bitcoineer.
What is the Minimum Deposit on Bitcoineer?
Bitcoineer claims to charge a $250 minimum deposit. This is to be paid after users create a new account. Once the payment has been made, users can get trading access to this organization.
Bitcoineer claims to offer different payment options, such as credit/debit cards and e-wallets such as PayPal.
Bitcoineer Reviews
We have read multiple Bitcoineer reviews to better understand this trading platform. Other reviews have also discussed some of the features that Bitcoineer offers but cannot verify any of these claims.
The consensus on Bitcoineer is neutral at this point in time due to the limited information available on the organization.
Cryptocurrencies are unregulated. Trading with unregulated brokers will not qualify for investor protection.
Do any Celebrities Endorse Bitcoineer?
There are several rumors about the founders of the Bitcoineer organization. Some believe that Bitcoineer's true creators may be popular celebrities who have chosen to stay anonymous. The sections below will discuss and debunk some popular theories about Bitcoineer.
Firstly, there are rumors stating that Elon Musk uses or endorses this trading platform. Elon Musk is the popular billionaire and founder of companies including Tesla and SpaceX. He has recently acquired Twitter for approximately $44 billion.
Musk has talked about cryptos and even supported some popular meme coins such as Dogecoin. In fact, the crypto community has named crypto tokens such as Dogelon Mars after him. However, we have found no information or evidence to support the theory of Musk's involvement with Bitcoineer.
Another theory states that Jeff Bezos, the Amazon founder, has something to do with the Bitcoineer organization. After going through Reddit threads and other forums, we can confirm that the billionaire is not involved in this organization.
Bitcoineer Customer Support
Other Bitcoineer reviews state that this trading platform offers a customer support department. Available to use 24/7, the customer support team can be contacted for assistance with any platform-based problems or issues.
The customer support team is apparently accessible via live chat and email options.
How to Get Started With Bitcoineer
After properly analyzing this trading platform, you can decide whether you want to start trading with Bitcoineer. If the answer is yes, then read the steps below on how to trade with this organization:
Step 1: Make a New Account
To start, users must visit the Bitcoineer website and create a new trading account.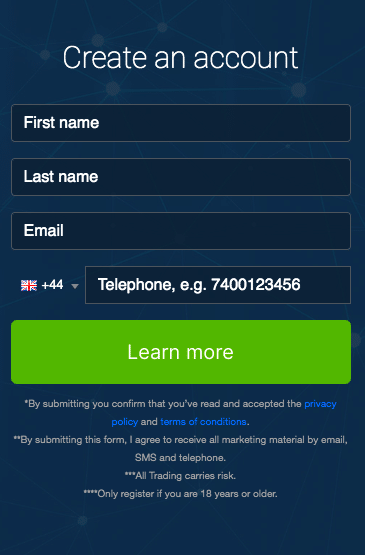 Bitcoineer has a straightforward account creation process and only requires one to enter their full name, phone number, and email address.
Step 2: Make a $250 Deposit
As stated above, Bitcoineer charges a minimum deposit of $250. This amount can be made via e-wallet options and debit/credit cards. Enter the amount you wish to deposit, choose the payment option, and confirm the transaction.
Step 3: Start Trading with Bitcoineer
After the account is funded, users can access the trading dashboard. Go through the trading features, search the cryptos you want to trade, and enter the amount you wish to invest.
How to Delete Bitcoineer Account?
One can apparently close their Bitcoineer trading account through the main menu itself. But, the trading website does not offer any more information on how to go about this process.
Latest Crypto News
Interested in trading some of the best cryptocurrencies right now? Here's some of the latest news circulating the crypto markets:
Currently, Bitcoin is one of the most popular cryptos in March 2023. Since the last two weeks, BTC is up by 37.6%. This bullish token is priced over the $28K range and has a market cap of over $542 billion.

The crypto markets have been positive in March 2023 after the news of UBS' plans to purchase Credit Suisse. The global investment bank, UBS, has reportedly offered $3.2 billion to purchase Credit Suisse.

Nasdaq is planning to launch custody services for cryptocurrencies in 2023. This will be the global marketplace's first venture in the digital asset markets.
Is Bitcoineer Legit? – The Verdict
The Bitcoineer trading platform offers limited information about its services and how it operates. Through our research, we have found that the platform owners are anonymous, there are no active social media pages, nor are there any available client testimonials.
Since the dashboard of Bitcoineer cannot be accessed unless a minimum deposit of $250 is made, we cannot verify the legitimacy of this trading platform. All readers should be careful when trading cryptocurrencies and only invest what they can afford to lose.
Cryptocurrencies are unregulated. Trading with unregulated brokers will not qualify for investor protection.
FAQs
Does Jeff Bezos endorse Bitcoineer?
What is the minimum deposit on Bitcoineer?