The massive bull cycles cryptocurrency markets have gone through can make anyone believe that the gains coming from it are constant. But the wise know of its volatility. People understand that if they aren't careful, even the bullish signals can lead to major market downturns. It was seen soon after Bitcoin reached its peak, as well as during the FTX and LUNA Crash. Recently, the market has started to show a comeback, but the volatility remains. Crypto trading tools that use machine-learning promise traders market-beating returns even when the entire macroeconomic activity is in flux.
BitGPT, also known as BitGPTApp or BitGPT Ai, promises to be one of those tools. It claims to use advanced algorithmic trading tools that execute on the trader's behalf, relieving investors from constantly watching the market. But are the offerings provided by this platform any good? This BitGPT review takes a deep dive into the different features of this platform to answer if it is any good for traders of today.
BitGPT Summary
Bit GPT (sometimes spelt with a space) promises on its site to provide sustainable, profitable returns to all types of traders using its simple UI. The platform also claims to support multi-asset trading for free.
Listed below is an overview of the features that BitGPT AI claims to offer:
| | |
| --- | --- |
| Type of Platform | Advanced cryptocurrency trading |
| Minimum Deposit | $250 |
| Claimed Success Rate | 95% |
| Supported Cryptocurrencies | BTC, ETH, LTC, DASH, BNB, BCH + more |
| Mobile App | Not yet available |
| Withdrawal or Deposit Fees | None |
| Customer Service | 24/7 |
Cryptocurrencies are unregulated. Trading with unregulated brokers will not qualify for investor protection.
What is BitGPT?
The AI part of BitGPT Ai refers to artificial intelligence and the owners appear to be borrowing the rest from OpenAi's popular tool ChatGPT, combining that with the word Bitcoin.
It advertises itself as an AI crypto trading platform that makes it easier to buy and sell top digital assets thanks to its implementation of advanced trading tools. The platform says that it scans the market looking for the best trading scenarios and executes traders on the investors' behalf – an approach that will likely allow even the most novice traders to generate profits from the market.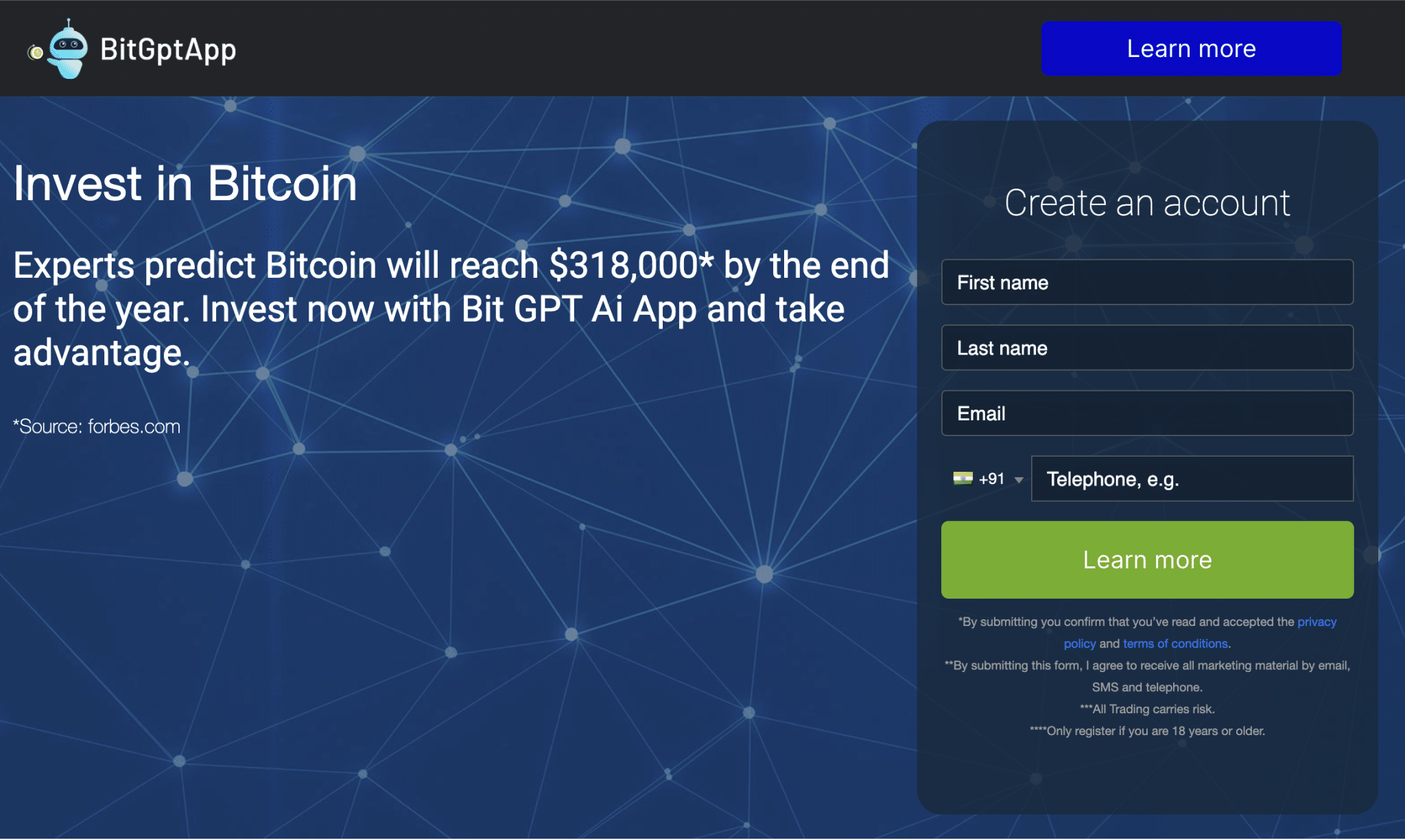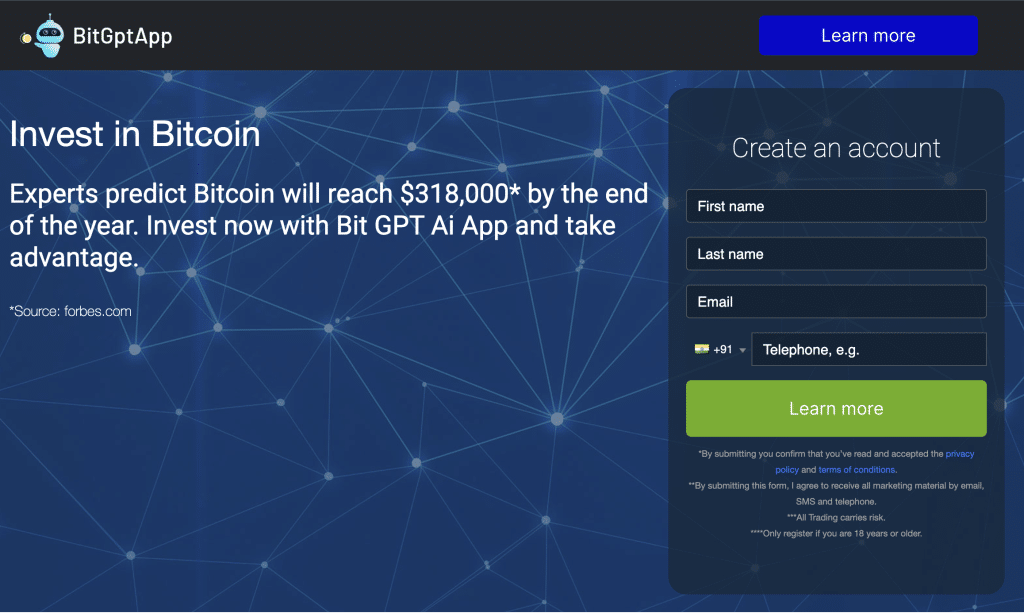 The BitGPT website claims that it is successful in gaining success for traders 95% of the time – something that we were not able to confirm. Third-party sites have reported that it does have some success in making gains for some traders.
BitGPT says that it supports a trading terminal with 2 modes – manual and hands-free trading. Manual trading is for those who want to take a more hands-on approach to trade using self-created strategies. The other mode is hands-free, where the app takes control of the traders and executes the trades depending on market conditions.
Accessing the website requires a deposit of $250. It can be a high amount for beginner-level traders but a bargain if BitGPT's claims about the win rate are true.
Another major perk that this site supposedly has is support for multiple assets. The official website has listed that it supports Bitcoin, Bitcoin Cash, Ethereum, Ethereum Classic, Cardano, and other assets for trading – fit for those who want to diversify their investments.
However, while this platform does make large claims, no evidence exists to substantiate them online. So, exercise caution when you are using this website, and know that in crypto trading, success is not always a guarantee.
Who created BitGPT?
BitGPT's official site has provided no information about the makers of the crypto trading platform. And the third-party sites are also at a disadvantage here. The details are vague – with many saying that the site is probably designed by a team of crypto experts and developers.
Savvy investors often look for full transparency. So, the lack of information about the team behind the site can be seen as a red flag. The same level of anonymity however can be seen with similar crypto tools like CoinGPT.
BitGPT – Pros and Cons
BitGPT claims to provide a wide range of services that can help it go toe to toe with its competition. However, after assessing the website, we also find a fair share of drawbacks.
Pros
The platform seems easy to use. The home page seems intuitive enough – and the same may be said about the official platform.
The site claims that the trading system on the platform runs 24/7, allowing users to mint gains every second of every day.
There is no mention of trading fees, deposit fees, withdrawal fees, or commissions on the platform.
The site claims that it has a 95% win rate.
Cons
Access is only available to registered users – not all can check out the website and assess its limitations and perks
All the data provided by the website is unverified, casting doubts about its efficacy.
There is no evidence to support the claim that the site has a 95% win rate.
A deposit of $250 is required for trading on the site – which can be a difficult investment when the amount of information provided is so little.
Cryptocurrencies are unregulated. Trading with unregulated brokers will not qualify for investor protection.
How Does BitGPT Work?
BitGPT works in the same way as a few others of our reviewed trading bots. Users can create an account and let the website take control of their training needs.
The in-app trading system runs a quick scan of the market and charts the prices of crypto assets. It then uses its machine-learning capabilities to predict price movements.
After the market reaches the appropriate conditions, it executes the trades. However, the official website claims that users can also trade manually by using the trading tools and signals that BitGPT provides.
To use the hands-free version of this semi-autonomous trading platform, users must first make adjustments to the app and set parameters such as stop loss and crypto they want to trade.
According to the official website, Bit GPT AI works round the clock and trades even when traders are asleep. If that's true, that will allow users to get the maximum benefit of the cryptocurrency market's volatility.
However, since people need to trust the platform before using it for trading in real time, they must first test the website. For those, BitGPT reportedly offers a demo trading account.
While these features are exciting, evidence to support the are nonexistent. BitGPT hasn't been very forthcoming when it comes to information, and it seems like everything from trade setup to even the demo account is locked behind a paywall. Also, reports from third-party websites about this platform only provide sparse information.
That said, according to a reputable third-party site, over 95% of reviewers have reported that the site has been beneficial for them.
But that still does not mean that gains on this platform are a guarantee. Always assess the website before trading and be aware of all the risks involved.
What Devices Can You Use to Access BitGPT?
Our reviewers tested Bit GPT – at least the home page of it – on several devices and found it to be performing optimally. These devices include:
Desktop
Laptop
Smartphones (Android and IOS)
Tablets
All the buttons were interactive, and all the texts were visible. It is likely that Bit GPT uses Meta Trader 4 as well – but the official website has provided no information in this regard.
BitGPT Supported Cryptocurrencies
The BitGPTApp platform claims to support a wide range of cryptocurrencies, such as Bitcoin, Ethereum, Ethereum Classic, Bitcoin Cash, Dash, ZCash, Cardano, MIOTA, and others, to name a few.
Multiple-asset support means users can diversify their investments. That is a required thing in the crypto market because the space is inherently risky for everyone.
BitGPT Supported Cryptocurrencies
The registration page of the official website shows that users from over 120 countries can access the platform. It means that it is likely allowed to operate worldwide. And since the KYC requirement is not present during the sign-up process, it might be true.
BitGPT Success Rate
BitGPT's official website claims that it has a 95% win rate. However, other than the words from some of the reviewers, we don't have any evidence to substantiate these claims. It is likely that it is a marketing hook being used to reel in customers. However, it also does not mean that it is untrue. Since uncertainty is high, read the official terms and conditions of this website thoroughly before investing.
BitGPT Main Features
Listed below are some of the key features that BitGPT advertises to have.
Simple UI and Hands-free Trading
It is not easy to try out crypto trading for the first time. The charts and the numerous buttons can make it an overwhelming experience. But Bit GPT claims that it has a simple user interface, allowing even novice traders to easily engage with the crypto market. Making adjustments to the trading system is easy, and so are the depositing and withdrawing processes.
A High Win Rate
Using a platform that trades on the user's behalf is a risky prospect. The win rate of such trading platforms should therefore be high. BitGPT claims that it has a win rate of 95%. While this rate seems unsustainable, a large contagion of traders – 95% – have reportedly agreed with that statement. However, since that is just a statistic at the moment since no other evidence exists for the same – take this win rate with a grain of salt.
Support for Multiple Assets
You should invest in multiple cryptocurrencies to get a chance to make profits. No two assets behave the same, especially now, as an asset's price is influenced more by its utilities and less by macroeconomic activities. Bit GPT AI claims to capitalize on it by supporting multiple assets.
Instant Withdrawals and Deposits
Bit GPT reportedly allows instant withdrawals thanks to a streamlined payment method. People can pay using debit or credit cards, and bank transfers and e-Wallets are also available.
Quick deposits allow users to start trading instantly and quickly react to market changes to make the most games. Withdrawal times are also fast. At most, it can take 24 hours to clear a withdrawal – great for traders who want to get hold of their gains quickly.
Cryptocurrencies are unregulated. Trading with unregulated brokers will not qualify for investor protection.
Is BitGPT a Scam?
As we reviewed BitGPT and looked for information about it in third-party sources (since the site offers so little information), we found that there are reportedly 95% of traders trust BitGPT to trade profitably even in volatile market conditions.
The app reportedly works around the clock – allowing traders to make money while they sleep. However, success is not a guarantee, and investors must only put money in the Bit GPT account that they can afford to lose.
While some third-party reviews are positive, information on the website itself is light. Also, details surrounding those 95% of traders who claim great returns from the website are not known.
Details about the makers of the platform are also not available. And there is no talk about it on social media handles. Reaching out to customer support without creating an account is also impossible. These factors make it impossible for us to suggest whether BitGPT is legitimate or not.
What is the Minimum Deposit to Start Trading on BitGPT?
A deposit of $250 must be made on the platform in order to start trading on Bit GPT Ai. This requirement is present to access any of the features available on the platform – including customer support, since there is no other way to reach out to the team.
BitGPT Customer Support
BitGPT claims that it has a customer support team that is ready to assist the members around the clock. You may be able to call them at any time of the day if you are stuck using any aspect of this website. However, you can't call them or connect with them through live chat or email if you are not registered.
How to Use BitGPT?
After assessing the platform thoroughly, if you still want to start crypto trading here, follow the steps below.
Step 1 – Create a Bit GPT AI Account
Go to the official BitGPT website and fill out the registration form. Provide details like your name, email, and phone number to get started. After you provide the details, you will initiate a verification process, completing which you will be able allowed to fund your account.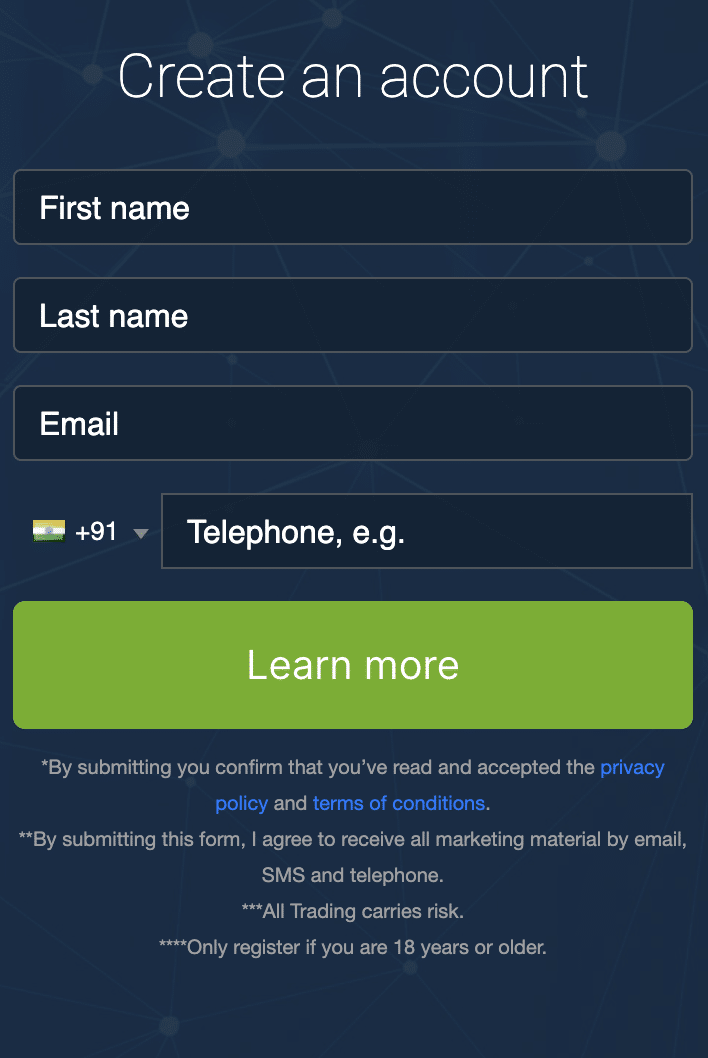 Step 2 – Fund the BitGPT Account
Most of the features will be largely locked out after you register your account. So, fund your account by depositing $250 using any of the listed fiat methods. Debit cards, credit cards, and e-Wallets.
Step 3 – Start Trading on BitGPT
Finally, you can start trading on BitGPT. You can use the default feature where the app will trade for you. Or, you can use the manual trading utility to assess the markets and trade on your own terms by your own self.
Latest Bitcoin News
To stay ahead of the market, traders and investors must keep up with the latest goings on in the crypto world. Here are some of the top headlines from the week beginning April 17:
US-based crypto exchange Coinbase has received a license to operate in Bermuda and is reportedly ready to launch a derivatives-based exchange next week.
Elon Musk has threatened Microsoft with a lawsuit, claiming the tech firm trained its artificial intelligence (AI)program Copilot using Twitter data 'illegally'.
Auction house Sotheby's will sell off part of bankrupt VC firm Three Arrows Capital's digital art collection, including a CryptoPunk.
Is BitGPT Legit? – Verdict
BitGPT claims that it makes trading easier, even for beginners. It also says that it has a success rate of 95%, and some BitGPT testimonials online are positive. However, other than some third-party sites, there is not much reliable information available about the efficacy of this site such as an audit or backtesting.
That said, the features do look appealing. But investors must opt for this platform only after going thorough research and backtesting using a small amount of money. Click the link below to find out more.

Cryptocurrencies are unregulated. Trading with unregulated brokers will not qualify for investor protection.
BitGPT FAQs
What is the minimum deposit to trade on Bit GPT?