BitGratitude claims to be an intuitive and user-friendly software for beginner cryptocurrency trader. Going by its name, it might be assumed this trading software focuses mainly on Bitcoin – however it claims to also support other altcoins. The software claims to be a tool that helps traders by providing trading knowledge. It advertises itself as a trading tool suitable for both new and experienced traders.
BitGratitude makes a lot of claims on its website, but how much of them does it deliver on? Is it a legitimate trading software tool or a scam? We attempt to answer these questions in our review of BitGratitude.
BitGratitude Summary
BitGratitude portrays itself as an educational tool that provides the fundamentals of cryptocurrency trading to its users. Here is a quick summary of the app's features:
| | |
| --- | --- |
| Type of Platform | Advanced cryptocurrency trading |
| Minimum Deposit | $250 |
| Claimed Success Rate | Not specified |
| Supported Cryptocurrencies | Bitcoin and other assets |
| Mobile App | No mention of any mobile app |
| Withdrawal or Deposit Fees | No information available |
| Customer Service | 24/7 |
Cryptocurrencies are unregulated. Trading with unregulated brokers will not qualify for investor protection.
What is BitGratitude?
BitGratitude claims to be a cryptocurrency trading app that deals in both cryptocurrencies and other assets. Unlike other trading sites, BitGratitude does not claim to be an autonomous trading robot that executes trades on the traders' behalf.
On the contrary, BitGratitude portrays itself as a complementary education tool that will help traders "jump start" their cryptocurrency trading journey. The trading app claims to help traders with the basics or fundamentals of cryptocurrency trading so that they see the bigger picture when it comes to the fluctuations and volatility of the cryptocurrency market.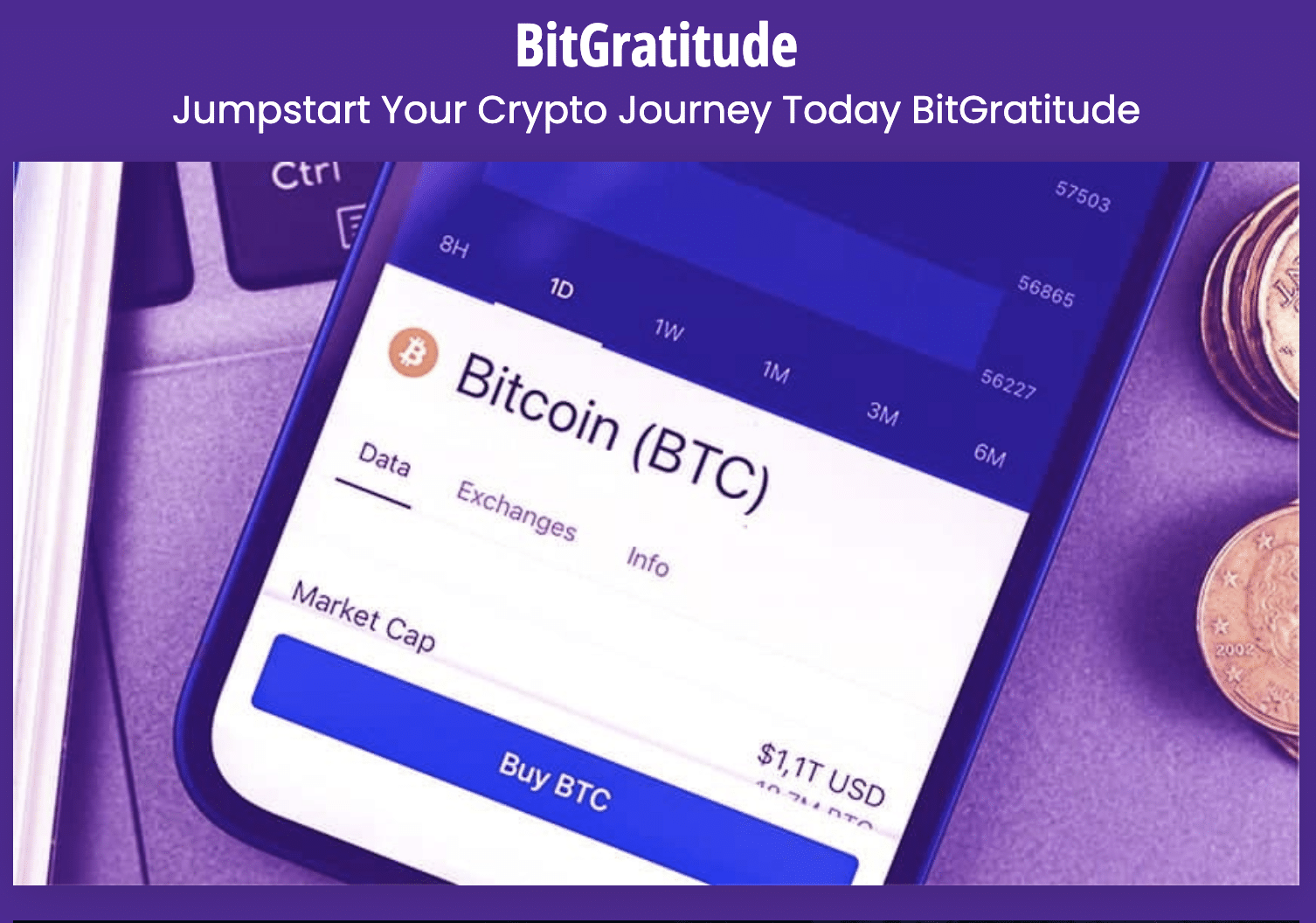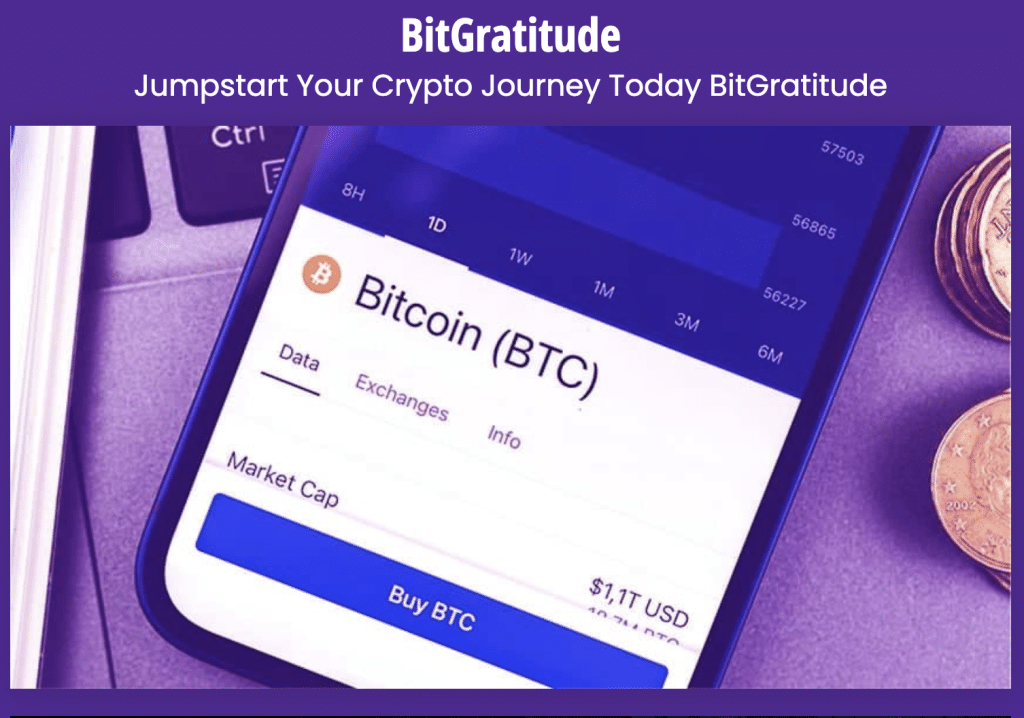 BitGratitude offers a web-responsive site that is compatible across devices such as smartphones, tablets, and laptops. This supposedly allows traders to do trading anywhere and anytime. The app claims to have an easy-to-use interface, which our team checked and agreed upon.
The registration process to signup on BitGratitude appears to be simple, but it does claim to have a two-factor authentication process for extra security. It does not cost anything to visit this site, but accessing the trading platform and the educational tools requires a minimum deposit.
Having said that, the content provided on the website could use improvement. The platform is silent on many key aspects, which can be construed as red flags. Thus, we recommend traders be wary while evaluating this site.
Who Created BitGratitude?
There is no mention of BitGratitude's founders or creators on the website. The 'about us' section slightly hints that there is a team who worked on it and consisted of people from diverse backgrounds. But we are not certain due to lack of information.
While it is common to keep the founder's identity anonymous in the cryptocurrency world, we expect some information, especially from trading software where money is involved.
BitGratitude Pros and Cons
Choosing a cryptocurrency trading software or app purely boils down to personal preferences rather than anything else. Hence, to help you decide if this is the right platform for your trading needs, we have drawn this list of pros and cons on BitGratitude:
Pros
The platform claims to be an educational tool for cryptocurrency trading
It states that it is "simple-to-use" features will appeal to new traders
The platform is compatible across devices
BitGratitude claims to support cryptocurrencies and other assets
Cons
The platform is silent on many key aspects
According to third-party statements, a minimum deposit of $250 is mandatory
How Does BitGratitude Work?
BitGratitude's website is full of content, and yet no detail has been provided on the app's working models and algorithms. The information on the site only highlights the simplicity of the application and how user-friendly it is.
It claims itself as a complementary educational tool that provides information and resources on cryptocurrency and cryptocurrency trading. Our assumption is perhaps the application draws real-time insights and updates from the cryptocurrency market and provides tips on how to identify a good trading opportunity.
Since it has not stated explicitly to be an autonomous trading app, we can be sure that it doesn't execute trades for the traders. Our hypothesis is, BitGratitude offers market insights and analysis which help traders understand the crypto market to execute trades themselves.
We don't know in what format this market information is shared with the traders as there is a requirement of a minimum deposit to get access to that feature. If you are interested in checking out the platform, then please do so responsibly and do not invest money until you have thoroughly evaluated the platform.
Which Devices Can Access BitGratitude?
Our team reviewed the BitGratitude site and found that it is web-based and thus responsive. This means that the platform can be accessed and navigated on smartphones, laptops, desktops, tablets, and computers. The only thing that the trader will need is a reliable internet connection.
There is, however, no mention of a mobile app for this trading platform. So, it might be a disappointment for those who prefer mobile applications.
BitGratitude Supported Countries
There is no explicit information on BitGratitude-supported countries. However, our team did notice that the website is available in more than 10 languages, which could mean that the site caters to audiences in locations where these languages are spoken.
In addition to this, the registration form provided on the website has a list of over 100 nations. This could also indicate that perhaps the app is usable in those locations.
It's difficult to verify that however without making a deposit. Plus, the laws of crypto trading differ from region to region, so traders should find out if BitGratitude is available in their jurisdiction.
What is the Success Rate of BitGratitude?
There is no information on the website regarding the success rate. This could be because BitGratitude is not advertised as software that does automated trading.
Rather, it claims to be a trading software that provides tools to the users to see the "bigger picture" in a volatile cryptocurrency market. Thus, the idea is that traders will learn about crypto trading using the educational resources provided on this platform and use them to execute trades. So, the success rate will depend on their trading skills and expertise.
BitGratitude Key Features
Below are some of the main selling points of the BitGratitude platform:
The Software is Compatible with All Devices
The top thing that traders look for in any trading platform or software is that it is compatible across different devices. With BitGratitude, users are supposed to expect the same. The platform states that the site can be accessed and used on computers, laptops, tablets, and both Android and iOS smartphones. Thus, the platform will be convenient to do cryptocurrency trading on the go.
BitGratitude claims that it has incorporated many tiny details to make the application user-friendly. Thus, the site appears to be easy to navigate. The color scheme of the site is white, which makes it easy on the eye and highlights all the important information without overwhelming the user.
Educational Tools
Apart from being a trading app, BitGratitude also claims to offer an educational aspect. It states that it covers resources and information on the fundamentals of Bitcoin, altcoins, and risk management in online trading. Additionally, it claims to provide tips and insights to more professional traders, appealing to both new and veteran traders.
Cryptocurrencies are unregulated. Trading with unregulated brokers will not qualify for investor protection.
Is BitGratitude a Scam?
After reviewing the BitGratitude site, we understand that this trading app claims to focus on providing educational materials related to crypto trading and being an easy-to-use trading tool.
BitGratitude website is limited in information and mostly discusses cryptocurrency and Bitcoin in general. It does not explain what tools and technologies the trading platform uses to help traders.
BitGratitude is silent on the security aspects and does not mention what protocols and standards it conforms to.
There are a few third-party reviews on BitGratitude, but they all seem to repeat what is already on its website. Thus, we do not have enough information to decide whether this site is a scam or not. Either way, it is always better to use caution when it comes to crypto trading.
What is the Minimum Deposit on BitGratitude
Since there is no mention of a minimum deposit on the BitGratitude site, we looked for this information on review portals and crypto forums. We found a handful of third-party articles which have claimed that the platform has a minimum deposit of $250.
While the site is free for general use, this minimum deposit is mandatory to get access to the actual trading platform.
BitGratitude Customer Support
BitGratitude has not shared any specifics regarding its customer support. While customer support is an integral feature of any trading software, it is usually only available to those who have registered and made the minimum deposit.
Nonetheless, there is a 'contact' section on the BitGratitude website, which works like a standard form. One can use this to send a message or submit a query to the team. We do not know if it is effective, but it's worth trying.
How to Use BitGratitude
If you are interested, you can follow these instructions to get started with BitGratitude:
Step 1 – Signup on BitGratitude
Visit the official BitGratitude website and complete the signup form.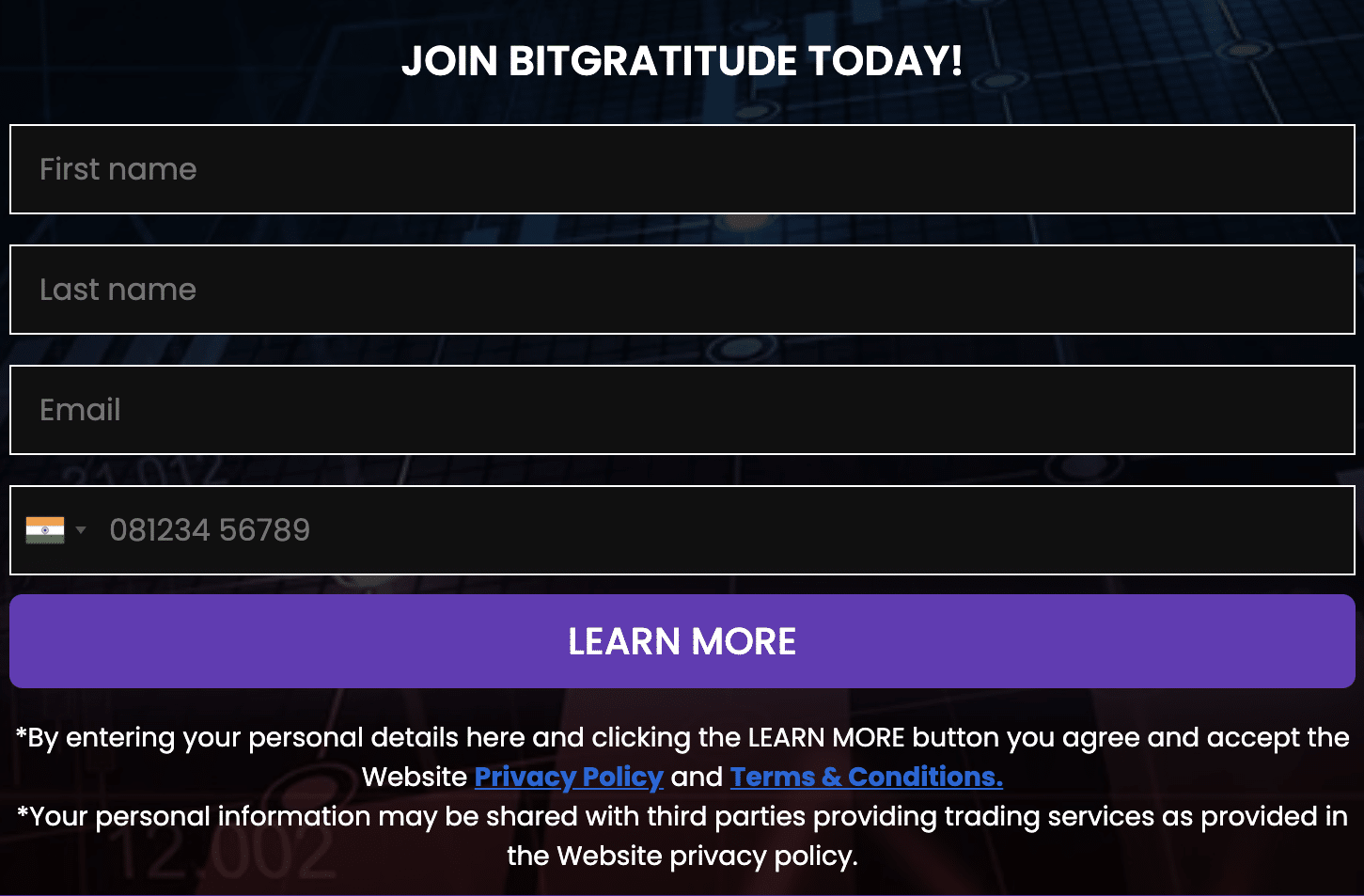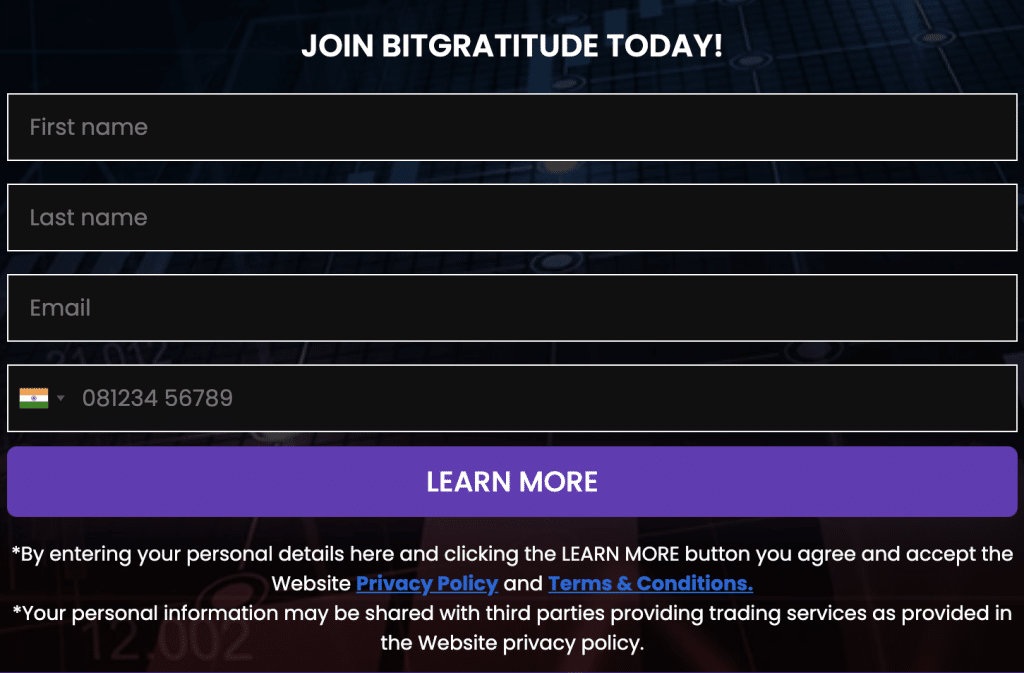 The form asks for a few general details such as name, email, and phone number. As per the website, BitGratitude claims to use two-factor authentication to provide better security, so you might receive a phone or email verification. But we still recommend that you only provide a burner number so that the team can only reach out to you via email.
Step 2 – Make the Minimum Deposit
Once your account is verified and ready, make the minimum deposit. Now, there is no information on this on the website, but third-party sources have stated that it amounts to $250. It could be more, but the site will inform you about the amount before you make the payment.
Step 3 – Start trading on BitGratitude
Once your account is credited with the deposit, you can start trading on the software. But if you don't feel ready, you can also use this time to browse the software and the educational resources it claims to provide to get an idea of how it works.
Is BitGratitude Legit – The Verdict
From the looks of it, BitGratitude appears to be similar to other crypto trading software. However, there is little information on its website about how exactly the platform works.
On the one hand, the platform has not made any high claims, such as success rate or guaranteed returns, which is a good sign. On the other, the platform is silent on many key aspects, such as the minimum deposit and tools and technologies it uses to gather the educational resources it claims to provide on cryptocurrency trading.
The only thing we can say for sure is that the site has a user-friendly interface, and new traders may find it convenient to use. However, this general lack of information may discourage some investors.
Either way, it is best to exercise caution, and thus we recommend traders do a thorough check before deciding to use this platform.

Cryptocurrencies are unregulated. Trading with unregulated brokers will not qualify for investor protection.
FAQs