BitIQ is a popular crypto trading platform on online forums that claims to use advanced tools to identify high-profit trade setups. The platform has a range of features that separate it from the competition, but do they really work?
We review BitIQ in this guide, also known as the BitIQ app, although no iOS or Android app appears to be available, just a mobile responsive website.
BitIQ App Summary
Before we get into the review, here's a quick look at all the important features of the BitIQ platform:
| | |
| --- | --- |
| Type of Platform | Advanced cryptocurrency trading, Offering Autonomous and Manual trading Facilities |
| Minimum Deposit | $250 |
| Claimed Success Rate | 95% |
| Supported Cryptocurrencies | BTC, ETH, LTC, DASH, BNB, and Others |
| Mobile App | Mobile compatible web trader |
| Withdrawal or Deposit Fees | None |
| Customer Service | 24/7 |
Cryptocurrencies are unregulated. Trading with unregulated brokers will not qualify for investor protection.
What Is BitIQ?
BitIQ is a web-based app and crypto trading platform designed to trade tokens on your behalf. With its advanced mechanics, BitIQ claims that it can scan the market and execute potential high-profit trades. Once it spots a trading opportunity, the platform reportedly opens or closes a trade for the user without any manual input.
What sets BitIQ apart from other platforms is that it only charges a commission if you make a profit on a trade, making it a cost-effective option for traders. The platform provides both hands-free and manual trading options to suit every user's needs.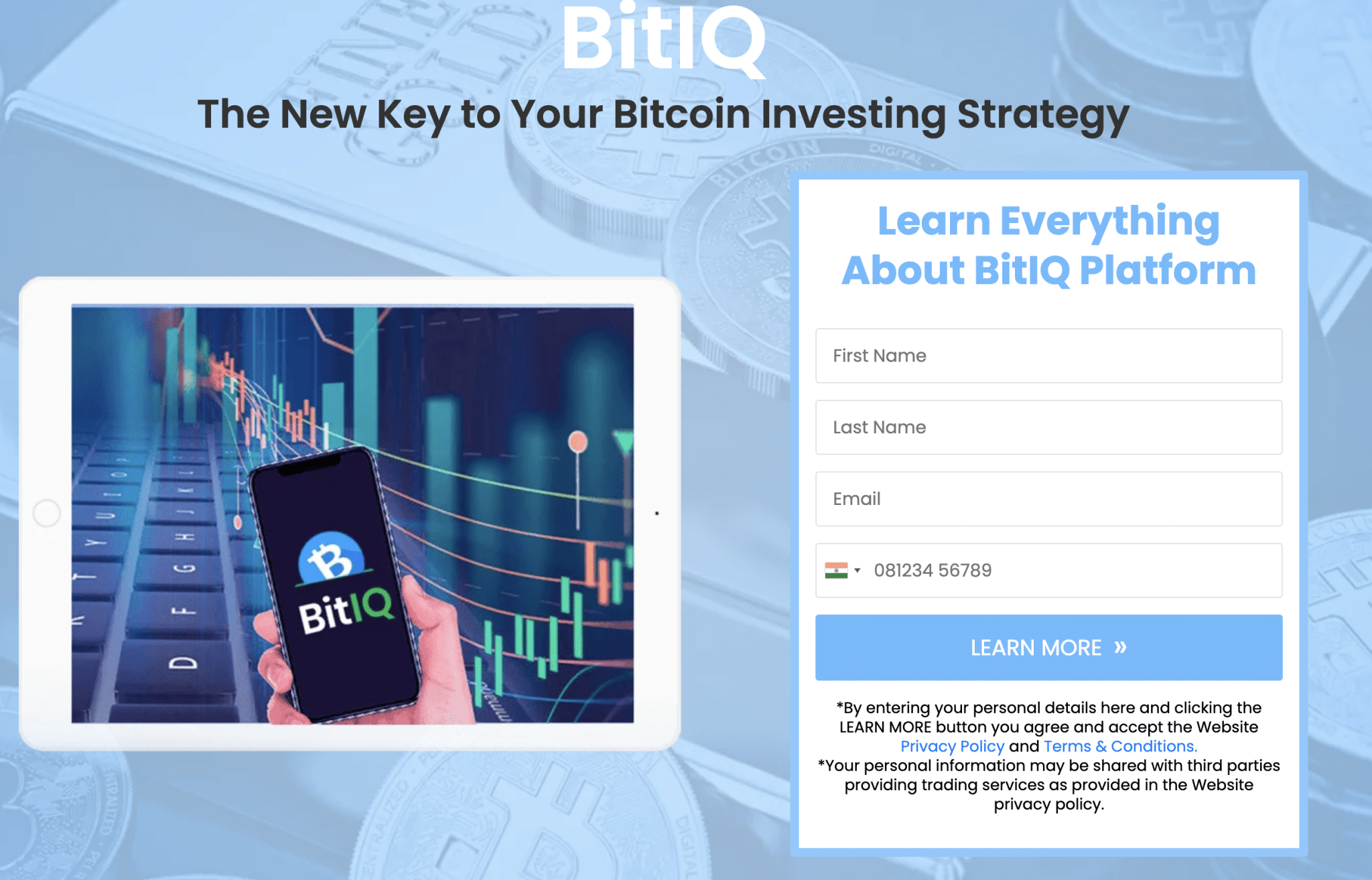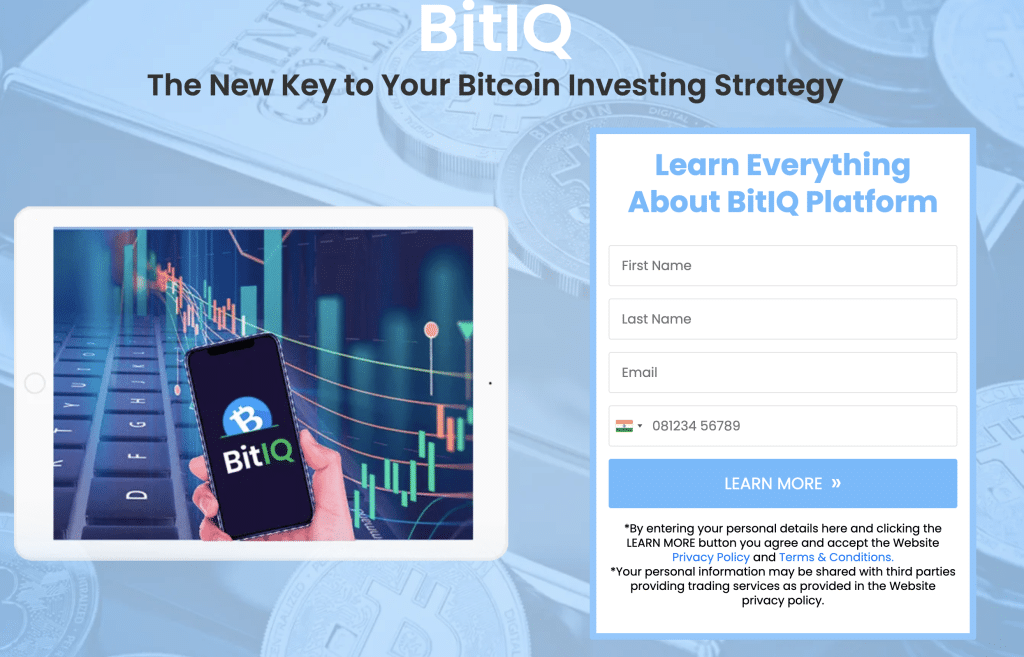 Experienced traders can reportedly use the platform to find trade ideas and execute them manually, while the hands-free trading option is suitable for beginners who want to take advantage of market opportunities without having to make trading decisions themselves.
BitIQ says that it offers a wide range of crypto contracts and operates in any country where crypto CFD trading is legal. While users do not own the underlying cryptocurrencies, they can still speculate on price movements in the market. The platform claims to be user-friendly and requires no prior experience to start trading, making it accessible to anyone interested in trading cryptocurrencies.
It's essential to note that platforms, including BitIQ, can be risky, especially when trading with leverage. While the platform's algorithms can predict market movements to some extent, no robot can predict market movements with absolute accuracy. It's crucial to use the platform cautiously and only deposit funds that you can afford to lose.
Who Created BitIQ?
It is difficult to determine the creator of the platform since there's no mention of any individual or team behind the project on the BitIQ website. The project has made claims that it's owned by a software provider working in the industry for several years, though.
We also found the developers to be anonymous for most of the other crypto trading robots we reviewed on this site.
BitIQ Pros & Cons
There are several platforms in the markets but why should you choose BitIQ? Here's a list of all the pros and cons of the platform that'll help you make a decision.
Pros
Easy registration process: Signing up on the BitIQ app site is relatively simple and straightforward.
The platform has an intuitive and user-friendly interface that is easy to navigate and use, even for those without trading experience.
BitIQ offers a wide range of cryptocurrency contracts to trade.
Free demo account
Good customer support
Cons
Unverified claims about success rate and withdrawal time frames
$250 minimum deposit requirement
Limited availability in certain locations
Reports of unethical marketing techniques
How Does BitIQ Work?
BitIQ is just like other crypto trading systems that say it aims to facilitate autonomous trading without any manual input from the user. By utilizing the latest technologies in quantum computing and artificial intelligence, the platform can detect daily trading opportunities without the trader being actively involved.
BitIQ apparently works with exchanges that leverage ECN systems to facilitate quick and cost-effective transactions. The platform's algorithms track and monitor each trade after it is initiated, closing it at the most opportune time to maximize the risk-reward ratio. Users can withdraw their profits or reinvest them in the markets since they are deposited directly into their trading balance.
As per the information provided on BitIQ's website, the system depends on trading signals and algorithms to speculate on the cryptocurrency market. Users can establish their own parameters and stop-loss limits, and the platform will execute trades based on those criteria. Alternatively, users have the option to let BitIQ perform trades based on its own indicators.
BitIQ does not hold users' money, instead depositing it into an exchange wallet for trading purposes. To help users understand BitIQ's features, the platform provides a demo trading feature, which users can try before depositing their funds.
Which Devices Can be Used to Access BitIQ?
BitIQ is currently available only through its official website, and users can access it with desktop or mobile browsers. The site is compatible and calibrated for mobile devices, and a lack of a BitIQ mobile app shouldn't be of any inconvenience for users.
BitIQ Supported Countries
BitIQ is only available in countries where CFDs are legal. Some countries on the list of supported locations include Canada, Australia, South Africa, the Philippines, United Arab Emirates, Singapore, France, Spain, Italy, Germany, Nigeria, and Mexico.
At the same time, BitIQ is currently not available in the United Kingdom and the United States. If you are unsure whether your country is supported by BitIQ, it is advisable to check the official website for the most up-to-date information.
What is the Success Rate of BitIQ?
The BitIQ app claims a 90% success rate and 25% daily ROI, but these claims are unverified. It's best to do your own research before investing in the platform.
BitIQ Key Features
BitIQ claims to offer many features that set it apart from the competition. We've mentioned some of the most important features of the platform below to help you make a decision to trade with BitIQ.
Access to Several CFD Contracts
BitIQ provides access to a wide range of popular CFD contracts, including Bitcoin, Ethereum, Litecoin and other trending cryptocurrency assets. Users can choose to focus on a single asset or diversify their trades across multiple assets to limit financial risk. With BitIQ, users have the flexibility to create a customized trading strategy that fits their risk tolerance and investment goals.
Demo Account
BitIQ offers a demo account that provides a secure environment for users to practice trading before enabling live trading. Once users add funds to their account, they can access the demo account, which allows them to learn how the bot works, test various trading strategies and become familiar with the platform's interface before making actual trades.
Supports Multiple Cryptocurrencies
The BitIQ app can trade multiple cryptocurrencies, including BTC, ETH, XRP, and more. This feature provides users with a steady stream of appealing trade opportunities each week, allowing them to take advantage of market movements and maximize their returns.
Customer Service
BitIQ offers a dedicated customer service section on its website, allowing users to contact the team to obtain solutions to any problems that they may face. The support team is available 24/7, providing users with peace of mind and the assurance that they can always get help when they need it.
Low Fees
BitIQ's trading platform is free to download and sign up for, and all deposits and withdrawals are free. The only fee that applies is a 2% commission charged on any trading profits users make. This feature can be especially appealing to those who are looking to maximize their profits while keeping their trading costs low.
Cryptocurrencies are unregulated. Trading with unregulated brokers will not qualify for investor protection.
Is BitIQ a Scam?
The legitimacy of BitIQ has been questioned by many on the internet. While it is challenging to determine the legitimacy of a platform entirely, BitIQ reviews suggest that the platform has been thoroughly investigated and used by customers in the past, making it a potentially genuine trading software.
Reviews of the platform vary, with some being positive and others negative, depending on the factors considered. However, many reports indicate that BitIQ's trading process is seamless and user-friendly, which if true could make it an option for beginners in cryptocurrency trading. A common theme of reviews is that there are several other similarly named sites such as BitQQQ, BitQH and BitQZ.
It is crucial to exercise caution while trading cryptocurrencies due to their high volatility. BitIQ offers features that can help users minimize losses, but it is essential to closely monitor the market.
What is the Minimum Deposit on BitIQ?
Users are required to make a minimum deposit of $250 to access the platform. Users can choose from several payment methods such as credit and debit cards, bank transfers, and Bitcoin to make the deposit. The platform ensures secure transactions by utilizing SSL technology.
BitIQ Customer Support
The website of BitIQ features a dedicated 'Contact' section that users can access to reach out to the customer support team with their questions.
BitIQ reviews indicate that the support team is available around the clock and can be contacted by filling in a contact form on the platform's website. After submitting the form, the support team will respond to the user's provided email address via email.
How To Use BitIQ
Using BitIQ is very simple and it requires only a few steps to get started. Here's a step-by-step guide to help you begin your trading journey with BitIQ.
Step 1 – Create an Account
To create a BitIQ account, head to their official BitIQ website and click on the 'Sign Up' button. You'll be asked to enter your first and last name, along with your email address and mobile phone number.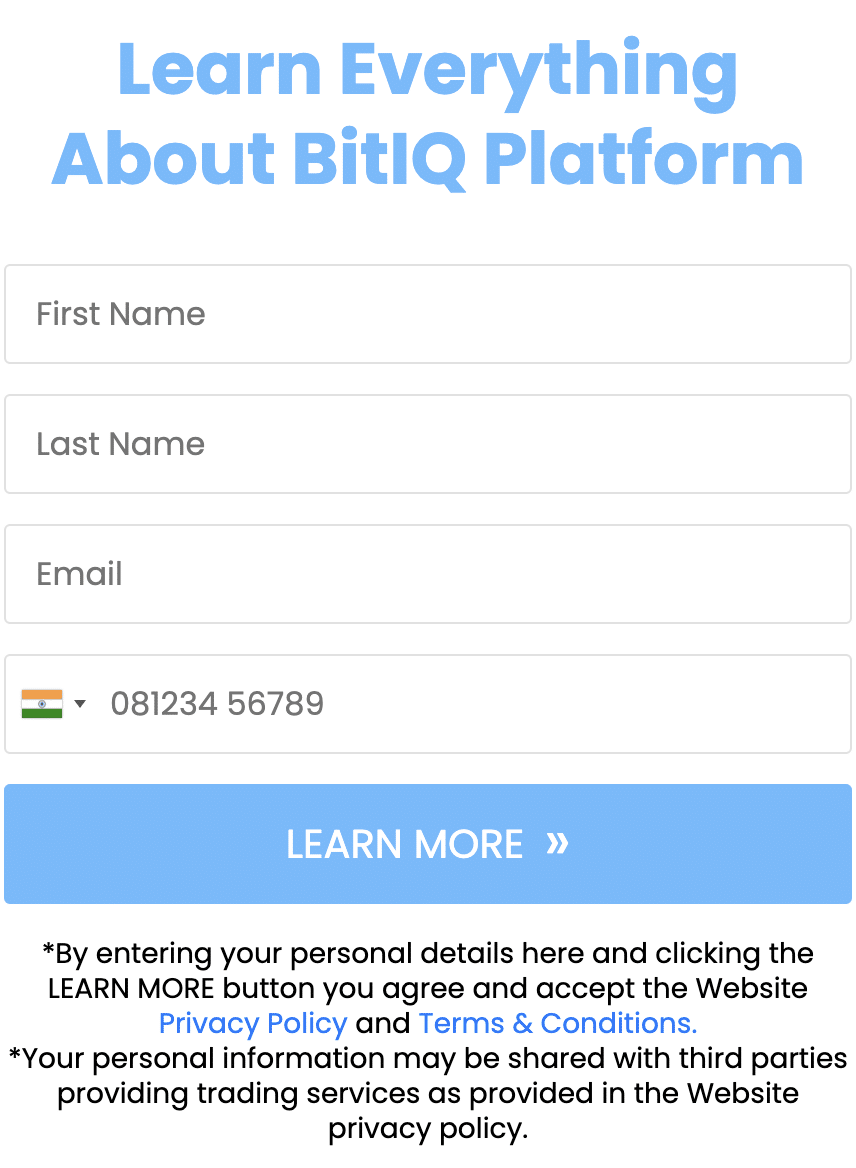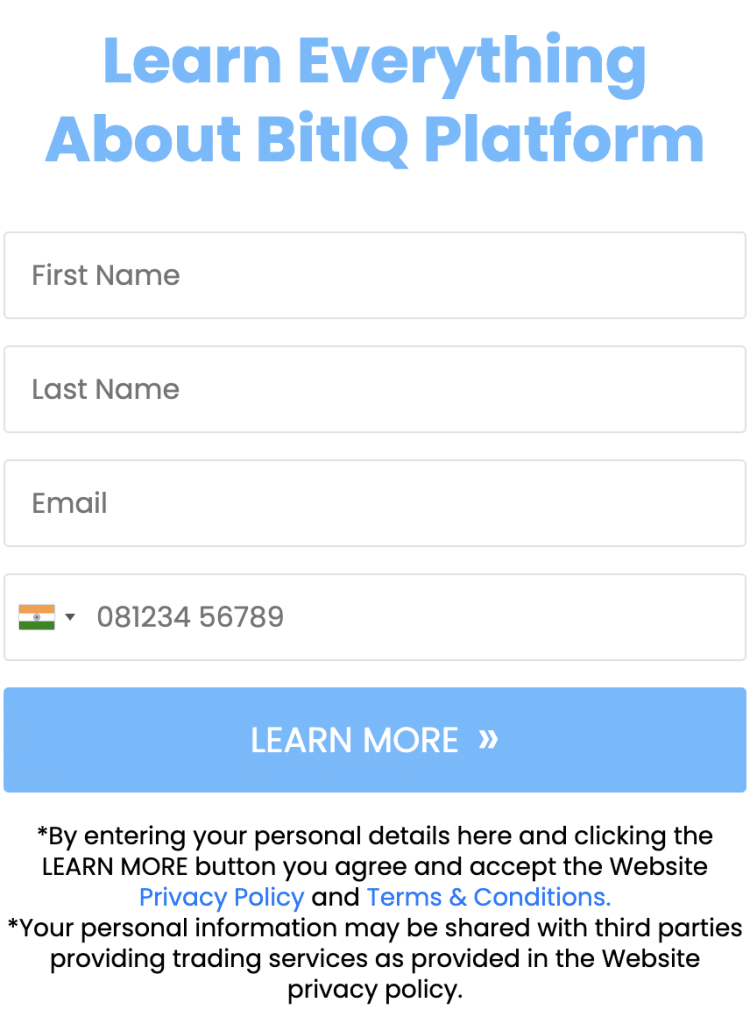 Step 2 – Demo Account
Once you've done that, you will receive an email from BitIQ that contains a link to download the BitIQ trading platform. Upon downloading, you can utilize the demo account to assess the platform's dashboard.
Step 3 – Make a Deposit
Use the demo account to get the hang of the platform, and once you find yourself comfortable, you can proceed to make a deposit. The minimum deposit limit on the platform is $250, and you cannot access the features of the platform without making this deposit.
Step 4 – Begin Trading With BitIQ
After funding your account, go to the 'Settings' section and customize the risk-reward settings, stop loss size, and trading times to fit your risk profile. Finally, turn on live trading, and the BitIQ robot will begin trading automatically for you.
Is BitIQ Legit – The Verdict
In this review, we delved into all the features of BitIQ and also provided a guide for you to get started with the platform. We found the platform to have interesting features, such as a demo account and support for multiple cryptocurrencies, which if genuine would make it stand apart from the competition.
With that being said, it's up to the user to perform proper research before investing their money with BitIQ.


Cryptocurrencies are unregulated. Trading with unregulated brokers will not qualify for investor protection.
FAQs
How much does it cost to trade on BitIQ?
Does BitIQ have a minimum deposit?