With the massive increase in the number of crypto investors over the last few years, there has also been an increase in the number of trading platforms that leverage advanced techniques to provide more profitable trades.
BitQH is one such platform that claims to deliver a high success rate – but does it really work? How accurate is it really? This BitQH review explores that question and a background of the BitQH platform.
BitQH Summary
Before we get to our review of BitQH, here's a quick look at all the important features of the platform:
| | |
| --- | --- |
| Type of Platform | Advanced cryptocurrency trading |
| Minimum Deposit | $250 |
| Claimed Success Rate | Not specified |
| Supported Cryptocurrencies | Bitcoin, Ethereum, Litecoin, Binance Coin, and many others |
| Mobile App | Not Available – but the website is mobile compatible |
| Withdrawal or Deposit Fees | None |
| Customer Service | 24/7 |
Cryptocurrencies are unregulated. Trading with unregulated brokers will not qualify for investor protection.
What is BitQH?
BitQH positions itself as a distinctive cryptocurrency trading platform that combines advanced trading features with educational resources. It reportedly aims to provide beginner traders with the necessary tools, comprehensive charts, and trading signals to make informed trading decisions.
To begin trading on BitQH, users are required to sign up on the BitQH website. Once registered, users may get access to a variety of resources and tools. The platform claims to support a diverse range of cryptocurrencies for trading and emphasizes that no fees or commissions are necessary to start trading. However, a minimum deposit of $250 is required to initiate trading activities.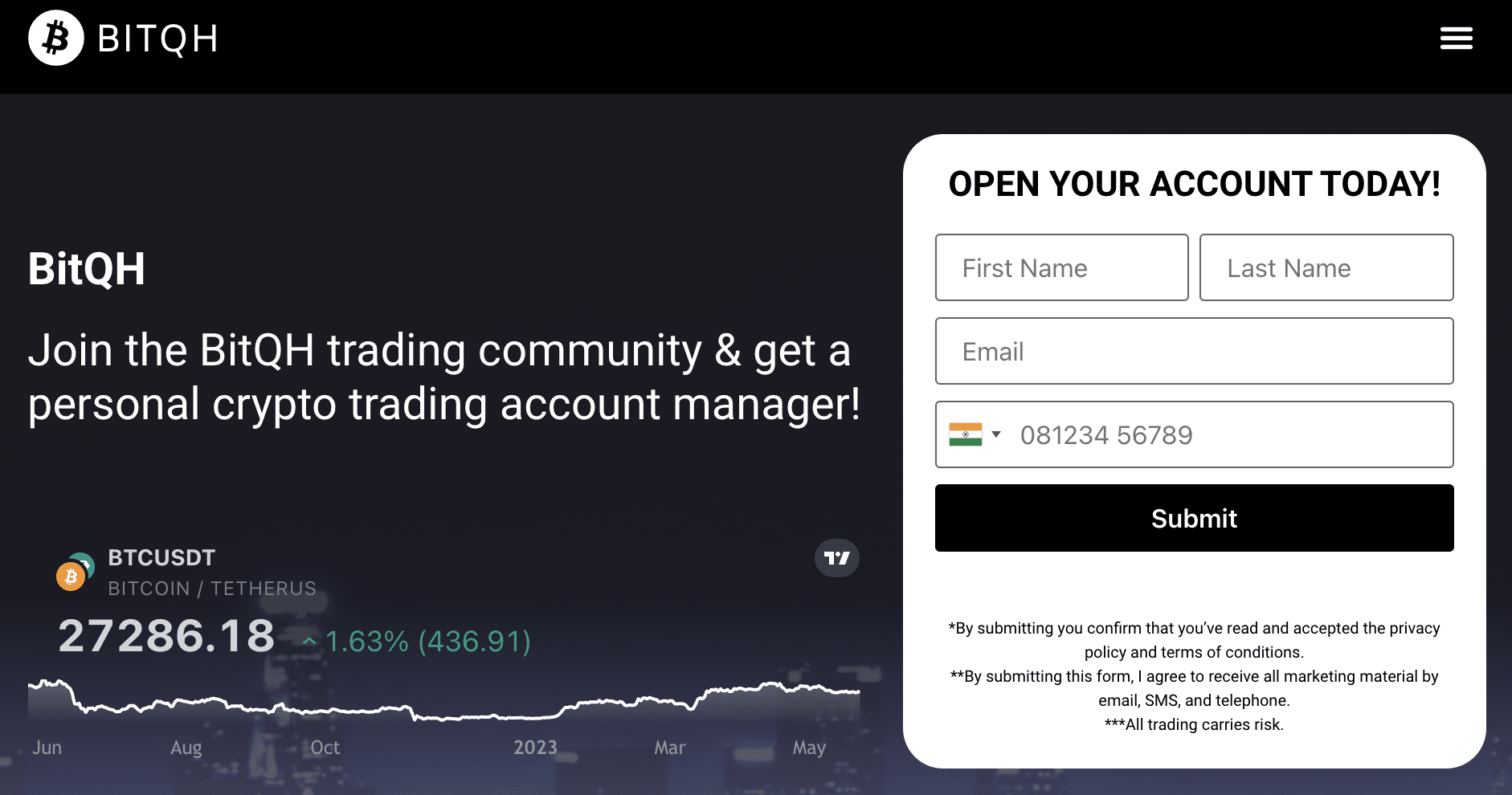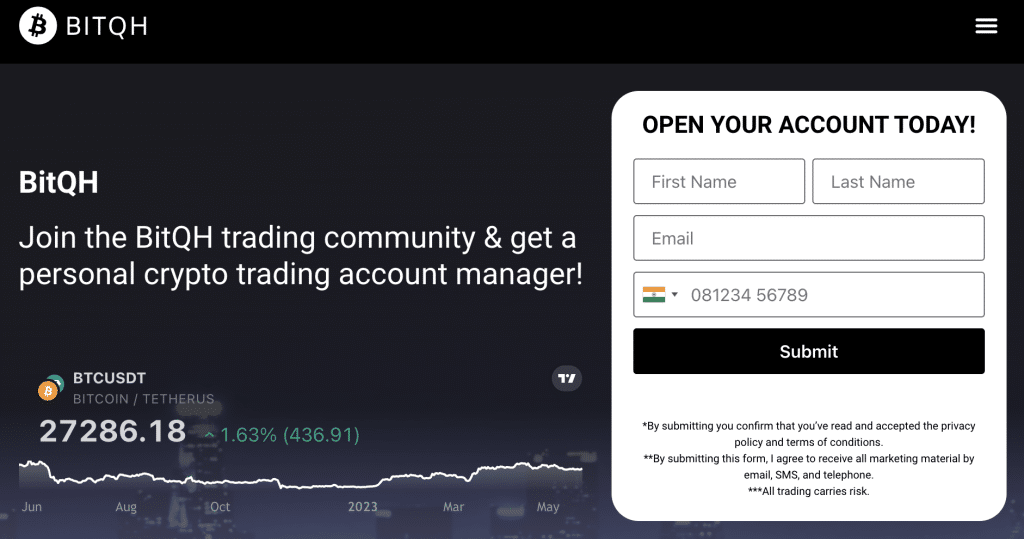 BitQH highlights its provision of multiple charts and trading signals as a means to facilitate profitable and well-informed trading for its users. According to the website, these features aim to enhance cryptocurrency trading by alleviating the need for constant market monitoring, allowing users to rely on the platform's identification of favorable market conditions and execution of trades to maximize potential profits.
While the official website offers limited information regarding the platform's trading success rates, BitQH primarily focuses on equipping traders with comprehensive market information to support sound decision-making.
It is crucial to note that the official website lacks detailed information beyond what has been mentioned. Therefore, investors are advised to approach trading on BitQH with caution and conduct their own research before making any deposits.
Although the platform claims to support mobile trading, no specific mobile application is mentioned on the website. Some user reviews, however, indicate that the website's interface is optimized for mobile platforms, providing a satisfactory trading experience.
Who Created BitQH?
A group of experienced developers and crypto traders reportedly created the BitQH App with the intention of enabling others to actively explore the possibilities and opportunities presented by the crypto industry.
There isn't, however, a specific mention of who the creators are or whether the platform is part of a series – its website design is similar to that of other sites such as Bitcoin Sucker.
BitQH Pros and Cons
Before we take a look at all the prominent features of the platform, here's a mention of BitQH's pros and cons. Assess them for yourself before you choose to go ahead with the platform.
Pros
Streamlined cryptocurrency trading process
Ideal for individuals new to the world of crypto
Minimal initial deposit requirement
Cons
Profit claims are not verified
A mandatory minimum deposit of $250
How Does BitQH Work?
BitQH claims to operate similarly to other trading robots that aim to execute trades without requiring user intervention. By using advanced technologies, the platform can reportedly identify daily trading opportunities without necessitating active participation from the trader.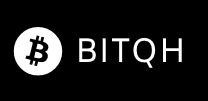 According to the BitQH website, it collaborates with exchanges who employ ECN systems to facilitate fast and cost-efficient transactions. Once a trade is initiated, BitQH's tools closely monitor its progress and strategically close it at the most advantageous moment, aiming to maximize the risk-reward ratio. Profits generated through trading activities are directly deposited into users' trading balances, allowing them to either withdraw the funds or reinvest them in the markets.
The BitQH website also says the system relies on trading signals and algorithms to speculate on the cryptocurrency market. Users have the ability to define their own parameters and stop-loss limits, and the platform will execute trades accordingly. Alternatively, users can opt to let BitQH autonomously perform trades based on its own indicators.
To assist users in understanding the platform's features, BitQH reportedly offers a demo trading feature, allowing users to test its functionalities before depositing their own funds. But users do need to make a minimum deposit before using this function.
Also, explore our list of best cryptos to buy, exploring assets with high upside potential for the coming weeks.
Which Devices Can Access BitQH?
BitQH functions smoothly on desktop devices and purportedly offers support for mobile trading, although no explicit mention of a dedicated mobile application is found on the website. However, feedback from users suggests that the website's interface is well-optimized for mobile platforms, providing a satisfactory trading experience.
BitQH Supported Countries
BitQH is available for use in the following countries:
United Kingdom (UK)
Canada
Australia
South Africa
New Zealand
Philippines
United Arab Emirates (UAE)
Singapore
France
Spain
Italy
Germany
Nigeria
Mexico
However, BitQH may not be accessible in the United States (US) due to restrictions on CFD trading. Additionally, BitQH may not be available in countries where cryptocurrencies are banned, such as China.
What is the Success Rate of BitQH?
Reviews on the platform assert an impressive success rate of 99%, which is quite a lot compared to other trading platforms. However, it is essential to acknowledge that this figure lacks independent verification and solely relies on the platform's self-reported data. Therefore, it is crucial to exercise caution and refrain from relying solely on this number when making investment decisions.
BitQH Key Features
BitQH claims to offer several important features that are essential for this type of software, aiming to provide users with a safe and smooth trading experience. Let's explore some of the key features highlighted by the platform:
Claimed Profitable Trades
According to BitQH, their payout system is highly advanced and functions without any reported problems or errors. The platform suggests that users have the potential to earn substantial payouts as they engage in more profitable trades and may even choose to reinvest some of their profits.
Quick Registration
Creating an account on BitQH is expected to be a quick and hassle-free process that only requires basic information such as first name, last name, email, and phone number. The platform does not explicitly mention the need for users to verify their identity, providing a straightforward onboarding experience and allowing users to start trading promptly upon joining the app's user base.
Fast Withdrawal Process
BitQH claims to offer a reliable and straightforward withdrawal process. Users are granted the flexibility to withdraw their funds at any time. The platform recommends that users withdraw their initial investment amount as soon as profits start rolling in. This strategy aims to manage risk by ensuring users have already recovered their initial investment, enabling them to trade with the profits generated by the robot.
Costs and Fees
BitQH purportedly handles fees transparently, with no hidden charges reported. Currently, the platform does not require a license fee and can be used free of charge. BitQH also doesn't charge a percentage as a trading fee – according to the claims.
User Testimonials
While there are limited user testimonials available online due to the relative newness of the platform, the feedback has generally been positive, while some have found it to be dubious. It's important to note that, as with any trading platform, potential negative experiences may still arise, even if they haven't been reported thus far.
Dedicated Customer Service
BitQH emphasizes its dedicated customer service, which is available around the clock. Having reliable customer support is crucial when using a trading robot, as it can address user inquiries and resolve any potential issues that may arise.
Cryptocurrencies are unregulated. Trading with unregulated brokers will not qualify for investor protection.
Is BitQH a Scam?
Many users on the internet have questioned the legitimacy of BitQH. Reviews of the platform suggest that it has been investigated and used by customers in the past, indicating that it could be genuine trading software.
The reviews vary however, with some positive and others negative, depending on different factors. Some reports mention that BitQH is easy to use, which if accurate could make it an option for beginners to cryptocurrency trading. We also found reviews for similarly named tools like BitQZ and the BitIQ app.
It's important to be cautious when trading cryptocurrencies due to their high volatility. BitQH offers features to minimize losses, but it's crucial to keep a close eye on the market.
What is the Minimum Deposit on BitQH
To access the features of the BitQH platform, users are required to make a minimum deposit of $250. Without fulfilling this deposit requirement, users cannot access any platform features. Although BitQH presents appealing claims, it is important for investors to exercise caution and carefully consider depositing their funds on the platform.
BitQH Customer Support
BitQH claims to offer 24/7 customer support through phone and email to its clients who have active accounts. However, it is important to remember that a minimum deposit of $250 is required to register and access the platform's services. Once the deposit is made, clients can register and take advantage of the round-the-clock customer assistance available via phone and email.
How to Use BitQH
If you decide to open a BitQH account, the steps to follow are:
Step 1 – Register on BitQH
To begin, you will have to go to the official BitQH website and then register by filling out a form with your basic information, including your name, surname, email, and phone number.
We recommend using a burner number and communicating over email at first, while checking the platform works as described.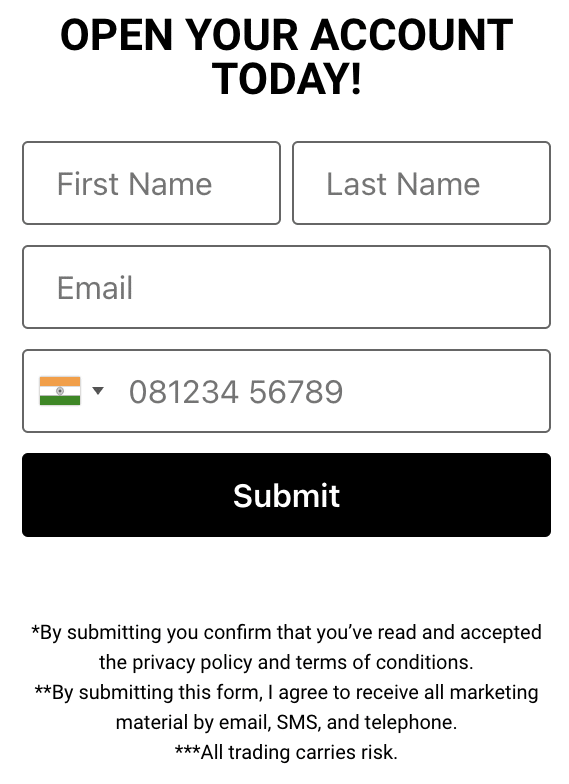 Step 2 – Make a Minimum Deposit
The next step is to make a deposit of 250 USD or higher. This deposit is to give you a head start in building your trading portfolio, as it will be used for your initial trades as principal capital.
We recommend starting with a minimum deposit as some BitQH reviews online paint a mixed picture of the platform.
Step 3 – Demo or Live Trade
While using the demo account is not obligatory, it is available to you once you've made the initial deposit. If you are an experienced trader, you can skip the demo and proceed directly to the live trading area.
Is BitQH Legit – The Verdict
BitQH has made bold assertions as a cryptocurrency trading platform, but the majority of these claims have yet to be verified. The only aspect we can confidently comment on is the user interface of the BitQH website, which seems adequately straightforward.
We found the lack of detailed information to be concerning; at the same time, the platform having no social media handles makes it difficult to determine its legitimacy.
In light of these circumstances, we advise exercising caution and conducting your own research by visiting the website to gather first-hand impressions before arriving at any definitive conclusions.
Cryptocurrencies are unregulated. Trading with unregulated brokers will not qualify for investor protection.
FAQs
Is BitQH available in my country?
Can I withdraw money from BitQH?
Can mobile users trade on BitQH?