BitQQQ is a cryptocurrency trading platform that solely focuses on Bitcoin. In this review, we will assess this platform and find out how it works and what its key features are. We will also try to determine whether BitQQQ is a scam or a legitimate platform.
BitQQQ Summary
Before we unveil all the technical details of this platform, here is a quick summary of the BitQQQ website:
| | |
| --- | --- |
| Type of Platform | Bitcoin trading platform |
| Minimum Deposit | $250 |
| Claimed Success Rate | Not specified |
| Supported Cryptocurrencies | Bitcoin |
| Mobile App | Not available – but the web app is responsive |
| Withdrawal or Deposit Fees | No Fees for withdrawal |
| Customer Service | 24/7 |
Cryptocurrencies are unregulated. Trading with unregulated brokers will not qualify for investor protection.
What is BitQQQ?
BitQQQ claims to be a simple to use cryptocurrency trading platform for beginners. As its name suggests, this trading platform is said to deal exclusively with Bitcoin trading, although support for the top altcoins may also be added at a future point.
Bitcoin was the first cryptocurrency. From its launch until today, its value has increased manifold. Yet, there is no shortage of demand or interest in Bitcoin. Every day, more and more people get interested in Bitcoin and want to invest in it.
However, the cryptocurrency market is volatile, and it takes years of experience to understand it correctly. So, people look for an easy way to trade Bitcoin.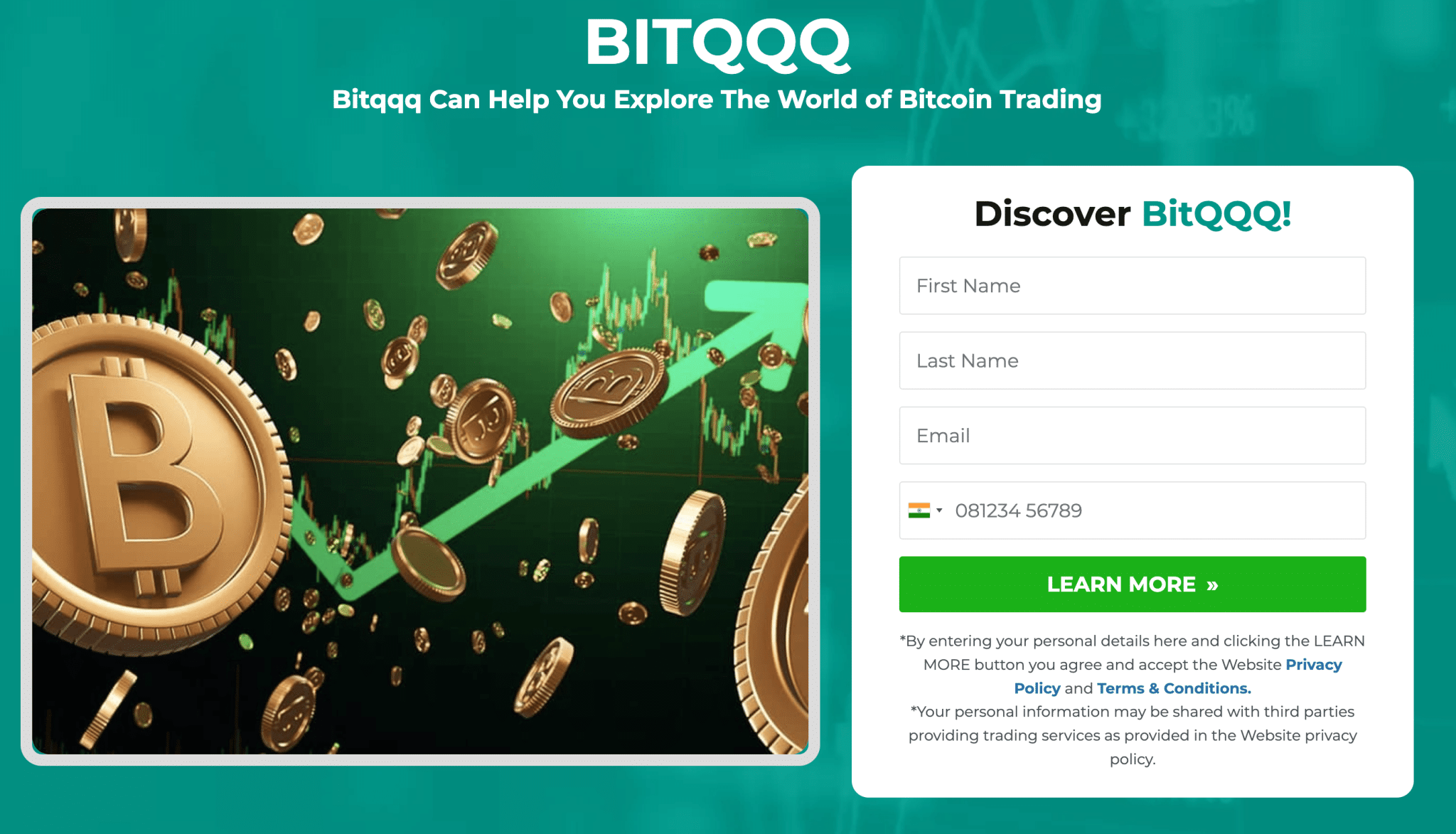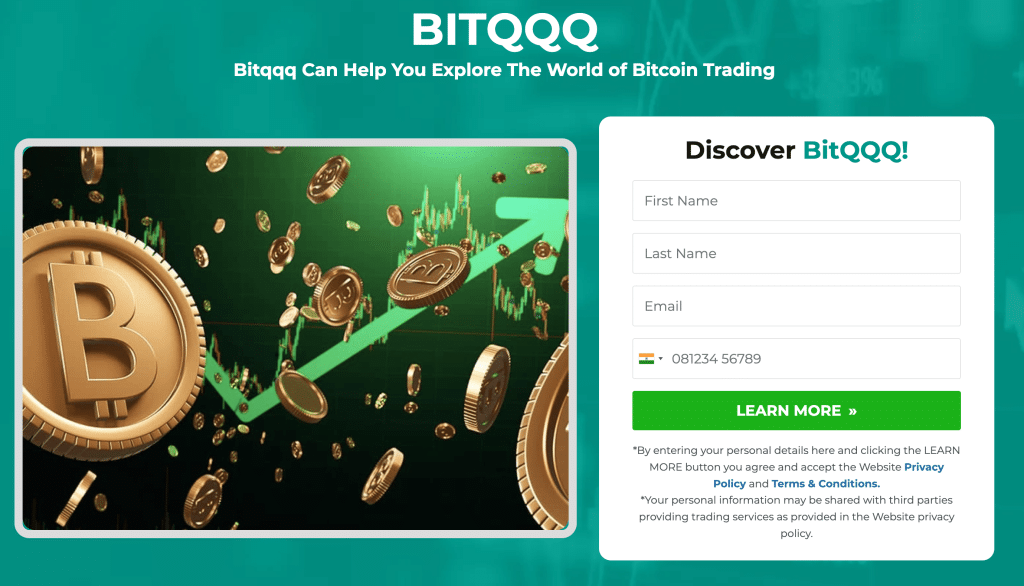 For this reason, BitQQQ could be one choice for traders who are just starting in the cryptocurrency investment field. The platform claims to offer state-of-the-art tools to traders.
The BitQQQ website states it is free to use for general use. The sign-up process seems easy and quick. The site seems user-friendly, and we didn't find any issues while navigating the site. However, we cannot say the same for the actual trading platform since it requires a minimum deposit of $250 to access it.
While the website has provided a lot of information, it is silent on certain important aspects. There is no information about customer care or how one might contact customer care. Similarly, there is no mention of who founded the platform or who is the team behind it.
As a result, we recommend traders conduct thorough research and evaluate the platform based on their best judgment.
Who Created BitQQQ?
There is no information on who created BitQQQ. Thus, we do not know who its founder's and what their qualifications are.
Cryptocurrency world and anonymity seem to go hand in hand. Even Bitcoin was created by an anonymous founder- Satoshi Nakamoto. But as the crypto space is moving towards more regularisation, we believe that this platform must share this info more openly.
BitQQQ Pros and Cons
If we see BitQQQ in comparison with other trading sites, we see a lot of similarities. There is nothing in particular that makes BitQQQ stand out of the crowd. Here is a list of its pros and cons:
Pros
Claims to be a Bitcoin trading platform
No withdrawal fees
The site is available in 13 languages
The platform has a free sign-up policy
The site can be accessed and used via different devices
Claims to offer account manager for trading assistance
Cons
Supports only Bitcoin, which may not seem lucrative to those who want to diversify
Mandatory deposit of $250, which may discourage new traders
How Does BitQQQ Work?
BitQQQ claims to be a Bitcoin trading platform with state-of-the-art equipment.
The platform says that it is free to use and appears to have an easy registration process. Once successfully registered, it claims that an account manager will get in touch with the user.
As per the website, the account manager will assist traders in setting up a trading plan. This hints at customizable settings where traders can set parameters for their preferred trades based on risk and projected ROIs.
It is also claimed that the account manager will assist in executing trades. This could be achieved by either making the trades on the trader's behalf or suggesting trading options to the traders. However, it has not been mentioned whether the assistance will be automated or manual.
Additionally, the platform claims to provide real-time market insights and updates, which can be accessed on any device. It is, however, not mentioned what tools are used to provide these insights, as there is no mention of artificial intelligence or algorithms.
So, our best bet here is that perhaps the platform draws these data from crypto APIs and the latest market data and presents them in a simplified manner. Which in turn helps traders to make wise investment decisions.
Readers interested in learning more about how BitQQQ works should take out some time to evaluate the platform.
Which Devices Can Access BitQQQ?
The platform claims that it is compatible with smartphones and tablets. Our team accessed the platform on different devices and noticed that it is responsive and works fine regardless of the device used.
Having said this, we are uncertain if the same is true for its trading platform, as there is a requirement of a minimum deposit to gain access to it.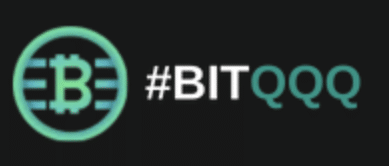 BitQQQ Supported Countries
There is no information on the site regarding this; thus, we do know in which countries BitQQQ is usable and which countries have banned it.
However, on the sign-up form, we noticed that there are more than 100 countries listed. So, we think it is safe to assume that the platform is usable in those listed countries. Moreover, the site is available in 13 languages which further indicates that the site caters to audiences in all these regions.
It would be a safe practice for traders to check if their native country or country of residence supports or recognizes BitQQQ or crypto trading in general.
What is the Success Rate of BitQQQ?
BitQQQ has not mentioned a success rate on the site. We are not surprised since most trading sites do not state this figure.
The success rate, in general, is subjective and speculative. It is impossible to accurately predict a success rate because it depends on many external factors such as market volatility and sentiment, trader's risk tolerance, etc. Even if a platform mentions a success rate, there is no way to verify if that rate reflects the true ROI of the site.
BitQQQ Key Features
The BitQQQ trading platform stands out in the following ways:
Free Sign Up
BitQQQ claims to be designed for traders, making the platform supposedly free for general use. The sign-up process seems quick and completely free of cost. The platform claims that it has kept withdrawals free of charge as well. However, there is a minimum deposit of $250 required only to start trading.
Compatible Across Devices
BitQQQ claims to be compatible across devices. The site is designed to be responsive and thus available for access and use on smartphones and tablets. Additionally, the site can also be installed on multiple devices at the same time for more convenience.
Account Manager
BitQQQ claims that there are account managers available on the platform to registered users. These managers will help traders to set up a trading plan and assist in executing their trades. However, it is not mentioned whether these account managers will execute trades on behalf of the traders.
Cryptocurrencies are unregulated. Trading with unregulated brokers will not qualify for investor protection.
Is BitQQQ a Scam?
The cryptocurrency trading field sounds lucrative, however, it is also full of scams. Thus, it is important to learn the ins and outs of a trading platform before deciding to invest your money.
Doing this review, we found that the BitQQQ site hasn't made any far-fetched claims or offered an unrealistic ROI. It has not even mentioned any win rate like the majority of the trading sites do.
The platform has not provided any statistical data that could indicate its past performance. No information has been provided on the platform's founder, core team, or customer support.
The platform claims that users will get help from an account manager, but it has not been mentioned what access the account manager will have to the users' trading accounts. As a result, there is no way for us to know if this access will be supervised.
The only thing we can vouch for is the web interface of its site, which is easy to understand and navigate. One positive aspect is that the site claims to be compatible across devices which will attract traders who like to do trading on the go.
In light of these mixed insights, it is difficult to say if this site is a scam or not. We recommend users do a thorough study of the platform before deciding to use it for Bitcoin trading.
What is the Minimum Deposit on BitQQQ?
The minimum deposit to start trading on BitQQQ is $250. This amount is not a fee but rather the capital with which trader will place their trades.
We understand that $250 could be a high amount for some traders. But if BitQQQ delivers on its promise and offers a good ROI, then $250 will seem like a good deal.
BitQQQ Customer Support
Our review team went through the entire site of BitQQQ and reviewed all the information provided there, but we could not find any information on customer support.
On most trading sites and robot type platforms, the customer support service is only available to registered users who have made a deposit. This could be true for BitQQQ as well.
There is, however, a 'contact' section which is a form where one can send a message or submit a query to the team. We are not certain if it will work, but it is worth a try.
How to Use BitQQQ
To use BitQQQ for live trading, one needs to follow these instructions:
Step 1: Fill out the registration agreement
Visit the official BitQQQ website, and on the right, you will see the registration section. The registration agreement seems straightforward and asks only for a few key details, such as name, phone number, and email.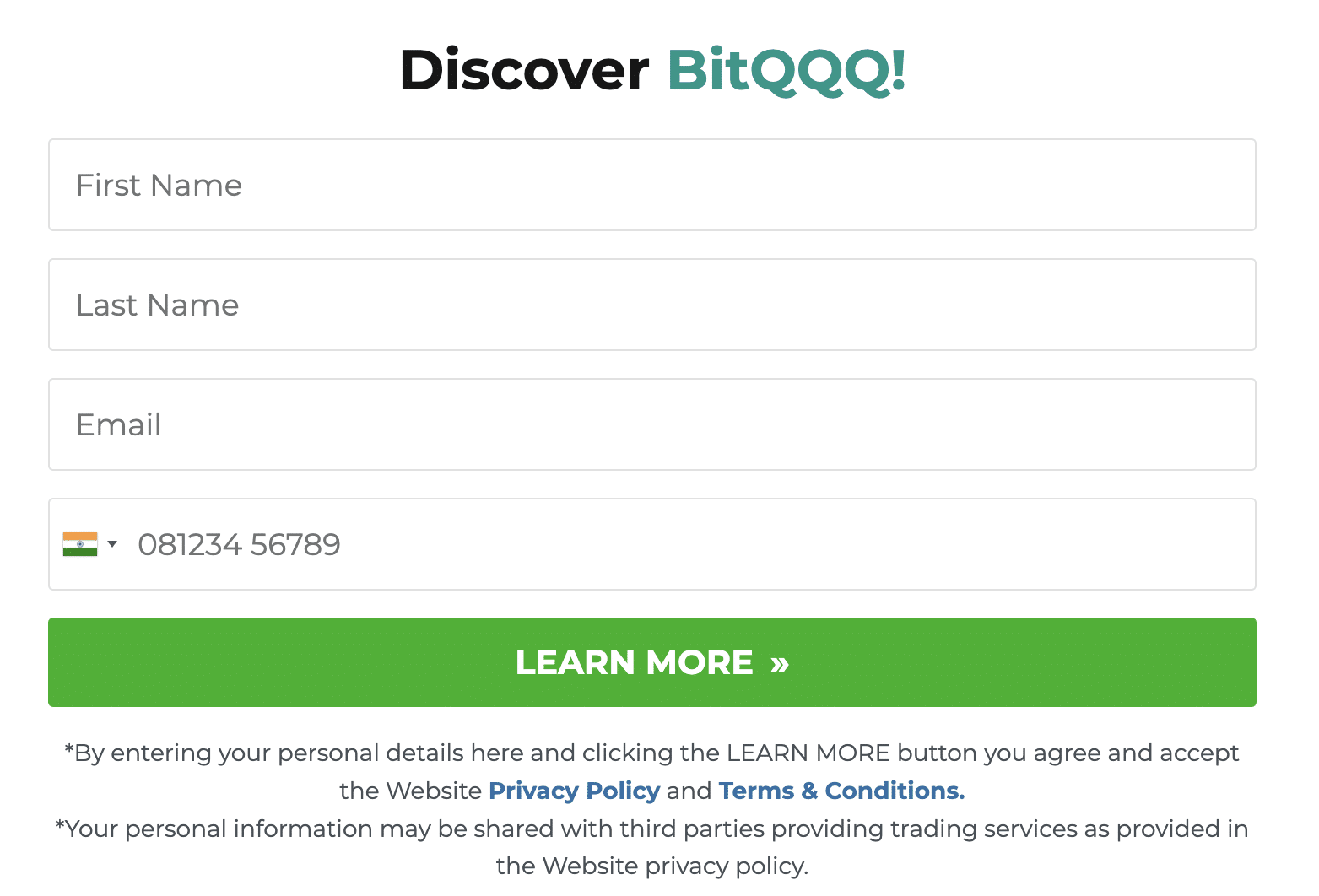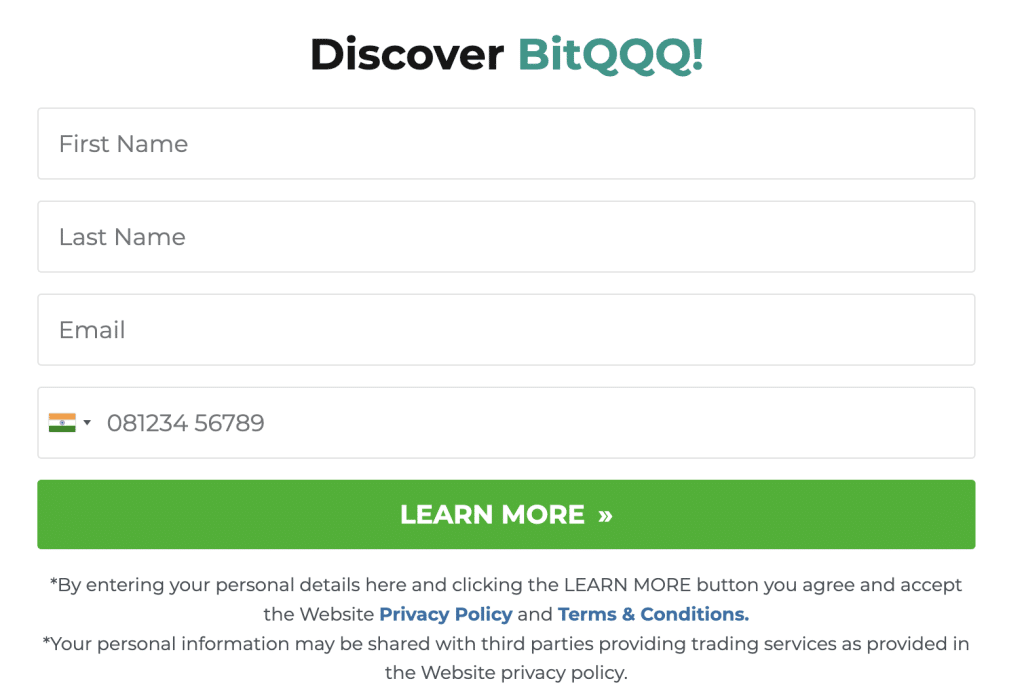 Step 2: Set up a trading plan
Once the registration agreement is completed, it is claimed that an account manager from a partnered broker will get in touch with you. The manager will reportedly help the user to decide on a trading plan. Use this time to familiarise yourself with the platform.
Step 3: Make the minimum deposit
To start trading, you would need to make a mandatory deposit of $250. You can make this deposit with fiat currency or a digital wallet. This deposit is important because it will act as your trading capital.
Step 4: Use the platform
Once the deposit is made, you can use the platform for Bitcoin trading. But we do recommend investing wisely since cryptocurrency is a volatile market.
Is BitQQQ Legit – The Verdict
BitQQQ describes itself as a crypto trading platform with assistance in the form of an account manager. But we do not know with certainty whether the assistance is automated or manual. Some third-party sources claim that the platform also offers automated features, but we are not able to verify them.
Additionally, BitQQQ is missing a lot of information on the site. For example, information on success rates, projected ROIs, demo facilities, and an independent audit. This could be construed as a red flag in the cryptocurrency trading community.
We recommend that traders use caution to evaluate this site to their satisfaction before deciding to try the trading features.
Meanwhile, you can also check out our list of best crypto presales for more risk-averse investment options.
Cryptocurrencies are unregulated. Trading with unregulated brokers will not qualify for investor protection.
FAQs