Combating the erratic behavior of the cryptocurrency market requires a system that lets you make split-second decisions based on intraday price trends of crypto assets. Promising to provide such a system wrapped inside a simple UI is BitQZ.
It claims that its autonomous system has a win rate of 80%, and that you won't be trading alone – an account manager will also reportedly help. But is BitQZ really that accurate? This BitQZ review attempts to give a satisfactory answer to that query.
BitQZ Summary
You will find that many of the traits that BitQZ possesses are similar to other platforms that we have reviewed before. But the difference lies in the details, and here is a summary of the crucial ones among them:
| | |
| --- | --- |
| Type of Platform | Advanced cryptocurrency trading |
| Minimum Deposit | $250 |
| Claimed Success Rate | Has not mentioned anything about the win rate |
| Supported Cryptocurrencies | Dogecoin, Ripple, Ethereum, Bitcoin, Binance Coin, and Cardano |
| Mobile App | No mention of a mobile application |
| Withdrawal or Deposit Fees | Not specified – but the site claims that it is low |
| Customer Service | 24/7 for registered users |
Cryptocurrencies are unregulated. Trading with unregulated brokers will not qualify for investor protection.
What is BitQZ?
BitQZ is a crypto trading app that promises to give you access to autonomous – hands-free – trading systems that allow you to buy and sell major digital assets without having to monitor the market.
It promises to provide its users with a trading robot that works in full flow, constantly monitoring the market conditions in search of the best trading opportunities.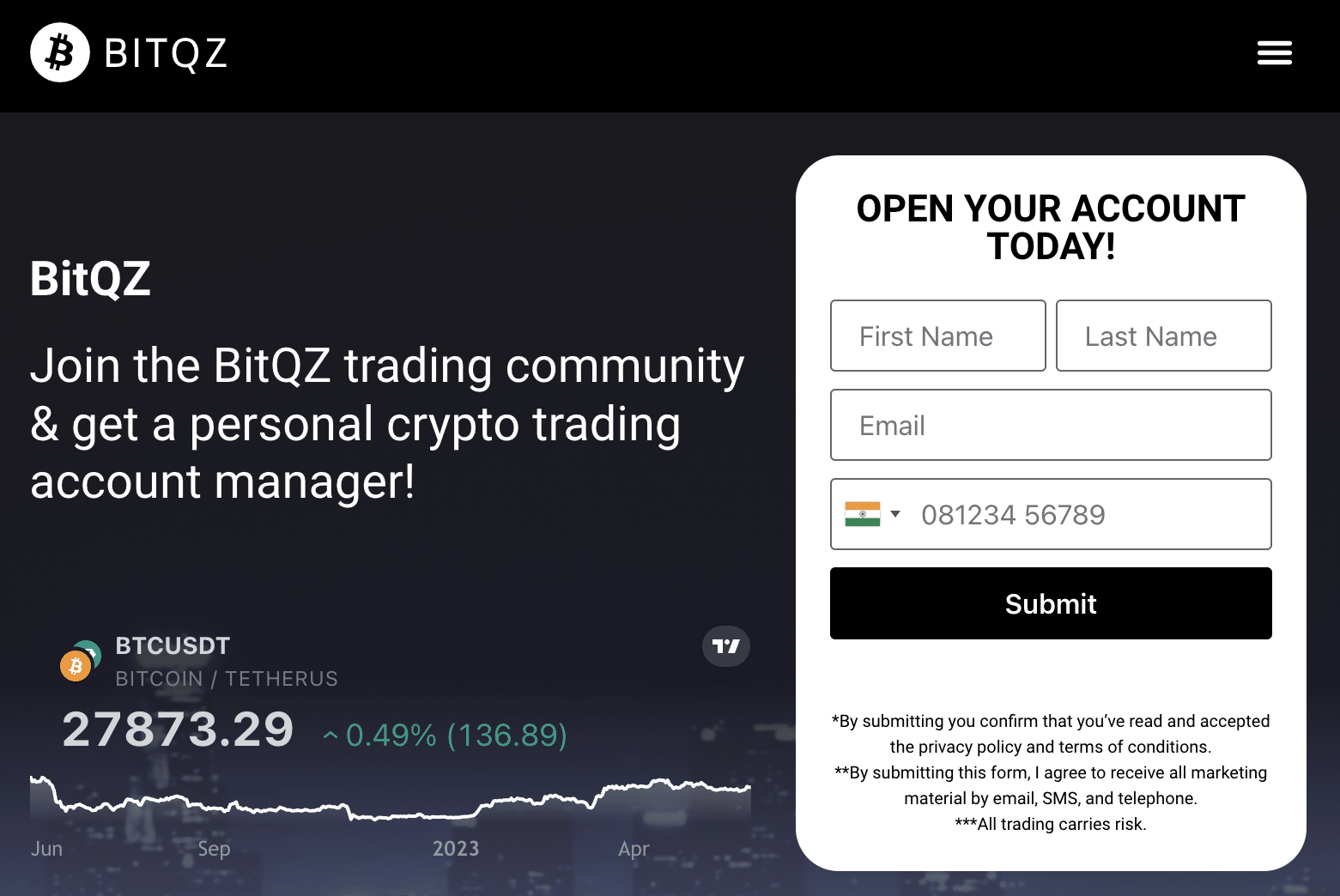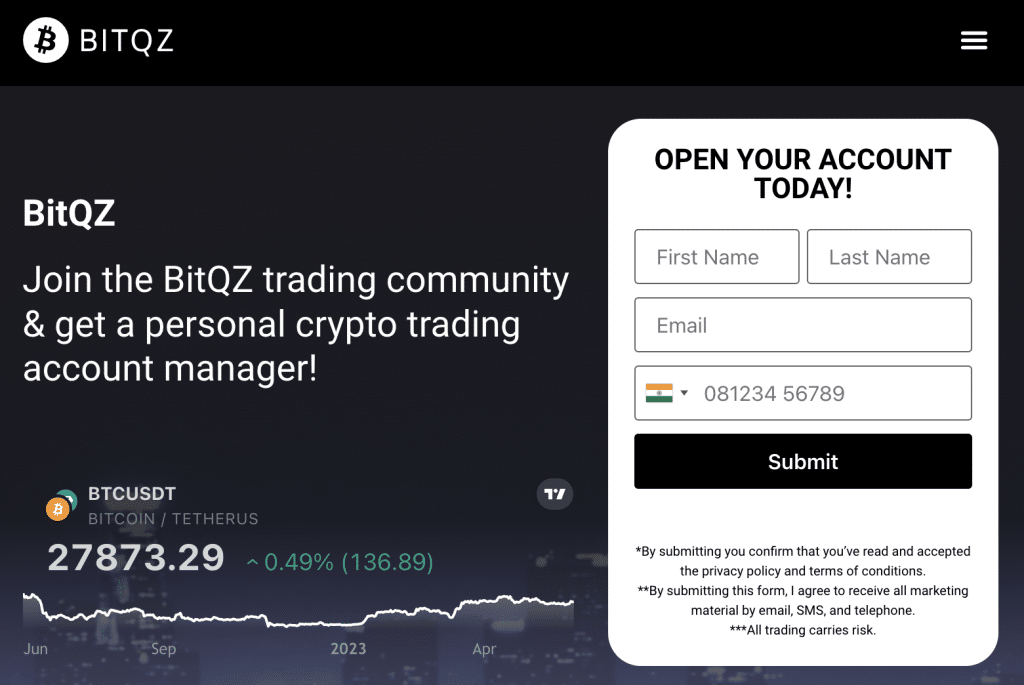 According to the website, the developers of BitQZ have designed it like a machine that uses "computational techniques" to forecast crypto prices. Another tool mentioned on the platform is an "automated projection system" that seemingly takes all the major analysis tools, combines them, and precisely predicts where the price of an asset might land throughout the day.
These features, the platform claims, are correct 80% of the time, making 8 out of your 10 trades successful. But there is no historical data on the site or anywhere else online that could help us verify it.
The BitQZ app also says that the devs have wrapped these tools inside a simple UI that advanced and veteran traders can interact with. While we can't say anything about the tools, the home page looks good. The Bitcoin live price chart on the homepage is an added touch that we appreciate. But it is not unique.
Getting access to the platform requires creating an account and depositing the seed amount, which is $250. Novice users might find this too expensive, considering there are so few reviews out there talking about this platform. Our recommendation would be to research the platform completely before investing.
Who Created BitQZ?
While the platform does say a lot about how the developers wanted to create a system that's accessible to everyone, hardly anything is mentioned about who these developers are.
The About Us page is absent, and the terms and conditions don't mention any name about the company owning and operating BitQZ. Its name is also similar to other sites and apps like BitIQ and BitQH.
BitQZ Pros and Cons
Listed below are the pros and cons of using BitQZ:
Pros
It claims to offer an 80% win rate via its autonomous trading system
Assigns an account manager for assistance
Charges a low fee – although the details are not given
A demo trading account is accessible to test the platform
24/7 customer support is available
Supports multiple cryptocurrencies
Cons
No way to audit the claimed win rate
No way to test the features that the platform claims to provide
Information about the fees is only accessible after talking to the customer support team
Depositing $250 is necessary
How Does BitQZ Work?
BitQZ says that it is an AI-powered trading platform that turns on as soon as people deposit the required amount and customize the settings.
According to the website, once users set the "Stop Loss" and "Trade Profit" settings, BitQZ starts assessing the market to look for the best deals accordingly.
Some sites have reported that it looks at intraday price charts to predict which token has the potential to hit lows for the day and then buys it. When the same token reaches intraday highs, the trading system supposedly executes a sell order. The profits are then transferred to the user's account. While the site hasn't specified what kind of trading commission you must expect, we believe that it might be around 1 to 2%, similar to other platforms that offer this facility.
But even the information we have given in this section is a sum of speculation. There is no information given about the trading tools that BitQZ actually has.
Due to these factors, we recommend that you use your best judgment when using BitQZ. Invest only the minimum amount – for testing purposes – and only increase your investment if you start to see some returns.
And if you are interested in the platform's supposed AI mechanics, check out our list of the best AI cryptos.
Which Devices Can Acces BitQZ?
BitQZ is supposedly available on all platforms. According to the website, the platform and its trading utilities are usable on desktops, laptops, tablets, and smartphones.
We can't say anything about the trading utilities as we do not have access to them. What we can say, however, is that the website does look optimal on all the devices we mentioned. The icons were smartly placed, and it was easy for us to start the signup process.
BitQZ Supported Countries
There is no information available to tell us in which countries this platform is available. However, in the language settings, we did see 12 languages being listed. And in the signup section, we found that it allows people from over 100 countries to enter their phone numbers.
These factors show that BitQZ might be available worldwide, but we will still recommend checking with your local laws and talking to the account manager before creating an account.
What is the Success Rate of BitQZ?
BitQZ says that it has a success rate of 80%. But there is no way to prove it. There is no historical data on its past trades on the website, and no third-party reviews we found were talking about it.
But even if this win rate is true, that doesn't mean it is going to work in live market conditions. The bear market has pulled the crypto ecosystem into a new era of uncertainty where even the best strategies don't pan out. So, don't assume 80% to be this platform's win rate when you start the trading process.
BitQZ Key Features
The BitQZ platform claims to offer the following:
Support for Multiple Assets
The website says that it supports not only Bitcoin but other digital assets as well, including Dogecoin, Ethereum, Cardano, Ripple, and Litecoin. Content on the platform shows that there could be more assets available, but there is no information on them. And the platform's FAQ section indicated that other assets like Forex and stocks might also be on this trading app, but we don't have any further details.
Monitoring Trades
According to the BitQZ website, the platform monitors the market consistently and keeps records of all its past trades. This method apparently allows it to train the automated trading system according to the investment strategies that the customer uses.
Demo Trading Account
A demo trading account is crucial when it comes to testing a platform. It allows users to see how everything works under simulated market conditions that reflect real scenarios. BitQZ says that registered users can use the paper trading feature to test the win rate before switching to the live trading system.
Low Fees for Services
BitQZ doesn't have the no-fee model that other platforms claim to have. It states that using the platform comes with charges, but they are affordable. Knowing about them is possible by contacting the customer support team. But since that facility is not available to the unregistered, we guess you must go to the account manager with that query.
Thorough Customer Support
Those who have registered will be able to enjoy full support from the customer support team – according to the claims. The team is supposedly agile, speaks multiple languages, and is ready to assist users throughout the day. If this facility is truly available, it can help novice users learn the intricacies of the cryptocurrency market before starting.
Cryptocurrencies are unregulated. Trading with unregulated brokers will not qualify for investor protection.
Is BitQZ a Scam?
The site is light on information, and the content it has provided is a bit too cursive. We had to take our time deciphering what does it want to say. And all we found were tall claims. We discovered that the platform "reportedly" offers a simple trading interface and "claims" to have a win rate of 80%.

However, there is nothing available online that could corroborate these claims or reports. The third-party review sites that we found were also weren't clear about their offerings, but they have given a bullish viewpoint about this platform. We also found a couple of websites that claim BitQZ to be a scam site aimed at taking advantage of overly enthusiastic investors.
Our search also took us to a copycat site that claims it has 4.3 out of 5 stars on TrustPilot. But we ourselves didn't find any customer reviews. And we recommend not focusing on customer testimonials available on BitQZ since they all say the same thing.
Overall, we couldn't find any balanced viewpoint about BitQZ that could give us a definite answer about whether it is a scam or a legit trading platform.
What is the Minimum Deposit on BitQZ?
Those who interact with the platform for the first time need to deposit at least $250 to get started. The platform says that it is the first starting capital that people need to buy and sell the listed cryptocurrencies.
However, we also noted that none of the facilities would be made available if you don't deposit this amount. So, in addition to considering this mandatory deposit a minimum requirement, think of it as a one-time fee.
BitQZ Customer Support
BitQZ states that customer support is available, but only for those who register. According to the claims, the support team is agile and can help resolve any issues that a customer might face.
How to Use BitQZ?
If you have decided to go ahead and invest in crypto using this platform, follow the steps below:
Step 1 – Create an Account on BitQZ
Go to BitQZ's official website and enter your name, email, and other details. Make sure only to provide a burner number in the phone section just to be on the safe side.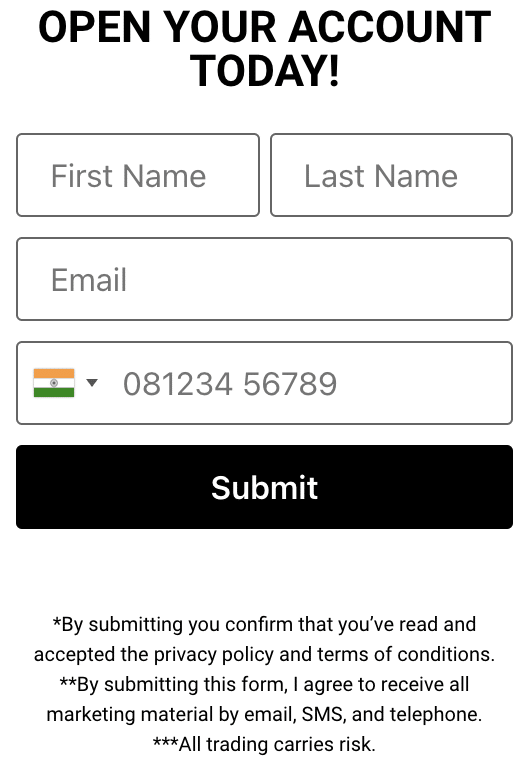 Step 2 – Deposit the Minimum Amount
Deposit the minimum required amount, which is $250. BitQZ says that you can pick between credit card, bank transfer, PayPal, or e-Wallet options like Neteller or Skrill to make the deposit.
Step 3 – Try the Demo Trading Account
Don't use the funds you have just deposited to start live trading from the beginning. Test the site using the demo trading account first. Only move ahead if the win rate is around the same as the platform advertises.
Step 4 – Start Live Trading
Once you have confirmed that the win rate is close to what the site says, switch to live trading. But test the withdrawal option after making your first trade.
Is BitQZ Legit – The Verdict?
While BitQZ promises to offer a lot, it doesn't tell us everything. There is no way to test its 80% win rate, and we also couldn't confirm if this platform offers the facilities it advertises.
On the positive side, the site seems intuitive, and it was easy to access the homepage using multiple devices. But that is not enough for us to mark this platform as legit. So, we recommend being careful when using this platform.
And if you are looking to invest in assets that aren't subject to the market's volatility yet, we recommend checking out the best crypto presales.
Cryptocurrencies are unregulated. Trading with unregulated brokers will not qualify for investor protection.
FAQs