Btc Nano 360 promises to invite you into a crypto trading community that will let you make gains in a volatile market, stating that it will connect you to an account manager who will help you navigate the crypto space every step of the way while also aiding you in understanding the autonomous trading mechanics of the platform.
But how true are these claims? This Btc Nano 360 review dives into the features of the platform to see if they really do deliver as advertised.
Btc Nano 360 Summary
The look of the Btc Nano 360 site is, in many ways, similar to platforms we have reviewed before. But the difference lies in the content it presents. Here are some of the initial details:
| | |
| --- | --- |
| Type of Platform | Advanced cryptocurrency trading |
| Minimum Deposit | $250 |
| Claimed Success Rate | 98% – not verified by an audit |
| Supported Cryptocurrencies | Bitcoin, Ethereum, Bitcoin Cash, Dogecoin, Cardano, Litecoin, and Ripple. Also claims to support Forex, CFDs, and other assets |
| Mobile App | No information about a mobile app is available |
| Withdrawal or Deposit Fees | Provides no details about the withdrawal and deposit fee |
| Customer Service | 24/7 |
Cryptocurrencies are unregulated. Trading with unregulated brokers will not qualify for investor protection.
What is Btc Nano 360?
Btc Nano 360 – also called by some reviews the Btc Nano 360 app – is a crypto trading platform that asks the question – Do you want to start Bitcoin trading?
It then carries on to portray itself as a platform fit for both veteran and novice Bitcoin traders. The site says that veterans will have access to tools that would give them an edge in the market, and for novice traders, it advertises a simple UI.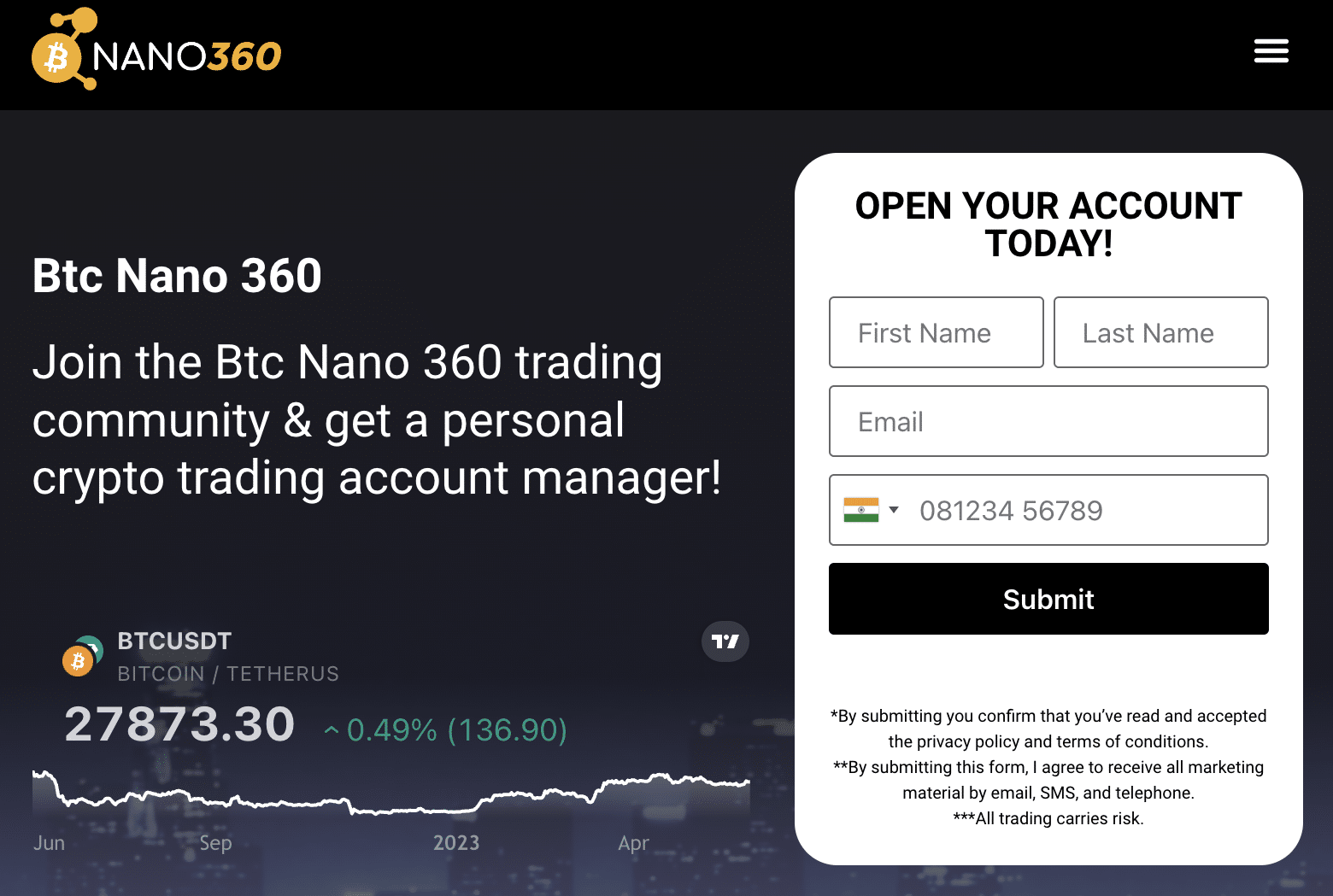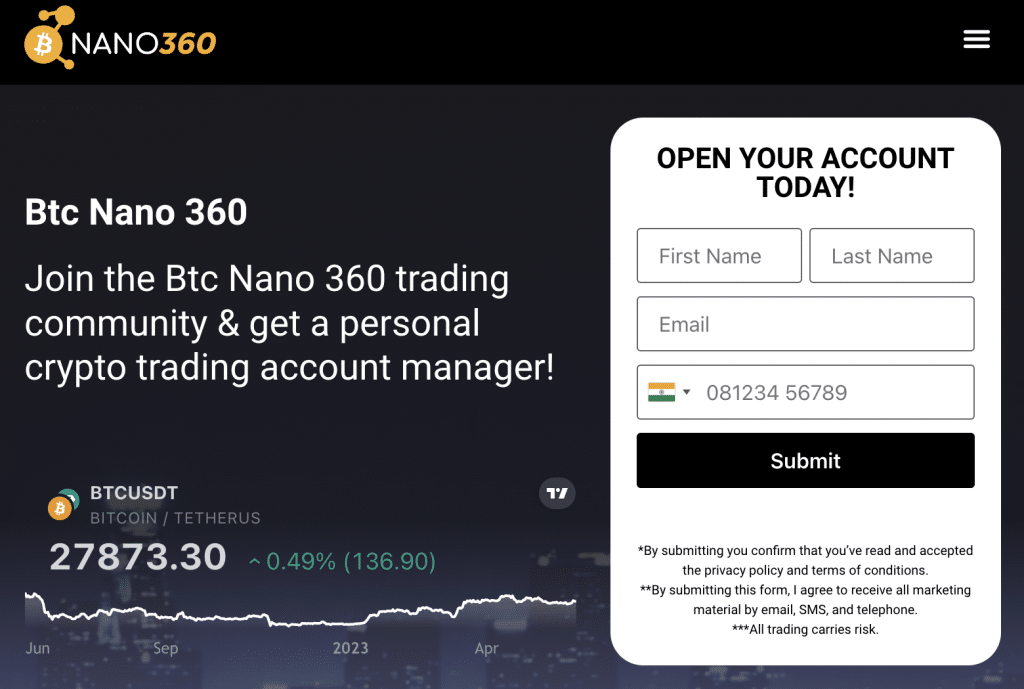 While the site doesn't provide us with any information that could tell us what those features are, what we could read on it was a list of features that include everything from a Bitcoin trading robot to an automated projections utility. The latter, according to Btc Nano 360, is an advanced trading approach that allows the onboarded systems to learn as they trade.
It claims that this way has allowed the platform to be successful 98% of the time, which is a tall claim since there is no first-hand account available to us to verify it.
The cryptocurrencies supported on this platform include Bitcoin, Ethereum, Litecoin, Dogecoin, Cardano, and Ripple. The platform also says that it can be deployed to trade CFDs, Forex, and other assets. But it has failed to give us more information about the other assets it supports.
Starting to use this platform requires a deposit of $250. That minimum deposit, which Btc Nano 360 says is a trading capital, should also be considered a one-time fee since we found that every feature, even the demo trading account and customer support, is locked behind it.
Who Created Btc Nano 360?
Btc Nano 360 talks nothing about who developed the platform. And social media platforms have mentioned the developers or the platform itself.
While many might not consider this an issue, considering anonymity and crypto project developments often go hand in hand, Btc Nano claims to be not just the facilitator of crypto trading but also assets like Forex and CFDs. So, there must be some information available about the developers.
Btc Nano 360 Pros and Cons
Here are the pros and cons of Btc Nano 360.
Pros
It says that it offers autonomous trading facilities
Shows off the Bitcoin price chart on the home page
Has a simple sign-up process
Claims to support multiple asset class
States that it has a win rate of 98%
Claims that it is easy for beginners and veterans to use the platform
24/7 customer support
Offers a demo trading account to test the platform
Claims to have a low-fee structure
Cons
No way to audit the win rate
There is no information about the tools that Btc Nano 360 offers
The registration process is a must to test any features
Features only unlock after depositing the minimum amount of $250
How Does Btc Nano 360 Work?
Btc Nano 360 reportedly works as a standard autonomous trading system. It has implemented ML-enabled tools that scan the market on the user's behalf, looking for the best buying opportunity. And when they find a token hitting its intra-day lows, they buy it. The system may do another scan to pick the intra-day highs to sell that token and generate profits.
In order to ensure that the trading mechanism is accurate, Btc Nano 360 claims to use automated projection. This tool, as Btc Nano 360 puts it, removes any margin of error by scanning the market to predict where an asset's price will land precisely.
According to the website, this is a self-learning mechanism that evolves the quality of the system over time based on the user's investment habits.
If true, this facility could help many generate high levels of gains even during volatile market conditions. But in Btc Nano 360's case, proof that verifies these claims is not available.
As an alternative, there is an upcoming crypto project known as yPredict that uses AI tech to provide autonomous trading features. Check out our how-to-buy yPredict guide for more info.
What Devices Can Access Btc Nano 360?
Btc Nano 360 claims that it is available across multiple devices without the need for a download. While we can't confirm this claim for the trading facilities it is said to offer, we can say that we found the website itself accessible on all devices.
We discovered that website was visible across desktops, laptops, tablets, and mobile, and the buttons were working. Overall, the platform has been designed in a responsive manner.
Btc Nano 360 Supported Countries
Btc Nano 360 doesn't tell us in which countries it is available. However, we could learn much from its language settings. It claims to support 12 languages, listing the following – English, Deutsch, Nederlands, Espanol, Italiano, Polski, Francias, Portugues, Magyar, Dansk, Svenska, and Norsk Bokmai.
And the sign-up page, where users are supposed to enter their phone numbers, has listed 100+ countries. So, we can say that it is available across the globe. But we would recommend that you check with your local laws before creating an account.
What is the Success Rate of Btc Nano 360?
Btc Nano 360 states that it has a success rate of 98%, which doesn't sound practical, to say the least. Our reviewers are also skeptical about this win rate because there is no way to audit it. There is no historical trading data available on the website. And the customer reviews that are available only talk about how successful this platform is.
Even if this win rate is somehow close to being legit, we recommend taking it with a grain of salt. The crypto market is still volatile, and profits are never guaranteed.
Btc Nano 360 Features
Listed below are the key features that Btc Nano 360 claims to deliver.
Demo Trading Account
Those who just started trading on Btc Nano 360 don't need to dive straight into live trading at the start. According to the website, there is paper trading available via a demo trading account. This feature would allow users to test the website's maximum capacity before using it for live trading.
Trade Monitoring
According to Btc Nano 360, the application makes it easy for users to look at their active trades via a single dashboard. The data available on this dashboard is apparently fed into the trading systems to customize according to the customer's trading habits.
Customer Support
Btc Nano 360 claims that users will be able to access customer support in multiple languages for 24/7. The website states that the customer support team is well-versed in resolving any issues that the customers might come across.
Low fees
Btc Nano 360 claims to charge the lowest fee in the cryptocurrency space. According to the website, this competitive fee model encourages maximum participation by ensuring that users get enjoy their ROI.
Support for Multiple Asset Class
Btc Nano 360 claims to support cryptocurrencies such as Bitcoin, Dogecoin, Ethereum, Litecoin, Ripple, Dash, Bitcoin Cash, Binance Coin, and Cardano. But it also says users can buy and sell Forex, CFDs, and other assets. This feature, if available, would promote diversification and ensure that users can hedge market risks during the current volatile economy.
Cryptocurrencies are unregulated. Trading with unregulated brokers will not qualify for investor protection.
Is Btc Nano 360 a Scam?
Btc Nano 360 looks a bit too similar to many crypto trading platforms available in the market, and its offerings aren't that unique. While the site has a simple UI, and the addition of a Bitcoin price chart is definitely a plus point, it is also something that we have seen before.
Also, the content available on the platform was too formulaic. It only named a couple of features and then started to talk about how these features could bring a lot of profit to all users. The content never gets into the nuances of what those features actually are.
There are third-party reviews available of this platform online, but they have as mixed reactions about the website as our reviewers do. They also aren't clear on a lot of information. Customer reviews are also not that many – not outside the website, anyway.
And the customer reviews that Btc Nano 360 has posted on the official website repeat a lot of claims the website itself makes, which doesn't make them feel legit.
These points make Btc Nano 360 a mixed bag. We don't have enough information to state whether it is legit or a scam platform. Therefore, we recommend that our readers also do top-down research on everything the site says before investing.
What is the Minimum Deposit on Btc Nano 360?
The minimum deposit required on Btc Nano 360 is $250. The site claims that the trading system will use this amount as the starting capital to buy crypto cryptocurrencies.
Also, it is likely that you won't be able to access any of the platform's features without making this minimum deposit.
Btc Nano 360 Customer Support
Btc Nano 360 states that it offers customer support, but only to those who register. We couldn't find any contact information on the platform's terms and conditions, and there is also no contact us page.
That means that only registered users might be able to access the platform's facilities.
How to Use Btc Nano 360
Listed below are the steps that would allow you to use Btc Nano 360.
Step 1 – Visit the Btc Nano 360 website
Pay a visit to the official Btc Nano 360 website and enter your email and phone number. If you want the account manager or the customer support team to only reach out through your email, we recommend providing a burner number.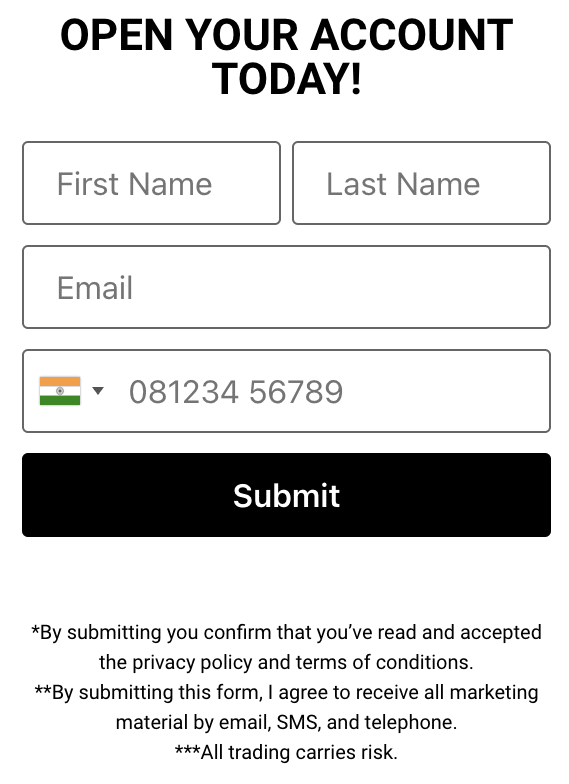 Step 2 – Deposit the Minimum Amount Required
Deposit the required amount, which is $250, using any of the listed methods. The FAQ section of Btc Nano 360 states that users can deposit using bank transfers, credit cards, PayPal, or other e-Wallet providers such as Skrill or Neteller.
Step 3 – Paper Trading
See if the demo trading account is available. If it is, test it to verify the win rate on your own. However, note that trading under simulated market conditions is never the same as trading in live markets. So, don't assume that you will experience the same win rate when you switch to live trading.
Step 4 – Start Live Trading
If you found the results of live trading close to satisfactory, switch to live trading. But check to see if you can withdraw your amount before moving any further.
Is Btc Nano 360 Legit – The Verdict
Btc Nano 360 says that its trading systems allow any level of traders to make gains even when the market is going haywire. It claims to provide a win rate of 98% using an intricate monitoring system that can be customized according to the needs of the trader.
None of these claims can be verified, however. We couldn't find anyone other than a couple of reviewers talking about Btc Nano 360, and the customer reviews sound dubious. We recommend researching this platform thoroughly before using it to trade cryptos.
Cryptocurrencies are unregulated. Trading with unregulated brokers will not qualify for investor protection.
FAQs