Coin Trade Capex is an autonomous crypto trading platform that, with its latest Crypto 1000 Capex version, claims to leverage ML technology to navigate the market with precision and maximise an investor's trading potential.
According to the trading platform, its hands-free trading facilities break down the barriers and eliminate the steep learning curve for beginner-level traders. But how true are these smart trading capabilities? This Coin Trade Capex review of 2023 assesses this platform's claims to see if they are legitimate and worth your time and effort.
Coin Trade Capex Summary
Coin Trade Capex, also known as Coin AI Capex or Coin Trade 1000, states that it is not just another crypto trading app but a platform that focuses on the "vast expanse of market data with unprecedented precision". Before we get into the veracity of such statements, here are the key facts to know about this platform.
| | |
| --- | --- |
| Type of Platform | Advanced cryptocurrency trading |
| Minimum Deposit | Not specified |
| Claimed Success Rate | Not specified |
| Supported Cryptocurrencies | Bitcoin, Ethereum, Cardano, Solana, XRP, Polkadot, Dogecoin, Litecoin, Bitcoin Cash, USD Coin |
| Mobile App | Not Available – but the web app is responsive |
| Withdrawal or Deposit Fees | Not specified |
| Customer Service | 24/7 |
Cryptocurrencies are unregulated. Trading with unregulated brokers will not qualify for investor protection.
What is Coin Trade Capex?
Coin Trade Capex goes by several names, ranging from Crypto Capex 1000 to Crypto 1000 Trade, and it promises to provide one facility in all forms – access to a trading robot powered by AI technology that can help even beginners trade profitably during the current market conditions.
According to the official website, the system runs around the clock to identify the best moments to enter and exit the market so that you get optimal returns. These features are supposedly supported by a user-friendly interface that makes it easier for all levels of investors to modify trading parameters, such as stop loss and take profit for a customized trading experience.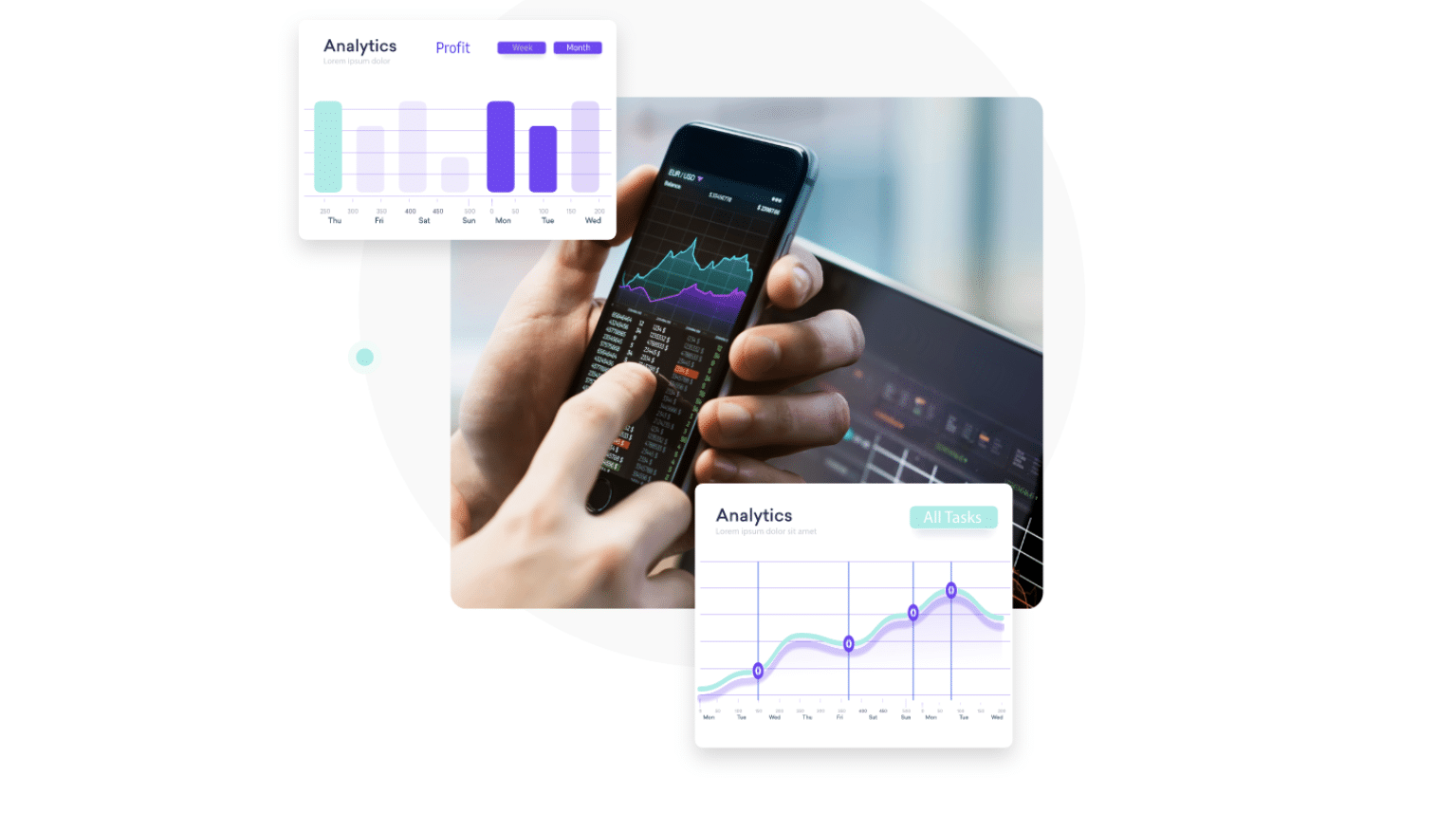 The platform states that this approach is efficient and removes any cause of human error. It also says that the system can analyze the vast amount of historical data available to recognize patterns and forecast prices.
In terms of cryptocurrencies, Coin Trade Capex seemingly supports Bitcoin, Ethereum, Cardano, Solana, XRP, Polkadot, Dogecoin, Litecoin, Bitcoin Cash, USD Coin
That's the extent of information that this website provides. The remaining content seems to be highlighting the same factors with no insights into the other facilities available. There is no information about this trading system's win rate or the minimum deposit it requires. That information is crucial, as it explains in the FAQ section that users can only gain access to Coin Trade Capex's autonomous trading features after they make a minimum deposit.
The lack of details put a shroud of ambiguity around this platform. Thus, we recommend only investing a minimum amount if you choose to use this website for your crypto trading needs.
Who Created Coin Trade Capex?
Nowhere on the official home page and the About Us page has Coin Trade Capex revealed who is running the platform. Other third-party reviews have merely hinted a team of developers and traders is behind the creation of this platform, but no names have been revealed.
And since Coin Trade Capex isn't discussed largely on social media websites, there are no details about the makers of the platform there as well.
Coin Trade Capex Pros and Cons
A lot of information that Coin Trade Apex has provided is around accessibility and the use of artificial intelligence to facilitate trading. Here are the pros and cons of this platform that we could find upon assessing the platform.
Pros
Claims to provide autonomous trading facilities
Claims that AI-powered trading systems work around the clock
Asserts that users will get access to data-driven decision-making facilities
Offers 24/7 customer support
Offers a high win rate
Cons
Offers no information about the win rate
Claims made by the platform can't be verified
There is no information about the minimum deposit requirement or the fee structure
How Does Coin Trade Capex Work?
Coin Trade Capex seems to be similar to other machine-learned trading systems that we have covered in the past. It seems to work using the standard three-step process.
Account creation – Users will first create an account, which will give them access to the Bitcoin trading robot. This trading bot is modifiable through risk management tools that, according to Coin Trade Capex, let users change Stop-Loss and Take-Profit settings.
Assessing the market conditions – The in-built trading systems may then run a scan of the entire market and compare it with the historical data to recognize patterns.
Buying the asset – Coin Trade Capex may then look for the daily lows to buy the selected asset and then look for intra-day highs to sell it. The profits may then be transferred to the user's account.
According to the website, users can keep an eye on the platform's trading activities throughout the day. These users are also allowed to intervene, which adds a manual trading element to the platform.
Which Devices Can Access Coin Trade Capex?
We opened the website on multiple devices, including desktops, smartphones and tablets, and found that the platform looks flawless on all of them. All the buttons are visible and interactable, and the site is responsive enough to keep the quality of the display good.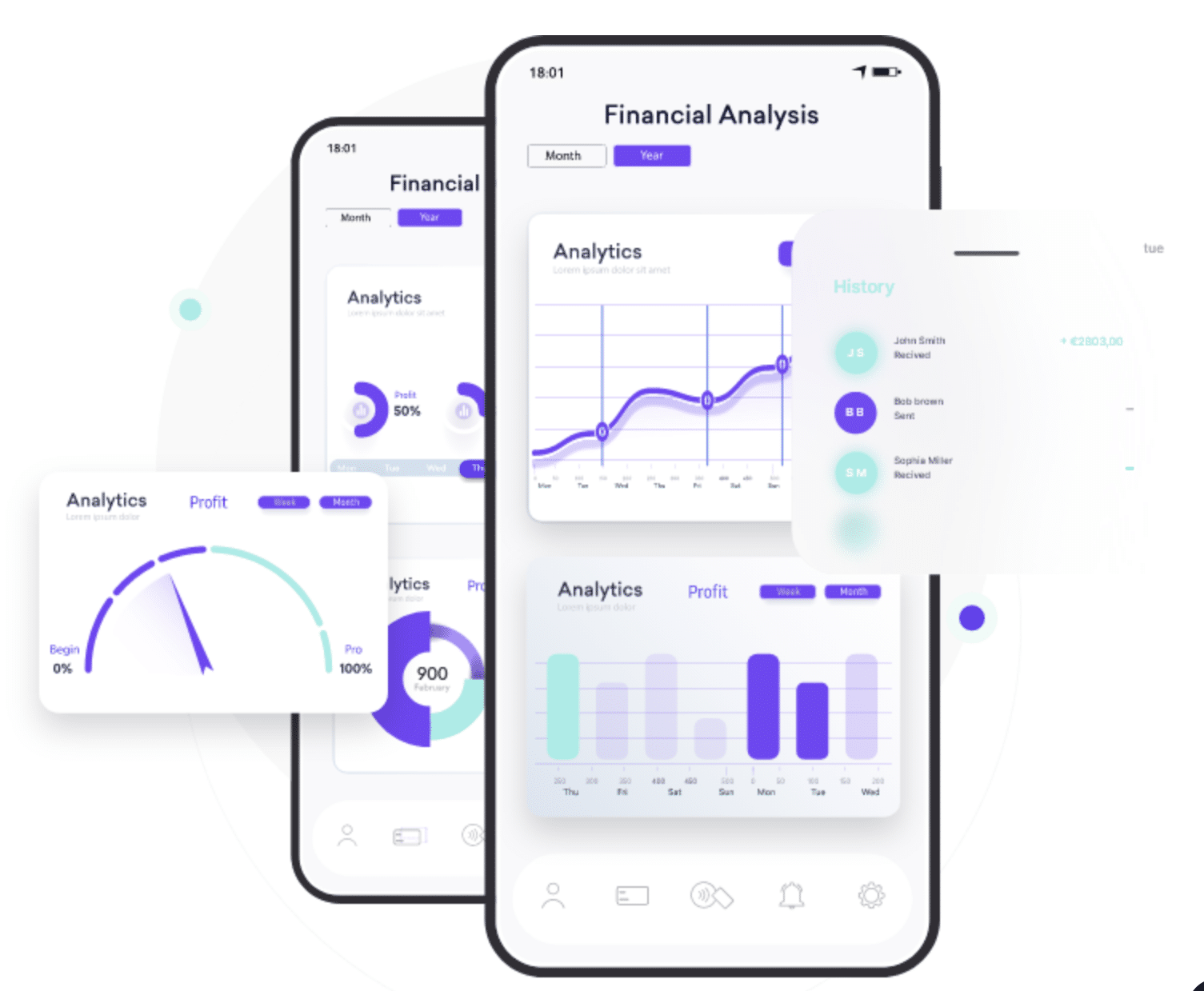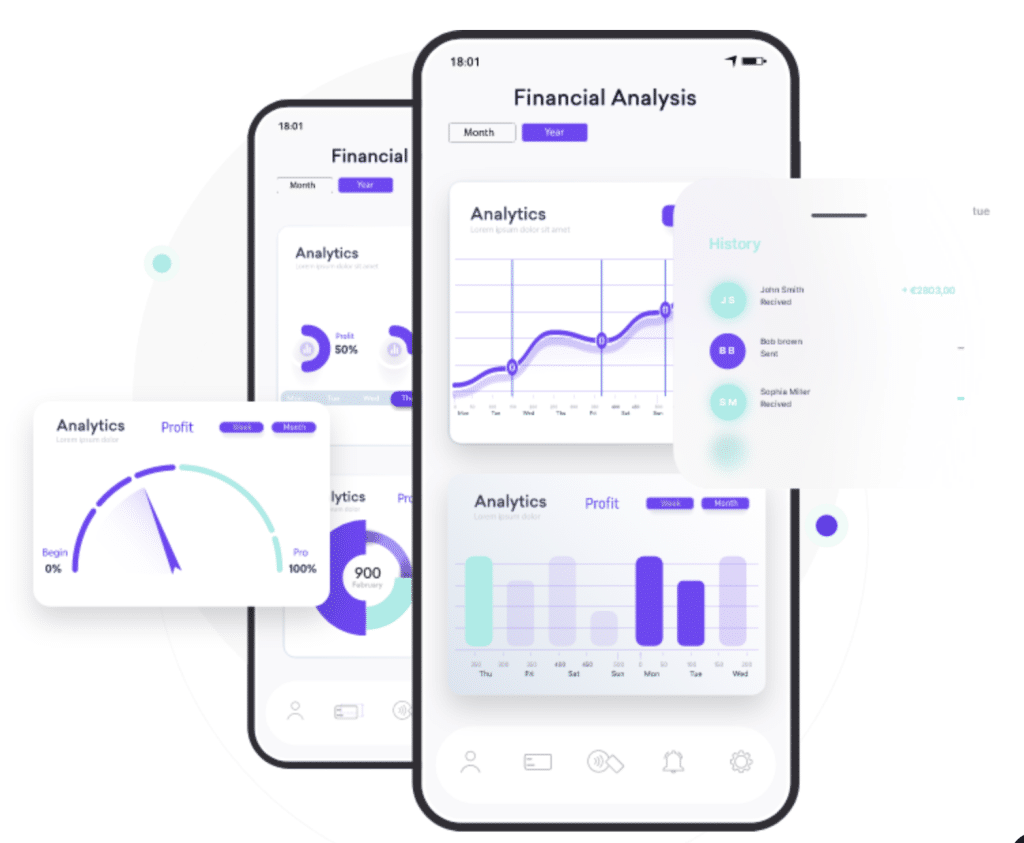 Furthermore, from the mobile app imagery shown on the platform, there is a possibility for it to have some mobile-specific features, perhaps even an app. But no information of this kind is available anywhere on the platform.
Coin Trade Capex Supported Countries
Coin Trade Capex hasn't provided any information about how many countries it is available in. The best detail we could find was by looking at the site's language settings, which showed support for more than 30 languages. So, there is a possibility that Coin Trade Capex is available in countries like the US, UK, Italy, Korea, Poland, Spain, and more.
What is the Success Rate of Coin Trade Capex?
Even though all the features that Coin Trade Capex talks about describe it as an AI trading bot, there is no information available about the win rate. While this could be a red flag, it may also speak of the site's integrity since many platforms of this nature state that their win rate is close to 99%, which is never the case.
That said, some third-party reviews that have written about Crypto Capex 1000 (another name for Coin Trade Capex) state that it has a win rate of over 85%. If that's the case, there is no proof to substantiate it.
Coin Trade Capex Key Features
Listed below are the key features that Coin Trade Capex claims it has:
Simple User Interface
Coin Trade Capex states that it has a simple user interface that allows all levels of traders to start trading on the platform. The availability of this feature seems to align with one of the core features that this platform posits: accessibility.
Support for Multiple Assets
Coin Trade Capex has explained in the FAQ section that it supports a wide range of cryptocurrencies, including Bitcoin, Ethereum, Dogecoin, Litecoin, Cardano, and more. The availability of multiple crypto assets ensures that people are able to diversify their investments.
Advanced Market Analysis
Claiming to be powered by sophisticated algorithms, Coin Trade Capex states that it continuously analyzes vast amounts of market data, historical trends, and essential indicators to give a holistic pattern of an asset's price.
Real-Time Monitoring
According to Coin Trade Capex, users can monitor the activities of the AI trading bot in real-time. As the platform supposedly works around the clock, it claims to provide users with an edge in the "fast-paced crypto world".
Adaptive Learning
The trading systems employed on the platform constantly learn from the changing market conditions, claims Coin Trade Capex. It claims that this approach helps with optimizing trading strategies so that investors can get the maximum benefit.
Risk Management and Control
Coin Trade Capex supposedly allows users to set risk parameters and customize their trading approach depending on their level of comfort. The presence of nuanced risk management tools is helpful in the current volatile market conditions when Bitcoin is on the verge of dipping below the $26k mark.
Cryptocurrencies are unregulated. Trading with unregulated brokers will not qualify for investor protection.
Is Coin Trade Capex a Scam?
Coin Trade Capex offers a lot of information on the official page, but none of it is robust enough for us to help judge it as a scam or a legitimate trading platform.
On the positive side, the site looks good. There is a lot of information to know before starting to trade, and it is responsive. At no point did we feel that the presentation was lacking. Another positive comes from the sign-up section. It is simple to understand and doesn't present any challenge. Furthermore, it doesn't make any unrealistic claims about its win rate.
However, most of these positives can be chalked up to the lack of information available on this website. It offers no details about its fees, no details about the minimum deposit requirement, no information about the makers of the website and does not offer any clarity regarding the presence of the mobile app. The last point is noteworthy because much of the imagery presented on this platform gives one the impression that a mobile version of the platform is available.
When it comes to third-party reviews, they are varied. While all talking positively about what it has to offer, they describe different win rates, details about which aren't anywhere to be found on the official website. Some also refer to the site as Coin Trade 1000.
When it comes to customer reviews and testimonials, the only ones we could find were at the bottom of the home page.
Due to these factors, we got a mixed impression of this platform. We recommend our readers independently assess the website before getting started.
What is the Minimum Deposit on Coin Trade Capex?
Coin Trade Capex clearly states that in order to start trading, one has to deposit a minimum amount. However, details about the same aren't available anywhere on the platform. It is likely that once an investor initiates the signup process, this information will be revealed.
Coin Trade Capex Customer Support
Customer support is available on Coin Trade Capex. It can be reached through the "Contact Us" page or via email. To access live chat support, however, the site claims that one needs to create an account.
How to Use Coin Trade Capex?
Here are the steps to start trading on Coin Trade Capex:
Step – Register on Coin Trade Capex
Coin Trade Capex itself has described these steps. First, one needs to go to the official website of Coin Trade Capex, and enter some personal details such as your name, email and phone number.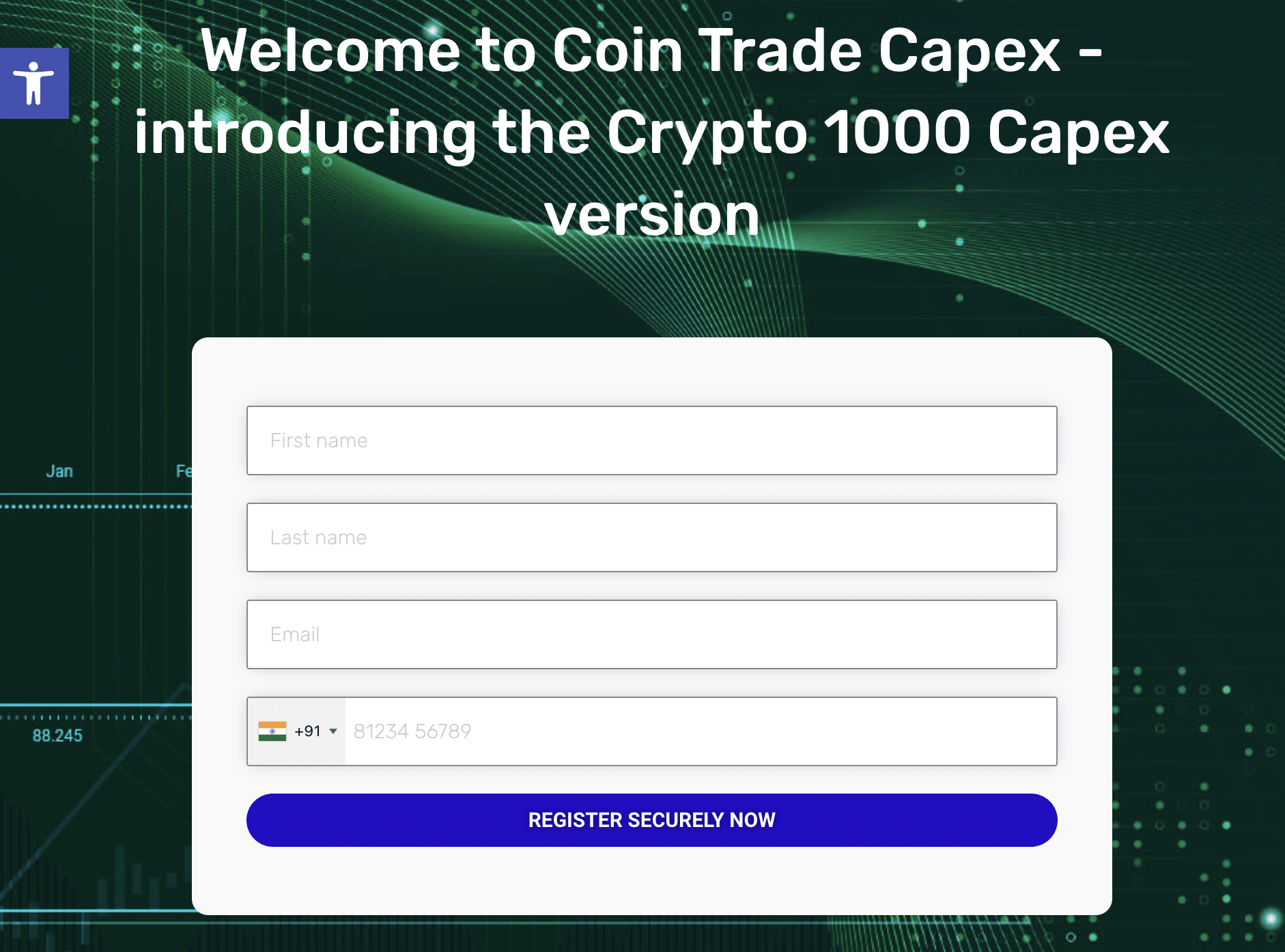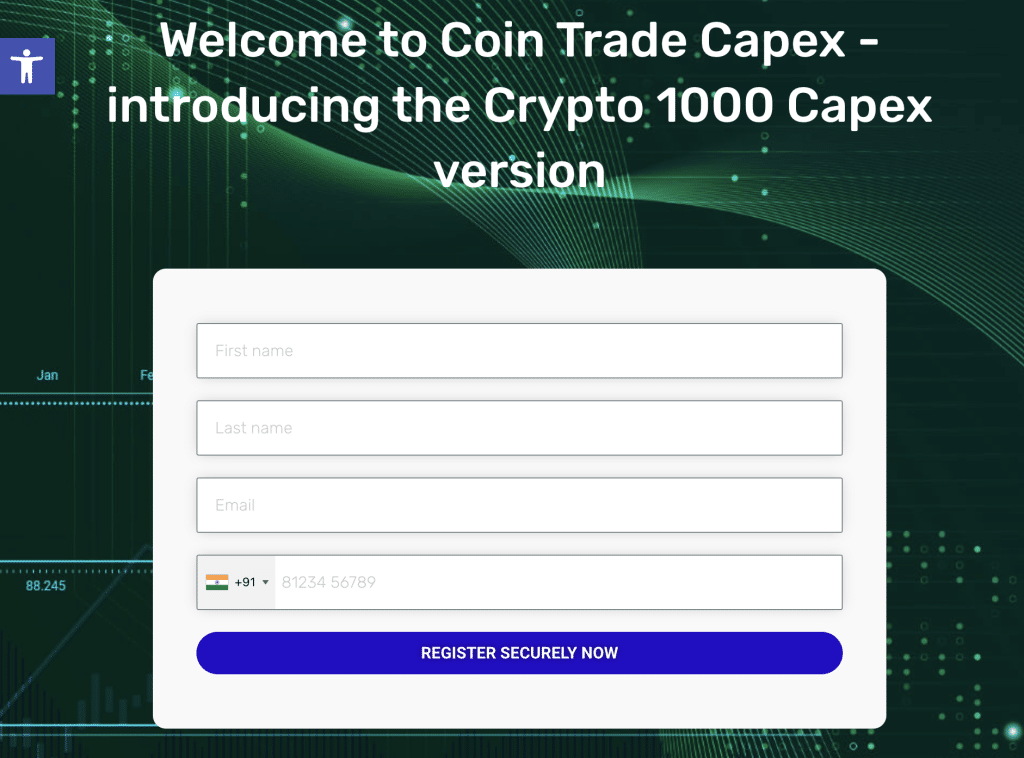 Those concerned about their privacy can provide a burner number instead, which will prompt the team to reach out through email only.
Step 2 – Fund the Account
Investors must then fund the account with the minimum deposit. Details about the minimum deposit required aren't available. However, that could be revealed by the customer support representative who helps users with the account creation process.
Step 3 – Start Trading
Users can then start trading on Coin Trade Capex. There is no mention of a demo trading account anywhere on the website, which means investors will jump straight into live trading once they get started.
Is Coin Trade Capex Legit – The Verdict
Coin Trade Capex claims to make a lot of promises. It states that users get an intuitive interface to help them make trading decisions easily. The hands-free trading the platform offers is supposedly powered by multiple advanced algorithms, and with risk management tools, investors can get a customized trading experience. However, none of them could be confirmed.
Third-party reviews of the website are mixed; no customer reviews are to be found outside of the platform. Furthermore, info about who created the website also isn't available. In light of this, we recommend that our readers only use this platform if it meets their requirements.

Cryptocurrencies are unregulated. Trading with unregulated brokers will not qualify for investor protection.
FAQs
What is Coin Trade Capex?
Is Coin Trade Capex legit?