Appearing to name itself after ChatGPT, the CoinGPT trading platform claims that it makes crypto trading easier for traders using AI. According to the website, the in-app tools trade on the customer's behalf and do so without charging hidden fees. Is CoinGPT too good to be true? Or is there something of value here? This CoinGPT review explores what is known about this trading tool's features to find out whether it is worth your time.
CoinGPT Platform Overview
CoinGPT's website advertises it as a crypto trading tool that makes trading simpler for traders of "all levels of experience". According to the home page, the machine-learned tools come a play when placing buy and sell orders quickly and profitably. Before we delve into these claims, here are some of the key elements to know about this tool:
| | |
| --- | --- |
| Type of Platform | Crypto Trading |
| Minimum Deposit | $250 |
| Claimed Success Rate | Not Specified |
| Supported Cryptocurrencies | Bitcoin, ZCash, Ethereum, Bitcoin Cash, Ethereum Classic, Litecoin, Cardano, EOS, Neo, and others |
| Mobile App | Not available – but the site is responsive |
| Withdrawal or Deposit Fees | None |
| Customer Service | 24/7 |
Cryptocurrencies are unregulated. Trading with unregulated brokers will not qualify for investor protection.
What is CoinGPT?
"Everything you need about crypto all at one convenient place" – are the first lines that you will see when you land on the CoinGPT site. Calling itself a robust platform, CoinGPT states that it is able to provide the best trading experience through an improved UI.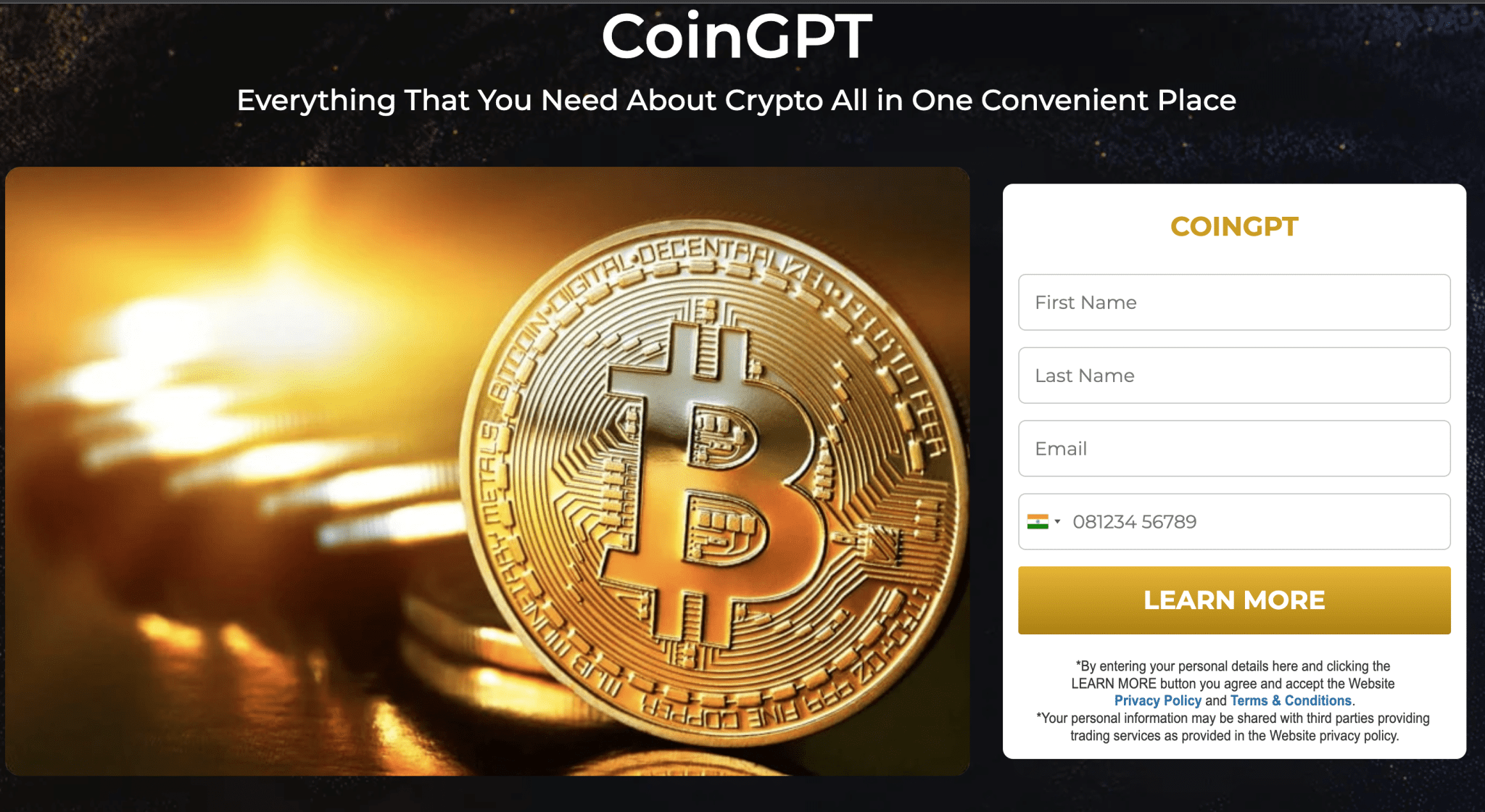 The site says that the platform is easy to navigate as it brushes away the technical jargon for the sake of simplicity, giving way for new traders to profitable use the platform.
While we can't attest to how the actual trading system looks, the login button, as well as the other unique options available on the site's advertising copy, were working.
According to the CoinGPT website, a wide range of crypto assets, including Bitcoin, Ethereum, Ethereum Classic, Dogecoin, and more, can be traded on the platform.
Helping people invest properly isn't only machine-learned trading tools but also manual trading. The official website says that these tools allow investors to "experiment with a range of strategies" to make the most gains from a volatile market.
The site also states that it has an educational platform that keeps traders informed. Other facilities, like a demo trading account, are also apparently available.
Even those these features are enticing, information about them is not abundant. The site doesn't have a historical win rate, and there are not many third-party reviews of the some. We recommend that you cover all the bases before checking out this trading tool for your investment needs.
Who Created CoinGPT?
ConGPT has reportedly been developed by a team of crypto traders and software specialists, but their identities aren't known. While being anonymous is nothing new when it comes to crypto trades, times have changed. People are looking for transparency, so the lack of info about the founders is a red flag.
Realizing this, we searched on social media platforms in hopes of finding something, even a single mention of the makers of the site. But we came up with nothing. CoinGPT appears unrelated to a similar tool we reviewed, BitGPT.
CoinGPT Pros and Cons
Similar to other trading platforms of the same nature, CoinGPT has many pros and cons, and here is a list of them.
Pros
There are many advanced trading tools available – according to the site
There is no fee for trading
Customer support is constant for those who register
Educational material is available for those who want to update their crypto knowledge
The official website claims it has a high win rate
Cons
You must deposit at least $250 to get started
No information available about the working of the platform
No historical data about the win rate
There are no features accessible for those who don't register an account
Information about the makers of the site is not available.
Cryptocurrencies are unregulated. Trading with unregulated brokers will not qualify for investor protection.
How Does CoinGPT Work?
CoinGPT claims that it has two modes – Manual and hands-free
The hands-free mode makes use of the in-app trading tools that get active once a user creates an account. The on-boarded app scans the market, collects the price data, and establishes repeatable patterns to predict the price of an asset.
Some third-party sites have said that CoinGPT's trading tools can be customized to prevent risky situations.
The other element is manual trading, which reportedly has advanced indicators and trade settings that all can try out.
A combination of both of these may be important to make legitimate trading decisions. However, accessing them requires a deposit of $250.
Mobile trading is also accessible, apparently, but not via a mobile app. We found that the desktop version of the website is visible on all devices.
However, we didn't get to test these tools or the educational resources that CoinGPT claims it has. All the information is probably locked behind the deposit requirement. And when we searched other reviews that touched upon the educational resources, we found that they weren't as informed as we had hoped.
These factors indicate that trading on CoinGPT may be risky. Therefore, assess your risk tolerance before trading. Also, know that crypto trading is risky in general – profits are never a guarantee.
CoinGPT Available on Which Devices
Our reviewers accessed the CoinGPT site on multiple devices and found it to be working on:
Desktop
Laptop
Android Phones
Apple Phones
Tablets
All the devices we tested the platform on show CoinGPT's official website clearly. All the icons were visible, and all the buttons were clickable.
CoinGPT – Supported Exchanges
CoinGPT states that it facilitates crypto trading through its supported exchanges. While the names of those exchanges are not known, we did find claims that all the exchanges are regulated by major governmental authorities.
However, we didn't find proof of those claims, which means you must be careful when trading on CoinGPT.
CoinGPT Success Rate
CoinGPT has said nothing about its success rate. The third-party sites claim that it is a high win rate, but the actual historical data is absent. Investors might want to keep that in mind before using this platform for crypto trading.
CoinGPT Key Features
CoinGPT claims to have a robust selection of features, such as.
Advanced Trading Tools
Since CoinGPT supposedly has two modes – manual and hands-free, it is natural to claim to have advanced trading tools. Used correctly, these tools can help individuals make major trade decisions easily. CoinGPT states that these tools include multiple technical indicators as well as parameter settings that can control the self-executing trading system, making it follow a specific strategy.
Fast Registration Process
Getting started on the platform is easy since there are no roadblocks, such as KYC requirements. We checked the website and found that the sign-up process only requires entering details and verification.
Educational Resources
Information is power when it comes to trading profitably, and CoinGPT claims to give that power to registered users. The website says that its educational resources will keep you updated about the "information from the crypto world". These tools can likely help novice traders play the long game and engage in long-term trading strategies.
Supporting Multiple Assets
The official website states that it supports multiple cryptocurrencies, including Bitcoin, Ethereum, Dogecoin, Bitcoin Cash, ZCash, and more. Having so many options is good for diversifying your investments to hedge your bets on the market.
Demo Trading Account Support
Users can reportedly use a demo trading account to learn more about what CoinGPT has to offer. A demo trading account is good for getting the hang of things before you put real money in real market conditions. But this is not a facility that anyone can use – registration is important.
Deposits and Payouts are Instant
CoinGPT seems to be supporting both crypto and fiat payment options. Crypto depositors can enjoy instant payouts and deposits. Fiat users, however, must wait for a day for the withdrawals to get cleared.
Cryptocurrencies are unregulated. Trading with unregulated brokers will not qualify for investor protection.
Is CoinGPT Legit or a Scam?
CoinGPT is light on information, and many of the claims it has made, including its features, can't be confirmed. There is no word about who made this website, and many of the tools that CoinGPT claims it support are locked behind a deposit requirement.
These facts paint a mixed picture of this website. We searched online for reviews to get more info about it and found only some details. Many customers claim that the site is actually legit, allowing users to make huge gains. Others claim that returns are low. Discussions about CoinGPT's manual trading feature are equally disproportionate, with some saying that some valuable indicators are missing.
The mixed reaction about the site doesn't give us all the info we need to judge if CoinGPT is legit or a scam. We recommend weighing in all the options before trading and knowing the risks before getting started.
What is the Minimum Deposit CoinGPT?
Starting to trade on CoinGPT requires one to deposit at least $250. All the features, including customer support as well as a demo trading account, require you to deposit this minimum amount.
CoinGPT User Reviews
CoinGPT's audience reviews have been mixed. Many are claiming that it is related to OpenAI's concept of Chat GPT, but there is no proof to support this claim.
That said, the audience isn't only mixed. They are also lacking. We could only pull a couple of reviews of this website, and that to from other third-party reviewers. There is no buzz about it on social media sites, and it is likely that no one has heard about it.
Another point to note is that CoinGPT has many clone sites, which makes matters more difficult. We suggest checking all the resources before going to the link and trying out the site.
Do Any Celebrities Support CoinGPT
The celeb-support for CoinGPT is non-existent, despite the many recent claims. Elon Musk might have rebranded Twitter with Dogecoin for a short time, but he has never shown much interest in actively trading cryptocurrencies. Corporate giants like Jeff Bezos and Martin Lewis might have made passing remarks about crypto, but never have they shown actual interest in a particular asset.
So, if you hear any claim that celebs are supporting this site – ignore them. They are likely untrue because there is no statement or proof to substantiate those claims.
CoinGPT Customer Support
While there is customer support available on CoinGPT, it is not for unregistered users. In fact, there is no contact us page on the official website. We also checked the site's terms and conditions, and it didn't highlight any other way to contact the support team. We then found out from a third-party site that registering an account and becoming a member is required to access that facility.
And once that facility is available, users can contact the support team via phone, email, or live chat.
How to Start Using CoinGPT
If you decide to proceed, follow these steps to use CoinGPT:
Step 1 – Visit the Official Website
The first step is visiting CoinGPT's official website and initiating the sign-up process. Enter your full name, phone number, and email before clicking on the "Learn More" button. You will have your account after verification.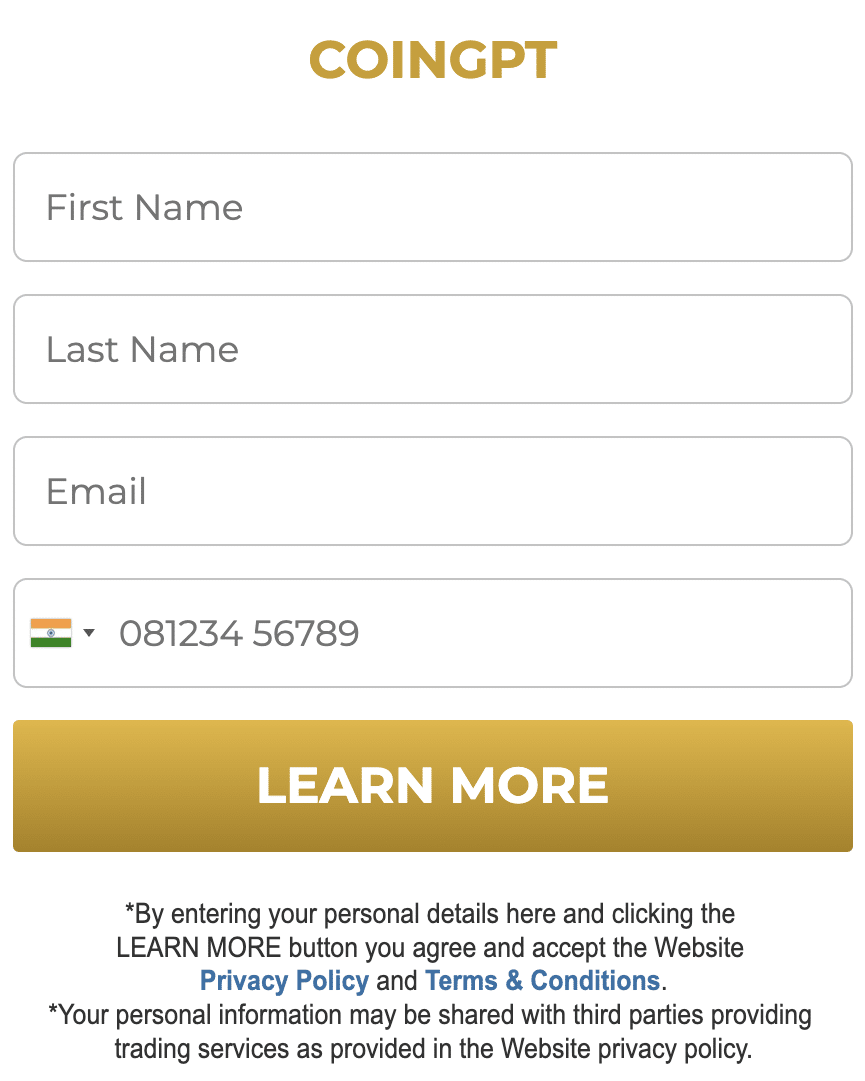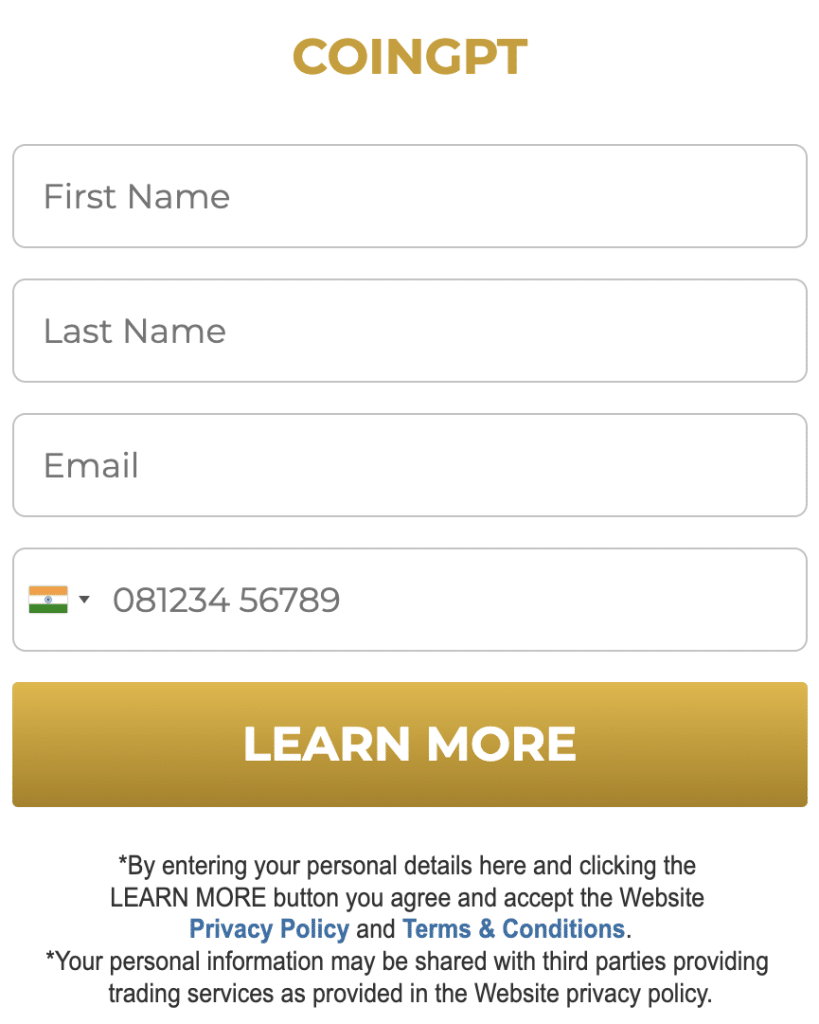 Step 2 – Deposit the Amount
Using any of the listed fiat or crypto methods to deposit that $250, you need to start trading on the website.
Step 3 – Start Trading on CoinGPT
Once you have funded the account, pick between the two listed modes. Now, go to the demo trading account to test the site before trading using real money.
Crypto trading can be risky. So make sure to trade only the minimum amount and assess your risk tolerance before getting started.
How to Delete CoinGPT
There is no info available about the process of deleting CoinGPT. But some reviews claim that talking to customer support might be helpful. There are also reviews stating that going to the settings options after logging in and terminating the account using the option available in the settings menu does the job.
Is CoinGPT Legit – Final Verdict
Modelling itself as the ChatGPT of crypto trading, CoinGPT makes some bold claims – its purports to offer many resources for all levels of traders, making crypto trading easier for everyone. However, the site lacks information that could help us assess its exact workings.
The site can't be tested by unregistered users, and the identities of the makers behind it are not known. Social media is also light when it comes to information on CoinGPT. We recommend starting with a minimum deposit and only investing what you can afford to lose following that.


Cryptocurrencies are unregulated. Trading with unregulated brokers will not qualify for investor protection.
FAQs
Has Elon Musk endorsed CoinGPT?
Is CoinGPT associated with ChatGPT?