The cryptocurrency market continues to undergo continuous development, leading to the emergence of increasingly sophisticated trading tools. Among these tools is Crypto Code, a trading platform designed to assist investors in identifying trading opportunities and executing trades on their behalf.
Crypto Code asserts that it has a notably high success rate and offers trading options for various cryptocurrencies beyond just Bitcoin. Nevertheless, there is a scarcity of readily accessible information about the platform, making many experts question this platform's credibility. In this Crypto Code review, we will closely scrutinize all of the platform's features in order to determine its suitability for investment purposes.
Crypto Code App Summary
Here's a quick look at the highlight features of the platform to help you make an informed decision:
| | |
| --- | --- |
| Type of Platform | Advanced cryptocurrency trading |
| Minimum Deposit | $250 |
| Claimed Success Rate | Not mentioned |
| Supported Cryptocurrencies | Bitcoin, Bitcoin Cash, Ethereum, Monero, Litecoin, Ripple, Dash, and more |
| Mobile App | Not available |
| Withdrawal or Deposit Fees | No fees |
| Customer Service | 24/7 |
Cryptocurrencies are unregulated. Trading with unregulated brokers will not qualify for investor protection.
What is Crypto Code?
Crypto Code claims to operate as a technologically advanced cryptocurrency trading platform, facilitating trades in collaboration with affiliated brokers and exchanges.
According to the claims, experienced users have the option to tailor their trading parameters and strategies, with pre-setup trades executed once these predefined criteria are satisfied. The platform also asserts that it offers a user-friendly interface, enabling both novice and seasoned traders to participate in trading activities effortlessly.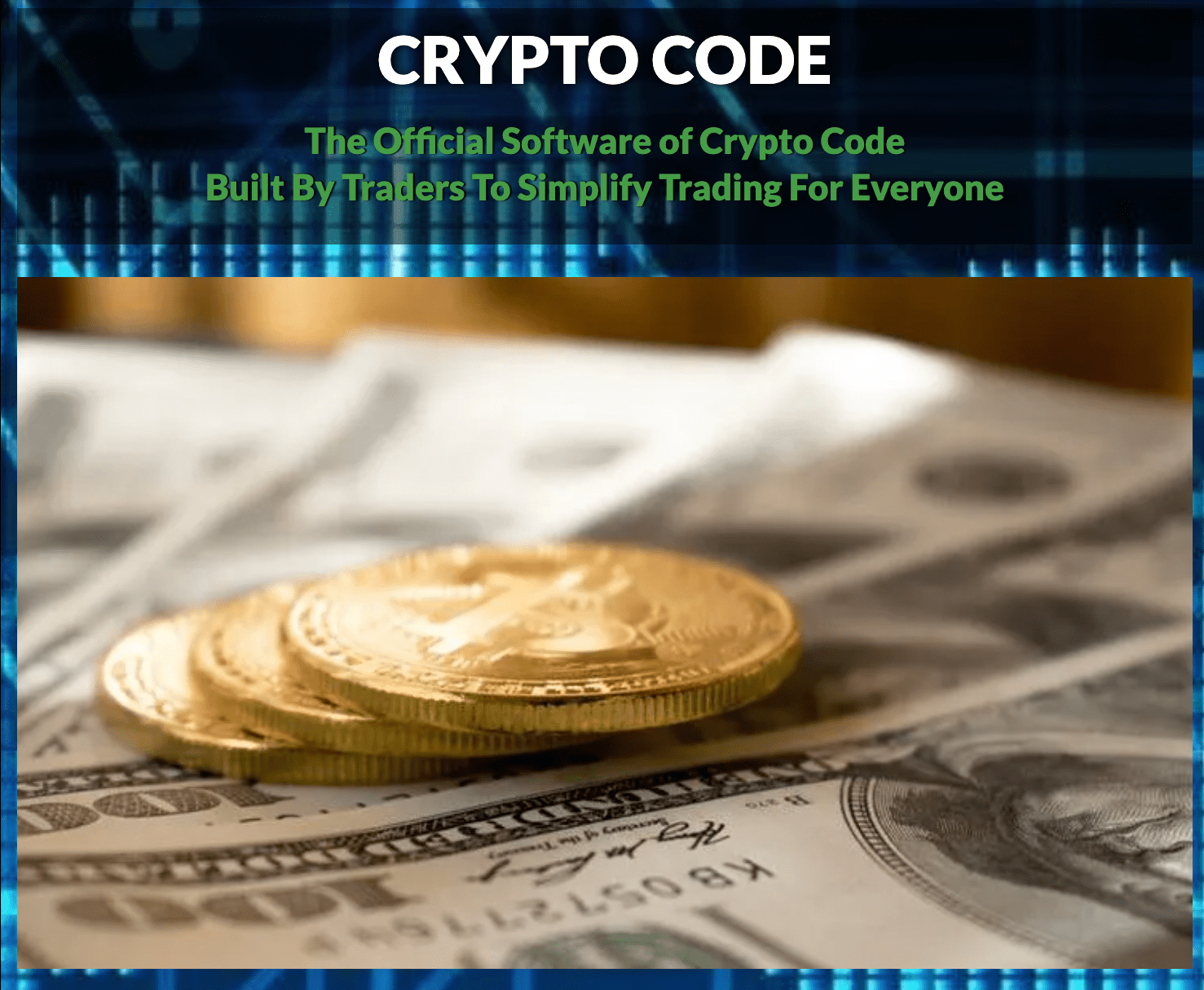 Traders should exercise caution when considering Crypto Code, as past instances of profitability or success in a demo account do not guarantee consistent future results. While the website features user testimonials claiming substantial daily profits, these assertions cannot be independently verified.
The platform claims to use various tools to provide high-profit trades, although the exact number is not mentioned. Despite these features, the requirement to deposit $250 into a newly created account to access the site raises user concerns. The demo account, too, requires registration and a deposit to be accessible.
Crypto Code promotes itself as an ideal platform for both novices and professional traders – some reviews refer to the site as 'Crypto Code Pro' – and its website is freely accessible. There are no trading fees, hidden charges, or commissions on the platform, but an initial deposit is mandatory to access the dashboard. Without making a deposit, users cannot explore the platform's features.
For some Crypto Code app alternatives, check out our list of the best Bitcoin robots.
Who Created Crypto Code?
During our thorough examination of the platform, we did not come across any information regarding the creators of the platform. The platform's website and the company's policy do not make any references to its creators, other than them being pro traders and app developers.
Furthermore, the platform lacks any official social media presence that might provide clues about the identities of its creators, whether they choose to be transparent or anonymous. If there were any details available about the team members responsible for the website, it could have potentially enabled us to identify the creators. However, no such information is accessible.
Crypto Code Pros and Cons
Pros
Claims to offer a quick sign-up process
User-friendly platform
Crypto Code supports a diverse array of cryptocurrency contracts for trading
Offers a demo account
Cons
Most of the platform's claims aren't verified
Crypto Code imposes a minimum deposit requirement of $250
Cryptocurrencies are unregulated. Trading with unregulated brokers will not qualify for investor protection.
How Does Crypto Code Work?
Crypto Code claims to be an advanced cryptocurrency trading platform providing a comprehensive trading experience supported by a range of trading tools. It asserts that it employs extensive data collection and analysis to furnish users with predictions, enhancing the potential for profitable trading.
One notable feature of Crypto Code is its capacity for hands-free trading on the platform for specific scenarios. What sets it apart is the incorporation of data evaluation capabilities, states the website, enabling the platform to continuously refine its ability to execute profitable trades on behalf of users.
This unique attribute can allow users to benefit from market forecasts even while on the move, making Crypto Code an appealing choice for cryptocurrency traders across different experience levels, ranging from novices to seasoned financial experts. However, there's no proof available about these assertions.
It's important to note that Crypto Code does not retain user funds but rather channels them into broker wallets designated for trading purposes. The regulatory status of these brokers may vary. To help users in comprehending Crypto Code's functionality, the platform offers a demo trading feature, allowing users to experiment before committing their funds.
Should Crypto Code deliver on its promised features, it holds the potential to play a significant role in the future of trading. With that being said, there's little to no evidence available about the credibility of the platform, and it's best for traders to remain cautious as they risk their money on the platform.
Which Devices Can Access Crypto Code?
Crypto Code can be accessed via a website, with desktop users being able to utilize their web browser. Additionally, the platform mentions its compatibility with both Android and iOS apps, offering users convenient cryptocurrency trading options. Account access is granted across various devices, given that users have their account credentials.
Crypto Code Supported Countries
There's no mention of specific countries where the platform is available or unavailable. However, most users should be able to access the platform from their country as long as the countries support the platform.
What is the Success Rate of Crypto Code?
There's no mention of any specific success rate on the platform, but the platform does advocate for allowing users to make higher profits. In the FAQ section on the official website, the platform even says that there's no limit to the earning potential.
While these claims are attractive, they lack substantial evidence that could prove their validity. It's best for investors to do their own research before they choose to engage with the platform. Many other platforms on the market also don't have an audited winrate however, such Crypto Nation Pro.
Crypto Code Key Features
According to the website, the main USPs of Crypto Code are:
User-Friendly Interface
Crypto Code offers an intuitive interface designed to cater to traders of all experience levels. Whether you're just starting out or a seasoned crypto trader, the platform simplifies the process of executing trades and customizing your settings.
Demo Account
To help users become familiar with the platform and gain confidence in leveraged trading without financial risk, Crypto Code offers a complimentary demo account. This feature serves as a valuable tool for users to refine their trading skills and develop effective strategies before transitioning to actual transactions.
Customer Support
Crypto Code claims to maintain a dedicated customer support team available around the clock to address any inquiries or concerns users may encounter. They claim to offer multiple support channels, including live chat, email, and phone, ensuring quick and efficient assistance to meet your needs.
Quick Withdrawals
Crypto Code ensures speedy processing of all withdrawals on the platform, enabling users to access their funds promptly. Moreover, the platform does not impose any withdrawal fees; however, the exact duration for fund disbursement remains unspecified.
Supports multiple cryptocurrencies
Crypto Code offers the capability to engage in trading with a variety of cryptocurrencies, such as Bitcoin, Bitcoin Cash, Ethereum, Monero, Litecoin, Ripple, Dash, and more. This functionality grants users access to a consistent array of attractive trading prospects on a weekly basis, enabling them to capitalize on market fluctuations and optimize their investment returns.
Is Crypto Code a Scam?
Crypto Code lacks transparency in substantiating its credibility. Firstly, evaluating the platform's features requires an initial deposit of $250, which may dissuade potential users from seeking a preliminary trial without financial commitment.
Furthermore, although the website showcases favorable customer testimonials, their authenticity remains unverifiable. This ambiguity could be a strategic ploy by Crypto Code to foster trust in their platform.
The reviews from other websites are mixed, portraying Crypto Code as either a reputable trading platform or an outright scam. Some reviews confuse it with another trading bot we've reviewed, Bitcoin Code. Most reviews also indicate a limited user base, which raises concerns for prospective registrants.
Collectively, these factors pose challenges in assessing the Crypto Code's legitimacy. It is advisable not to place unwavering faith in the website's reviews and assertions. Conduct thorough research, begin with a modest deposit, test the platform, and proceed only if it proves to be trustworthy.
What is the Minimum Deposit on Crypto Code
To initiate trading activities on Crypto Code, prospective investors need to make a minimum initial investment of $250. Upon successful deposit, investors will gain entry to the platform's dashboard and a variety of other features, enabling them to begin their trading activities.
Crypto Code Customer Support
The customer assistance services offered by the Crypto Code application are highlighted as a distinguishing feature on the website. These services are accessible 24/7 as advertised. The platform asserts its ability to promptly respond to any questions or apprehensions that users might raise.
How to Use Crypto Code?
Having thoroughly reviewed all the features of the platform, here's a quick guide to kickstart your trading journey on Crypto Code.
Step 1: Create a Crypto Code Account
Visit the Crypto Code website and complete the registration form by providing your name, email address, and phone number. The registration form is available the moment you open the homepage of the website.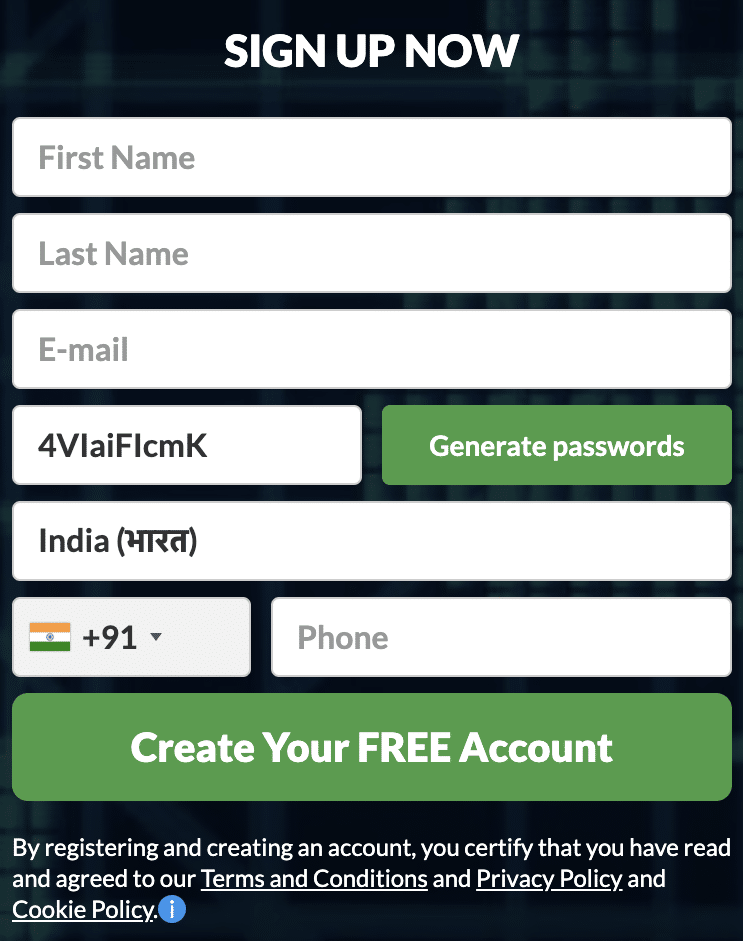 Step 2: Initiate a Deposit
To initiate your trading activities on Crypto Code, a minimum deposit of $250 is required in your account. The platform accommodates various payment methods, including debit and credit cards, for your convenience.
Step 3: Explore the Demo Mode
Crypto Code offers a trial trading mode, allowing users to familiarize themselves with the platform's features without making a deposit. This feature enables users to gain insights into the platform before committing their own funds.
Step 4: Begin Trading
If you find the platform beneficial during the trial mode, you can proceed by making the mandatory minimum deposit of $250, if you haven't already done so. Following this, you'll gain access to trading with your preferred cryptocurrencies on the platform.
Is Crypto Code Legit – The Verdict
In our review, we carefully examined all of the platform's features. Although it makes a lot of promises, there isn't enough evidence available to back them up. Also, the platform doesn't have any social media accounts where you can learn more about its risks, nor does it provide any educational material that can help beginners navigate the risks associated with cryptocurrency trading. This makes it hard to tell if the platform is legitimate or not.
We suggest doing your own research before signing up on the platform. You could also look into other options that are known to be more reliable, such as crypto presales.
Cryptocurrencies are unregulated. Trading with unregulated brokers will not qualify for investor protection.
FAQs
Is there a minimum deposit required for Crypto Code?
Does Crypto Code pro version have compatibility with Ethereum (ETH)?
Has Elon Musk shown support for the Crypto Code app?