Crypto Revolt is trending online with its promise of being an info-focused platform that simplifies crypto trading for everyone.
In this review, we'll delve into what Crypto Revolt is all about, its accessibility, and why it's received attention among traders. We will also assess if the claims that this platform makes hold any weight.
Crypto Revolt Summary
Here's a quick look at all the major features of the platform.
| | |
| --- | --- |
| Type of Platform | Advanced cryptocurrency trading |
| Minimum Deposit | $250 |
| Claimed Success Rate | Not mentioned |
| Supported Cryptocurrencies | Not mentioned |
| Mobile App | Not available |
| Withdrawal or Deposit Fees | No fees |
| Customer Service | 24/7 (After registration) |
Cryptocurrencies are unregulated. Trading with unregulated brokers will not qualify for investor protection.
What is Crypto Revolt?
Crypto Revolt presents itself as a distinctive cryptocurrency trading platform, combining advanced trading and education to equip beginner traders with essential resources, advanced trading features, and a variety of charts and signals for insightful trading.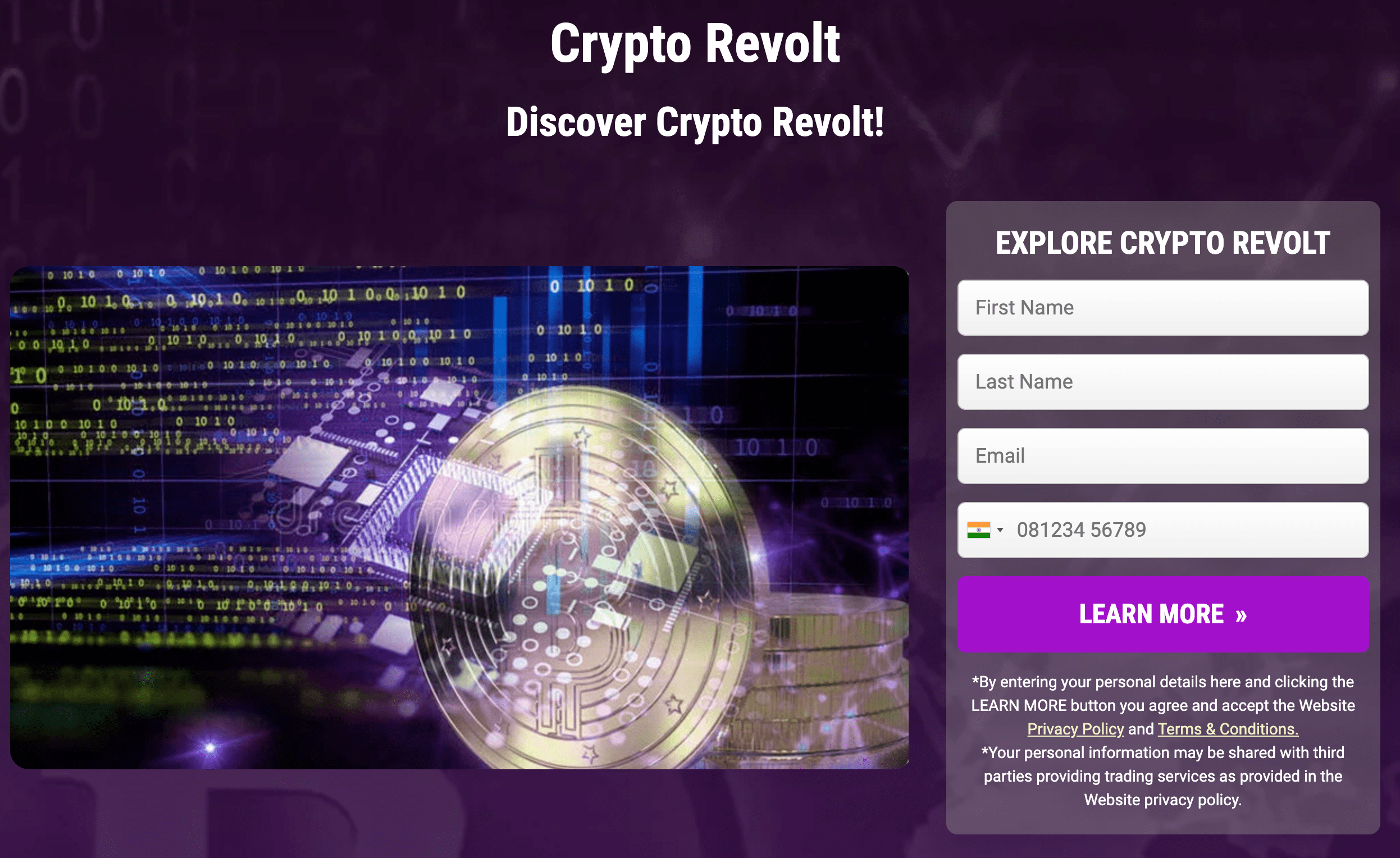 Users are required to register on Crypto Revolt to begin trading on the platform. After completing the registration process, users gain access to an array of tools and resources, according to the claims. The trading platform claims to support a diverse selection of cryptocurrencies available for trading and asserts that no fees or commissions are necessary to start trading. However, a minimum deposit of $250 is required to initiate trading activities on the platform.
Crypto Revolt maintains that it offers multiple charts and trading signals to assist users in making informed and potentially profitable trading decisions, which means that there are no trading bots involved. These features aim to enhance cryptocurrency trading by enabling users to rely on the platform to identify favorable market conditions and execute trades without the need for constant monitoring.
While the website provides limited information regarding the platform's trading success rates, Crypto Revolt states that it primarily focuses on equipping traders with comprehensive market information to support well-informed decision-making.
It's important to note that the official website lacks detailed information beyond what has been mentioned. Therefore, it is advisable for investors to approach trading on the platform with caution and conduct their own research before making any deposits on Crypto Revolt.
The platform claims to support mobile trading, although it does not specify a dedicated mobile application on the website. Nevertheless, user reviews suggest that the website's interface is optimized for mobile use, providing a satisfactory trading experience.
Who Created Crypto Revolt?
Determining who created the platform is tough because the Crypto Revolt website doesn't mention any specific person or team behind it. There is also no mention of any social media handles either that could point to any known or unknown creators of the platform. It's best for investors to maintain caution before using the platform for their trading needs.
Crypto Revolt Pros and Cons
In this part of the review, we'll look at the pros and cons of Crypto Revolt. But it's important to remember that what we're talking about is based on the stuff we found on their website. Be cautious because there's no real proof to back up these claims.
Pros
Multiple cryptocurrencies available to trade
They offer a demo account if you make a deposit
The website has an easy-to-use interface
Customer support is available through a messaging service
Cons
Users need to put down a significant minimum deposit of $250
There's little to no information available about the success rate of the platform
Cryptocurrencies are unregulated. Trading with unregulated brokers will not qualify for investor protection.
How Does Crypto Revolt Work?
Crypto Revolt functions much like other cryptocurrency trading platforms. When users sign up, they gain access to a range of trading tools, such as indicators and drawing features, which can assist in the analysis of price charts. These tools may prove valuable, particularly for experienced traders seeking insights into market trends.
The platform claims to inform users of any potentially viable trading options, and this helps users modify their trading strategy and potentially yield better results. Crypto Revolt claims to have no transaction fees, withdrawal charges, or deposit fees, only mentioning a low commission fee.
While a dedicated mobile trading app is not available, the platform can be accessed via mobile browsers, and customer support is accessible 24/7.
Nonetheless, it's important to note that there is a lack of concrete evidence to validate these claims, and there are limited customer reviews to provide insight. As an important step, potential investors are strongly encouraged to conduct thorough research before using the Crypto Revolt platform.
Which Devices Can Access Crypto Revolt?
Crypto Revolt is accessible through a website, catering to desktop users who can employ their web browsers for navigation. Furthermore, the platform highlights its adaptability to Android and iOS browsers, providing users with convenient options for cryptocurrency trading. While users can access their accounts through the website, it's important to note that Crypto Revolt does not have a mobile app as of yet.
Crypto Revolt Supported Countries
Crypto Revolt does not mention support for any specific countries on the website. However, the platform should be accessible to users from most countries.
What is the Success Rate of Crypto Revolt?
Crypto Revolt does not provide a specific success rate on its website, more so because it doesn't explicitly mention any hands-free trading features such as other similar platforms. The platform simply makes claims to notify users of profitable trading opportunities.
Crypto Revolt Key Features
Setting Stop Loss Limits
You can safeguard your investments by using stop-loss limits. This feature temporarily stops trading when the market isn't doing well. While experienced traders might skip this, it's really helpful for beginners.
Controlling Capital Exposure
Another useful tool is the ability to limit how much of your deposit the Crypto Revolt can use. For example, if you only allow it to use 50% of your money during trading, you can lower potential losses.
Regular System Updates
Crypto Revolt claims to keep its platform up-to-date with regular system updates. This ensures you have a good trading experience, adapting to changes in technology and market trends.
Flexible Payments
Adding money to your Crypto Revolt trading account is easy, with many payment options available. Plus, you can withdraw your earnings quickly, although the platform has not explicitly stated the time required.
Online Security
To keep you safe online, Crypto Revolt advises creating strong passwords and not sharing your login details. It's also best to trade on your personal devices to avoid security issues. Users should also only risk the money they are comfortable losing before they get acquainted with the platform.
Is Crypto Revolt a Scam?
Before using any trading platform, traders should exercise caution and conduct thorough research. Crypto Revolt, as one such platform, aims to assist traders in making informed decisions and optimizing their trading experience. However, some traders have expressed doubts about the platform's legitimacy and reliability.
One point of concern revolves around the absence of clear information regarding Crypto Revolt's safety measures. This might raise questions among traders who prioritize the security of their funds.
Additionally, the lack of independent user testimonials and detailed explanations about the platform's features can make it challenging for traders to assess the actual user experience and potential profitability of Crypto Revolt.
Given these considerations, it is crucial for traders to thoughtfully evaluate the risks and advantages associated with Crypto Revolt before committing their funds. Performing comprehensive research and gaining a well-informed understanding of the platform's features are essential steps in making informed investment decisions.
Those who want to avert market risks can invest in crypto presales. They are better alternative investments since they allow one to make gains outside the volatile cryptocurrency market.
What is the Minimum Deposit on Crypto Revolt
To access the platform, investors are required to initiate a minimum deposit of $250. Meanwhile, users have the option to utilize the platform's demo account to acquaint themselves with its features before making an investment decision based on their evaluation. However, users have to make the minimum deposit in order to use their feature, and the only benefit of having a demo account is that users can test the platform without risking actual money.
Crypto Revolt Customer Support
Before signing up with Crypto Revolt, it's important to know that you can't reach out directly to the support team before registering. However, once you've registered, you can get help 24/7 through live chat and phone calls. These options let traders ask questions, deal with problems, and get assistance with their trading activities on Crypto Revolt.
How to Use Crypto Revolt
Having thoroughly examined all the features of the platform, here's a concise guide to get you started:
Step 1: Create a Crypto Revolt Account
Visit the Crypto Revolt website and complete the registration form by entering your name, email, and phone number. To initiate the process, simply fill in the details in the form provided on the homepage.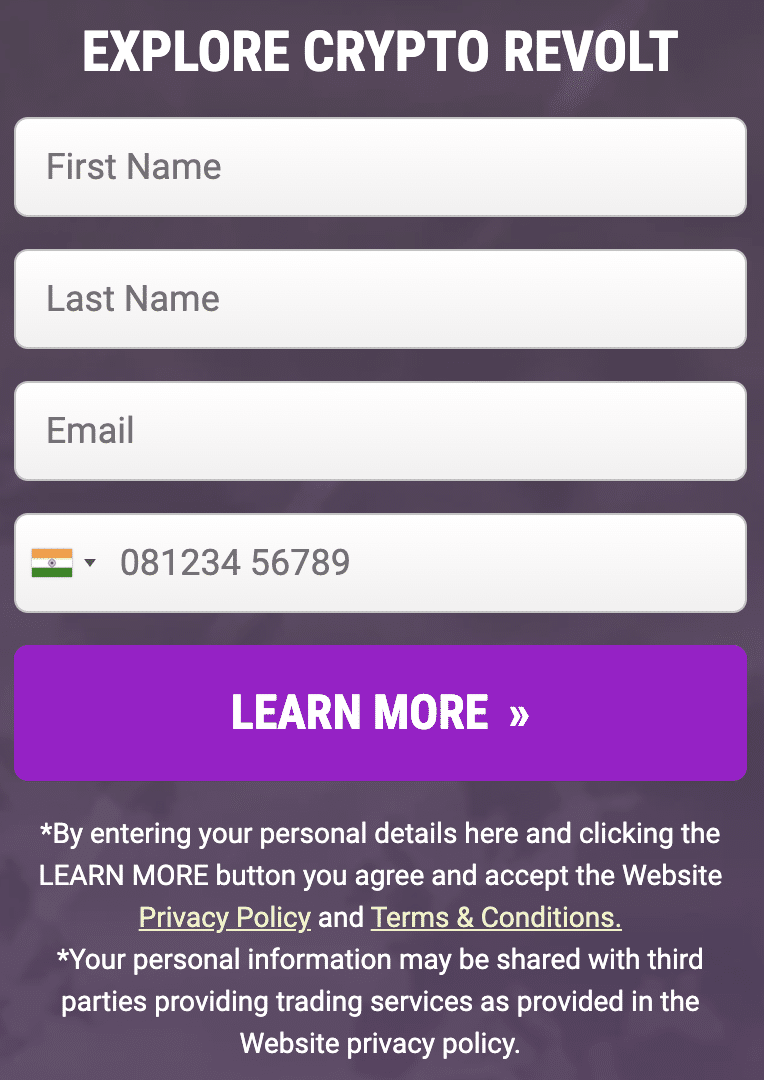 Step 2: Make an Initial Deposit
To commence trading on Crypto Revolt, you must deposit a minimum of $250 into your account. The platform supports multiple payment methods, including debit and credit cards, to facilitate your payment.
Step 3: Explore the Demo Trading Mode
Crypto Revolt offers a demo trading mode, allowing users to familiarize themselves with the platform's features without the need for an initial deposit. This feature enables users to gain valuable experience with the platform before risking their own funds.
Step 4: Begin Trading
Once you've used the demo account to familiarize yourself with the platform's features, you can use the money you've deposited to make actual trades. Once this deposit is completed, you'll gain access to trade your preferred cryptocurrencies on the platform.
Is Crypto Revolt Legit – The Verdict
In our evaluation, we closely examined the platform's features. Although it makes many promises, there isn't enough information to back them up. Additionally, the platform doesn't have any social media accounts or valid customer testimonials to provide more insights about its founders and trading risks, making it hard to judge its authenticity.
We recommend conducting your own research before registering on this platform. Alternatively, you can explore other options with better reputations. Doing some background research can help you make a more informed decision about where to invest your time and resources in the trading world.
Cryptocurrencies are unregulated. Trading with unregulated brokers will not qualify for investor protection.
FAQs
Is a minimum deposit required for Crypto Revolt?
Can I use Crypto Revolt on my phone?
Has Jeff Bezos supported Crypto Revolt?