Crypto Robo claims to be the 'world's number 1 crypto trading software' that uses autonomous systems to help users make real profits. According to the website, trading on this platform requires 'zero human intervention and zero trading experience'. It even says that people can get the ability to make guaranteed gains using the tools it provides.
But do these tall claims have any proof behind them, or is the platform just another scam that you should be wary of? Our Crypto Robo review explores these questions to learn if it is a legit crypto trading platform or otherwise.
Crypto Robo Summary
With Crypto Robo, users reportedly have access to a self-executing trading platform that works throughout the day on the investor's behalf, looking for the best trading opportunities to take advantage of.
But before we get into the review, here are the main details:
| | |
| --- | --- |
| Type of Platform | Advanced cryptocurrency trading |
| Minimum Deposit | $250 |
| Claimed Success Rate | 99.4% (not verified) |
| Supported Cryptocurrencies | Bitcoin, Ethereum, Monero, Basic Attention Token, and Miota. Commodities and stocks are also supported |
| Mobile App | No Crypto Robo app is available |
| Withdrawal or Deposit Fees | No details available |
| Customer Service | 24/7 |
Cryptocurrencies are unregulated. Trading with unregulated brokers will not qualify for investor protection.
What is Crypto Robo?
Crypto Robo is a crypto trading platform that claims to use artificial intelligence to provide users with an autonomous trading system that they can use to buy and sell cryptocurrencies profitably in the market.
The site claims that the automated trading system it uses has no chance of human error as the presence of zero human intervention allows it to trade constantly throughout the day. Crypto Robo advertises itself to be so precise that it has a winrate of 99.4%.
To make that happen, it says it uses the best HFT strategies for cryptocurrency trading. And since the website is a web-based application, it states that users won't need to worry about constant updates or downloads of software installations.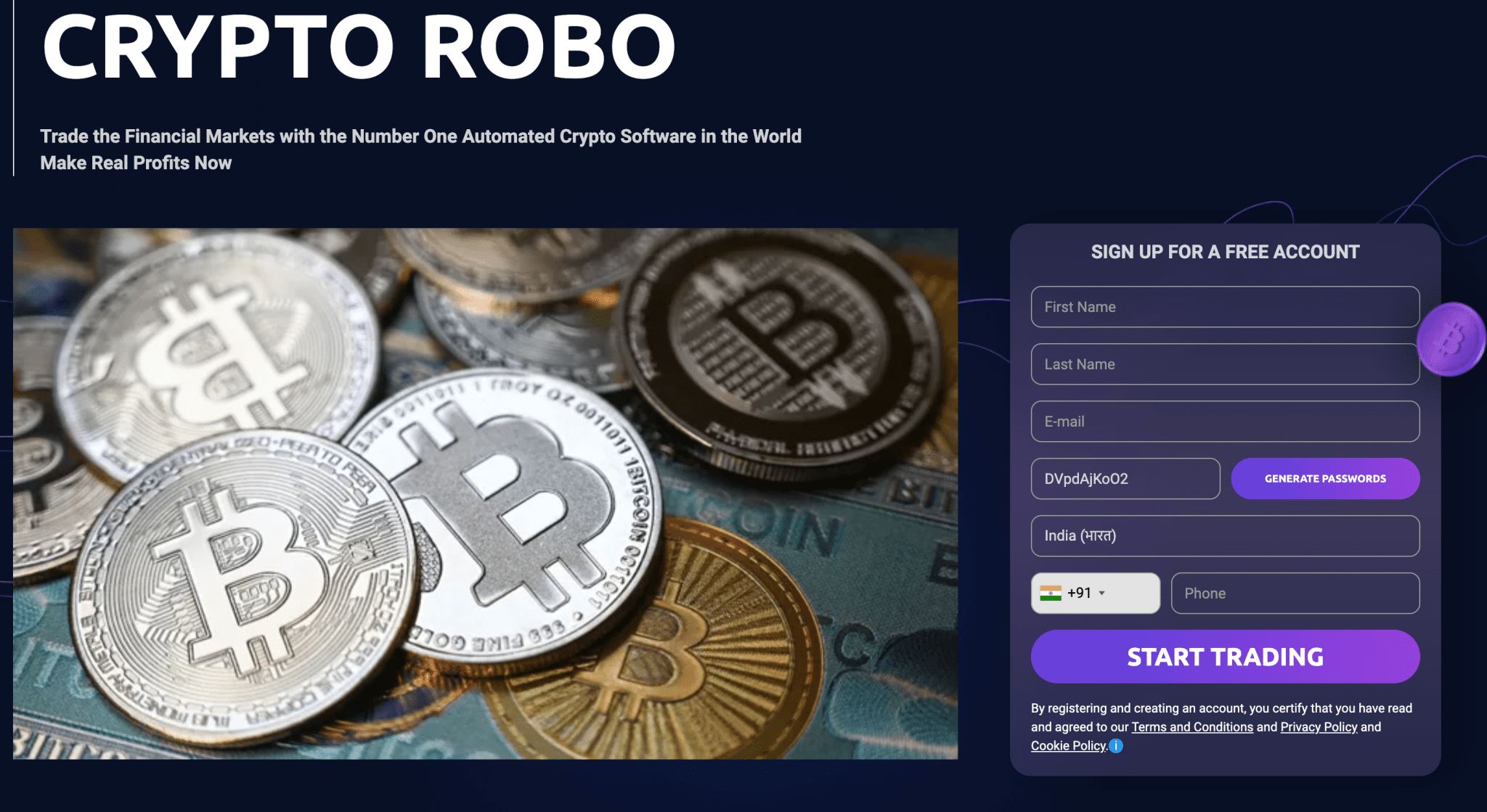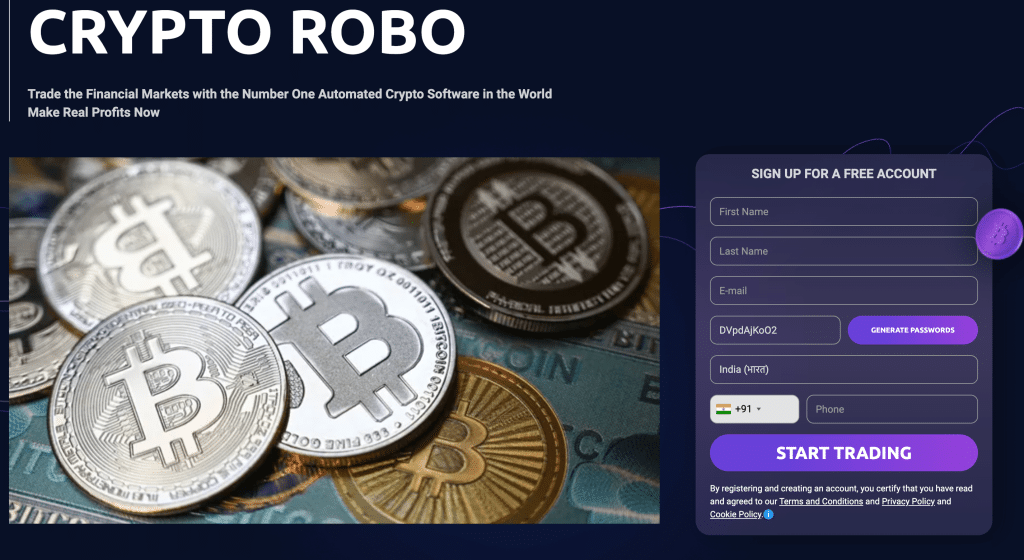 According to the website, some users of its platform earn $1000 daily by putting in only 20 minutes' worth of work. It asserts itself to be free software with no hidden fee or commission involved.
These technologies are supposedly used not just to trade the best cryptos available, such as Ethereum, Bitcoin, Monero, BAT, and IOTA, but also stocks, commodities, and other assets.
While the claims that the site makes are many, we didn't find any conclusive evidence to support them and they do sound far-fetched. The winrate has no historical data to back it up, and there is no third-party audit information or backtesting available online.
Who Created Crypto Robo?
Crypto Robo has not given any information on the website that could tell us who the makers of this trading platform are. We also tried checking via social media platforms, but we didn't find any information about these founders.
While it is not new for a trading platform to not divulge the identity of the developers, times have changed. The crypto community is looking for more transparency. So, the lack of info about the makers of the platform can be considered a red flag.
Crypto Robo Pros and Cons
Many of the Crypto Robo offerings are the same as other systems that we have covered before. So, naturally, it carries the same pros and cons as others.
Pros
Claims to provide a high winrate, automated trading system with zero human intervention required
Claims that the platform can be used free of cost
Offers a demo trading account for backtesting purposes
Cons
No way to audit the winrate – which appears to be unrealistic, to begin with
No third-party audits available of the platform
Requires that users deposit at least $250 before they can use the platform
How Does Crypto Robo Work?
The Crypto Robo website claims that it uses hands-free trading software to facilitate trading for users and a trading strategy that takes data from over 22 technical, fundamental, and sentimental analysis indicators to generate highly profitable signals.
According to the website, the trading robot uses these signals to track and analyze the latest economic events in real-time to find trading opportunities before executing them on behalf of traders.
It also claims to use a Time Leap feature that gives it a 0.01 seconds headstart in the market. And with the VPS technology, Crypto Robo claims to execute orders in real time.
Once a trade is executed, Crypto Robo says that the amount is transferred into a user's account without any deduction of any trading commission.
These features, although enticing, couldn't be tested by our reviewers. The winrate alone seems unsustainable. It is likely that Crypto Robo has used it on its content page as more of a marketing point.
Due to so many unconfirmed aspects, we recommend that traders research the site completely before investing anything. And we also encourage our readers to use the demo trading account for backtesting – if it is available without the minimum deposit requirement.
Which Devices Can Access Crypto Robo?
We couldn't test the trading features of the website on multiple devices – or any, for that matter – since those weren't made available to us. But we did open the official website link on our devices to see if the site is responsive.
And that was the case. Whether the device is a laptop, desktop, tablet, or smartphone, we were able to see the icons and the text clearly.
Despite this, we recommend that our readers exercise caution when interacting with Crypto Robo.
Crypto Robo Supported Countries
Crypto Robo hasn't specified anything about the countries it supports. However, we were able to gain some information from its sign-up module. It has listed over 140 countries there, including UK, US, India, Kenya, Japan, and more. Since the site hasn't specified any KYC requirement, it is likely that it is available across the globe.
What is the Success Rate of Crypto Robo?
Crypto Robo advertises that it has a success rate of 99.4%, which doesn't seem to be a practical winrate. The volatility of the crypto market makes it difficult for even the best autonomous trading systems to provide a winrate that exceeds 80%. And since there are no audit reports confirming this ROI, we suggest not assuming the advertised number to be the success rate of Crypto Robo.
Crypto Robo Key Features
Listed below are the key features of Crypto Robo:
Autonomous Crypto Trading Platform
Crypto Robo states that its autonomous crypto trading platform is available to deliver a high winrate without any human intervention. It claims that even beginner-level investors can make passive gains by using this facility.
Advanced Strategies
According to Crypto Robo, the trading systems implemented here leverage the leading strategies available in the market. Crypto Robo itself says that it accumulates data from over 22 different analytical tools to ensure users can make the most out of a volatile market condition.
Quick Registration
Crypto Robo claims that users don't need to go through complicated steps to register their accounts. They need only to enter their details, press the sign-up button, and complete the steps using the guide they receive in their inbox.
Advanced Technologies for Trading
Crypto Robo says that it implements advanced technologies for trading. These technologies include a time leap feature that predicts a crypto asset's price movement 0.01 seconds before the market. If true, this approach would allow even beginners to generate profits while trading.
Free of Charge
Crypto Robo claims that using the platform is free of charge. According to the website, all users need to do is join the Crypto Robo community for free and enjoy all the features it provides.
Support for Multiple Asset Classes
While its name suggests support for only cryptocurrencies, Crypto Robo asserts that along with crypto, it also supports asset classes such as forex pairs, commodities like oil, and stocks like Coca-Cola. And when it comes to cryptocurrencies, it supports assets such as Bitcoin, Monero, BAT, and IOTA.
Cryptocurrencies are unregulated. Trading with unregulated brokers will not qualify for investor protection.
Is Crypto Robo a Scam?
Crypto Robo doesn't portray itself to be a simple trading platform that can deliver a reasonable winrate to users. All we read on its official website were tall claims. For instance, its 99.4% winrate seems too high – especially when it comes to cryptocurrencies, where the trading fundamentals follow sentimental factors as much as they follow technical indicators.
Also, while the site has stated that it uses 22 different technical, fundamental, and sentimental analysis tools to power the system, we don't know what those tools are.
The site has many third-party reviews, but none of them provide us with a balanced picture. Some of them paint it as 100% legitimate, and others take the opposite view. There are no customer reviews available on Trustpilot for this platform, which doesn't give us any customer insights.
These factors give us a mixed image of this platform, and we can't say for certain whether it is legit or a scam. We recommend that our readers use their own judgment when using it.
For some less risky investments as an alternative to using Crypto Robo, see our article on the best crypto presales.
What is the Minimum Deposit on Crypto Robo?
In order to start using the platform, users need to deposit at least $250. That amount would be used as the starting capital for buying and selling the listed assets. Deposits can be made through different methods, including debit cards, credit cards, and e-Wallets.
Crypto Robo Customer Support
There is customer support available on Crypto Robo, but not for those who have not registered. Those who register, however, may get access to a customer support team that claims to be active throughout the day.
How to Use Crypto Robo
The steps below will allow you to start using Crypto Robo.
Step 1 – Visit the Crypto Robo Website
The first step is to create an account by visiting the official Crypto Robo website and filling out the registration form. Enter your name, email, contact number, and password. Crypto Robo states that you will receive the rest of the steps via email, so it may be an option to just use a burner number for the telephone number.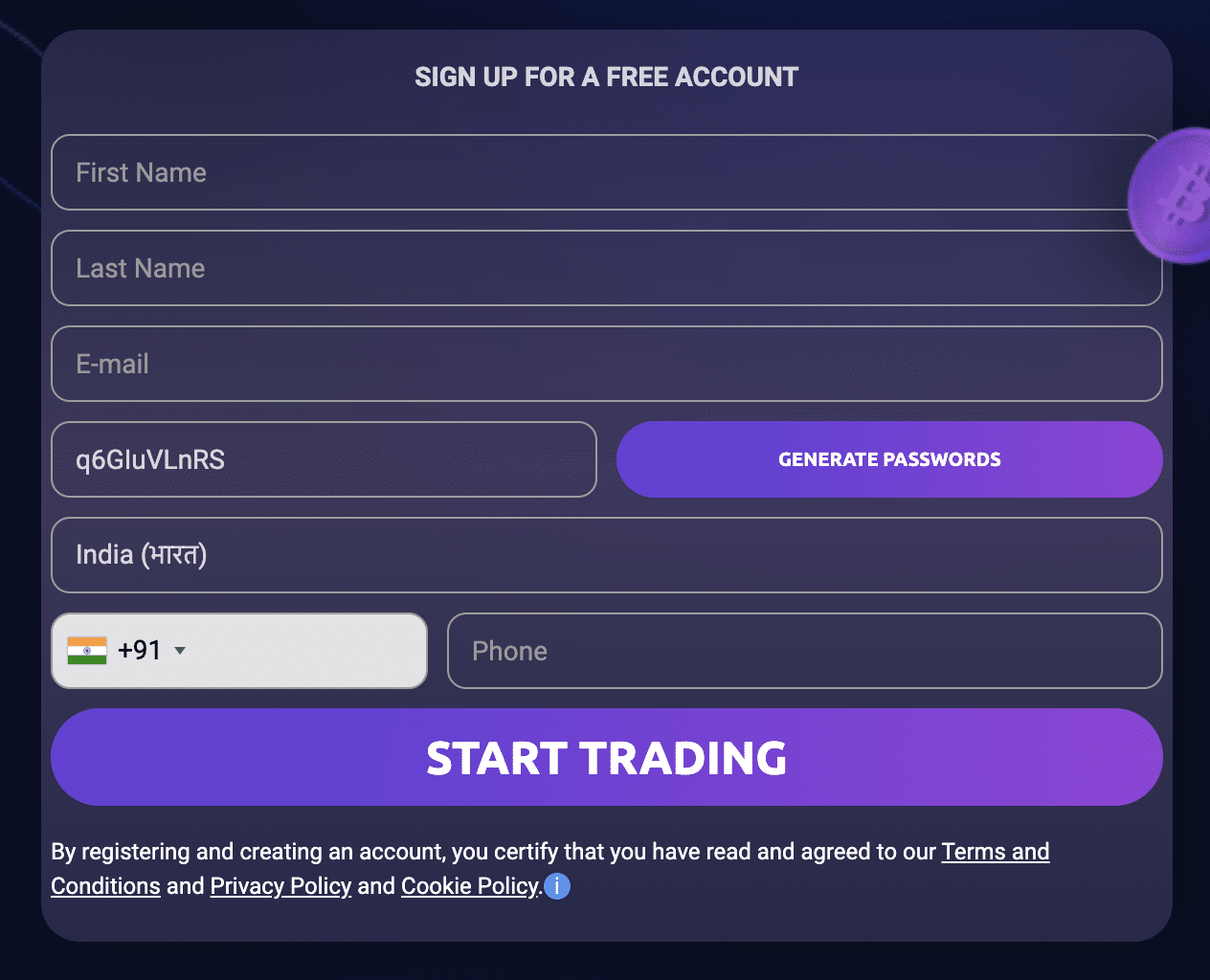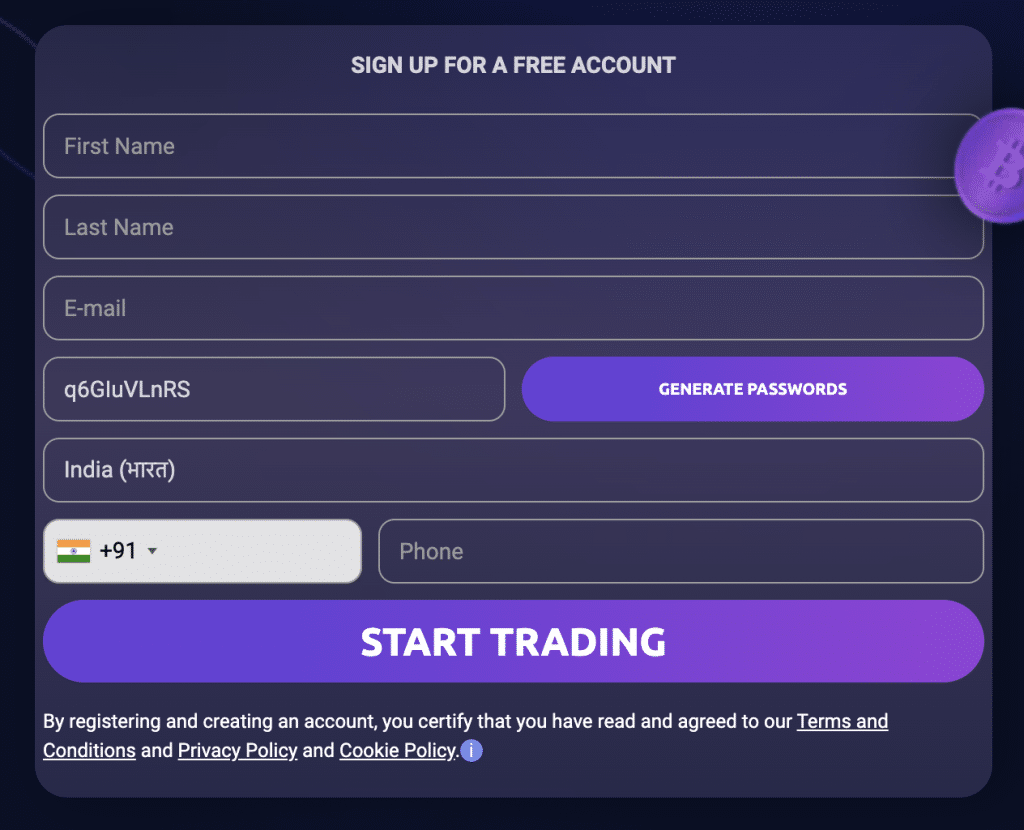 Step 2 – Deposit the Required Amount
Deposit the required amount using the deposit method available. You can pick between debit cards, credit cards, bank transfers, or e-Wallets.
Step 3 – Start Trading on Crypto Robo
After your account is funded, start trading on Crypto Robo. Make sure to check out the demo trading account first to test the legitimacy of its advertised winrate. While the advertised winrate doesn't seem real, if it is in the ballpark of 70 to 80%, you can proceed with live trading. But before doing that, test if you can withdraw your deposit.
Is Crypto Robo Legit – The Verdict
Crypto Robo promises to give users access to a hands-free trading system with a winrate of 99.4%. This winrate seems to be not very practical – and there is proof available online that could tell us that the platform works as advertised.
While the website has a simple sign-up process, it doesn't give us enough information. We also weren't able to backtest the platform due to the deposit requirement.
So make sure to do your due diligence before using Crypto Robo for your crypto trading needs.
Cryptocurrencies are unregulated. Trading with unregulated brokers will not qualify for investor protection.
FAQs