As Bitcoin and other cryptocurrencies become more popular, there are more tools like Crypto Superstar emerging, promising to help investors trade without having to interact with the market actively.
In this Crypto Superstar review, we'll cover how Crypto Superstar works, what you need to know to get started, and whether it's a safe place to invest your money.
Crypto Superstar Summary
Here's a quick look at all the highlight features of Crypto Superstar. Refer to the table to make a decision about whether or not to invest your money in the Crypto Superstar platform.
| | |
| --- | --- |
| Type of Platform | Advanced cryptocurrency trading |
| Minimum Deposit | $250 |
| Claimed Success Rate | 99% (unverified) |
| Supported Cryptocurrencies | Bitcoin, Dogecoin, BNB, Ripple, Cardano, Litecoin, Ethereum, Bitcoin Cash, and CFDs |
| Mobile App | Not available |
| Withdrawal or Deposit Fees | Not Available (the platform charges a minimum trading fee) |
| Customer Service | 24/7 |
Cryptocurrencies are unregulated. Trading with unregulated brokers will not qualify for investor protection.
What is Crypto Superstar?
Crypto Superstar is a trading robot that claims to function as a platform in the dynamic world of Bitcoin and cryptocurrency trading. It adopts a user-focused approach, aiming to prioritize the needs and experiences of traders throughout their trading journey.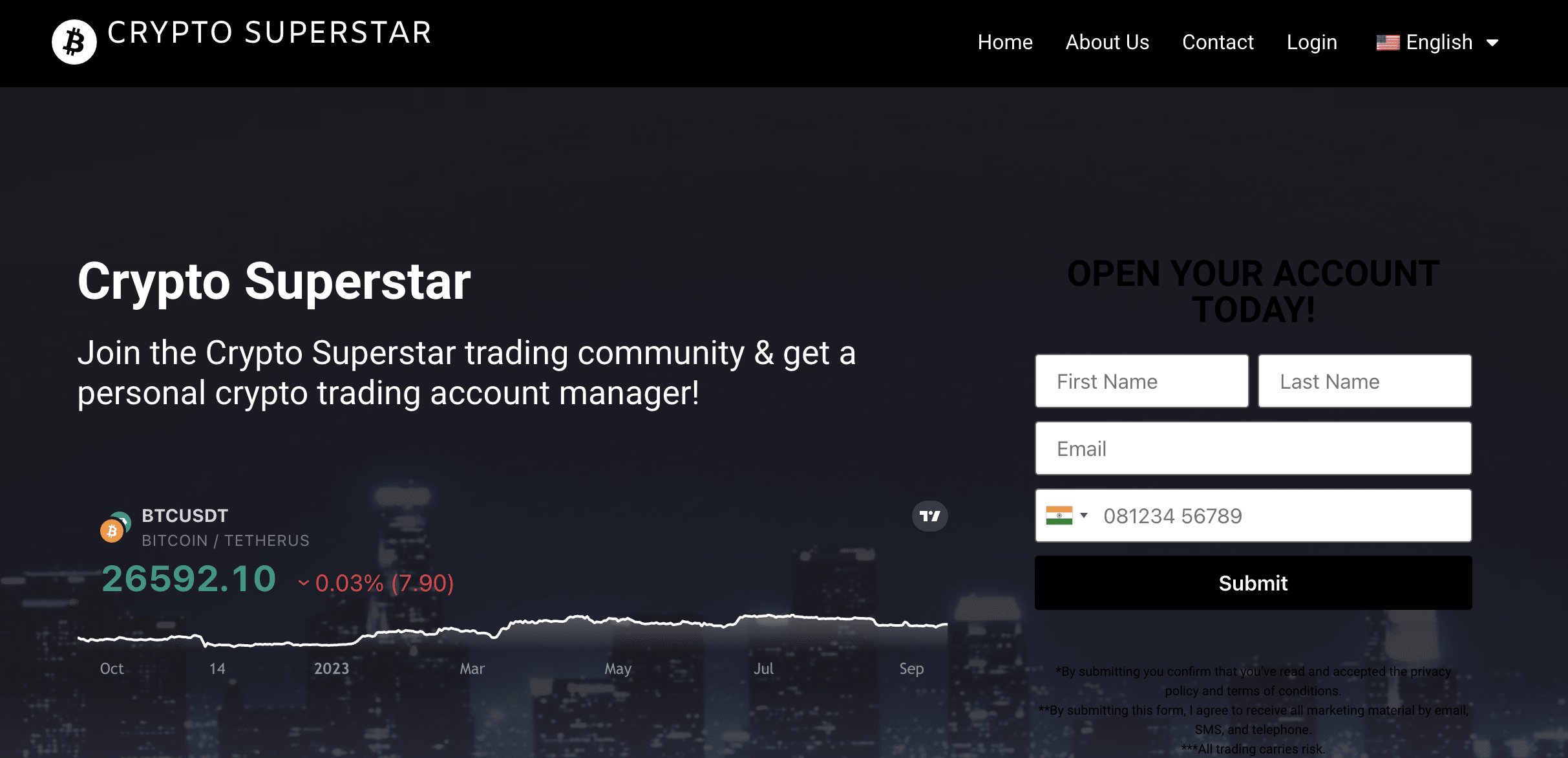 The platform asserts that its objective is to simplify trading and make it accessible to everyone, regardless of their prior experience. The website showcases an intuitive interface and a set of tools that appear suitable for empowering traders to confidently navigate the intricacies of the cryptocurrency market.
Crypto Superstar has made claims to leverage real-time market data to keep traders well-informed about the constantly changing crypto landscape. It claims to offer advanced charting tools and comprehensive analytics, facilitating a deeper exploration of market trends, which aids in identifying potential patterns and making informed decisions.
The platform has mentioned interest in addressing the unique challenges of cryptocurrency trading. Their vision revolves around equipping traders with the necessary tools and resources to navigate the unpredictable nature of the market.
The platform states that it supports CFD trading as well as trading of cryptos like Bitcoin, Ethereum, and more.
Crypto Superstar encourages users to develop a thorough understanding of cryptocurrencies and blockchain technology. However, to do so, the platform does not provide any educational material on its website.
Who Created Crypto Superstar?
There is no information about the creators of the platform, and there are no details about the social media handles of these individuals either. It's very common for developers and founders in the crypto space to stay anonymous. However, with that being said, it's always best for investors to exercise caution on their end.
Crypto Superstar Pros and Cons
Here's a quick look at the major pros and cons of the Crypto Superstar platform for investors to make informed decisions.
Pros
The platform claims to provide an intuitive user interface
Claims to offer fast withdrawals and deposits
Round-the-clock customer support is available
Asserts that it has a success rate of 99%
Cons:
No dedicated mobile app is available
There is a general lack of information about the platform
How Does Crypto Superstar Work?
Crypto Superstar functions similarly to other platforms in the area of cryptocurrency trading. Upon signing up, users gain entry to a variety of trading tools that assist in the analysis of price charts. These tools prove especially beneficial for experienced traders seeking insights into market trends.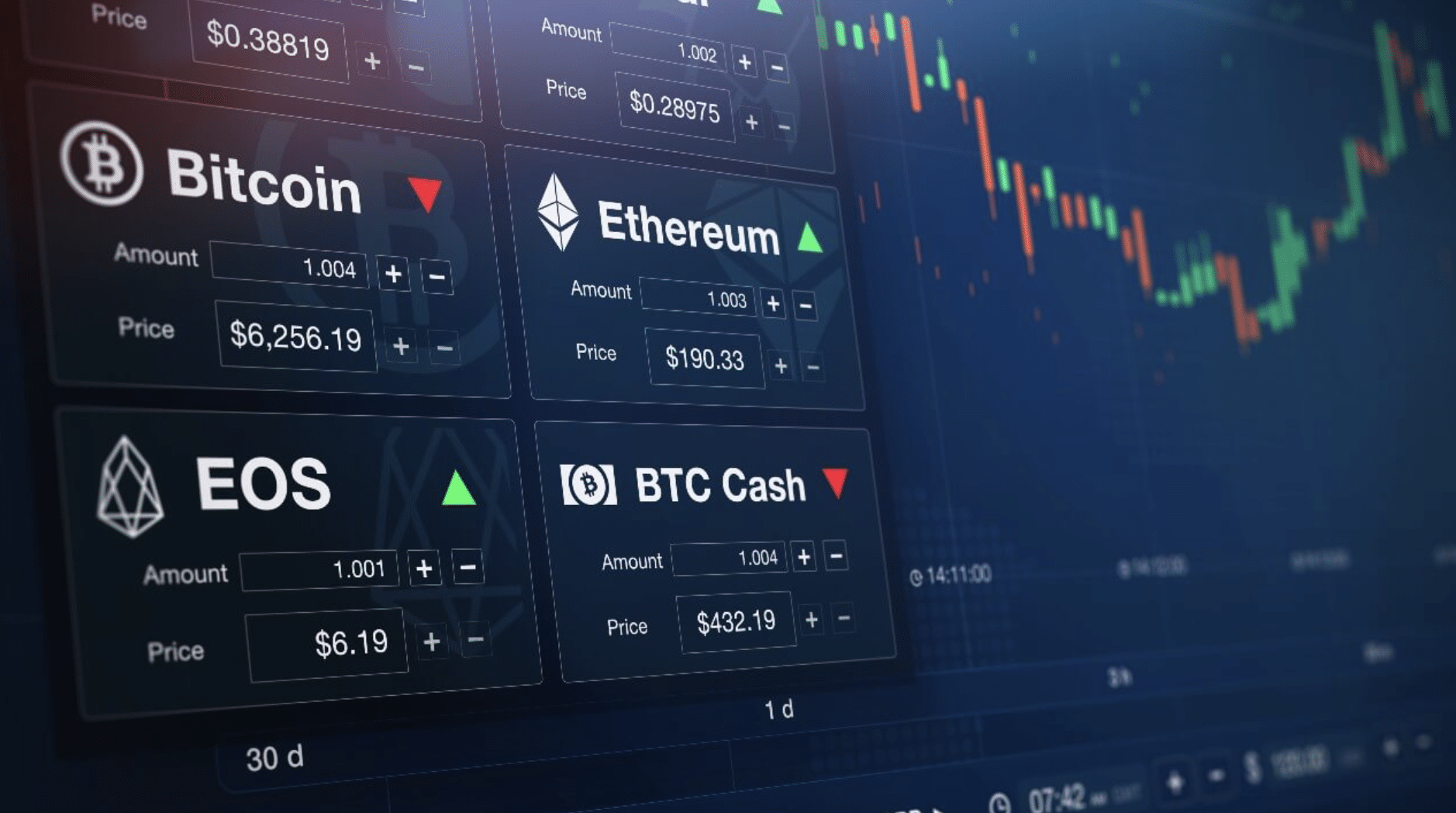 The platform claims to offer a convenient hands-free mode, essentially operating as a Bitcoin robot that rapidly executes trading decisions. The platform employs an advanced system to meticulously scan cryptocurrency markets and transmit trading signals to major exchanges through an API. These signals trigger the buying or selling of specified cryptocurrency quantities.
In addition, users can make use of a demo trading feature to evaluate the platform's performance without risking real money. Crypto Superstar asserts that it imposes minimal transaction fees, while there's no information available about the withdrawal fees and deposit charges.
While a dedicated crypto app for mobile is not available, the website can be accessed on mobile devices, and customer support remains accessible around the clock.
Nevertheless, it's important to note that there is insufficient evidence to verify these claims, as there are limited customer reviews accessible. As a precautionary step, potential investors are strongly advised to conduct their own thorough research before risking their money with Crypto Superstar.
Which Devices Can Access Crypto Superstar?
Crypto Superstar doesn't have a mobile app right now, but they do have a website where you can sign up and use their platform. We checked it out, and the website works well on both desktop and mobile devices. It runs smoothly on mobile without any delays, which means the developers made sure it works on different devices.
Crypto Superstar Supported Countries
Crypto Superstar can be accessed in numerous countries, such as the United Kingdom (UK), Australia (AUS), Canada (CA), various European countries (including Austria (AT), Germany (DE), Switzerland (CH), Holland (NL), Poland (PL), Belgium (BE), Spain (ES)), as well as in South and Central America (BR, PE, MX) and Africa (ZA). If your country isn't mentioned above, you can still register for Crypto Superstar on the official website.
What is the Success Rate of Crypto Superstar?
Crypto Superstar advertises a 99% success rate; however, these assertions lack independent verification. It is advisable to conduct thorough research prior to considering any investment in this platform.
Crypto Superstar Key Features
User-Friendly Interface
Crypto Superstar prioritizes simplicity to enhance user experience, ensuring ease of navigation.
Emotionless Trading
Crypto Superstar offers a feature where the platform executes trades on behalf of the user, eliminating the involvement of emotions in trading, thus improving profit-making opportunities.
Diverse Cryptocurrency Selection
Crypto Superstar offers the capability to trade a wide array of cryptocurrencies, encompassing popular options like Bitcoin alongside more digital assets. These include Dogecoin, BNB, Ripple, Cardano, Litecoin, Ethereum, and Bitcoin Cash.
Quick Withdrawals
When using Crypto Superstar for trading, withdrawals can be processed within 24 hours of submitting your withdrawal request, facilitating convenient access to your funds through your preferred payment method.
Dedicated Customer Support
The platform claims to offer 24/7 customer support, guaranteeing you continuous assistance. This feature is especially beneficial for users who are new to the space and have doubts regarding cryptocurrency trading or the platform.
Demo Trading Account
Another noteworthy feature of this automated trading platform is the provision of a demo trading account, enabling users to acquaint themselves with the platform before risking substantial funds. We strongly advise utilizing the demo account as a preliminary step before transitioning to live trading.
Cryptocurrencies are unregulated. Trading with unregulated brokers will not qualify for investor protection.
Is Crypto Superstar a Scam?
Crypto Superstar markets itself as a user-friendly platform for cryptocurrency trading, promoting the potential for profit. Nevertheless, potential users should approach this platform with caution, as several of its claims have yet to undergo independent verification.
The platform's website offers only limited insights into its historical performance and user feedback, conspicuously lacking any reviews or customer testimonials that might attest to its credibility. Furthermore, while there is a provision for a demo account, users have to make a mandatory minimum deposit in order to access the feature.

Crypto Superstar also keeps a tight lid on any information regarding its founders or developers and refrains from sharing any social media presence.
The platform underscores the inherent risks associated with cryptocurrencies and offers recommendations for risk mitigation. However, there's little to no credible information available about the approach of Crypto Superstar users to minimize the risk involved.
Crypto Superstar suggests that users start with a modest initial deposit to test the platform and assure them of the ability to withdraw their capital at their discretion.
In light of these factors, determining the legitimacy of this platform proves challenging, given the lack of trustworthy information. Our recommendation is for traders to exercise caution when considering Crypto Superstar and to only deposit funds they are comfortable with losing.
Alternatively, you can check out some reliable crypto ICOs to invest in.
What is the Minimum Deposit on Crypto Superstar
On its official website, Crypto Superstar indicates the presence of a minimum deposit requirement for traders to initiate their trading activities. Users have to make a minimum deposit of $250 before they can begin any trading activities.
Crypto Superstar Customer Support
When considering registration on Crypto Superstar, it's worth noting that the platform indeed offers direct interaction with the customer support team. After completing the registration process, traders can access 24/7 customer support via live chat and phone calls. These communication channels are available to assist traders with any inquiries, address concerns, and provide support related to their trading activities on Crypto Superstar.
How to Use Crypto Superstar?
Step 1: Register on the platform
To get started, go to the Crypto Superstar website. Locate the registration button and complete the provided form with the necessary information. Registering on a broker platform affiliated with Crypto Superstar typically takes less than five minutes.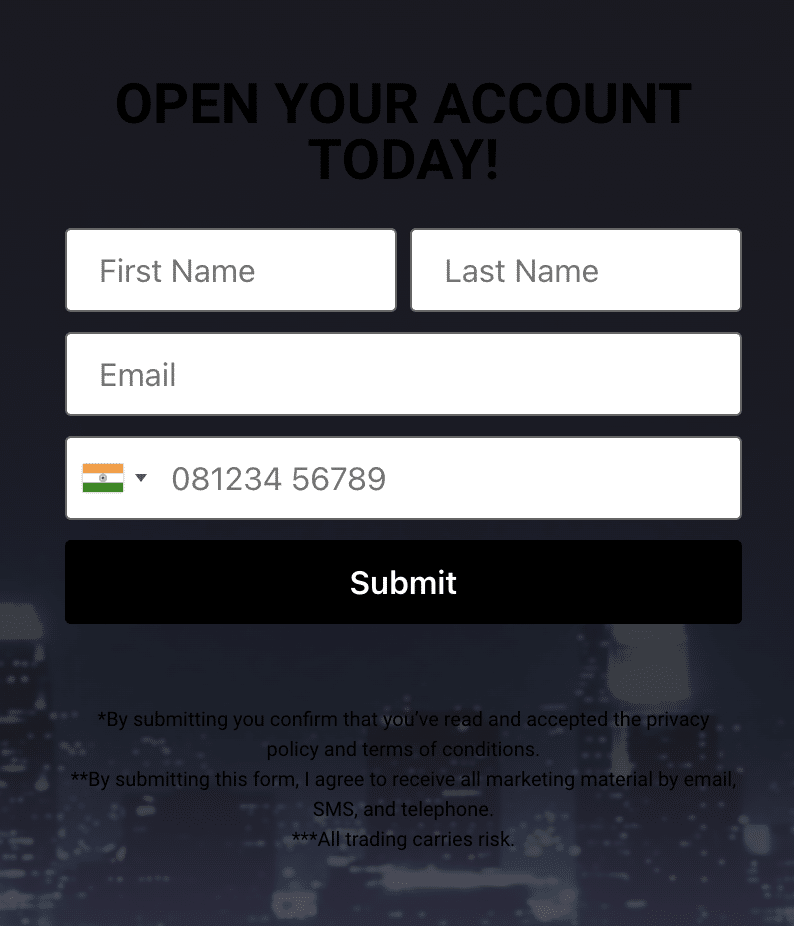 Step 2: Make an initial deposit
Crypto Superstar requires users to make a minimum deposit of $250 to access the platform. The platform claims to manage all the deposited funds in a secure manner.
Step 3: Begin Trading
Crypto Superstar operates as a hands-free trading platform, making it accessible to traders of all experience levels, including beginners. With a simple click, trading is initiated, allowing users to start their trading journey with the potential for earnings, even overnight.
Step 4: Use the Demo Account
Crypto Superstar provides users with a demo account, wherein they can use the platform without risking their funds. It is best to test the platform before you can deposit real money. However, users need to initially make a minimum deposit of $250 before they can use the demo account.
Is Crypto Superstar Legit – The Verdict
In this review, we thoroughly examined the features of Crypto Superstar and provided a comprehensive guide for users. Crypto Superstar boasts impressive features, including a demo account and compatibility with various cryptocurrencies, setting it apart from other similar platforms. In addition to that, the platform claims to offer a success rate of 99%, which, while impressive, seems impractical.
Also, there are no credible reviews available about the platform that can verify its legitimacy. It is crucial for users to conduct diligent research prior to committing their funds to Crypto Superstar.
Cryptocurrencies are unregulated. Trading with unregulated brokers will not qualify for investor protection.
FAQs
What is the minimum deposit required to start trading?
Is there a Crypto Superstar App?
Is Crypto Superstar Employed by Elon Musk or Corporations Such as Tesla?