CryptoSoft claims to be a crypto trading platform that offers a straightforward user interface, thus enabling both amateurs and professionals to benefit the most from cryptocurrency trading activities. The platform's website also states that it empowers everyone, irrespective of their level of understanding, to trade crypto on the go.
This review aims to provide a detailed overview of CryptoSoft, delving into its key attributes, advantages, limitations, and overall usability.
CryptoSoft Platform Summary
The primary differentiating factor that CryptoSoft claims to offer, as compared to other crypto trading tools, is its ability to uncomplicate trading for beginners. Before we delve into these details, let us take a look at some of the most important factors that CryptoSoft advertises on its website.
| | |
| --- | --- |
| Type of Platform | Advanced Crypto Trading |
| Minimum Deposit | Not Stated |
| Claimed Success Rate | Not Stated |
| Supported Cryptocurrencies | BTC, ETH, XRP, ADA, BNB, etc. |
| Mobile App | Not Stated |
| Withdrawal or Deposit Fees | Not Stated |
| Customer Service | Not Stated |
Cryptocurrencies are unregulated. Trading with unregulated brokers will not qualify for investor protection.
What is CryptoSoft?
CryptoSoft claims to be an inclusive and user-friendly trading platform tailored to cater to individuals from all backgrounds and expertise levels. It describes itself as an ideal tool for those who have been eyeing the crypto trading space but have felt hesitant due to a lack of confidence or knowledge.
One of the claimed standout features of CryptoSoft is its adaptability to traders of varied skill sets. As the dynamic world of cryptocurrency sees different digital coins rising and falling in value over time, traders need to have access to a wide variety of options. In this context, CryptoSoft asserts that its platform is compatible with a plethora of popular cryptocurrencies, with support for more tokens being constantly added.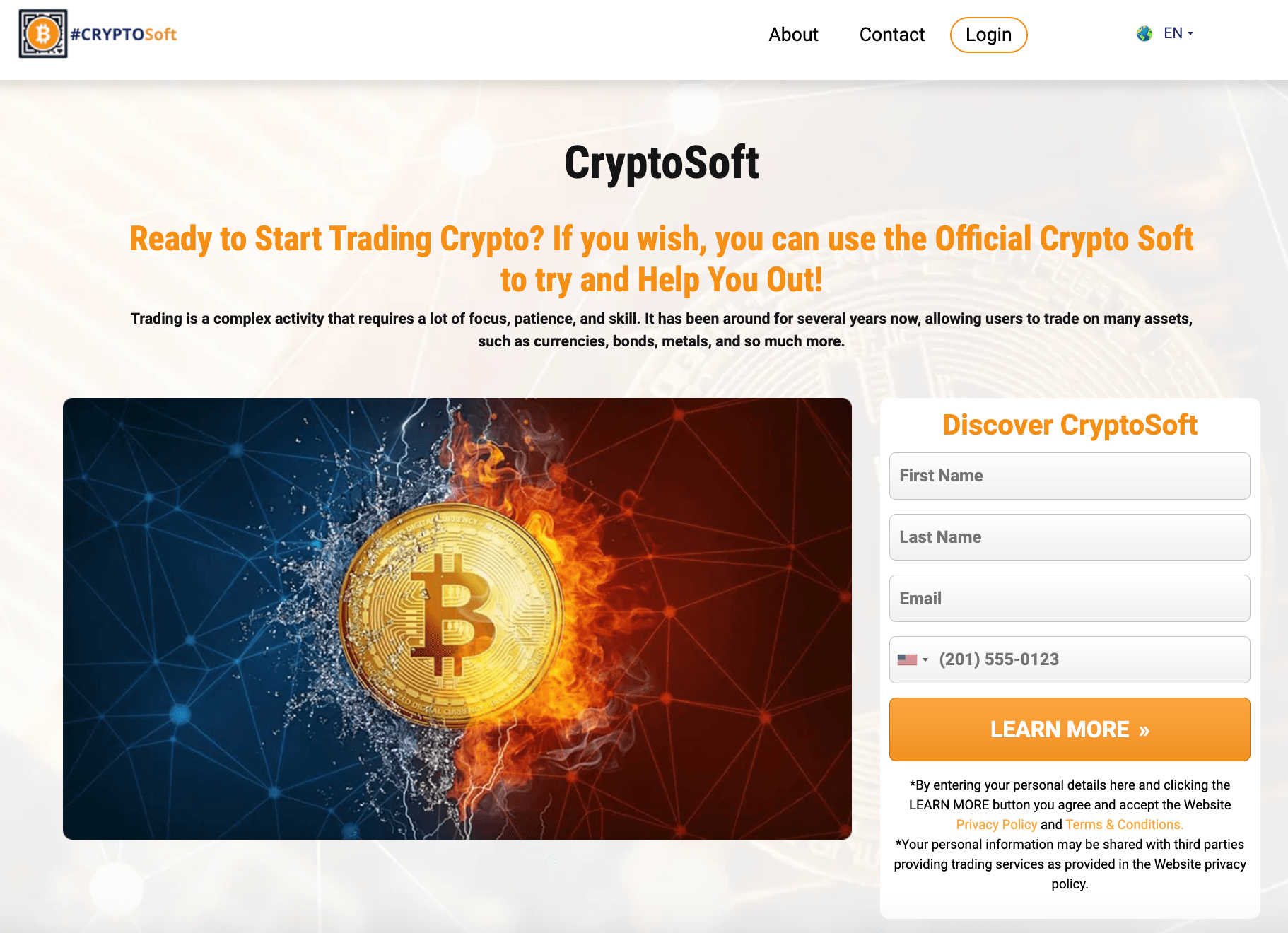 CryptoSoft also claims to offer a comprehensive repository of market trends, fluctuations, and insightful data like crypto signals to ensure that users have all the necessary information they need to execute successful trading transactions. All in all, CryptoSoft presents itself as a holistic and end-to-end platform that aims to make crypto trading accessible to everyone.
Who Created CryptoSoft?
The official website for CryptoSoft does not give away the identities of the individuals or the team responsible for creating the crypto trading platform. However, it mentions that the platform was founded by a team of three passionate traders in 2010.
According to the information available on the CryptoSoft website, the founders combined the useful features and functionalities of different trading platforms and developed CryptoSoft as a one-stop solution for crypto trading.
While there have been multiple speculations about the founders' identity, none of them are backed by any substantial evidence.
In the crypto world, the anonymity of founders is quite common. It is almost a norm in today's era to maintain anonymity and protect personal security, avoid undue attention, or simply adhere to the ethos of decentralized anonymity, one of the foundations of how cryptocurrencies operate.
While the lack of transparency about the identity of CryptoSoft's founders does not come across as a surprise, we recommend users deal with caution if they plan to invest through it.
CryptoSoft: Pros and Cons
Based on our analysis, here are some pros and cons of CryptoSoft. While you can refer to these, we recommend you conduct detailed research before making any investment decision on the platform.
Pros
Claims to have an array of inclusive tools
Support a variety of assets, including Bitcoin, Ethereum, Litecoin, XRP, Cardano, Ripple, and more.
Claims to offer a dedicated account manager
Cons
The devs are anonymous
Lack of credible information
Unavailability of technical information
Cryptocurrencies are unregulated. Trading with unregulated brokers will not qualify for investor protection.
How Does CryptoSoft Work?
With a primary objective to offer clarity and guidance, CryptoSoft claims to provide users with a comprehensive view of real-time market data, ensuring they can delve deep into the nuances of market trends and fluctuations.
The platform states that its features are accessible across multiple kinds of devices, thus presenting it as a universal model. If efficient, this might enable traders to keep a finger on the pulse of market movements and seize timely trade opportunities from anywhere at any point in time.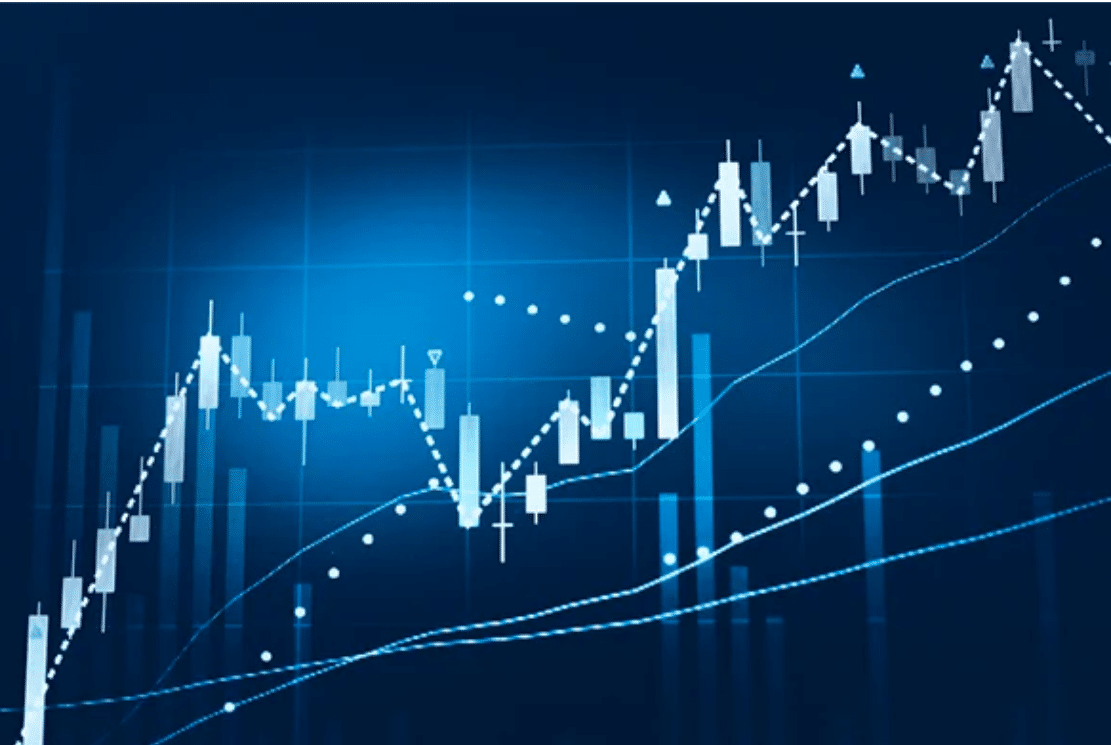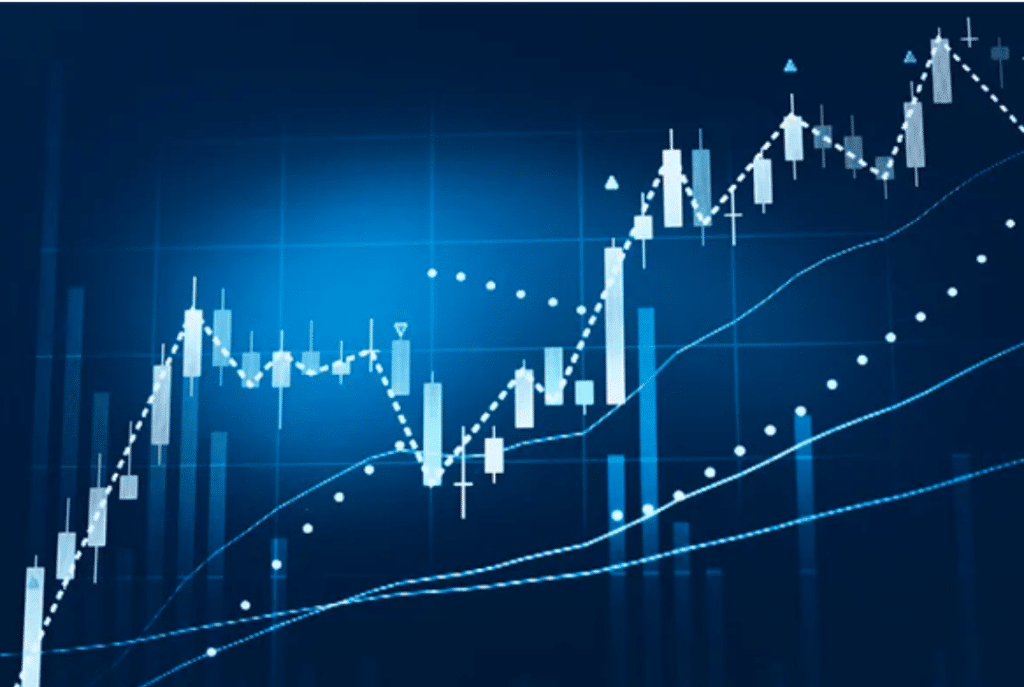 Moreover, the platform claims to offer a dedicated account manager to each user in the form of a personal guide They align closely with the trader's unique parameters and limitations, ensuring that they are alerted in real-time when a potentially lucrative trading opportunity pops up.
CryptoSoft asserts itself as a platform that enables traders to execute trading transactions at the click of a button. While this workflow seems lucrative, there is not much information about the technical dynamics of the platform. Hence, we recommend you exercise caution while interacting with the platform.
Which Devices Can Access CryptoSoft?
CryptoSoft presents itself as a versatile platform that is compatible with a wide range of devices and operating systems. This essentially means that anyone with a browser connected to the internet can seamlessly interact with the platform. However, it does not clearly mention the kind and type of devices it is compatible with. It also does not specify whether the platform has a mobile application or not.
CryptoSoft – Supported Countries
CryptoSoft claims to be available to users across a wide range of countries. However, the platform does not explicitly mention the names of the countries it operates in. We recommend you log in to the platform and check if it is usable in your country or not.
What is the Success Rate of CryptoSoft?
CryptoSoft has not explicitly mentioned a specific success rate on its website. Moreover, CryptoSoft is not an automated trading platform. It only claims to assist users in making trading decisions by offering them market trends, coin fluctuation trends, and some educational information about crypto trading.
However, it does not automatically place buy and sell orders. Hence, it cannot define the success rate of the transactions made through its platform.
CryptoSoft – Key Features
CryptoSoft claims to offer a wide range of trading features. Here are some of the key features mentioned on its website. We recommend that you thoroughly research each of these before relying on them while making an investment. Please note that these features mentioned below are as claimed by CryptoSoft on their website.
Dedicated Account Manager
One of the distinguishing features of CryptoSoft is the provision of a dedicated account manager. From the moment you register, this manager is apparently available to guide you, provide insights into your strategies, and notify you of opportunities aligning with your trading preferences.
Demo Feature
CryptoSoft likely offers a demo feature, allowing users to familiarize themselves with the platform's functionalities and practice trading in a risk-free environment before delving into real-time trades.
Free Deposits and Withdrawals
CryptoSoft claims to grant users complete control over their funds. It does not charge any transaction fee for deposits, withdrawals, or investments.
Tailored for All Experience Levels
Whether you're a novice, an intermediate trader, or an expert, CryptoSoft claims to cater to all. It offers extensive resources to study and analyze market trends and fluctuations. Those unfamiliar with trading can explore the platform in-depth, formulate strategies, and seek guidance from their account manager for optimization.
Wide Cryptocurrency Compatibility
Given the volatile nature of cryptocurrencies, having a platform that supports multiple options is a benefit. CryptoSoft has integrated several popular cryptocurrencies and remains committed to updating its list with market evolutions.
Is CryptoSoft a Scam?
There are hundreds of crypto trading platforms available in the market. Hence, it is fair for investors to be mindful of the credibility and authenticity of the ones they engage with. Hence, it is a valid question to ask if CryptoSoft is a scam.
That said, it is not easy to judge this platform. Although it doesn't make any large claims, there is no proof available online that could prove even the little claims it does make. This indicates that CryptoSoft is relatively new. However, the lack of information about its makers and the lack of access to independent testing tools are red flags.
On the flip side, the website looks optimal. There are no issues with the way content is presented and how the sign-up button performs. While these factors aren't enough for anyone to categorize CryptoSoft as a legit platform, there are no evidences about it being a scam either.
What is the Minimum Deposit on CryptoSoft?
CryptoSoft has not specifically mentioned the minimum deposit amount required to use its platform. However, it states that a minimum deposit is required. We do not have any information on the exact amount of this deposit.
CryptoSoft Customer Support
CryptoSoft's website does not specifically mention any details related to the customer support helpline or team. This might come across as a cause of concern for potential investors. Having said that, CryptoSoft claims to provide all users with a dedicated account manager. We recommend you log in to the platform to check if a customer support team is available or not.
How to Use CryptoSoft?
Getting started with CryptoSoft seems to be straightforward. You may follow these steps to set up an account:
Step 1 – Registration
Start by landing on the official website of CryptoSoft. Here, you'll find a registration form to fill out key details such as name, phone number, and email.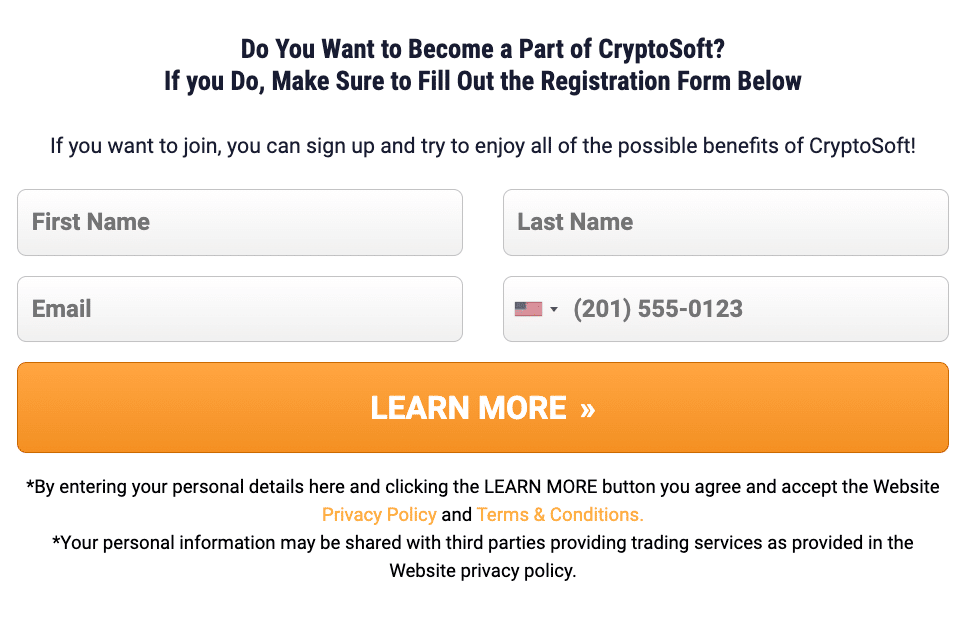 Make sure that both the email and phone number provided are accurate, as they will be used for the account verification process.
Once done, you will receive a confirmation email, and then you will be redirected to one of CryptoSoft's partner broker websites.
Step 2 – Make Your Deposit
As mentioned earlier, CryptoSoft does not explicitly mention the minimum amount users are required to deposit. After registering yourself, as explained in Step 1, you will need to follow the on-screen instructions.
Step 3 – Start Trading with CryptoSoft
Once done, CryptoSoft claims to provide you with a dedicated account manager with whom you can share your trading preferences. The account manager will then apparently guide you through the platform and suggest the most relevant trading strategies as per your objectives and preferences. We recommend not to share sensitive or personal information with any bot or human account manager to maintain the security of your funds and personal information.
Is CryptoSoft Legit – The Verdict
CryptoSoft claims to be a user-friendly and simple crypto trading platform that caters to all classes of traders ranging from novices and amateurs to professionals. However, publicly available reviews do not offer any information that validates it as a legitimate or scam platform.
We recommend you exercise high levels of caution while interacting with the platform, especially because of the fact that CryptoSoft does not come across as a platform that clearly defines how it functions from a technical perspective.
Cryptocurrencies are unregulated. Trading with unregulated brokers will not qualify for investor protection.
FAQs
What is CryptoSoft, and who is it designed for?
How does the dedicated account manager feature on CryptoSoft benefit traders?
Can I access CryptoSoft from multiple devices?