Immediate Alpha has been described as a crypto trading platform that helps traders streamline their overall crypto trading journey under a single umbrella. The platform's website states that it enables traders to access a variety of advanced tools to optimize their crypto trading journey.
This review aims to provide a detailed overview of Immediate Alpha, delving into its key attributes, advantages, limitations, overall usability and whether the platform is legit and worthwhile.
Immediate Alpha Overview
Before we delve into our Immediate Alpha review, let us take a look at some of the most important factors that the platform advertises on its website:
| | |
| --- | --- |
| Type of Platform | Advanced Crypto Trading |
| Minimum Deposit | Not Stated |
| Claimed Success Rate | Not Stated |
| Supported Cryptocurrencies | Bitcoin, Dogecoin, Ethereum, XRP, Litecoin, and other stablecoins |
| Mobile App | No |
| Withdrawal or Deposit Fees | None |
| Customer Service | Not Mentioned |
Cryptocurrencies are unregulated. Trading with unregulated brokers will not qualify for investor protection.
What is Immediate Alpha?
Immediate Alpha claims to be a comprehensive, all-encompassing, and smooth platform for cryptocurrency trading, detailed analysis, chart visualization, and transparent reporting. The Immediate Alpha website states that it is designed to cater to all classes of traders, from novices to experts, and promises to deliver a streamlined trading journey.
Immediate Alpha positions itself as the one-stop shop for cryptocurrency enthusiasts, ensuring that they are ahead of the crypto market curve by providing access to features like candlesticks, histograms, charts, alerts, technical indicators and more tools.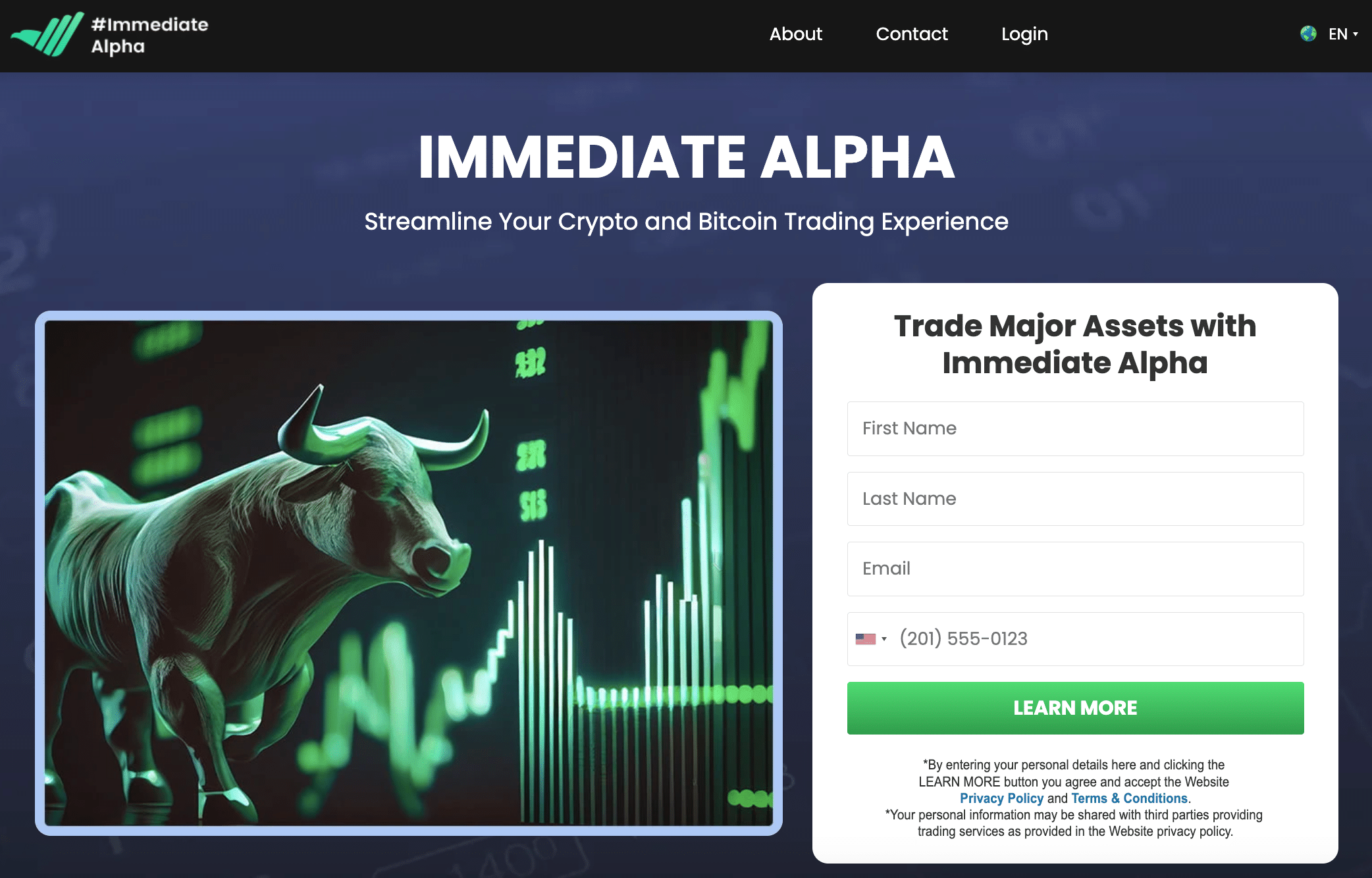 With a vast array of trading tools and services, Immediate Alpha advertises itself as a platform that makes leading cryptocurrencies like Bitcoin, Ethereum, Litecoin, and XRP accessible to individuals and institutions across the world. Apart from being a trading platform, it positions itself as a full-time assistant that enables in-depth analysis, constant monitoring, effortless tracking, and proficient management of cryptocurrency holdings.
Additionally, Immediate Alpha also claims to have access to precise data sources, using which it helps traders with the most up-to-date price metrics and an array of other essential trading data. At its core, the trading and asset management platform aims to refine and simplify the intricacies of Bitcoin and other cryptocurrency transactions.
Who Created Immediate Alpha?
The official website for Immediate Alpha does not give away the identities of the individuals or the team responsible for creating the crypto trading platform. While there have been multiple speculations about the founders' identity, none of them are backed by any substantial evidence.
In the crypto world, the anonymity of founders is not rare. It is almost a cultural norm in this digital arena for many reasons, including the need for personal security, avoiding undue attention, or simply adhering to the ethos of decentralized anonymity that many cryptocurrencies, like Bitcoin, were founded upon.
While the lack of transparency about the identity of Immediate Alpha's founders does not come across as a surprise, we recommend users deal with caution if they plan to invest through it.
Immediate Alpha: Pros and Cons
Based on our analysis, here are some pros and cons of Immediate Alpha. While you can refer to these, we recommend you conduct detailed research before making any investment decision on the platform since not of these elements are verified completely.
Pros
Simplified UI and beginner-friendly features
Support for a variety of assets
Access to real-time data
Claims to offer advanced analysis tools

:

Offers a simulation feature via demo trading
Multiple payment methods supported
Cons
Developers are anonymous
Not available in the US
Cryptocurrencies are unregulated. Trading with unregulated brokers will not qualify for investor protection.
How Does Immediate Alpha Work?
Immediate Alpha states that it leverages cutting-edge technology and an array of data tools to collect comprehensive trading signals. The platform actively aggregates data from a large number of data sources from across the web. As it accumulates more data, Immediate Alpha claims to become increasingly capable of identifying intricate patterns.
Moving ahead, the platform mentions that it employs sophisticated mathematical algorithms and advanced pattern recognition techniques to provide unique market insights. Rather than just processing raw data, Immediate Alpha claims to delve deep, looking for patterns or anomalies that could hint the users toward profitable opportunities or potential trading risks.
It can suggest when to buy or sell specific assets, and these trading signals are seamlessly relayed to integrated trading platforms, ensuring timely actions.
All in all, Immediate Alpha aims to leverage its data analysis capabilities to help traders with insights and suggestions on the most optimal time to buy and sell assets. However, we recommend you not to solely depend on these platform suggestions while making investment decisions and apply your own understanding of crypto trading.
Which Devices Can Be Used to Access Immediate Alpha?
Immediate Alpha boasts a versatile platform that is compatible with a wide range of devices and operating systems. This essentially means that anyone with a browser connected to the internet can seamlessly interact with the platform. Moreover, for individuals who prefer trading on the go, Immediate Alpha claims to offer a smooth experience across the web, including iOS and Android devices. However, as of now, Immediate Alpha does not offer a mobile application.
Immediate Alpha – Supported Countries
Immediate Alpha claims to be available to users across a wide range of countries. While the platform does not explicitly mention the names of the countries it operates in, it clearly admits its unavailability in the United States of America. Hence, our assumption is that Immediate Alpha is usable in all other parts of the world except the USA. We recommend you log in to the platform and check if it is usable in your country or not.
What is the Success Rate of Immediate Alpha?
Immediate Alpha has not mentioned any specific success rate on its website. And, as per our analysis, it is fair for it to do so since it is not an automated trading system.
Immediate Alpha only claims to assist users in making trading decisions by offering them insights about when to buy and sell their assets based on certain market indicators. However, it does not automatically place buy and sell orders. Hence, it cannot define the success rate of the transactions made through its platform. Eventually, the onus lies on the traders when it comes to the chances of success or failure of a particular trading decision.
Immediate Alpha – Key Features
Immediate Alpha claims to be loaded with a wide range of trading features. Here are some of the key features mentioned on its website. We recommend that you develop a detailed understanding of each of these features and try them out on the Immediate Alpha trading simulator before relying on them.
Candlestick Charts
Immediate Alpha presents Candlestick charts as one of its flagship features. It is a visual snapshot of price movements over designated periods. Every candlestick symbolizes a single trading session, capturing the opening, closing, low, and high prices for that interval. Traders find value in these charts as they swiftly convey the direction of the market's price, be it an upward surge, a downward trend, or a stable phase. Armed with this information, traders can effectively identify ongoing trends, predict potential price reversals, and identify patterns.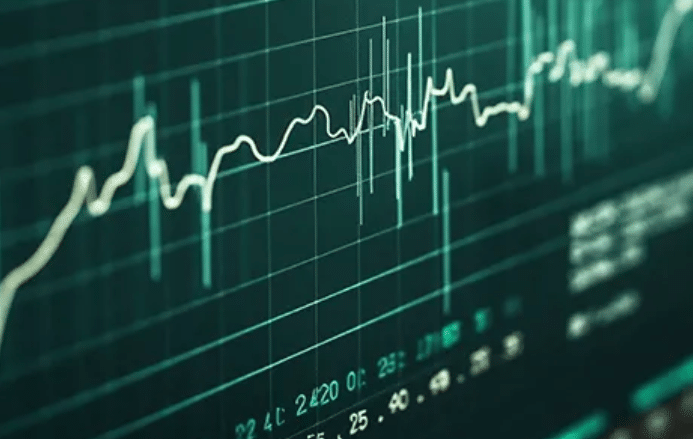 Bar Charts (OHLC)
Another claimed core feature is the Bar Chart, often referred to as the open-high-low-close (OHLC) chart. These charts graphically represent the price fluctuations of an asset across various time frames, from minutes to entire trading days. Bar charts simplify the process of spotting trends and specific price patterns, offering a simple description of an asset's price trajectory.
Histograms
Immediate Alpha also claims that it has histograms integrated into its trading platform. These are a variant of bar charts that focus on the distribution of price movements for a crypto asset over a set duration, such as quarterly trends. Each bar in a histogram represents a distinct range of price movements, and its height signifies the frequency or volume of trades in that range.
Customizable Colors
Prioritizing user experience, Immediate Alpha states that it has incorporated a feature allowing traders to customize chart colors. This means traders can set specific colors to immediately recognize patterns, trends, and other essential data points. Such customization generally ensures convenient and easy data interpretation.
Multiple Charts and Monitors
Recognizing the need for comprehensive data visualization, especially for traders operating with multiple screens, Immediate Alpha claims to offer a concurrent display of diverse charts and graphs. This feature truly enhances efficiency, allowing traders to customize their data layout and spotlight preferred markets for thorough analysis.
Trading Simulation
Immediate Alpha also presents its real-time trading simulator as a distinguishing feature. This tool, if operational, lets users test and refine their trading strategies using live market data, providing a safe environment to understand the complex dynamics of cryptocurrency markets without any financial risks.
Multiple Payment Methods
Immediate Alpha claims to accept a wide range of payment methods, including but not limited to Wire Transfer, PayPal, Credit Card, and more.
No Fee
Immediate Alpha also positions itself as a no-fee platform where it does not charge any commission from its users. However, one can only validate the authenticity of this claim by using the platform. We recommend that, if at all you are willing to try out this feature, do so in the trading simulator.
Is Immediate Alpha Legit or a Scam?
With so many crypto trading platforms available in the market, investors are often worried about which ones are authentic and which ones are not. Hence, it is a valid question to ask if Immediate Alpha is a scam.
The platform claims to incorporate top-notch security features, and there is no publicly available information that hints towards Immediate Alpha being a scam.
However, we recommend you exercise caution while using the platform and do not invest large sums of money before being completely confident of its authenticity.
Alternatively, you can invest in crypto presales to hedge market risks.
What is the Minimum Deposit on Immediate Alpha?
Immediate Alpha does not explicitly mention any minimum deposit requirement to use its platform. However, it claims to be a no-fee platform. Whether or not users are required to make a minimum deposit is not completely clear from the information provided on their website.
Cryptocurrencies are unregulated. Trading with unregulated brokers will not qualify for investor protection.
Immediate Alpha Customer Support
There is no mention of any customer support helpline or team on the Immediate Alpha website. This comes across as a cause of concern for potential investors. However, we do not have complete information on whether a customer support team is available for users after logging into the platform.
How to Use Immediate Alpha?
Getting started with Immediate Alpha seems to be a seamless experience. You may follow these steps to set up an account:
Step 1 – Visit Immediate Alpha and Register
Start by landing on the official website of Immediate Alpha. Here, you'll find a registration form where you'll need to share the following:
First Name

Last Name

Email Address

Phone Number
Please make sure that both the email and phone number provided are accurate, as they will be used for the account verification process.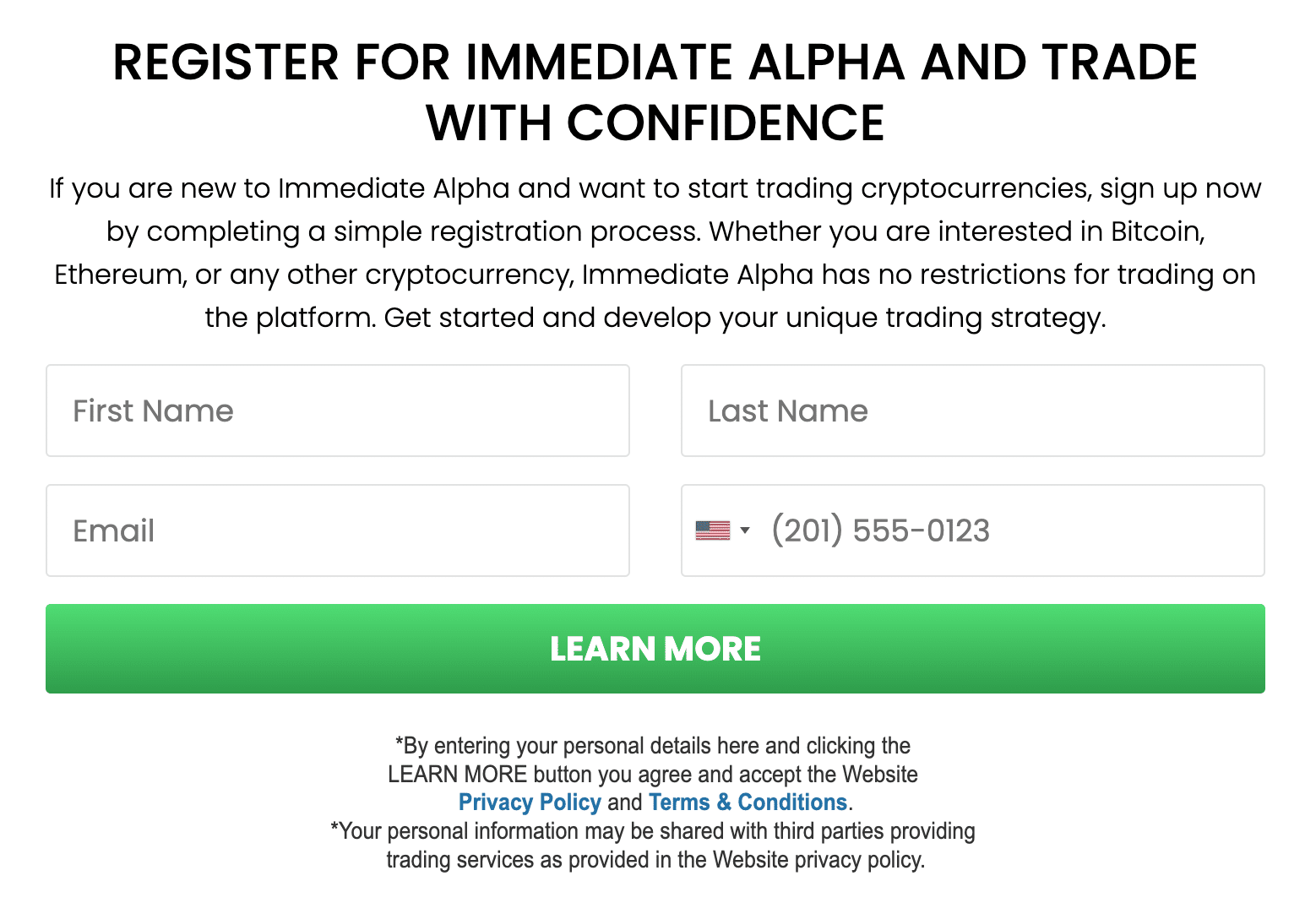 Step 2 – Deposit
As mentioned earlier, Immediate Alpha does not explicitly mention if users are required to make a minimum deposit to get started. After registering yourself, as explained in Step 1, you will need to follow the on-screen instructions.
Step 3 – Start Trading with Immediate Alpha
Once done, Immediate Alpha claims to provide you with a trading simulator and a detailed guide. You may follow these and start trading at your discretion.
Is Immediate Alpha Legit? – The Verdict
Immediate Alpha claims to be an advanced crypto trading platform with a wide range of cutting-edge tools and functionalities. However, there are not many publicly available reviews that can validate it as either a legitimate or scam platform.
We recommend you exercise caution while interacting with the platform, especially because of the fact that Immediate Alpha does not come across as a highly transparent platform that lays out all its functional details clearly.
Also see our reviews of alternative trading robots.
Cryptocurrencies are unregulated. Trading with unregulated brokers will not qualify for investor protection.
FAQs
What cryptocurrencies does Immediate Alpha support?
Does Immediate Alpha have a dedicated app?
What is the withdrawal fee for Immediate Alpha?