A huge number of cryptocurrency companies and related platforms have been gaining popularity for the past couple of months, despite the ongoing bear market. The industry has already managed to capture a massive chunk of the investing citizenry, thanks to the high-profit margins one can expect from trading in crypto.
This is where Immediate Connect comes into play. Introduced to users as a crypto trading platform, Immediate Connect has already gained traction within the industry for multiple claims that would appeal to any kind of trader. But is the platform actually a legitimate entity?
Well, that is exactly what this review aims to achieve. By assessing any available information like features, pros and cons etc, we shall try to confirm the legitimacy of Immediate Connect.
Immediate Connect Platform Overview
Any trader or potential user judges a cryptocurrency trading platform based on the primary features it boasts of. To get a better understanding of what Immediate Connect has to offer, here is a breakdown of some important information we discovered while researching the platform.
| | |
| --- | --- |
| Type of Platform | Advanced Crypto Trading |
| Minimum Deposit | $250 |
| Claimed Success Rate | Not Stated |
| Supported Cryptocurrencies | BTC, ETH, XRP, ADA, LTC, BNB, etc. |
| Mobile App | No |
| Withdrawal or Deposit Fees | None |
| Customer Service | 24/7 (After Registration) |
Cryptocurrencies are unregulated. Trading with unregulated brokers will not qualify for investor protection.
What is Immediate Connect?
Immediate Connect, as per its website is a platform that lets its users carry out cryptocurrency trading around the clock across the globe. It is a multi-asset trading platform, which means that users can have access to multiple cryptocurrencies from the same place. They do not need to move from one platform to the other in order to open positions for various types of cryptos.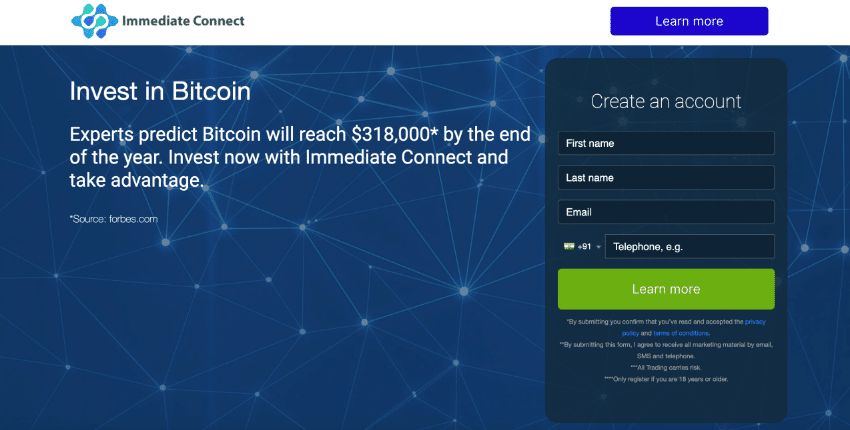 With the help of Immediate Connect, users can apparently set up trades and earn potential profits without having to worry much about the condition of the market.
It achieves this with the help of its auto-crypto trading service, which can supposedly carry out trades without the physical presence of the users. It claims to be able to open, close or plan positions based on market trends, thereby earning potential profits for the user.
The website states that the platform is a powerful and intuitive approach to trading and a product that can be used by any type of trader with ease. While this may be an exciting thing, there is no proof provided by Immediate Connect to verify these claims. Infact, most of the claims made by Immediate Connect were found by us to have little to no evidence backing them.
This is precisely why we would start by advising that everyone perform their due diligence before to investing money into the platform in the expectation of seeing a favourable return.
Who Created Immediate Connect?
We weren't able to identify Immediate Connect's creators or development team while researching the platform. There is no mention of the team on the website, which according to us is a big negative. Platforms like Immediate Connect must be transparent and upfront about their creators or companies that operate them so that potential users can consider using their services accordingly.
There have also been several rumours about Immediate Connect being a trading platform owned and operated by some highly influential figures within the finance industry. But one needs to understand that rumours online are often just that- rumours. We were unable to find any such individual who was associated with the platform or its operations.
Immediate Connect Pros and Cons
Like every other website and cryptocurrency business out there, Immediate Connect has its share of advantages and disadvantages. The Advantages may seem too alluring, but it's important to remember that many of the listed benefits are just based on the platform's claims.
Pros
No account fees, trading fees, or commissions
Includes demo account
Designed to be accessible for beginners
Multi-Asset trading platform
Cons
Limited information about the platform
Mandatory initial deposit of $250 to access services
Cryptocurrencies are unregulated. Trading with unregulated brokers will not qualify for investor protection.
How does Immediate Connect Work?
According to Immediate Connect, its trading platform operates with little to no supervision. Instead, the trading algorithm operates autonomously, making deals whenever it recognises familiar patterns. When a stop loss or profit target is reached, the trading platform has the ability to automatically close trades.
Not much information is available when it comes to the interior operations of the Immediate Connect Platform. The platform's website also withholds information on the algorithm's historical win rate, degree of accuracy, and rate of return on investment for traders. Immediate Connect's demo account may be the greatest option for traders to assess the platform for themselves and check if it indeed may be the right fit for them.
Which Devices Can be Used to Access Immediate Connect?
Although Immediate Connect does not have a mobile app, the web-based platform is accessible from any device. It is accessible on a trader's computer, smartphone, or tablet, as per the website. There is support for high-quality software like MT4 (Meta Trader 4) too, which if accurate would be an attractive feature of the platform.
As long as traders have an internet connection, the platform is accessible anywhere in the globe (with the exception of the United States and the United Kingdom). However, even users of this region have the option to access the trading platform by using VPNs or Virtual Private Networks.
Immediate Connect – Supported Countries
Immediate Connect markets itself as a globally available trading platform with certain exceptions. It is undoubtedly not available in areas where dealing with crypto is restricted. Moreover, the platform is also not available for use directly in the US and UK. But as mentioned above, traders can use a VPN in order to access the platform and earn potential profits if the website's claims appealed to them.
Immediate Connect – Top Features
Some of the features mentioned on the Immediate Connect website will seem to be extremely attractive to potential users. While the presence of most of these features cannot be completely verified, the highlighted ones are:
Multi-Asset Crypto Trading
Immediate Connect allows its users to deal with multiple cryptocurrencies at the same time, which makes it fairly easy for traders to create strategies and distribute their funds across multiple assets in one go.
No Fees
The platform claims to have a no-fee policy, which may come off as surprising to many since this is usually how trading platforms create profits. However, there is no mention of any kind of associated fees or charges for using the platform, except for the initial deposit that needs to be made in order to access services on the platform.
Demo Account Available
All users, according to Immediate Connect, have access to a demo trading account. Traders can test out the platform's variety of features and learn how to use them by taking advantage of the demo account.
Users can check out how Immediate Connect's algorithm functions in the current market environment by using the demo account. Expert traders can change the algorithm settings without putting their own money at risk by seeing how the changes affect trade performance.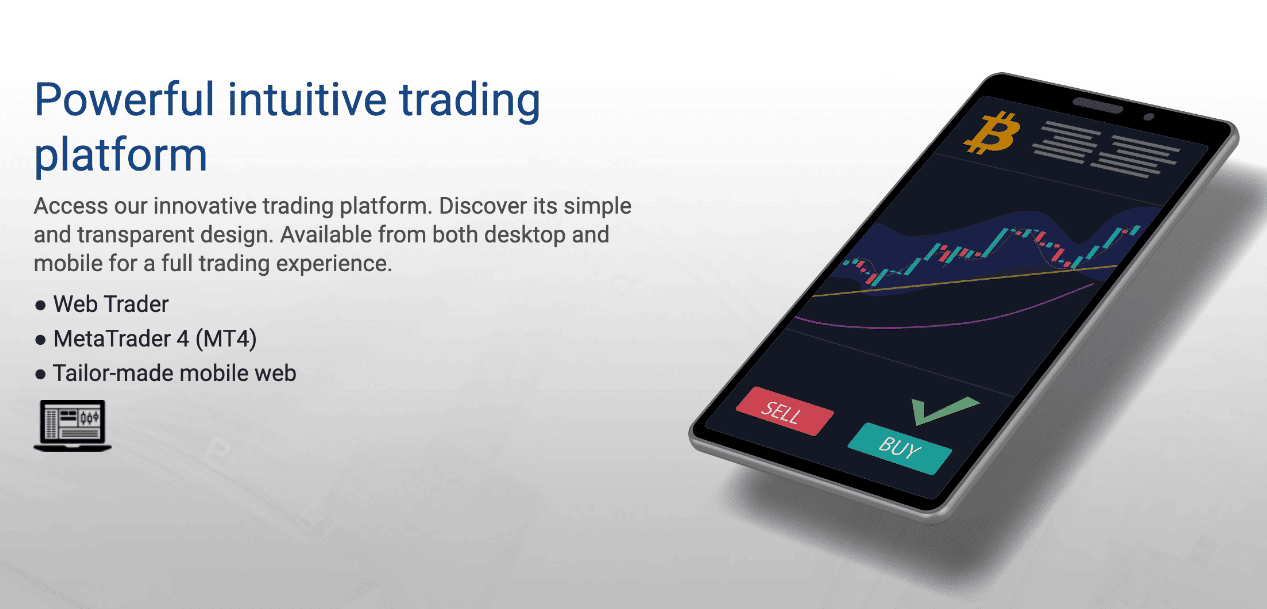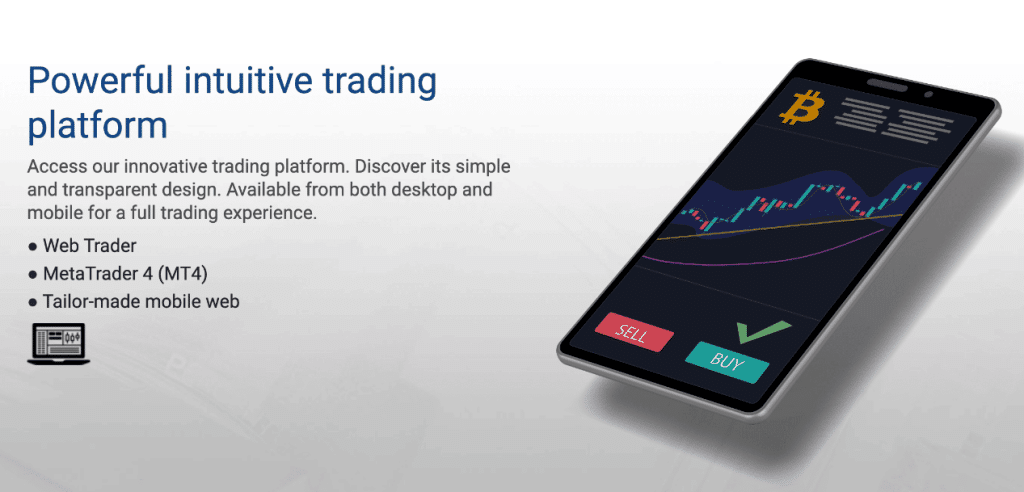 Is Immediate Connect Legit or a Scam?
After carefully examining the platform, we discovered that Immediate Connect enables automated trading for a number of cryptocurrencies. Due to its purported ability to run continuously, the algorithm may have an advantage over human traders. We were unable to confirm its assertion that the algorithm wins a majority of the transactions it opens, though. In light of this, we advise customers to only invest money they can afford to lose.
Past users' opinions of Immediate Connect are generally neutral but sometimes attest to the platform's success in carrying out profitable crypto deals. However, investors should exercise caution when dealing with a platform like Immediate Connect because internet reviews can often be fraudulent.
NB – this platform does not appear to be related other popular tools Immediate Edge, Immediate Fortune and Immediate GP.
What is the minimum deposit amount on Immediate Connect?
One will notice that in order to register and gain access to the platform, users are expected to deposit at least $250. This is the minimum deposit amount that one is expected to make while signing up.
Immediate Connect Reviews
While there is not much information about the platform itself, we did come across some reviews from third-party websites or actual users. While a majority of these reviews were neutral, there were some users who claimed that the platform may be a scam.
Do Celebrities Endorse Immediate Connect?
Celebrities do have partnerships with popular platforms or companies that deal with cryptocurrencies. However, we found no evidence that Immediate Connect had such ambassadors who endorse the platform.
Immediate Connect Customer Support
According to Immediate Connect, the platform provides phone and email customer service around the clock. Nevertheless, there is no opportunity to contact customer service before creating an Immediate Connect trading account, as it is only accessible to registered users.
How to Get Started with Immediate Connect
Here is a tutorial to help you create an account and start trading cryptocurrencies on Immediate Connect if, after reading the review you decide to stick with it and use the platform.
Step 1: Register with Immediate Connect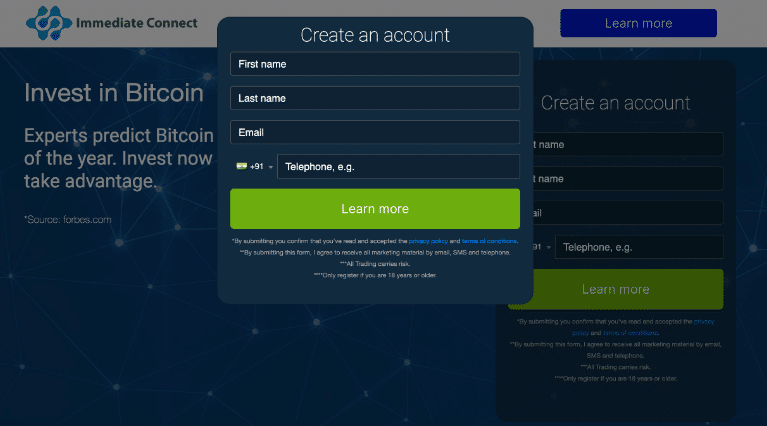 To register for a new trading account, visit the official website of Immediate Connect. Your name, email address, and phone number should be entered in the registration box located at the top of the homepage. Click "Register Now" when you're prepared.
Step 2: Make a Deposit
To utilise immediate Connect, a $250 minimum deposit is required from all new users. Your funds will be accessible for use after making a deposit using a credit card, debit card, or bank transfer.
Step 3: Activate Live Trading
You can enable live trading once you're prepared to begin trading cryptocurrency for real money with Immediate Connect. You only need to find the toggle on your account dashboard for it to start trading cryptocurrency on your behalf right away. Make sure that you only invest money that you're prepared to lose.
How to Delete an Immediate Connect Account?
According to the website, one can easily delete their Immediate Connect account by accessing the main menu. However, no detailed instructions have been given for the same, which is why it might be a good idea to get in touch with customer support first.
Latest Bitcoin News
It is vital for investors and traders to keep up with the latest news in the space and gain an edge over others. With that in mind, here are some of the top headlines for the week ending October 15:
The UK's financial regulator, the Financial Conduct Authority (FCA), has added more than 140 crypto exchanges to its 'should avoid' list – including major exchanges HTX and KuCoin.
US prosecutors claim that Sam Bankman-Fried's legal team should not use his investment in AI firm Anthropic – valued over $20 billion – should not be permissible in court as it could mislead the jury.
Sam Altman, CEO of ChatGPT firm OpenAI, says Bitcoin is a 'super logical' step on the tech tree as it is free from government control and helps fight corruption.
Is Immediate Connect Legit? – The Verdict
This assessment of the Immediate Connect trading platform has attempted to include all relevant data. Due to a lack of an online presence and scant material on the website, it might not be possible to accurately make a judgment that could prove the platform's authenticity.
Investors are therefore advised to do their homework before using the website, and remember all trading carries risk.
Cryptocurrencies are unregulated. Trading with unregulated brokers will not qualify for investor protection.
Immediate Connect FAQs
Is Immediate Connect Safe?
What is the minimum deposit for Immediate Connect?
Does Immediate Connect have demo trading?