With the increasing demand for cryptocurrency trading in 2024, there has been a rise in platforms that offer new ways to make a profit in the space. Immediate Definity AI claims to be one such platform.
In this review, you'll learn everything you need to determine if the platform is legitimate.
Immediate Definity AI Overview
Here's a brief look at all the highlighted features of the Immediate Definity AI Platform:
| | |
| --- | --- |
| Type of Platform | Advanced cryptocurrency trading |
| Minimum Deposit | $250 |
| Claimed Winrate | Not mentioned |
| Supported Cryptocurrencies | Cryptos, CFDs, Forex, and Stocks |
| Mobile App | Not available |
| Withdrawal or Deposit Fees | No fees |
| Customer Service | 24/7 |
Cryptocurrencies are unregulated. Trading with unregulated brokers will not qualify for investor protection.
What is Immediate Definity AI?
Immediate Definity AI, also known as GPT Definity, is a new trading platform that claims to be designed to cater to investors interested in Bitcoin and cryptocurrency trading. It asserts that it takes a user-centric approach, focusing on prioritizing the needs and experiences of traders throughout their trading journey, offering both manual and advanced trading to suit each trader's needs.
The platform claims to simplify trading and make it accessible to everyone, regardless of their prior experience. The website showcases intuitive interfaces and tools that are well-suited for traders to confidently navigate the intricacies of the cryptocurrency market.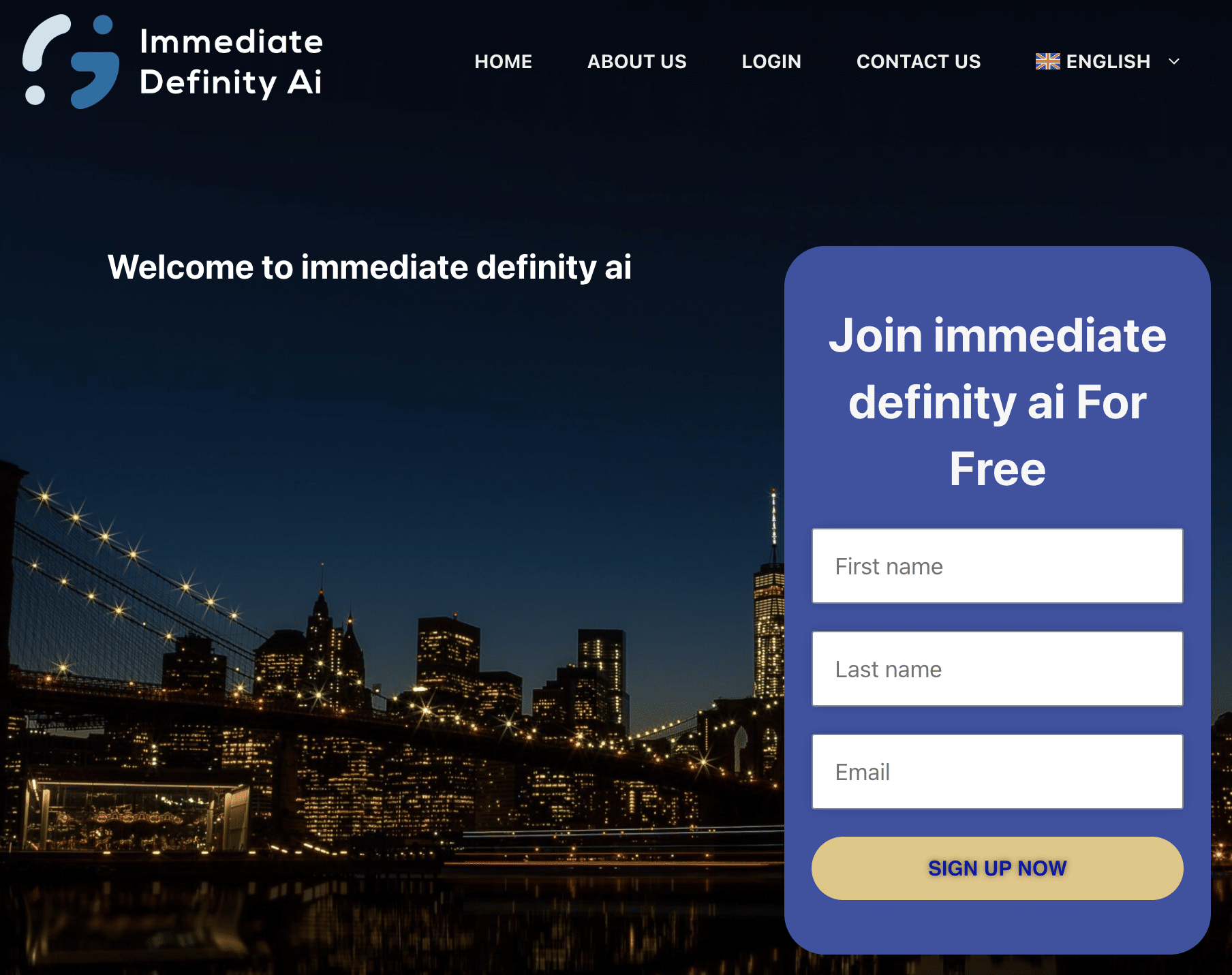 Immediate Definity AI claims to rely on real-time market data to keep traders informed about the latest developments in the ever-changing crypto landscape. It claims to have over six trading indicators to detect market changes and patterns. It offers advanced charting tools and in-depth analytics to provide a deeper exploration of market trends. With its Smart Trade Automator, it claims to offer a trading robot that offers a hands-free trading experience.
The project also claims to offer a high level of security. However, the platform doesn't provide any suitable evidence to back this claim.
While the platform claims to provide the necessary tools for trading, Immediate Definity AI encourages its users to gain a comprehensive understanding of cryptocurrencies and blockchain. Although the platform doesn't provide educational resources, knowing that it prioritizes thoughtful trading is commendable. Effective risk management strategies are also emphasized to help traders navigate the inherent volatility of the crypto market.
Who Created Immediate Definity AI?
No details are available regarding the creators of the Immediate Definity AI / GPT Definity platform.
While it is not unusual for the founders of trading platforms to remain anonymous, it could be considered a red flag.
Immediate Definity AI Pros and Cons
Pros
Immediate Definity AI claims to offer advanced trading for beginners and veterans
Users can apparently customize the Bitcoin robot
Multiple cryptocurrencies supported, along with CFDs, Forex, and stocks
No trading fees or withdrawal fees
Claim to offer 24/7 customer support
Cons
Not available in the US
Mentions a mobile app, but no download link is available
Cryptocurrencies are unregulated. Trading with unregulated brokers will not qualify for investor protection.
How Does Immediate Definity AI Work?
Immediate Definity AI seemingly works much like other cryptocurrency trading platforms. After signing up, users can apparently access various trading tools, such as indicators and drawing features, to help them analyze price charts.
These tools are purportedly handy for experienced traders in predicting market conditions. The platform also offers a hands-free mode for day traders, acting as an auto-trading system that quickly carries out trading decisions.
The platform uses an automated system to scan cryptocurrency markets and send trading signals to big exchanges via an API. These signals trigger the buying or selling of specified cryptocurrency amounts.
In addition to this, Immediate Definity AI also offers manual trading for traders who want to be in control of their trades. The platform offers trading indicators that help users detect market changes and patterns and accordingly make trading decisions.
Immediate Definity AI claims not to charge transaction fees, withdrawal fees, or deposit fees. It lacks a mobile trading app, but users can access the website on mobile, and customer support is available 24/7.
However, there isn't much evidence to back these claims, and there are limited customer reviews. To be safe, potential investors should do their research before using Immediate Definity AI.
Which Devices Can Access Immediate Definity AI?
Immediate Definity AI is currently accessible exclusively via its official website. Users have the flexibility to access it using either desktop computers or mobile browsers. While the website claims to have a mobile app, we weren't able to find it during our research. While that's the case, the website is optimally designed to work seamlessly on mobile devices, and the absence of a dedicated mobile app should not pose any significant inconvenience to users.
Immediate Definity AI Supported Countries
Immediate Definity AI has restricted its offerings in the United States. These restrictions can be due to local laws governing cryptocurrency trading.
However, Immediate Definity AI states nothing about using a VPN to access the platform, which means that users from restricted countries may be able to access the platform.
What is the Success Rate of Immediate Definity AI?
The Immediate Definity AI website does not provide information about the success rate of its integrated trading tools. Moreover, there is a lack of external reviews concerning the performance of the platform.
Nevertheless, numerous reputable websites have evaluated the platform and expressed favorable opinions, indicating that it might provide a reasonably good success rate. However, it is crucial for investors to carefully assess the inherent risks associated with cryptocurrency trading before opting to utilize this platform.
Immediate Definity AI Features
Some of the USPs of the Immediate Definity AI platform, according to its marketing material, are:
Risk Management
Immediate Definity AI asserts that it empowers users to tailor their risk control with customizable parameters and stop-loss limits. If this facility is available, it will ensure a personalized approach to safeguard investments from market turbulence, giving users a reassuring sense of control.
User-Friendly Interface
Traders find the Immediate Definity AI interface easy to navigate and customize for their trading strategies. Its user-friendly design makes it accessible to both beginners and experienced traders, simplifying feature utilization.
Support Around the Clock
Immediate Definity AI claims to offer 24/7 customer support through various communication channels. Traders may appreciate the responsive and multilingual support teams, which promptly address their questions and concerns according to the platform reviews.
No Licensing Fees
Immediate Definity AI claims that it doesn't burden users with licensing fees. Instead, a modest $250 minimum deposit serves as both the fee and initial trading capital, making the platform beginner-friendly. However, some users may still find this amount relatively large.
Is Immediate Definity AI a Scam?
Immediate Definity AI serves as a trading platform that claims to make cryptocurrency trading easy for users to earn money. But people should be careful when considering this platform because many of its statements haven't been independently checked.
The platform website doesn't provide much info about how well it has performed in the past or what its users have to say about it. The reviews found online are quite unbalanced and vague, some of which refer to the site as Immediate Definity 360, GPT Definity, or the Immediate Definity app – although no such app appears to be available on the App Store or Google Play for iOS / Android.
Plus, there's no way to check the legitimacy of Immediate Definity AI without making an initial deposit. Even if what the platform claims is true, remember that all trading carries some risk, and there's no guarantee of making money. It's also important to know that user reviews and feedback might be influenced by people who want the platform to succeed.
In conclusion, we cannot say for sure if Immediate Definity AI is a legit trading platform, it's a good idea to be cautious and carefully check its claims before you invest your money. Therefore, we also advise our investors to look for crypto presales as well.
What is the Minimum Deposit on Immediate Definity AI?
To gain access to the Immediate Definity AI platform, a minimum deposit of $250 is required from investors. This is the only requirement that apparently amounts to a "fee" on this platform.
Immediate Definity AI Customer Support
The Immediate Definity AI website includes a designated 'Contact' area where users can get in touch with the customer support team to address their inquiries. According to Immediate Definity AI, the support team is accessible 24/7 and can be reached by completing a contact form on the website. Following form submission, the support team will reply to the user's email address as provided.
How to Use Immediate Definity AI
Now that you've had a comprehensive overview of all the features Immediate Definity AI has to offer let's go through a step-by-step guide to help you begin trading.
Step 1: Register for an Immediate Definity AI Account
To start your journey with Immediate Definity AI, visit the homepage of the website and complete the registration form there by providing your name, email address, and phone number.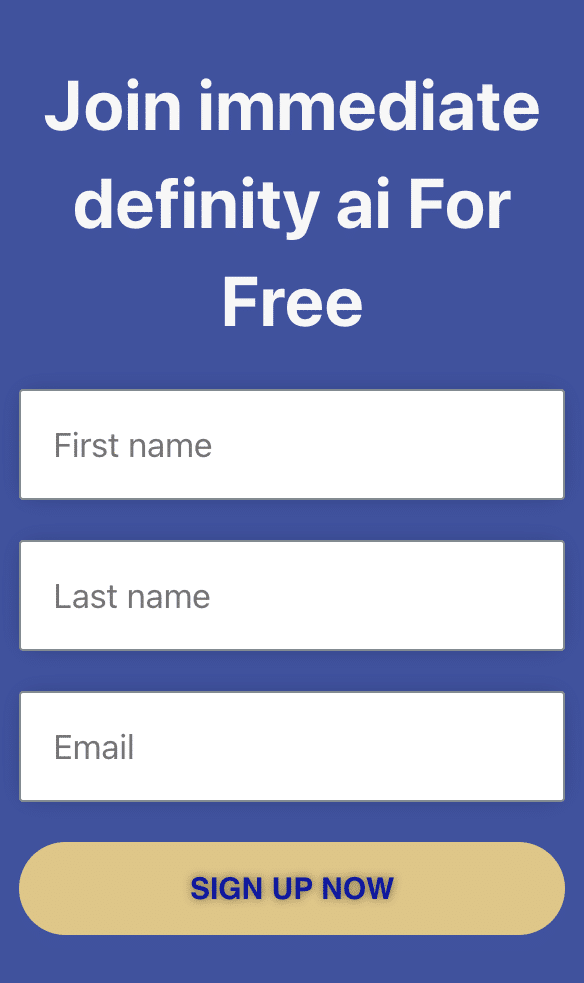 Step 2: Initiate Your First Deposit
To begin trading on Immediate Definity AI, it's necessary to make an initial deposit of at least $250 into your account. The platform accepts various payment methods, including debit and credit cards, to facilitate the deposit
Step 3: Begin Your Trading Journey
Once you've made your required minimum deposit of $250 you'll gain access to the platform, allowing you to start trading with your preferred cryptocurrencies. Users can choose to trade manually or make use of the advanced trading feature offered by the platform.
Is Immediate Definity AI Legit – The Verdict
We've closely studied Immediate Definity AI, checked its features, and experienced its user-friendliness.
Immediate Definity AI's strengths seem to be an easy-to-use interface and a variety of smart trading strategies suitable for all skill levels. You can apparently customize strategies, set specific entry and exit points, and benefit from features like stop loss and copy trading. They also offer 24/7 customer support with a multilingual team for assistance.
However, there is a lack of clear information about the platform's algorithms and products, which raises reliability concerns. The scarcity of customer reviews for the latest version adds uncertainty about its performance.
So, our advice is to approach Immediate Definity AI cautiously, especially for substantial investments. Do your due diligence, start with a small deposit, and wait for more comprehensive data and user feedback.
Cryptocurrencies are unregulated. Trading with unregulated brokers will not qualify for investor protection.
FAQs
Does Immediate Definity AI provide customer support?
Can users personalize the platform's tools to match their needs?
How to withdraw funds from Immediate Definity AI?