The Immediate Evex crypto trading platform announced the release of its updated second version, bringing autonomous and manual trading features that can help people navigate the volatility of the crypto market easily.
Helping with this are intuitive tools consisting of smart trading assistants and deep marketing insights that Immediate Evex Ai says can help investors generate gains even during bearish market conditions.
Should you trust these claims? Answering this question is the theme of this review, which assesses the site's features to determine if it is a legitimate crypto trading platform.
Immediate Evex Ai Summary
The Immediate Evex Ai website has said in its disclaimer that it bridges the gap between traders and brokers by providing a large range of services for different assets, including cryptos, Forex, CFDs, and stocks.
Before we analyze the truth of these claims, here are the key points of this platform to be aware of:
| | |
| --- | --- |
| Type of Platform | Advanced cryptocurrency trading |
| Minimum Deposit | $250 |
| Claimed Success Rate | 99.4% (unverified) |
| Supported Cryptocurrencies | Cryptocurrencies, CFDs, Forex, and Stocks |
| Mobile App | Not Available – but the web app is responsive |
| Withdrawal or Deposit Fees | Not specified |
| Customer Service | 24/7; for registered users |
Cryptocurrencies are unregulated. Trading with unregulated brokers will not qualify for investor protection.
What is Immediate Evex Ai?
"An advanced trading software that leverages the power of Immediate Ai technologies to make trading simpler." These are the words the official home page of Immediate Evex Ai uses to describe the platform.
It states that it assesses the historical and real-time data of crypto assets as well as other investment products, such as CFDs and stocks, in order to generate accurate trading signals you can act on.
Per the website, you can act on this information in two ways. One is through the manual trading mode, which promises manual trading features complete with charting tools and a simple UI for a hands-on trading experience. The other is a Bitcoin robot that uses artificial intelligence to execute your trades based on preset conditions.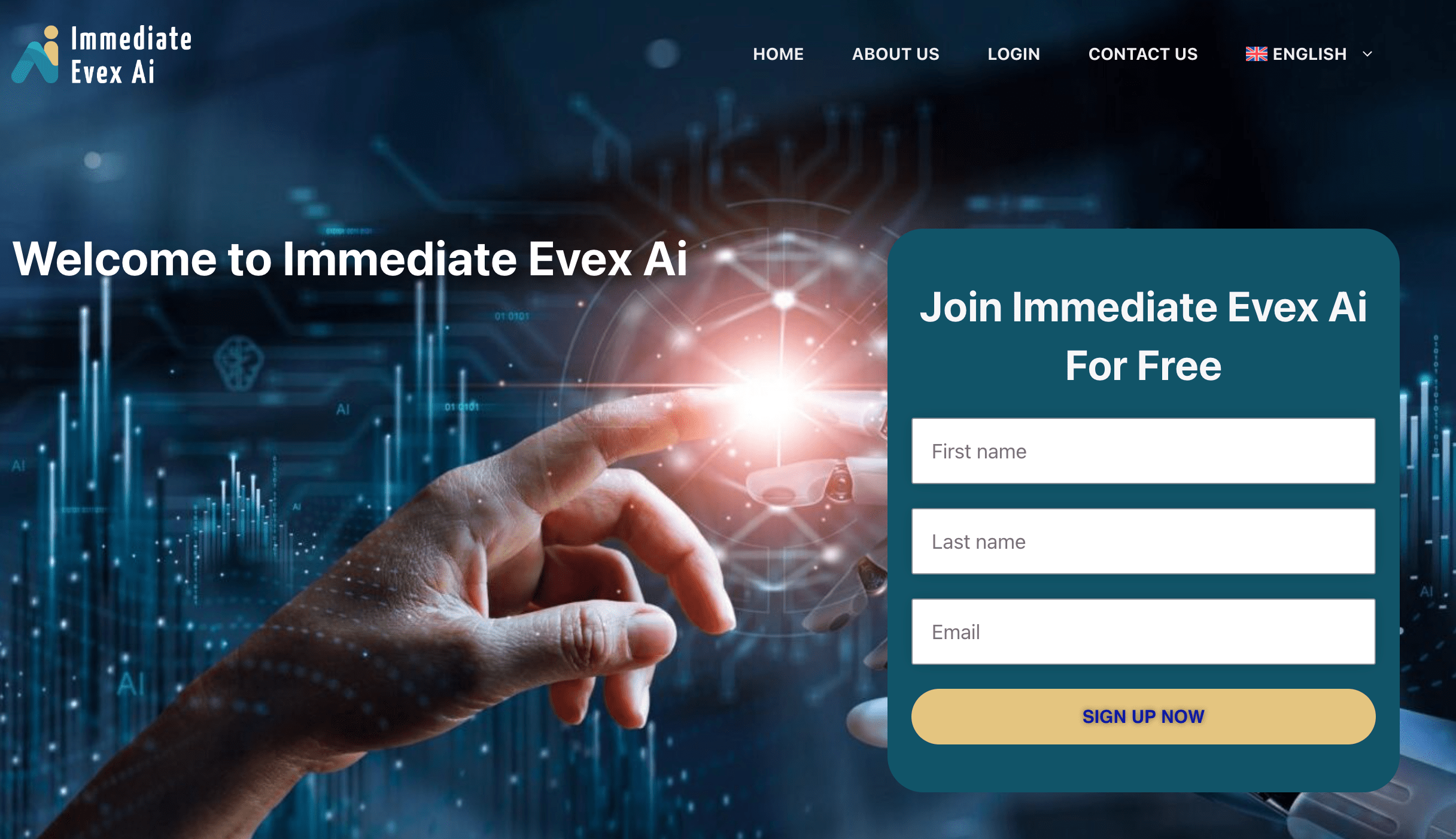 Per the Immediate Evex website's claims, this method allows users to have a 0.01-second edge in the market, which makes its win rate 99.4%. There is no evidence to support this claim.
New users must make a deposit of $250 before you can start trading, which the platform states is the initial capital only – you won't be charged any more fees.
According to the site, Immediate Evex Ai generates revenue through the fees collected from the liquidity provider brokers and market makers who execute your trades.
The platform also claims to have put robust security protocols in place to keep your account details safe. Although it hasn't highlighted which types of security features are in play.
Overall, much of what this platform tells is vague. Do your own independent research before trading, and know that even if the website is legit, profits are not a guarantee.
Who Created Immediate Evex Ai?
While there is an About Us page, it does not provide any info on the makers of the platform. Being a relatively new crypto trading system (and a second version of one), the platform has no page on any social media site, including X (formerly Twitter) or Facebook.
While it is not out of the norm for a crypto trading website to have anonymous developers, Immediate Evex Ai also claims to provide CFD and stock trading, which requires a license from proper authorities – details of the same are not present.
Immediate Evex Ai Pros and Cons
Given the limited info available on Immediate Evex's official website, the following are the pros and cons we could find.
Pros
Alleged to have a hybrid trading system – manual and autonomous
Claims to provide a high win rate
States that users will have access to a simple UI
Supports cryptocurrencies, CFDs, and stocks
Cons
Offers no historical data to support the win rate
No details on the website are verified – which could raise doubts among traders
You must deposit $250 to start trading – too much for beginners
Offers no details about the founders of the platform
Cryptocurrencies are unregulated. Trading with unregulated brokers will not qualify for investor protection.
How Does Immediate Evex Ai Work?
Immediate Evex Ai clearly states that it supports two modes of trading – manual and automated.
With the manual mode, the site claims that you will get access to trading signals generated through AI-driven methods, which could help you engage in crypto trading without having to do additional research or collect data from anywhere else.
The automated mode is enabled through the platform's Smart Trading Assistant, says Immediate Evex. It claims it provides a flexible trading robot that autonomously analyzes market data and buys and sells assets based on pre-determined strategies.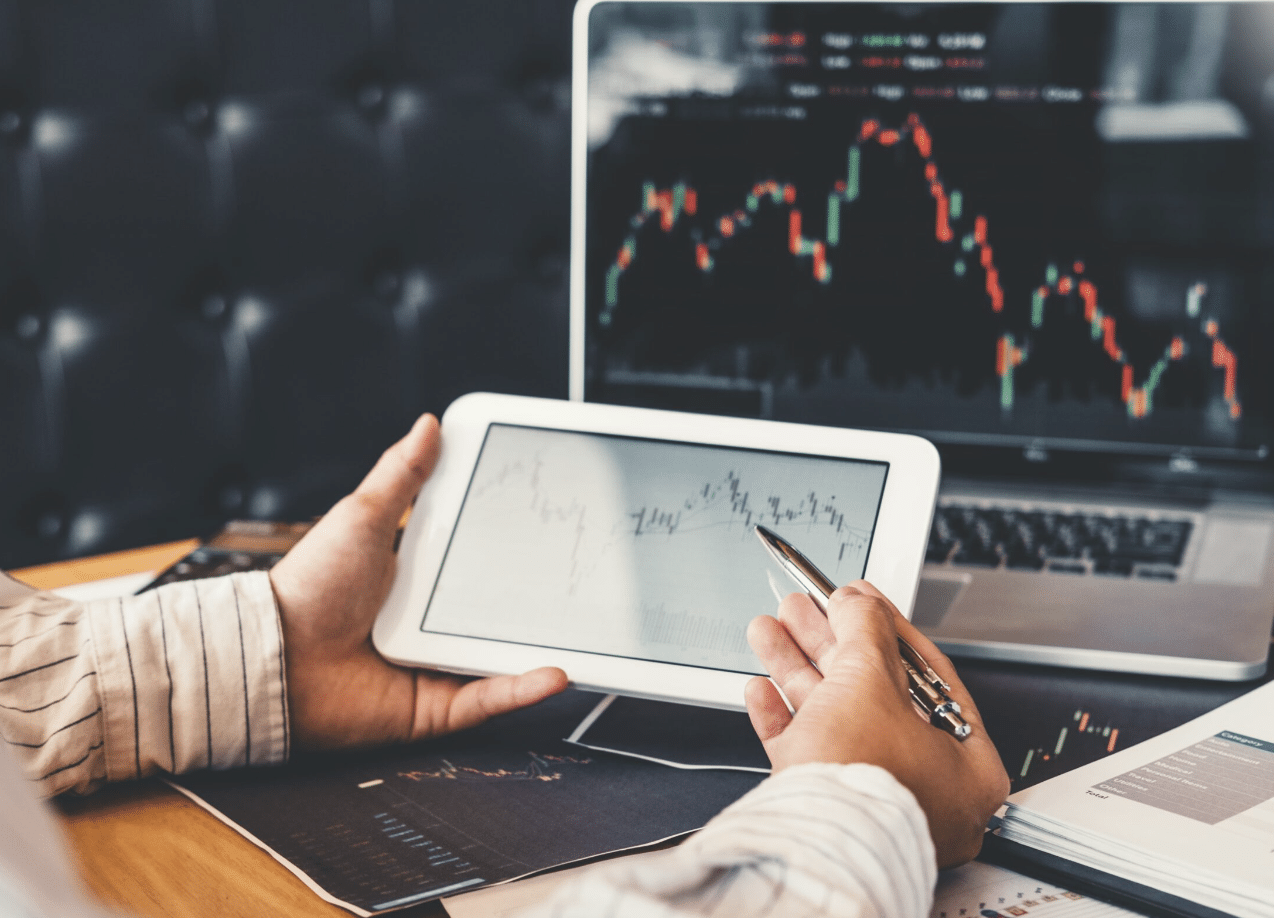 With these features, the site claims that trading becomes streamlined. With the advanced security protocols, Immediate Evex Ai assures none of the trading data or the profit generated is lost.
There is no way to test these features, however, as the testing facility is also locked behind the registration requirement, which requires a minimum deposit of $250.
Which Devices Can Immediate Evex Ai?
There is no mention of a separate crypto app related to Immediate Evex, which led to us assessing the site's web app on several devices. Here are the results we found.:
Desktop – The widescreen made the website look simple. There was no issue with any buttons, and all the information was readable.
Smartphones – The official website is responsive on smartphones. Getting through the content was easier, and none of the buttons were hidden.
Tablets – Our experience with a tablet was similar to our experience with the desktop. Large icons, functional buttons, and an overall interactable website.
Note that we were unable to fully review the trading platform – only the official website was accessible, and this review only highlights that.
Immediate Evex Ai Supported Countries
The platform states that users from all countries can access its services – except for the US. If you live in the US, you may want to use a VPN since Immediate Evex Ai has not revealed its stance on using a Virtual Private Network to access the platform.
What is the Success Rate of Immediate Evex Ai?
Immediate Evex Ai claims that it has a success rate of 99.4%. However, there is no way to prove the efficacy of this claim since the site has not provided any details that could help us access its historical data.
We recommend talking to the customer support team to learn more about its realistic win rate, as even expert traders don't tend to achieve that ROI.
Immediate Evex Ai – Key Features
The information about the key features is limited. But here is what we could discern while reading about how Immediate Evex Ai functions.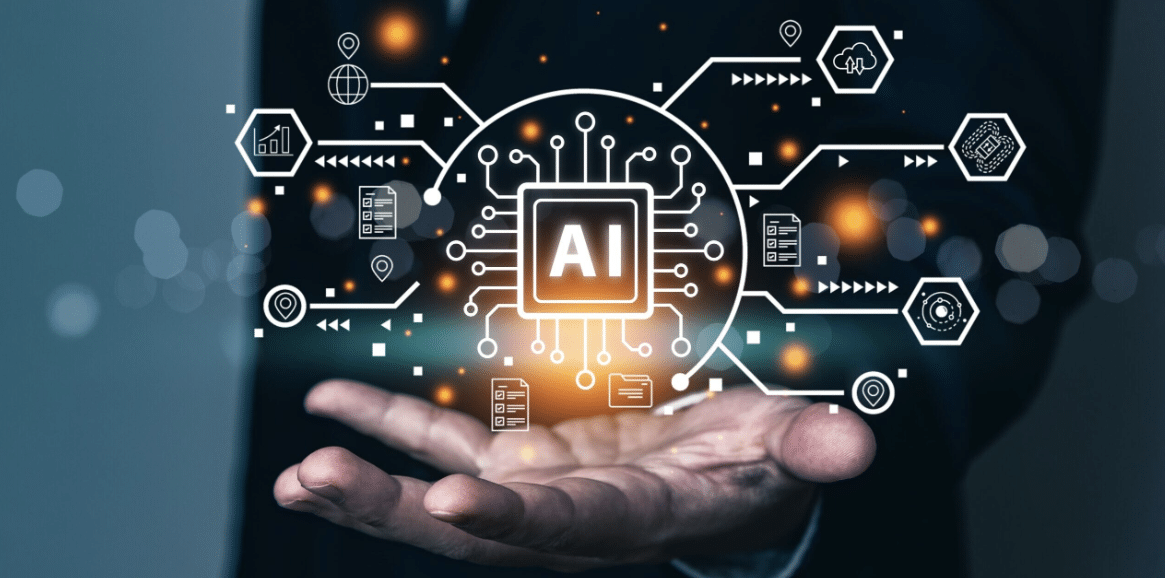 Real-Time Trading Signals
According to the website, you will get access to real-time trading signals that Immediate Evex Ai allegedly derives by running complex algorithms on historical data and real-time price charts.
Smart Trading Assistant
With a smart trading assistant, Immediate Evex Ai states that users can switch between manual and autonomous trading facilities. Manual trading will give veterans access to a robust trading unit for a hands-on trading experience, but for passive trading, users can switch to autonomous trading systems.
Secure Platform
Immediate Evex Ai claims that all the user's details are protected using advanced security features. These features, the site claims, safeguard the privacy, security and safety of all personal information and trading data of users. Immediate Evex Ai hasn't made it clear what these features are, though.
Support for Multiple Assets
Claiming to be a bridge between brokers and traders, Immediate Evex Ai states that it supports multiple assets, including Forex, CFDs, stocks and cryptocurrencies. If these are available, the platform would be a good pick for those looking to diversify their portfolio
Simple Trading Tools
Immediate Evex Ai claims that all the perks it offers are supported by an intuitive UI that does away with complex modules and only gives simple tools. With "no requirement for additional research, data gathering, or analysis", the site claims that even veterans would only need simple tools.
Cryptocurrencies are unregulated. Trading with unregulated brokers will not qualify for investor protection.
Is Immediate Evex Ai a Scam?
To answer this question, we have to assess the information given on the website and the information that can be proven.
What can be proven is the site's simple approach to the user interface. All the buttons are working, the content is readable, and the site is responsive on multiple devices. At no point did we feel a page lagging, and going through available options – limited as they may be – was easy. Another positive is the sign-up process. It is simple and does not require the user to provide details other than name, email and phone number.
The rest of the details of this site, however, cannot be proved. The platform's claimed win rate – 99.4% – is too high, with no historical data to support it. Information about who is running the website is not available, and the details about the tools available are vague at best.
Added to that is the lack of independent audits from third-party sites and the lack of a demo trading account. There is a testing feature available, but even that is locked behind a deposit requirement – which makes independent testing inaccessible to many.
These factors give this platform a mixed appeal. We recommend only depositing a minimum amount and always looking for other investment options, like crypto presales, to maintain a diversified portfolio.
What is the Minimum Deposit on Immediate Evex Ai
You need to deposit $250 in order to gain access to the trading features. Immediate Evex Ai states it uses the entire deposit amount for buying and selling assets – and does not charge any commission from traders.
Immediate Evex Ai Customer Support?
Unregistered users will have access to a customer support page, but don't count on it being responsive – considering it looks similar to the sign-up page. However, the platform claims that registered users will have access to a customer support team willing to do their bidding 24/7.
How to Use Immediate Evex Ai?
Follow the steps below to start trading on Immediate Evex Ai:
Step 1 – Register
Visit the signup portal for Immediate Evex and enter a name, email, and phone number in the contact form.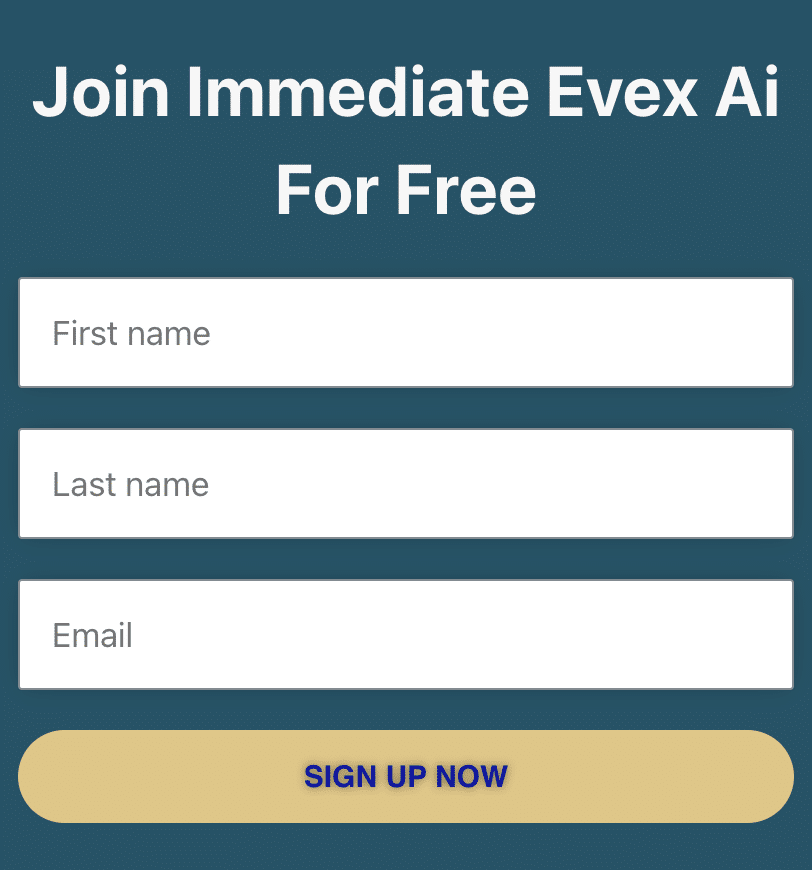 Step 2 – Deposit the Amount
Click on the "deposit" button on the dashboard and select one of the payment methods to deposit the minimum deposit required – $250.
Step 3 – Start Trading
Check if the website testing facility is available. Assess the platform's trading system and its claims about the success rate if it is available. Only move forward to trade with real money if you are satisfied with the results.
Is Immediate Evex Ai Legit – The Verdict
The Immediate Evex Ai website has a simple-looking UI which is compatible with most devices. This simplicity is also carried in its sign-up module, which doesn't take more than a few clicks to create an account.
Other details about this platform, however, are questionable. It claims to have a very high win rate of 99.4%, with no evidence to prove it. The historical data to assess its past performance does not exist, and the website also does not have any info about the founders of the platform. Thus, we recommend only investing the minimum amount and looking for better altcoins to invest in on regulated cryptocurrency exchanges.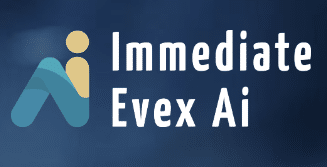 Cryptocurrencies are unregulated. Trading with unregulated brokers will not qualify for investor protection.
FAQs
What is Immediate Evex Ai?
Is Immediate Evex Ai legit?