Rapidly changing markets based on the whims of the community and the wider macroeconomic activity is what drives the crypto economy. That makes having the right information at the right time necessary if you want to make big gains in the crypto space. With such information in hand, you can make generalized predictions about where the market can go. You can visualize the price action through charting tools – and if you are a veteran trader, leveraging that information will come easily to you.
But what helps in this regard is a platform that offers you every advanced trading tool in one place – which Immediate Future claims it has. This online crypto trading platform claims to offer excellent deals for futures trading – setting it apart from many other trading platforms. But are the features available worth it?
This Immediate Future review will delve into the different features of this site to give you an insight into whether it is a legit crypto trading platform.
Immediate Future Overview
On the
Immediate Future website
it describes itself as an online trading platform giving traders all the right tools for making informed investment decisions that can help them make gains even during high-risk scenarios. Listed below are the key components of this website you must know before we dive into discussing these features – and rate their legitimacy.
| | |
| --- | --- |
| Type of Platform | Crypto Trading |
| Minimum Deposit | $250 |
| Claimed Success Rate | It doesn't specify the win rate |
| Supported Cryptocurrencies | Bitcoin, Ethereum, Bitcoin Cash, Litecoin, Cardano, Eos, Neo, Dogecoin, and more. |
| Mobile App | Not available, but the site is mobile friendly |
| Withdrawal or Deposit Fees | None |
| Customer Service | 24/7 |
Cryptocurrencies are unregulated. Trading with unregulated brokers will not qualify for investor protection.
What is Immediate Future?
Immediate Future is an online crypto trading platform that claims to allow users to trade top digital assets profitably. Helping in this success are the visualization tools that the site claims have access to extensive market data – which makes it easier for users to make informed investment decisions.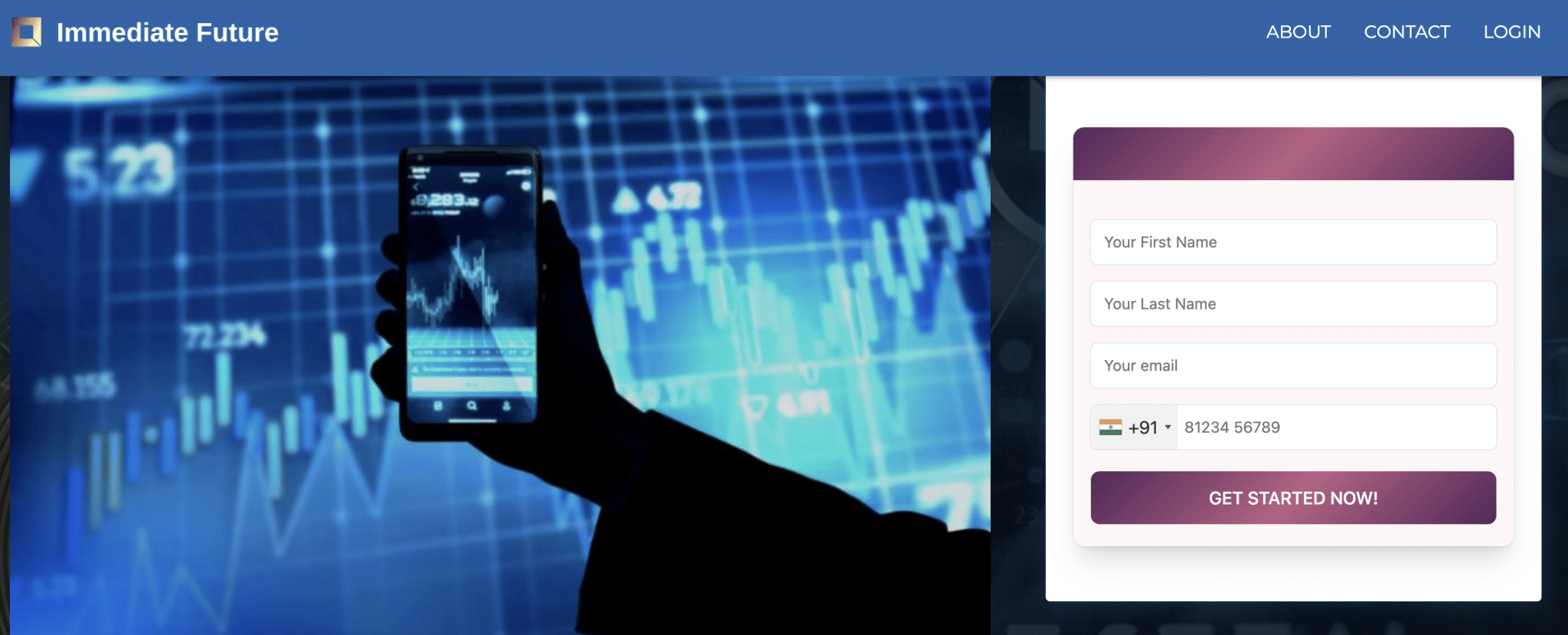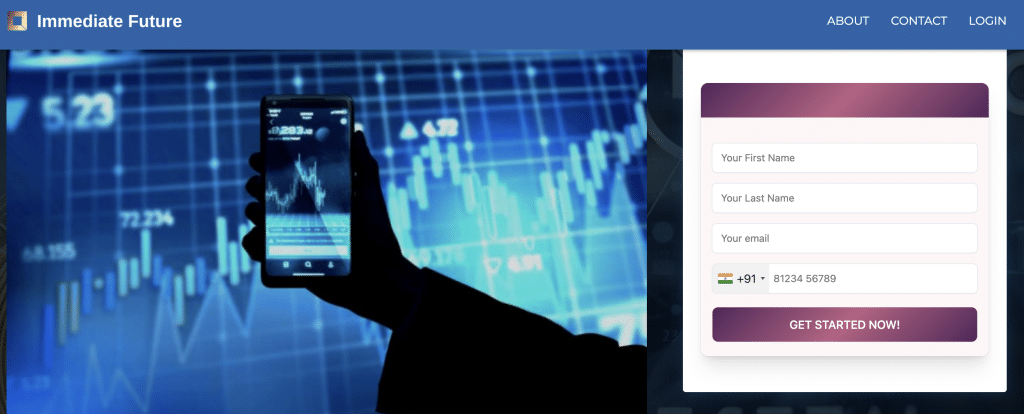 These visualization tools apparently consist of 100 technical studies and multiple drawing modules. The official website claims that users can leverage them to calculate risk reward rations on options trades. Spotting unusual trade activities is apparently also possible using these modules.
That said, it seems like this platform's offerings aren't necessarily the same as trading robots that are fully automated. You are required to trade manually after assessing the market conditions.
These features are great for all types of traders, but whether they are actually available as advertised is something we can't prove. The information available on the site is limited to discussing the importance of using a reliable crypto trading platform, and third-party sites haven't touched upon much for this website.
Therefore, we recommend going through Immediate Future's terms and conditions yourself before making any trading decisions.
Who Created Immediate Future?
The content available on the official website doesn't say anything about the team behind the platform. All it says that that the creators are a team of members that are crypto experts and active traders – but beyond that, there is nothing.
We also went through some social media platforms to see if people were discussing Immediate Future, but we found nothing. It is apparent that the team has not decided to dox themselves, which might not be acceptable to traders who appreciate transparency. So, trade on Immediate Future at your own risk. Even if the site works, there is no guarantee that you will always make a profit.
Immediate Future Pros and Cons
Immediate Future claims to have a lot of features, but not everything is on the up and up with this platform. Here are the pros and cons to expect when you use this website.
Pros
Claims to offer around 100 technical studies to help traders make informed decisions
It doesn't feature any trading fees
24/7 customer support available – according to the website
Beginners can use demo trading to get familiar with the features
Cons
All features require you to deposit 4250
Nothing has been said about how the platform works
No info available about the team behind Immediate Future
Not many third-party reviews provide insight into the platform
It doesn't offer autonomous trading
Cryptocurrencies are unregulated. Trading with unregulated brokers will not qualify for investor protection.
How Does Immediate Future Work?
From what little information we could find about Immediate Future, it seems like it works in the same way as other crypto trading platforms. You click the "Learn More" button to initiate registration, deposit the amount and start trading.
Immediate Future supposedly makes all the trading tools available once you create an account. If it turns out to be true, you can check out the price charts and use the technical indicators to predict the price movements to start trading.
Immediate Future claims to have over 100 technical studies that you can research before you start to use this website for trading crypto. However, we couldn't find these studies since it is not available for those who don't sign up.
After trading, if your portfolio generates profit, you must pay the commission. While the site says that the commission is low, we don't know the exact amount.
A Demo trading account is also available, apparently, but even that is only open for those who make the initial deposit.
These discrepancies don't tell us the whole story of how the website works. The better option is to go test the website and do your own research before trading. And always manage your expectations when trading on platforms like these – profits aren't always guaranteed.
Immediate Future – Compatible Devices
Listed below are the devices on which Immediate Future is compatible.
Desktop
Laptop
Tablets
Android and Apple phones
Immediate Future claims that the site's security features extend to all those devices – allowing investors to trade securely.
Immediate Future – Supported Exchanges
This crypto trading platform isn't clear on which exchanges it supports. Although it has been said that all the exchanges integrated here are regulated according to local and international laws.
But we didn't find any evidence that supports the truth to these claims, which is why investors must be wary when using Immediate Future.
Immediate Future – Win Rate
Immediate Future doesn't specify its winrate, the same as some similar tools such as Immediate Connect which we also reviewed. Not releasing that information to the public appears to be common, and may be a red flag in some cases.
Immediate Future – Main Features
Advanced Trading Tools
The Immediate Future site states that over 100 proprietary technical indicators and other trading tools are made available to those who register. These tools may also include access to news articles related to the crypto space that can impact an asset's price.
Some of the utilities that it has hinted at are Questrade, TD Ameritrade, and uSmart.
Questrade offers commission-free stock trading options and several investment products. It is best integrated with a mobile app, giving users a better trading experience.
TD Ameritrade is a beginner-friendly tool and consists of many educational resources. The 100 technical studies that the site claims it has are likely part of this tool.
uSmart is a tool that simplifies complex financial terminologies, making it easier for beginners to navigate the investment space.
Pools Information from Multiple Sources
According to the official website, multiple sources are used to curate educational resources and news articles. It is done to ensure that investors always have access to updated information that can be leveraged to make the best trading decisions. We don't have much info on how right the info available on the site is since access to articles is locked behind the mandatory deposit requirement.
Demo Account Supported
The website claims to support a demo trading account, allowing users to try out the offerings of Immediate Future before trading for real money. According to the official website, users can switch between demo and live trading accounts easily to always backtest the strategies before implementing them in real market conditions.
Instant Transactions
Since Immediate Future offers trades for standard stocks as well as crypto assets, it claims that it supports instant transactions – especially for cryptocurrency. However, fiat users might need to wait for up to 24 hours to gain access to the accounts.
Cryptocurrencies are unregulated. Trading with unregulated brokers will not qualify for investor protection.
Immediate Future – Supported Cryptocurrencies
Immediate Future claims to support most of the leading cryptocurrencies, including Bitcoin, Dogecoin, Ethereum, Ethereum Classic, Bitcoin Cash, Cardano, NEO, EOS, MIOTA, and more.
Is Immediate Future Scam or Legit?
The information that is with us about the website is limited. And based on that, we can't make any assumptions about whether Immediate Future is legit or a scam website.
The site doesn't claim to have autonomous trading tools but supports manual trading, which is a plus since those often guarantee high profits that turn out to be false.
That said, the site is still low on information. The official website does seem to be one static home page as of now. It is likely that the site uses login credentials to help users get access to deeper mechanics – but that requires a deposit of $250. That is why we were unable to access the features that this site claims it does have.
Another thing to note is the identity of the makers of this website. We don't know who they are. Immediate Future has only provided hints as to what they could be – but we don't have the full picture yet.
However, the site's login module does look legitimate, and like Immediate Future claims, login is easy, and all the buttons are working.
Since most of the first reactions we have are mixed, we can't say for certain whether Immediate Future is legit or a scam. Therefore, we recommend you exercise caution when you start trading on it. Also, know that crypto trading can be risky. So, don't expect to get a high win rate all the time.
What is the Minimum Deposit to Trade on Immediate Future?
To start trading on Immediate Future, you need to deposit at least $250 via any of the listed methods. All the features will become available once you deposit this amount, apparently.
Immediate Future Reviews
We searched the internet and found there to be no customer reviews for Immediate Future. Since the term itself is vague – many companies and other brands use the same. So, be careful when you are researching the site by yourself.
Immediate Future Customer Support
Immediate Future specifies that there is a customer support team that people can contact at any time they want. The offer, however, is only available to those with an account on the platform since there is no "Contact Us" section on the site to which we were given access.
How to Use Immediate Future?
If you decide to proceed – we recommend starting with the minimum deposit – these are the steps:
Step 1 – Create an Account on Immediate Future
Go to Immediate Future's official website and click on the Register button after entering your name, email, and phone number. The official site states that you will receive a verification email, click on which you will be given access to the website's offerings.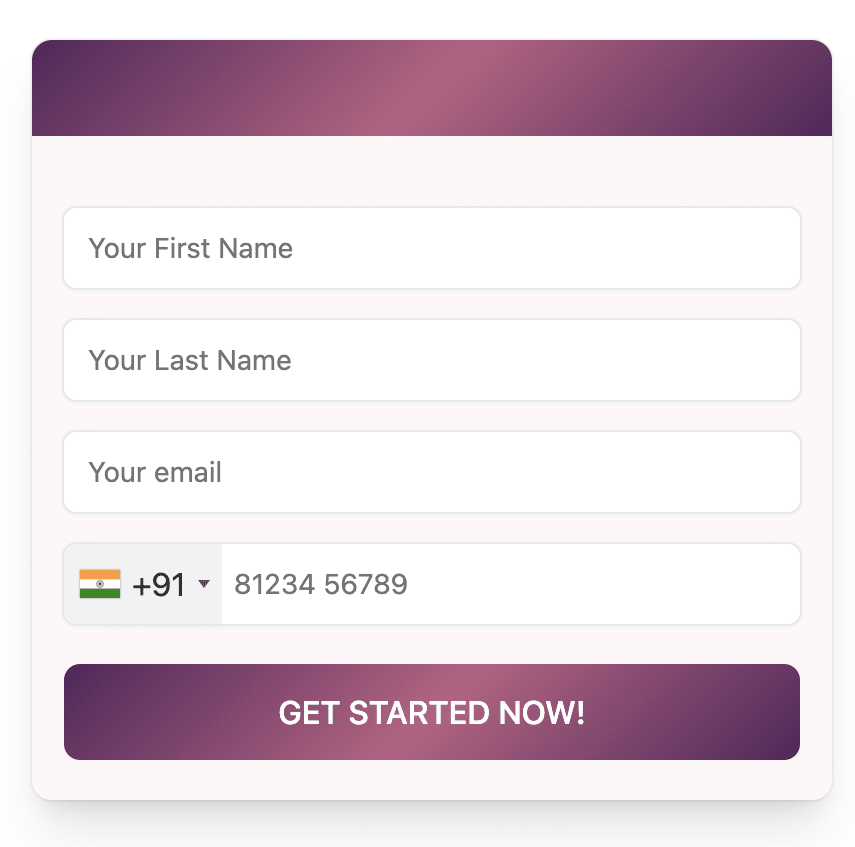 Step 2 – Deposit $250 in The Trading Account
You will not get to start trading straight away; a deposit of $250 is necessary. Log in to your trading account and click on the "Deposit" button to deposit this amount. You can use any of the listed fiat methods to initiate trading.
Step 3 – Start Trading on Immediate Future
Go to the demo trading account to test out the platform's features and begin live trading using the money you just deposited.
How to Delete Immediate Future?
Immediate Future doesn't say how to delete the account. But you can contact the customer support team to get an answer to that question.
Immediate Future – Final Verdict
Immediate Future claims to offer many advanced trading tools that make it easy for investors to make profitable investments. But the site has not been upfront when it comes to information.
The identities of the team behind it are not known, and social media hardly discuss it. Therefore, use this platform only if it meets your trading requirements.


Cryptocurrencies are unregulated. Trading with unregulated brokers will not qualify for investor protection.
FAQs
What is Immediate Future?
Is Immediate Future legal and transparent?
Is Immediate Future Available in all countries?