Immediate Granimator is among the many trading platforms that claim to provide high-end support to traders, marketing itself as a powerful tool for building "your trading knowledge with detailed resources and tools". In this review, we will examine all the claims made by the Immediate Granimator website to evaluate the platform's legitimacy and decide whether it is worthwhile.
Immediate Granimator Summary
Here is a quick rundown of all the highlights of Immediate Granimator's features:
| | |
| --- | --- |
| Type of Platform | Advanced cryptocurrency trading |
| Minimum Deposit | $250 |
| Claimed Success Rate | Not Specified |
| Supported Cryptocurrencies | Bitcoin, Ethereum, Dogecoin, etc. |
| Mobile App | No mobile app is available, but the website can be accessed using mobile phones |
| Withdrawal or Deposit Fees | None |
| Customer Service | Claims to offer 24/7 support |
Cryptocurrencies are unregulated. Trading with unregulated brokers will not qualify for investor protection.
What is Immediate Granimator?
Immediate Granimator claims to be an advanced cryptocurrency trading platform that combines the features of intuitive trading and an educational platform in one.
Its website claims that Immediate Granimator offers all the tools and resources that beginner-level traders may need when entering the cryptocurrency market in their initial days, with an algorithm to find the ideal market conditions and execute trades on behalf of its users to maximize their profits.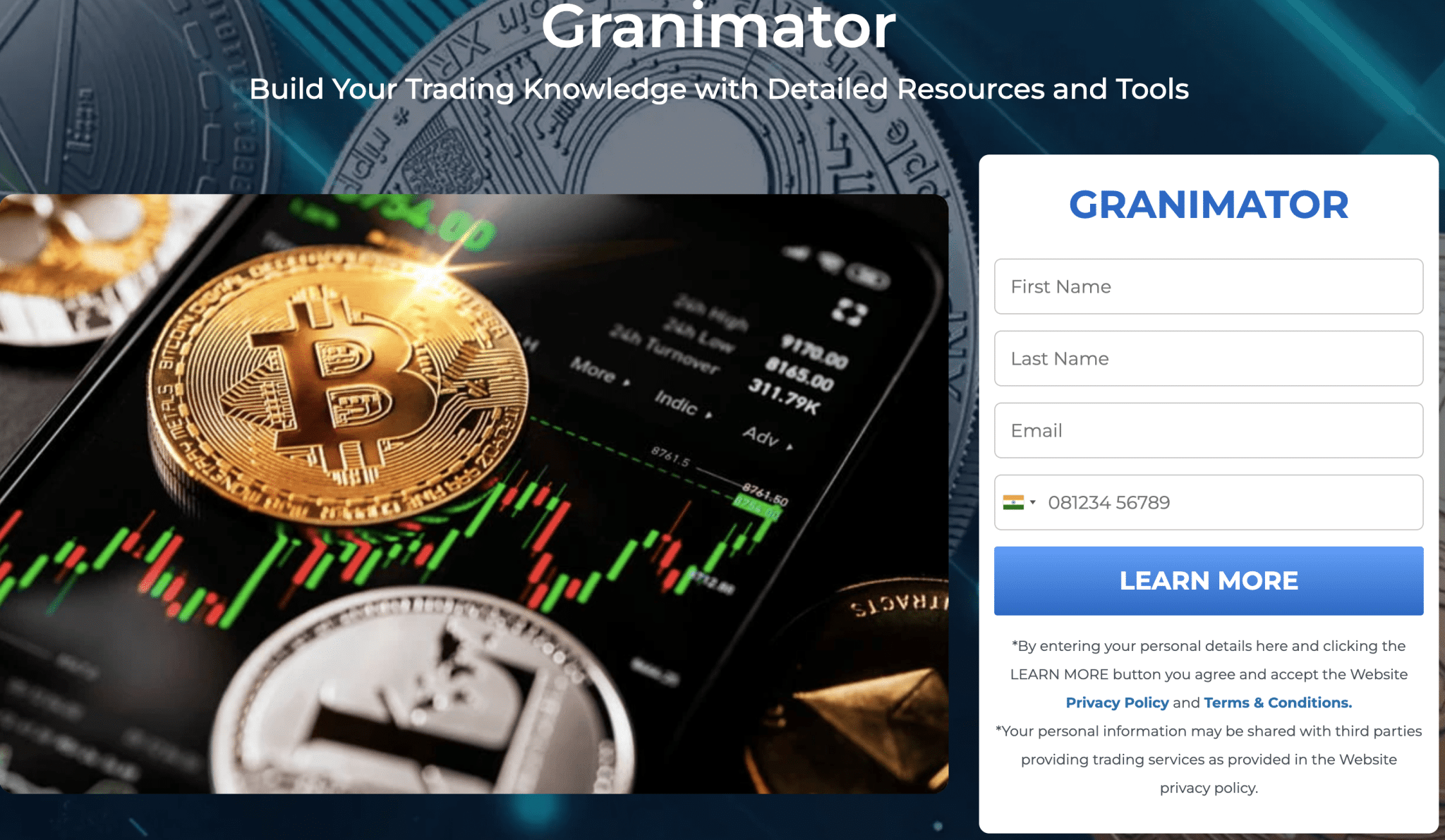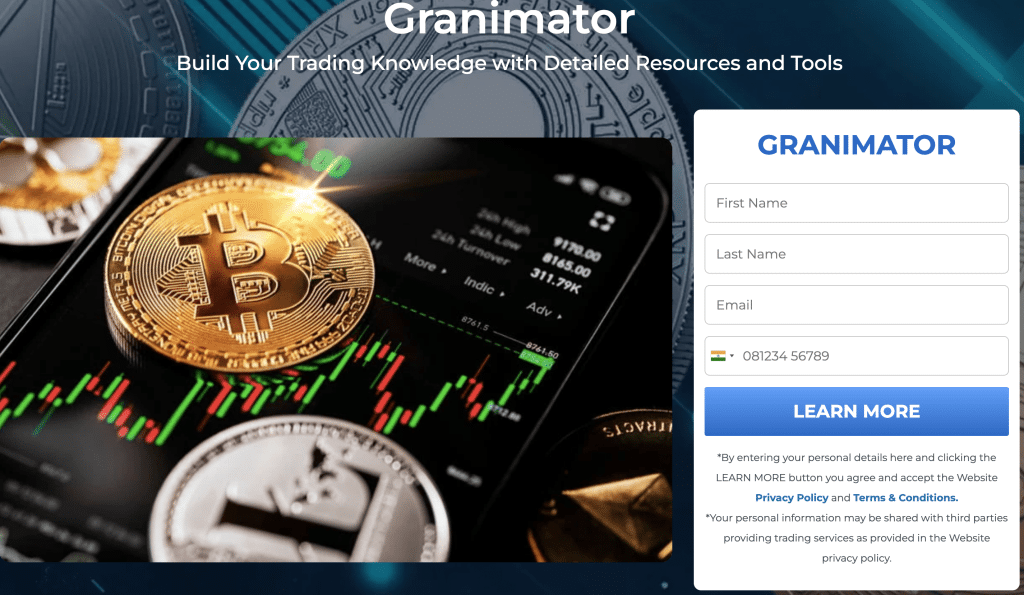 Users can only access the tools and informative resources, however, once they sign up and begin trading on the platform. The Immediate Granimator website also asserts that it ensures a high level of security with SSL-backed certification to keep the private information of users safe against attacks.
Users have access to a variety of cryptocurrencies on the Immediate Granimator trading platform, and there are no fees or commissions required to get started. However, the platform stipulates a minimum deposit of $250 to begin trading.
Immediate Granimator also claims to offer multiple charts and trading signals to ensure insightful and profitable trading for its users. Through these features, it claims, it is completely altering the landscape of cryptocurrency trading since users need not be stationed in front of their computers 24/7 to keep an eye on the market.
The trading program asserts to work for you and execute deals on your behalf even when you are not physically present to oversee the trades. However, the Immediate Granimator website gives no information on the potential success rates of these trades.
Who Created Immediate Granimator?
The official website talks about a team of passionate crypto traders who came together to create the Immediate Granimator platform, though there is no further insight into who they are and what their expertise is. The website goes on to describe that Immediate Granimator's founders wanted to develop a comprehensive knowledge base through the platform to help new traders learn about digital currencies and the crypto market.
Although having anonymous founders is widespread in the cryptocurrency trading industry, investors must consider the risks of using such platforms themselves before deciding.
Immediate Granimator Pros and Cons
Immediate Granimator reportedly makes available several services that are comparable to similar intuitive trading platforms. However, there are also a few shortcomings that may lead investors to try out alternative platforms instead.
For your convenience, we have summarized a quick rundown of Immediate Granimator's pros and cons in the following section.
Pros
Claims to combine the features of an intuitive trading platform and an educational resource for newbies.
Demo trading account is available for registered users.
Claims to provide 24/7 customer support through the website.
Claims to support a few of the leading cryptocurrencies.
Claims to offer charts and trading signals to help traders analyze market conditions better.
Intuitive trading platform claims to execute trades on behalf of users to maximize their profits even when they are away.
Cons
The website does not specify the success rate of the platform.
No historical data is available on the website or on other forums to prove the platform's performance.
The minimum deposit of $250 for traders to get started is on the higher end.
There is not much information about the creators of the platform.
The number of cryptocurrencies supported on the platform is limited.
How Does Immediate Granimator Work?
Immediate Granimator appears to operate in the same manner as other cryptocurrency trading sites specializing in the same market. Before initiating trades on the user's behalf, the built-in tool searches the market for the greatest chances. However, data from the official platform reveals that the platform operates more manually than automatically.
Another assertion made on the website is that Immediate Granimator offers multiple charts and signals in addition to its user-friendly trading platform. These enable traders to examine shifting pricing trends. With Immediate Granimator, traders can seemingly obtain all recent crypto-related news in one location rather than searching through several sources to see how it might affect the market.
In this manner, they never run the risk of passing up a potentially profitable chance.
Immediate Granimator asserts that it was created with the goal of demonstrating to novice traders that learning about cryptocurrency doesn't require a time-consuming process and can be learned on a single platform. Immediate Granimator claims that traders can use its platform to potentially watch their skills develop, from learning about the market and being familiar with the various charts and tools to placing their first trade.
In the same way, it gives seasoned traders a quicker approach to understanding the market and, ideally, making wiser trading selections. For this, the website states, it provides a huge library of educational resources so that new traders can expand their knowledge and understand the crypto industry.
Which Devices Can be Used to Access Immediate Granimator?
We discovered that Immediate Granimator is usable on all standard devices. All the icons and words in the text will be accessible to you whether you are using a desktop computer, a laptop, a smartphone, an Android device, or an iOS device.
Immediate Granimator Supported Countries
The Immediate Granimator website has a "Terms of Use" page on its website but does not mention in clear words which countries the platform can or cannot be used in. Since there are no KYC requirements for the sign-up procedure, we assume that anyone anywhere may be able to use it. Our review group was able to gain unrestricted access to the website.
Immediate Granimator Key Features
Immediate Granimator claims to be an advanced crypto trading platform with market-leading features that make it stand out from its competitors. To list all the significant and noteworthy features that the platform claims to have, follow the section below:
Educational Resources Available
Immediate Granimator claims to be a one-stop destination for all information sources that one needs to start trading in cryptocurrencies, including trading charts, recent analytics, crypto updates, social media data, and so on. However, we couldn't verify these claims.
No Hidden Fees
According to our research, there is no cost to begin trading on the platform. Nothing specific about the deposit, withdrawal, or transaction charge is mentioned on the official website. Immediate Granimator also probably doesn't take a percentage of profits like many cryptocurrency trading platforms in the same market do.
Improved Security
Immediate Granimator claims to take user security seriously and has put in place strong security measures to guard against unwanted access to user payments and personal data.
Instant Transactions
Immediate Granimator users supposedly have instant access to instant deposits and withdrawals from their trading accounts. Numerous payment options are accepted, including e-Wallets, bank transfers, credit, and debit cards, and both.
Supports Demo Account
Immediate Granimator offers a demo trading account to those who want to practice their trading methods before putting them to the test on live markets. However, such a function is exclusively intended for account creators. We couldn't test out this feature.
Cryptocurrencies are unregulated. Trading with unregulated brokers will not qualify for investor protection.
Multi-Crypto Support
To facilitate diverse investment portfolios for its traders, Immediate Granimator seemingly supports major cryptocurrencies, including Dogecoin, Bitcoin, and Ethereum. It is unclear currently, though, if it just supports these three assets or more.
Is Immediate Granimator a Scam?
While Immediate Granimator makes tall claims of providing users with essential crypto trading insights, analytical tools and signals, and educational resources for traders of all experience levels, these claims remain unverified. Even independent review websites barely detail these features or the platform's performance.
However, such lack of information should not be the reason to outright label Immediate Granimator as a scam. Its claims are worth noting, considering the benefits of intuitive trading. And yet, with limited information on the creators, the platform's success rate, and its definite outcomes, traders better be wary of the platform's legitimacy before putting in their real money.
We also reviewed a similarly named alternative platform, Immediate Connect.
What is the Minimum Deposit on Immediate Granimator?
The minimum deposit on Immediate Granimator to start trading is $250. Users can access features like demo trading and customer support only once they have made this deposit.
We recommend starting with a minimum deposit and ensuring the platform works as described before committing to a larger real money deposit. The platform supports trading cryptos under $1 such as XRP and DOGE.
Immediate Granimator Customer Support
The Immediate Granimator website claims to offer 24/7 customer support for users who felt overwhelmed by the platform or need some guidance using it. However, we were unable to verify whether this claim is accurate.
How to Use Immediate Granimator?
Here's a quick tutorial to get you started after you've looked at all the platform's capabilities:
Step 1: Create an Immediate Granimator Account
Visit the official Immediate Granimator website and start by entering your name, email address, and phone number in the pop up box on the homepage.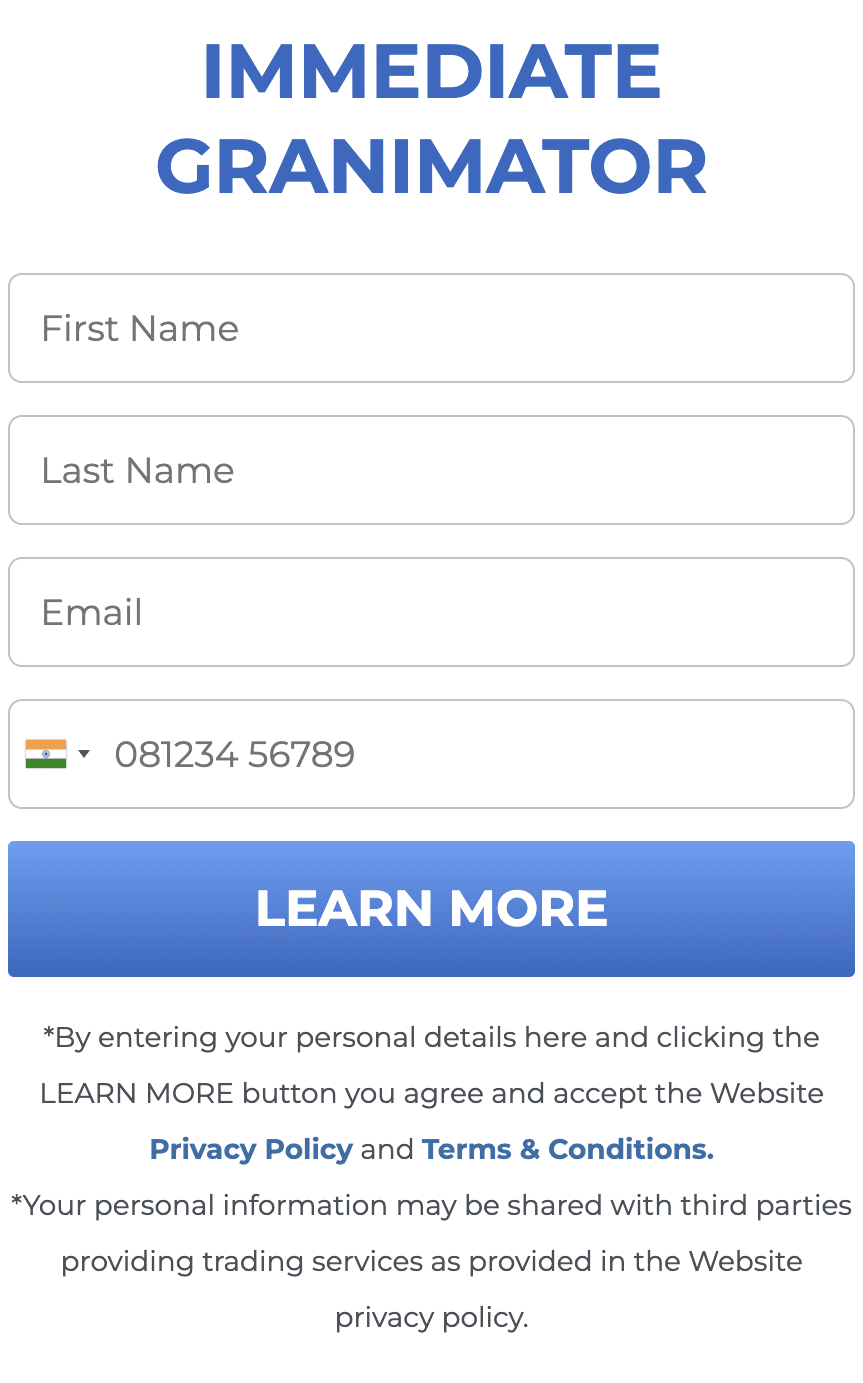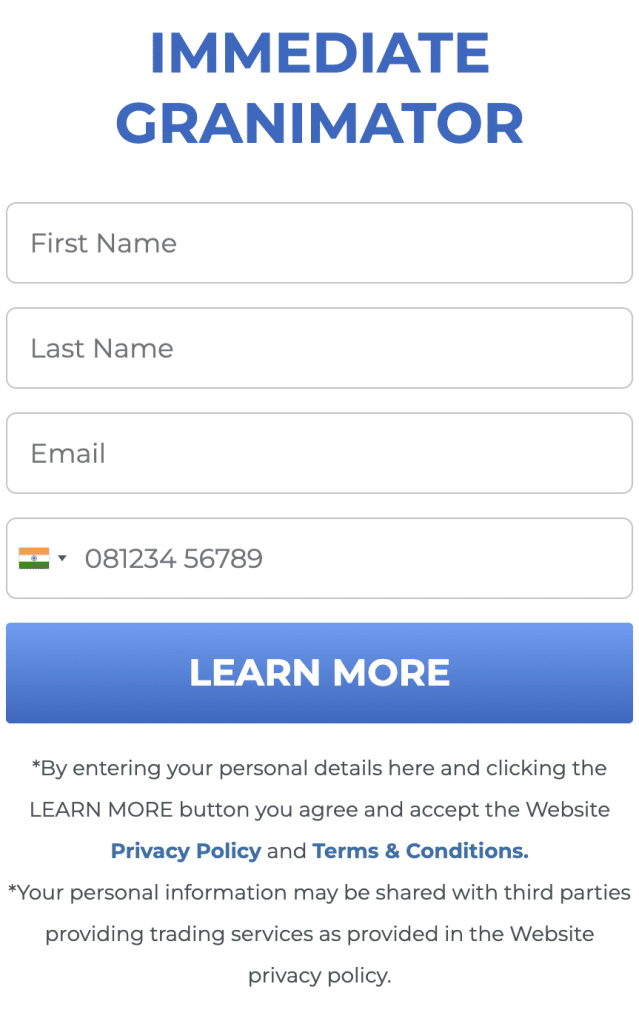 Step 2: Make a Deposit
The next step is funding your Immediate Granimator account. You can deposit $250 using any of the common fiat ways that Immediate Granimator displays.
Step 3: Begin Trading
Once the account has been paid, you may begin live trading using the platform features that expedite trade or take a more hands-on approach to utilize all the charting tools that the website claims it possesses.
Is Immediate Granimator Legit – The Verdict
By analyzing the platform's home page and assessing reviews on various third-party websites, we were able to generate this overview of the Immediate Granimator trading platform. We, however, found that the platform's claims of compiling all relevant information on crypto trading and offering intuitive trading tools in one place to assist traders could not be tested.
Since the creators are unknown and the platform's online reviews are not that promising, alternative trading bots that offer more legitimacy may be a better option. Additionally, there isn't much information on the website, so we cannot be positive if it is legitimate or a scam.

Cryptocurrencies are unregulated. Trading with unregulated brokers will not qualify for investor protection.
FAQs
What is Immediate Granimator?
Is Immediate Granimator Legit?
Does Immediate Granimator Have a Minimum Deposit?
Does Immediate Granimator Support ETH?
Is Immediate Granimator Accurate?