Immediate Iplex claims to be a new cryptocurrency trading platform that is suitable for both beginners and experienced traders.
In this Immediate Iplex review, we will see if this platform delivers what it promises to do – is it safe to use and can it really help traders improve their results?
Immediate Iplex Overview
Before we start, below is an outline of what Immediate Iplex is all about in a nutshell:
| | |
| --- | --- |
| Type of Platform | Cryptocurrency trading |
| Minimum Deposit | Not mentioned |
| Claimed Success Rate | Not mentioned |
| Supported Cryptocurrencies | Not specified, but it may cover all popular cryptocurrencies. |
| Mobile App | Not Available, but the web app is responsive |
| Withdrawal or Deposit Fees | Not mentioned |
| Customer Service | Not mentioned, but a contact form is available |
Cryptocurrencies are unregulated. Trading with unregulated brokers will not qualify for investor protection.
What is Immediate Iplex?
Immediate Iplex, also known as Immediate Iplex 2.0, states it is a cryptocurrency trading platform provides advanced tools and features that will help traders gain market insights to find profitable trading opportunities.
Unlike the majority of the crypto trading platforms or software available today, it is not promoting itself as an autonomous trading tool. This means that only manual trading is available on the platform, where users may be able to use the resources provided by Immediate Iplex and execute the trade themselves, as the website claims.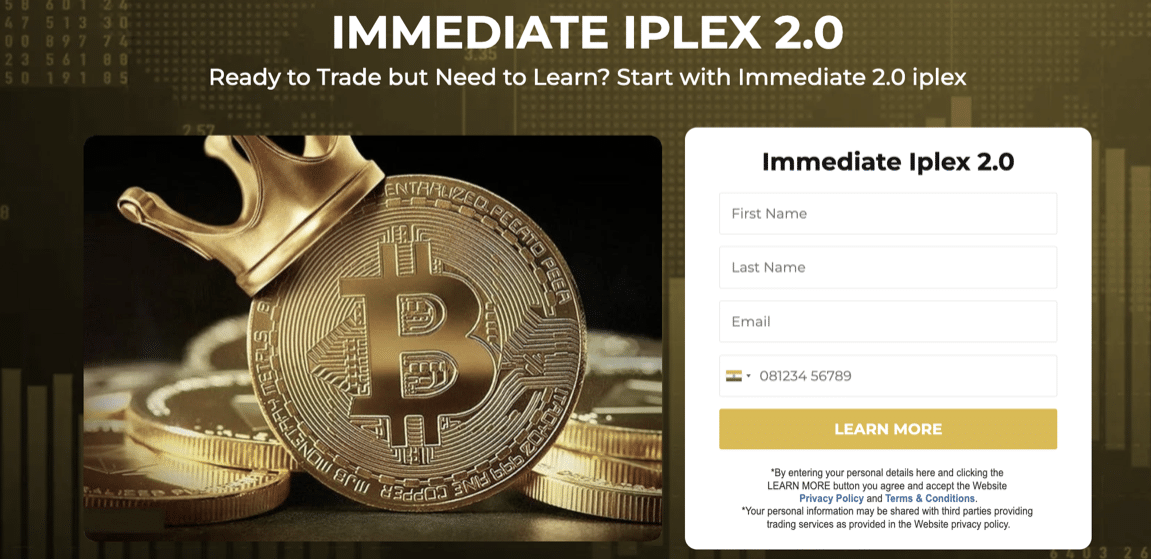 Since the platform is claiming to be a cryptocurrency trading tool, it will likely allow users to buy and sell all popular cryptocurrencies. However, after assessing its website, the platform seems to be focusing mainly on Bitcoin.
Cryptocurrency is a complex market, and it usually takes years of knowledge and experience to understand it. It can be challenging for new beginners to grasp the demands of crypto trading and deliver accordingly. Thus, Immediate Iplex claims to help both new and experienced traders in their trading journey.
By the looks of it, the platform sounds promising, but no data has been provided to support the claims it has made. So, we advise users to check and verify the platform before use.
Who Created Immediate Iplex?
Immediate Iplex is silent on information about the platform's founder or core team. So, we do not know for sure if it is founded by one person or a group of people. This anonymity is common in the crypto industry, a feature also found in some alternative platforms like Immediate Granimator.
Immediate Iplex Pros and Cons
Here are the pros and cons of Immediate Iplex:
Pros
The website has a user-friendly interface
According to claims, the trading platform can be used 24/7
Platform claims to be compatible across devices
Platform claims to be suitable for beginner and expert traders
The registration process seems simple
Cons
Mandatory deposit
No information on the tools and features provided
No information regarding the platform's founders
No mobile application
How Does Immediate Iplex Work?
Immediate Iplex has a simple registration process, post which users would be asked to make a minimum deposit to get access to the live trading platform.
Its website is full of information on how the platform will help traders understand the market better and thus give them an edge over the traditional trading style. However, it is not clearly outlined how exactly the platform plans to achieve this.
The mere mention of technical terms like cutting-edge tools, latest features, and innovative resources seems hollow if there is not enough data to explain the working models of these tools or the mechanism behind these proposed features.
Due to the lack of information, our best bet is that the platform is information focused and would provide users with market analysis and the latest crypto news using crypto API. These resources would be useful for traders to get quick updates on how a digital asset is performing and thus make a good trading call.
For some Immediate Iplex alternatives, check out our list of best cryptocurrencies to buy in 2023 and how to trade them.
Which Devices Can Access Immediate Iplex?
The Immediate Iplex website is designed to be web-responsive. Hence, the platform can be accessed via any device with a browser extension and the internet, such as:
Smartphones, both iOS and Andriod
Desktops and laptops
Ipads and other tablets
There is no mention of an Immediate Iplex mobile application. So, this may be inconvenient for traders who like to trade on a mobile app.
Immediate Iplex Supported Countries
It is not specifically mentioned on the website which countries support Immediate Iplex or in which countries this platform will be available for use.
But on the registration form, there is a list of 100+ countries given, so it might be possible that the platform is available for use in those locations. However, due to a lack of information, we are not 100% sure.
Another thing that we noticed is that the Immediate Iplex website is available in several other languages besides English. This indicates that perhaps the platform is also available for people in regions where those languages are spoken. We are not certain though.
What is the Success Rate of Immediate Iplex?
Immediate Iplex has not provided any information on the success rate. We believe it is a good thing because success rates are ambiguous and can be very subjective. And it is also likely that it has not provided any win rate info since it doesn't mention artificial intelligence anywhere on the website.
The success rate depends on a lot of factors such as risk appetite, market conditions, economic situation, inflation rate, etc. It is impossible to pull accurate statistics which can prove the actual success rate achieved by a trader from using a platform.
Immediate Iplex Key Features
Based on the information on the Immediate Iplex 2.0 website, its key USPs are:
Compatible across devices
The website of Immediate Iplex seems web-responsive. This means users can open and navigate the platform via smartphones, desktops, tablets, and laptops. This may allow users to do tradings from anywhere.
Trading resources
Cryptocurrency trading can be overwhelming for new traders. There is market analysis, price trends, and many other things to note for. This can be challenging for people with little to no trading knowledge. Immediate Iplex claims to provide educational and trading resources to help traders better understand the market.
Suitable for new and expert traders
The platform claims to be suitable for both new and expert traders. Immediate Iplex says that it provides new traders with the help required to understand the market and make trading calculations. While for expert traders, the platform projects to offer the latest tools, which can help them get access to historical data and advanced charting features.
Cryptocurrencies are unregulated. Trading with unregulated brokers will not qualify for investor protection.
Is Immediate Iplex a Scam?
The Immediate Iplex website seems similar to other cryptocurrency trading platforms. It is not offering anything unique that would make it stand out in the industry..
The registration process to start trading on this platform seems easy, and the platform claims that there is no need for any approval and that traders can start trading immediately after making the required minimum deposit.

However, there is much information not provided by the platform. And we feel that it could be construed as a red flag.
For instance, we don't know how much deposit or withdrawal fees it charges. For some traders, this is an important figure as it will depict what percentage of the earnings they can take home.
The platform also has not mentioned anything about its founders or customer support team. This might put some traders unease, as they would not know whom to contact in case they need assistance.
The platform has also failed to mention what cutting-edge tools and features it claims to have and how they exactly work. Some traders are intelligent and would very much like to know what algorithm or AI tools a platform is using to provide market insights and data.
Thus, we advise that traders do thorough research before deciding to use this platform for their trading needs.
You can assess some of the other platforms of similar nature we have covered in our trading robot reviews.
What is the Minimum Deposit on Immediate Iplex?
Our review team went through the whole website but could not find the minimum deposit detail on Immediate Iplex.
But because Immediate Iplex seems similar to other info-focused platforms like Bitcoin News Trader, we believe that the minimum deposit should be similar to.
Immediate Iplex Customer Support
Immediate Iplex has not provided any information on customer support. Usually, this detail is available for registered users only, so we believe this should be true on this platform too.
We are also not sure whether or not any live trading assistance will be provided to traders on Immediate Iplex, as most platforms do. There is, however, a contact us section available on the website. It works like a form where users can put their queries and ask for any assistance.
How to Use Immediate Iplex?
Immediate Iplex gives a little information on the website regarding how one should start trading on this platform. However, the registration process in the majority of these crypto trading platforms is more or less the same. The standard registration procedure is as follows:
Step 1 – Visit the website
The first thing is to visit the official Immediate Iplex website. Please be aware of any third-party sites and only go to the official website.
Step 2 – Fill up the Registration Form
Once you are there, look for the registration form. To sign up to Immediate Iplex, you need to provide a few details such as name, email, and phone number.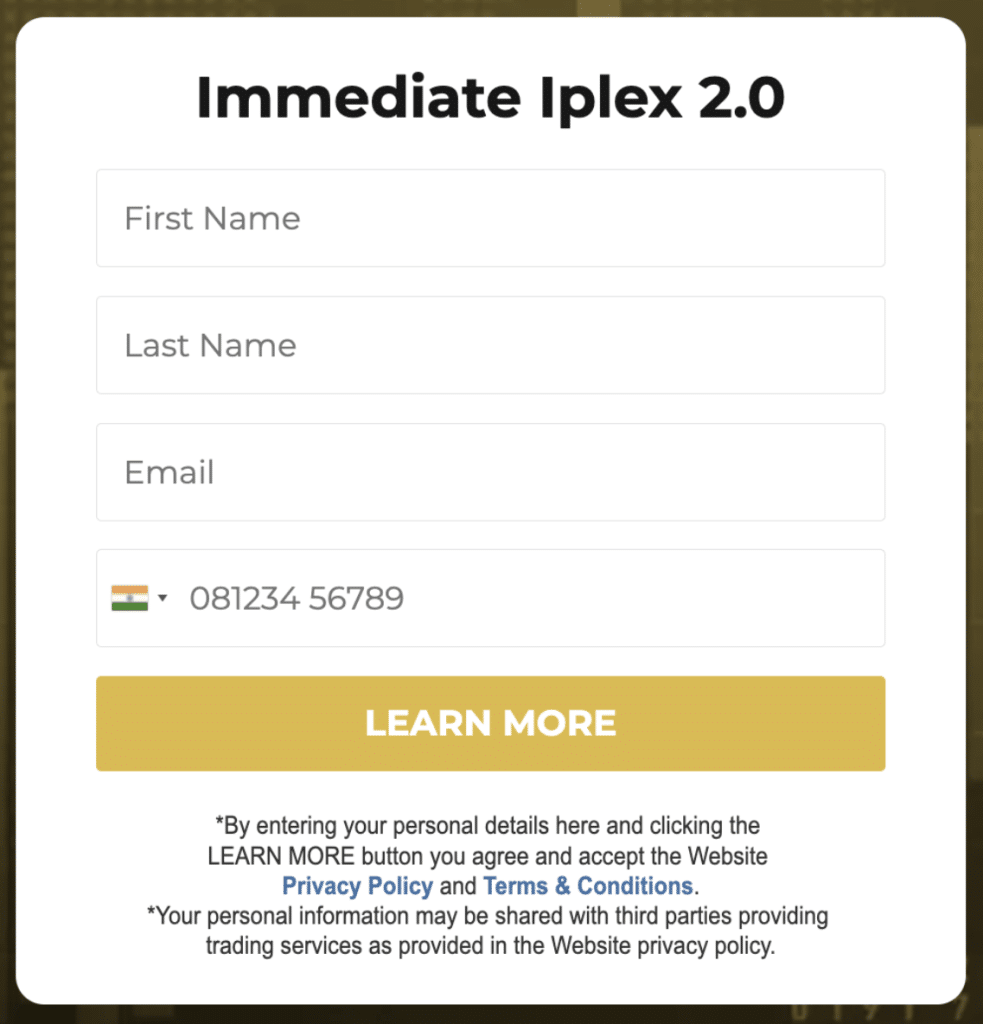 Step 3 – Make the minimum deposit
Immediate Iplex claims that after the registration, there is no approval needed. But there is a minimum deposit required before one can start trading. Ask the customer support team about the minimum deposit requirement.
Step 4 – Start Trading
After the deposit has been made, a user can start live trading on the Immeditae Iplex. The platform claims to provide tools and charts to make trading easy for beginners.
Is Immediate Iplex Legit – The Verdict
Immediate Iplex claims to have a vast range of features and tools which is available to users who have registered with the platform. These tools and features will supposedly help provide better market insights and streamline the trading process to benefit traders.
However, the platform has failed to provide any other details on these tools and features. In such a scenario, it is tricky to tell for sure whether the platform will help traders or not.
So we would advise our readers to assess the platform properly before deciding to invest their hard-earned funds. Crypto trading is also risky and should be done responsibly.
Cryptocurrencies are unregulated. Trading with unregulated brokers will not qualify for investor protection.
FAQs
Is Immediate Iplex legit?