From stocks to cryptocurrencies, trading has become a preferred way of generating money for many. Immediate Matrix, an emerging platform, claims to be one of the best options that traders could consider for potentially lucrative returns, thanks to its wide suite of features.
However, the platform's legitimacy may be a mystery to many of those who have only recently heard of it. To help with this, we shall review Immediate Matrix thoroughly and assess each element of the platform to get an idea about its authenticity as a trading platform.
Immediate Matrix Overview
This overview of the project will help you get a general idea of the platform.
| | |
| --- | --- |
| Type of Platform | Commodities, Forex, stocks, and cryptocurrencies |
| Minimum Deposit | Not Stated |
| Claimed Success Rate | Not Stated |
| Supported Cryptocurrencies | Bitcoin, Ethereum, Cardano, and other altcoins |
| Mobile App | No |
| Withdrawal or Deposit Fees | None |
| Customer Service | Available for Users |
Cryptocurrencies are unregulated. Trading with unregulated brokers will not qualify for investor protection.
What is Immediate Matrix?
Claiming to be an intuitive and streamlined Bitcoin trading and management platform, Immediate Matrix positions itself as a premier destination for both new and seasoned traders alike. It asserts to offer a user-friendly interface where traders can access a wide range of charting tools and conduct technical and fundamental analyses with greater ease.
According to the website, the trading platform can be invaluable for traders and users from various backgrounds to discover and explore new trading opportunities while gaining insights into crypto and financial markets.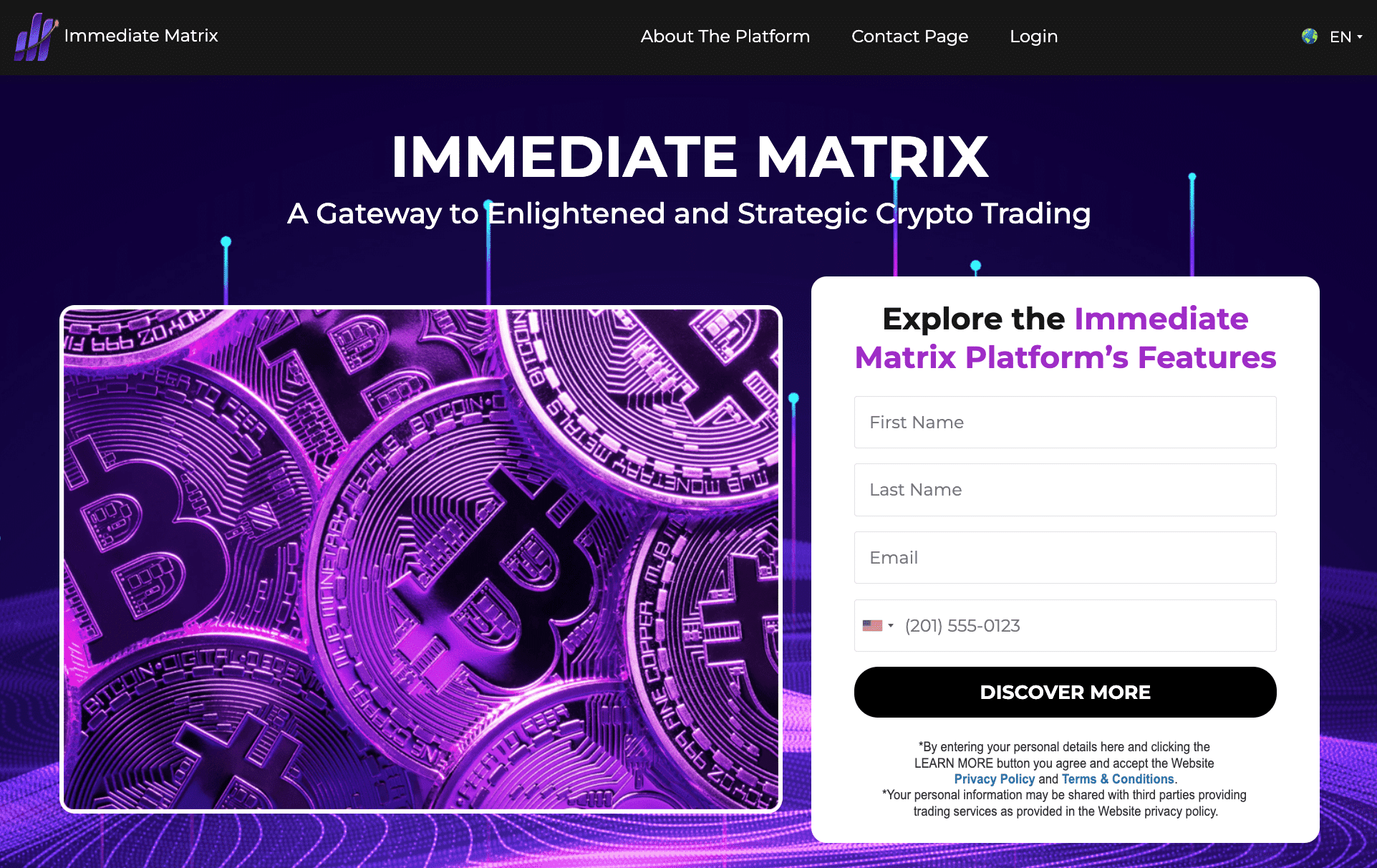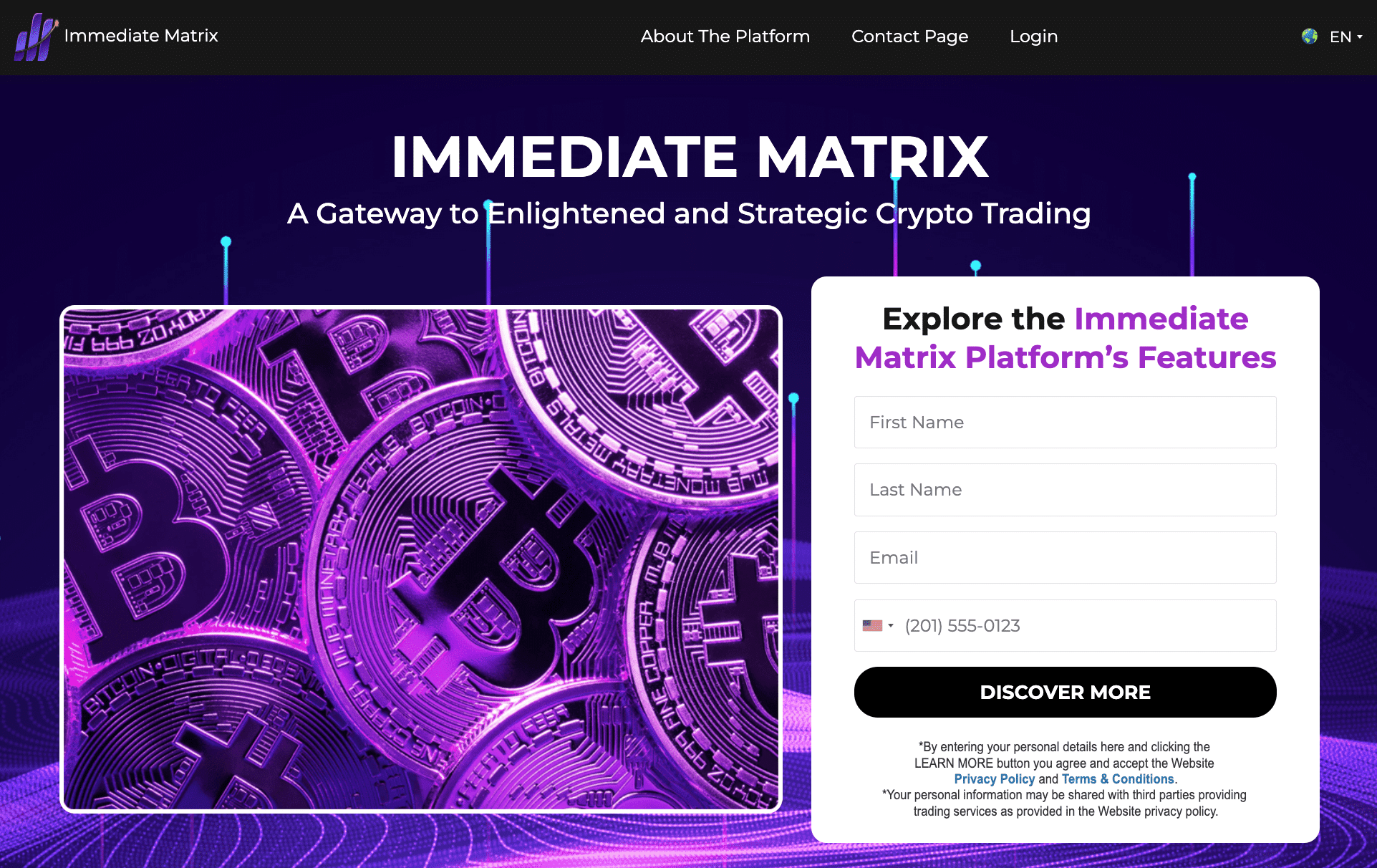 Unlike many of its recently launched counterparts, Immediate Matrix does not boast a fully automated trading system. It doesn't claim to have a sophisticated algorithmic system that executes trades on behalf of users. However, it does emphasize that with Immediate Matrix, traders can make more informed and strategic trading decisions.
Traders can use Immediate Matrix to time trades and manage exposure effectively. The platform claims to offer customizable charting options, enabling users to apply technical indicators, overlays, and drawing tools to enhance their analysis. Whether a trader prefers a detailed candlestick chart or a simplified line chart, the trading platform purportedly caters to their individual trading style, needs, and preferences.
The platform markets itself as a place for traders to easily learn and execute trades across multiple asset classes. However, the website appears to give the impression that its primary focus is on cryptocurrencies. Immediate Matrix claims to support an array of cryptocurrencies, including Bitcoin, as well as other top altcoins like Ethereum and Cardano, among others.
The website also makes various claims, from easy registration to providing a dedicated section for traders to learn and enhance their trading strategies. At first glance, the platform seems to encompass all the intriguing elements a trader would ideally seek in a crypto trading platform. However, the major factor that introduces scepticism to all these claims – whether about high success rates, features, or supported assets is that none of them appear to be backed by substantiating evidence.
Who Created Immediate Matrix?
While researching the platform, we found on several other third-party websites that the Immediate Matrix platform has been credited to a group of well-known and influential figures in the blockchain and finance space. However, we found no evidence to suggest the existence of such a group behind the project. The developers appear to have chosen to remain anonymous, a common practice within the cryptocurrency space nowadays.
Immediate Matrix Pros and Cons
Here are some of the Pros and Cons that we noticed Immediate Matrix has while reviewing the platform
Pros
Dedicated content for educating users
Claims to have a variety of trading tools
Claims to provide customer support for users
Claims to support a wide variety of cryptocurrencies
Intuitive interface and website theme
Cons
Cryptocurrencies are unregulated. Trading with unregulated brokers will not qualify for investor protection.
How Does Immediate Matrix Work?
The Immediate Matrix platform has garnered attention for its wide variety of analytical tools, which can be helpful for users in making significant trading decisions that may lead to lucrative and profitable opportunities.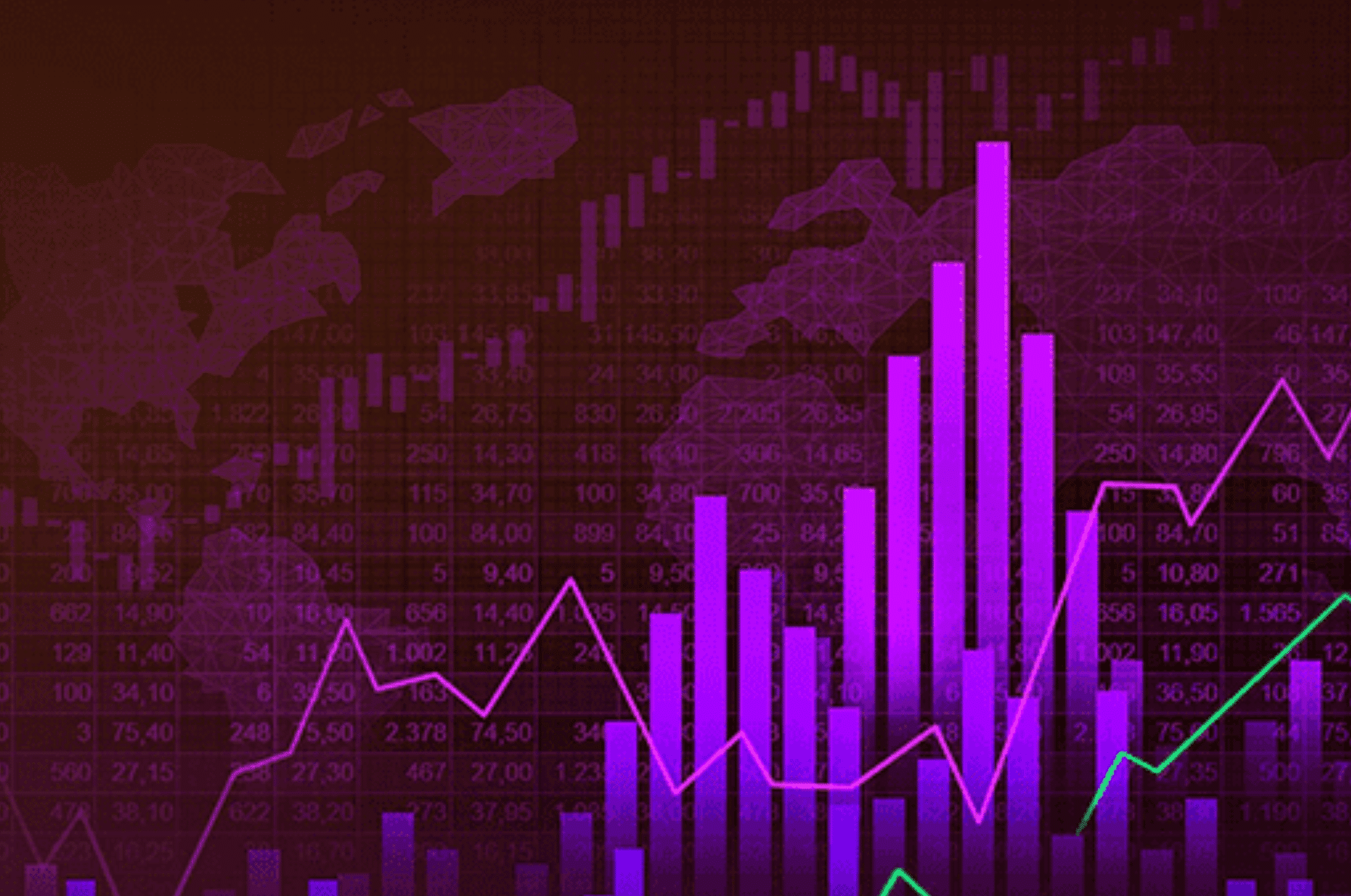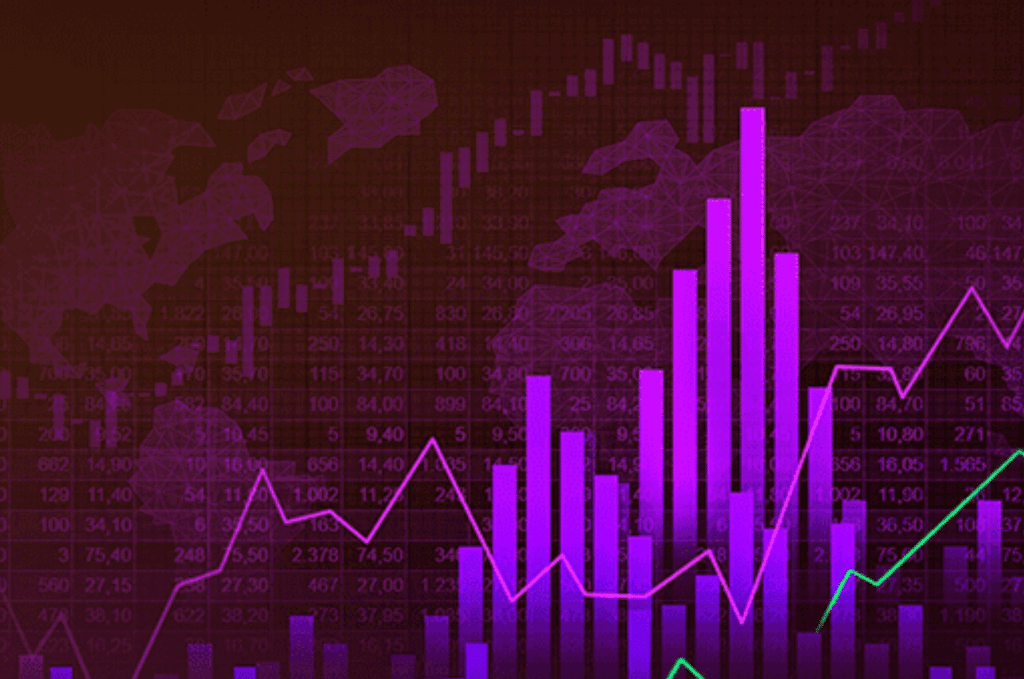 Since the project doesn't feature a trading robot or elements that automate the trading process for users, there isn't much to discuss about the operational aspect of the platform. However, we were unable to find information about the software and algorithms used to create the trading platform as well. In fact, even gaining access to the dashboard that the website mentions is only possible for those traders who register as users.
The registration process for the platform is apparently as straightforward as it gets, as there is no KYC process involved. However, the trading charts, indicators, and similar tools appear to have been developed by the platform's creators and not integrated by third-party entities. This means that users will have access to a customized and more user-friendly platform.
What Devices Can Be Used to Access Immediate Matrix?
The Immediate Matrix platform has not provided specific information about the compatible devices for accessing the platform. However, a table at the end of the website does mention that traders may use Immediate Matrix as a web-oriented platform. This implies that it may be accessible via devices such as mobiles, laptops, PCs, etc.
Immediate Matrix – Supported Countries
Immediate Matrix claims to be accessible to users in numerous countries. While the platform does not offer a specific list of the countries it serves, it openly acknowledges its inaccessibility in the United States. Consequently, we can deduce that Immediate Matrix is operational globally, with the exception of the USA.
What is the Success Rate of Immediate Matrix?
The success rate of trading platforms is typically a feature highlighted on their websites. This allows users to get an idea of how well the platform may perform and how much profit a trader can potentially make. However, we found no such statistics on the Immediate Matrix website.
Immediate Matrix Top Features
There are some features that we identified in the Immediate Matrix platform which stood out to us. Some of them include-
Market Research and Analysis
Immediate Matrix claims to conduct thorough market research and employs advanced analytical techniques to provide users with valuable insights. This information can be instrumental in making informed trading decisions, potentially leading to profitable outcomes. Users can benefit from the platform's continuous monitoring of market trends and events.
Security Measures and User Protection
Immediate Matrix reportedly prioritizes the security of user accounts and personal information. The platform employs robust encryption protocols and multi-factor authentication to safeguard user data. In addition, it claims to offer features like withdrawal limits and account activity notifications to provide an extra layer of protection.
User-Friendly Interface and Accessibility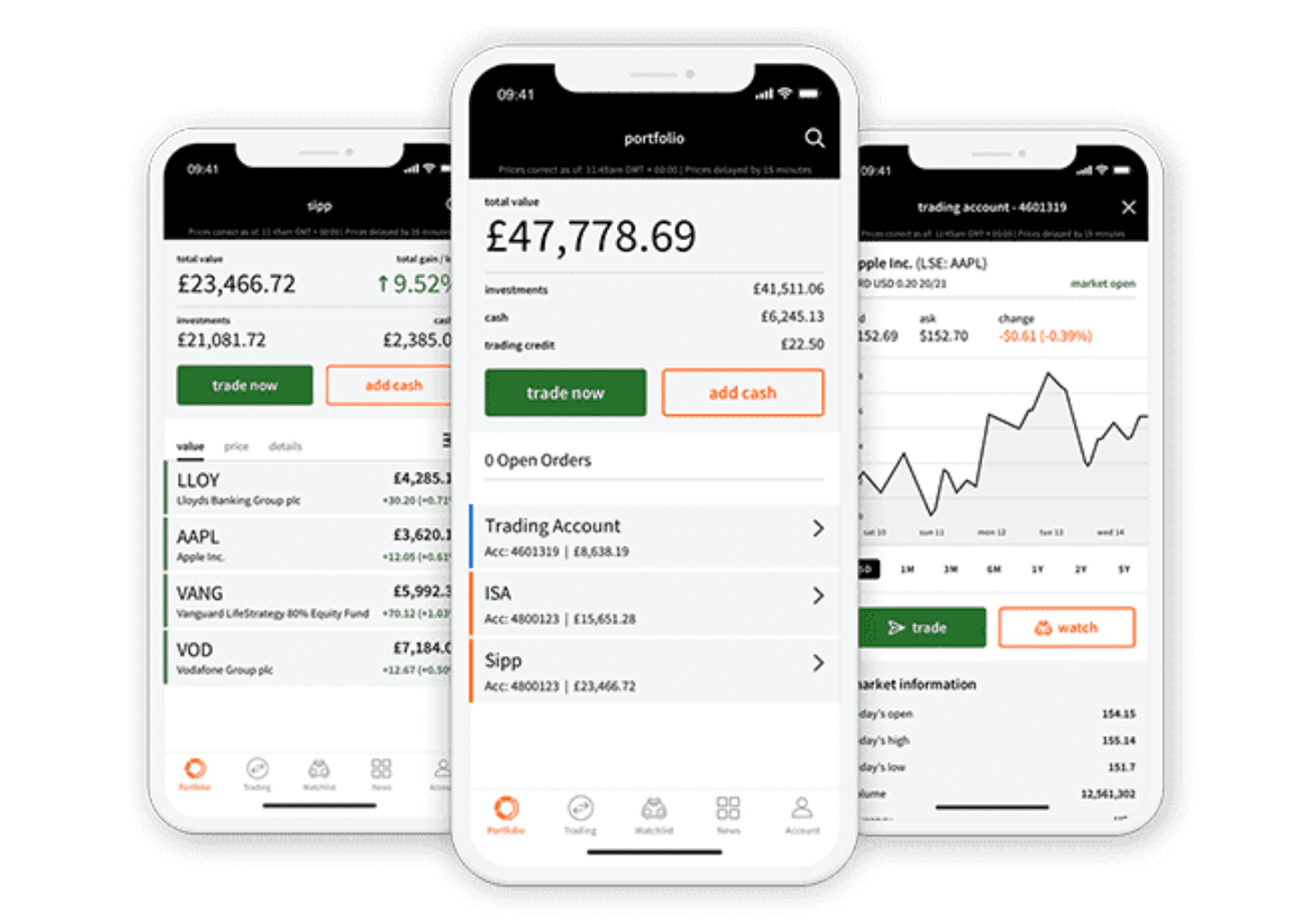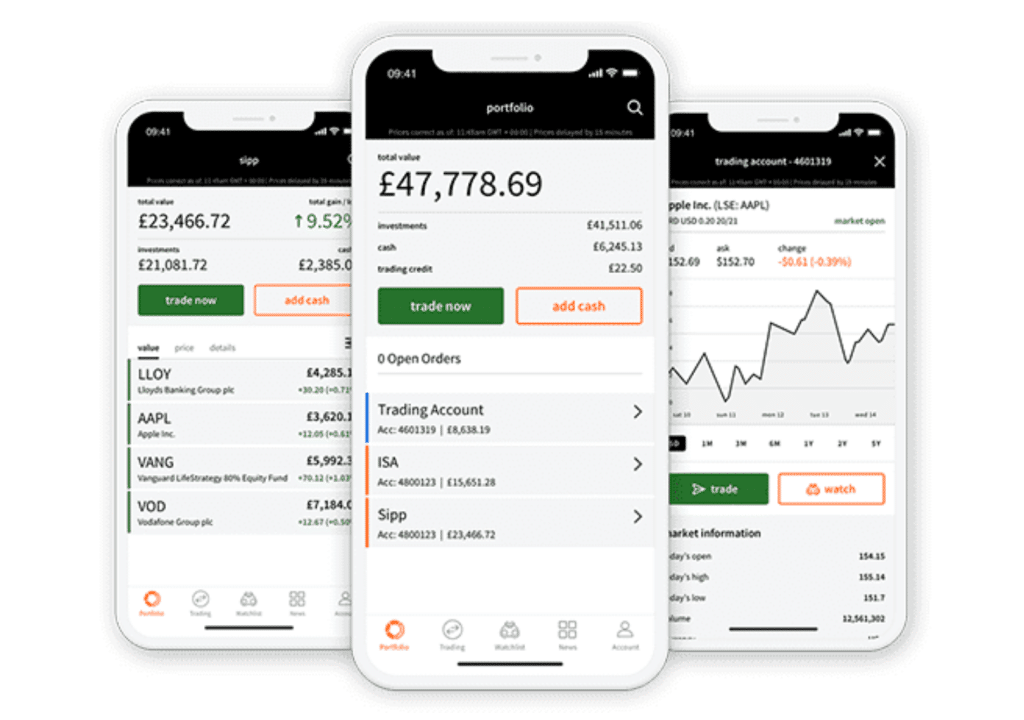 Navigating the Immediate Matrix platform is designed to be intuitive and user-friendly. Whether accessed through a desktop, laptop, or mobile device, users can easily find the tools and features they need. The platform's responsive design ensures a seamless experience across various devices.
Customer Support and Assistance
Immediate Matrix offers a dedicated customer support team to assist users with any queries or issues they may encounter. Whether through live chat, email, or phone, users can expect timely and helpful responses. The platform aims to provide a reliable support system to enhance the user experience. This, however, is a feature only available to registered users of the platform.
Cryptocurrencies are unregulated. Trading with unregulated brokers will not qualify for investor protection.
Is Immediate Matrix a Scam?
When assessing the legitimacy of Immediate Matrix, it's a bit tricky to decisively categorize it as either a questionable venture or a legitimate cryptocurrency trading platform. There's a notable concern stemming from the limited information available about the platform before you deposit funds, which is less than ideal.
Furthermore, there don't seem to be any clear-cut social media handles or other ways to get in touch with the platform before you commit to the minimum deposit and become a registered user. Despite making confident claims about its capabilities, Immediate Matrix doesn't quite provide concrete evidence to back them up. Given the shortage of substantial information for verification, forming a definite judgment about the platform proves to be a challenging task.
Considering all this, it's highly recommended that potential users proceed with caution and carefully evaluate their options before getting involved in trading activities on the Immediate Matrix platform.
What is the Minimum Deposit of Immediate Matrix?
There is no mention of a minimum deposit anywhere on the website. We realized that a deposit of a certain sum may be required to get started with trading on Immediate Matrix. However, there was no information indicating a specific amount needed to start using the platform.
How to Use Immediate Matrix?
Having read the review, if you're inclined to proceed with the platform, here's a guide on how to begin trading on Immediate Matrix:
Step 1 – Visit the Immediate Matrix Website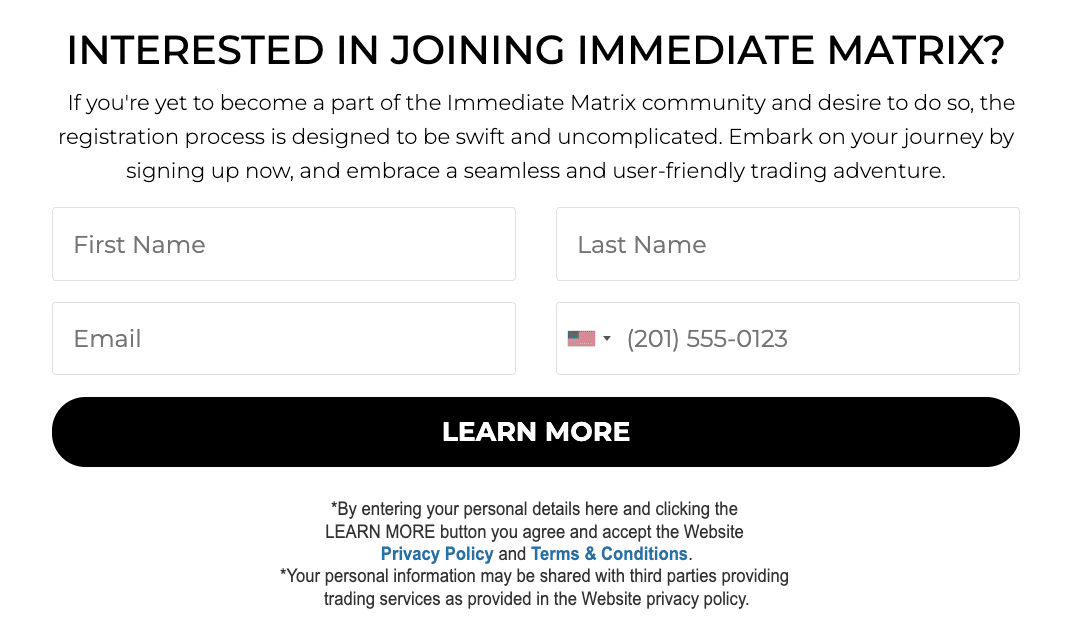 To kick things off, head over to the official Immediate Matrix website and initiate the registration process. This typically involves providing basic information like your name, email address, and phone number.
Step 2 – Make the Minimum Deposit
Once your account is set up and verified, it's time to make an initial deposit. This is a required step before gaining access to the dashboard. You can fund your account through various payment methods, including credit cards and supported e-wallets.
Step 3 – Start Trading with Immediate Matrix
With the deposit complete, you can now explore the available cryptocurrencies, make an investment, and commence trading on the platform.
Is Immediate Matrix Legit? – The Verdict
We have made every effort to gather and evaluate all accessible information regarding Immediate Matrix. While it presents itself as a promising trading platform, there's a notable absence of concrete evidence to substantiate its claims. This lack of substantial information and data makes it particularly challenging to ascertain the genuineness of Immediate Matrix.
We also noticed a lack of reviews or feedback from reputable sources about the platform. Due to all these reasons, we strongly advise each user to exercise caution and conduct thorough research before taking the step of funding an Immediate Matrix account for trading.
Cryptocurrencies are unregulated. Trading with unregulated brokers will not qualify for investor protection.
FAQs
What is the minimum deposit amount required to access Immediate Matrix?
Can a non-user get in touch with the Immediate Matrix customer support?
Where is the Immediate Matrix platform restricted?