Immediate Momentum has garnered recent attention in the market by claiming to offer an assortment of trading instruments encompassing stocks, currencies, commodities, and indices. With assertions of providing an extensive range of features and services, the platform currently presents itself as a favorable trading platform for trading enthusiasts.
In this review, we will examine these claims and verify whether the platform is, indeed, as genuine as it claims to be.
Immediate Momentum Summary
We start our Immediate Momentum review by outlining the key details that traders should be aware of regarding this trading platform.
| | |
| --- | --- |
| Type of Platform | Advanced cryptocurrency trading |
| Minimum Deposit | Not mentioned |
| Claimed Success Rate | Not Specified |
| Supported Cryptocurrencies | BTC, several Metaverse and Defi tokens |
| Mobile App | No |
| Withdrawal or Deposit Fees | None |
| Customer Service | Claims to offer 24/7 support |
Cryptocurrencies are unregulated. Trading with unregulated brokers will not qualify for investor protection.
What is Immediate Momentum?
According to its website, Immediate Momentum presents itself as a trading platform designed with user-friendliness in mind, catering to traders of all skill levels.
The platform touts an array of carefully selected tools aimed at simplifying and streamlining trading activities. These tools encompass advanced charting features, a collection of technical indicators, and a suite of market analysis utilities. It also allegedly furnishes real-time market data and news, enabling traders to stay updated with the latest market developments and trends. However, there is no strong evidence to prove that this statement may indeed be true for the traders that use the platform for their trading requirements.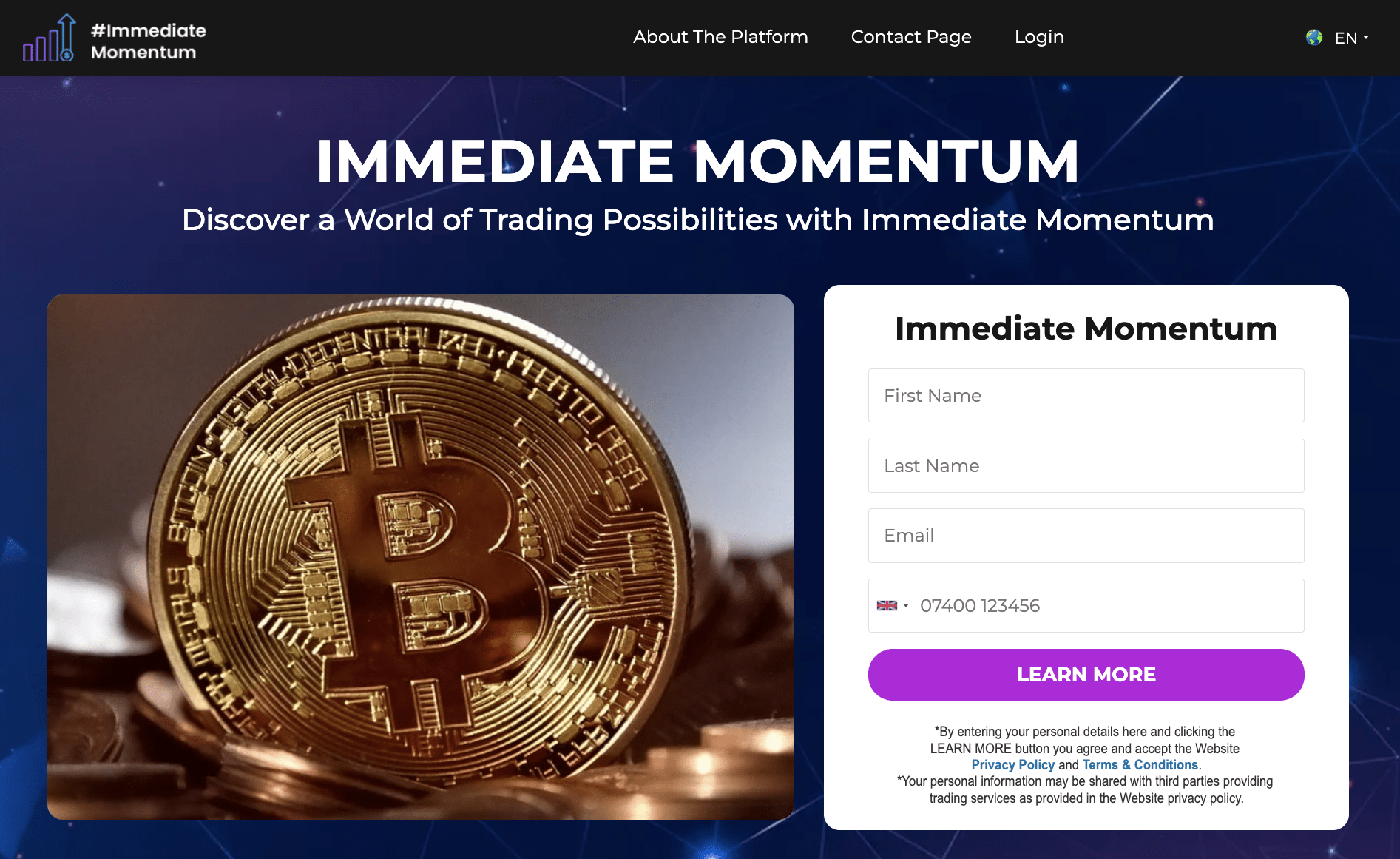 Beyond its user-friendly interface, Immediate Momentum asserts that it offers an array of trading instruments, such as stocks, currencies, commodities, and indices, coupled with a choice of trading account options tailored to different trader requirements. The platform presents a trio of account alternatives for users: a demo account, a standard account, or an advanced account, each aligned with specific trading objectives and preferences.
While the website's main focus appears to be on various categories of cryptocurrencies, such as the Metaverse and DeFi, the connection between this information and the platform's offerings remains somewhat obscure. Although the website lacks substantial valuable information, it does mention that the platform prides itself on a large selection of educational resources, encompassing trading tutorials, webinars, and market analysis reports.
Immediate Momentum emphasizes its commitment to ensuring a highly secure trading experience for users. However, there is a notable absence of specifics such as audits or comprehensive security details to substantiate this claim. On a positive note, the platform provides multiple payment options, catering to users who have a preferred mode of payment.
Who Created Immediate Momentum?
The identity of the individuals behind Immediate Momentum remains undisclosed on the website. This has led us to infer that the creators opt for anonymity, a trend increasingly observed within the industry in recent times.
Immediate Momentum Pros and Cons
Pros
Attractive website interface
Easy to navigate
Suitable for experienced and beginner traders alike
Free to use
Demo account available
Customer support available
Cons
Limited information on the platform
All service information is available only after registering
Hefty minimum deposit requirement
How Does Immediate Momentum Work?
An ideal crypto trading platform typically dedicates a dedicated section to elaborate on the array of tools it employs for its operational functions. But information related to them is absent from the Immediate Momentum website. Unlike contemporary trends, where platforms often incorporate trading robots, Immediate Momentum sets itself apart by eschewing such services. Instead, it positions itself simply as a trader's ally, emphasizing its role in equipping investors with the requisite tools to achieve successful trading outcomes.
Initiating engagement with Immediate Momentum involves the user's registration and a mandatory deposit, but information about the latter part hasn't been given by the platform.
While the website lacks explicit details regarding the cryptocurrencies available for trading, it does showcase visuals of prominent cryptocurrencies like Bitcoin, Ethereum, Litecoin, and Dash. Coupled with insights into the Metaverse and DeFi realms, this suggests a diverse spectrum of tradable cryptocurrencies may be accessible on the platform.
Given the absence of AI or automated trading features, users are encouraged to leverage indicators and supplementary tools provided by the platform to enhance their trading insights. Notably, for novices, the platform's website highlights its collection of educational resources as a pivotal asset.
Further offerings by Immediate Momentum encompass a live chat customer support service and more, which one can gain access to by solely following the user registration process and the completion of the mandatory minimum deposit.
Which Devices Can be Used to Access Immediate Momentum?
Although the official website doesn't offer explicit information, it appears from Immediate Momentum reviews online that the normal range of devices like smartphones, tablets, and laptops could be utilized to use Immediate Momentum.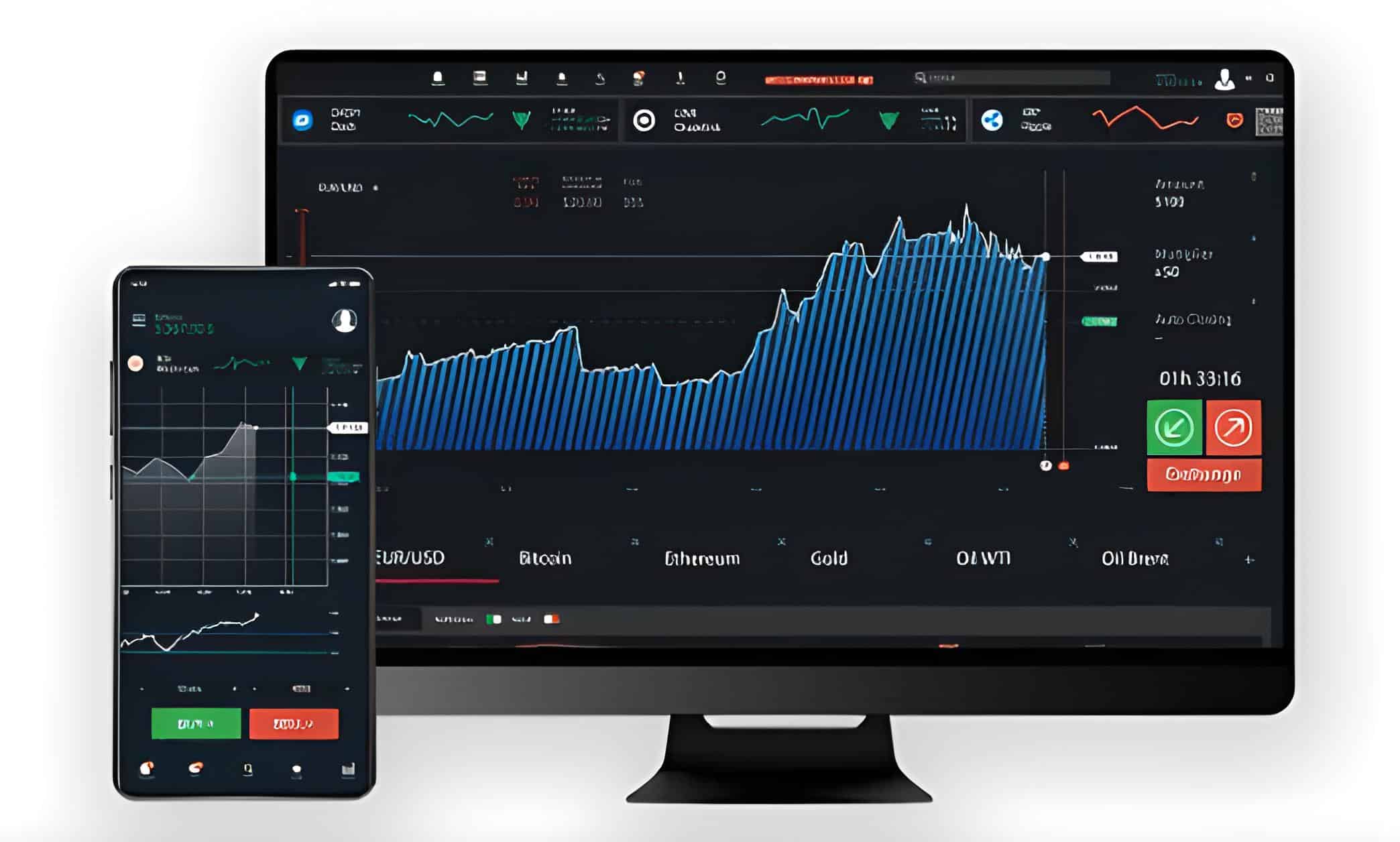 Immediate Momentum Supported Countries
Specifics about the extent of Immediate Momentum's availability across different countries remain limited.
The website does mention a restriction on access in the UK owing to regulatory constraints.
Immediate Momentum Key Features
Like any other crypto app, there are some features that the platform mentions, which if genuine could be beneficial for the users. Here are some highlighted by the website:
User-Friendly Interface
Some Immediate Momentum testimonials report a user-friendly interface, ensuring seamless navigation and accessibility, even for those new to trading.
Whether you're a seasoned trader or a beginner taking your first steps into the world of cryptocurrencies, the platform's intuitive design should enable a hassle-free experience, the website also claims.
With a focus on user ease, Immediate Momentum makes it simple for traders to swiftly explore its features and functionalities.
Advanced Trading Tools
One can allegedly gain access to an array of comprehensive market analysis tools with Immediate Momentum. You can gain access to charts, graphs, and specialized tools, all designed to provide you with profound insights into the dynamic landscape of the cryptocurrency market, the platform mentions on its website.
These resources may empower you to decipher market trends, identify patterns, and make informed decisions that align with the ever-changing market dynamics. Whether you're a technical analyst seeking intricate data or a trend observer deciphering price movements, Immediate Momentum claims to equip you with the necessary instruments.
Real-Time Market Data
One may potentially be able to stay in the loop with the latest market trends through Immediate Momentum's real-time market data feature. As per the website, its constantly updated charts and data streams offer an up-to-the-minute view of the crypto landscape. Timely information ensures that you're well-equipped to respond promptly to market shifts, potentially enhancing your ability to seize trading opportunities or adjust your strategies in sync with prevailing conditions.
Personalized Support
Immediate Momentum claims to stand out for its commitment to providing personalized support to traders. Apparently backed by a dedicated support staff, the platform ensures that you're never left in the dark.
According to Immediate Momentum, whether you're seeking clarification on a trading concept or require assistance navigating the platform's features, this personalized support ensures you have a responsive and knowledgeable ally to lean on.
Demo Trading
Immediate Momentum states it provides access to a demo trading account. This account serves as a tool for evaluating the algorithm's performance within today's market dynamics.
Seasoned traders can take advantage of the platform to adjust the algorithm's parameters and observe how these modifications impact trading results. Beginners, meanwhile, can leverage the demo account to refine and practice their nascent strategies, fostering an environment for skill enhancement and growth.
Cryptocurrencies are unregulated. Trading with unregulated brokers will not qualify for investor protection.
Is Immediate Momentum a Scam?
Our comprehensive analysis of Immediate Momentum revealed its offering of a variety of tools and services tailored to bolster users' trading advantages in the cryptocurrency realm. However, we encountered difficulties in validating Immediate Momentum's claims about its robust security protocols and the effectiveness of its tools in facilitating well-informed trading decisions. Furthermore, our investigation yielded limited insights into the operational mechanics of the platform.
In contrast to a few positive reviews, we noticed a scarcity of substantial information on Immediate Momentum's official website, with certain positive testimonials stemming from undisclosed origins. Notably, the platform's features remain undisclosed until a deposit is made.


We also observed a lack of prominent social media presence or easily accessible communication channels to reach out to the platform prior to committing the mandatory minimum. This opacity complicates the determination of the platform's legitimacy.
Despite Immediate Momentum's marketing of impressive features, it lacks concrete data or substantiation to validate its assertions. As a result, it is prudent for prospective investors to exercise caution and meticulously research before engaging in trading activities on the Immediate Momentum platform.
Immediate Momentum Minimum Deposit
To become a registered user, a minimum deposit is mandatory. This initial deposit grants full access to the platform, which might otherwise remain inaccessible. However, Immediate Momentum doesn't specify the requirements.
Immediate Momentum Customer Support
We observed that individuals who are not yet registered users have the option to submit their queries through the contact form available on the platform's website.
However, the expected response time for these inquiries remains unspecified. It is worth noting that Immediate Momentum highlights expedited customer support for registered users, offering a swift 24/7 live chat and email service.
How to Use Immediate Momentum
Utilizing Immediate Momentum involves a clear sequence of steps to initiate your trading experience. Should you opt to establish an Immediate Momentum account, the following outlines the process:
Step 1: Registration
To commence, traders can establish a new account with Immediate Momentum by visiting the platform's official website. Prior to signing up, it's essential to conduct personal research, equipping yourself with an understanding of potential risks.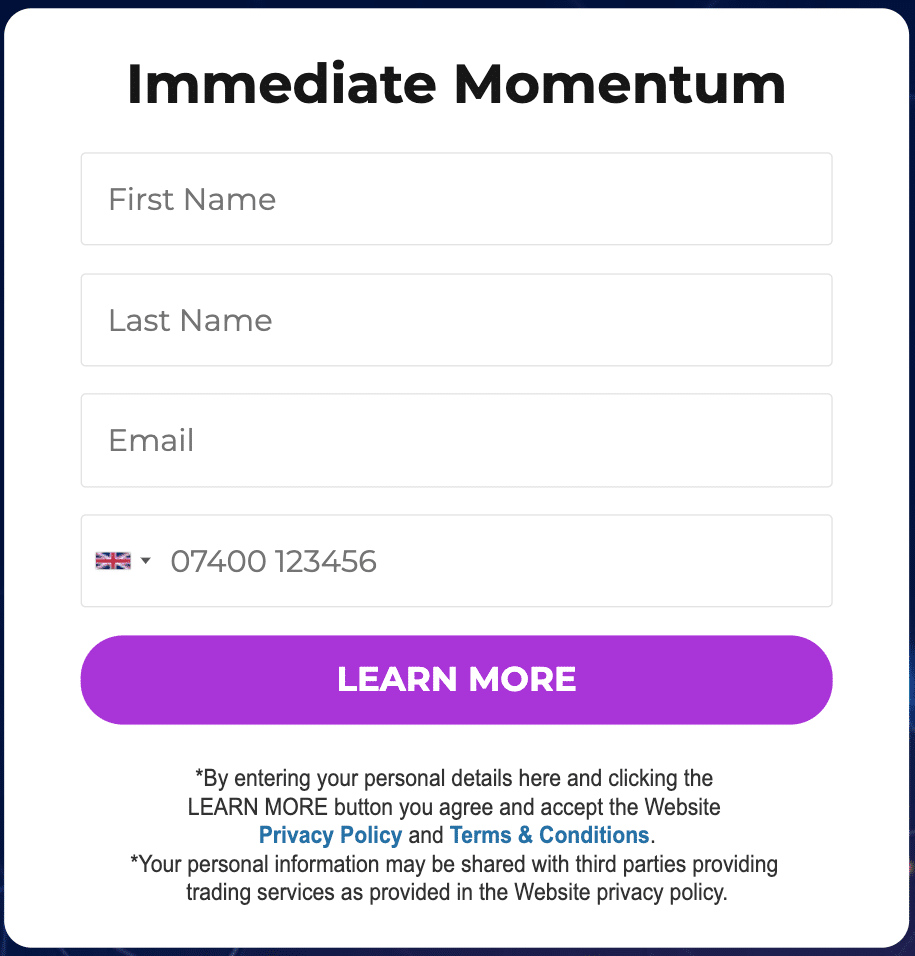 Locate the registration form positioned at the top section of the webpage and input your name, email address, physical address, and contact number. Subsequently, click on the "Register" button.
Step 2: Depositing Funds
Immediate Momentum necessitates a minimum deposit to activate a fresh account. This deposit can be conveniently made using PayPal, wire transfer, or credit card methods, without incurring any deposit fees. It's noteworthy that the deposited amount can be withdrawn at any juncture without any associated fees.
Step 3: Practice Trading
Immediate Momentum advocates starting off with paper trading facilitated through the platform's demo account feature. This permits traders to explore the intricacies of the platform, fine-tune algorithmic parameters, and evaluate Immediate Momentum's performance in a risk-free setting. This phase is instrumental in acquiring familiarity and confidence without being exposed to real financial risks.
Step 4: Live Trading
Once users are comfortable using Immediate Momentum's features, they can start trading live.
Is Immediate Momentum Legit – The Verdict
Immediate Momentum is a trading platform designed for stocks, forex, CFDs, and indices. It asserts the provision of technical tools and services that could potentially elevate the trading process, rendering it smoother and more lucrative.
However, numerous claims about the platform's features and offerings lack substantiation. Therefore, we would advise users to proceed with caution, conducting thorough individual research before considering deposits or engagement.
Cryptocurrencies are unregulated. Trading with unregulated brokers will not qualify for investor protection.
FAQs
Who owns the Immediate Momentum platform?
Is Immediate Momentum risky?
Does Immediate Momentum provide auto trading services?