This is a comprehensive review of Immediate Peak, a new cryptocurrency trading platform that aims to simplify the complex world of digital asset trading.
We will explore the platform's features, its pros and cons, and provide insights to help you make an informed decision when considering using Immediate Peak to trade crypto.
Immediate Peak Platform Overview
| | |
| --- | --- |
| Type of Platform | Commodities, Forex, Stocks, and Cryptocurrencies |
| Minimum Deposit | Not mentioned |
| Claimed Success Rate | Not mentioned |
| Supported Cryptocurrencies | Bitcoin, Ethereum, Solana and more |
| Mobile App | Not available |
| Withdrawal or Deposit Fees | No fees |
| Customer Service | Available 24/7 for users, contact Form for non-users |
Cryptocurrencies are unregulated. Trading with unregulated brokers will not qualify for investor protection.
What is Immediate Peak?
Immediate Peak, as a trading platform in the fast-paced world of cryptocurrencies, offers a distinctive approach to cater to the trading community.
With a keen focus on user experience, Immediate Peak claims to create a trading environment that meets the unique needs of traders. The platform features a user-friendly interface and an array of tools designed to provide traders with the means to navigate the complexities of cryptocurrency markets.
Immediate Peak claims to keep traders well-informed in real-time, with claims of leveraging up-to-the-minute market data. It sells the availability of advanced charting tools and comprehensive analytics to enable a comprehensive examination of market trends. These features are said to assist traders in recognizing potential patterns and, in turn, make informed trading decisions.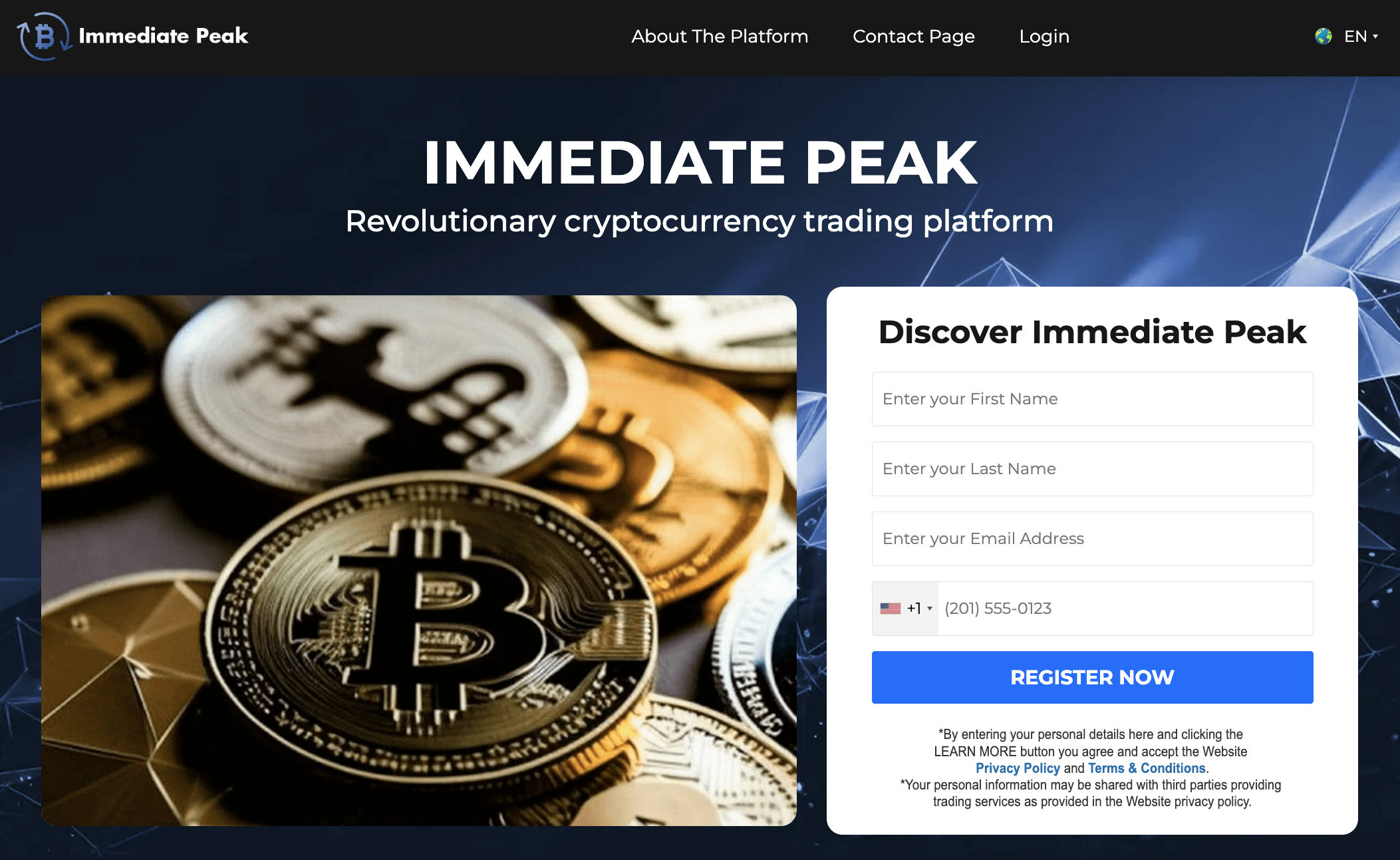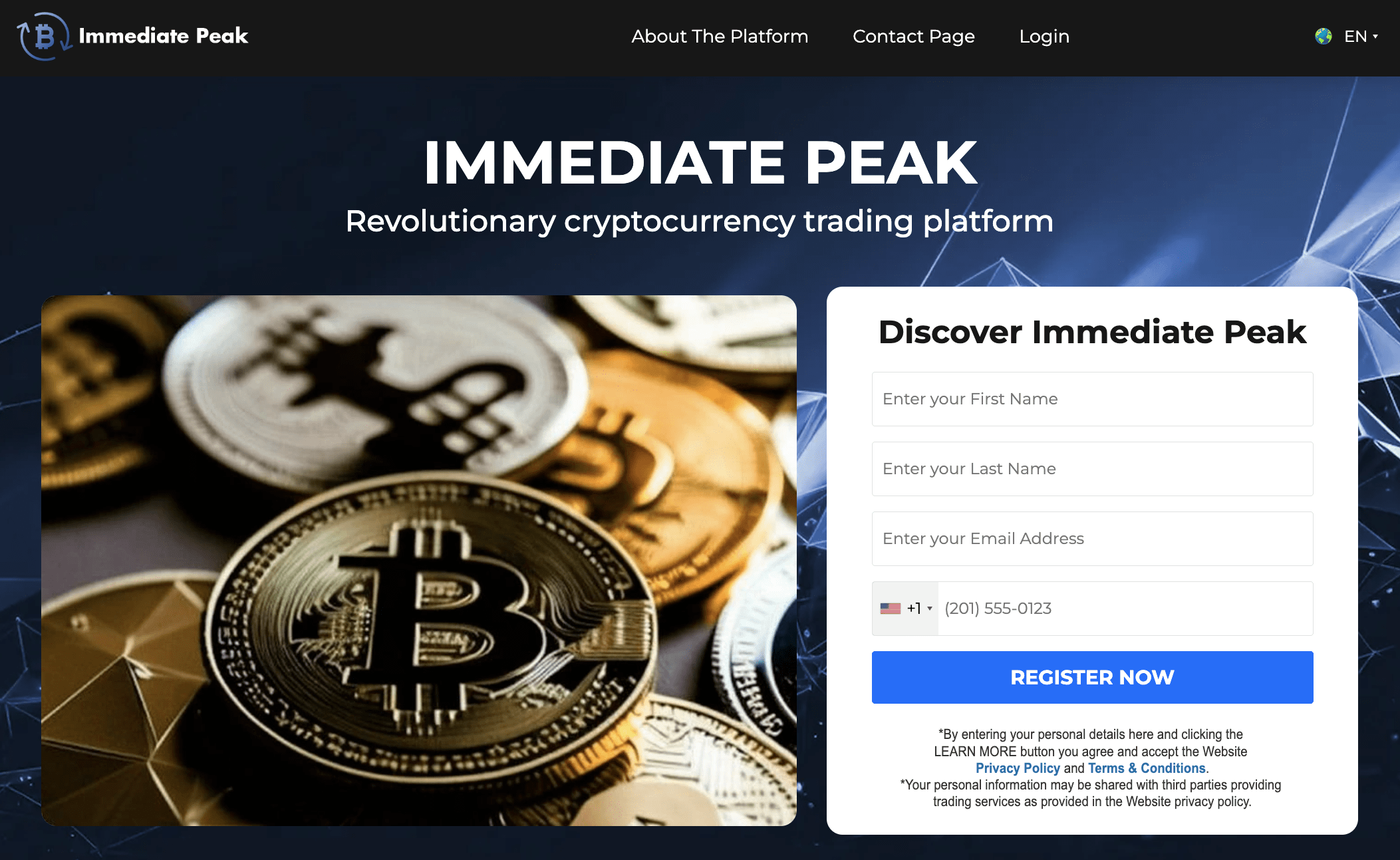 The platform acknowledges the distinct challenges of cryptocurrency trading and envisions itself as a valuable resource in helping traders overcome these challenges. As per the website, Immediate Peak's mission revolves around equipping traders with the necessary tools and resources to confidently navigate the volatile and ever-changing cryptocurrency market.
Immediate Peak also provides the option for commodities, forex, and stock trading, in addition to cryptocurrencies such as Bitcoin and Ethereum. Enabling traders to capitalize on the price fluctuations of multiple markets not limited to cryptocurrencies.
In addition to that, Immediate Peak encourages users to develop a deep understanding of cryptocurrencies and blockchain technology and claims to offer educational materials directly on its website.
While these claims may seem attractive, it's best for investors to approach the platform with caution. Since there's little to no evidence that could point out the legitimacy of the claims being made.
Who Created Immediate Peak?
Immediate Peak, like many other platforms in the crypto space, maintains a certain level of anonymity when it comes to its creators. This is a common practice within the industry. The lack of information regarding the developers or founders, including their social media presence, can leave users with questions about the platform's legitimacy. It's important to remember that while this anonymity is not uncommon, it is equally vital for investors to approach such platforms with a healthy dose of caution.
Immediate Peak Pros and Cons
Immediate Peak is a cryptocurrency trading platform that aims to provide users with a convenient and efficient trading experience. Here's a snapshot of its key features and drawbacks for potential investors to consider:
Pros
Offers a straightforward and user-friendly registration process
Claims to have quick processing of deposits and withdrawals
Demo Mode enables users to practice their trading strategies risk-free
Offers a hassle-free cryptocurrency withdrawal system
Cons
No dedicated mobile application
Lack of information about founders
Cryptocurrencies are unregulated. Trading with unregulated brokers will not qualify for investor protection.
How Does Immediate Peak Work?
Immediate Peak works much like other cryptocurrency trading platforms. When you sign up, you'll get access to tools for analyzing crypto price charts, which can help experienced traders understand market trends.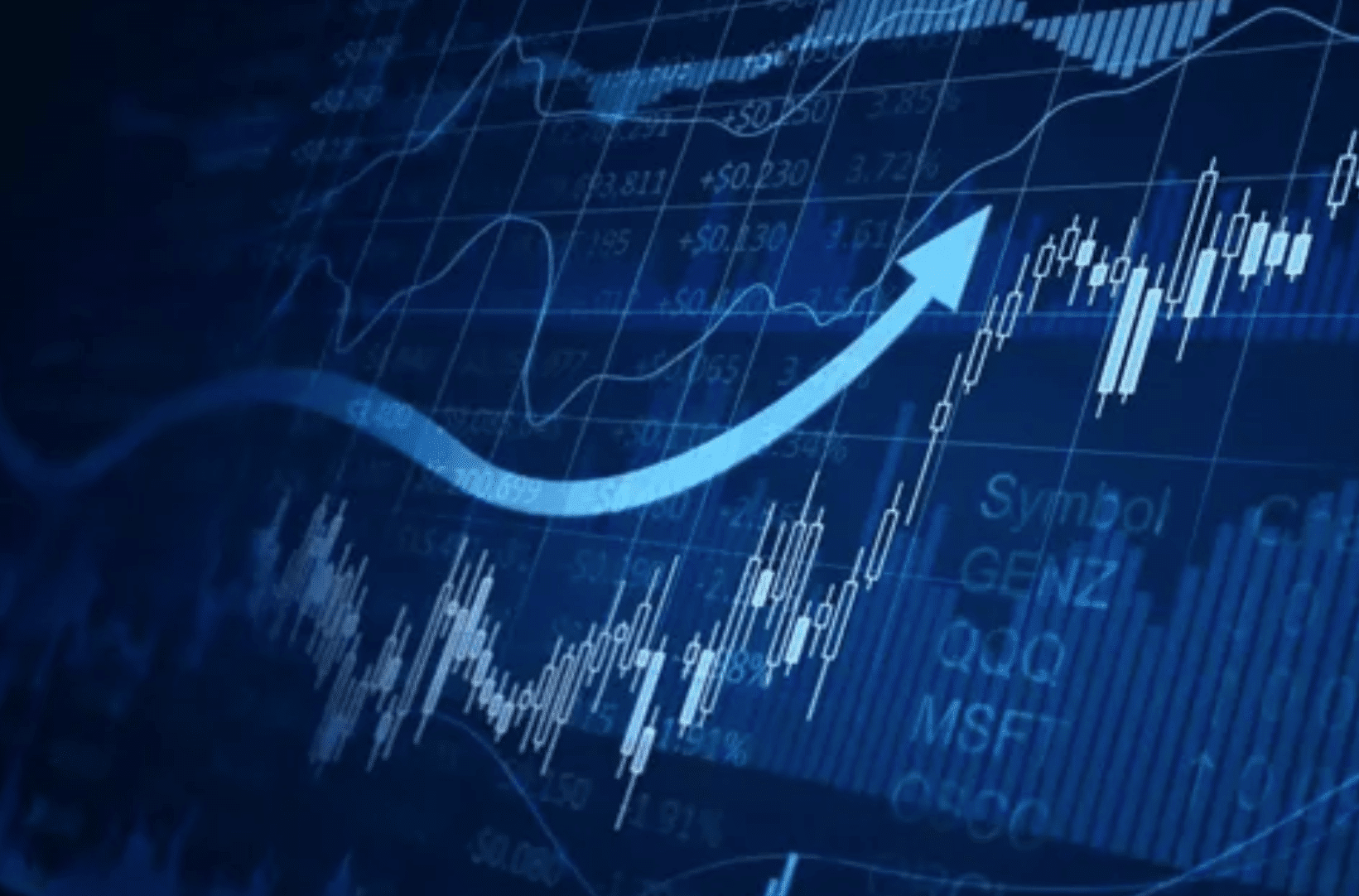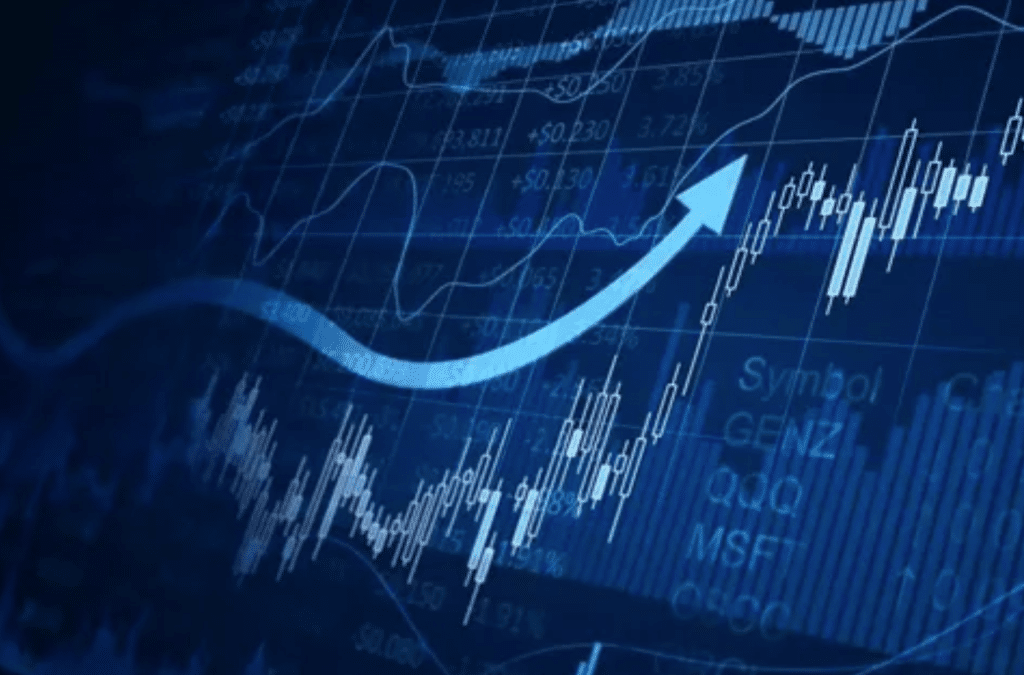 Immediate Peak uses smart technology to handle crypto trading. It gathers data from places like stock exchanges, news, social media, and economic indicators. The more data it collects, the better it becomes at spotting patterns.
With this data, Immediate Peak's technology looks for signs and patterns that can tell you when it might be a good time to buy or sell digital assets. It then sends you crypto signals to make these trades. In addition to this, the platform also claims to have a decentralized social trading community where users have the liberty to copy trades of experienced traders.
You can also try out the platform without risking real money through a demo trading feature. They also have a loyalty rewards program where users can accumulate points for trading, referrals, and participation in the platform. Immediate Peak claims to have no transaction fees, although they don't provide clear information on withdrawal and deposit fees.
While Immediate Peak doesn't have a special mobile app for trading, you can access their website on your mobile device. One thing to consider, however, is that the platform does not have live customer support, and therefore it may take time for your queries to be addressed.
Keep in mind that there aren't many customer reviews available to confirm the platform's claims. It's a good idea to do your own research before investing your money in Immediate Peak.
Cryptocurrencies are unregulated. Trading with unregulated brokers will not qualify for investor protection.
Which Devices Can Access Immediate Peak?
Immediate Peak currently does not offer a dedicated mobile application for its platform. However, prospective users can access their services through their website, which is optimized for use on both desktop and mobile devices. In our evaluation, we found that Immediate Peak's website performs effectively on various devices, ensuring a seamless user experience.
Immediate Peak Supported Countries
Immediate Peak's website does not explicitly outline the specific countries it supports. While this absence of information may leave potential users seeking more clarity, it also suggests a level of accessibility for individuals from a wide range of locations. Prospective users are encouraged to reach out to Immediate Peak's customer support or legal teams for more accurate information regarding their country's eligibility and regulatory considerations.
What is the Success Rate of Immediate Peak?
Immediate Peak does not specify a success rate on its platform. It primarily emphasizes alerting users to potential trading opportunities and offering market analysis rather than guaranteeing success rates. Success rates in cryptocurrency trading can vary widely due to market factors and individual strategies. While some similar platforms claim success rates between 80% and 99%, it's essential to approach such figures with caution, as results may differ for each user.
Immediate Peak Key Features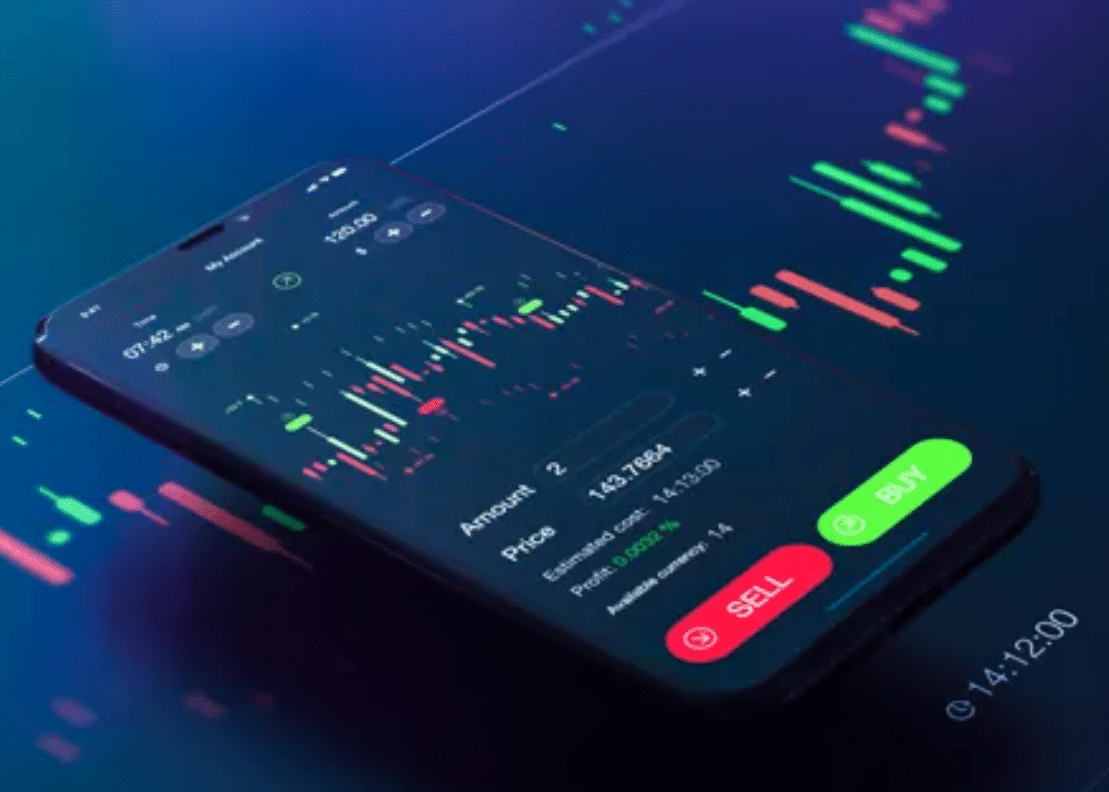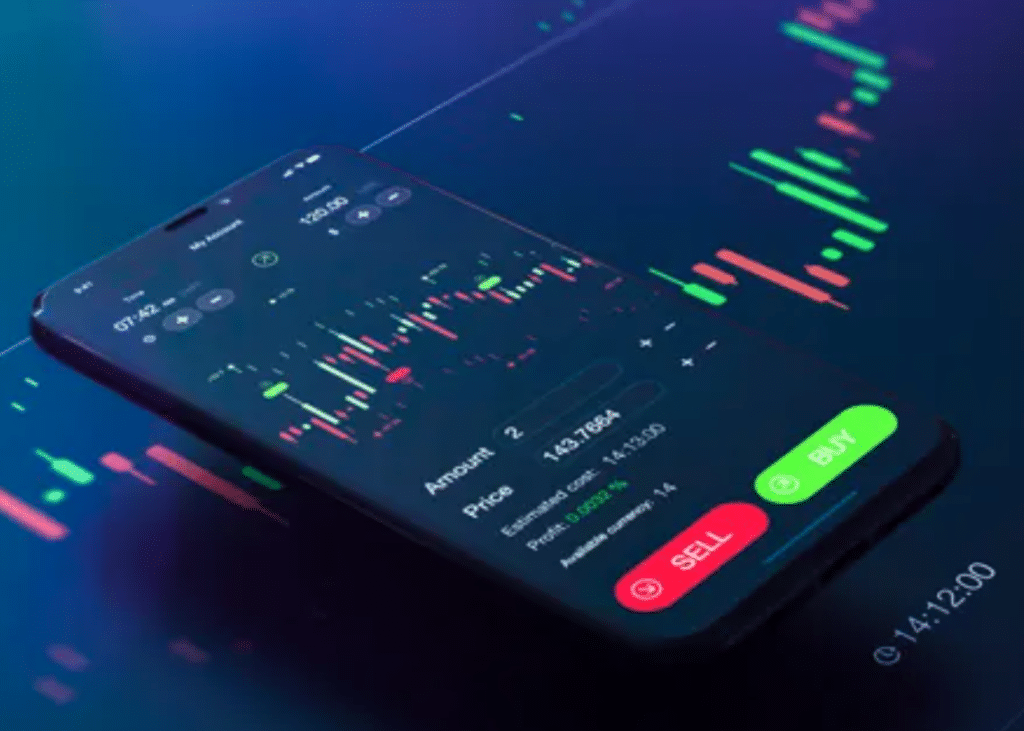 User-Friendly Interface
Immediate Peak offers an approachable platform, catering particularly to beginners. Their straightforward sign-up and funding processes are designed to help novice investors begin their trading journey with ease. Additionally, they provide educational tools to assist beginners in grasping the fundamentals of trading, ensuring a smooth and supportive onboarding experience.
Quick Withdrawals
Immediate Peak sets itself apart with its speedy withdrawal process. Users can expect their withdrawal requests to be processed quickly, typically within 24 hours. This ensures that your funds are readily accessible through your chosen payment method, enhancing the overall convenience of your trading experience.
Loyalty Program
Immediate Peak offers a comprehensive rewards program. By actively participating in trading activities, referring others to the platform, or engaging with our community, you can accumulate points. These points can be redeemed for enticing bonuses and discounts, further enriching your trading journey.
Connect with a vibrant community of traders and gain insights from the strategies of leading traders on the platform. New traders can learn from their expertise, or copy the trades of experienced traders.
Zero Transaction Fees
Immediate Peak does not charge any transaction fees. This unique feature empowers traders to execute their trades without the burden of extra costs, potentially enhancing overall profitability and making your trading activities more efficient.
Demo Account
Immediate Peak offers a demo account where users can practice trading without using real money. This feature lets you try out the platform, test different strategies, and get comfortable with trading in a safe, risk-free environment.
Is Immediate Peak a Scam?
Immediate Peak, as a platform claiming to offer an efficient solution for improving your cryptocurrency trading, warrants careful consideration by prospective users. Several aspects of the platform raise questions, and independent verification is needed to assess its credibility.
One observation we made is the limited information available on Immediate Peak's website regarding its user feedback. Customer reviews and testimonials, typically used to gauge a platform's trustworthiness, are absent too.
Another aspect that may raise concerns is the anonymity surrounding Immediate Peak's founders or developers. The absence of a visible social media presence further complicates the task of establishing the platform's credibility.
While Immediate Peak acknowledges the inherent risks associated with cryptocurrency trading and offers risk mitigation recommendations, there is a lack of credible information on how its users approach risk management.
In light of these factors, a cautious approach is advisable for those considering Immediate Peak. Depositing funds should be done with full awareness of the associated risks, and it is wise to limit investments to amounts that one can afford to lose. Further research and independent verification are essential before making any financial commitments on this platform.
What is the Minimum Deposit on Immediate Peak
Immediate Peak does not mention a specific amount for a minimum initial deposit. There are no platform reviews available either that could educate on the exact number. Other platforms offering similar services charge a minimum deposit of $250, however, the only way to know the number for Immediate Peak is to make a deposit or contact customer support.
Immediate Peak Customer Support
Immediate Peak offers a 'Contact' section for user inquiries. Response times are unspecified, and users can expect assistance through email after submitting the inquiry form.
How to Use Immediate Peak
If you decide to register an Immediate Peak account, the steps are:
Step 1 – Create Your Account
Getting started with Immediate Peak is a straightforward process. Look for the registration widget on the website's homepage.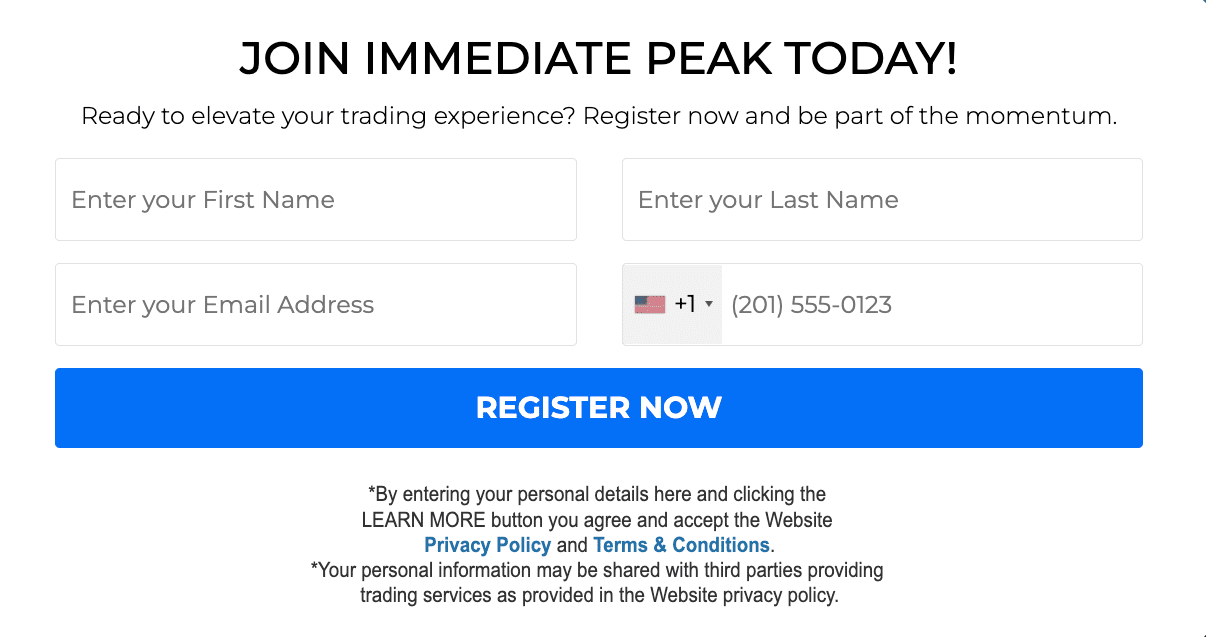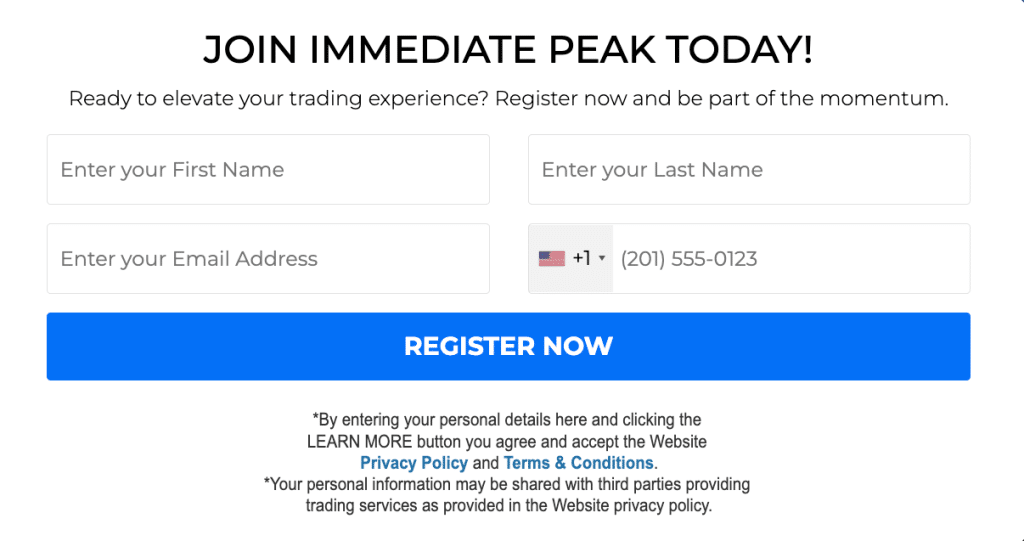 Click on it and proceed to fill in the required details.
Step 2 – Initiate Your Investment
To begin your journey with Immediate Peak, you'll need to make an initial deposit. While the platform does not provide a specific number required for a minimum deposit, the platform will likely share this number at the time of deposit.
Step 3 – Begin Trading
Immediate Peak offers a user-friendly trading experience. This means that traders of all skill levels, including novices, can engage effortlessly. By simply clicking a button, you can initiate trading, enabling you to begin your trading journey with the potential for profit, given you make use of the available resources in the right manner.
Step 4 – Explore the Demo Account
Immediate Peak offers a feature in the form of a demo account. This tool allows users to test the platform's functionality without risking real funds. It's an excellent way to get comfortable with the platform's mechanics before committing to real capital.
Is Immediate Peak Legit – The Verdict
In our evaluation of Immediate Peak, we've taken a close look at the platform's features to give you a clear picture. While the platform stands under the spotlight for its offerings, there's no way to verify the claims it makes. One thing that sets it apart is its quick data analysis, which helps users make fast decisions when trading.
However, it's worth mentioning that Immediate Peak, like many similar platforms, doesn't have a strong track record or a lot of user feedback, if any. If you're considering using it, it's a good idea to be cautious and do your homework to make sure your investments are safe and legitimate.
Cryptocurrencies are unregulated. Trading with unregulated brokers will not qualify for investor protection.
FAQs
Does Immediate Peak support Ethereum (ETH)?
Is there a separate app for Immediate Peak?
Is Immediate Peak associated with Elon Musk or companies like Tesla?