The cryptocurrency space has been filled with volatility and turbulence. However, the last few months have been positive for investors since all the top digital assets are trading upwards once again. Immediate Profit is a new crypto trading platform that claims to allow investors to enter this space.
But before users start trading with this platform, our Immediate Profit review will go through all the organization's details and features. Keep reading to learn whether Immediate Profit is a scam or a legit trading platform.
Immediate Profit Platform Overview
In the table below, we have highlighted some key details of Immediate Profit's platform. While there is no specified success rate of Immediate Profit, the organization claims to offer customer support options, quick withdrawal speeds, and access to multiple cryptos.
Keep reading to learn more about Immediate Profit.
| | |
| --- | --- |
| Type of Trading | Crypto |
| Success Rate | Not Specified |
| Cryptocurrencies Available | BTC, ADA, ETH, XRP and more |
| Available on Mobile? | No (But accessible via mobile browsers) |
| Withdrawal or Deposit Fees | None |
| Customer Support | Live Chat and Email |
| Withdrawal Speed | 24 hours |
| Minimum Deposit | $250 |
Cryptocurrencies are unregulated. Trading with unregulated brokers will not qualify for investor protection.
What is Immediate Profit?
Immediate Profit is a new trading platform that gives all its members access to buy and sell multiple cryptocurrency tokens. On Immediate Profit, one can apparently start trading top cryptos such as Bitcoin – which has been soaring in 2023.
In the past few months, Bitcoin's revival has positively influenced the other altcoins. Since the beginning of the year, BTC has jumped by over 71%. As a result, Ethereum and some of the other best altcoins are also offering growth opportunities.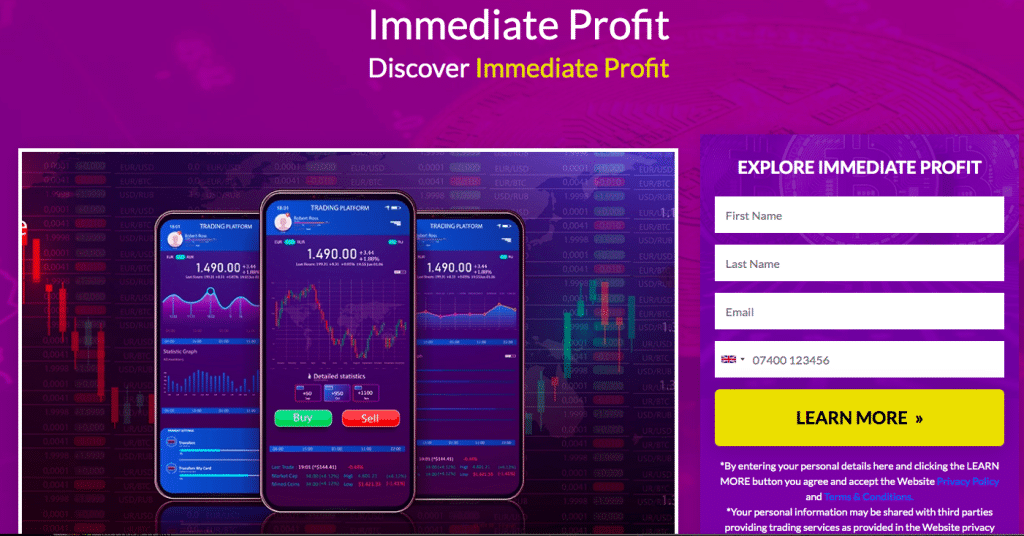 After reading other reviews on the Immediate Profit platform, we have learned that this organization claims to offer demo trading accounts and quick withdrawal times. Furthermore, Immediate Profit states that all trading activities can be conducted without paying any fees.
There have been several rumors that influential celebrities run immediate Profit, but there has been no evidence to support these claims. The creators of this platform have chosen to stay anonymous.
Due to a lack of information on this organization, it is hard to verify all the claims made.
Who Created Immediate Profit?
The founders of Immediate Profit are not known to the general public. As part of our research, we scanned the platform website and searched about Immediate Profit on Reddit threads and social media sites such as Instagram and Twitter.
However, there is nothing known about the team that has worked to create this platform.
Immediate Profit Pros & Cons
The sections below discuss a few advantages and disadvantages of the Immediate Profit trading platform:
Pros
Trading platform allowing users to buy and sell cryptos
Buy crypto with PayPal and Credit/Debit cards
No deposit or withdrawal fees
Practice investing through a paper trading account
Cons
No mobile app offered
Website offers less information about how the platform works
Cryptocurrencies are unregulated. Trading with unregulated brokers will not qualify for investor protection.
How Does Immediate Profit Work?
Before trading with Immediate Profit, each user must create a new account. To do this, one must enter their personal information, such as their email address and full name.
Users also need to make a $250 minimum deposit and will then be given access to the trading dashboard. The Immediate Profit website does not offer more information on the trading features.
Therefore, we cannot comment on how exactly Immediate Profit works. Each interested user should take the time to evaluate this trading platform on their own before making an investment decision.
Which Devices can be Used to Access Immediate Profit?
Immediate Profit does not provide a separate mobile application. However, mobile users can access the platform through a quick web-based search. Immediate Profit claims to be available through these devices as well:
iPads and other Tablets

Laptops and Desktops
Immediate Profit-Supported Countries
According to the claims made by this organization, one can access Immediate Profit's proprietary trading platform from the following countries.
Germany

Italy

Canada

South Africa

United Kingdom

Mexico

Nigeria
While the platform is not directly available in the United States of America, users from this region can access Immediate Profit with a VPN.
Immediate Profit – Top Features
We will now look at some of Immediate Profit's top features that one can access:
No Fees on Trading Cryptos
Unlike any of the top global crypto exchanges, Immediate Profit claims to charge absolutely no fees from the organization members. Furthermore, no hidden fees or subscription costs will arise while using Immediate Profit.
While we cannot confirm these claims, Immediate Profit does not charge any sort of spreads or commissions either.
Access a Paper Trading Account
According to the Immediate Profit website, all members can use a demo/paper trading platform. This is a virtual platform where funds are pre-loaded. The paper trading account will mirror live market conditions, allowing investors to access all the available features.
Users can also practice new trading strategies, make investments and use new trading signals without risking funds.
Trade Multiple Crypto Assets
One of the main features Immediate Profit offers is access to cryptocurrency trading. Bitcoin, the largest crypto in market capitalization, is available to trade on Immediate Profit.
Is Immediate Profit Legit or a Scam?
We looked at several online reviews, the main website, Reddit threads, and customer testimonials to determine whether Immediate Profit is a scam or legit. Our main observation is that Immediate Profit lacks transparency when sharing details on how it works.
The website only shows how to create a new account without covering the main trading dashboard or features traders can leverage. Secondly, Immediate Profit does not run online pages or accounts to interact with its customer base. Furthermore, the platform founders are completely anonymous.
While we tried to learn more from customer reviews, none are available on popular rating sites like Trustpilot. Thus, it is difficult to get a good sense of this organization. When entering such a volatile market, users should not trade carelessly.
Identifying your risk-taking ability and properly researching a trading platform and asset before investing is vital.
It's unclear if this platform is attempting to tap into trending search terms for similarly named platforms like Immediate Edge, Immediate Connect, Immediate Fortune, Immediate GP and others.
What is the Minimum Deposit on Immediate Profit?
According to the claims made on the Immediate Profit site, users must pay a minimum deposit of $250. Once confirmed, members will be given access to the trading dashboard.
One can make the deposit using payment methods such as credit and debit cards. PayPal is also available to use on Immediate Profit.
Immediate Profit Reviews
To better understand the Immediate Profit platform, we read through several online reviews on this organization. On the one hand, we have discovered several features that Immediate Profit offers, such as paper trading platforms, customer support teams, and commission-free trading opportunities.
On the other, none of the reviews can confirm any of these claims due to the lack of information that Immediate Profit offers. Thus, the consensus on Immediate Profit is neutral at this point.
Cryptocurrencies are unregulated. Trading with unregulated brokers will not qualify for investor protection.
Do any Celebrities Endorse Immediate Profit?
There have been several rumors and theories stating that influential businessmen and popular celebrities may be involved with Immediate Profit in some way or the other. This section will debunk these claims.
One of the most popular rumors suggests that Jeff Bezos uses Immediate Profit. For those unaware, Bezos is responsible for creating one of the biggest companies in the world, Amazon. As of now, this organization is worth over a trillion dollars.
But is the Amazon founder involved with Immediate Profit? As per our research, he has nothing to do with this crypto trading platform.
One of the other popular theories is that Elon Musk has endorsed and uses Immediate Profit. Musk is quite a popular figure, as he has often tweeted to support popular meme tokens such as Dogecoin.
While many wonder whether Musk would deploy cryptocurrency as a payment option in one of the several companies he owns, we can confirm that he is not working or related to the Immediate Profit organization in any way.
Immediate Profit Customer Support
The Immediate Profit platform claims to offer a customer support team. This department can be used by all customers looking to solve any queries or issues they may face while using the trading platform.
Users can access the customer support team through email and live chat.
How to Get Started With Immediate Profit
Before investing in any crypto trading platform, ensure you know all the risks involved. Once you know that a platform can cater to your investing needs, only then should you begin trading.
The steps below will help you begin trading with Immediate Profit if you decide to proceed:
Step 1: Create an Immediate Profit Account
To start using this platform, head to the Immediate Profit website.
Users on the platform's page will see a registration box at the top. To register with Immediate Profit, enter your full name, email address, and phone number.
Step 2: Deposit $250
Immediate Profit charges a $250 minimum deposit from all its users before giving trading access. Select the payment methods (credit, debit cards, and PayPal), enter the amount you want to invest, and confirm the transaction.
Step 3: Trade Digital Assets with Immediate Profit
Once the account has been created and funded, Immediate Profit will give users trading access. Now, one can simply search for the tokens they want to trade, enter the amount for the transaction, and start investing.
How to Delete Immediate Profit Account?
Unfortunately, Immediate Profit does not provide much information on how to terminate their accounts. By reading other reviews on Immediate Profit, we have found that the account closure option is accessible on the home menu.
Latest Crypto News
Before investing in crypto, one should research the markets and familiarize themselves with the latest updates. Below is a quick look at some of the latest cryptocurrency news:
After correcting in 2022, Bitcoin (BTC) is up in 2023. The token has soared by over 40% in March 2023 and has a market cap of $545 billion.

Do Kwon, the Co-founder of the company which created Luna and TerraUSD, has been charged with fraud by the U.S. district court.

The SEC has issued a document stating that it will sue Coinbase, a global crypto exchange, over some of its cryptocurrency products.
Is Immediate Profit Legit? – The Verdict
Due to a lack of information offered by the Immediate Profit organization, it is hard to confirm this organization's authenticity. While the website indicates that one can trade cryptos and access a demo account, we have found no way to confirm this claim.
This is because the trading platform is only accessible after one makes a minimum deposit of $250. We have also mentioned that no customer reviews about Immediate Profit are available online, which does not help confirm the platform's legitimacy.
Our recommendation is that one should only invest with a trading platform after ensuring it can cater to individual needs.
Cryptocurrencies are unregulated. Trading with unregulated brokers will not qualify for investor protection.
FAQs
What is Immediate Profit?
Who is the founder of Immediate Profit?
Does Elon Musk use Immediate Profit?