Immediate Trader, also known as Immediate Capex Ai, bills itself as a one-stop destination for cryptocurrency trading needs for both beginner and seasoned traders. It is an AI-based crypto trading platform that claims to conduct transactions on behalf of users without the need for extensive market research.
But is it worth investing your time and money into the platform? Read more about this in our in-depth review of the Immediate Trader platform.
Immediate Trader Summary
| | |
| --- | --- |
| Supported Assets | Bitcoin, Cardano, and other cryptocurrencies (details not specified) |
| Success Rate | Not mentioned |
| Fees | Not mentioned |
| Minimum Deposit | Not mentioned |
| Mobile App | Not mentioned |
| Customer Support | Available for registered users; non-registered users can access the Contact page |
Cryptocurrencies are unregulated. Trading with unregulated brokers will not qualify for investor protection.
What is Immediate Trader?
Immediate Trader markets itself as a cutting-edge AI crypto trading platform that is simple to use and manage for both new and experienced traders. According to its website, it provides a range of services to crypto traders, whether they want to enter the market themselves or automate their trading approach.
The platform bills itself as a one-stop solution for traders in the dynamic crypto market, where it is becoming tougher for traders to keep up with the rate of market shifts. In this ever-shifting landscape, Immediate Trader claims to provide an automated trading program using cutting-edge AI technology that analyzes market patterns and executes trades on behalf of the user.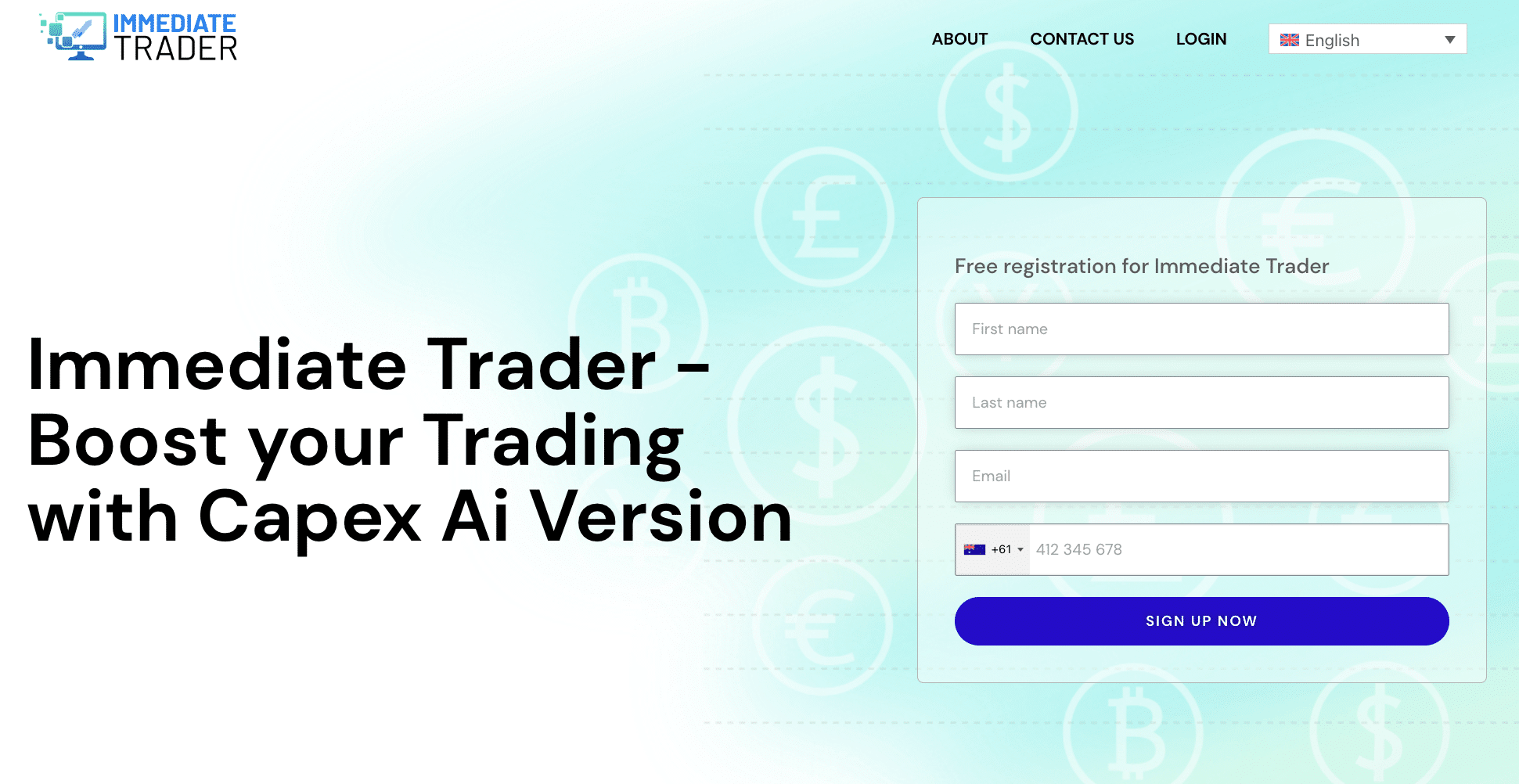 As per its website, the platform's tools and technology enable traders to profit from market opportunities even while they are away. This is made possible with the program's trade execution and trend analysis, it claims.
At the same time, traders can view the platform as an ideal solution for diversifying their investment portfolio, according to Immediate Trader. The trading software claims to provide a state-of-the-art auto trading tool to analyze market movements, simplify and streamline crypto trading, and maximize the user's trading experience with its highly developed AI system. It also claims to instantly analyze enormous amounts of market data to help traders decide better when to purchase and sell their digital assets.
We are unable to comment on the platform's claims, but it describes itself as an easy-to-use, insightful, and user-friendly trading platform for all kinds of crypto traders. There is no information on the website regarding fees or minimum deposit requirements, though it seems such information will be given during the registration process.
Who Founded Immediate Trader?
The founders and current team members are not mentioned in any detail. Still, this is not much of a problem given that even the creators of Bitcoin also remain anonymous to this day.
Immediate Trader Pros and Cons
The pros and cons of using Immediate Trader are listed below:
Pros
Claims to support Bitcoin, Cardano, and other cryptocurrencies
Claims to be an intuitive platform for both new and seasoned traders
Claims to provide round-the-clock operations and support
Claims to offer industry leading security protocols and measures
Contact information is clearly mentioned on the website
Cons
The website only vaguely mentions support for a large pool of cryptocurrencies but doesn't specify which coins they are
There is no information on the platform's developers or current team members
Lack of clarity on platform charges and the minimum deposit is a concern
How Does Immediate Trader Work?
This section deciphers the working of Immediate Trader based on the limited information available on its website. "Decipher" is the keyword we are using here, since we have tried to analyze the platform's working based on a mix of information and assumptions.
According to the website, the platform provides an AI-based autonomous cryptocurrency trading option to its users. The sophisticated AI algorithms handle the labour-intensive work of market research for traders by continuously watching the markets, analyzing data, and quickly executing trades.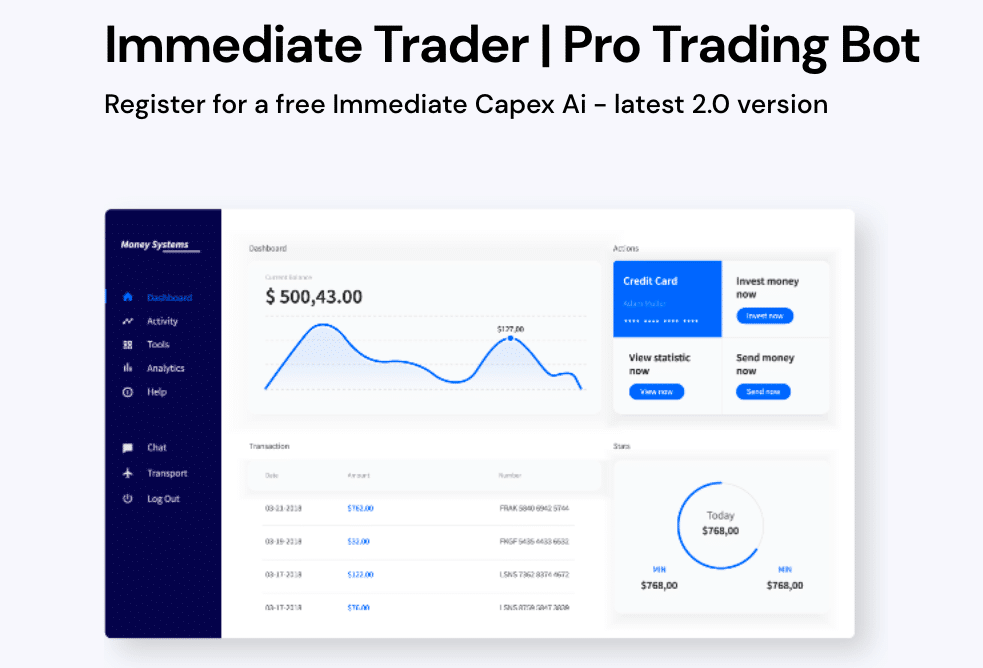 The website highlights that Immediate Trader analyzes huge volumes of data from the cryptocurrency market in real-time using a highly advanced AI system that functions as a trading robot. It then makes trading decisions based on this knowledge, buying and selling cryptocurrencies when the market is favourable on behalf of the trader.
Even for people with no prior knowledge of the cryptocurrency market, Immediate Trader Ai claims to be user-friendly and simple to use. The platform's user-friendly, adaptable design offers users a variety of tools and features to help them improve their trading techniques, it mentions.
Immediate Trader Compatible Devices
On its website, there is no mention of any mobile apps or apps tailored to a particular device. However, we discovered that the site was responsive when we opened it on different types of devices.
The website's design was the same across desktops, tablets, laptops, and mobile phones. All of the texts on the official website could be read, and all of the buttons could be clicked.
Cryptocurrencies are unregulated. Trading with unregulated brokers will not qualify for investor protection.
Immediate Trader Platform Features
Below are some of the main features we Immediate Trader claims to offer, from our review of the platform.

AI-Assisted Trading
The Immediate Trader platform claims to use advanced Artificial Intelligence technology, leveraging deep neural networks and machine learning algorithms to seek profitable trading opportunities for its users. Over time, the algorithms are to get more intelligent, as per the website, as they adjust to and pick up on market trends.
User-Friendly Interface
According to its website, Immediate Trader provides a simple and intuitive platform that makes it simple for traders to manage their portfolios, establish trading preferences, and keep an eye on real-time trading activities. Since we haven't registered on the platform, we cannot confirm if these claims are right.
Customization and Control
According to the website, users on the platform are free to determine their risk appetite, set stop-loss and take-profit thresholds, and change other parameters to reflect their investment tastes and goals. The AI-based platform takes these preferences and restrictions into account when executing trades on their behalf.
Real-Time Market Analysis
Immediate Trader also claims to give traders access to real-time market information, which includes price charts, indicators, and historical data. They may use this thorough data to stay informed and make wiser trading selections.
24/7 Support
Immediate Trader Ai's professional support staff is on hand around-the-clock to help traders with any queries or problems, according to its website. We found an active email address also listed on the website that traders and crypto enthusiasts may use to reach out to the Immediate Trader team.
Cryptocurrencies are unregulated. Trading with unregulated brokers will not qualify for investor protection.
Is Immediate Trader a Scam?
Can we label Immediate Trader a scam after scrutinizing all its features and guarantees? Given the number of factors at play, the answer cannot be that simple.
First and foremost, there is a lot of ambiguity regarding important facts on the platform website. There are no specifics regarding the kind of tools it offers for simplifying trading. Although there are several claims of advanced charting and trading tools as well as educational resources, the platform does not contain any links to or previews of these features.
Additionally, there is no information available regarding the founding team other than the goals that led to the creation of this platform, and many other anonymously founded platforms with similar names.
On the plus side, Immediate Trader does not make any far-fetched claims either regarding its success rate or profitability, unlike a few other trading platforms online. The website has an overall sleek and easy-to-navigate interface, and it is one of the few platforms to offer a Contact page and email on its website.
Judging by these attributes, we can say that Immediate Trader appears to be a mixed bag, making it difficult to determine whether it is legit or a scam. We advise you to take caution when depositing money on this platform. Before making any significant investment selections, invest only a small amount and quickly test its features early on.
What is the Minimum Deposit on Immediate Trader?
The minimum deposit amount needed to start trading on Immediate Trader's platform is not made public. While we can only guess that it might cost in the ballpark of $250 to $300, we suggest that you get in touch with the support team to learn more.
Are Celebrities Endorsing Immediate Trader?
There are no celebrity endorsements for Immediate Trader. We couldn't find any information on its website or other media outlets.
Account Fees
There is no information on the website about the platform's trading fees. Even if there are any fees involved in trading, the website does not mention them. Having said that, after they contact the customer care agents or complete the contact form, traders may be able to learn more about the pricing specifics.
Customer Support
The website claims to offer customer support for registered traders on its platform. Additionally, the Contact page on the website carries a contact form that unregistered users may fill out and share for queries or feedback.
How to Start Trading on Immediate Trader?
The methods below can be used to begin trading on Immediate Trader:
Step 1: Visit the Official Website of Immediate Trader
To start the registration procedure, go to the official Immediate Trader website. To begin, enter your name, email address, and phone number.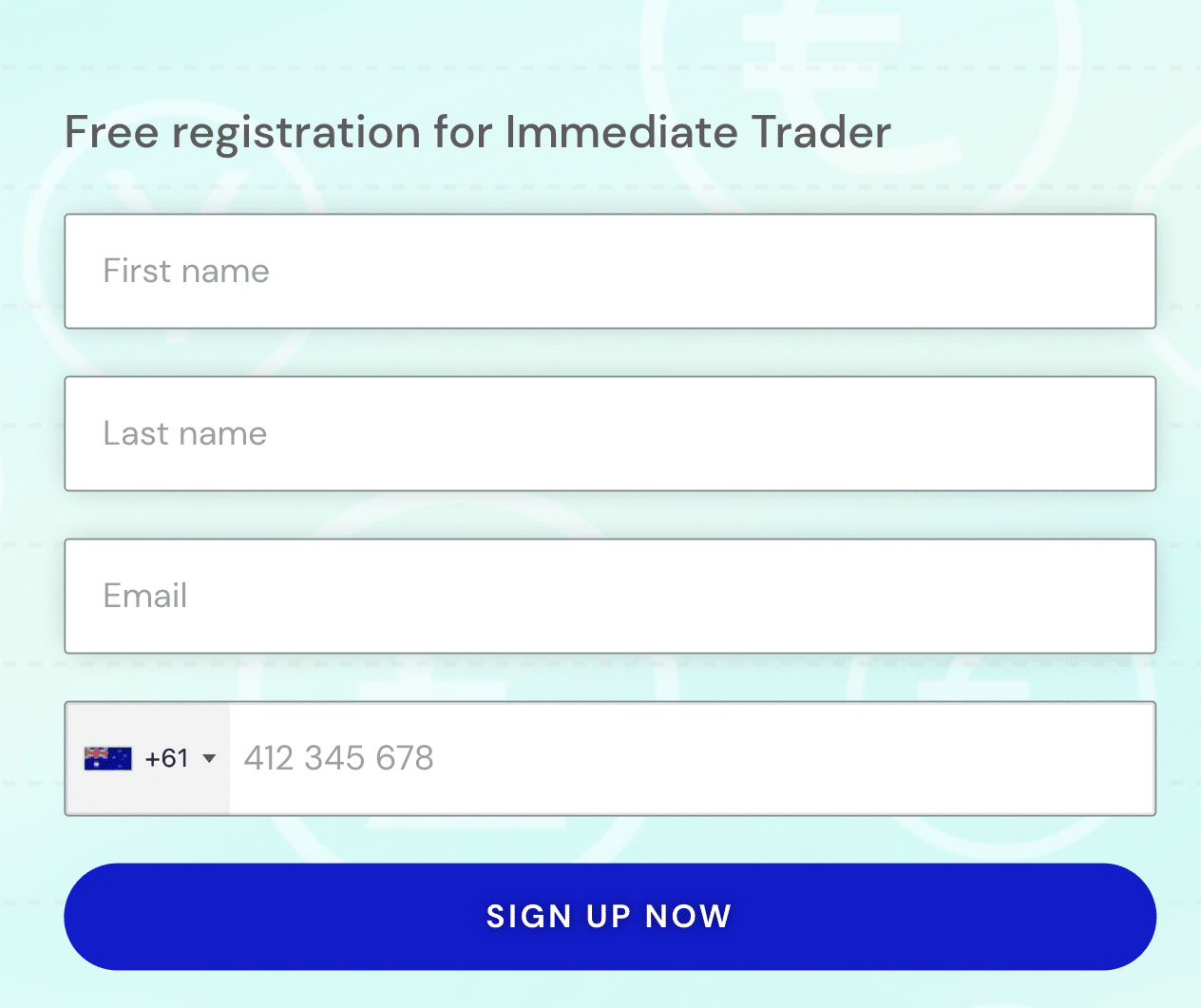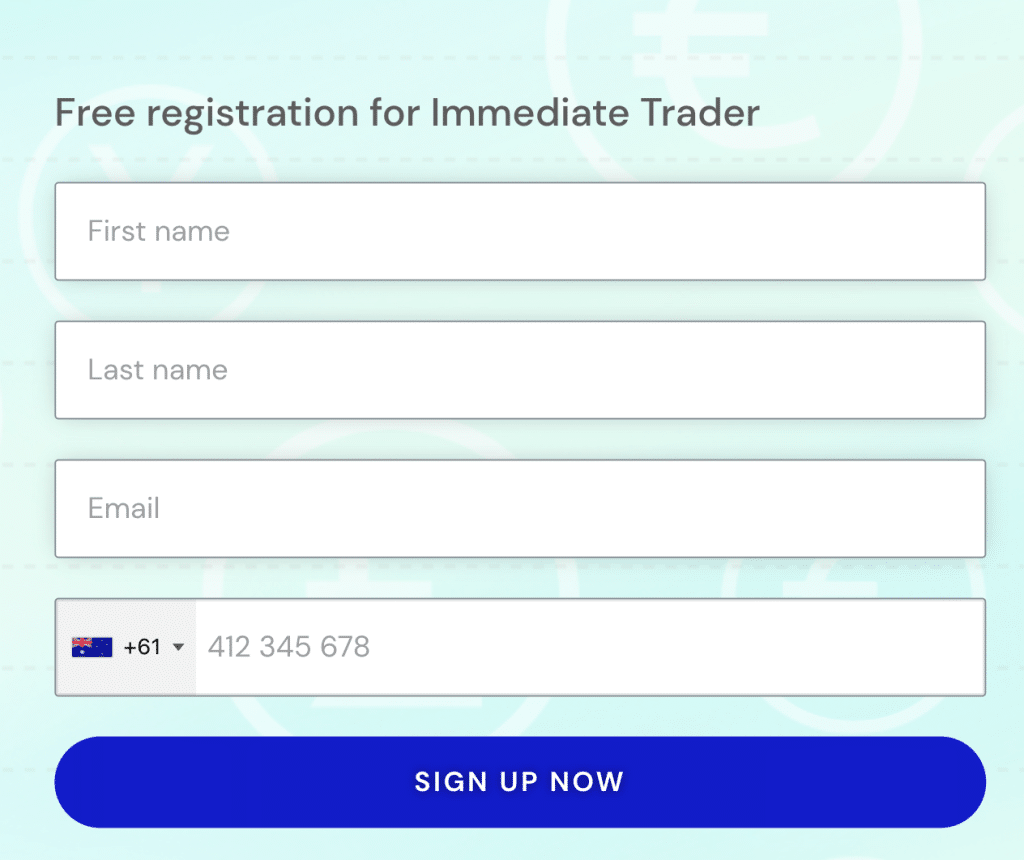 For extra privacy, give a a burner number so that their team can only contact you via email.
Step 2: Deposit the Minimum Amount
Use the methods mentioned on the website to make the required minimum deposit. Since there are no instructions on the internet, be sure to speak with customer care to learn more about the deposit requirements.
Step 3: Start Trading on Immediate Trader
Your registration should be finished once you have made the required deposit. Check out the resources you have at your disposal, including a demo account that lets you test out every feature. Once you are pleased with your findings, only move forward. To follow their withdrawal policies, we suggest that you immediately withdraw your first payment.
How to Delete an Immediate Trader Account?
There is no information on the website on how to delete an account. We were unable to confirm the option since there was no free sample trading account accessible. But once logged in, we assume that registered traders will be able to use this option from their dashboard.
Have Celebrities Endorsed The Immediate Trader Platform?
Being a relatively new trading platform and quite unknown, no public figures have endorsed it, or mentioned it, at the time of writing of this Immediate Trader review.
Trading 'bot' type platforms that claim to be affiliated with figures like Elon Musk are often scams or phishing sites.
Is Immediate Trader Legit – The Verdict
Immediate Trader positions itself as a trading platform that is user-friendly for both novice and experienced traders. As a one-stop shop for traders, it asserts support for Bitcoin, Cardano, and other top cryptocurrencies. Additionally, it claims to offer cutting-edge charting and trading tools, as well as educational resources.
However, there is still a lot of unclear content on the page. We don't know who the website's creators are. Due to these concerns, we are unable to reach a definitive verdict regarding the platform. Therefore, we advise exercising caution if opening an account on Immediate Trader.
Cryptocurrencies are unregulated. Trading with unregulated brokers will not qualify for investor protection.
FAQs
What is Immediate Trader?
How to start trading on Immediate Trader?
Is Immediate Trader beginner friendly?