Oil Zero is an online commodities trading platform that provides access to oil markets via CFDs, alongside rumored plans to offer cryptocurrency trading. The Oil Zero platform states it provides advanced trading tools that enable users to chart the price, stay informed about the latest news, and predict future price movements for all Oil markets.
Oil Zero Platform Overview
Before we get to the actual review of Oil Zero, here's a quick look at all the important features of the platform.
| | |
| --- | --- |
| Type Of Platform | Oil Trading |
| Minimum Deposit | $250 |
| Supported Cryptocurrencies | BTC,ETH, LTC, ADA, and more |
| Claimed Success Rate | 95% (not audited) |
| Mobile App | No |
| Deposit/Withdrawal Fees | No |
| Customer Service | Yes (for registered users) |
Cryptocurrencies are unregulated. Trading with unregulated brokers will not qualify for investor protection.
What is Oil Zero?
The Oil Zero website describes itself as an online trading platform that focuses on providing access to the oil markets in a diversified way. The platform offers versatile investments in different types of oil stocks from various countries and soon expects to share support for cryptocurrency trading.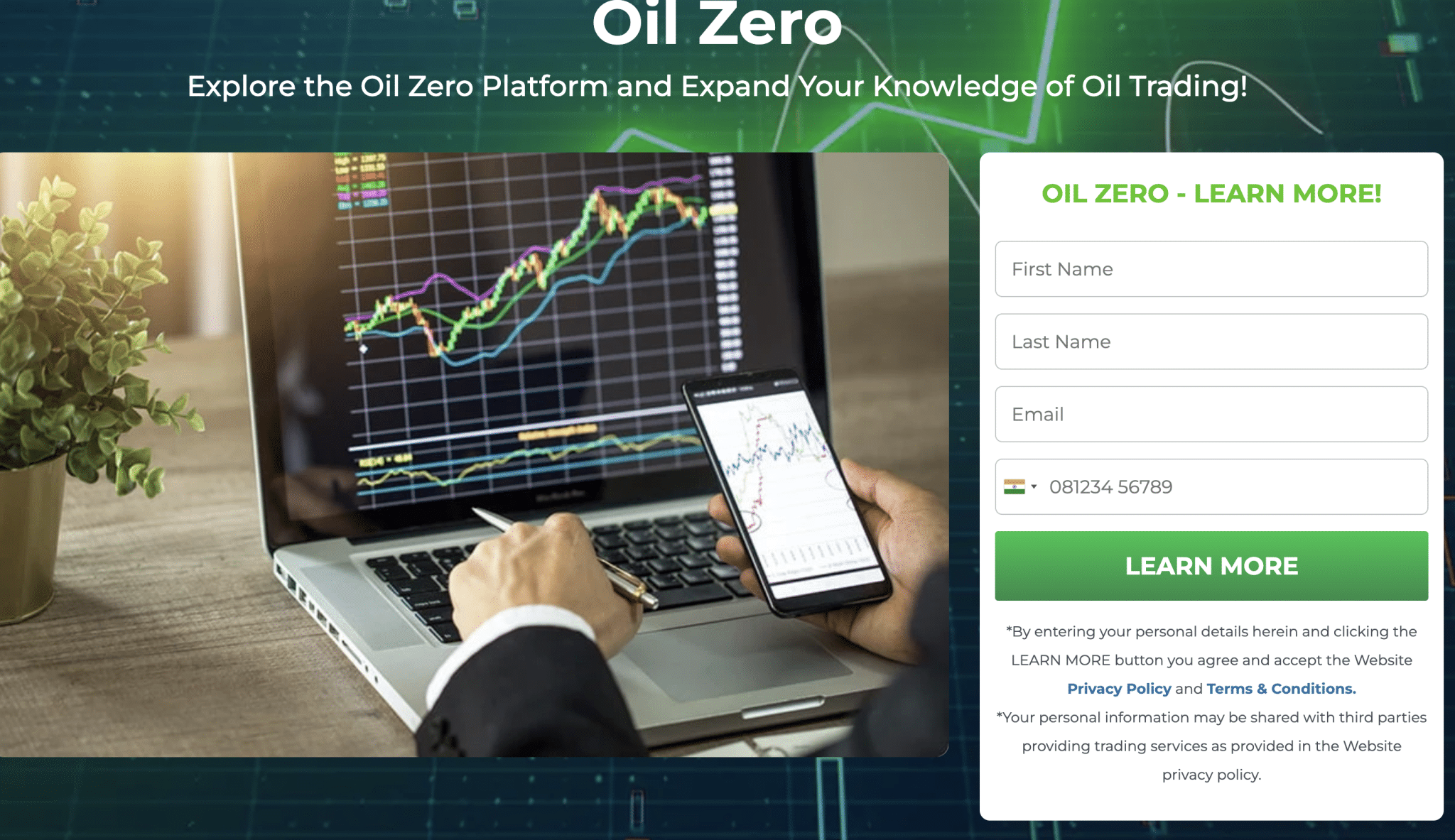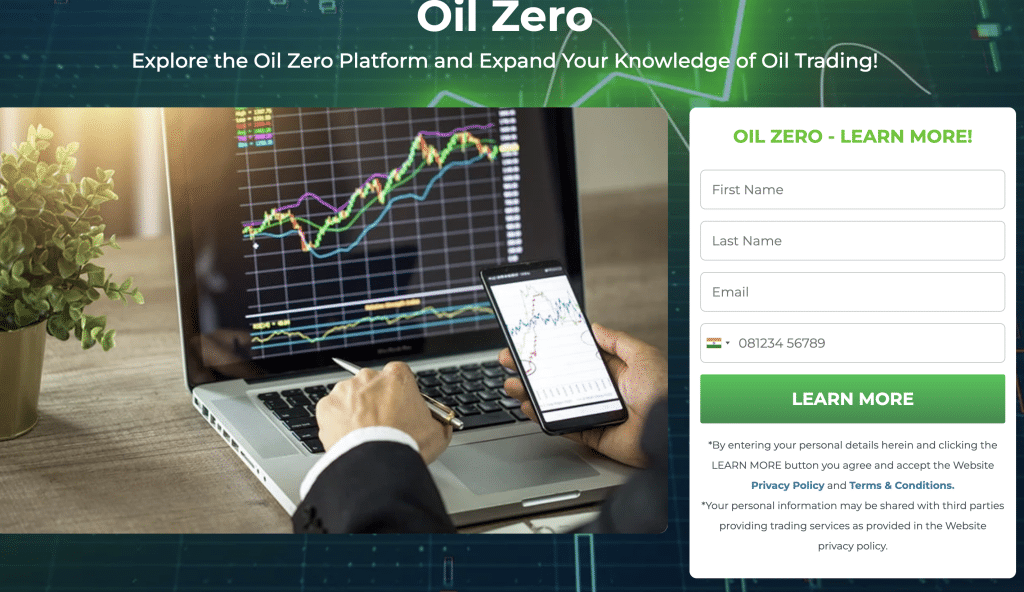 Oil trades are particularly popular for the stability they provide over other markets, such as equity and cryptocurrencies. Oil Zero further aims to make trading oil assets easier by providing advanced trading tools that allow users to chart the price, stay informed about the latest news, and predict future price movements.
The asset isn't, however, immune to volatility since oil is a tradable entity whose price is subject to change based on geopolitical situations. The relative stability of oil markets can enter long cycles of volatility during these times, but Oil Zero provides the necessary tools for investors to gauge their way under volatile market conditions.
While the platform has advertised itself to be quite beneficial, there's little to no information available about the advanced tools provided on the platform. Plus, users will have to pay a minimum deposit of $250 before they can access any features of the platform and start trading.
We recommend that you must research as much about the platform as possible before you make an investment since there's no way for us to determine if your investment will be protected. It is important to invest only what you can afford to lose as the current market is not immune to the impact of volatility.
Who Created Oil Zero?
While we were researching the platform, we couldn't find any information that could point out to the creators of the platform. Plus, there is no mention of any social media channels on the official website that could help identify the team behind the project.
Ideally, it's best to be informed about the team behind a cryptocurrency project before making an investment. But since it's not uncommon for creators to hide their identity in the crypto industry, the decision to make an investment will entirely be up to the investor.
Oil Zero is similarly named to but apparently unrelated to another Oil margin trading tool we reviewed, Oil Profit.
Oil Zero Pros and Cons
In our review of Oil Zero, we found it to be offering all the necessary tools a trader might need, but we couldn't verify them as the platform requires a minimum deposit of $250 to access the dashboard. We also found some drawbacks with the platform that might be a deal breaker, and here's a list of all the pros and cons associated with Oil Zero to help you make a decision.
Pros
Oil Zero claims to not charge any fees, which is a great advantage for traders looking to maximize their profits.
Oil Zero claims to offer a wide range of trading tools to its users.
The platform allows for instant transactions using fiat currency.
There is a demo trading account available for users who register, allowing them to test the platform before committing to real funds.
The website states that it has a simple user interface, making it beginner-friendly for traders who are just starting out.
Cons
Most of the features are gated behind a $250 deposit requirement, which may be a high barrier to entry for some traders.
The official Oil Zero website does not provide clear information on how the platform works, which may be a concern for potential users.
The information regarding the creators behind the platform is not available on the website, which may make it difficult to assess the credibility and reliability of the platform.
How does Oil Zero Work?
Oil trading is a stable market that can be influenced by wider macroeconomic activity, including geopolitical issues like the conflict between Russia and Ukraine. While this conflict has caused a rise in oil prices, resulting volatility often creates selling pressure leading to plummeting prices and potential buying opportunities for traders.
The platform aims to provide access to information and advanced trading tools to help traders make informed decisions. However, investing in stocks is not a guarantee, and users are encouraged to do their due diligence before investing. Currently, cryptocurrency trades are not supported on the platform, but rumors suggest they may be added soon.
Oil Zero is available on mobile, but there is little to no information available about its features. Customer support is reportedly available around the clock, although details are not provided on the website. A demo trading account is also available to help users get a handle on trading, but it requires a $250 deposit.
While Oil Zero claims to offer many useful tools, information about these features is scarce, and traders are advised to conduct their own research before investing.
Which Devices Can be Used to Access Oil Zero?
Oil Zero can only be accessed through its official website and currently supports desktops and mobile devices. The website is compatible with both Android and iOS devices, while there is no application for the platform currently available.
Oil Zero Supported Exchanges
The website mentions that Oil Zero works with major crypto exchanges via API, but no information is provided about these exchanges or brokers, making it difficult to know which ones are supported.
Oil Zero–Supported Countries
According to the website, Oil Zero is available in most countries that permit cryptocurrency trading. Although there might be some exceptions, the website can be accessed using VPN if it isn't allowed in your country.
Oil Zero Top Features
Oil Zero offers several key features that make it a popular trading platform, including a streamlined user interface, advanced trading tools, a demo trading account, a simple sign-up process, and the absence of fees for withdrawals and deposits. Here's a brief overview of all those features.
Specialized Oil Trading
One of the standout features of Oil Zero is its emphasis on simplifying oil trading. The platform was developed by a team of experts who focused on creating a user-friendly experience for traders, especially for beginners who may find oil trading to be complex and overwhelming.
Support For Advanced Trading Tools
Oil Zero also claims to offer advanced trading tools that enable users to make strategic investments. These tools include charting tools consisting of multiple market indicators that predict where the asset's price might go. The platform apparently provides easy access to these tools without any additional fee.
Demo Account
First-time users can benefit from the platform's demo trading account, which allows them to experiment with the platform's tools without risking real money. Oil Zero claims to offer all the tools available for real trades within the demo trading portion of the application, helping users get the hang of things.
Easy Sign-up Process
The sign-up process for Oil Zero is also straightforward, requiring only the user's name, email address, and phone number. After a simple verification process, traders can begin using the platform. Unlike many investment websites, Oil Zero does not require to Know Your Customer (KYC) information, making it available to users worldwide.
Potentially Offering Crypto Trading
Oil Zero is said to be working on adding support for cryptocurrency investments soon. Although there is no concrete evidence to support this claim, the platform's web trading application is similar to other automated trading platforms, making it a possibility for traders to buy and sell digital assets as well as oil assets on the platform.
Cryptocurrencies are unregulated. Trading with unregulated brokers will not qualify for investor protection.
What is the Success Rate of Oil Zero?
The Oil Zero website claims a success rate of 95%, which is quite impressive for any trading platform. However, it is important to note that this number has not been independently verified and is solely based on the platform's own reporting. Thus, it is crucial to exercise caution and not solely rely on this figure when making investment decisions.
Is Oil Zero Legit or a Scam?
Quantum Oil Zero appears to be an attractive option for cryptocurrency trading due to its range of appealing features. However, our review found limited information on the website, making it difficult to fully verify the platform's authenticity. When evaluating a trading platform, it is important to consider transparency and conduct thorough research, even if there are no immediate indications of a scam.
What is the Minimum Deposit on Oil Zero?
Oil Zero demands a minimum deposit of $250 before users can access the platform. Without paying this deposit, there's no way to access any features of the platform. And while the claims proposed by Oil Zero are attractive, investors must exercise caution before depositing their money on the platform.
Oil Zero Reviews
After trying our best to find reviews about the platform, and to educate ourselves as to what the customer experience is like, we weren't able to find any reviews. The platform hasn't been reviewed by any professional reviewing site, nor are there any user reviews that could shed light on the day-to-day experience of the platform.
We recommend users wait for a while before beginning their trading journey with Oil Zero, at least until there are some user reviews about the platform available. Until then, users can check out other platforms that support cryptocurrency trading.
Do Celebrities Endorse Oil Zero?
While there have been a couple of websites mentioning the platform, we didn't find any mention of celebrities endorsing the platform. Similar platforms have claims of associations with celebrities, but they have been unsuccessful at providing any evidence to back these claims.
Oil Zero Customer Support
Quantum Flash purports to provide round-the-clock phone and email customer support to its clients who possess an active account with the platform. However, it is worth noting that in order to register as a user and avail oneself of the services offered by Quantum Flash, a minimum deposit of $250 is mandatory. Once this amount has been deposited, clients can register with the platform and enjoy the benefits of 24/7 customer assistance via phone and email.
How to Get Started with Oil Zero
If you wish to begin your trading journey with Oil Zero after reviewing it, here's a step-by-step guide to help you get started:
Step 1 – Create an Account
Go to the official Oil Zero website and register. The registration process will require your full name, email address, and phone number, but you could also use a burner number if you prefer to communicate via email.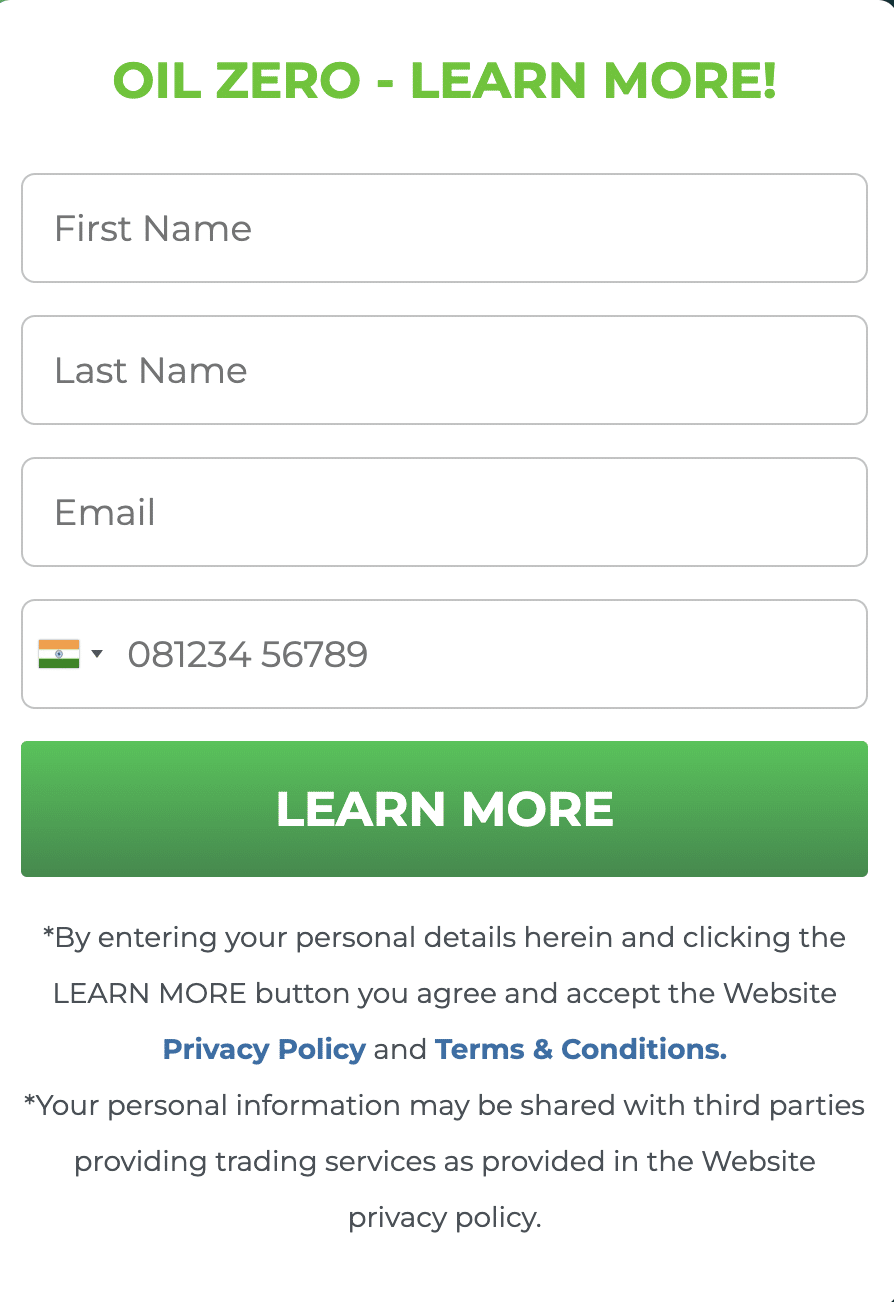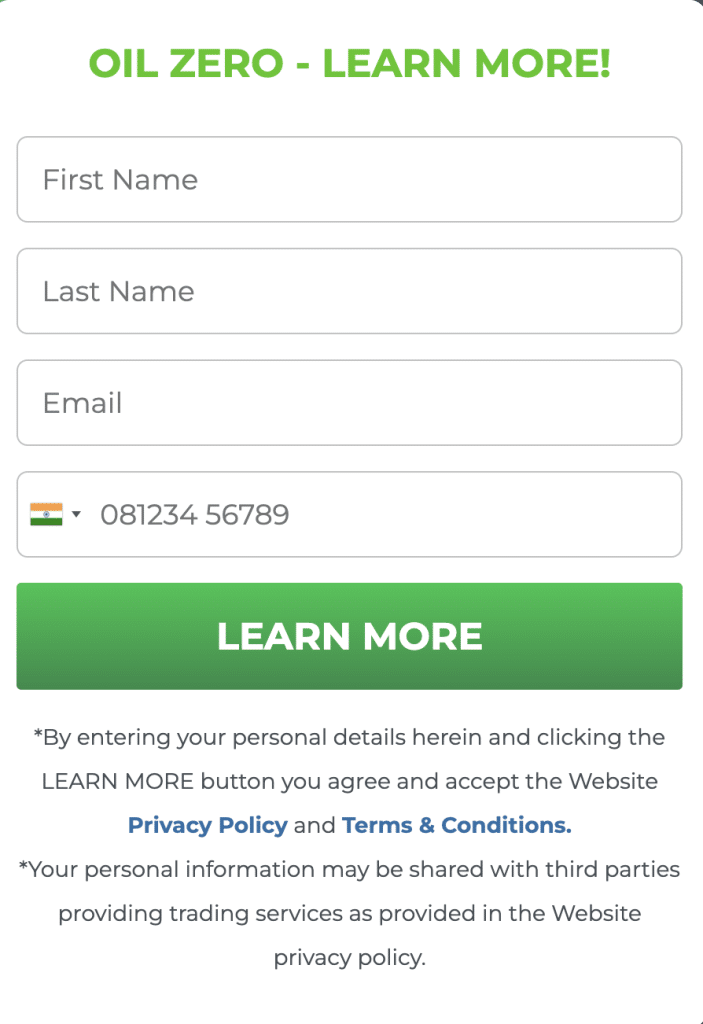 Step 2 – Deposit Funds
Deposit at least $250 into your account. The platform accepts several payment methods and most of them are instant and hassle-free.
Step 3 – Start Trading
Once your account is funded, you can begin Oil Trading on the platform. To get a feel for how the platform works, you can use the demo account. You may withdraw any remaining balance from your account at any time, according to Oil Zero.
How to Delete an Oil Zero Account?
We weren't able to find any credible info that could explain the process of deleting an account on Oil Zero. Although, we assume it would be similar to most other platforms, where you can find the option in account settings.
Is Oil Zero Legit? – The Verdict
Oil Zero presents itself as an oil trading platform that offers its clients an advanced trading platform equipped with all the necessary trading tools. The platform claims to offer an accuracy of 95%, but there isn't any evidence that could back these claims.
It is wise for traders to approach all new cryptocurrency trading services, including Oil Zero, with caution. There is no guarantee that the service is reputable, and even if it is, there is no certainty that traders will make money. Therefore, it is best to only risk the capital that one is willing to lose while experimenting with Oil Zero.


Cryptocurrencies are unregulated. Trading with unregulated brokers will not qualify for investor protection.
FAQs
Is there a minimum deposit on Oil Zero?
Does Oil Zero charge any fees for Oil Trading?