Profit Maximizer is a cryptocurrency trading platform that promises to maximize the profits of all users using its unique trading approach that includes self-assessing trading signals and completing the transaction on behalf of the user.
Through its hands-off approach to trading, Profit Maximizer claims that it stays true to its name via its sustainable, high ROI approach to trading. But how true are these claims? This Profit Maximizer review looks into the various features of this platform and informs users what they should know before starting to trade on this platform.
Profit Maximizer Overview
Here is the rundown of all the primary features that the Profit Maximizer website claims it offers. Our review goes into testing the claims made in the following points to see if this crypto trading platform is worth the time and effort of new and old crypto traders.
| | |
| --- | --- |
| Type of Platform | Advanced Crypto Trading |
| Minimum Deposit | $250 |
| Claimed Success Rate | Not mentioned |
| Main Supported Cryptocurrencies | BTC, ETH, LTC, DASH, BNB |
| Mobile App | No |
| Withdrawal or Deposit Fees | None |
| Customer Service | 24/7 (But only accessible upon registration) |
Cryptocurrencies are unregulated. Trading with unregulated brokers will not qualify for investor protection.
What is Profit Maximizer?
Profit Maximizer is a crypto trading platform that claims to offer a brand new way for customers to trade digital assets in the crypto space. The volatility of the crypto market makes it hard to keep up with the trends, which means there are fewer chances of making gains.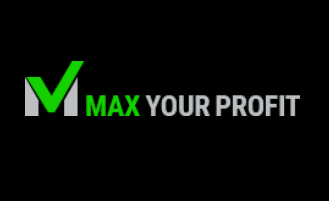 In order to provide market-beating returns, Profit Maximizer uses facilities trained using machine-learning mechanics to scan the market, chart the price and predict the price movements. It then moves forward with making the trade on behalf of the user based on pre-determined conditions.
This feature, the crypto trading platform claims, makes it one of the most intelligent crypto trading tools in the market. The platform claims that it removes the burden of constantly keeping watch on the market by allowing its in-built algorithmic tools to do all the work.
Profit Maximizer advertises that it is able to provide these facilities without asking for any commission or deposit/withdrawal fees. Also, most major cryptocurrencies, including Bitcoin, Binance Coin, Ethereum. Ethereum Classic. NEO, EOS, IOTA, Bitcoin Gold, Cardano, and Ripple are available to be bought on sold on Profit Maximizer.
The site also claims that its security features are industry grade, with every personal information of the users locked behind SSL encryption. And the platform provides all these features as long as users submit the minimum deposit of $250 in the account.
Read on as we discuss these features and verify the truth behind these claims.
Who Created Profit Maximizer?
There is no information concerning the makers of Profit Maximizer available on the official website. We also couldn't find any "About Us" page or "Contact Us" page that can give us a bit of insight into these individuals.
Furthermore, Profit Maximizer is not discussed on any social media platform. Having that available could have helped us track down the developers running the show behind the scenes.
It seems like the developers have decided to keep their names anonymous at the moment. While it is nothing new since blockchain was established on the principles of anonymity, we are now living in the age of transparency where regulatory concerns run high. That is why investors are suggested to do their homework and assess the crypto market and the platform before beginning.
This platform doesn't appear to be related to other crypto trading tools we've reviewed like Oil Profit and Immediate Profit.
Profit Maximizer Pros and Cons
Crypto trading and the platforms that support it have their own share of risks, and unfortunately, Profit Maximizer is no exception. So, here are the lists of pros and cons of this crypto trading platform.
Pros
Offers in-built tools that scan the market quickly

Supports multiple cryptocurrencies

Promises to maximize the profit even in volatile market conditions

The account creation process is simple

A great fit for beginner-level traders
Cons
Not much information is available on the website

Has a high initial deposit requirement – $250

No information is available about the founders of the website
Cryptocurrencies are unregulated. Trading with unregulated brokers will not qualify for investor protection.
How does Profit Maximizer Work
To start, users must first create an account – which is a simple process. All that's needed is to enter the name, email, and phone number and click on "registering now". Once the account is created, the process of which also entails the customer support specialist calling and explaining the details of the website in-depth, the next step becomes available – depositing the amount.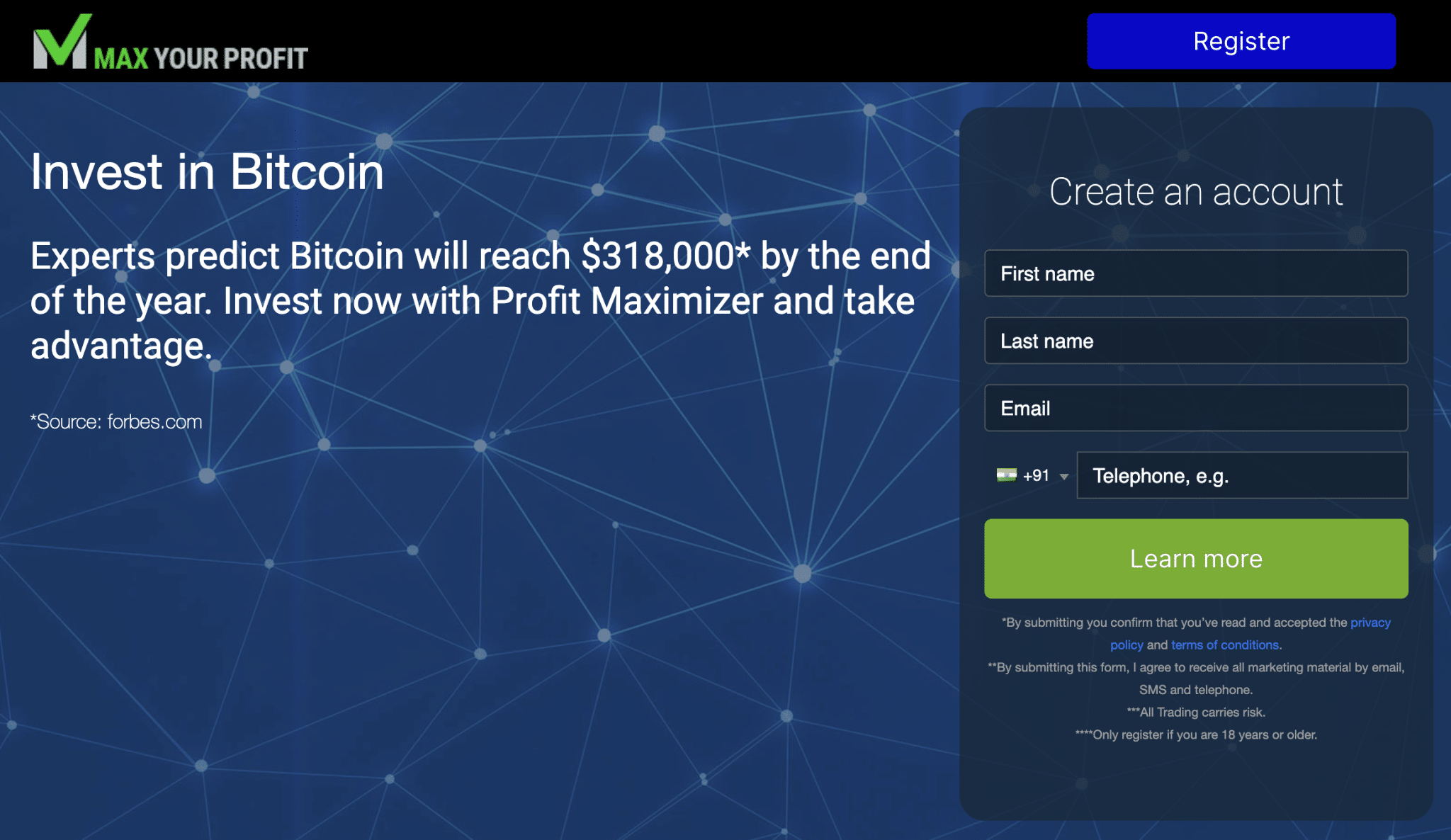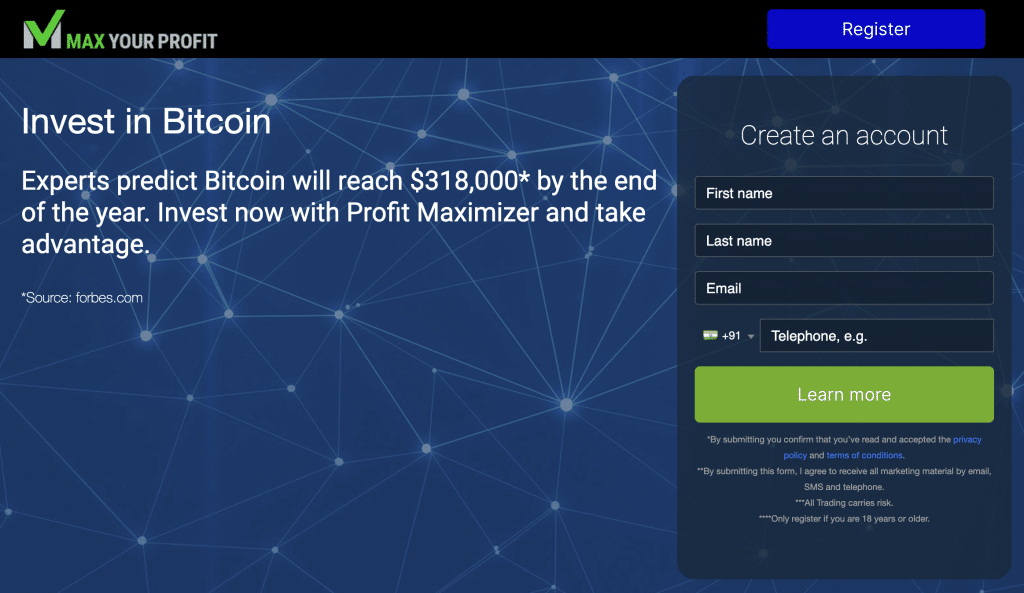 The minimum deposit that an investor has to make is $250. That would be the seed money required to buy and sell crypto on the website. Also, depositing the amount is the only way to access any of the features available on the website.
After the amount is deposited, users will be given a chance to set their metrics – things like the price vicinity at which they might buy or sell a cryptocurrency. But this is an optional process.
After the account is created, the in-built tools start quickly scanning the markets and picking the best times to buy and sell different cryptocurrencies.
When buying cryptocurrencies, the tools look for tokens that have hit bottom and have a high chance of a rebound. When selling, they are looking for indicators that the top has been reached, and a correction is about to begin.
The website recommends that first-time users give complete autonomy of the trades to Profit Maximizer. It allows for trading without having to constantly watch the markets and react to them quickly.
That said, this system is still not perfect. And since the site isn't clear on its success rate, investors must be a bit extra careful. Getting returns is never a guarantee. Thankfully, Profit Maximizer also says that users can withdraw their funds at any time. The payout process can take up to 24 hours to complete.
Cryptocurrencies are unregulated. Trading with unregulated brokers will not qualify for investor protection.
Which Devices Can use Profit Maximizer?
According to Profit Maximizer reviews and testimonials traders can use several devices, including desktops, laptops, and mobile phones. On smartphones, that reportedly includes Android and iOS.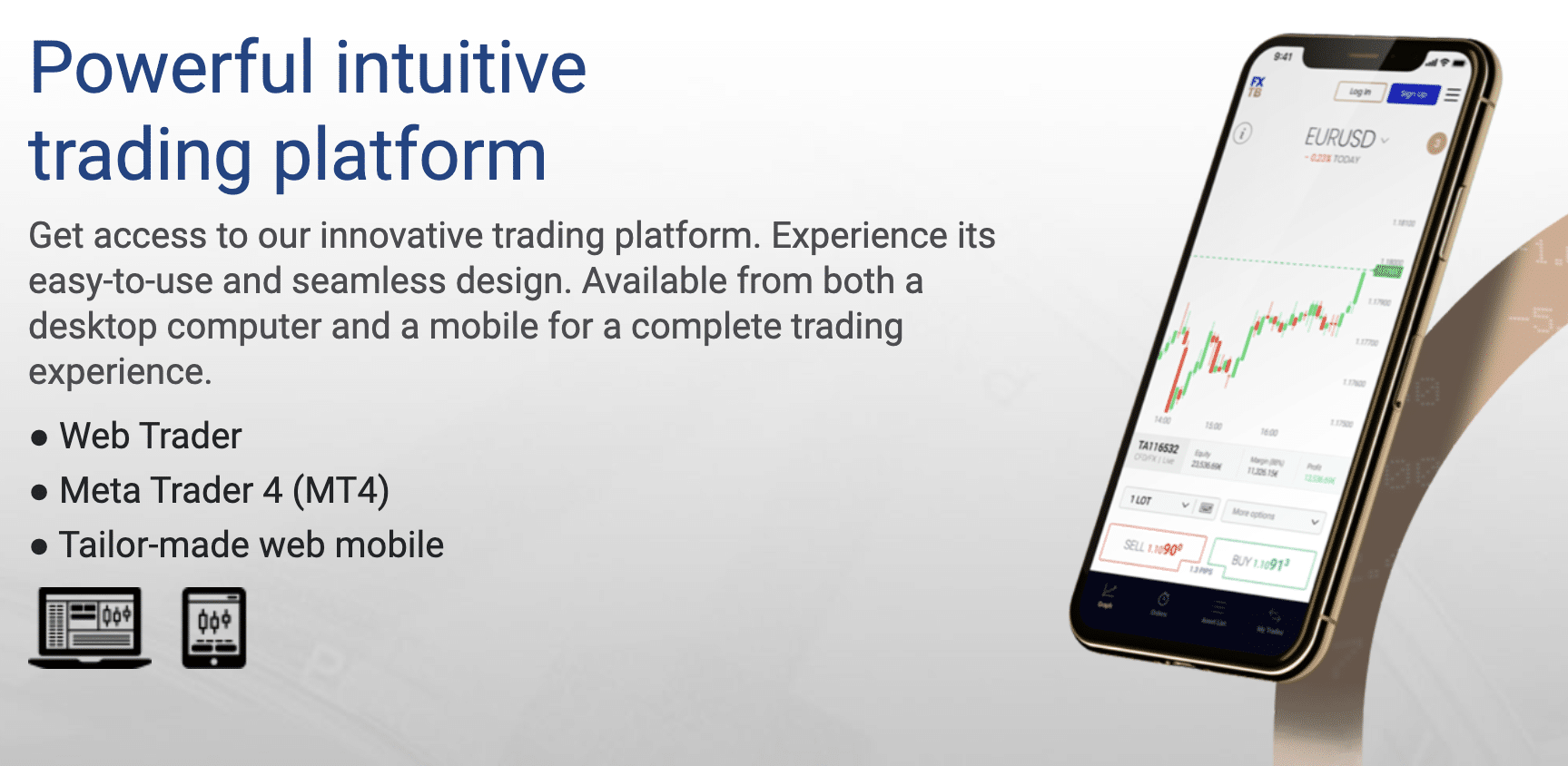 Profit Maximizer also claims to have implemented an easy-to-use and seamless design and has included advanced integrations like Web Trader and Meta Trader 4 to make crypto traders easier on mobile phones.
Profit Maximizer – Supported Countries
There is no mention of which countries are supported by Profit Maximizer.
However, the process of signing up required us to enter our phone number, which required entering the first code corresponding to the country. After looking at the list, it seems that this platform is available in most countries.
What is the Success Rate of Profit Maximizer?
We couldn't find anything to inform us about the success rate of the in-built tools that trade on Profit Maximizer. We also couldn't find any discussion about them on third-party websites.
However, considering that many websites – all reputable – have covered this platform and have some positives to say about it, it is likely that it has a sufficient success rate. But it may be mere speculation at the moment – which means investors must assess the risks of crypto trades before using this platform.
Furthermore, one thing to remember is that there is also a sportsbetting site named Profit Maximizer. Do not get confused when researching the success rate.
Profit Maximizer – Key Features
Listed below are the key features that Profit Maximizer claims it has to make crypto trading more fruitful for all.
Hands-off Trading
The in-built tools available on Profit Maximizer allows users to find new and lucrative trading signals and act on-the-fly. With no time wasted, Profit Maximizer claims that its endeavors to maximize the profits of all users are often fruitful.
This approach has taken hold in the current volatile market where crypto can reach its year-end ups and lows during a single day. Another perk of this facility, as Profit Maximizer explains it, is that novice traders would be able to engage in risky trades that they otherwise wouldn't use manual trading methods.
Demo Account Available
Profit Maximizer claims that it makes the demo account available once users make the mandatory $250 deposit. The demo account would have the same features as the normal account, but the difference would be that trades would be done under simulated market conditions.
This paper trading approach allows traders to test a platform's in-built functions before committing any real money. However, since we weren't able to access the internal features of the website, we can't verify the quality of these demo accounts.
Cryptocurrencies are unregulated. Trading with unregulated brokers will not qualify for investor protection.
Support for Multiple Cryptocurrencies
Profit Maximizer advertises itself as supporting the buying and selling of all major cryptocurrencies, including Bitcoin, Bitcoin Cash, Bitcoin Gold, Litecoin, Ethereum, ZCash, Ethereum Classic, Cardano, EOS, NEO, IOTA, Binance Coin, and Ripple.
Is Profit Maximizer a Scam?
The home page of the official website is full of information. Profit Maximizer claims a lot with its support of automation-based trading, no-fee policy, demo account, support for multiple assets, and fiat payments. However, the proof to verify these claims is severely limited.
The site has conscientious efforts to ensure that only those who have an account – which means the ones who have deposited $250 can access any of these features.
That said, from the way the site has been made to look like and the availability of multiple third-party sites saying that there is something to this site, there is nothing to indicate that this site is a scam.
However, this site is less transparent, which is especially concerning at a time when regulations are asking crypto trading platforms to be more open about showcasing their utilities.
What is the Minimum Deposit Needed to Trade on Profit Maximizer?
Starting trade on Profit Maximizer requires one to deposit at least $250. This is considered the base money required by the in-built tools to start the trading process, which involves buying and selling cryptocurrencies.
While $250 is a high amount, it might still be considered affordable when one considers the facilities that Profit Maximizer claims to offer. It's also similar to other crypto tools like Bitcoin XOX.
Profit Maximizer Reviews
We went online searching for other reviews to get more information about the offerings by Profit Maximizer.
In customer reviews the reactions were mixed. Some people say that Profit Maximizer has provided them with awesome returns on their investment, while others tell us to stay cautious and look for websites that are open with information.
Those mixed reactions point to the fact that users must do their own research before using the website. We recommend connecting with the previous users of the website via customer review centers for more information.
Even if some users have positive to say about Profit Maximizer, we must reiterate again that crypto trading is risky, and thus, users must only spend what they can afford to lose.
Do Celebrities Endorse Profit Maximizer?
With platforms that provide services similar to Profit Maximizer, there are rumors across social media that billionaires like Elon Musk and Jeff Bezos use the site to maximize their profits.
Our interested reviewers went deep into this matter and found no evidence suggesting that these individuals use Profit Maximizer for their cryptocurrency trades.
Profit Maximizer Customer Support
While we weren't able to assess customer support from the home page, the Profit Maximizer website does say that customer support is available 24/7, and the team can be reached through email or phone number. The only thing we have to confirm half of it is that during the signing-up process, we were called by the customer support team to help us establish the account.
So, we believe that customer support can be reached using phones as long as users deposit the mandatory deposit after account creation. We aren't too clear about the email details, though. It also doesn't help our case since there is no mention of any email, even at the bottom of the website or in the 'Terms and Conditions' and 'Privacy Policy' documents.
How to Start Trading on Profit Maximizer
Here are the steps one needs to take to start trading on Profit Maximizer:
Step 1 – Create an Account
The first step is to create an account. For that, one needs to visit the official website and fill out the details mentioned in the Register now form.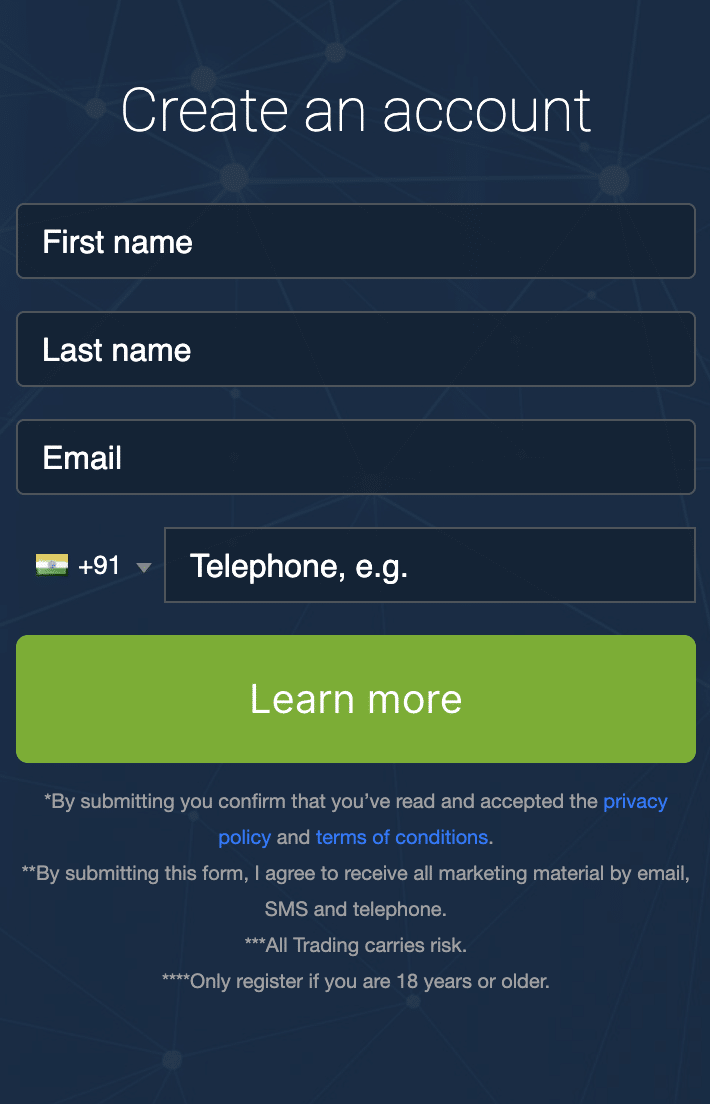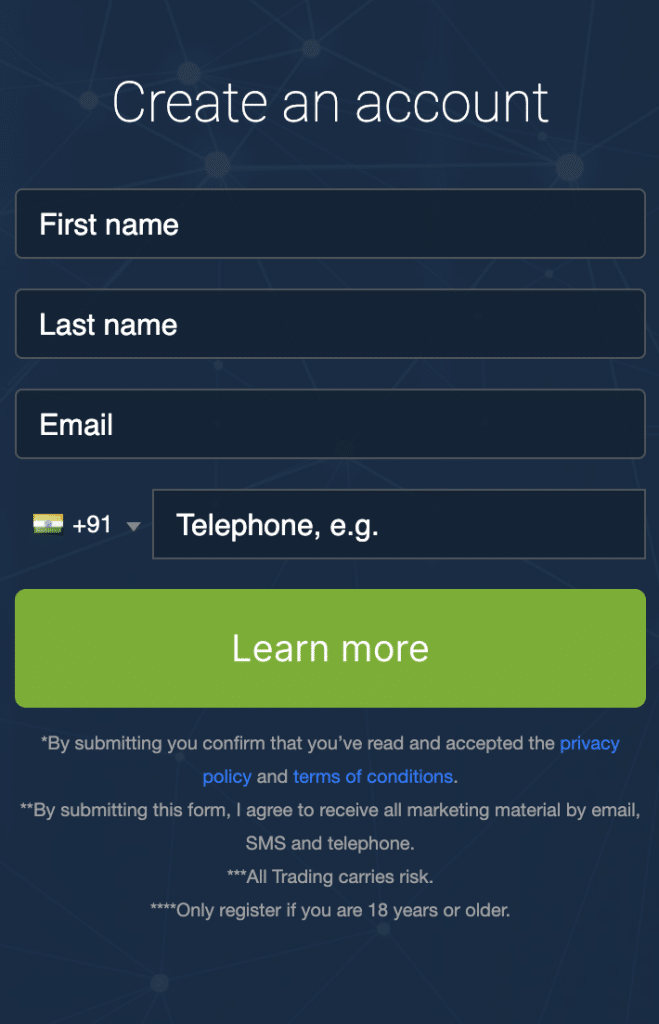 Upon clicking the "Registering now" button, users would agree to the terms and conditions of the platform. While many ignore it, we suggest reading it here since the information available on the website is less as it is.
Step 2 – Deposit the Amount
Next, fund the account with the minimum deposit amount. The official website states that a deposit of $250 is needed to get started. Users can pay using many fiat methods available, including debit cards, credit cards, PayPal, bank transfers, and more.
Step 3 – Start Trading
Profit Maximizer claims that depositing the required amount will unlock every feature available on the account, from charting tools to updates about the latest market. After that, the in-built mechanic of the platform will take the reins of the trade and will start conducting transactions by finding the best deals. Experienced traders can use the onboarded tools to make changes to customize their trades.
How to Delete Profit Maximizer Account?
While there is no information given on the website about how to delete the account, most of its features are similar to other platforms we have covered in the past.
It is likely that the account deletion process constitutes logging in, going to the settings page, and terminating the account.
Is Profit Maximizer Legit – Verdict
Our review has covered all the major features that Profit Maximizer claims to have. We have assessed the cryptocurrencies it supports, the fee it charges, and the advanced tools it has. But we didn't get to do a hands-on assessment of most of these features because of the limited information.
Profit Maximizer claims to maximize profits to a high degree, but the success rate of this website is nowhere to be seen – even in third-party reviews.
The site also claims to have a demo trading account to test the trading utilities, but the minimum deposit is required to even verify whether it has it or not.
With that in mind, we can't say for certain if this website is legitimate or not. We recommend investors do their own research and assess the risks of crypto trades before getting started.
Cryptocurrencies are unregulated. Trading with unregulated brokers will not qualify for investor protection.
FAQs
What is Profit Maximizer?
Is Profit Maximizer a legit platform?
How to start using Profit Maximizer?
is Profit Maximizer endorsed by Elon Musk?