Over the years, there has been a major increase in the growth of the blockchain sector and its community worldwide. This has given rise to the introduction of multiple crypto trading platforms and similar entities. But despite the growing number of options, it becomes difficult for investors or traders to choose a single platform they can rely on.
Quantum Flash is one such trading platform that has gained massive traction in the past couple of months. This review aims to find out more about the platform, and verify the authenticity of Quantum Flash as a legitimate avenue for trading in cryptocurrencies.
Quantum Flash Platform Overview
In order to get a better understanding of Quantum Flash, it is important to know about at least some of its primary characteristics. The table below consists of some of our key findings about the platform.
| | |
| --- | --- |
| Type of Platform | Advanced Crypto Trading |
| Minimum Deposit | $250 |
| Claimed Success Rate | 95% (Self-Claimed) |
| Supported Cryptocurrencies | BTC, ETH, LTC, DASH, BNB, and Others |
| Mobile App | No |
| Withdrawal or Deposit Fees | None |
| Customer Service | 24/7(After Registration) |
Cryptocurrencies are unregulated. Trading with unregulated brokers will not qualify for investor protection.
What is Quantum Flash?
As per the website, Quantum Flash is a crypto trading platform, where users can buy or sell cryptocurrencies with ease. It claims to be a multi-asset entity, which means that users can buy and sell not just BTC, but also a number of other altcoins. The platform claims to be an easy way for investors to navigate the bear market and gain profits despite the current volatile economic conditions.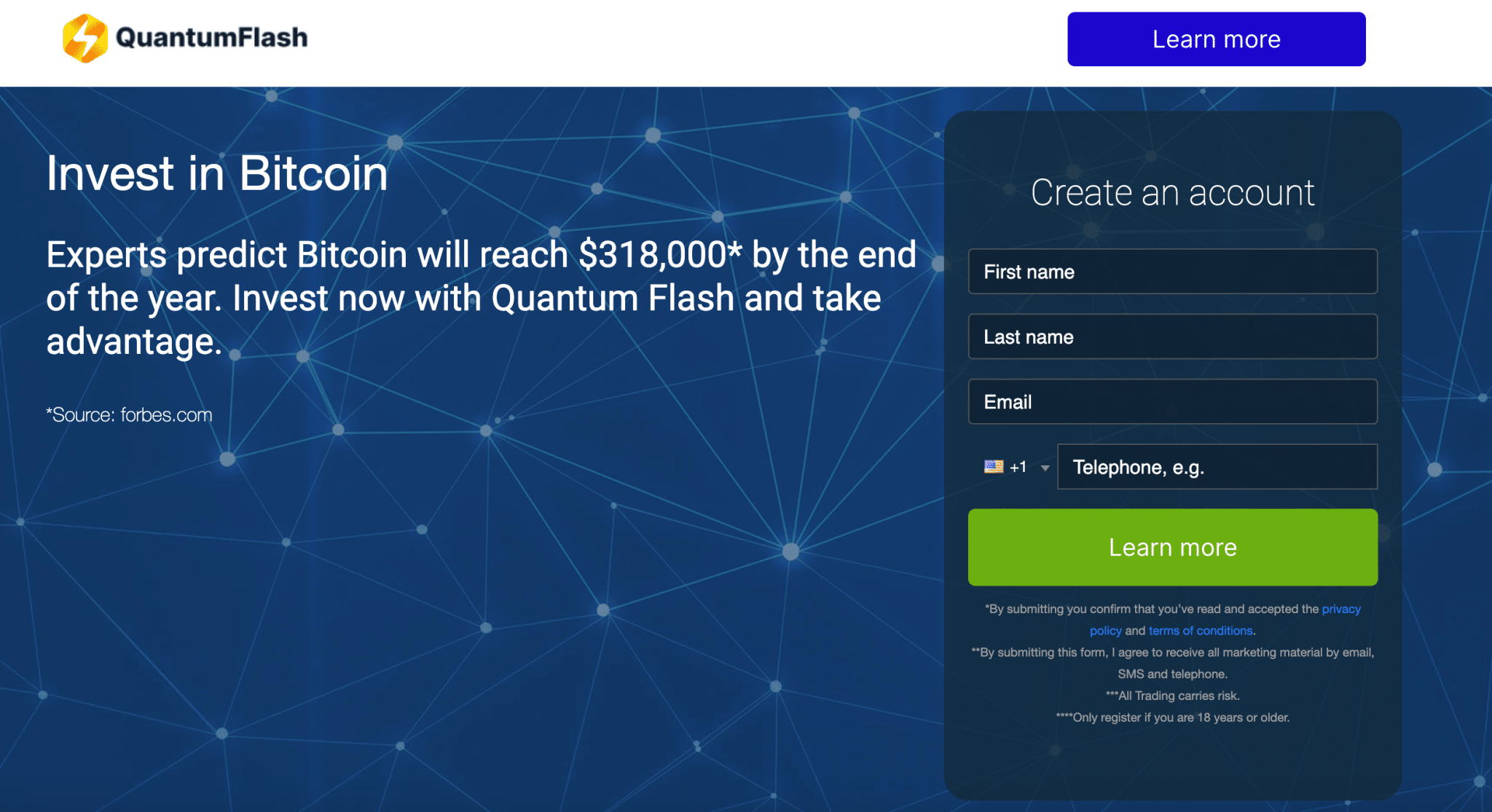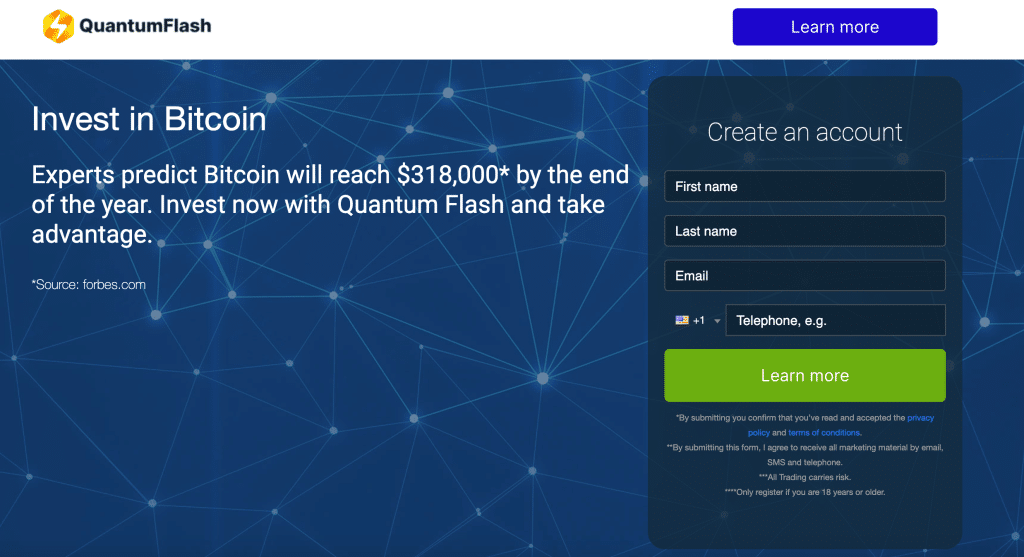 The platform is supposedly an autonomous crypto trading platform, which means that users do not have to be present physically at all times to keep tabs on their trades. Quantum Flash can apparently open and close positions on its own, and even provide more data on what type of cryptocurrencies to invest in and the time at which it should be considered.
Naturally, consistent profits are highly difficult even for such automated platforms. However, the website mentions itself as a "Powerful and Intuitive Trading Platform" which is apparently easy to use and has a seamless design. Unfortunately, the entity has absolutely no evidence on the website to back these claims.
This is exactly why we would start off by recommending each individual do their due diligence before actually injecting funds into the platform in hopes of good returns. Also see our guide to the most profitable cryptocurrencies to invest in.
Who Created Quantum Flash?
While the platform surely has been gaining attention, little is known about its creator or the development team carrying out operations. In fact, there is no mention of any core team members or related information on the website as well.
While there are many websites that do not necessarily feature the information of their creators, it is unlikely to come across a website that has absolutely no mention of the team at all across the entire page.
Some reviews on other websites have mentioned that VCs or influential figures in the crypto space may be involved in the creation of the platform. However, we were unable to verify these rumors.
Its creators may be attempting to follow in the footsteps of other platforms such as Quantum AI and Quantum Prime Profit.
Quantum Flash Pros and Cons
Like any other website or cryptocurrency company out there, Quantum Flash has its pros and cons. While the pros may sound appealing, one must note that a majority of the mentioned advantages are simply based on the claims made by the platform. They may or may not be accurate.
Pros
Demo account supported

High-end security features

Investors could potentially generate massive profits with ease

Easy account creation process

Multi-asset platform
Cons
Incomplete information on website

Mandatory $250 initial deposit for access

Creator unidentified
Cryptocurrencies are unregulated. Trading with unregulated brokers will not qualify for investor protection.
How does Quantum Flash Work?
No details regarding the operational nature of Quantum Flash have been mentioned on the website. There are, however, some claims by them that users can potentially expect to see if they do use it.
While these claims are yet to be verified, Quantum Flash does state that it utilises advanced programs that can follow the market trend around the clock, helping it predict the prices of assets based on historical movement.
There are several major platforms that have proved to have efficient automated software that can achieve the aforementioned result. However, Quantum Flash has no proof to establish the fact that it can actually predict prices with a higher accuracy using its software.
Which Devices Can be Used to Access Quantum Flash?
According to our Quantum Flash review, the platform offers trading on both the web and mobile devices. This implies that investors can use desktop computers, Android, iOS, and Windows devices to access this platform.
Investors may easily navigate the site because the mobile version is responsive and designed for smaller displays. Even integration with one of the most popular options – Meta Trader 4 is supported, claims the website.
Quantum Flash Supported Exchanges
While the platform does mention that it works with all the major crypto exchanges via an API, we weren't able to confirm this due to limited information on the website. No details about any of these exchanges or brokers were mentioned on the website, which made it difficult for us to find out more about the websites Quantum Flash can be integrated with.
Quantum Flash – Supported Countries
As per the website, Quantum Flash is available in a majority of countries that do allow trading in cryptocurrencies. While the platform claims to cater to customers across the globe, it does have some exceptions however our Quantum Flash review team found the site accessible and VPN friendly.
What is the Success Rate of Quantum Flash?
The success rate of Quantum Flash as stated by the website is 95%. As mentioned above, this figure has been provided by the platform and no evidence has been provided to support this claim as of yet.
Quantum Flash – Top Features
There are some features that Quantum Flash has highlighted on its website. These may be similar to some other platforms but are still considered unique selling points according to the website. Some of these features are:
Support for Multi-Asset Trading
Naturally, no trader would like to jump from one platform to the other to carry out trades for various cryptocurrencies. Quantum Flash manages to make this process fairly easy by providing access to a majority of top cryptocurrencies in a single place.
Cryptocurrencies like Bitcoin, Ethereum, Litecoin, Dash, Binance Coin etc are supported on the platform amidst other altcoins that the platform features on its website.
Availability of a Demo Account
One component within any trading platform that can be highly beneficial to any type of trader is a Demo Account. It is a trading avenue where users do not have to spend real money to create strategies or practice trading. These demo trading accounts often help beginners get a hang of trading while also providing experienced traders with a free tool for building trading strategies.
No Fees
The Quantum Flash platform mentions on its website that it charges no fees for any of the services provided. This is indeed surprising and may sound appealing to any potential users. However, one must review all the terms and conditions to ensure that no hidden fees or extra charges are levied by the website.
Is Quantum Flash Legit or a Scam?
At a glance, Quantum Flash is sure to come off as a very attractive avenue for crypto trading. The platform provides automation, a no-fee policy and several other features that make it appealing to users. However, our review could not essentially verify the authenticity of Quantum Flash since the information mentioned on the website was very limited.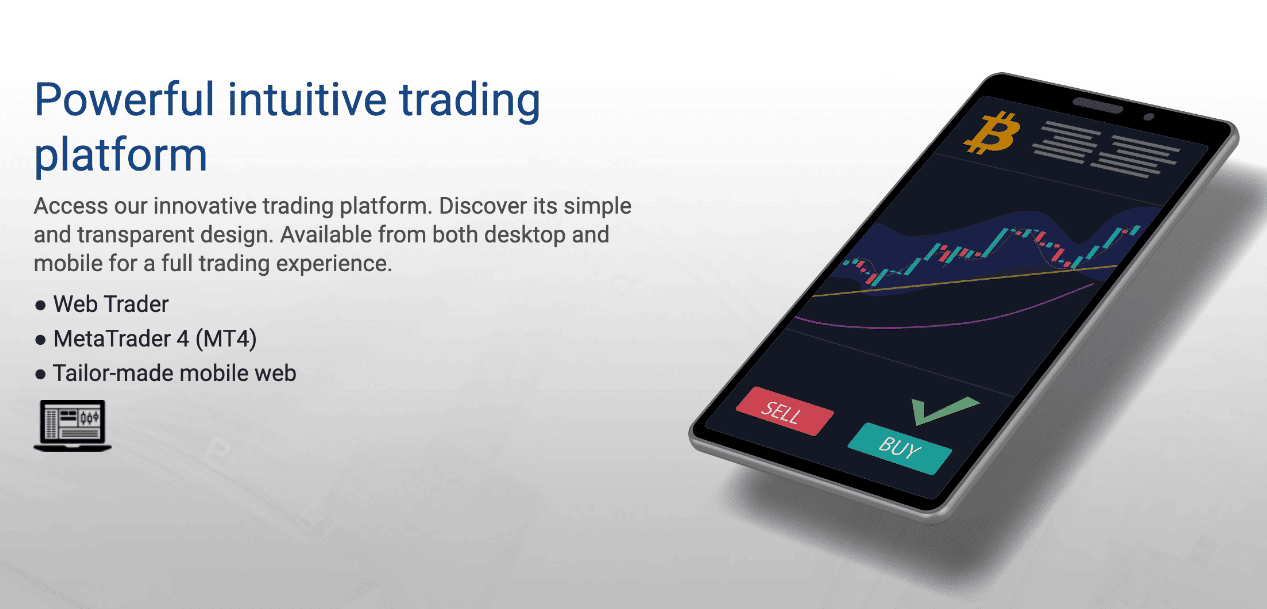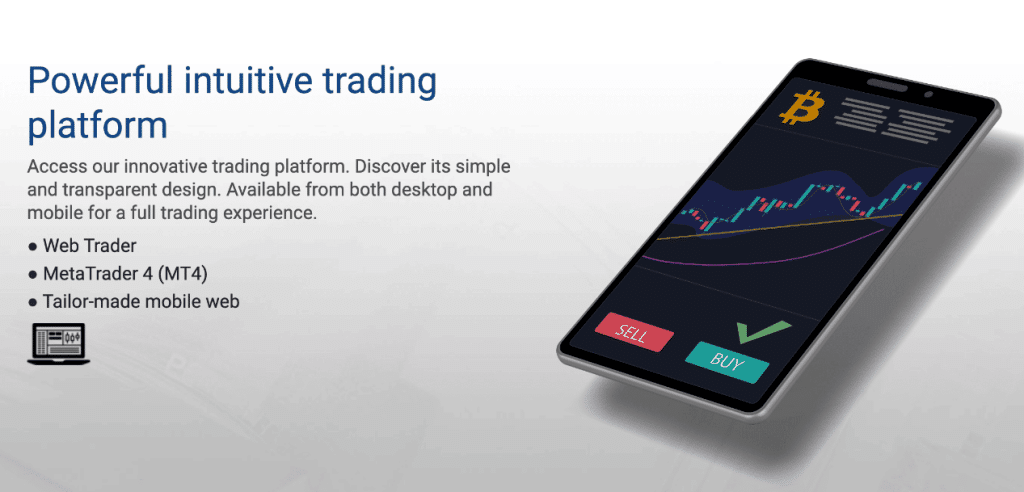 It may not always be a good sign if a trading platform isn't being transparent with information that one would generally need. This means that while there may not be any particular aspect to the platform that indicates that it is a scam, one may still want to do their own research before using it.
Readers looking for Quantum Flash alternatives may also be interested in our guide on how to earn free crypto.
What is the Minimum Deposit on Quantum Flash?
There is no exact information about any minimum deposit requirement on the platform website. However, in order to gain access to the platform and use all available services, users supposedly need to first deposit a sum of $250. Since this is the initial deposit as well, it is likely that any deposit thereon would also need to be $250 or more.
Quantum Flash Reviews
We searched online for reviews on other websites and reputed platforms that could provide further insight into the Quantum Flash Platform. As expected, these websites too had faced similar issues when it came to collecting data, thanks to the limited information made available on the website.
However, most of these reviews had mixed opinions in terms of it being a legitimate platform. While some cautioned investors to look for other alternatives like Quantumator or Quantum Trade Wave, some reviews claimed that Quantum Flash was a good option. Investors should conduct their own research extensively before investing a large amount of capital on any platform.
Cryptocurrencies are unregulated. Trading with unregulated brokers will not qualify for investor protection.
Do Celebrities Endorse Quantum Flash?
Many websites that talked about Quantum Flash did mention that it may have ties with some popular individuals in the finance or entertainment industry. While this may be an exciting thing for potential users, the platform has not released any evidence that proves this claim to be true.
As per our research, no celebrities have been associated with the platform on a public level.
Quantum Flash Customer Support
For clients that have an active account with the platform, Quantum Flash claims to offer 24/7 phone and email customer assistance. However, they will be required to first deposit the $250 amount in order to register as a user and gain access to the services.
How to Get Started with Quantum Flash
After going through the review, if one wishes to go ahead with the Quantum Flash platform, then one can do so by following these steps:
Step 1 – Create an Account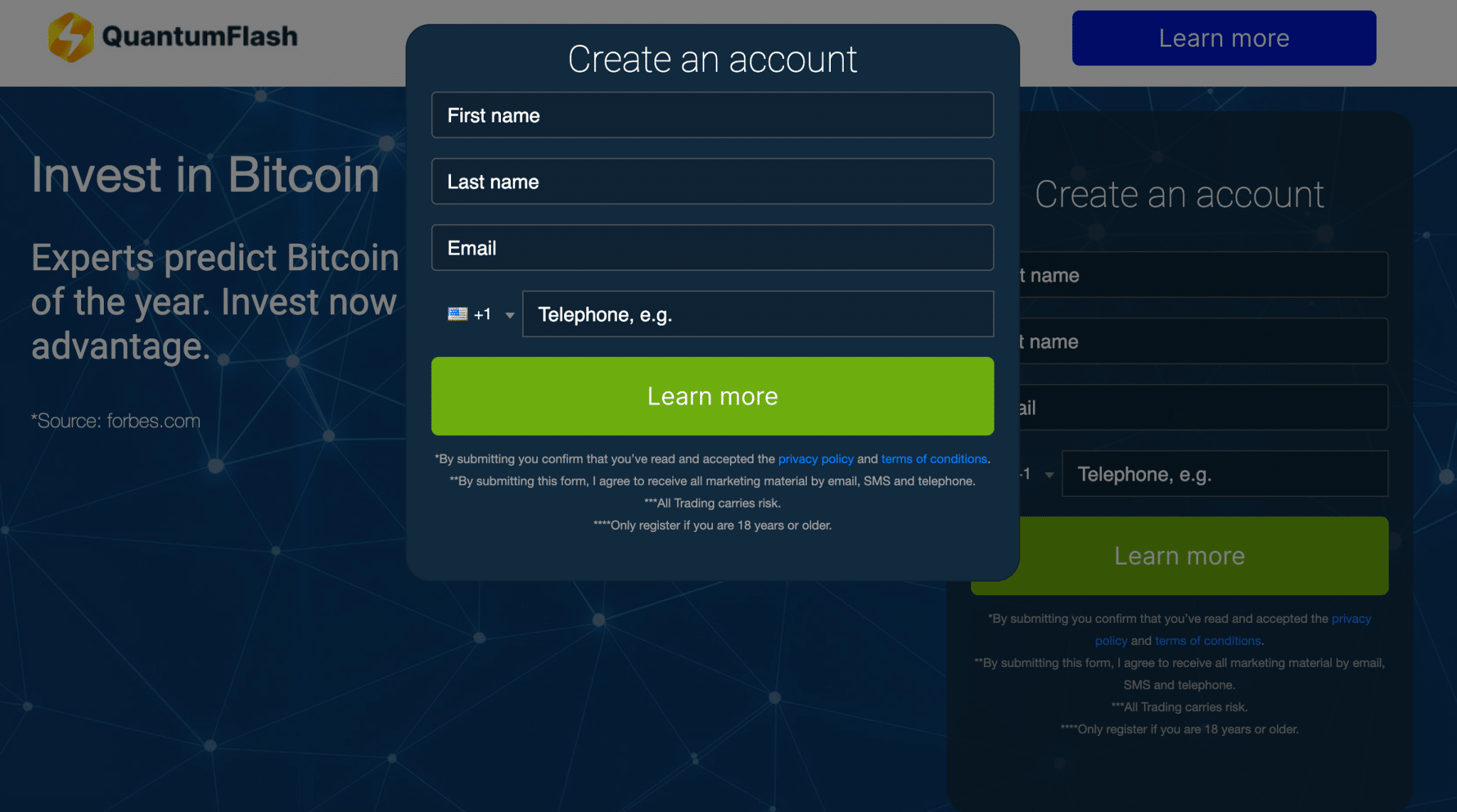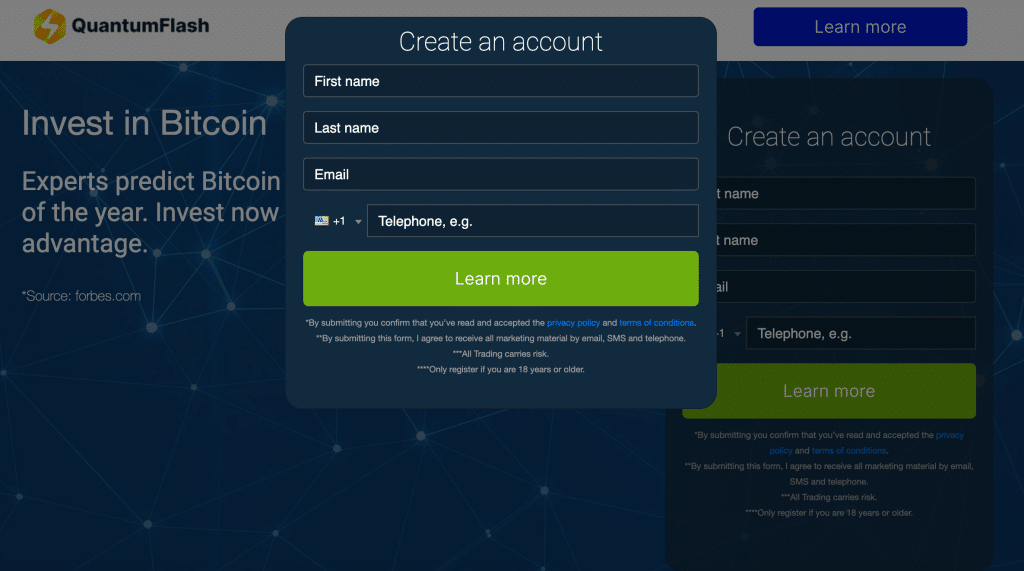 To get started, go to the official Quantum Flash website and register. Your full name, email address, and phone number appears to be required for this, although a burner number could be inputted for those who prefer to communicate via email.
Step 2 – Deposit Funds
Make a deposit of no less than $250. There are several acceptable forms of payment, and the majority of them are instant and would require the investor to go through no major hassle.
Step 3 – Begin trading
After the account has been funded, Quantum Flash supposedly conducts market research and executes positions as necessary. Investors can use the sample account to learn how the platform functions at first. Account users may withdraw their remaining amounts at any moment, according to Quantum Flash.
How to Delete a Quantum Flash Account?
According to the website, users can go to the main menu and look for the delete account option in there to start the process. If faced with any difficulty, they can also get in touch with customer support which Quantum Flash has made available for its users on a 24/7 basis.
Is Quantum Flash Legit? – The Verdict
In conclusion, Quantum Flash is one of the several cryptocurrency trading platforms that offer a variety of benefits to investors. Although it is mentioned across social media as a top choice, relatively little is known about this site.
While the platform claims to have a high success rating, we were unable to locate any information regarding the same. So that they are aware of the hazards, investors are recommended to conduct their own research before using the site. Remember all trading carries risk – only invest what you can afford to lose.
Cryptocurrencies are unregulated. Trading with unregulated brokers will not qualify for investor protection.
Quantum Flash FAQs
Does Quantum Flash allow NFT trading?
What is the initial deposit amount on Quantum Flash?