The price of Bitcoin and other altcoins has started to recover, which has helped the blockchain industry get a grip in terms in terms of engagement once again. While the level of interest may not be as high as it was back in 2021, it has surely seen considerable growth within the last couple of months.
This has given rise to a number of cryptocurrency platforms, a popular one being Quantum Pro 360 that has been gaining traction as an avenue for trading among the investing citizenry despite the market conditions – but is it really a platform worth using? Can one's funds be safe and secure if one potentially uses Quantum Pro 360?
This review aims to find the answers to these exact questions, by reviewing every available information about the platform. We shall take a look at the variety of features, advantages or disadvantages and more to verify the authenticity of Quantum Pro 360 by the end of this article.
Quantum Pro 360 Platform Overview
The Quantum Pro 360 website claims that the platform has a wide set of features that users may find useful. However, before diving into these, it is vital to have a general idea of the key components of the platform. The table below features some of our key findings that were discovered while exploring the platform.
| | |
| --- | --- |
| Type of Platform | Advanced Crypto Trading |
| Minimum Deposit | $250 |
| Claimed Success Rate | Not Stated |
| Supported Cryptocurrencies | BTC, ETH, ADA, XRP, LTC, USDT etc. |
| Mobile App | No |
| Withdrawal or Deposit Fees | None |
| Customer Service | 24/7 |
Cryptocurrencies are unregulated. Trading with unregulated brokers will not qualify for investor protection.
What is Quantum Pro 360?
The interest in cryptocurrencies increasing is what caused the inception of Quantum Pro 360. It claims to be a crypto trading platform that can let users gain access to a dashboard and carry out trades across the globe and around the clock.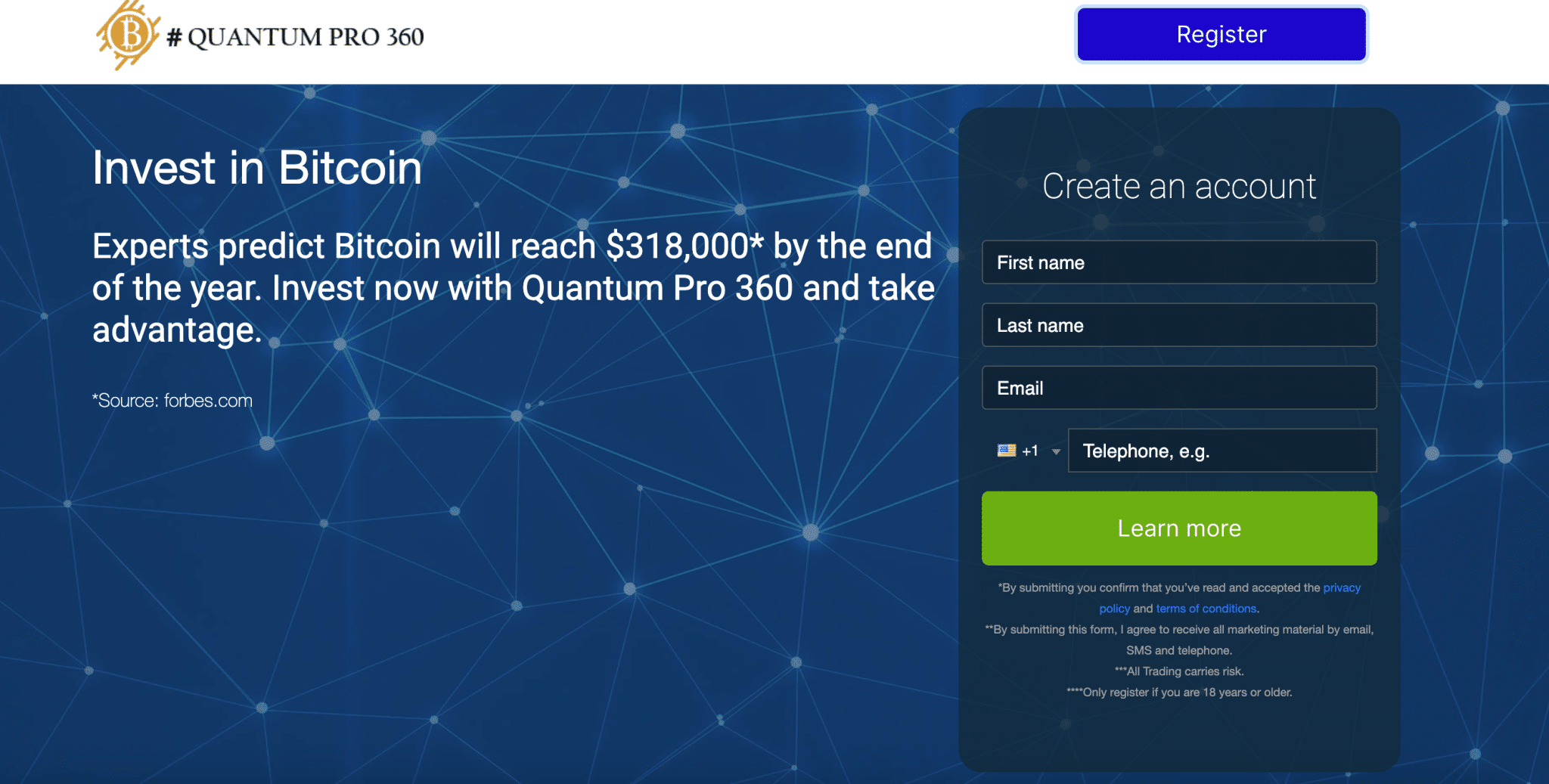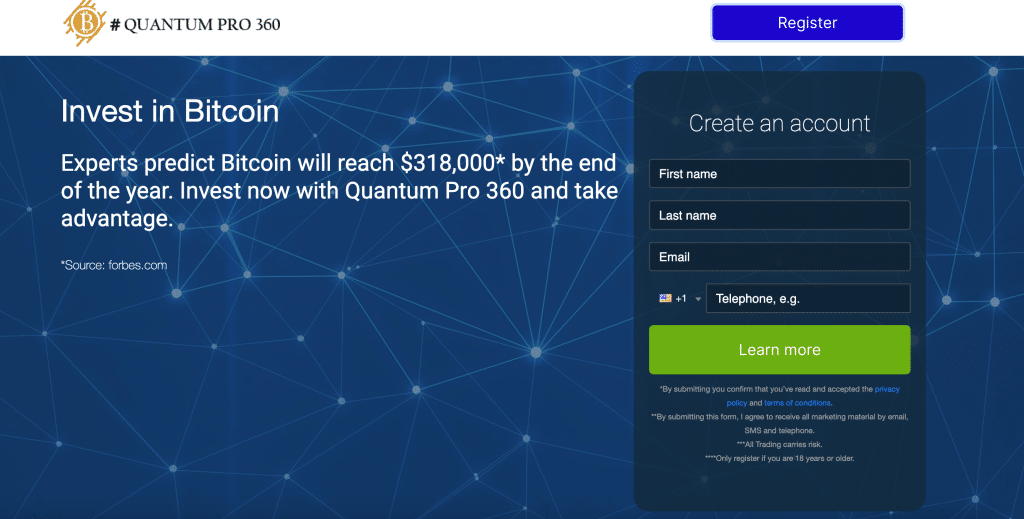 Quantum Pro 360 is also multi-asset in nature, which means that users do not have to worry about signing up on multiple platforms to trade various cryptocurrencies exclusively. They can simply use the platform and enjoy access to multiple options like BTC, ETh, XRP, ADA, BNB and more.
One of the main selling points of the platform, however, is its automation feature. Quantum Pro 360 calls itself a powerful and intuitive platform that can automate trading for users. Essentially, the platform uses algorithms to learn market trends and take strategic trading decisions. It can open or close positions, and even create strategies on its own. Thus by using Quantum Pro 360, the trader is supposedly gaining access to profits without even having to be present physically.
However, all of these are simply claims made by the platform, which are not currently backed with any type of solid evidence. This is why we would start by advising readers to take in every bit of information within the article with a pinch of salt since most of them are featured exactly as mentioned on the website.
Who created Quantum Pro 360?
Quantum Pro 360 started seeing a rise in traction and searches since it was launched. However, there is no information regarding the creator or team of developers behind the project yet. Infact, there is no data surrounding any of the core team members or employees as well, which was surprising.
Creators of crypto platforms often hide their identity to remain anonymous, but usually feature some information about their experience or avatars that resemble their persona. None of these was found by us while exploring the platform. There are some rumours about celebrities and popular figures in the finance space being a part of the core team. But we didn't find any type of information that would associate any popular figure with Quantum Pro 360.
Quantum Pro 360 Pros and Cons
While exploring the platform, we came across some pros and cons that may prove to be quite insightful to users and may also help them make a potential decision of whether to use the platform or not.
Pros
Automated trading platform
No fees associated as per the website
24/7 customer support available
Demo trading
Integration with Meta Trader 4
Cons
Minimum deposit of $250
Limited information on website
Cryptocurrencies are unregulated. Trading with unregulated brokers will not qualify for investor protection.
How does Quantum Pro 360 work?
What we can gather from the Quantum Pro 360 website is that this tool claims to be a semi-autonomous trading platform which deals in many types of cryptocurrencies. However, nothing with respect to the platform's internal working has been stated on the website.
While the success rate of the platform hasn't been revealed, it does claim to often deliver excellent results. However, gaining access to the platform comes with a $250 initial deposit, which is not the case in a majority of good trading platform alternatives.
It claims to feature multiple components within the platform that could potentially help traders take good positions. But the operational aspect of these features has not been explained by the team on the website. The platform claims to speed up withdrawal processes, although there is no specific mobile application for it. Nonetheless, users can still use the platform's mobile web browser interface to handle their trades and make strategic decisions.
Which Devices Can be Used to Access Quantum Pro 360?
One of the most sought-after devices or trading engine integration we wish to highlight as per the website is Meta Trader 4 or MT4. Using this high-quality tool, traders can indulge in a better trading experience, and even end up making better trading decisions. Several devices can be used to trade on the Quantum Pro 360 platform.
The ones that support the platform with efficiency as per the website are:
Mobile (online browsing)

iPads and Tablets

Laptops and Desktops
Quantum Pro 360 – Supported Exchanges
Quantum Pro 360 hasn't made many public announcements or similar statements that would give us an exact idea of the type of companies it could be associated with or the sites it can be used with.
It does state that it is compatible with MT4 and MT5, as well as having its own proprietary web trader.
What is the Success Rate of Quantum Pro 360?
The success rate of Quantum Pro 360 has not been mentioned anywhere on the website. There is no relevant data that could point one in the right direction too. Due to this, we were unable to determine the capacity of the trading platform to take correct decisions.
Quantum Pro 360- Top Features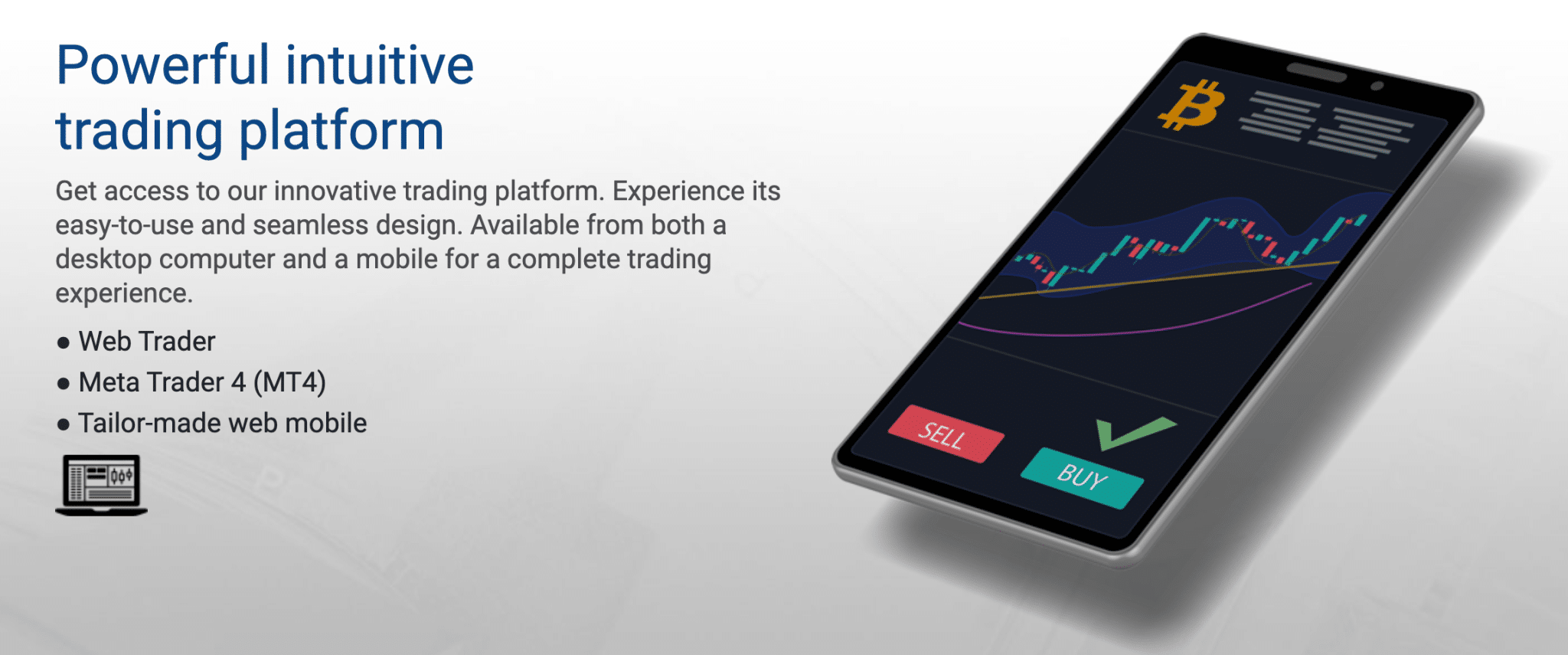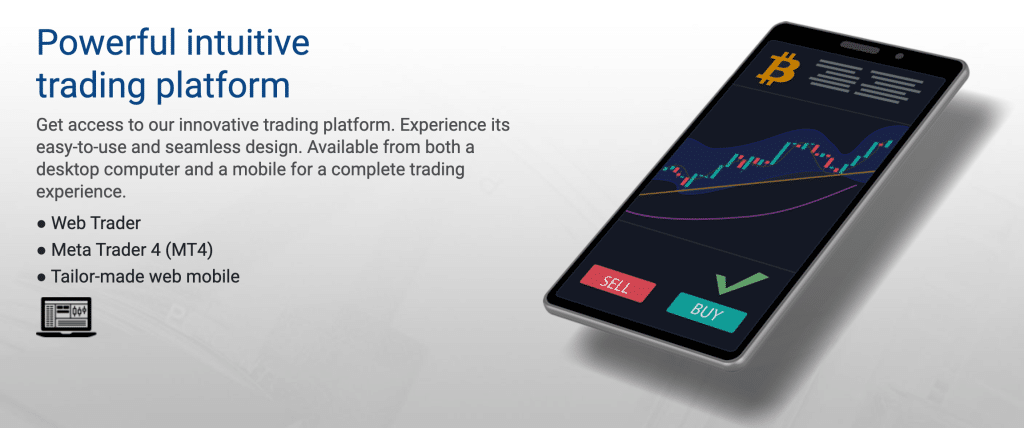 There are some features that every potential user must be aware of before considering Quantum Pro 360 as their trading platform. Some of the most popular ones as per the platform are:
Instant Transactions
Quantum Pro 360 claims to execute trades in milliseconds, a feat that can prove to be challenging even for automated services. However, the platform provides no evidence to support this claim, making it unverifiable.
Easy Registration
To access specific functionalities on the Quantum Pro 360 platform, users must register and make deposits. The registration process is straightforward, and users can start using the platform as soon as they provide basic contact details. The amount to get started and actually gain control of the dashboard and other features that the platform provides is $250.
Demo Trading Feature
Practising and developing trading strategies is crucial to achieving success when it comes to trading. With Quantum Pro 360's demo trading feature, users can theoretically accomplish this without risking real money. This functionality allows users to gain experience and refine their skills before investing their funds.
Multi-Asset Platform
Quantum Pro 360 is supposedly a multi-asset platform that enables users to trade a variety of assets in one place. With the platform's automation, users can seamlessly execute trades and make informed decisions effortlessly. However, the efficacy of this feature has yet to be confirmed since there are not a lot of customer reviews available at this time.
Cryptocurrencies are unregulated. Trading with unregulated brokers will not qualify for investor protection.
Is Quantum Pro 360 Legit or a Scam?
Labeling Quantum Pro 360 as a scam may not be the most appropriate approach. However, there are a number of discrepancies surrounding the crypto trading platform that make it difficult to classify it as legitimate.
One of the primary concerns is the lack of prior information available before depositing funds, which should not be the case. In addition, the absence of social media handles or other means of contact with the platform prior to the required $250 minimum deposit is noteworthy.
Despite boasting great features, Quantum Pro 360 fails to offer any evidence to substantiate its claims. Due to the lack of information and data to establish its legitimacy, we are unable to provide a definitive answer. Thus, we strongly advise that potential users exercise caution if considering trading on this platform in the future.
What is the Minimum Deposit on Quantum Pro 360?
The minimum deposit on Quantum Flash 360 as mentioned in the article is $250. This amount is also integral to gaining access to a majority of services provided by the platform.
Quantum Pro 360 Reviews
After conducting research, we discovered that there is a limited number of online reviews for the Quantum Pro 360 platform. The reviews that we did come across appeared to give the platform a neutral rating. It's also worth noting that there are several websites with similar names to Quantum Pro 360, such as Quantum Prime Profit.
Do any Celebrities Endorse Quantum Pro 360?
We found that certain claims have been made regarding the involvement of prominent celebrities in the creation and promotion of the platform. However, upon further investigation, we have found that there is a lack of concrete evidence to support these claims.
It is important to exercise caution and approach such statements with a critical eye, as they may not necessarily reflect the actual nature of the platform or its operations. As a result, we recommend that potential users perform their own research and due diligence before making any decisions or investments on the platform.
Quantum Pro 360 Customer Support
In the event of any account-related queries or issues, users can easily contact the Quantum Pro 360 support team via email or live chat. The team claims to be readily available to address concerns and provide assistance to users throughout their trading journey on the platform.
How to Get Started with Quantum Pro 360?
If you are considering Quantum Pro 360 for your trading needs and have read the review, here are the steps to follow to register and start using the platform:
Step 1: Visit the Website and Register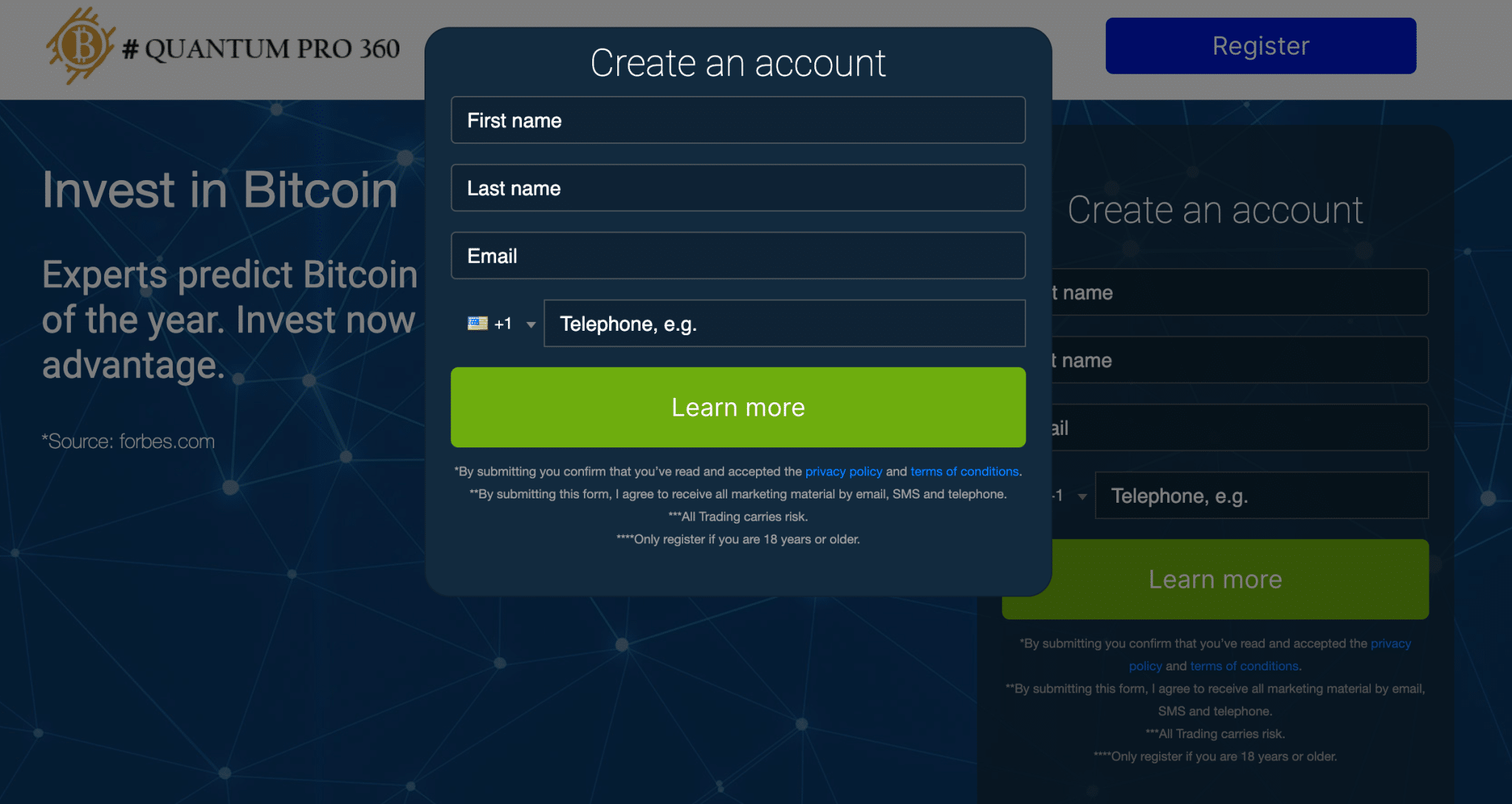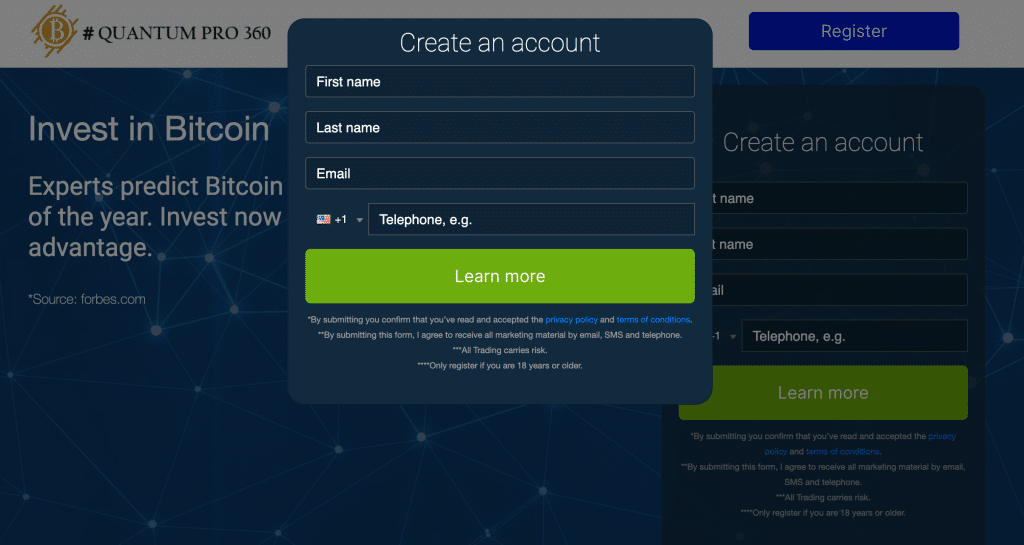 To begin using Quantum Pro 360, navigate to their website and complete the registration process. This usually requires providing your full name, email address, and phone number.
Step 2: Deposit Funds
After creating your account, the next step is to deposit funds. You will need to make a minimum deposit of $250 to access the trading dashboard. Quantum Pro 360 accepts various payment methods, such as credit cards and supported e-wallets, to make deposits.
Step 3: Start Trading
Once your deposit has been made, you can choose an asset and start trading on the Quantum Pro 360 platform. It is important to note that trading involves risks, and users should always conduct thorough research before investing in any platform.
Additionally, it is recommended to start with a small amount of capital and gradually increase it as you gain more experience and knowledge about the platform.
How to Delete Quantum Pro 360 Account?
Deleting a Quantum Pro 360 account is quite simple. While there are no clear instructions on the website, other websites state that one can simply go to the main menu and find options to delete their account right away. Alternatively, they can also get in touch with customer support for help.
For some alternative platforms in the same niche, we've also reviewed:
Is Quantum Pro 360 Legit? – Final Verdict
While Quantum Pro 360 may appear to be a good option for crypto traders, it is crucial to exercise caution and be aware of the risks before investing any funds. The lack of transparency and reliable information about the platform makes it difficult to establish its legitimacy. It is advised that potential users exercise caution and perform their own due diligence before engaging with the platform.
Cryptocurrencies are unregulated. Trading with unregulated brokers will not qualify for investor protection.
FAQs
What is the minimum deposit on Quantum Pro 360?
Where is Quantum Pro 360 restricted?
Does Quantum Pro 360 support more than one cryptocurrency?