Quantumator presents itself as a platform that aims to assist users in grasping the cryptocurrency market. It's one of the newest trading platforms that's gaining traction lately. Is it legit though?
In this Quantumator review, we'll explore the platform and discover all its features to decide if it's a genuine option for traders to consider.
Quantumator Platform Overview
Before we delve into a detailed understanding of the platform, it's essential to have a quick overview of what the platform is and some of its key details. Here's a brief summary to give you an idea.
| | |
| --- | --- |
| Type of Platform | Advanced Crypto Trading |
| Minimum Deposit | Not Stated |
| Claimed Success Rate | Not Stated |
| Supported Cryptocurrencies | BTC, ETH, XRP, ADA, BNB, etc. |
| Mobile App | No Quantumator App |
| Withdrawal or Deposit Fees | Not Stated |
| Customer Service | 24/7 – After Registration |
Cryptocurrencies are unregulated. Trading with unregulated brokers will not qualify for investor protection.
What is Quantumator?
The initial line in the 'About Us' section of the Quantumator website states: "Quantumator is a trading platform that guides users through the trading journey by providing the educational materials and tools they need."
This indicates that Quantumator may function as a trading platform tailored to cater to traders of all backgrounds, intending to assist them in executing profitable trades through a range of tools furnished by the platform.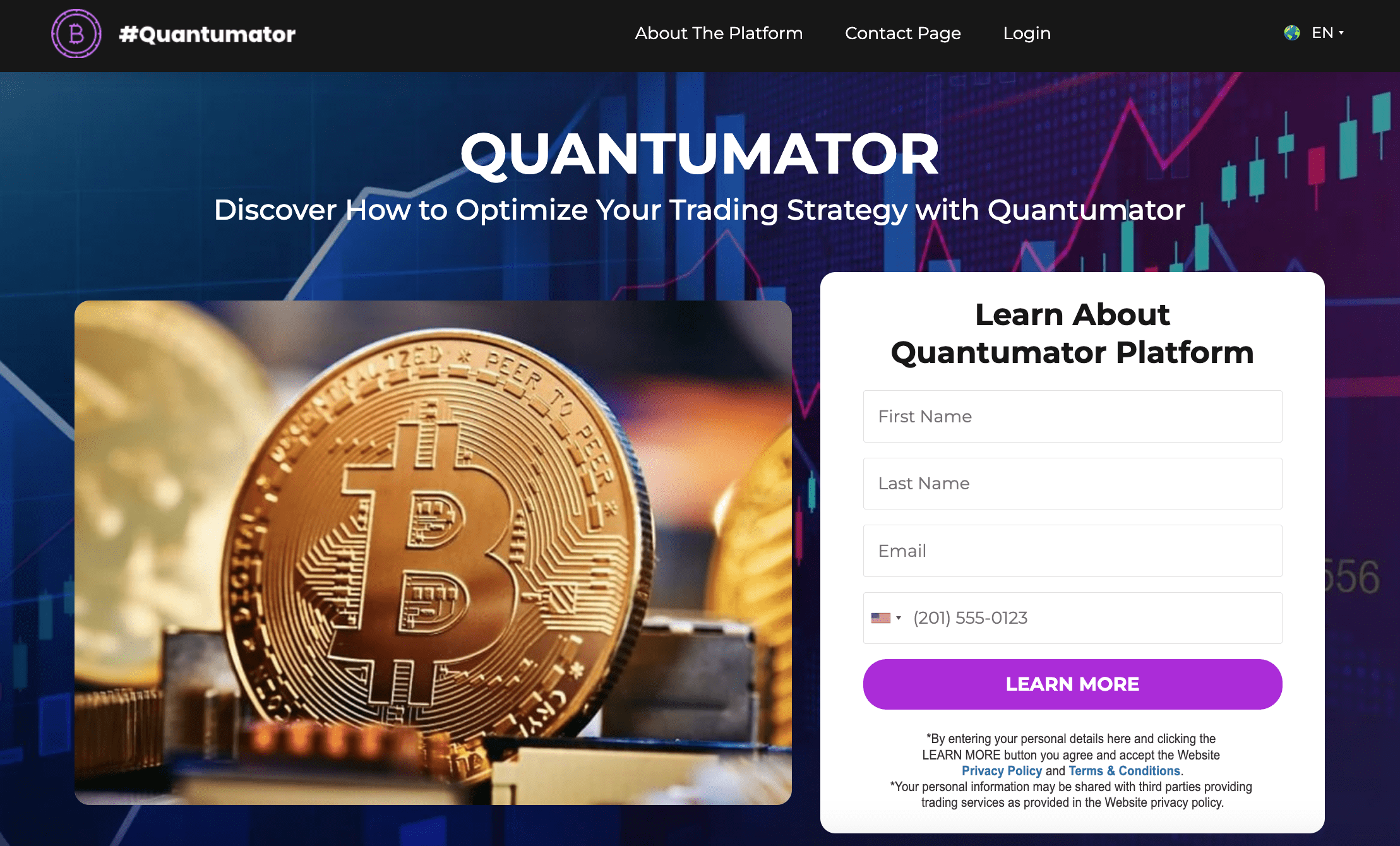 The main focus of the platform's content revolves around equipping users with the comprehensive information necessary to initiate generating profits from crypto trading. Additionally, the website encompasses diverse sections that educate users about cryptocurrencies and talk about the variety of features offered by the platform.
Distinct from merely serving as a trading medium, Quantumator places significant emphasis on educating users about intricate trading processes and concepts. This educational approach is believed to substantially enhance users' trading endeavours. Allegedly, the development team held user safety in high regard during the creation of Quantumator, diligently safeguarding individuals' information and ensuring the confidentiality of each trade.
Equipped with a user-friendly design and interface, the platform boasts a streamlined registration process, allowing users to promptly engage with the platform. Navigating the dashboard to learn about and experiment with its features is seamlessly facilitated, as the website contends.
Quantumator's primary tools encompass integrated crypto signals and charts, serving the needs of users interested in staying abreast of the latest price trends and fluctuations. Essentially, the website asserts that Quantumator's creation was steered towards consolidating an array of features and resources essential for traders within a unified platform.
Who Created Quantumator?
The website has a dedicated section discussing the founding team of Quantumator. However, it doesn't provide details about the identities of these founders; it only offers insights into their professional backgrounds.
According to the website, Quantumator was conceived by analysts from various backgrounds and experience levels. These analysts supposedly have a strong grasp of the crypto industry and are fully dedicated to providing users with the necessary tools to navigate this domain.

With a focus on enhancing the learning process, the Quantumator team has reportedly integrated several features that enable users to access crucial information, such as market trends and prices. The team is said to work to ensure all users have an optimized trading experience and that their expectations are met through a comprehensive trading platform.
Quantumator Pros and Cons
Here are some of the pros and cons of the Quantumator trading platform that we were able to identify while reviewing the entire website.
Pros
Highly valuable market insights

Easy registration process

Guidance by an agent

Multi-asset platform

Variety of advanced trading tools
Cons
Limited information about platform functions
Cryptocurrencies are unregulated. Trading with unregulated brokers will not qualify for investor protection.
How Does Quantumator Work?
The Quantumator platform operates through two key components. The first is the live prices and real-time data feature, which allows users to analyze current market information for a deeper understanding of the cryptocurrency market. This feature provides comprehensive details, including live prices and trading volume, supporting traders in their analysis. Expert traders often rely on these tools to enhance their knowledge, monitor trades, and make informed decisions that align with their strategies. Quantumator's user-friendly layout ensures beginners can easily access and interpret this information.
Even experienced individuals in the crypto market might find using a new trading platform challenging. With Quantumator, all users receive support from an agent who will assist them throughout the process.
While this article highlights these two operational features, it does not delve into the platform's internal workings or how it facilitates these services. Details about associated documentation, papers, or partner names are typically revealed after registration. However, upfront information about these aspects is not readily available to those who haven't signed up as users.
What Devices Can be Used to Access Quantumator?
Quantumator provides access to its trading platform through various devices. While it doesn't offer a dedicated trading app, Quantumator can be easily reached via web-based browsing on mobile devices. The unique trading platform is also accessible on the following devices:
Laptops

Desktops

iPads and tablets

Mobile phones
Quantumator – Supported Countries
There is currently no dedicated page that outlines the specific countries where the Quantumator platform is either accessible or restricted. This absence is unexpected, as many cryptocurrency platforms usually provide such information to avoid any legal complications.
While precise details are lacking, it's noted at the bottom of the website that the platform is not available for use in the US and the US. This suggests that it might be accessible in other regions unless a country explicitly prohibits cryptocurrency trading for its residents.
Quantumator – Top Features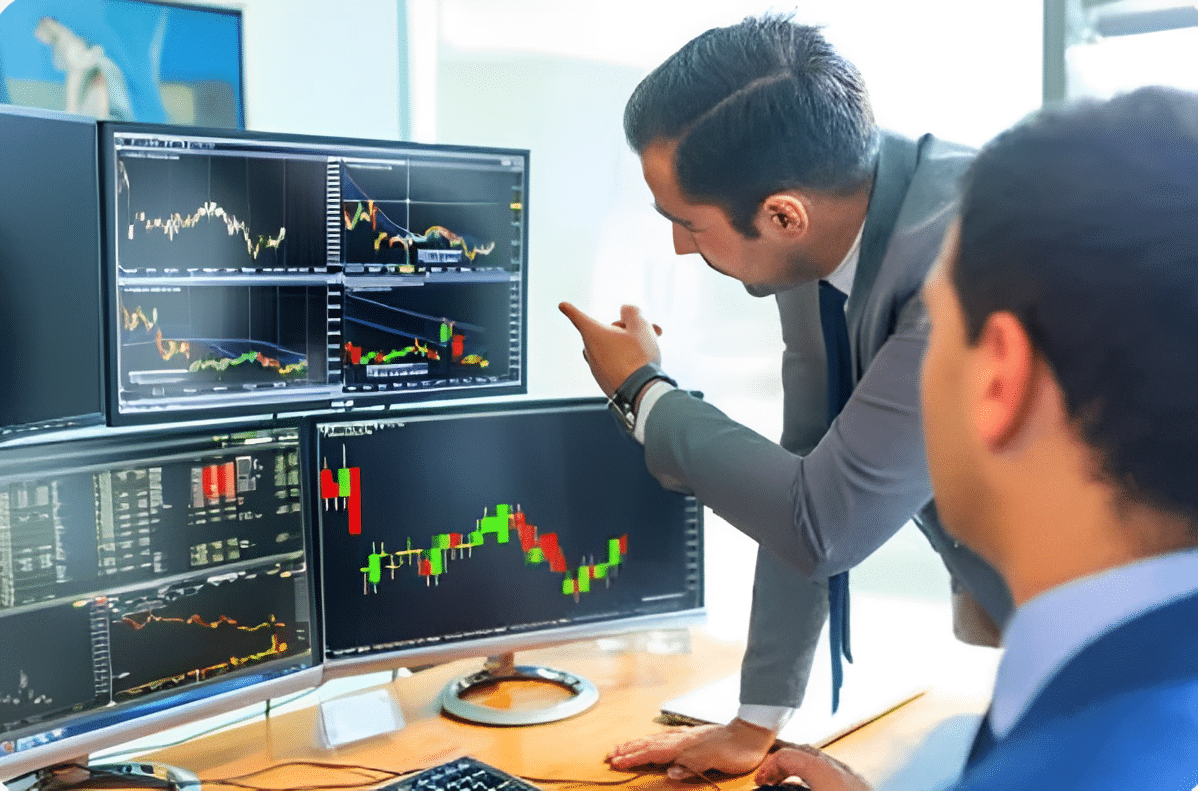 The following sections highlight some of the prominent features offered by Quantumator. This list has been compiled based on the assertions put forth by the trading platform.
Crypto Backtesting Features
Quantumator claims to offer numerous basic and advanced features, including the ability to backtest trading strategies. This feature empowers users to expand their knowledge and experience in the crypto industry by evaluating the effectiveness of their strategies.
The platform allegedly provides various backtesting tools that simulate trade performance based on historical price data of preferred cryptocurrencies, which can help a user make more strategic decisions.
Account Management Tools
In addition to market data and analysis features, Quantumator grants users access to an account to gather information essential for making trades. Traders can access the platform via mobile or desktop browsers to monitor market trends or trades, even while on the go. While Quantumator is user-friendly, navigating the platform to understand its workings and features may require some research, but managing an account becomes smoother after getting acquainted, the website states.
Trade Management Tools
Quantumator's diverse tools and data enable users to monitor and track their trades' performance. Given the volatile nature of the crypto market, this feature is crucial for enhancing decision-making. As a result, the user gets access to information that could prove influential in the result of each trade taken.
Crypto Charts and Analysis Tools
Quantumator claims that users gain access to crypto charts for a closer market examination using this feature. The platform offers various indicators, metrics, and overlays, enabling traders to identify patterns, trends, and important movements for developing effective strategies. These charting tools, while advanced, cater to both expert and novice users, making them an advantageous element for anyone entering the crypto trading domain.
Is Quantumator Legit or a Scam?
Quantumator portrays itself as a comprehensive trading platform offering a range of attractive features. However, it's crucial to emphasize that many of the platform's claims lack easy verifiability, distinguishing it from some other options in the market.
While categorizing Quantumator as an outright scam may not be accurate, labelling it as a fully legitimate platform might also be an overstatement. The website's absence of key information and data is concerning and leaves much to be desired. This lack of transparency casts a shadow over Quantumator, as users should ideally have a clear understanding of what they're engaging with.
Moreover, the requirement to deposit a specific amount of funds to access the platform raises significant concerns. The lack of clarity about where these funds are allocated and whether users genuinely obtain the promised access to the platform is a noteworthy issue. This opacity presents a major challenge, especially given the absence of substantial feedback or reviews from users who have previously conducted trades on Quantumator.
What is the Minimum Deposit on Quantumator?
In order to gain complete access to the platform, it is vital that the interested trader add funds and register as a user first. However, the minimum deposit for getting started on the Quantuamtor platform has not been clearly mentioned anywhere across the platform.
Cryptocurrencies are unregulated. Trading with unregulated brokers will not qualify for investor protection.
Quantumator Customer Support
Effective customer support is a critical service, especially in matters involving valuable assets like cryptocurrencies.
Quantumator acknowledges the importance of customer support, but there's a notable condition attached. To access customer support services, users are required to complete the registration process and make the minimum deposit.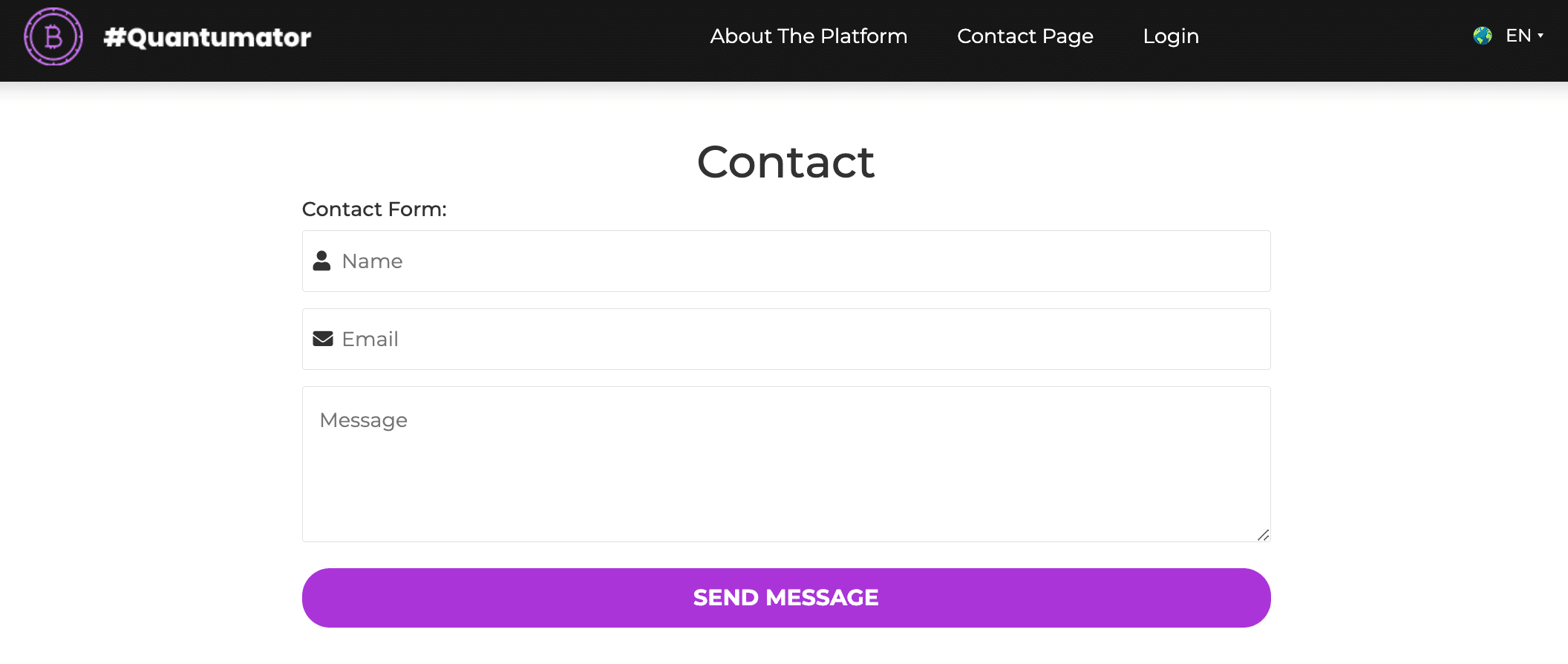 Based on insights from various reviews and online articles, it's apparent that the Quantumator team can be reached through email and live chat. This access is particularly valuable when members encounter account-related queries or face issues that require assistance.
How to Get Started with Quantumator?
After reviewing all the terms and conditions of the platform and deciding to proceed, if you choose to trade with Quantumator, you can follow the steps outlined below:
Step 1: Register an Account with Quantumator
Begin by visiting the Quantumator trading platform's website. Upon arriving at the website, you'll need to create a new account.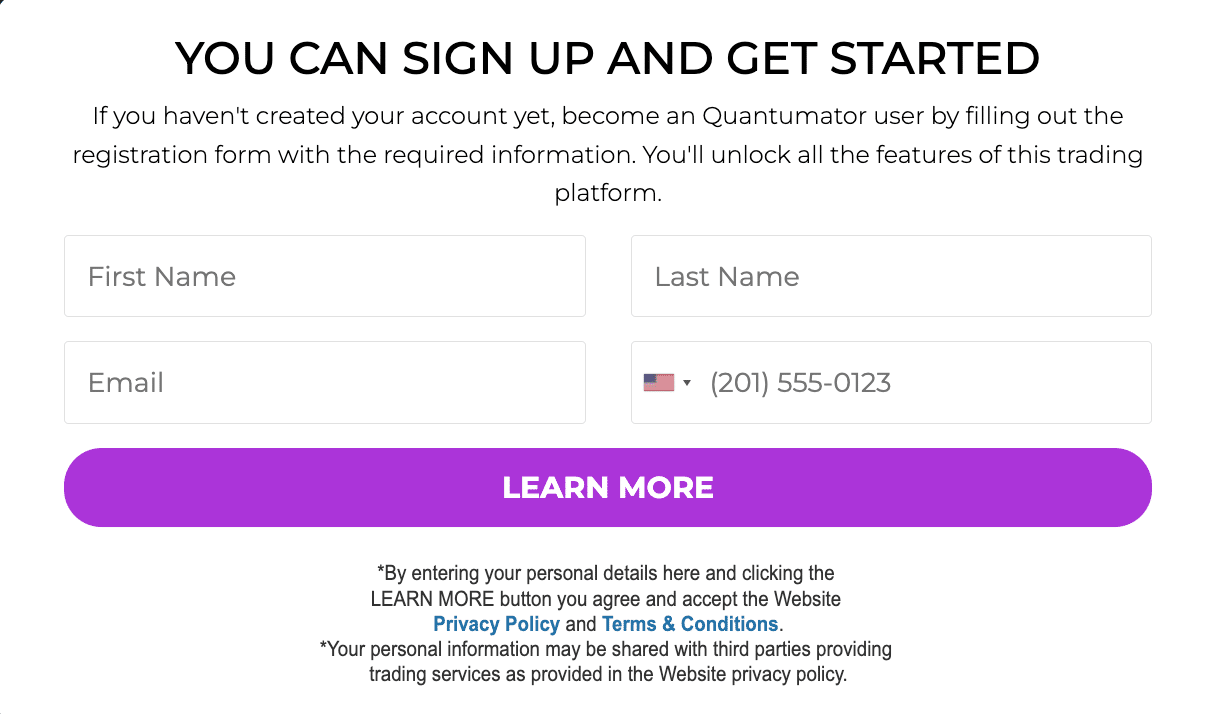 Provide your first and last name, phone number, and email address to complete the registration process.
Step 2: Make a Deposit
Once your account is successfully registered, you can fund it by making a deposit. Quantumator offers various payment methods, including debit/credit cards and e-wallets like PayPal.
Step 3: Start Trading on Quantumator
After your deposit is processed, you're ready to commence trading on Quantumator. Choose your preferred cryptocurrency and initiate your trading activities on the platform.
How to Delete a Quantumator Trading Account?
If you wish to delete your Quantumator account, you may find an option to do so directly in the account settings or menu. However, the specific steps and details regarding the complete process for permanently deleting the account might not be explicitly provided. It's recommended to reach out to Quantumator's customer support for assistance with this process.
Is Quantumator Legit? – The Verdict
We've done our best to gather and review all the available details about Quantumator. While it seems like a good trading platform based on its claims, we can't confirm if everything it says is true due to a lack of solid proof. The fact that there's not much information and data available makes it hard to verify if Quantumator is trustworthy.
Additionally, there aren't many reviews or endorsements from reliable sources, and there's not much activity on social media either. This makes trading on Quantumator a bit risky for potential investors. We strongly suggest that anyone interested should be cautious and do their own research before putting money into a Quantumator trading account. Taking your time to investigate and think carefully is really important.
Cryptocurrencies are unregulated. Trading with unregulated brokers will not qualify for investor protection.
FAQs
How many cryptocurrencies does Quantumator support?
Does Quantumator provide customer support?