Trader AI claims to be an advanced trading platform designed to assist traders in their decision-making process. It states that it caters to traders of all levels of experience, offering a wide range of features to navigate the dynamic cryptocurrency market.
This review aims to provide a detailed overview of Trader AI, delving into its key attributes, advantages, limitations, and overall usability. Whether you're an experienced trader seeking to optimize your strategies or a newcomer exploring the world of cryptocurrency trading, this guide will shed light on whether Trader AI is a legitimate trading platform.
Trader AI Summary
Here is a quick look at all the important features advertised on the Trader AI website before we dive into this review:
| | |
| --- | --- |
| Type of Platform | Advanced cryptocurrency trading |
| Minimum Deposit | $250 |
| Claimed Success Rate | Not mentioned |
| Supported Cryptocurrencies | Cryptos, CFDs, Forex, Stocks and Indices |
| Mobile App | Not available |
| Withdrawal or Deposit Fees | No fees |
| Customer Service | 24/7 |
Cryptocurrencies are unregulated. Trading with unregulated brokers will not qualify for investor protection.
What is Trader AI?
The Trader AI site asserts that it is an innovative platform leveraging advanced technology to empower users with trading strategies and data-driven investment insights. It claims that it is designed to enhance decision-making and optimize investment portfolios, bringing a new dimension to the world of trading.
At the core of Trader AI are its High-Frequency Trading (HFT) techniques, which supposedly drive its multifaceted functionalities. This platform claims to provide users with tools for data analysis, pattern recognition, and predictive modeling.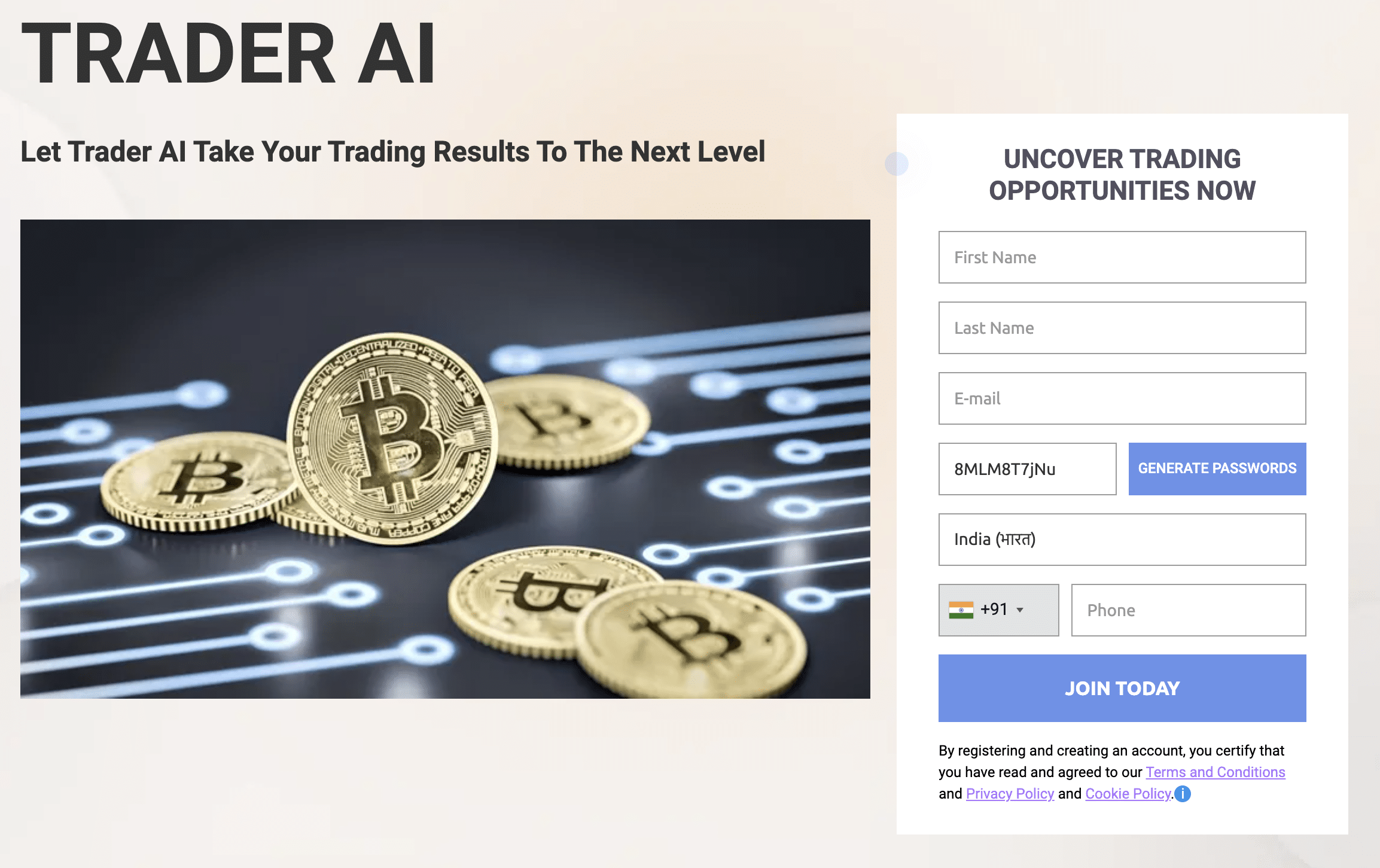 Using these features, traders gain the ability to discern potential market trends and simplify intricate financial data, helping them make predictions about forthcoming market movements as per claims by the platform, similar to a crypto signals platform.
Trader AI advertises to have a user-friendly interface that caters to traders of all experience levels. Trader AI claims to have an easy-to-use interface that includes detailed reports and visuals. These reports and visuals make it simpler to understand complicated trading strategies, helping users make better decisions.
These features, however, don't list the presence of a Bitcoin robot, which means that hands-free trading facilities are not available.
Who Created Trader AI?
The official Trader AI website doesn't provide any details about the individuals behind the cryptocurrency robot. There have been online speculations suggesting that Trader AI might have ties to a famous personality, but these claims lack substantial evidence.
With that being said, it is worth noting that in the world of cryptocurrency, it's quite common for the creators to maintain their anonymity. A lack of information about the developers shouldn't come as a surprise, although it's advised for users to maintain caution.
Trader AI Pros and Cons
Pros
Trader AI claims to offer round-the-clock broker support, ensuring that traders can access assistance and guidance whenever they need it.
The platform asserts that it prioritizes security and compliance with data protection regulations. SSL encryption safeguards user data, and GDPR readiness assures users that their privacy rights are respected.
Trader AI claims to provide a demo mode, which allows users to test their strategies and become familiar with the platform before committing to real funds.
Traders can conveniently withdraw their cryptocurrencies directly to their wallets, eliminating the need for additional steps or intermediaries.
Cons
Some users might find the initial deposit requirement on Trader AI to be relatively high, which could limit access for those with smaller capital.
Trader AI reduces risk but can't eliminate it. Unforeseen market shifts and events can still result in losses.
Cryptocurrencies are unregulated. Trading with unregulated brokers will not qualify for investor protection.
How Does Trader AI Work?
Trader AI apparently uses advanced technology and data tools to provide integrated trading signals. It starts by gathering data from various places like stock exchanges, news, social media, and economic indicators. The more data it collects, the better it gets at finding patterns.
Once it has the data, Trader AI uses smart math and pattern-finding tricks to discover hidden insights. It looks for patterns or unusual things that might show good chances or risks in the market.
Using these insights, Trader AI informs investors to buy or sell different assets, and these signals are sent automatically to trading platforms.
But remember, while Trader AI is good at looking at past data, it can't guarantee success in the unpredictable trading world. It's essential to have humans oversee the process to check and understand the signals and make changes when needed.
In short, Trader AI uses tech to analyze data to generate trading signals. But human judgment is still very important for making decisions.
Which Devices Can Access Trader AI?
Trader AI provides accessibility across a wide range of devices and operating systems. Users can effortlessly access the platform without the need for dedicated applications. All that's required is an internet-connected browser.
For those seeking a more mobile trading experience, Trader AI is accessible through a standard web app on iOS and Android devices. There is no mention of a mobile-specific crypto app, however.
Trader AI Supported Countries
Trader AI is accessible to users in various countries, including the UK, Australia, Canada, Europe (Austria, Germany, Switzerland, Holland, Poland, Belgium, Spain), South & Central America (Brazil, Peru, Mexico), and Africa (South Africa). The platform further claims to be available in over 100 other countries, allowing users from around the world to trade using Trader AI.
What is the Success Rate of Trader AI?
Trader AI doesn't claim to have any success rate as it is not an autonomous trading system. That said, there are platforms online with the same name that claim to offer hands-free trading features, with one of them having a success rate of 85%. Nevertheless, in the case of Trader AI, only manual trading features are available – although they are aided by AI-driven signals.
Trader AI Key Features
According to the website, these are some of the USPs of the Trader AI platform:
User-Friendly Interface
Trader AI claims to prioritize simplicity, offering an intuitive and user-friendly interface that ensures a hassle-free trading experience. Users have to make a minimum deposit of $250 before they can get to try out the platform.
No Fees
Trader AI claims not to charge licensing fees. Instead, a $250 minimum deposit serves as both the fee and initial trading capital, making the platform accessible to beginners. With that being said, some users can still find this amount to be significantly large.
Multiple Payment Methods
Trader AI offers multiple convenient payment methods for users to fund their accounts and kickstart their trading endeavors. These options include credit cards, debit cards, bank transfers, Visa, Mastercard, PayPal, Skrill, and Neteller, ensuring a flexible and accessible approach to account funding.
SSL Certification
The platform claims that it collaborates with licensed brokers in order to consolidate its security features, in addition to having strong security protocols in place.
Dedicated Customer Support
Trader AI claims to maintain a dedicated 24/7 customer service department to provide comprehensive assistance and optimize the performance of the platform. This feature is particularly helpful for novice traders.
Demo Trading Account
Trader AI offers a demo account, allowing users to acquaint themselves with the platform's auto-trading capabilities. This feature is especially beneficial for beginners, helping them gain proficiency and confidence before committing significant funds. However, users will have to make a minimum deposit of $250 before they get to access the demo trading feature.
Is Trader AI a Scam?
With so many crypto trading platforms available online, investors are normally presented with the question of whether Trader AI is a scam. It's normal to be cautious with so many options out there.
Trader AI claims to have an SSL certificate, which adds some credibility to the platform's legitimacy. Further on, there are a lot of reviews online that have found the platform to deliver what it promises. However, these reviews, although positive, offer mixed insights into Trader AI. None of them have info regarding how the site works or who the makers of this platform are.
Furthermore, there are a lot of platforms similar to Trader AI that have turned out to be scams. There's little to no information available about such platforms, and the platform itself isn't made available until users make an initial deposit.
It's, therefore, critical for investors to maintain caution and only risk the money they are comfortable losing. Also, investors must diversify their portfolios by investing in crypto ICOs.
What is the Minimum Deposit on Trader AI?
For newcomers exploring Trader AI, the minimum deposit requirement stands at $250. This initial deposit grants users access to the platform's suite of features, enabling them to configure their trading system settings before moving to advanced trading. Users who don't make the minimum deposit will not be able to test any of the platform's features.
Trader AI Customer Support
Trader AI provides a dedicated customer support team that's available around the clock, 24/7. This feature is only available to users who have made an initial deposit. This level of support is particularly valuable for beginner traders who may need guidance and assistance. Users who haven't made a deposit can send a message with their name and email address on the platform's website.
How to Use Trader AI?
Getting started with Trader AI is a straightforward process. To create an account, follow these simple steps:
Step 1 – Visit Trader AI and Create an Account
Begin by visiting Trader AI's official website and filling out the registration form below with accurate information. You will need to provide your:
Name
Surname
Email
Phone Number
Ensure that the email address and phone number you provide are valid for successful account verification.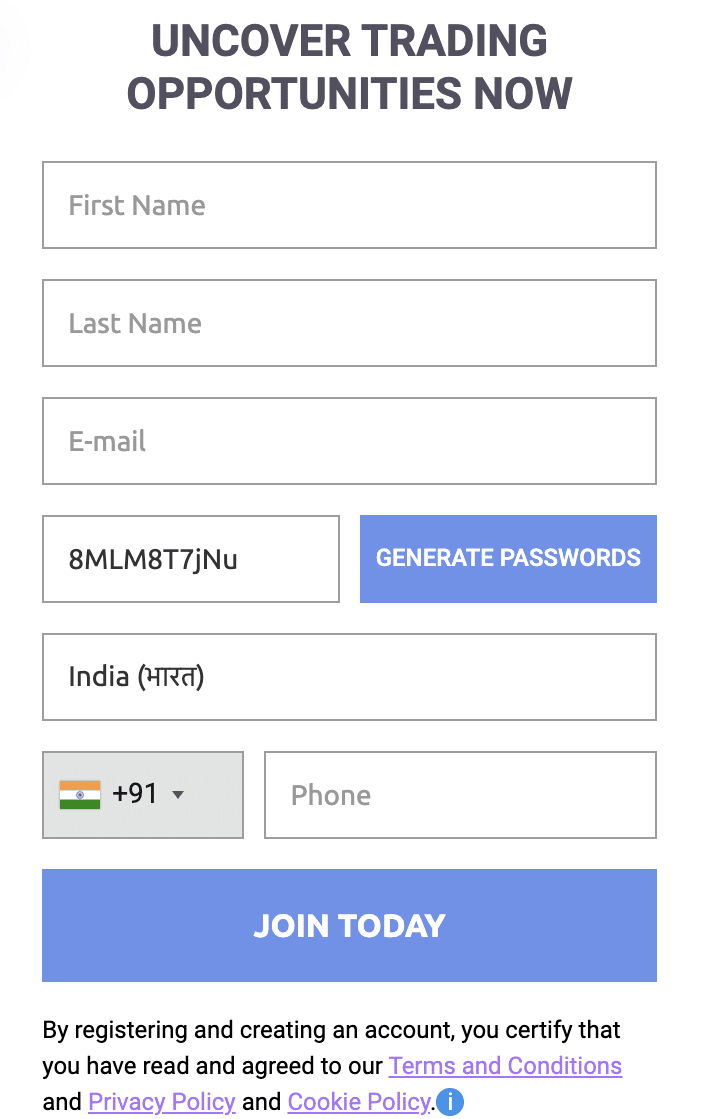 According to Trader AI reviews an agent then may get in contact by email to assist with account registration.
Step 2 – Deposit the Required Amount
After completing the registration process and verifying your details, you can make your initial deposit. Trader AI requires a minimum deposit of $250 to activate live trading. The deposit process is quick and secure, taking less than three minutes to complete. This deposit will also serve as your initial investment.
Step 3 – Start Trading on Trader AI
Upon making the initial deposit, you'll gain access to Trader AI's demo trading feature or trading guide. We highly recommend using this feature, especially if you're new to trading. It allows you to practice trading on the platform at no extra cost, helping you gain valuable experience and knowledge before transitioning to live trading.
Is Trader AI Legit – The Verdict
Trader AI's trading features seem to consist of a diverse range of crypto assets, as well as CFDs, stocks, indices, and forex. While positive reviews exist for the platform, it's important to approach the sensational stories of rapid wealth accumulation with skepticism, as they may not reflect reality.
For novice traders, caution is advised. It's crucial to gain a solid understanding of cryptocurrency trading before using real money on the platform. Veteran traders, too, may want to tread carefully because there is an immense lack of information on the official website.
There is no clarity around whether Trader AI is a scam or legit. That is why it's best for investors to exercise caution and do their research before risking their money.

Cryptocurrencies are unregulated. Trading with unregulated brokers will not qualify for investor protection.
FAQs
Can I withdraw cryptocurrency from Trader AI?
How can I delete my Trader AI account?
Do Elon Musk or corporations like Tesla use Trader AI?