xBitcoin AI advertises itself as an intuitive crypto trading platform offering hands-off trading facilities to traders.
Claiming to be easy to set up and easier to use, the platform uses machine-learning mechanics to make the traders on behalf of the investors.
xBitcoin AI claims to have all the features of the best trading software that we have covered in the past. But are these claims true? Does this platform has a legitimate success rate, or is another in the long line of crypto trading platforms that are more likely scams? This xBitcoin AI explores these questions to help our readers make a good investment decision.
xBitcoin AI Platform Overview
Here is the breakdown of all the features highlighted on the xBitcoin AI website.
| | |
| --- | --- |
| Type of Platform | Advanced cryptocurrency trading |
| Minimum Deposit | $250 |
| Claimed Success Rate | 88% |
| Supported Cryptocurrencies | BTC, ETH, LTC, DASH, BNB, and Others |
| Mobile App | Not Available |
| Withdrawal or Deposit Fees | None |
| Customer Service | 24/7 |
Cryptocurrencies are unregulated. Trading with unregulated brokers will not qualify for investor protection.
What is xBitcoin AI?
xBitcoin AI is a relatively unknown crypto trading platform that claims to use its underlying technology to make crypto trading simpler for all traders. It says that it does that to help traders navigate the volatile cryptocurrency space – which often comes with more losses than gains.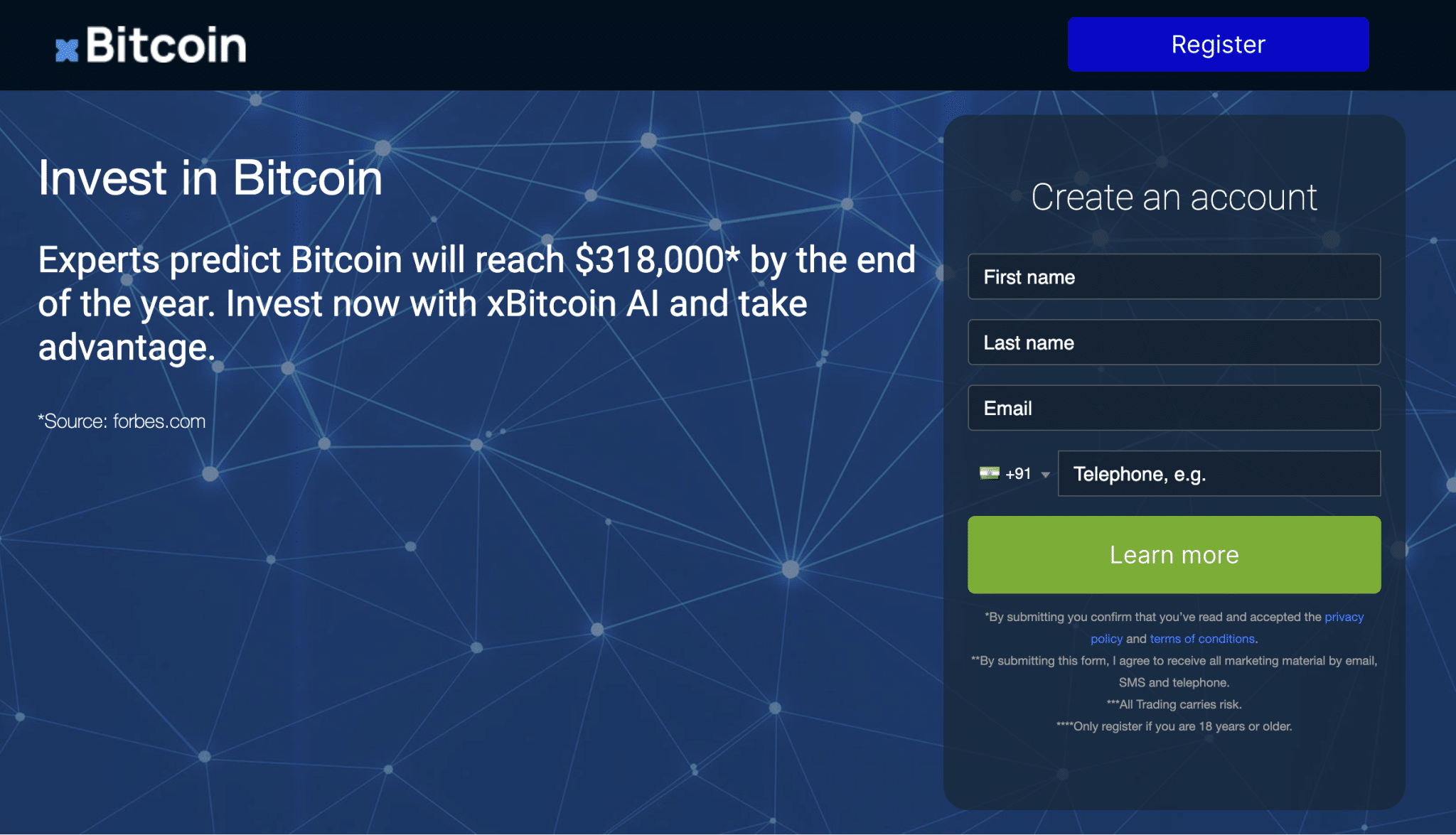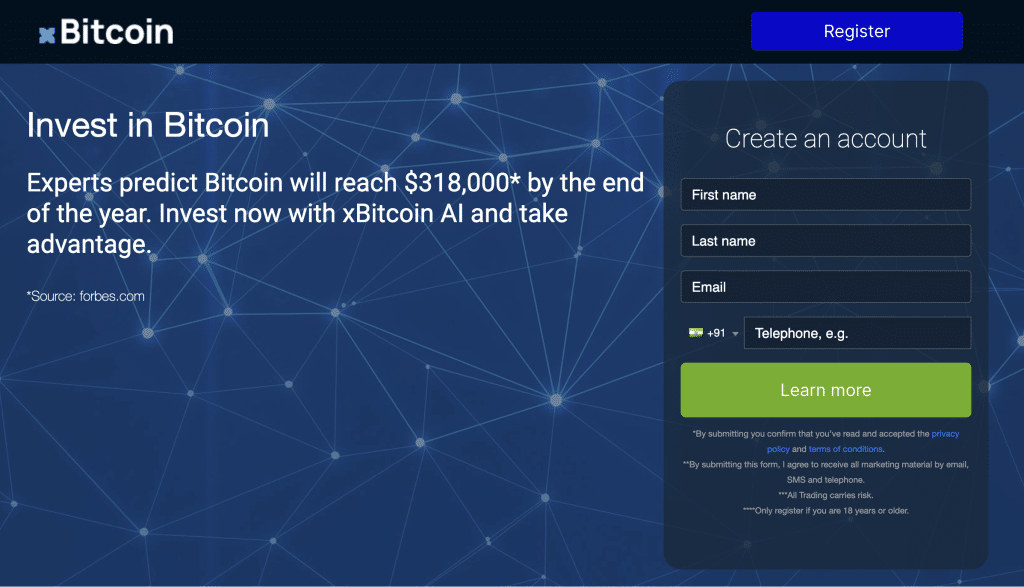 The cutting-edge technology that xBitcoin AI utilizes scans the cryptocurrency market to make critical trade decisions on the user's behalf. The platform monitors the market in real-time to find the best trading opportunities. It does so by charting the price movements and finding high-quality trading opportunities, and generating signals.
That factor allows xBitcoin AI to help users without having to manually perform the task.
While these are claims that can definitely be suitable for all traders, investors must do their own research before moving forward.
Read on as we cover all the critical aspects that people need to know before using xBitcoin AI.
Who Created xBitcoin AI?
While there is no information given about the founders of the platform on the platform itself, the way that xBitcoin AI's website has been designed leads us to believe that professionals are involved.
Also, there are some on social media platforms saying that the platform might have support from high-profile VCs, but we don't have anything substantial to support these claims.
xBitcoin AI doesn't appear to be related to other trading platforms with similar names like Bitcoin XOX or BitAlpha AI.
xBitcoin AI Pros & Cons
Pros
Users can trade without having to watch the market all the time
Has a simple-to-use UI
No deposit or withdrawal fee involved
Claims a high success rate
Offers 24/7 customer support
Cons
Requires one to deposit $250 to start trading.
Information substantiating the success rate claims isn't available online.
Details about the founders are not available
How Does xBitcoin AI Work?
While xBitcoin AI doesn't specify on the homepage how the tools work, the look leads us to believe that it might work the same way as other crypto trading software.
Scanning the market –

The platform may first scan the market to look for trading opportunities.
Charting the price movements –

The next step is charting the price movements and using established and unconventional technical indicators to predict the price movement.
Finding the dip to buy –

Scanning crypto to see if it has reached the bottom and executing a buy order.
Finding the top to sell –

Scanning the market to see if a crypto asset has reached its pick to execute a sell order.
xBitcoin AI claims to work around the clock for this purpose. However, it is important to note that the crypto market is volatile. Investors must, thus, look at all the variables before investing.
xBitcoin AI – Partner Exchanges and Broker
xBitcoin AI hasn't unveiled the names of the broker that are integrated or compatible with the platform via API. Part of the reason might be that investors only connect to brokers in their vicinity.
xBitcoin AI – Supported Countries
xBitcoin AI is reportedly available all over the world. Since the platform doesn't seem to have a KYC requirement, as the signup process doesn't ask for many details, it appears that anyone from anywhere can access the platform.
What is the Success Rate of xBitcoin AI?
xBitcoin AI isn't clear on what its success rate is, at least as far as the information given on the website is concerned. However, we did find on third-party sites that xBitcoin AI claims to have a success rate of 88%.
That said, investors must know that crypto trading is highly volatile and risky.
That is why investors must only risk money after assessing their financial situation when trading on xBitcoin AI or any other platform in general.
xBitcoin AI – Top Features
Listed here are the main features of xBitcoin AI.
Demo Account
xBitcoin AI claims that it offers a demo account to all users who want to give the platform a try for the first time. A demo account allows users to test the trading platform under simulated market conditions without risking any real funds.
The platform says that it comes with virtual funds, allowing first-time or veteran users to engage in paper trading to test the platform's efficacy before getting started.
Educational Materials
xBitcoin AI claims that it hosts a bunch of educational materials to get users ready to invest in the cryptocurrency market. The official website suggests that it hosts a lot of blogs, YouTube videos, podcasts, and other tutorials to help its users get acquainted with the nuances of the cryptocurrency market.
Additional expert advice is also provided – for an additional fee. However, these facilities may only be unlocked after creating an account because we couldn't find the UI to access them on the home page.
Investor Protection
XBitcoin AI says that it has taken measures to protect users. It says that it follows Anti-Money Laundering regulations, and a high standard of security has been implemented to protect users' assets.
Is xBitcoin AI Legit or a Scam?
Upon our assessment of XBitcoin AI and getting information from third-party platforms, we didn't find any evidence to suggest that it is a scam.
That said, XBitcoin AI isn't very forthcoming about the information it delivers, which makes it stand out from other platforms that are more transparent.
Also, the historical success rate isn't mentioned on the website. Information about it we were able to obtain from third-party websites. Therefore, investors must only use the website after thorough research.
What is the Minimum Deposit on xBitcoin AI?
xBitcoin AI opens the doors to its features after a user deposits $250. While it might seem high to many, considering the features it claims to offer, we believe that it is a great offer.
That said, investors must only invest money they can afford to lose when it comes to using xBitcoin AI.
xBitcoin AI Reviews
To give you a better outlook on the features of the website, our experts went through multiple third-party applications and evaluated customer feedback.
At best, we can say that the community's response to xBitcoin's offerings is mixed at best. We found some websites that claim that xBitcoin AI has delivered ample profits. But there are also those that say only average gains can be made from the platform.
Furthermore, as we searched for the website on Google, we encountered many similarly named tools such as Bitcoin Oracle AI. Therefore, investors must only use the affiliate link below in order to learn about the platform and its features.
Cryptocurrencies are unregulated. Trading with unregulated brokers will not qualify for investor protection.
Do any Celebrities Endorse xBitcoin AI?
Many say that the likes of Elon Musk, Jeff Bezos, and Doug Ford use xBitcoin AI. However, nothing exists that substantiates these claims. Also, there is no report stating that any celebrity has endorsed xBitcoin AI.
xBitcoin AI Customer Support
Customer support on xBitcoin AI is only available to registered users. And as for how people can reach the support team, xBitcoin AI claims that email and phone calls are the possible routes.
How to Get Started With xBitcoin AI
To take advantage of the trading mechanics of xBitcoin AI, please use the steps given below.
Step 1: Create an Account
The first step is to go to the official xBitcoin AI website and create an account. It is a simple process that involves entering the name, phone number, and email address. You will then receive a phone call from the support team within 24 hours, during which you will be told about the procedure to set up your account.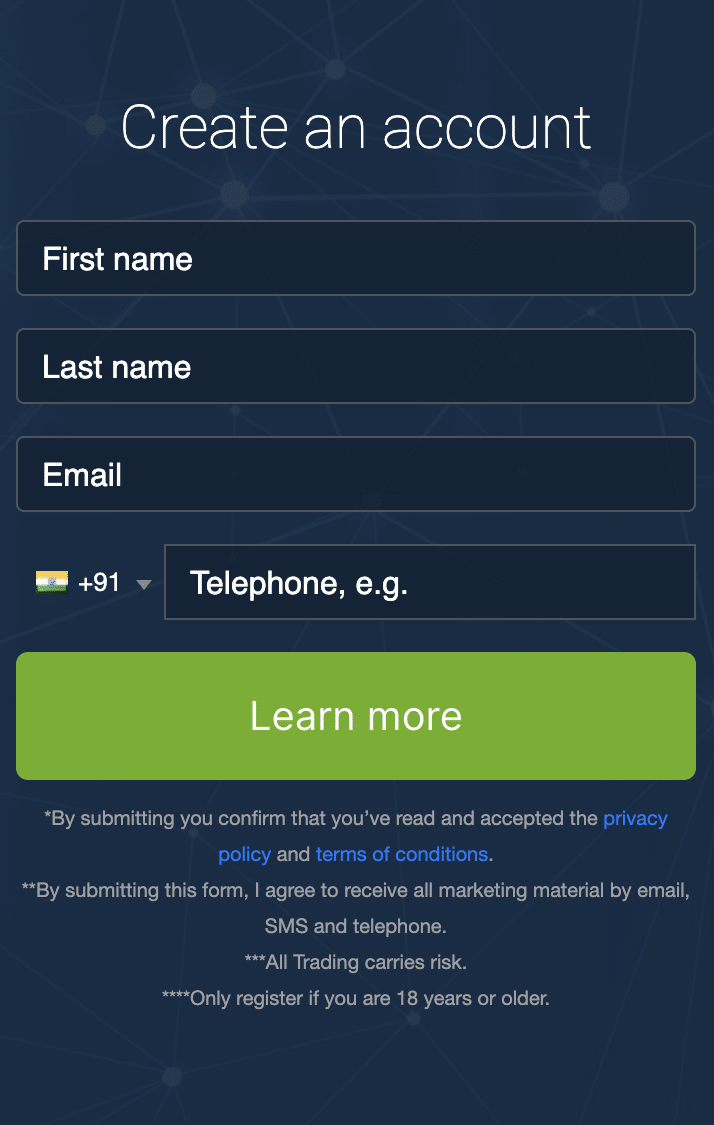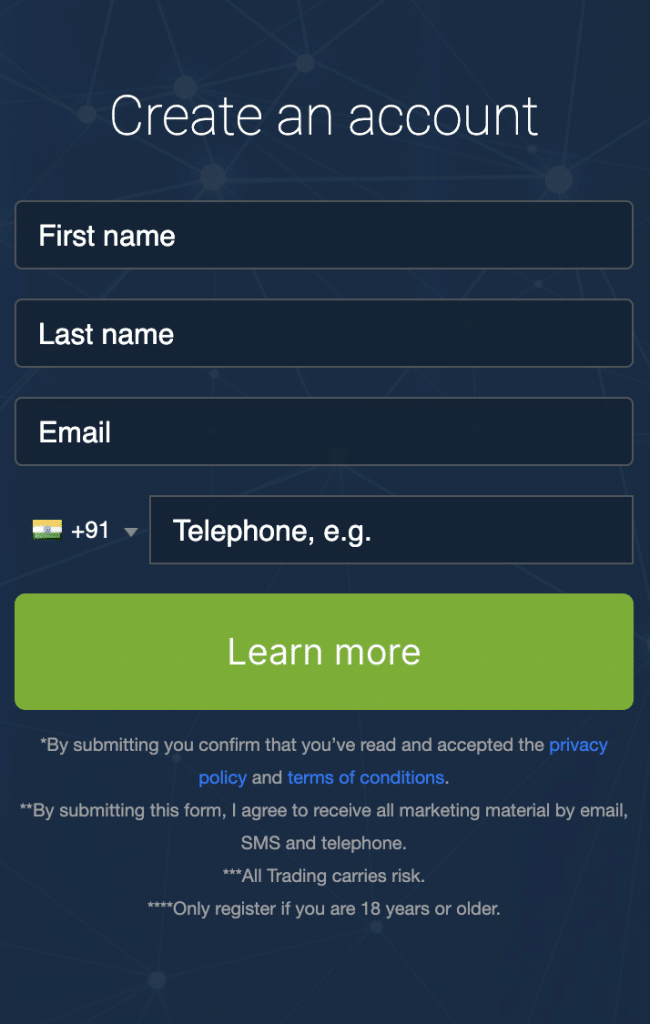 Step 2: Deposit Funds
Next, deposit $250 to unlock the platform's features. You cannot do so directly from the platform as it is today. You will be given a sign-up link once you receive a call. Once you create an account through that, you will know how to deposit the amount. xBitcoin AI claims that all forms of payment options are applicable.
Step 3: Start Trading
After funding your account, you can begin the trading process. The in-built tools of the platform will trade on your behalf. But you can set some pre-determined conditions to set the tools to react to the market in a certain way.
When you need to withdraw, go to the home page, and click on the "withdraw" button. Enter the amount to withdraw. The amount will then be transferred to your preferred account within 24 hours.
How to Delete xBitcoin AI Account?
Those who want to delete their xBitcoin AI account can login, go to the settings page and find the option that says "terminate" account. Account deletion will also remove the residual funds you had in your account – so withdraw the amount first and then start the account deletion process.
Latest Bitcoin News
Check out the latest happenings in Bitcoin at the time of writing.
Bitcoin is making a comeback. The token has finally pushed through its $25k resistance and is now hovering just above the $29k mark. Investors believe that $40k might be coming soon.

The coveted $1 trillion market cap is reached again by the crypto market.

The recent downfall of banks has strengthened the cryptocurrency market even more.
Is xBitcoin AI Legit? – The Verdict
xBitcoin AI claims to have a large number of advantages. It claims to be a simple trading platform that offers hands-off trading opportunities that veteran and novice crypto traders can take advantage of.
The platform also claims to take zero fees and a success rate of 88%. However, most of the information about this site was only available through third-party reviews.
Thus, investors must assess the risks of crypto trading before investing. Meanwhile, click the link below to learn more about xBitcoin AI's offerings.
Cryptocurrencies are unregulated. Trading with unregulated brokers will not qualify for investor protection.
FAQs
Is xBitcoin AI a legitimate platform?
How to get started with xBitcoin AI?