SafeMoon is a meme coin that enjoyed an explosive start in 2021. However, the project has experienced many controversies since. This has caused the SFM token to crash significantly, becoming one of the worst-performing bear market cryptos.
Find out in this SafeMoon price prediction whether we think the project can make a triumphant return or if it is destined to lose all its value.
SafeMoon Price Prediction Summary
Safemoon has two tokens – V1 and V2.
V2 launched in December 2022 and has an ATH of $0.007232.
The price is currently down 97.64%, priced at $0.0001716.
Our SafeMoon price prediction estimates a price of $0.00015 by the end of 2023.
Our 2025 SafeMoon price prediction forecasts an average price of $0.00041.
| | | | |
| --- | --- | --- | --- |
| Year | Minimum Price | Average Price | Maximum Price |
| 2023 | $0.0001 | $0.00015 | $0.0002 |
| 2024 | $0.0002 | $0.000255 | $0.00031 |
| 2025 | $0.00024 | $0.00041 | $0.00058 |
| 2030 | $0.00056 | $0.00083 | $0.0011 |
SafeMoon Price History
After launching in 2021, SafeMoon climbed from an opening price of <$0.000000000001 in March 2021 to an ATH of $0.00001399 in May 2021.
Following this, the price declined significantly, reaching lows of $0.000001133 in September 2021. The price then made a recovery, climbing 450% to $0.000006235. Still, this was well off its all-time high, and it collapsed once again shortly after.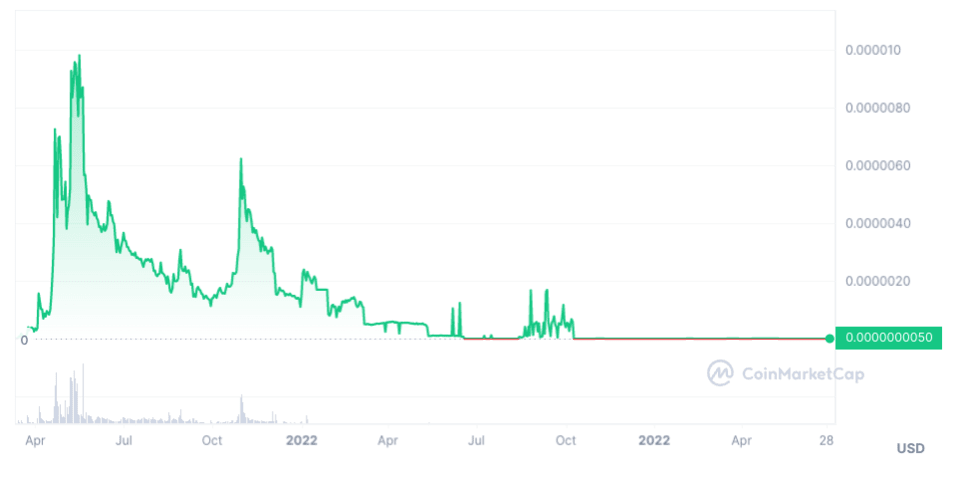 In December 2021, the SafeMoon team released a new token, SafeMoon V2. The token aimed to implement additional security and smart contract upgrades and would be given to SafeMoon holders in a 1000:1 ratio.
Shortly after the launch of SafeMoon V2, the price surged, reaching an ATH of $0.007232 on 4 January 2022. However, the price dumped shortly after, before making a dead cat bounce in May 2022 and continuing to make lower lows.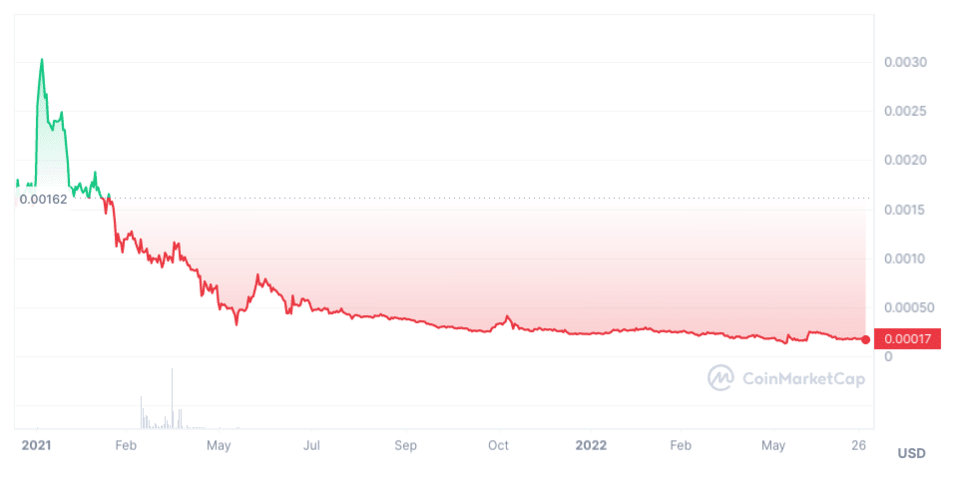 Even during the recent rally, where Pepe exploded along with over meme coins, SFM has continually decreased in price. Currently, it is priced at $0.0001725. In the last seven days, it is down 9.48%, 28.99% in the last month, and 63.89% in the last year.
SafeMoon price history key points:
SafeMoon launched in March 2021, starting at <$0.000000000001.
The price soared to an ATH of $0.00001399 in May 2021.
Following this, the price declined significantly.
The SafeMoon team launched SafeMoon V2 in December 2021, which began to plummet in price shortly after its launch.
Currently, the SFM price is $0.0001725.
SafeMoon Price Prediction 2023
While SafeMoon is down 63.89% in the last year, many top altcoins are up in the same period. Ethereum is up 85.65%; meanwhile, Dogecoin, the leading meme coin, Dogecoin has managed to sustain its yearly price, with DOGE up 5.17%.
Other new meme coins have managed to pump too. As we mentioned in our Wall Street Memes price prediction, much of its early presale success is due to its community's belief in the project.
However, the issue with SafeMoon is that the meme coin community has lost a lot of belief in the project. This comes after SafeMoon investors launched class action lawsuits against the project. The allegations in the lawsuit were regarding fraud and false allegations over the asset's safety.
These allegations have stuck with SafeMoon, potentially preventing many new potential buyers from entering the project. This is evident with the SafeMoon market cap being $95 million, with just a $1 million 24-hour trading volume.
Such low trading volume compared to market cap shows a disinterest from buyers and sellers waiting for the price to go up to recover their losses.
The SafeMoon price chart below shows that the price has recently broken a long-term support zone. Initially, it looked like a deviation, with the price moving back above in May following the meme coin run.
However, following the SEC suing Binance and Coinbase in June, the price dropped below the support again.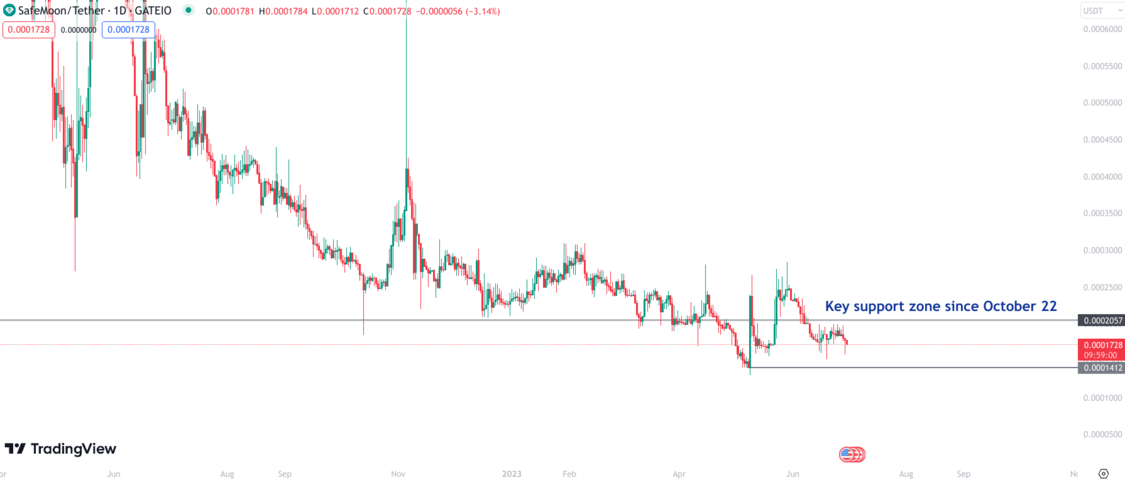 As a result, SafeMoon is likely to continue heading downward. The final opportunity for SafeMoon to bounce is its current low of $0.0001412. A break below here would signal further capitulation, but a bounce here would likely cause SafeMoon to consolidate for the remainder of the year.
Our SafeMoon price prediction estimates a possible low of $0.0001, a high of $0.0002 and an average price of $0.00015 by the end of 2023.
| | | | |
| --- | --- | --- | --- |
| Month | Potential Low | Average Price | Potential High |
| July 2023 | $0.00012 | $0.00017 | $0.00022 |
| August 2023 | $0.00011 | $0.00016 | $0.000021 |
| September 2023 | $0.00009 | $0.00014 | $0.000019 |
| October 2023 | $0.00008 | $0.00013 | $0.000018 |
| November 2023 | $0.00009 | $0.000014 | $0.000019 |
| December 2023 | $0.0001 | $0.000015 | $0.0002 |
SafeMoon Price Prediction 2024
Due to the Bitcoin halving, the next cryptocurrency bull run is expected to occur in 2024. With that, many investors speculate that their favourite altcoins will pump in the next alt season.
However, it is unlikely that SafeMoon will be able to retake its ATH. Here's why.
As well as being sued by its investors and YouTuber Coffeezilla exposing SafeMoon last year, the project's liquidity pool was recently hacked and lost $8.9 million.
Although the SafeMoon hacker returned the funds, this further damages the project's credibility.
SafeMoon has over 700K holders and a market cap of $95 million. Although the project does feature a strong community, many holders have already endured significant losses. Therefore, they will happily sell their tokens if the price starts recovering.
Furthermore, SafeMoon will have difficulty attracting new buyers when its brand has been heavily tarnished, and there are other meme coins with much better investor sentiment.
With that in mind, our SafeMoon price prediction forecasts a possible low of $0.0002, a high of $0.00031 and an average price of $0.000255 by the end of 2024.
However, it is important to remain aware that any unforeseen black swan events regarding the SafeMoon project could cause its price to plummet despite a bull market.
What is a black swan event?
A black swan event is an unpredictable event that is outside the scope of what is normal for an asset and can lead to catastrophic consequences.
SafeMoon Price Prediction 2025
Looking ahead to 2025, SafeMoon's ecosystem development is the main factor determining if it can recover.
The SafeMoon "Focus Map" shows that the team are actively working on a wide range of developments. These range from a new blockchain to an EU-centralised exchange.
Already, the project has issued some exciting developments, with a multichain wallet (SafeMoon Wallet) and a decentralized exchange (SafeMoon Swap) already launched. Yet despite this, the price has continued to make lower lows.
Although future developments can positively impact the SafeMoon price, there are many concerns regarding the project's security and leadership for it to come close to its ATH.
Moreover, according to DEXScreener, SafeMoon Swap has only incurred 260K in 24-hour trading volume. Considering this is one of SafeMoon's main products, it is fair to say that the SFM price remains speculative, as there is not much demand coming from ecosystem utility.
With bull markets typically lasting 18 months, we forecast that SafeMoon could continue to push throughout 2025. However, we also predict lots of sellers will be unloading, preventing the coin from going parabolic as it has done before.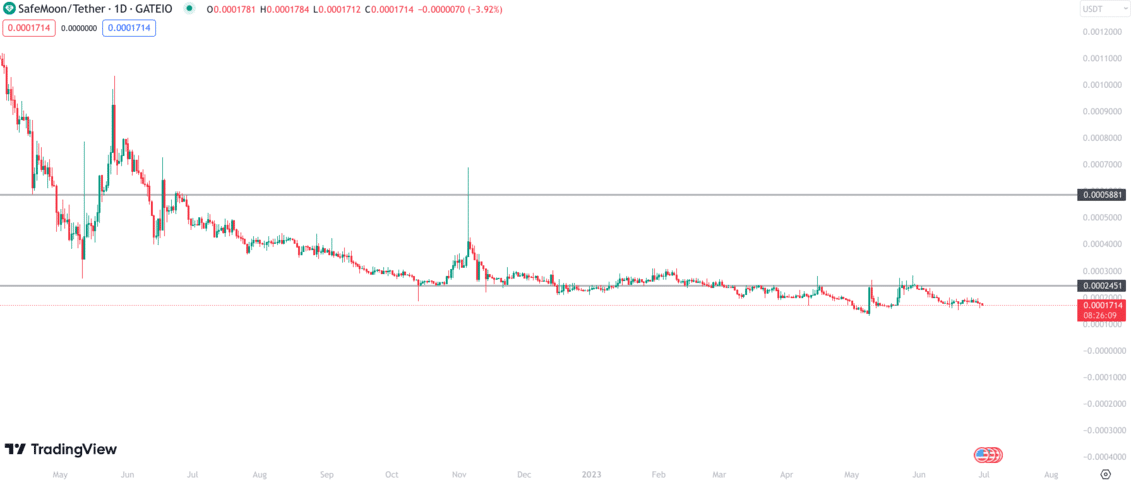 Therefore, our 2025 Safemoon price prediction forecasts a minimum price of $0.00024, a maximum price of $0.00058 and an average price of $0.00041.
SafeMoon Price Prediction 2030
Considering its journey so far, it seems unlikely that SafeMoon will succeed long term. However, top meme coins like Shiba Inu have shown that meme coins can evolve into full-scale crypto ecosystems that provide real value.
The fact that SafeMoon is shifting from purely a meme coin into a crypto ecosystem means it has the potential to become a long-term crypto. Still, its leadership, market sentiment and inability to foster new buyers means the project is fighting an uphill battle for long-term success.
Overall, the most likely scenario for SafeMoon is for it to lose its value by 2030. However, there remains a possibility that the project can become a thriving ecosystem, enabling it to succeed long term.
Therefore, our bull case 2030 SafeMoon price prediction forecasts possible lows of $0.00056, highs of $0.0011 and an average price of $0.00083.
Possible Lows and Highs of SafeMoon Price
With over 700K holders, SafeMoon could become one of the best high-risk, high-reward cryptos. Below, we have highlighted our predicted lows and highs.
| | | |
| --- | --- | --- |
| Year | Minimum Price | Maximum Price |
| 2023 | $0.0001 | $0.0002 |
| 2024 | $0.0002 | $0.00031 |
| 2025 | $0.00024 | $0.00058 |
| 2030 | $0.00056 | $0.0011 |
What Do Other Analysts Predict for SafeMoon
Due to its turbulent history, analysts' SFM price predictions vary widely. We have summarized predictions from some well-known media outlets below.
The AMBCrypto SafeMoon price prediction estimates possible lows of $0.00024, highs of $0.00036 and an average price of $0.0003 by the end of 2023.
According to CryptoNewZ's SFM price prediction, the price could reach lows of $0.0002509 and possible highs of $0.000563 by the end of 2023.
CoinPedia's SafeMoon price forecast predicts potential lows of $0.000321, highs of $0.000664 and an average price of $0.000491 by the end of 2023.
Based on the Telagon SafeMoon forecast, the price could reach lows of $0.00038, highs of $0.00067 and an average of $0.00055 by the end of 2023.
Bitnation's SFM price prediction estimates possible lows of $0.000202, highs of $0.000303 and an average price of $0.000253 by the end of 2023.
What Is SafeMoon and What is it Used For?
SafeMoon is a crypto meme coin that launched in 2021 and initially surged amid the 2021 meme coin frenzy. However, it has since collapsed, losing significant amounts of its value.
The token features a buy/sell tax of 10% to discourage selling and promote long-term holding. From the 10% tax, 4% is distributed to SFU holders, 3% is added to the project's liquidity pool, 2% is burnt, and 1% is added to an ecosystem growth fund.
While SafeMoon began solely as a meme coin, the team has now pivoted and aims to build an entire crypto ecosystem consisting of a DEX, wallet, NFTs, a blockchain and much more. The purpose of this is to provide real utility to SafeMoon holders.
Other than adding liquidity to SafeMoon liquidity pools, there is no utility for the SFM token. However, as ecosystem developments roll out, this might add extra utilities, such as the ability to pay for gas fees.
SafeMoon Overview
Cryptocurrency
SafeMoon
Ticker Symbol
SFM
Rank
2783
Price
$0.0001657
 
Price Change 24H
-1.91%
Market Cap
$93M

Circulating Supply
558,796,783,242 SFM
Trading Volume 24H
$1M
All Time High
$0.007232
All Time Low
$0.0000002149
What Influences the Price of SafeMoon?
Over the last year, SafeMoon has collapsed while the rest of the market has recovered its bear market lows. This means that the movement of the broader market is affecting SafeMoon less than other cryptos.
Investors' sentiment is one of the main factors affecting the SFM price this year. SafeMoon has gone from scandal to scandal recently. From being sued by investors to the recent $8.9 million hack, these issues undermine investors' confidence in the project. They are likely why SafeMoon has a 24-hour trading volume so much smaller than its market cap.
However, a potentially more beneficial factor for the price of SFM is its ecosystem development. If it can provide holders more utility and value, it could attract more investors, pushing up its price.
On the other hand, while it proved successful in the past, SafeMoon's 10% buy/sell fee could deter new investors from purchasing it.
While punishing sellers may prove effective in the short term, it is certainly not an effective long-term strategy. Otherwise, we would see the best cryptos, like Bitcoin and Ethereum, using a similar tactic. Consequently, we could see SafeMoon's tokenomics prevent it from attaining a higher price during the next bull run.
Is SafeMoon a Buy?
SafeMoon rose to notoriety as a meme coin but is now trying to shift its focus to providing utility. So far, this has been to no avail, with the price continually making lower lows.
With this in mind, buying SafeMoon now would be like "trying to catch a falling knife". Instead of purchasing as it is trending downwards, a smarter decision might be to wait for a trend reversal confirmation.
Could SafeMoon 3.0 Outperform SafeMoon?
While the original SafeMoon coin continues to struggle, a new token called SafeMoon 3.0 has just launched and already seen hugely impressive gains.
As shown on DexTools, the token grew by 1,600% shortly after launching. It follows the recent trend of meta 2.0 versions of coins, with the likes of Pepe 2.0 and Shiba Inu 2.0 showing huge gains in the last few days.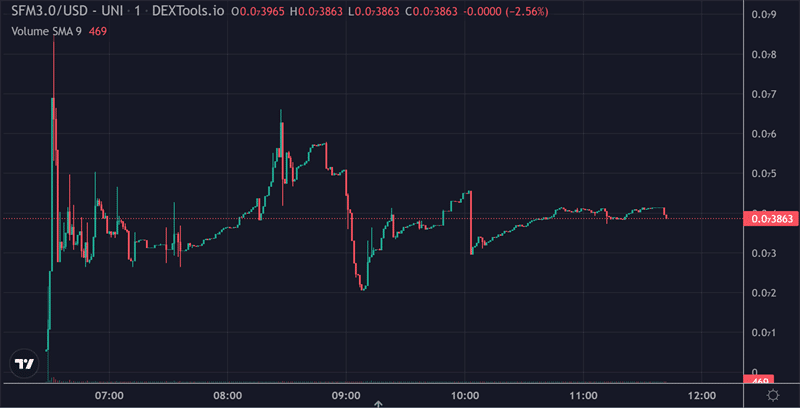 The new SafeMoon 3.0 token has locked liquidity and its ownership team has renounce ownership of the contract, helping to dispel some of the fears but caused the original SafeMoon to plummet.
With 2.0 tokens surging right now,  SafeMoon 3.0's explosive start could be the beginning of a new trend of 3.0 coins.
SafeMoon 3.0 is now available to buy on UniSwap.
Conclusion
Whether SafeMoon can make a recovery remains to be seen. Still, the project's murky history and unconventional tokenomics mean it has a higher risk than other cryptos.
SafeMoon 3.0 presents an interesting alternative, and you can also check out other high potential tokens in our list of the best cryptocurrencies to invest in.
References
https://uk.finance.yahoo.com/news/pepe-coin-price-crypto-market-crashes-memecoin-050023523.html
https://news.bloomberglaw.com/class-action/safemoon-crypto-investors-bring-another-class-action-fraud-suit
https://www.forbes.com/sites/qai/2023/06/07/sec-sues-biggest-names-in-crypto-binance-and-coinbase-in-double-whammy-for-sector/
https://www.binance.com/en/feed/post/546925
https://www.binance.com/en/feed/post/435936
https://coinmarketcap.com/currencies/safemoon/
FAQs
Will SafeMoon ever reach $1?
What will SafeMoon be worth in 2030?
What will SafeMoon be worth in 2025?
Is SafeMoon worth buying?