Scorpion Casino is crafting a new future for online gambling. On their platform, daily staking rewards can be earned by investors and gamers alike, irrespective of market fluctuations. This is made possible through their native token, $SCORP.
Currently, the $SCORP token is on presale. This guide aims to examine the Scorpion Casino project more closely and present a price forecast for $SCORP to aid in your investment decisions.
What is $SCORP Crypto?
Scorpion Casino is working on a standout social online gambling platform, allowing users to earn daily rewards linked to the casino's performance. Its distinct approach merges a crypto-based casino with the opportunity to stake.
As a result, the platform has been catching the attention of investors worldwide due to its potential to generate substantial passive income. Holders of the $SCORP token can earn up to $10,000 daily passive income through the integrated distribution in the smart contract, even during the presale period.
Investors can acquire $SCORP, the native token of Scorpion Casino, at a discounted presale rate of just $0.01 USDT per token. Additionally, the initial listing price will be at $0.05 USDT, indicating a significant potential for growth.
The platform quickly raised over $250,000 USDT, grabbing investors' interest in the token. As the platform continues to garner attention, it would be beneficial for potential investors to consider acquiring tokens at the presale rate before it's too late.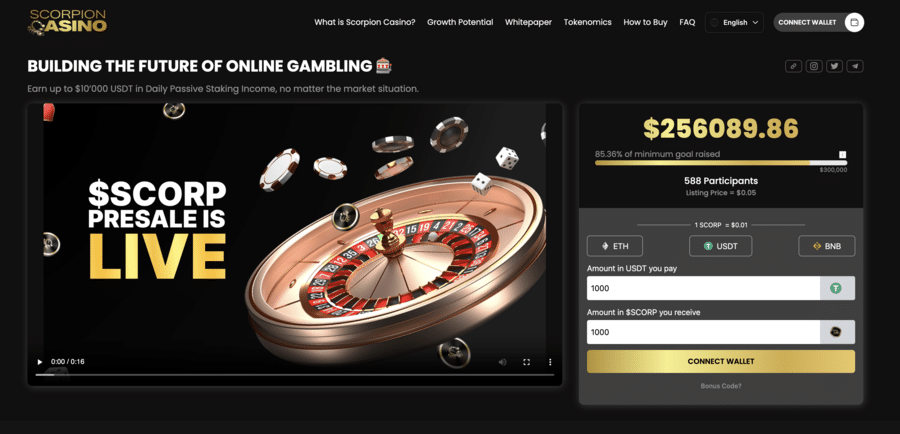 The $SCORP token, based on the BEP-20 standard, has a maximum supply of 1 billion tokens. Unique to this token is its deflationary characteristic, facilitated by the automatic burn that occurs with every transaction or when the casino makes a profit. As a utility and reward token, $SCORP facilitates all forms of gaming within the ecosystem.
Of the total supply, 28% is earmarked for sale during the presale phase. Investing in a presale can offer immense upside potential, although it does not come without risks. As historical trends show, presale tokens that provide utility and rewards to their community, such as Tamadoge, often experience significant price appreciation post-listing.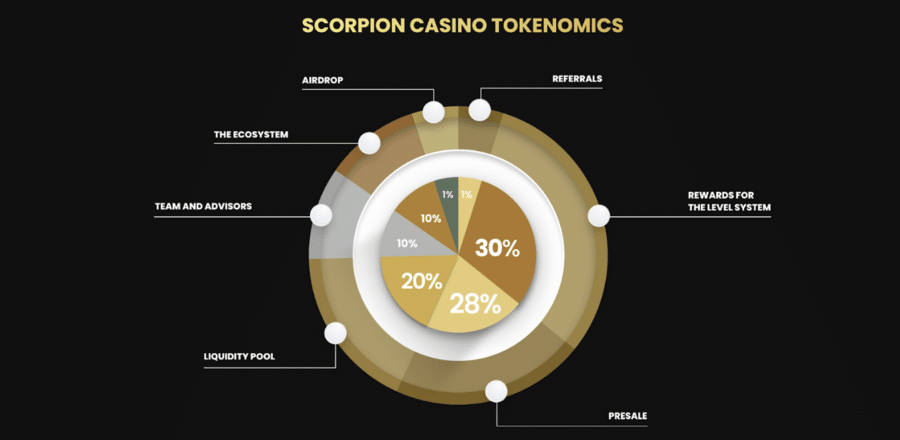 The token burn mechanism is an integral part of Scorpion Casino's strategy. 5% of the operating profit token buyback will be subjected to a burn, meaning these tokens will be permanently removed from circulation, effectively reducing the circulating and total supply. This deflationary feature could influence the token price positively by creating a scarcity effect.
Adding to the appeal of the $SCORP token is the opportunity for passive daily income through staking. Staking rewards are the profits users earn when they lock their crypto in a network for a certain period.
Consequently, with its unique features, Scorpion Casino has become a promising crypto alternative in online gambling. The value proposition of Scorpion Casino extends beyond being just an investment option – it also promises a dynamic, evolving gaming ecosystem with staking rewards.
Scorpion Casino Price Forecast: A Peek into $SCORP's Potential
With $SCORP announcing its presale, investors across the globe are keen to foresee the token's potential in the years to come.
2023 Price Expectation
Scorpion Casino is on the cusp of a significant milestone as it has secured a listing on a top-tier centralized exchange, with plans to unveil this achievement soon. Following its current roadmap phase, Scorpion Casino aims to list $SCORP tokens on a leading crypto CEX. This upcoming development will broaden the accessibility of $SCORP, enabling open market trades.
The influence of exchange listings on a platform's performance can be substantial. An excellent example of this effect is the listing of Tamadoge on the OKX exchange, which resulted in an eye-catching 550% price surge. Its price leaped from $0.03 to $0.197, a whopping 2000% rise from the token's initial presale price of $0.01.
Furthermore, Scorpion Casino's commitment to maintaining a liquidity reserve comprising 20% of the total tokens, coupled with the planned exchange listings, could pave the path for steady future growth of the token. Considering these factors, and with the listing price of $SCORP set at $0.05 USDT, our 2023 price prediction for $SCORP ranges from $0.1 to $0.15, representing a substantial upside potential for early investors.
2024 Price Expectation
Scorpion Casino is making considerable strides in breaking down barriers to the casino industry. Typically, setting up an online casino is a cumbersome process requiring substantial capital (around $2 million) and about six months, thereby restricting entry to those with significant resources and industry experience.
However, with the rise of crypto and online casinos, the industry is transforming and attracting new players. Scorpion Casino stands at the forefront of this change, showcasing major leagues such as NBA, MLB, NHL, Champions League, Primera Division, Bundesliga, Football World Cup, UFC, Boxing, and more.
As the platform builds traction post-listing and entices more users, $SCORP's value could increase appreciably. Given these factors, our price prediction for $SCORP in 2024 stands in the $0.3 to $0.4 range.
2025 Price Expectation
The online gambling industry is projected to grow at a compound annual growth rate (CAGR) of 11.7% until 2030.
Scorpion Casino's whitepaper highlights this trend, indicating that the global online gambling market could be worth $145.6 billion by 2030. The platform stands to gain from this rising market trend, particularly with plans to launch an affiliate program and enter into strategic partnerships, such as with Softswiss.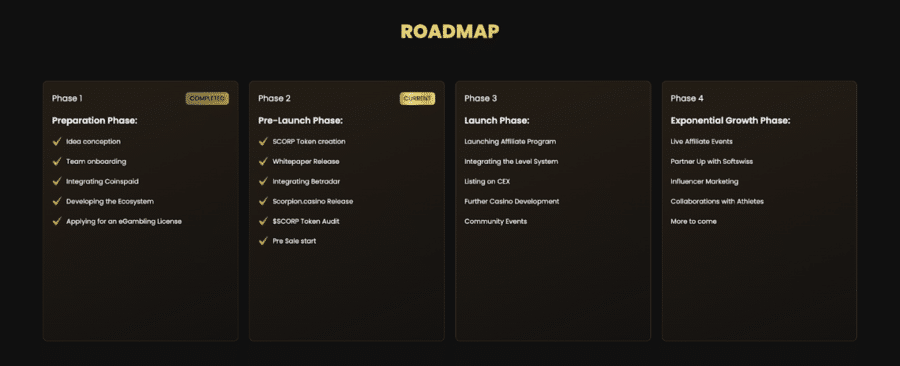 These initiatives, along with the growing popularity of online gambling, place Scorpion Casino in an ideal position to tap into this growing market.
By implementing innovative strategies and riding the wave of online gambling popularity, we predict a bullish outlook for the $SCORP token. Considering the growth potential and strategic initiatives planned for the platform, we forecast that the token's value could reach between $0.6 and $0.7 by the end of 2025, signifying significant growth potential for investors.
Unveiling the Attraction: Why Investors are Drawn to Scorpion Casino
If you're wondering why so many crypto enthusiasts are buying Scorpion casino tokens in 2023 then you're not alone. As the digital gambling landscape evolves, Scorpion Casino distinguishes itself by offering a platform regulated and licensed by the Curacao EGaming entity. This lends credibility and security to the platform, a significant advantage in an industry that often grapples with trust issues.
One of the primary reasons for the growing interest in Scorpion Casino lies in its potential to generate a sizable daily passive income. Holders of the $SCORP token can earn up to $10,000 daily through an integrated distribution mechanism in the smart contract, which holds even during the presale period. This passive income potential offers an attractive incentive for investors looking to diversify their portfolio with crypto assets that generate steady yields.

Starting from $1000, users can reap extra perks and join the prestigious Scorpion Members Club. This membership has many privileges, including exclusive VIP service, cashback deals, amplified staking rewards, and bonus SCORP tokens.
Scorpion Casino stands out because its ambitious aim is to build the premier social online gambling hub where users can reap daily returns. The $SCORP token is at the platform's core, facilitating many betting avenues, including over 30,000 monthly betting prospects, 210 diverse casino games, and 160 live games. The availability of a transparent, accountable, and licensed platform only serves to magnify its charm.

When it comes to technology and partners, Scorpion Casino works with reputable platforms like BetRadar and CoinsPaid to ensure a seamless and engaging user experience. BetRadar offers a comprehensive and reliable betting and sports data service, while CoinsPaid provides secure crypto processing solutions. The collaboration with these established platforms further boosts Scorpion Casino's credibility and user trust.
Scorpion Casino maintains an active presence on social media platforms like Telegram to keep its community informed and engaged. Investors and users can enter the Scorpion Casino Telegram group for timely updates and an opportunity to interact with the community.
Conclusion
In conclusion, the unique blend of features, strategies, and partnerships that Scorpion Casino offers sets it apart in the online gambling landscape. The platform's potential to generate substantial passive income, deflationary tokens, and vision to create a top social online gambling platform all contribute to its appeal to investors.
As the platform continues to evolve and innovate, the anticipation surrounding the future of $SCORP continues to grow. Thus, while investments always carry risks, the future for Scorpion Casino and the $SCORP token seems bright.