Launched on Binance in mid-August, SEI soared by over 300% within a day. As the dust settled, the coin traded near its all-time low at press time.
With the recent network upgrades and an uptick in developer activity, many investors are looking for the SEI price prediction. This article explores Sei's price history, predicts its future potential, and gathers expert views to analyze the Sei price forecast comprehensively.
SEI Price Prediction 2023 to 2030 – Summary
Here's a summary of SEI price prediction from 2023 to 2030:
Bearish Influence & Potential Reversal

: Sei has experienced a bearish influence since mid-August 2023, leading to a decline in price, but oversold conditions indicate a likely turnaround in 2023.

Rebound Capabilities

: Sei's blockchain network's advancements, community growth, and industry scaling position it for substantial growth, with predictions of $0.7 by the close of 2024.

Strategic Growth Trajectory

: Technology upgrades, strategic partnerships, and market conditions may lead to highs of $0.95 by 2025 with a solid foundation in place.

Long-term Prospects Aligned with Global Growth

: Assessing SEI's long-term alignment with the global blockchain market's growth trajectory, Sei could achieve highs of $1.8 by 2030.
| | | | |
| --- | --- | --- | --- |
| Year | Potential Low | Average Price | Potential High |
| 2023 | $0.1 | $0.25 | $0.46 |
| 2024 | $0.33 | $0.6 | $0.7 |
| 2025 | $0.68 | $0.8 | $0.95 |
| 2030 | $1 | $1.4 | $1.8 |
Sei Price History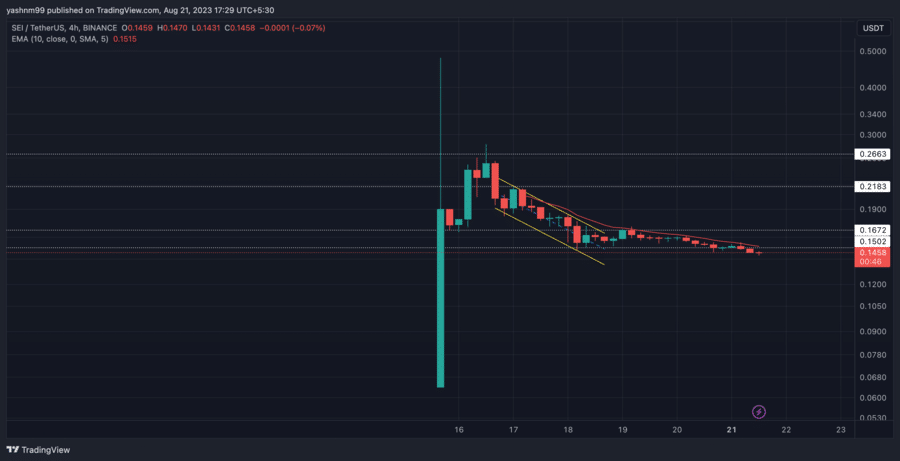 Sei coin price has been topsy-turvy since its official mid-August launch on Binance, one of the best crypto exchanges. Soon after its launch, the price jumped by over 300% due to the initial excitement, but then as the dust settled, it saw a downtrend. Let's take a look at the recent trends in SEI's price:
Bearish Influence

: Since reversing from the $0.26 resistance level in mid-August 2023, the Sei coin has been under a slight bearish influence. The decline led the price to fall below the 20/50 Exponential Moving Averages (EMAs), indicating a strengthening bearish trend. EMAs are a type of average that puts more weight on recent prices, allowing investors to gauge current market trends.

Descending Channel

: The decline downfall of Sei's price created a classic descending channel on the chart. A descending channel is formed when the price creates lower highs and lower lows in a downward direction. It often suggests that sellers dominate the market but may hint at a potential upward reversal soon.

All-time Low & Potential Reversal

: On August 21, Sei's price hit an all-time low near the $0.14 zone, indicating clear dominance by the bears. However, this oversold condition may lead to a likely turnaround in 2023.

Buyers Stepping In

: The $0.015-baseline support resulted in a near-term pullback, and buyers stepped in to prevent further decline. As a result, the price compressed within its descending channel, with a potential close above the channel possibly confirming a near-term upside in the coming weeks.

Future Considerations

: Buyers should closely monitor Sei's price movements and broader crypto trends. The coin's recent behavior indicates that careful analysis, rather than mere speculation, is necessary to understand its future direction. The upcoming weeks could determine whether the bearish trend continues or a bullish reversal occurs.
Quick Bullet Point Summary of Sei's Price Action History:
Price rose and saw an over 300% jump on launch day.

Reversal from the $0.26 resistance level in mid-August 2023, leading to a near-term downtrend.

The all-time low reached near $0.15 on August 18.

Oversold conditions point toward a potential turnaround in 2023.

$0.015 support leading to near-term pullback.
Sei Price Prediction 2023
Analyzing current market trends and extensive data, Sei's price direction for the latter of 2023 presents diverse dynamics.
If buyers effectively leverage the descending channel breakout, Sei's immediate future might appear promising. However, converting the recent $0.21 trendline support into a resistance level might create a mental barrier to near-term recovery.
A strong rebound from the $0.15 support level may pave the way to challenge this trendline resistance. Investors should observe a close above the 10 EMA to evaluate the likelihood of a near-term upside. If this happens, buyers may aim to retest the $0.26 resistance before any significant rally.
With the Bitcoin fear and Greed Index lingering in the 'Fear' zone, the market still seems hesitant to increase buying power. Therefore, any dip below the $0.15 support may leave Sei vulnerable to further declines.
As per the current assessment, SEI might hit a low price of $0.11 by year's end, potentially reaching a high of $0.46.
| | | | |
| --- | --- | --- | --- |
| Month | Potential Low | Average Price | Potential High |
| September 2023 | $0.1 | $0.15 | $0.21 |
| October 2023 | $0.22 | $0.25 | $0.28 |
| November 2023 | $0.28 | $0.32 | $0.35 |
| December 2023 | $0.32 | $0.4 | $0.46 |
Sei Coin Price Prediction 2024
Buyers are looking for the best cryptos to trade, especially as the crypto market attempts to bounce back from its lows. In forecasting the future of SEI, it's essential to consider various factors that affect the market.
In 2024, the Sei blockchain network can grow substantially, leveraging its early achievements. On its launch day (August 15), Sei revealed the completion of a Testnet alpha phase, witnessing over 400 million transactions and creating 7.5 million unique Testnet wallets. These results demonstrated Sei's robust capabilities.
After the alpha success, Sei initiated the Mainnet beta phase, allowing community refinements and industry scaling.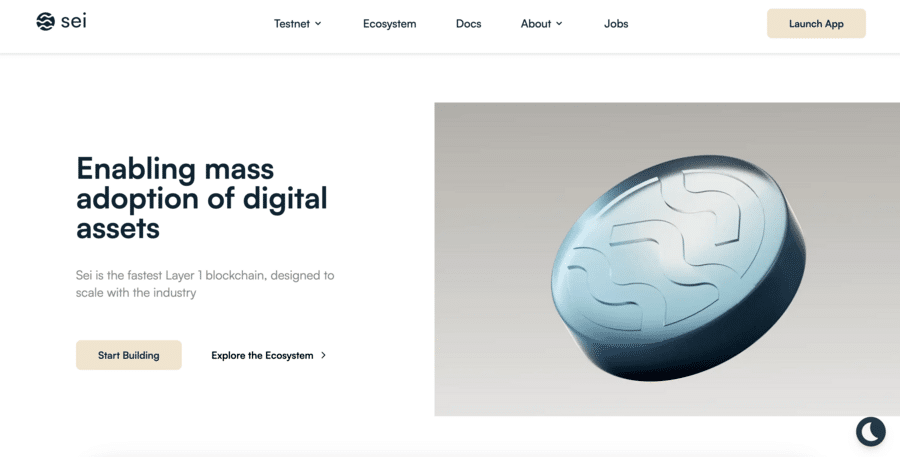 This can position Sei as the next-gen Layer 1, optimized for facilitating digital asset trading. Whether it's gaming economies, NFT marketplaces, or decentralized exchanges (DEX), Sei can enable quick transactions.
What does this mean for everyday users? Sei's network offers transaction finalization within 0.5 seconds and can handle up to 20,000 transactions simultaneously. This efficiency could attract more users, creating widespread digital asset adoption and strengthening Sei's market position.
Based on these technological advancements and the potential to meet the growing demands of the digital asset community, SEI's price could reach an estimated $0.7 by the close of 2024. The network's ongoing success and increased adoption are key drivers behind this prediction.
SEI Price Prediction 2025
The Sei blockchain's trajectory into 2025 is expected to be influenced by technological upgrades, strategic partnerships, and market conditions. The broader market environment will play a significant role in determining the price fluctuation of SEI by 2025.
Jeff Feng's insights on Web 3 infrastructure point to existing limitations. Sei aims to overcome these barriers by launching 30 new applications, including DEX SushiSwap's perpetual futures exchange on the Sei protocol.
Moreover, the $50 million commitment from Foresight Ventures raises the total Sei Ecosystem Fund to $120 million. This investment shows institutional trust and promises potential acceleration in Sei's growth and development.
Also, Sei's partnership with Graviton focuses on India's flourishing blockchain market, tapping into one of the world's largest developer populations and crypto user bases. This could contribute to Sei's sustained growth.
Sei is poised to attract more users with these updates and features, reflecting overall network expansion. Metrics like active user counts can offer real-time insights into this growth. Considering these factors, SEI could reach highs of $0.95 with support near the $0.68 region.
SEI Price Forecast 2030
In assessing SEI's long-term prospects, aligning the token's potential with the global growth trajectory of blockchain technology is vital.
In 2022, the global blockchain market size was estimated at $11.14 billion, with projections indicating a rise to $469.49 billion by 2030. This represents an expected Compound Annual Growth Rate of nearly 60%. Sei, with its strategic plans, intends to leverage this industry expansion.
From a long-term perspective, having sound tokenomics is vital. SEI's total supply is capped at 10 billion tokens, and the allocation reveals a long-term vision. Most notably, 51% of the tokens are designated for the community. The breakdown includes 48% for Ecosystem Reserve (covering staking rewards, Ecosystem Initiatives, and Airdrops), 9% for Foundation Treasury, and 3% for Launchpool.
Also, the launch of Gravity Bridge on Sei marks a vital step towards increased Interoperability and Liquidity within the ecosystem. The integration between Ethereum and Sei unlocks an extensive array of decentralized financial services. 
Gravity Bridge is introducing an innovation, not just a connection. It will be among the first few chains in the Cosmos ecosystem to use an 'Interchain Accounts Controller' Module. This paves the way for a new era of DeFi applications. Given all these factors, SEI's price could achieve highs of $1.8, with possible lows of around $1 by 2030.
The broader economic landscape and public sentiment towards Bitcoin and other major cryptos will influence SEI's long-term price. Investors seeking the best long-term investment must closely observe these dynamics to make informed decisions.
Potential Highs & Lows of Sei Coin
Here's a quick overview of the SEI price forecast from 2023 to 2030:
| | | | |
| --- | --- | --- | --- |
| Year | Potential Low | Average Price | Potential High |
| 2023 | $0.1 | $0.25 | $0.46 |
| 2024 | $0.33 | $0.6 | $0.7 |
| 2025 | $0.68 | $0.8 | $0.95 |
| 2030 | $1 | $1.4 | $1.8 |
What Do Other Analysts Predict For Sei?
As we consider the opinion of some top analysts, it's vital to know that these projections are merely insights and not definitive forecasts.
Although these forecasts present varying outcomes, they all align in anticipating an upward trajectory for Sei. However, the future market dynamics remain uncertain due to the inherently unpredictable nature of cryptos.
Digital Coin Price has shed light on Sei's potential value, showing a progressive increase over the next decade;
In 2023, the price may fluctuate between a minimum of $0.13, an average of $0.31, and a peak of $0.33.

By 2024, these numbers could escalate to a minimum of $0.32, an average of $0.36, and a maximum of $0.38.

Their anticipation grows yearly, culminating in 2030 with a minimum price of $1.45, an average of $1.53, and a peak at $1.55.
CoinCodex offers a more detailed perspective, presenting the following Sei price predictions:
For 2023, they predict a range between $0.135 and $0.22, with a potential 51.88% increase if it hits the upper target.

Their 2024 forecast expands the price range from $0.135 to $0.323, indicating a potential 118.16% rise if the higher value is reached.

The boldest prediction lies in 2025, projecting a low end of $0.277 and a high of $1.054, resulting in a potential 610.91% increase.
CoinDataFlow also contributes to the analysis with varying price ranges:
Their prediction for 2023 is between $0.137 and $0.177.

For 2024, the range is from $0.121 to $0.322.

By 2030, the forecast spans from $0.302 to $1.04, with significant jumps in between.
Lastly, CrowdWisdom offers a more linear prediction for Sei Token:
Their 2023 Sei Price Prediction is $0.356.

A steady climb is expected through 2028; the prediction is $1.4.

They project the price to reach $2.8 by 2030.
What is Sei Token?
Sei is an emerging platform operating as a layer-1 protocol based on Cosmos, focusing on enhancing the digital asset trading landscape, particularly in the decentralized exchange (DEX) environment. 
With an ambitious mission to redefine the world of decentralized trading, Sei offers an extensive range of offerings.
Speed & Security in Trading: 
Sei seeks to combine the high-speed trading offered by centralized exchanges with the decentralization and security inherent to the blockchain. 
It achieves this through a Twin Turbo Consensus mechanism that provides optimal performance for decentralized trading apps, boasting a transaction finality of just 500 milliseconds. 
This focus on speed, without compromising security or decentralization, sets Sei apart from other general-purpose blockchains.
Addressing the 'Exchange Trilemma': 
As the crypto market has exploded, layer-1 and layer-2 infrastructures have struggled to meet demand. The current infrastructure cannot fully provide the combination of top-notch security, complete decentralization, and capital efficiency that dApps need. 
Sei calls this the "Exchange Trilemma." By offering an innovative solution, Sei aims to tackle this challenge and avoid the shortcomings that have led to security breaches in various dApps over the last few years.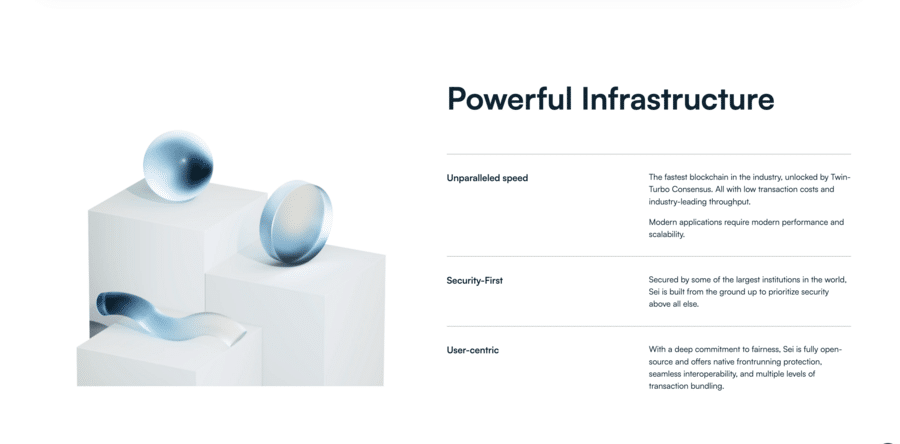 Asset and Application Agnostic: Unlike centralized exchanges, which can have limitations in what they offer, Sei's design doesn't favor any specific asset or application. This allows it to access thousands of tokens from various blockchain applications without restriction.
The flexibility of the Sei blockchain allows users to easily trade within Game Finance (GameFi), non-fungible tokens (NFTs), and decentralized finance (DeFi). This wide-ranging ability has led to Sei being called the 'Decentralized NASDAQ.'
Solving Industry Challenges: 
Sei addresses two common issues in decentralized exchange platforms: front-running and maximal extractable value (MEV). Using the Tendermint Core mechanism, Sei avoids these challenges, providing a more equitable and efficient trading platform.
Innovative Features and Partnerships: 
Sei isn't a solo player in its goal of reshaping the DEX ecosystem. With significant investments and partnerships with big names like Jump, Distributed Global, and Coinbase, Sei is backed by a collaborative effort to enhance scalability and security in digital asset trading.
The SEI Token: 
Powering the Sei blockchain is its native token, SEI, a fungible asset with various roles within the ecosystem, including payment for transaction fees and staking for network security. SEI has quickly been listed on top exchanges since its debut, showing promising market engagement.
Sei Token Overview
| | |
| --- | --- |
| Cryptocurrency | Sei |
| Ticker Symbol | SEI |
| Price | $0.1458 |
| Price Change 24H | -5.3% |
| Market Cap | $265,700,865 |
| Circulating Supply | 1,800,000,000 |
| Trading Volume | $95,897,459 |
| All-Time High | $0.45 |
| All-Time Low | $0.14 |
What Factors Influence the Price of Sei Coin?
To make informed investment choices, knowing what drives the value of cryptos is vital. The following factors can impact the Sei price:
Innovation in Technology: T

he SEI token benefits from the innovative features within the Sei platform, like the Twin Turbo Consensus mechanism and addressing the 'Exchange Trilemma.' Such advancements contribute to the perceived value of the token.

The Role of SEI Token in the Ecosystem

: As the native token of the Sei blockchain, it has various utility roles, including payment and staking. Higher usage within the ecosystem can drive demand and consequently impact the price.

Strategic Partnerships

: Collaboration with players like Jump, Distributed Global, and Coinbase adds credibility and can influence the price positively by creating growth and scalability.

Listing on Top Exchanges

: Listings on more prominent exchanges can significantly impact the SEI coin's liquidity and accessibility, contributing to its price movement.

Market Conditions

: The overall sentiment and trends in the broader crypto market will invariably affect the SEI price, reflecting shifts in investor confidence and macroeconomic factors.

Regulatory Landscape

:

Changes in regulations

around decentralized trading and digital assets could affect Sei's operation and influence the SEI Coin's price.
Conclusion
Since its launch in mid-August 2023, Sei coin's performance has displayed significant volatility. Its remarkable initial growth, followed by a recent downtrend, has provided investors with a classic example of the unpredictable nature of the crypto market.
Factors like its rapid transaction finalization, ability to handle numerous transactions simultaneously, and strong technological advancements have positioned Sei for an upside potential in the coming years.
Nonetheless, making an educated decision by evaluating your risk tolerance and monitoring market trends is essential. 
To protect against potential losses in SEI, it's wise to diversify your investments with other promising cryptos. With more than 50,000 cryptos, identifying the ones with growth opportunities might be challenging. 
You can find comprehensive reviews of cryptos with upside potential on our page on the best cryptos to buy now. Visit the link below to explore these options.
References
https://alternative.me/crypto/fear-and-greed-index/
https://www.prnewswire.com/news-releases/sei-launches-mainnet-301900263.html
https://www.globenewswire.com/en/news-release/2023/04/12/2645383/0/en/Foresight-Ventures-Brings-Sei-Ecosystem-Fund-to-120-Million-Catalyzing-Web3-Growth-and-Innovation.html#:~:text=This%20elevates%20the%20total%20Sei,MEXC%2C%20Hypersphere%20and%20Kronos%20Research.
https://www.worldbank.org/en/news/podcast/2021/12/22/how-crypto-technologies-could-revolutionize-development-the-development-podcast
https://www.thecoinrepublic.com/2023/01/27/sushiswap-may-launch-a-perp-dex-on-sei-network/
https://www.fortunebusinessinsights.com/industry-reports/blockchain-market-100072
https://money.usnews.com/investing/cryptocurrency/articles/will-cryptocurrency-regulation-affect-crypto-prices
FAQs
What will Sei be worth in 2025?
Is SEI coin a good investment?