Shiba vs. Pepe (SHEPE) is a trending new meme coin that blends two iconic internet memes, Shiba Inu and Pepe Frog, into a single crypto. Listed recently on Uniswap, SHEPE has already seen over 2,000% gains in just a few days of its official launch. 
As a result, many buyers are looking for a Shiba vs. Pepe price prediction. This article provides a SHEPE price forecast up to 2030 while gauging factors that can affect its future price.
Shiba vs. Pepe Price Prediction 2023 to 2030 – Summary
End of 2023

: SHEPE is projected to hit a price range between $0.000000021 and $0.000000032 by the end of 2023. This prediction is based on factors such as staying above the 20 EMA, overcoming key resistance at $0.0000000194, and favorable sentiment around meme coins.

End of 2025

: If SHEPE secures more exchange listings, gains media exposure, and creates a dedicated community, it could reach an approximate value of $0.000000098.

End of 2030

: With the meme coin sector's expected growth, SHEPE could benefit from increased community engagement and potential DeFi partnerships. It's plausible to see SHEPE valued at around $0.0000006 by 2030.
Shiba vs. Pepe Price History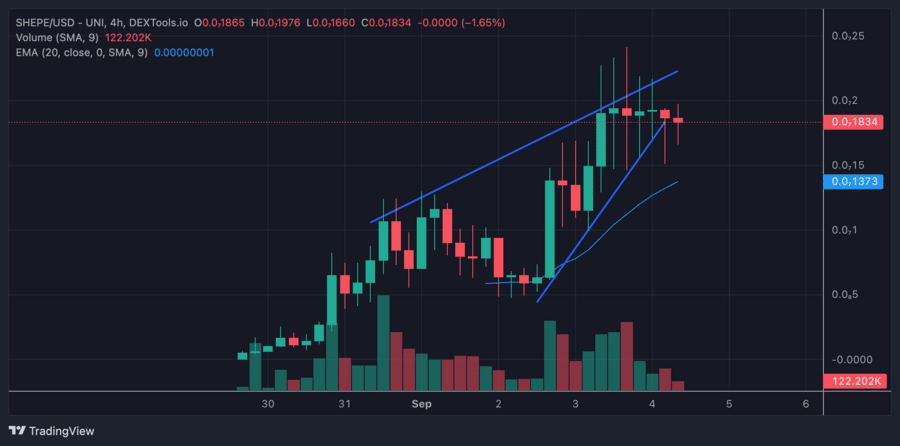 Given its recent gains, the crypto market has been buzzing about the performance of SHEPE. It is a meme coin combining two iconic internet legends, Shiba Inu and Pepe Frog, making it one of the top cryptos to watch.
Let's look into its price history, focusing mainly on recent events:
Initial Rally

: SHEPE got listed on Uniswap, one of the

best decentralized exchanges

, in late August 2023. Post-listing, its price experienced a massive surge, reaching a high of $0.0000000194 but settling near $0.000000018.

Bullish Trend

: The coin maintained an upward trajectory throughout September, with a 72% increase within the past 24 hours.

EMA Significance

: The token's price managed to stay above its 20 Exponential Moving Average (EMA), a key trend indicator. Staying above the 20 EMA generally signals that buyers are in control.

Rising Wedge

: SHEPE has witnessed a classic 'rising wedge' breakdown on its price chart. This usually highlights an edge for the bulls but also signals a likely price reversal.

All-Time High

: On September 4, SHEPE hit an all-time high of $0.00000002319. The near future could see a reversal if the bears dominate or continued growth if the price surpasses immediate resistance levels.

Market Factors

: External elements like regulatory shifts, sentiment around meme coins, and broader market trends could influence SHEPE's price direction.
The SHEPE token has experienced extreme highs and lows since its launch. Whether it's a fad or has long-term potential remains an open question.  What's certain is the market's inherent volatility and the role of various internal and external factors in shaping the coin's future.
Quick Bullet Point Summary of SHEPE's Price Action History:
Exponential rally to $0.0000000194 shortly after Uniswap listing.

Consistent bullish trend in August, with a 72% gain within 24 hours.

Price remained above the 20 EMA, indicating a bullish trend.

Formation of a 'rising wedge,' suggesting potential for both growth and reversal.

An all-time high was reached on September 4 at $0.00000002319.
Shiba vs. Pepe Price Prediction 2023
With Bitcoin stabilizing around the $25,000 support level at press time, many investors are optimistic about a market rebound. As a result, they are searching for the next crypto to explode. As we enter the latter part of 2023, many buyers are keen to see how SHEPE will perform.
20 EMA Significance:

The 20 EMA is crucial to gauge SHEPE's chances of a rally in 2023. If buyers keep the price above this level, we could witness a stable upward movement for the token. If it falls below, the coin may face a prolonged recovery period.

Key Resistance at $0.0000000194

: This level has acted as a critical resistance for SHEPE since its launch. A break above this price would solidify a bullish stance, whereas a failure to do so could send the token into a bearish tailspin.

Meme Coin Sentiment

: The public perception of meme coins like SHEPE can fluctuate rapidly, affecting prices. Market sentiment can swing due to news events or social media trends.

Regulatory Environment

: Any changes in crypto regulations globally or in the markets can affect SHEPE's price.

Market Trends

: Keep an eye on the broader crypto market. A sudden change in the global economic landscape, such as inflation rates, could impact investor behavior, affecting SHEPE's market.
Given these factors, we can anticipate SHEPE to reach the $0.000000021 – $0.000000032 range by the end of 2023.
SHEPE Price Prediction 2025
By 2025, SHEPE's developments can attract more users. Here are key milestones that can significantly influence its price trajectory:
Exchange Listings

: The more exchanges SHEPE gets listed on, the more liquidity it gains. This makes it easier for new and existing investors to trade the coin, potentially leading to price increases.

Media Exposure

: High-profile media coverage can considerably widen SHEPE's investor base. More visibility generally leads to higher demand, which could push the price upwards.

Community Engagement

: The blend of Shiba Inu and Pepe the Frog memes offers a unique charm that can easily go viral, creating a dedicated community. A strong, engaged community can be critical to maintaining sustained growth.

Technological Advancements

: Any

tech upgrades can also boost SHEPE's value

. For instance, integrating NFT capabilities could make the coin more appealing to those interested in the latest digital trends.
Given these factors, it's reasonable to anticipate that SHEPE will see upward movement. The coin aims to build a strong community and extend its global reach, which aligns well with increasing investor interest.
In the context of a growing mainstream acceptance of cryptos and meme coins, SHEPE could experience a significant increase in its user base. 
Considering all these variables, SHEPE could be valued at around $0.000000098 by the end of 2025, assuming favorable market conditions.
SHEPE Price Prediction 2030
By 2030, the global blockchain market is expected to undergo massive changes. Forecasts suggest the market could rise from $11.14 billion in 2022 to around $469.49 billion in 2030, resulting in an annual growth rate of about 60%. 
As industries widely embrace blockchain, meme tokens like SHEPE can capitalize on this interest. SHEPE is heavily emphasizing community growth, aiming for increased community interaction in the future. Heightened trust and community participation typically boost a token's value.
Also, the inherent virality of meme coins can't be ignored. This factor alone can attract new users, adding to SHEPE's market cap.
Many meme tokens eventually venture into the decentralized finance (DeFi) arena. Partnerships with DeFi platforms and additional features like staking could escalate demand for SHEPE.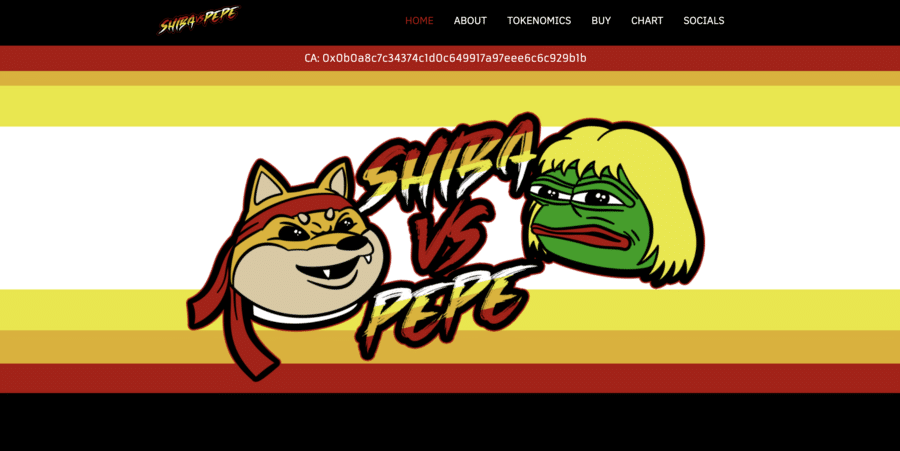 Regulatory compliance can play a crucial role in SHEPE's long-term stability. SHEPE's ability to adapt and comply with these regulations could affect its future value. 
Also, innovations or potential collaborations with other sectors like eCommerce or online gaming could offer untapped growth avenues.
Considering the factors above and SHEPE's focus on community, it is plausible that SHEPE could reach a valuation of around $0.0000006 by the end of 2030. 
However, when looking for the best long-term investments, it's crucial to consider broader market trends like Bitcoin's movement and macroeconomic indicators.
Potential Highs & Lows of Shiba vs. Pepe Price
Here's a quick look at Shiba vs. Pepe price prediction until 2030:
| | | | |
| --- | --- | --- | --- |
| Year | Potential Low | Average Price | Potential High |
| 2023 | $0.0000000057 | $0.000000018 | $0.000000032 |
| 2025 | $0.000000009 | $0.000000053 | $0.000000098 |
| 2030 | $0.00000003 | $0.00000031 | $0.0000006 |
What is Shiba vs. Pepe?
Meme-based tokens gaining much traction, given the rise in popularity of Dogecoin and Shiba inu, which are some of the best meme coins.
Another project that has recently caught the investors' attention is Shiba vs. Pepe. In a simulated street fighter-style competition, this project fuses two iconic internet meme characters—Shiba Inu and Pepe Frog. You can buy SHEPE tokens on Uniswap to enter this meme battle.
SHEPE offers a simple tokenomics model. The buy and sell ratio is set at 1:1, aiming to ensure a level playing field for all investors. This unique concept has quickly put SHEPE into the top 10 trending cryptos on CoinMarketCap.
Within a few days of its 29 August launch, the SHEPE coin surged by over 2000%. Despite a recent drop in gains, the token remains on the CoinMarketCap trending list.
Also, it has consistently held its position on the Hot Pairs List on DEXTools, a platform that offers analytics for decentralized exchanges.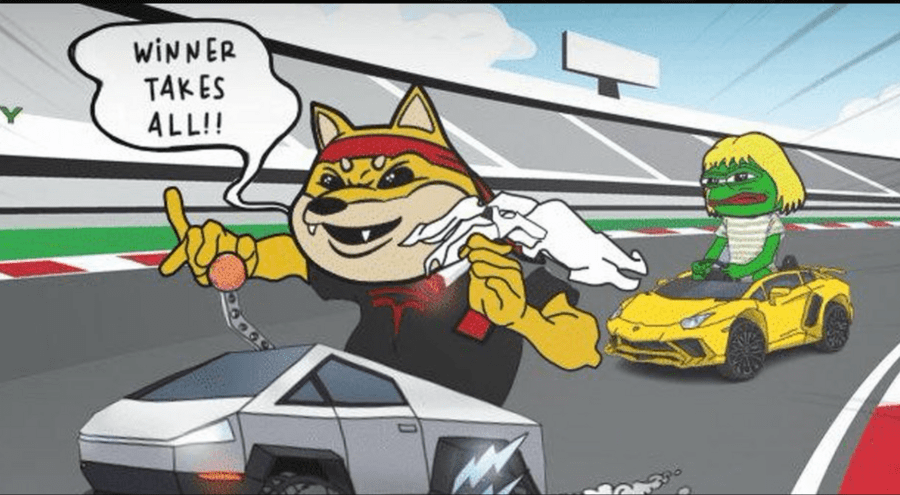 With a market capitalization of over $8 million and a 24-hour trading volume close to $3.5 million, the project has attracted around 3.15K holders in less than a week of its launch. 
According to DEXTools, the project has scored 99 out of 99 for reliability and holds a community trust rating of 97%, based on 1064 votes.
Some well-known traders have also Tweeted about the project. Erik Cryptoman, a famous trader with over 134K followers, tweeted that SHEPE was "on an absolute tear" and highlighted the rapidly increasing community. 
PetaByte, another influential figure in the crypto space, Tweeted about the project's active community and upcoming marketing moves.
In just a few days of launch, SHEPE is making waves in the crypto market through its unique meme-based battle concept, rapid price movements, and strong community support. 
Even though the platform has already displayed solid initial interest, it still needs to display a consistent uptrend in its user base. Also, it's crucial to look at the project's long-term utility prospects to gauge its upside potential in the coming years.
What Factors Influence the Price of Shiba vs. Pepe?
These factors can contribute to the volatility and potential of SHEPE's price movement:
Community Engagement

: Given its high community trust rating and tweets from influential crypto traders, SHEPE relies heavily on its community for price momentum. A strong, active community can push the token to trending lists, positively influencing its price.

Concept

: The project fuses Shiba Inu and Pepe Frog in a simulated battle, offering something different from other meme tokens. This unique selling point can draw more investors, boosting demand and price.

Market Trends

: Macro factors like the overall sentiment in the crypto market or trends in meme tokens can affect SHEPE's price. If meme tokens are gaining, SHEPE will likely ride the wave.

Tokenomics

: With a 1:1 buy and sell ratio, the token aims to offer a level playing field, making it attractive for retail investors. The more balanced the tokenomics, the more sustainable the price growth will likely be.

Long-term Utility

: As the platform matures, its ability to offer long-term utility beyond the initial hype will be crucial for its price sustainability. A failure to evolve could lead to a decline in investor interest and price.
Conclusion
Shiba vs. Pepe is an emerging meme coin that blends Shiba Inu's and Pepe Frog's internet fame and has displayed high volatility since its recent launch. 
With a market cap exceeding $8 million, this crypto has caught the interest of many investors and is trending on various platforms.
However, its future, like any other crypto, is shaped by several internal and external factors—market sentiment, regulatory changes, and macroeconomic trends, to name a few. 
SHEPE's future could tilt towards growth or face a downturn, depending on its ability to offer utility in the future, maintain its buzz, and adapt to market conditions.
Given its potential for massive volatility, risk assessment and portfolio diversification are crucial for investors. But navigating a market with more than 10,000 active cryptos to find promising options can be tricky.
You can visit our 'Best Cryptos' page for an in-depth analysis that can help you identify high-potential cryptos. Click on the link below to learn more.
References
https://www.worldbank.org/en/news/podcast/2021/12/22/how-crypto-technologies-could-revolutionize-development-the-development-podcast
https://coinmarketcap.com/currencies/shiba-v-pepe/
https://www.dextools.io/app/en/ether/pair-explorer/0x99a65698566e757610d5aa2372f6a0c7df92ae9f
https://www.fortunebusinessinsights.com/industry-reports/blockchain-market-100072
https://coinmarketcap.com/trending-cryptocurrencies/
https://twitter.com/EricCryptoman/status/1698364269048258725
https://twitter.com/PetaByteCapital/status/1698264979240075571
FAQs
What is the Shiba vs. Pepe coin?
Is SHEPE a good investment?