Following the blockbuster Barbie movie release, a group of shrewd devs have released a meme coin combining Barbie with the esteemed Shiba Inu. The project promises a rollercoaster journey for its community and has already proven immensely popular.
This Shibie Coin price prediction looks at the project's short and long-term potential, analysing trends, tokenomics, long-term plans and more.
Shibie Coin Price Prediction Summary
End of 2023: Shibie Coin embodies the jovial characteristics of Barbie while also appealing to the mass meme coin community of Shiba Inu. Many analysts and media outlets have already taken note. With this in mind, our Shibie Coin price prediction estimates highs of $0.0005 by the end of 2023.
End of 2025: The project's ties to Barbie and Shiba Inu mean developments within either stratosphere could result in a growing demand for $SHIBIE. Considering the popularity of both characters, combined with the upcoming bull market, our 2025 Shibie Coin price prediction estimates a price of $0.0007.
End of 2030: Shibie Coin faces an uncharted road ahead where anything could happen. However, the team's focus on marketing and CEX listings could help generate a loyal, long-term community. If this proves true, our Shibie Coin price prediction forecasts a price of $0.0015 by the end of 2030.
Shibie Coin Price History
Shibie Coin was created in response to the blockbuster Barbie movie released in July. It combines the globally talked about Barbie character with the viral and community-centric Shiba Inu to provide an enigmatic, explosive and "downright provocative" meme coin.
The presale launched with a single-tiered price of $0.000167 and a hard cap of $999,999. However, at the time of writing this, there are just six days left until the presale ends, leaving investors with limited time to take advantage of this quick-footed token.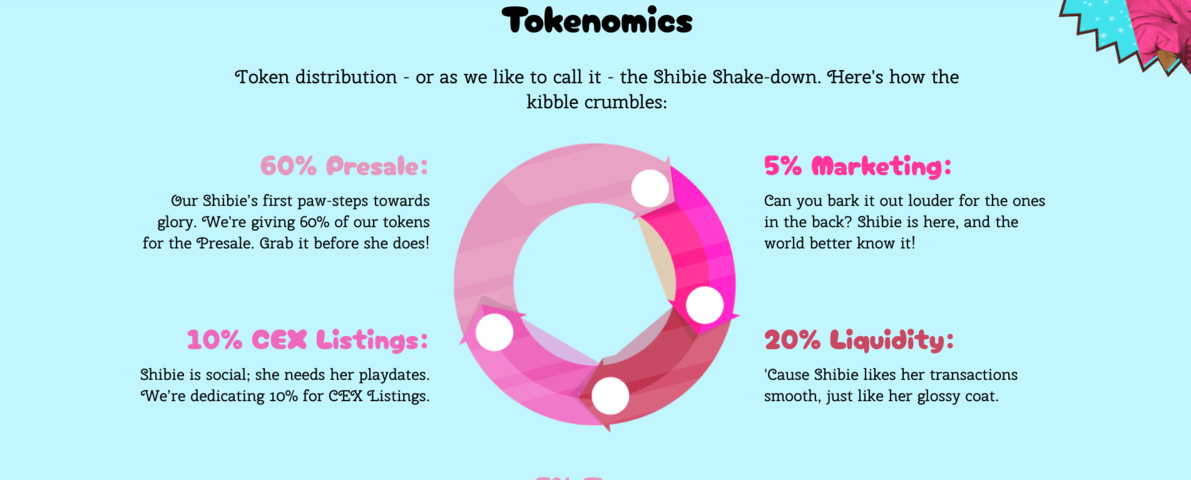 Shibie Coin's presale represents 60% of the total supply, with 10% withheld for CEX listings, 5% for the team, 5% for marketing and 20% for liquidity.
The Shibie Coin whitepaper proclaims it's "bringing a hotter meme dog to the party", a playful yet potentially truth-bearing statement. Shiba Inu is a product of hype and trends, so Shibie Coin's implementation of the hottest new blockbuster figure could set the project ahead.
Shibie Coin Price History Key Points:
Shibie Coin was inspired by Barbie and the Shiba Inu meme coin.
It launched in July with a single-tiered presale price of $0.000167.
The presale will end in six days or when it reaches its $999,999 hard cap.
60% of $SHIBIE tokens are allocated to the presale.
| | |
| --- | --- |
| Presale Started | July 2023 |
| Purchase Methods | ETH, USDT |
| Chain | Ethereum |
| Hard Cap | $999,999 |
| Min Investment | 100 $SHIBIE |
| Max Investment | None |
Shibie Coin Price Prediction 2023
Thanks to the trail-blazing new Barbie movie, the Shibie Coin has already proven a hot topic in crypto, receiving coverage from analysts like Jacob Bury and various top media outlets.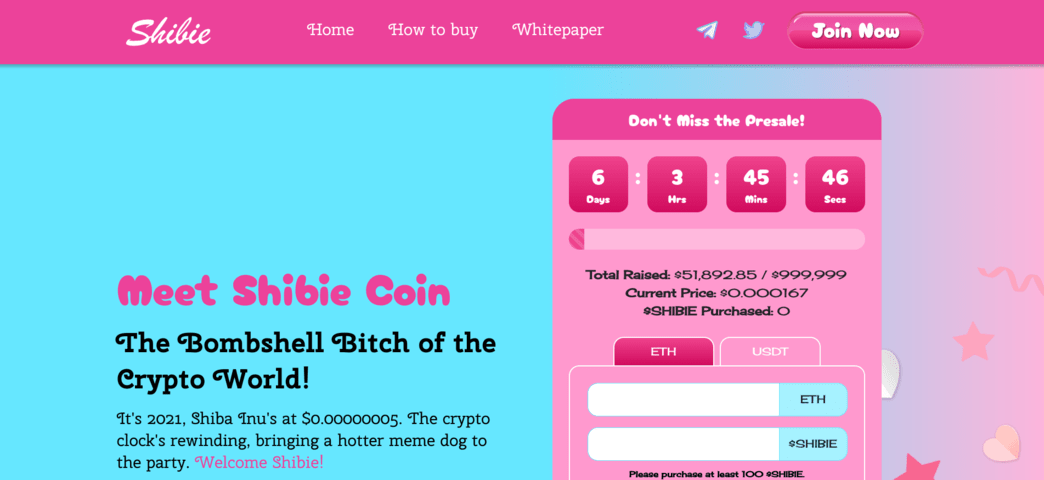 Many prudent crypto investors tirelessly work to identify upcoming trends and capitalise on them through their investments. As such, Shibie Coin could fare in high demand.
On the other hand, Shibie Coin's $999,999 hard cap makes the project a low cap gem, potentially furthering the appeal for degen thrill-seeking traders.
According to Bloomberg, Barbie racked up a staggering $500 million in gross revenue in the first week, with much more anticipated to roll in looking ahead.
Meanwhile, the Shiba Inu token has thrived in recent weeks, up over 10% in the last month. The project also has a massive community of 1.3 million holders and 3.7 million Twitter followers.
Naturally, much of the Shiba Inu community is influenced by hype and trends, so the emergence of a new Shiba Inu-Barbie crossbreed could pique their interest.
With this in mind, and considering its low presale hard cap, our Shibie Coin price prediction forecasts a price of $0.0005 by the end of 2023. If accurate, this would equate to a 199% increase from its presale price.
Shibie Coin Price Prediction 2025
Shibie Coin does not feature any apparent fundamentals besides being a hype-driven meme coin. This means anything could happen in the long term.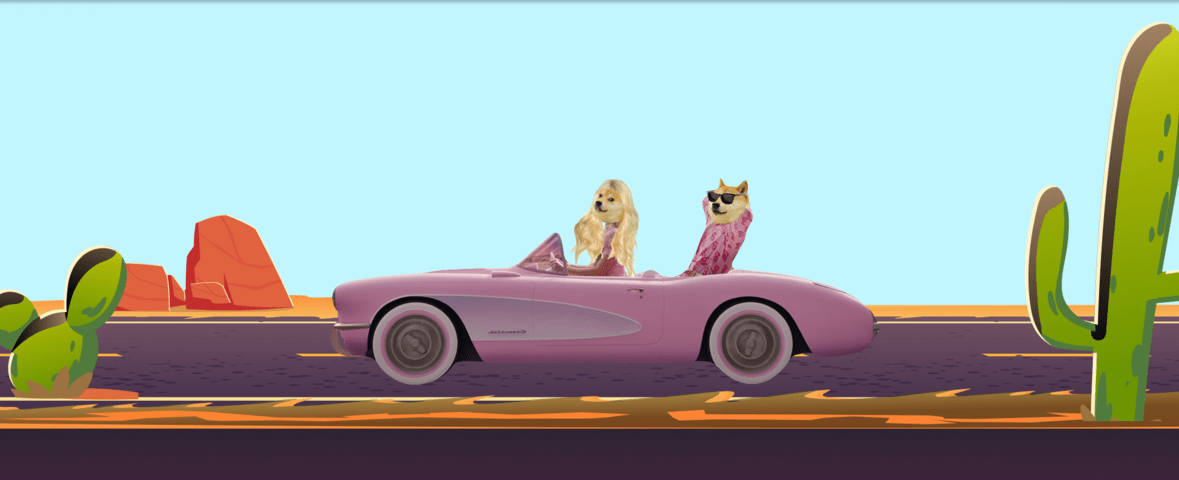 The price of Shibie Coin in 2025 depends on the scale of community and hype it can amass in 2023. If it succeeds in 2023, the price could pump it in 2025 since this is when the next crypto bull market is expected to occur.
Another factor which could influence the Shibie Coin's price is its ties to Barbie and Shiba Inu.
Shibie Coin is currently the most prominent project inspired by Barbie, so if the Barbie hype continues, investors may flock to $SHIBIE for exposure to the trend.
Also, Shiba Inu is developing an Ethereum layer two scaling solution named Shibarium. This has recently bolstered the Shiba Inu price and could cause Shibie Coin to rise in the future.
However, Shibie Coin stands on its own merit, and the project's website alludes to CEX listings and potential future developments.
While it remains to be seen which direction Shibie Coin takes, the project undoubtedly holds strong upside potential for 2025.
Therefore, our 2025 Shibie Coin price prediction estimates a price of $0.0007 – a 319% increase from its current price.
Shibie Coin Price Prediction 2030
Shibie Coin's fun-filled ethos and distinguishable imagery stand out amongst other meme coins. This is a crucial component of the project's unapologetic strategy for long-term success, and we could see it become a contributing factor to its price action in 2030.
However, meme coin prices are often driven by hype, which can be challenging to retain long term. Nevertheless, it is worth remembering that the rise of Dogecoin proved meme coins can hold long-term potential.
Shibe Coin also significantly focuses on increasing awareness, with 5% of its tokens allocated to marketing. If the price increases, 5% of tokens could equate to a considerable value – enabling Shibie Coin to extend its reach beyond the crypto sphere.
Moreover, in a similar light to other popular meme coins, most of Shibie Coin's tokens will be in the hands of the community. This could ensure organic and sustainable long-term price action.
As such, our 2030 Shibie Coin price prediction estimates possible highs of $0.0015 – a 798% increase from its presale price.
Possible Lows and Highs of Shibie Coin
Since its launch, Shibie Coin has shown signs it could become one of the top meme coins. Considering this, we have summarized our Shibie Coin price forecast estimated lows and highs below.
| | | |
| --- | --- | --- |
| Year | Potential High | Potential Low |
| 2023 | $0.0005 | $0.0003 |
| 2025 | $0.0007 | $0.00045 |
| 2030 | $0.0015 | $0.001 |
What is Shibie Coin?
Shibie Coin is a new meme coin crossbreed between Shiba Inu and Barbie.
According to its website, Shibie Coin is on "a mission to strut, sashay, and scamper her way to the top of the crypto kennel".
The project is currently available in its presale, priced at $0.000167.
Shibie Coin aims to take over the crypto world by taking the best of Shiba Inu and the best of Barbie to appeal to a mass audience.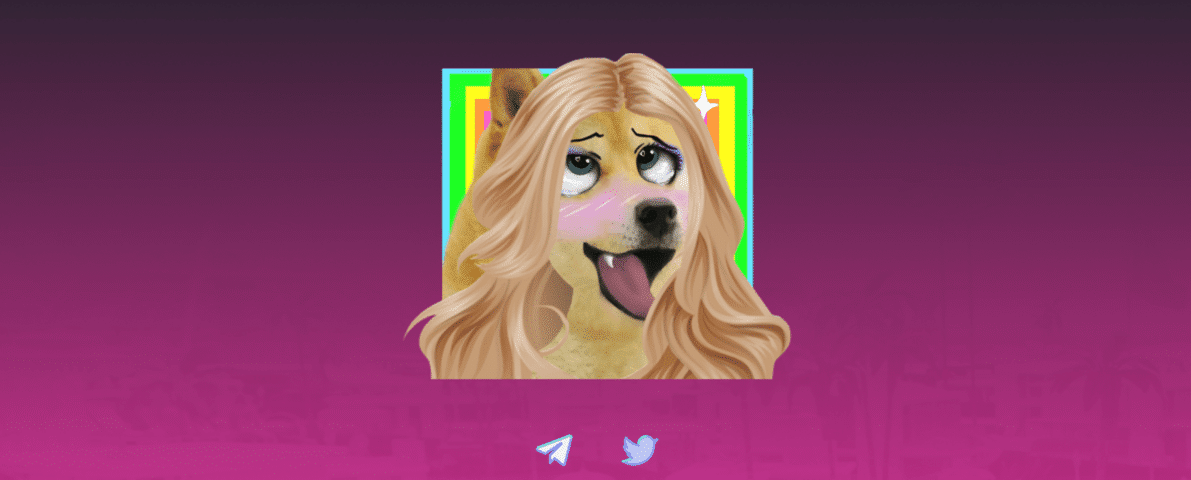 So far, the primary purpose of the token is to join the vibrant, exciting and entertaining Shibie Coin community, as well as for portfolio exposure to the alluring Barbie trend.
Shibie Coin is focused primarily on marketing, aiming to expand its reach beyond the norms of crypto meme coins. Its roadmap highlights this by claiming, "Shibie's not just any dog. She's going to be the biggest name on everyone's lips".
What Influences the Shibie Coin Price?
Shibie Coin's use of two highly distinguished yet provocative characters undoubtedly makes it one of the top trending cryptos. With that in mind, let's consider what could affect its price.
Barbie and Shiba Inu's Popularity
Shibie Coin's connection to Barbie and Shiba Inu means investors will likely seek it out when either topic is trending. For example, if Barbie continues to dominate the film industry or Shiba Inu's price pumps, demand for the Shibie Coin could grow.
Community
Like other meme coins, $SHIBIE's value ultimately depends on the size and support from its community. If the community grows, the $SHEBIE price will inevitably increase.
CEX Listings
Shibie Coin has significantly focused on attaining CEX listings, setting aside 10% of tokens to make it possible. CEX listings are one of the fastest ways for projects to explode in price, as we saw when Pepe pumped following its Binance listing. Therefore, we expect $SHIBIE's price to rise if it gets listed on any prominent exchanges.
Tokenomics
Tokenomics can make or break a project. In Shibie Coin's case, most tokens are allocated to the community or liquidity, enabling seamless trading and preventing excessive sell pressure from its founders dumping tokens. Instead, growing demand for Shibie Coin will inherently boost its price.
Is Shibie Coin a Good Investment?
Shibie Coin capitalises on two of the hottest topics at the moment. Moreover, the inspiration from Barbie could create an allure for those who do not usually buy meme coins. As such, our Shibie Coin price prediction forecasts the price will increase between 2023-2030.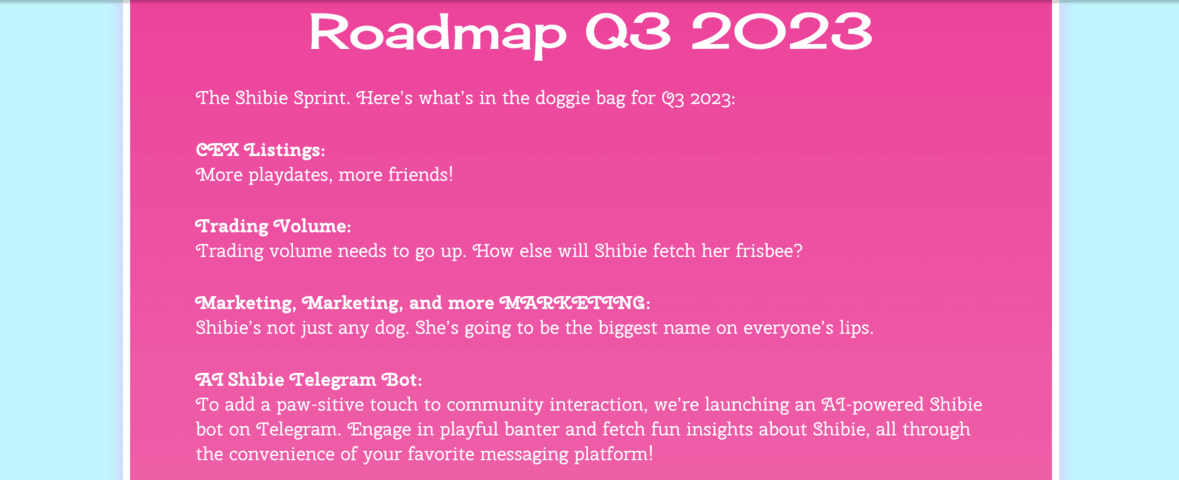 While there is always downside risk with new crypto projects, Shibie Coin embraces this as part of the journey, appealing to thrill-seeking traders looking to embark on a rollercoaster crypto adventure.
Another factor to consider is Shibie Coin's tokenomics. The project could enjoy organic and long-term price action with 60% of tokens available to the community at presale, 30% to liquidity and CEX listings, 5% to marketing, and just 5% to the team.
The project's tokenomics are community-centric, opening the door to potential long-term sustainable growth.
How to Buy Shibie Coin Presale
Discover how to buy Shibie Coin in five easy steps below.
Step One: Create a Crypto Wallet
Create an Ethereum-compatible software wallet of your choice. For this tutorial, we will use MetaMask.
Step Two: Fund the Wallet
Load your wallet with funds. Do this directly from the wallet dashboard with your bank card, or send crypto to the wallet from a centralised exchange.
Step Three: Visit the Shibie Coin Website
Visit the Shibie Coin website and click "Connect Wallet". Then follow the instructions prompted by MetaMask to complete the sign-up.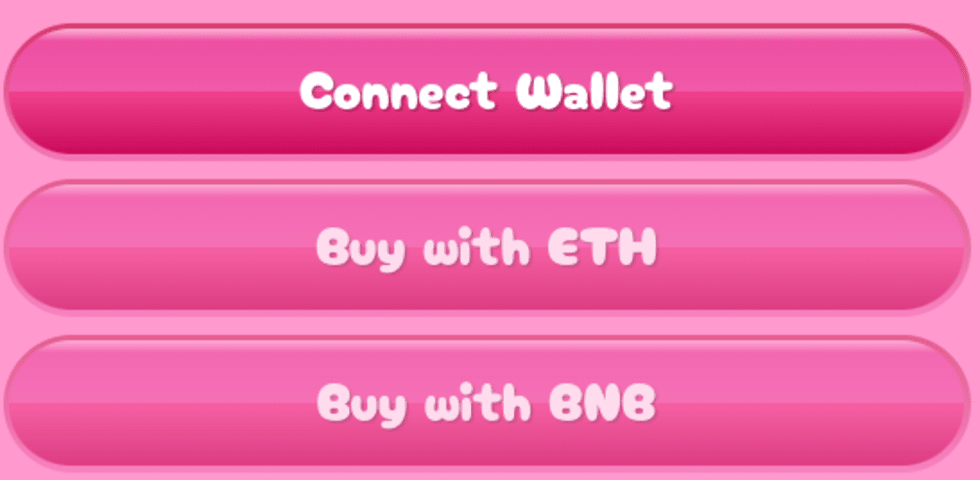 Step Four: Buy $SHIBIE Tokens
Choose the amount of $SHIBIE you want to purchase, then complete your purchase.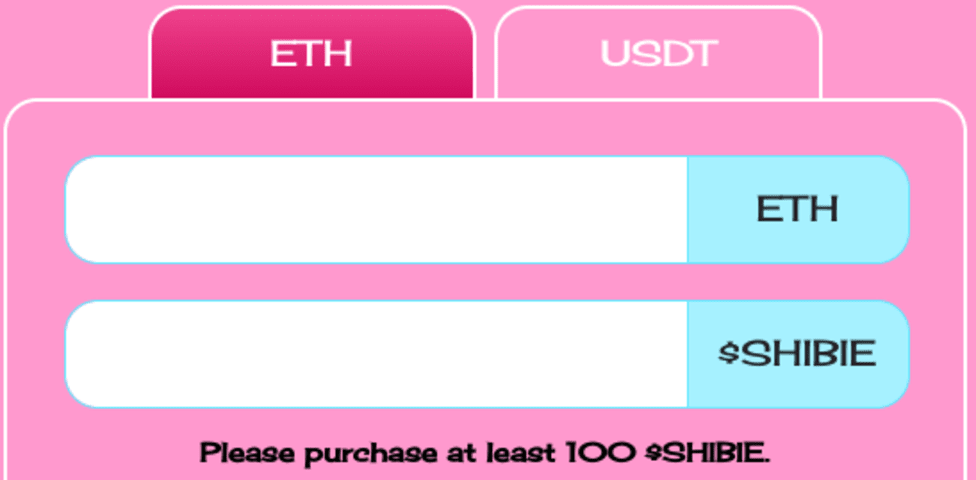 Step Five: Claim Your Shibie Coin Tokens
Following the presale, there will be a token generation event (TGE) where you can claim your tokens from the Shibie Coin website.
Conclusion
Shibe Coin is currently one of the hottest upcoming crypto projects. While its remains to be seen how far it can go, our Shibie Coin price forecast estimates highs of $0.0015.
However, with a hard cap of just $999,999 and six presale days remaining, investors must act quickly to secure their tokens before it launches on exchanges.
References
https://www.bloomberg.com/news/articles/2023-07-28/barbie-s-500-million-week-smashes-box-office-studio-records
https://www.coindesk.com/tech/2023/07/07/shiba-inu-based-shibarium-blockchain-expected-to-go-live-in-august/
https://www.cnbctv18.com/cryptocurrency/next-bitcoin-bull-run-not-before-2024-says-top-crypto-exchange-co-founder-12586242.htm
https://www.bbc.com/news/business-55939854
https://editorial.rottentomatoes.com/article/weekend-box-office-results-barbie-dominates-again-in-second-weekend/
https://www.coindesk.com/markets/2023/05/08/first-mover-americas-memecoin-pepe-hits-1b-market-cap/
FAQs
Is Shibie Coin a good investment?
What will the Shibie Coin price be in 2025?
What will the Shibie Coin price be in 2030?
How much is the Shibie Coin presale?