If you find yourself asking "Should I buy Cardano?", know that the answer lies in your risk tolerance and how long you plan to hold your Cardano coins. Cardano is a blockchain that supports smart contracts, can be staked to earn homore coins while you validate transactions and secure the network, and it's massively scalable.
The team behind this blockchain sees Cardano as the third generation of cryptocurrency designed to build a universal financial protocol that will be self-evolving and give the unbanked access to financial services among the many use cases. If successful, this could be a profitable investment in the long run.
But is it worth buying Cardano? Let's dive deeper and find out.
So is it good to buy Cardano now?
Cardano traded at $3.10 at its all-time high in September 2021. With the coin now trading at $0.25 apiece, it means it's down 91% from its peak. If you're wondering "Is Cardano a good investment?" then the answer is probably yes as you would be buying ADA at a 91% discount from all-time highs.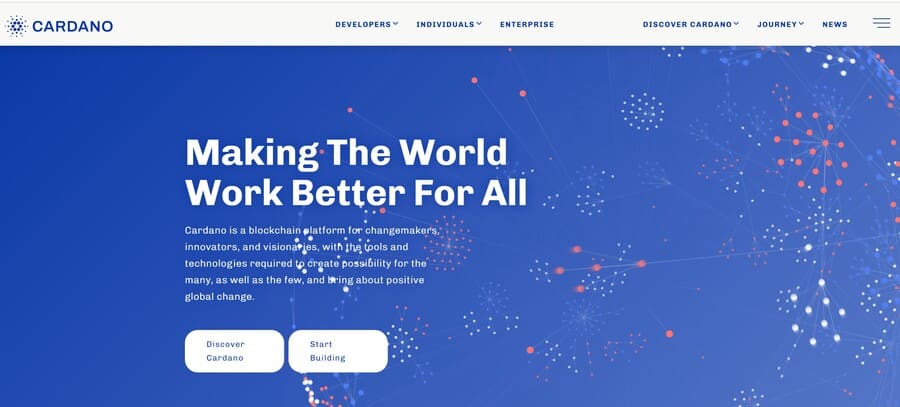 What Makes Cardano Different From Other Blockchains?
Most blockchain projects have a whitepaper and they execute their programming off of that. Cardano, however, is based on peer-reviewed academic research. This means that a paper is written and then it's reviewed by peers before the Cardano team can start coding it.
There are different contributors for close to 200 papers at the moment. Some of the papers are:
If it's so different from other blockchains, you may wonder "Should I Buy Cardano?" Let's see first how Cardano's price has performed in the past.
How Cardano Has Performed Since Launch & This Year
Cardano is an open-source blockchain built by IOHK (Input Output Hong Kong), which is a blockchain company founded by Charles Hoskinson and Jeremy Wood. IOHK started work on the Cardano project in 2015.
It took the team two years to launch the ADA token via initial coin offering in 2017 when it raised over $60 million. During this time, Cardano minted 31 billion tokens, 26 billion of which were sold to investors and 5 billion distributed to IOHK, the Cardano Foundation and Emurgo.
The token launched in 2017 with a price of $0.025 and it quickly caught investors' attention, rising to $1.36 in early 2018. After reaching this price, ADA dropped to $0.11 and traded there for most of 2018. In 2019, ADA dropped close to its launch price where it traded for months around $0.03.
Cardano started to skyrocket during the 2021 bull run where it reached a peak of $3.10. This price has never been tested again. If you invested $10,000 in 2017 at the price of $0.025 per token and sold at the top of $3.10, you would've earned $1,230,000.
The ADA token now trades at around $0.25. Is the Cardano coin worth buying at these prices? $0.25 is the recent bottom and it could be a good entry point if you have long-term goals.
Cardano coin launched in 2017 at a $0.025 price
Reached a top of $1.36 in early 2018
Bottom in 2019 at $0.03 apiece
$3.1 top in November 2021, marking a 12,300% gain since launch
Trades between $0.25 and $0.4 for most of 2023
What Factors Determine the Price of Cardano & its Potential?
Cardano is known for its commitment to scientific research and peer-reviewed protocols, which can enhance its credibility and adoption. Future upgrades, partnerships and implementation of its use cases can significantly impact Cardano's coin price.
If you're wondering "Should I invest in Cardano" before it takes off, here is what to consider that will affect ADA's price:
Market Sentiment and Hype
Cryptocurrency prices are often driven by market sentiment and hype. Positive news and endorsements from influencers can create excitement around Cardano, which should increase ADA's price.
The broader cryptocurrency market also affects Cardano's price. Market factors like Bitcoin's performance, investor sentiment towards cryptocurrencies in general, and macroeconomic events can lead to price fluctuations.
Wondering, "Should I Buy Cardano while we're in a bear market?"
Being one of the top 10 cryptocurrencies by market cap, Cardano is likely to be among the top movers when the macroeconomic circumstances change and riskier assets become popular among investors once again.
Adoption and Real-World Use Cases
Cardano aims to be a financial operating system. It also sees multiple use cases in digital ID and proof-of-ownership of certificates and products. Ethiopian authorities have signed a contract with IOHK to provide digital ID cards to 750,000 teachers and 5 million students.
Another use case is Cardano's goal to become the Internet of Blockchains. This means that Cardano will understand what happens with other blockchains and you will be able to seamlessly move crypto between blockchains, say between Cardano and Ethereum.
If you're thinking "Should I invest in ADA", this could be your answer. If Cardano can successfully gain widespread adoption and real-world use cases, ADA's price could benefit significantly.
Competition and Ecosystem Development
Cardano isn't the only blockchain aiming for worldwide adoption. Ethereum is already the most popular programmable blockchain with the highest number of developers, while blockchains like Solana offer higher transactions per second (TPS) and lower transaction costs. If Cardano fails to make a statement in the years to come, it could be quickly overtaken by these — or by upcoming — blockchains.
Another aspect to consider when thinking about Cardano's future price is the growth and development of the Cardano ecosystem. This includes decentralized applications (dApps), DeFi projects and NFT platforms.
For anyone wondering "Should I buy ADA" while developers are still building new dApps, the answer could be yes. Because once new projects go live, ADA's price may take off.
Regulations
The regulatory environment plays a significant role in determining Cardano's price potential. The Securities and Exchange Commission (SEC) has already sued Coinbase and other crypto exchanges because the SEC believes cryptocurrencies are securities.
Luckily, Cardano has an ace up their sleeve, called Voltaire. Voltaire is a blockchain upgrade that will make Cardano fully decentralized and self-sustaining. It will also bring a new voting and governance system and a new treasury system.
Once live, Voltaire will make Cardano no longer be under the management of IOHK and it will remove Charles Hoskinson from the forefront. Voltaire will make it hard for the SEC to consider the coin as a security, which would remove one risk from the equation.
So, should you invest in Cardano?
Despite the Voltaire upgrade, there is always the risk the US or any major country could ban crypto, which will negatively affect crypto prices.
Cardano Price Forecast for 2023, 2024, 2025, 2030
Cardano's price is influenced by a combination of technological developments, market sentiment, adoption, competition, regulation and overall market conditions. At the moment, macroeconomic factors play a crucial role because borrowing money to invest in riskier assets is more expensive due to high-interest rates.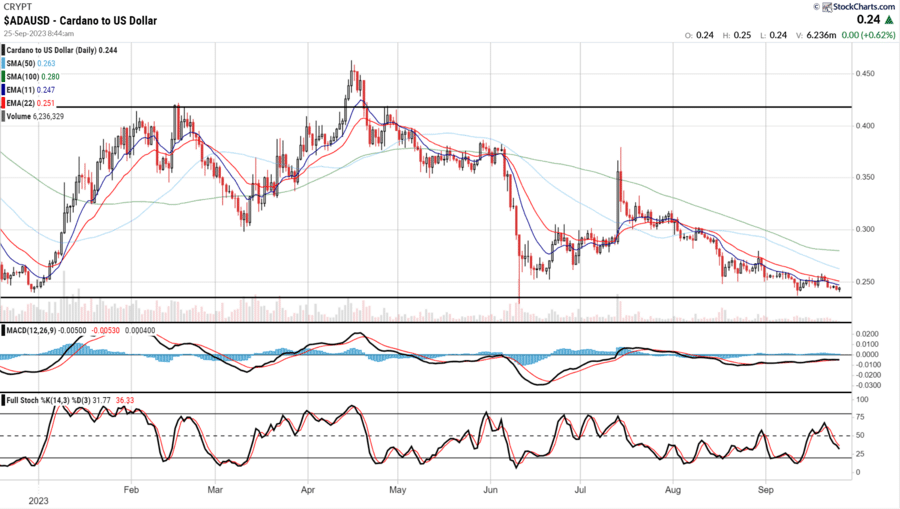 Will the Cardano coin go up? Interest rates have to go down first so that bonds and other "safer" investment options don't seem enticing anymore. Until that happens, ADA's price may keep bouncing between $0.25 and $0.4.
Given that Bitcoin's halving is due in 2024, which is known to positively affect crypto prices, as well as Goldman Sachs economists predicting rate cuts in late 2024, we could see ADA break out of the current range and target $1 in late 2024 and 2025.
By 2030, ADA could see another test of $3.10.
YouTuber Altcoin Buzz is more optimistic, though. He sees ADA trading at $8 or $10 in the next bull cycle.
BTCC Academy believes Cardano will trade around $0.95 in 2025 and around $2.17 by 2030, which is in line with most ADA predictions.
So is it a good time to buy Cardano? The price is extremely enticing given ADA traded at $3 in the past. If you believe Cardano can deliver on its promises, it could be a good time to buy it now.
Cardano's Utility – How Could it be Used in the Future?
Cardano is a proof-of-stake cryptocurrency that is still in development. It can be used as a digital currency or for storing important data, such as IDs and documents on the blockchain.
Digital Currency
Cardano's native coin is called ADA. This is a digital currency that can be transferred between anyone, anywhere in the world without a third party, just like Bitcoin. Every transaction is stored on the blockchain, which makes it transparent.
You can use your idle ADA coins to stake them and earn more ADA coins as rewards. By staking your coins, you help validate transactions and keep the blockchain safe. You can stake your coins either via a pool or by yourself.
If you're wondering "how much Cardano should I buy to stake" know that it depends on how much you want to earn back annually. Staking Cardano currently comes with an annual percentage yield of around 4%. So if you want to earn 400 ADA coins annually, then you would need 10,000 ADA to stake.
NFTs
You may have not heard about NFTs on the Cardano network as you have heard of Ethereum or perhaps even Solana NFTs, but Cardano is the sixth blockchain by all-time NFT trading volume, according to Cryptoslam.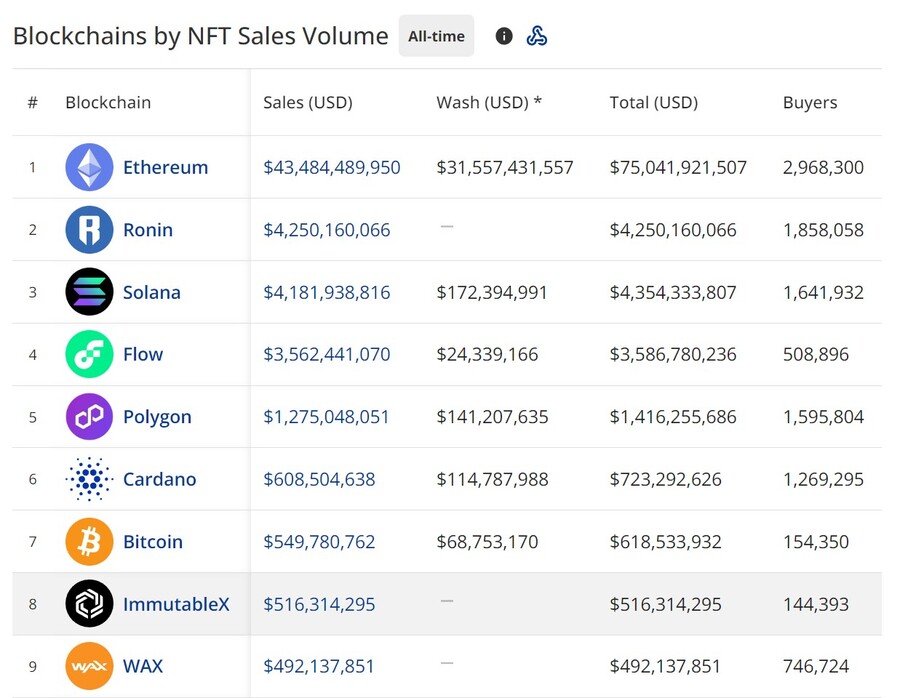 Cardano boasts over $600 million in all-time NFT trading volume, more than Bitcoin Ordinals and ImmutableX NFTs.
There are several NFT marketplaces on Cardano, including Jpg.store, Cardahub, Cardano Cube and CNFT, which shows the NFT space on Cardano is doing well during the bear market.
Given that Solana has a higher NFT volume, you may be wondering "Should I buy Cardano or Solana". In this case, the answer is: it depends on your goals. If you want to bet on the NFT ecosystem, then Solana is probably the better bet, given it dwarfs Cardano by NFT trading volume.
But if you believe Cardano's vision of giving everyone digital IDs and product certifications is worth betting on, then Cardano would be the better choice.
Web3 Games
Cardano follows the top 10 blockchains closely by offering Web3 games where in-game assets are NFTs that you can earn and trade with other players. Given that Cardano NFT trading volume surpasses ImmutableX, which is a layer-2 Ethereum blockchain specifically designed for Web3 games only, this isn't surprising. You can find a variety of games on Cardano, some of which are:
Chibidango Heroes. This is a play-to-earn game where you use your NFT characters to earn rewards in the game. You can also upgrade your characters and your village and set off on expeditions to earn valuable rewards.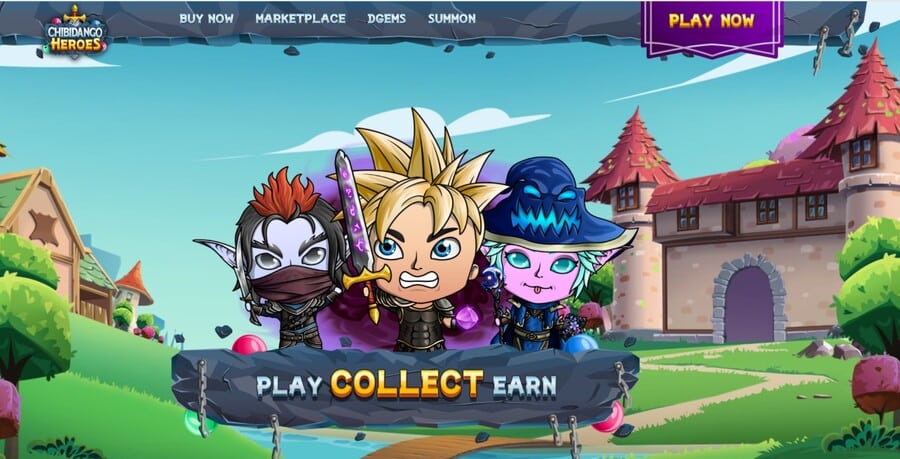 Speed Throne. This game is built on the Unreal Engine 5 and is available to play on Cardano as well as on Ethereum. There are 1,000 car NFTs that also act as VIP membership passes, which you can use to play the game and earn SPDT tokens.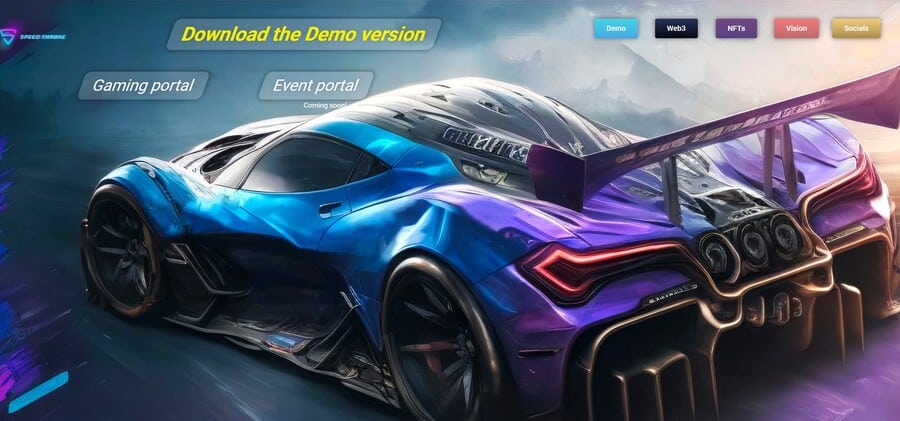 Space Troopers. This is a 3D game where you can earn ADA coins as well as TROOP tokens by playing the game. Currently, you can stake your NFTs and play the arena where you fight against 100 other players.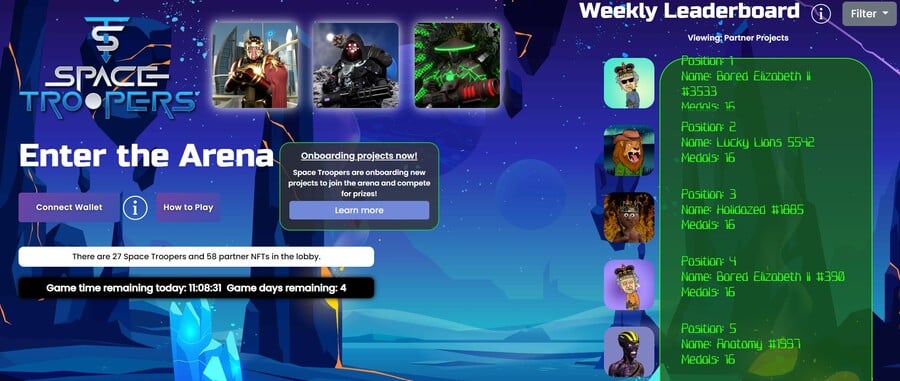 If you like where Cardano's Web3 games are going, you may wonder "Should I buy Cardano now" before new games are developed and demand for ADA increases, holding some ADA coins could be worthwhile.
Document Certification
The Cardano blockchain can be used for decentralizing the issuance of academic certifications with something called Atala PRISM. This is an ID and credentials solution that secures academic certifications within a tamper-proof ecosystem, allowing students to easily share their achievements without third-party intermediaries.
This makes it a cost-efficient, fast and secure way to share certificates for students looking for work.
Atala PRISM is also used for government credentials issuance and verification of the document's authenticity. This feature will enable users to have full control over their documents, which they can verify and share anywhere.
Additionally, Atala PRISM can be used to speed up the administrative process of opening bank accounts by using blockchain-verified credentials for ID verification in finance.
What is Atala PRISM?
Atala PRISM is a self-sovereign identity (SSI) platform designed for verifiable data and digital ID. The platform offers the issuance of decentralized identifiers and verifiable credentials on the Cardano blockchain.
Its use case is bringing unbanked through the Know Your Customer (KYC) process via digital IDs.
This tech is designed to be scalable to millions of users via layer-2s while being secure at the same time allowing for privacy-preserving solutions.
Improve Supply Chain and Fight Counterfeit Goods
Out of the many use cases of something called Atala SCAN is fighting counterfeit medications in the healthcare industry by authenticating and verifying the supply chain of pharmaceutical products and guaranteeing the safety of patients.
The same feature can be used to create a tamper-proof system that establishes product provenance and audibility, giving every product a certificate of being original on the blockchain. This helps fight fake goods and products to prevent financial losses and brand reputation while increasing consumer confidence.
Adding Atala Trace and EMURGO into the mix and Cardano can now improve the agriculture supply chain with a blockchain solution that keeps track of all stakeholders in the agriculture supply chain such as farmers, haulers and retailers.
If Cardano has such major use cases, you may be thinking "Should I buy Cardano right now?" A lot of these use cases haven't been implemented yet. However, ADA's token price is trading at low prices, which could make it a lucrative investment in the long run.
Is Cardano a Better Short-Term or Long-Term Investment?
If you're wondering "is ADA a good investment" either for the long-term or short-term, here's what you should consider before making the decision to buy Cardano in 2023:
Price Volatility
Short-term goals for cryptocurrencies like Cardano can be highly susceptible to price volatility. This can be caused by investors and traders buying and selling, but can also be affected by trading bots. Even important news like interest rate hikes or cryptocurrency ETFs being approved or denied can cause wild swings in the crypto market.
In this case, your reward is limited due to macroeconomic factors, but the risk is higher because of the price volatility.
In the long term, however, once macroeconomic factors improve and the interest rates start going down along with inflation, ADA could start to move up.
With long-term goals in mind, buying at any price at the moment should be okay
Risk Tolerance
All cryptocurrency investments carry risks whether it be from fraud and scams, or by the US banning cryptocurrencies, or simply because of value depreciation due to price volatility or risk aversion.
Because of this, make sure to invest what you can afford to lose. For short-term investing, use stop-loss orders, which will close your position if it reaches a certain price.
This begs the question of when to buy Cardano.
If you have no problem watching your account turn red for months and perhaps for over a year, you can just dollar-cost average. Alternatively, you could buy ADA now and wait for the next bull run.
How to Protect Yourself Against Crypto Scams and Fraud
Buying your ADA tokens isn't enough to keep them safe. Just like anyone can steal your wallet in real life, fraudsters can be inventive when it comes to scamming people. Here's how to protect your Cardano coins.
Move your coins from centralized exchanges. If you buy your coins from Coinbase or Binance, consider moving them to a self-custodial wallet. These are wallets where you hold the keys and not the central exchange. Large exchanges may seem safe, but so did FTX before it collapsed and people were left without their funds.
Use a hardware wallet. Hardware wallets are the best way to keep your crypto safe. That's because they store the seed phrase in an encrypted USB device. To approve a transaction, you have to unlock the device with a PIN number and physically press the buttons. This means that if someone has hacked your computer, they won't be able to move your funds unless they have your hardware wallet and know your PIN number.
Never share your seed phrase. This is a sequence of 12 or 24 randomly generated words that hold the keys to your crypto wallet. Whoever has these words can gain access to your crypto and move it. That is why you never ever share your seed phrase. Don't take pictures of it and don't store it online. Keep it on a piece of paper or etched in metal.
Use a burner wallet. Scammers typically use fake links to entice users to mint a free NFT or get token rewards or something similar. Once you click the link, the fraudsters can steal your funds. Even if you use a hardware wallet, and you have enabled blind signing, you can accept the transaction without knowing what it is. For connecting to suspicious sites, use a burner wallet.
What Expert Traders Say on Whether You Should Buy Cardano Coin
Altcoin Daily believes that Cardano's price will depend on how the team deploys its technology and shifts the governance to be completely in the hands of the community. Pricewise, Altcoin Daily sees ADA trading above the previous top at $3.10.
If you always wondered "How much ADA should I buy" another YouTuber may hold the answer. Connor Kenny says you need 10,000 ADA coins and believes the best way to get there is to dollar cost average (DCA) your way.
Meanwhile, My Financial Friend believes you need at least 97,000 ADA tokens to retire on Cardano if it reaches $3 within the next 10 years.
Where to Buy Cardano in 2023 with Low Fees
Being one of the top 10 cryptocurrencies by market cap means you can buy Cardano on the best crypto exchanges, like eToro or Coinbase, or on any other major exchange.
1. eToro – Best Crypto Broker to Buy ADA & 60+ Altcoins, Fully Regulated, Supports Copy Trading and Offers Its Own Crypto Money Wallet
eToro is one of the leading trading platforms for cryptocurrencies and other assets. You can buy 80 cryptocurrencies, including Cardano and Bitcoin. To do this, it will only cost you 1% of the amount, meaning you pay a $1 fee for every $100 worth of Cardano you buy.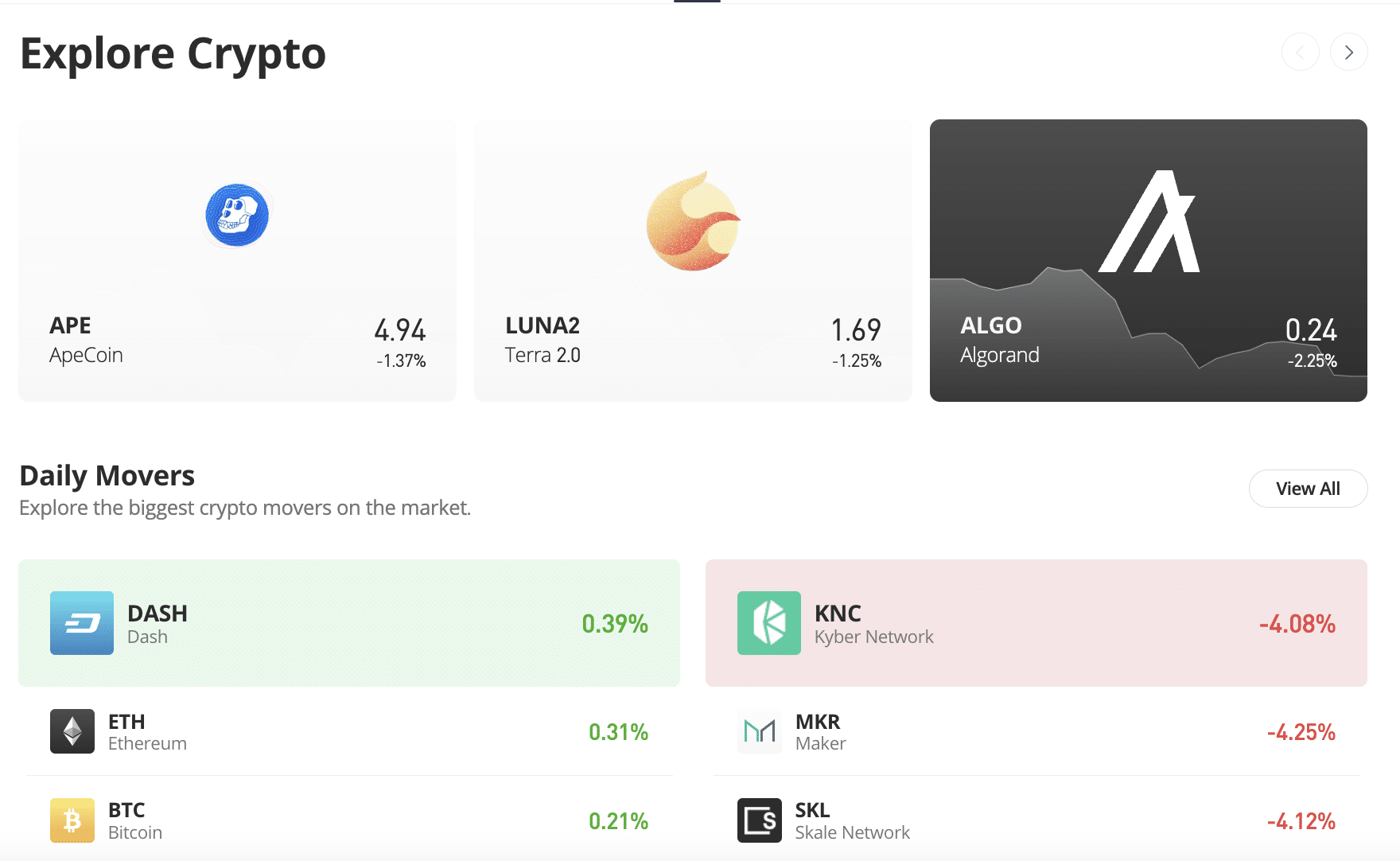 The platform offers its own crypto wallet app, called eToro Money, where you can store all your coins completely on-chain. This means you can withdraw or deposit crypto in this wallet whenever you want from other exchanges or crypto wallets.
What makes eToro Money interesting is that you can never lose your private keys. In the unfortunate event that it happens, eToro will help you recover it. This is impossible with any other crypto wallets with self-custody.
And if you want to diversify your portfolio, go ahead and trade stocks and ETFs with $0 commission.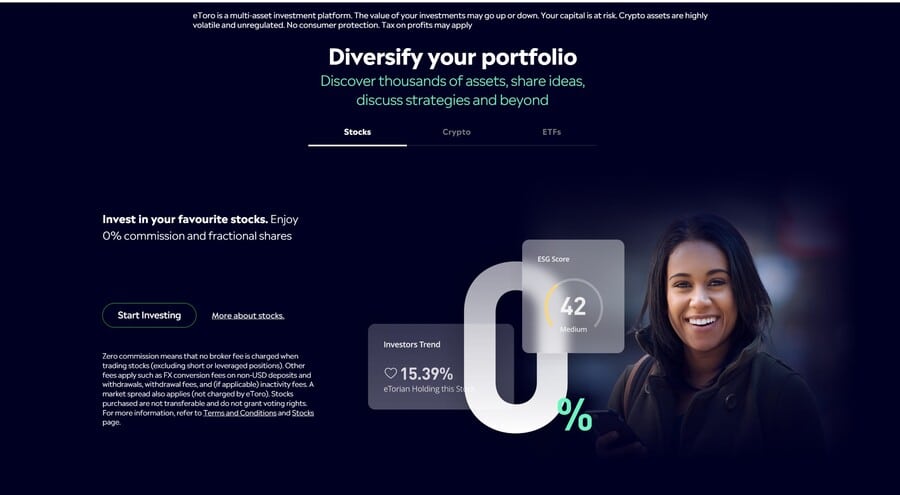 Another unique feature of eToro is that you can copy other traders. Browse traders on the eToro's home page and if someone catches your eye, go ahead and start copying their trades.
If you're a beginner, you can learn more about trading this way as you will see what traders are buying and selling and when. Those who don't want to constantly watch their screens for a good entry point, can simply copy trade and spend their time elsewhere.
eToro's customer service is available via online chat or directly on WhatsApp for those who hold a balance of $5,000 or more. This can be a lifesaver in case you need something solved urgently.
Take note, eToro is regulated by the CySEC, FCA and ASIC.
Pros
80 cryptocurrencies to buy and trade
Can copy popular crypto traders
eToro Money, on-chain crypto mobile wallet
Accounts of $5,000 and more get club membership benefits
$10 account minimum

Cons
$10 per month inactivity fee if you don't log in for 12 months
| | |
| --- | --- |
| Cryptocurrency Exchange | eToro |
| Available cryptocurrencies | 80 cryptos |
| Payment methods | eToro Money, Credit/Debit cards, PayPal, Neteller, Skrill, Rapid transfer, iDeal, Klarna/Sofort Banking, Bank Transfer, Online Banking-Trustly, Przelewy 24 |
| Fee for buying ADA coins | 1% of the amount, meaning if you buy $100 worth of Solana, you will pay $1 fee |
| Minimum Deposit | $10 |
| Regulations | Cryptocurrencies aren't regulated. Stocks and ETF trading is regulated by CySEC, FCA, ASIC |
| Non-trading fees | $10 per month inactivity fee if you don't log in for 12 months. $5 withdrawal fee. Conversion fee when depositing non-USD currencies |
Coinbase – A Popular Crypto Exchange for Traders With Over 290 Cryptocurrencies, Offering a Safe Crypto Wallet for Coins and NFTs
Seasoned traders looking for a platform that combines all things crypto should consider Coinbase. This is one of the largest crypto exchanges in the US that offers cryptocurrency trading, NFTs and ENS (Ethereum Name Service) usernames on its Coinbase Wallet.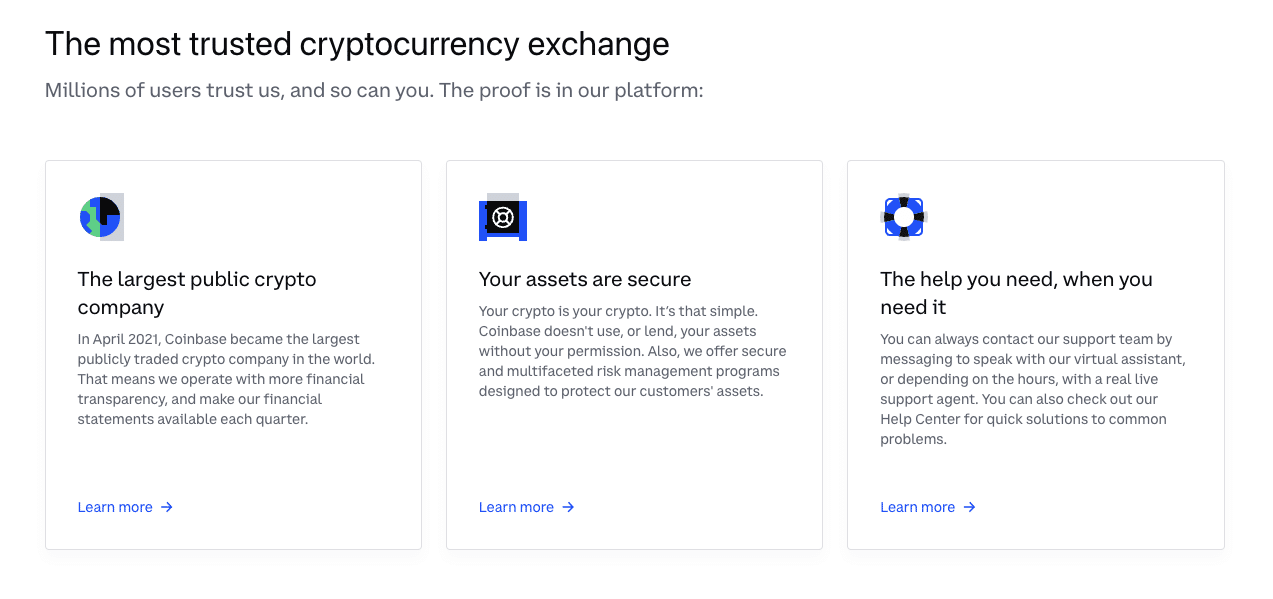 Usernames are designed to simplify your 42-digit wallet address into an easily readable user name like ben.eth. Next time you want to share your address with someone to receive funds or if you simply want to transfer funds yourself, you can use the username instead of your whole address.
Coinbase supports over 250 cryptocurrencies, including Cardano, as well as less popular crypto like BAT, MKR and PNG. Traders who do more volume get to enjoy cheaper fees given that Coinbase uses the maker-taker fee model for pricing trades. The way it works is you pay one fee for placing a limit order (market making) and another fee for buying a market order (market taking).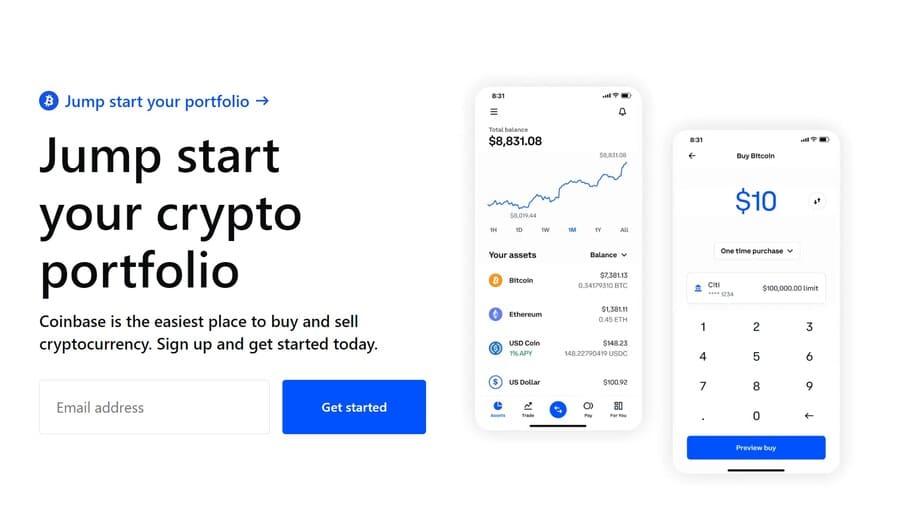 Buying directly off the market will cost you between 0.05% and 0.6%, depending on your trading volume, while placing limit orders will cost you from 0.00% to 0.40% in fees.
Another cool feature of Coinbase is that you can stake your coins. Instead of keeping them idle in your wallet, you can earn up to 10% annual percentage yield (APY) for some coins. Staking Cardano comes with a 2% APY on Coinbase.
Pros
More than 290 cryptocurrencies to buy
Crypto wallet for cryptocurrencies and NFTs
Advanced trading charts
Multiple coins to stake
Low trading fees
Cons
Fee structure may seem complex to beginners
High staking fee commissions
| | |
| --- | --- |
| Cryptocurrency Exchange | Coinbase |
| Available cryptocurrencies | 290+ |
| Payment methods | Bank account (ACH), Debit/Credit card, Wire transfer, PayPal, Apple Pay, Google Pay |
| Fee for buying ADA coins | Fee depends on the amount you buy and what type of order you place. Buying anywhere between $0 and $10K will cost either 0.4% or 0.6% depending on whether it's a market or limit order |
| Minimum Deposit | $50 minimum initial deposit |
| Regulations | National Futures Association (NFA) |
| Non-trading fees | Up to 35% commission for staking tokens, ACH transfer free, Wire transfer $10 deposit and $25 withdrawal fee, SEPA €0.15, Swift deposit free, withdrawal £1 |
Cardano's Bullish Forecast is $3 in the Next Few Years, but Bitcoin Minetrix may 10x in 2023
Bitcoin Minetrix (BTCMTX) is a new cryptocurrency designed to solve a huge problem for Bitcoin. Instead of using expensive hardware and electricity to mine Bitcoin, which isn't accessible for everyone, you can earn it via staking.
Here's how that works: BTCMTX is a cloud mining solution that lets you stake your tokens in order to mine Bitcoin. All you need is to buy BTCMTX tokens via an Ethereum wallet like MetaMask or any other alternative and stake your BTCMTX to earn token credits.
These token credits are non-transferable ERC-20 tokens, which means you can only burn them to get BTC and not transfer them to another wallet. The BTC you earn from burning the tokens, is transferable to any other wallet.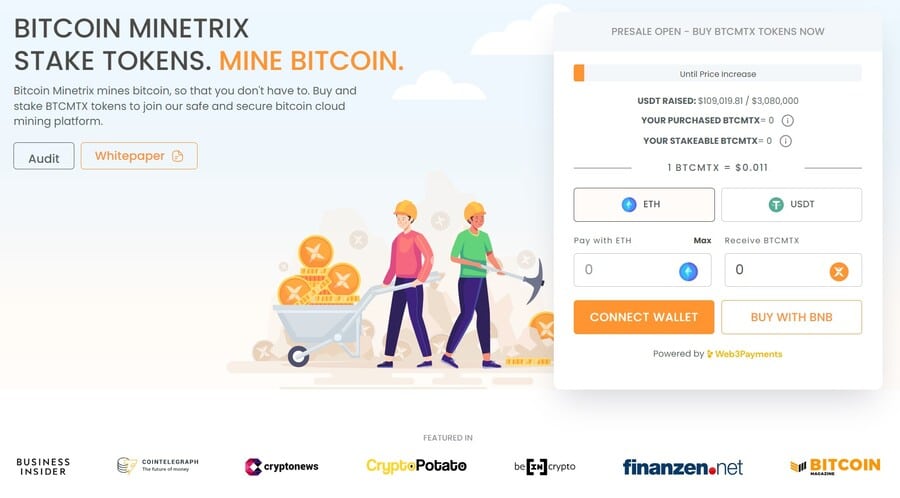 You can only buy BTCMTX tokens in a presale at the moment, where each token costs $0.011. Connect your wallet to the presale page and buy your tokens with ETH or USDT on the Ethereum network and stake your tokens. The sooner you stake your tokens, the higher the APR.
The goal of the presale is to raise $3,080,000, which will be used to fund up the mining infrastructure. The token has already raised over $100,000 in a few days after launching the presale, which shows the project's potential.
Bitcoin Minetrix has outlined four phases in its whitepaper where the token presale is phase one and the CEX listing is phase two after the end of the presale. The token burning mechanics where you can withdraw your BTC are planned to go live in phase three.
Follow BTCMTX on X and the BTCMTX Telegram to never miss an update.
| | |
| --- | --- |
| Cryptocurrency | Bitcoin Minetrix (BTCMTX) |
| Presale price | $0.011 |
| How to buy | ETH, BNB, USDT |
| Total token supply | 4 billion |
| Presale tokens | 1.7 billion |
| Can you stake during presale | Yes |
| When can I claim my presale tokens? | As soon as the presale ends and the token lists on the first exchange |
Is Cardano Coin a Good Investment? Our Conclusion
Cardano is one of the top 10 cryptocurrencies by market cap, meaning it's highly popular among crypto investors and traders. Given that the ADA coin trades at a 92% discount from all-time highs, this could be a good time to buy Cardano, especially if you see a future where Cardano is used for digital IDs and certifications.
But if you're looking for a coin that might 10x in 2023, check out the Bitcoin Minetrix presale. This state of the art stake-to-mine crypto project offers investors a way into tokenized cloud mining with huge staking rewards and an environmentally-friendly alternative to traditional Bitcoin mining. Check out the link below for more information.
However, all crypto investments come with risks, whether it be frauds and scams or just government regulation. Make sure to do your due diligence and never invest more than you can afford to lose.
References
FAQs
Is Cardano worth buying in 2023?
Does Cardano have a future?
Is Cardano a high-risk investment?
Is Cardano a dead project?
Should I sell my Cardano?