With cryptocurrencies growing in popularity, many investors worldwide ponder: should I buy Shiba Inu coin? As one of the world's largest meme coins, Shiba Inu has been at the forefront of innovation within the space, but can it still be considered a wise investment?
In this guide, we examine the risks and potential of Shiba Inu in the years ahead before highlighting what some expert traders have to say about the coin's future and where investors can buy SHIB today.
Should You Buy Shiba Inu Coin?
Although Shiba Inu's value rocketed exponentially in 2021, the token now trades over 91% below its all-time high, leaving many investors wondering – should I buy Shiba Inu coin?
Like other cryptos, investing in SHIB involves substantial risk. As a hype-driven coin with limited utility, SHIB is highly speculative. It's difficult to tell whether the price will soar or crash dramatically, which is why many traders opt to steer clear of it (and meme coins in general).
While some analysts believe that Shiba Inu has already peaked, others believe the token still has room to grow. SHIB remains popular with the broader crypto community – and with its price set at just a fraction of a cent, it doesn't take much for Shiba Inu to spike.
Ultimately, deciding should you invest in Shiba Inu coin comes down to the investor's individual risk tolerance, investment goals, and belief in SHIB's long-term potential. As with any crypto, Shiba Inu investing carries significant risks – along with its compelling returns potential.
How Shiba Inu Coin Has Performed Since Launch & This Year
Shiba Inu began its journey as a playful alternative to the much-celebrated Dogecoin, the first meme coin to kick off the retail investment craze. Launched in August 2020, SHIB was initially viewed as a joke – yet its performance told a different story.
From being virtually worthless when it was first launched, SHIB witnessed a jaw-dropping surge in 2021 that put the token on the map. In the second week of April 2021, SHIB's value soared 1,609%, marking the first time that the token had produced a quadruple-digit return in seven days.
This led SHIB to become one of the most talked-about tokens in the crypto market. The token's popularity was boosted even further when Ethereum co-founder Vitalik Buterin donated $1 billion worth of Shiba Inu to India's COVID-19 relief fund.

Who Created Shiba Inu Coin?
Shiba Inu was created by an anonymous individual (or group) called Ryoshi. The founder(s) reportedly aimed to create a new meme coin inspired by the Shiba Inu dog breed that could rival Dogecoin.
Shiba Inu's momentum didn't stop there, with the token's value hitting a high of $0.0000388 in early May – a 38,700% increase from just one month prior. This positioned Shiba Inu as one of the best meme coins on the market, yet its high was short-lived, with many investors opting to cash in while they could.
Fortunately for those who held out, SHIB wasn't done yet, and the token's price rocketed 1,143% later in October. This resulted in SHIB hitting an all-time high of $0.0000861 on October 28, 2021 – an incredible 86,000% higher than in April.
However, the meme coin market is known for its volatility, and SHIB was no exception. After reaching its peak in October, the coin retreated sharply, dropping 91% between then and June 2022.

For those who were wondering, "Is it a good time to buy Shiba Inu coin?" it appeared that they had missed the boat. Since June 2022, SHIB has primarily traded sideways, with a few minor bull runs and retracements along the way.
Shiba Inu's long-term consolidation has led many to speculate about its potential and whether another significant rally is on the horizon. At the time of writing in September 2023, SHIB is hovering around the $0.0000074 level, although volume remains low relative to what it was during the frenzy of 2021.
Will Shiba Inu coin go up or not is a question that's now on the minds of many investors. However, given its current level of volatility, many former enthusiasts are opting to find new meme coins early rather than wait it out for an aggressive reversal.
Shiba Inu Timeline – Key Points
Shiba Inu (SHIB) officially launched in August 2020
Experienced first substantial bull run in April/May 2021
Retreated from May 2021's high, then traded sideways for five months
Experienced another bull run in October 2021, soaring 1,143%
Fell from October 2021's peak and is now trading 91% lower than the previous all-time high
What Factors Determine the Price of Shiba Inu & its Potential?
Determining will Shiba Inu coin go up or not can be a challenging task – even for seasoned investors. However, there are several factors that investors may wish to bear in mind, which can impact the SHIB price.
Overall Market Sentiment
Unsurprisingly, one of the most significant factors affecting Shiba Inu's price is overall market sentiment and hype. As a meme coin, SHIB is particularly susceptible to social media and retail investor enthusiasm. Due to this, when the market is bullish, and capital is flowing freely, SHIB's value tends to rise.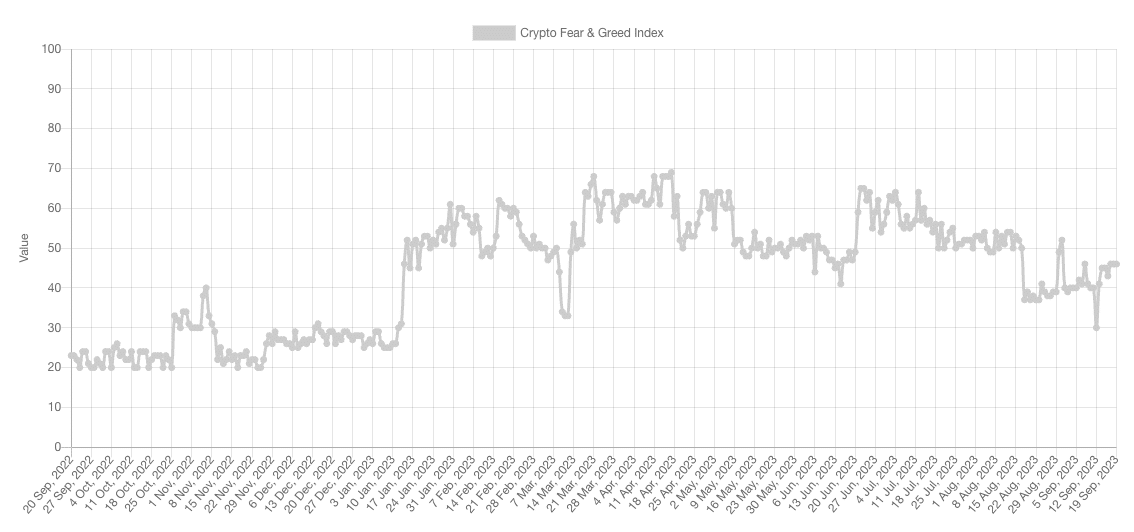 However, the opposite can also be true. Bearish sentiment throughout the crypto market can drive Shiba Inu's price down, which is what has occurred throughout most of 2023.
Competition in the Meme Coin Market
As a meme coin, Shiba Inu faces stiff competition from similar projects. Some of Shiba Inu's main rivals include Dogecoin, FLOKI, Dogelon Mars, and Baby Doge Coin.
If one meme coin rises above the rest, much like PEPE did in May 2023, then meme coin enthusiasts tend to flock to that coin. In turn, this can leave established coins like SHIB in the dust since newer meme coins can often produce higher returns in a short period.
Mainstream Adoption
Like the top cryptocurrencies to watch, Shiba Inu has become more widely adopted in recent years due to the increased accessibility of crypto investing. Now that SHIB is available on most major exchanges, retail investors can easily acquire, trade, and hold the token – facilitating its growth.
A prime example was when SHIB was listed on Coinbase in September 2021. Following this listing, SHIB's price soared 25% in a matter of hours, demonstrating the power of Tier-1 exchange listings.
Crypto Whale Behaviour
Those pondering "Is Shiba Inu coin a good investment or not?" can often find clarity by watching the movements of large SHIB holders, dubbed "whales." Due to the size of their investment, these holders can often manipulate the SHIB price through buying and selling decisions.

If a whale suddenly dumps a huge SHIB position, it can cause a snowball effect of selling pressure, causing the token's price to plummet. A popular account for tracking crypto whale movements is the Whale Alert Twitter account, which provides real-time updates on large transactions across various cryptos.
Further Technological Development
Finally, while Shiba Inu began life as a meme coin, the team behind it is committed to working on boosting its utility. Introducing new features or dApps that use SHIB could add value to the token, thereby increasing investor demand.
Shibarium is a prime example of this, with the lead-up to its launch seeing a sharp spike in the price of SHIB. Other developments that the team could focus on include security upgrades or integration with more extensive DeFi ecosystems.
Shiba Inu Price Forecast for 2023, 2024, 2025, 2030
As one of the most searched crypto projects, Shiba Inu garners worldwide attention from investors. However, since it's a meme coin, predicting SHIB's price movements can be challenging.
Determining is investing in Shiba Inu a good idea requires consideration of various factors, along with identifying viable price targets over the long term. With that in mind, presented below is a summary of our Shiba Inu price forecasts for the years ahead.
SHIB Forecast for 2023
Given the recent bearish market conditions, it's difficult to predict a sharp rebound for SHIB before the end of the year. However, if bullish momentum returns and SHIB can break back above the 20-day Exponential Moving Average (EMA) on the daily chart, then $0.0000085 could be a potential price target.
SHIB Forecast for 2024
The CME FedWatch Tool predicts a 99% chance that the Federal Reserve will hold rates steady at their September 2023 meeting. If this occurs, it could pave the way for a Fed "pivot" in 2024, where interest rates finally come down.
This would be positive news for riskier asset classes like cryptocurrency, making them more appealing to investors. As a result, more capital could flow into SHIB – sending the token's value to $0.000012.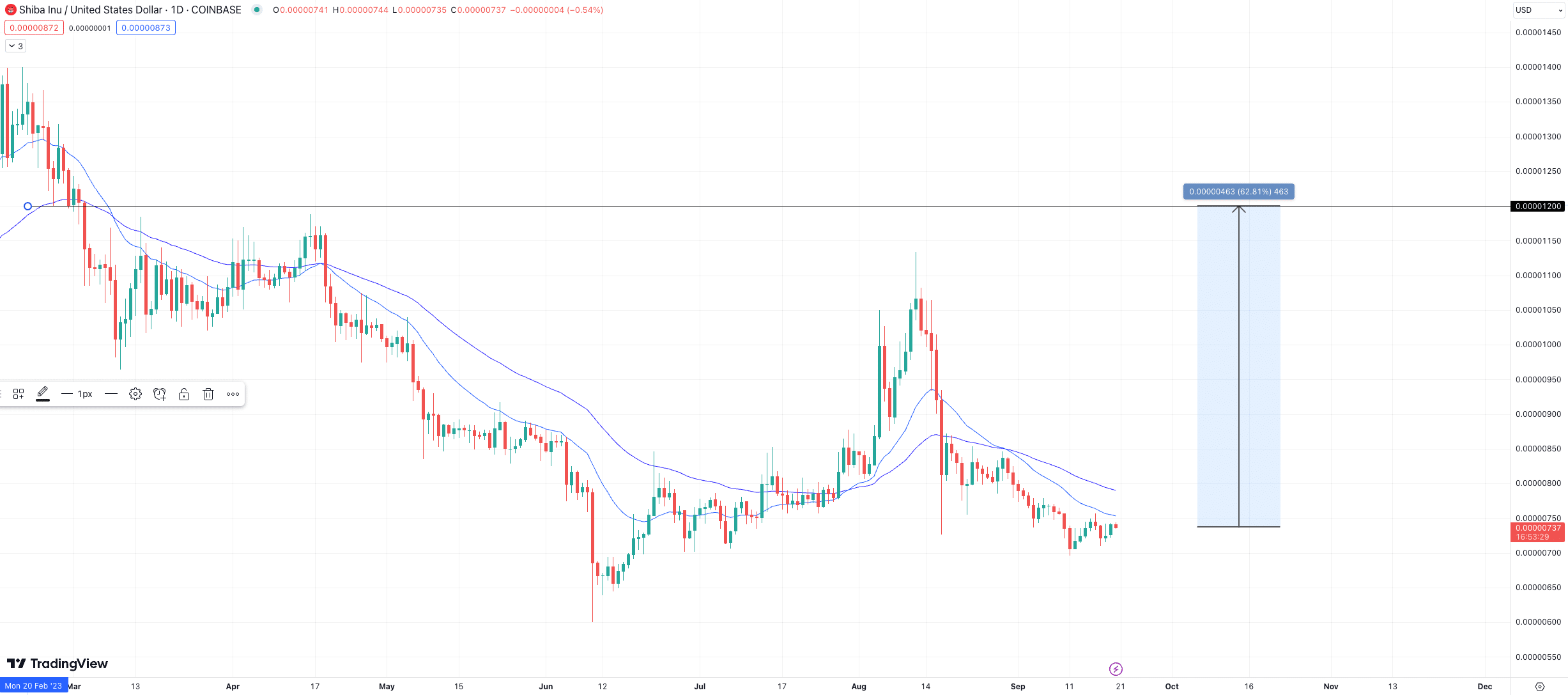 SHIB Forecast for 2025
Is it a good time to buy Shiba Inu coin and hold until 2025? If Shiba Inu's developers continue to add utility to SHIB, there's scope for it to become more widely adopted as a payment method.
For example, Tesla began accepting DOGE as a payment method in 2021, so if SHIB can secure similar partnerships, it could boost its use cases – and its price. Should this occur, there's potential for Shiba Inu to rise back to the $0.0000157 level by the end of 2025.
SHIB Forecast for 2030
Should you invest in Shiba Inu coin or not will depend on various factors, although many investors opt to buy and hold the token long term. In this case, looking forward to 2030 is vital in determining whether it's worth holding on to SHIB or swapping the token for another might be better.
Forecasting up to 2030 involves greater uncertainty. However, Shiba Inu's established community and growing utility could provide the platform for the token to return to $0.000045 by then – a 509% increase from today's price.
Shiba Inu's Utility – How Could it be Used in the Future?
The utility of a cryptocurrency can be a significant determining factor for its potential success and longevity. Although Shiba Inu started life as a meme coin with no real use case, the developers have shown their intention to create real-world utility for SHIB.
Digital Payments
One of the primary ways that SHIB could be used in the future is to conduct peer-to-peer transactions without the need for an intermediary. SHIB, like most of the best crypto 2.0 coins, offers a decentralized way for users to transfer value – something that can't be achieved using FIAT currency.
As crypto adoption grows, more businesses and merchants worldwide could begin accepting SHIB as a legitimate form of payment. This trend is already taking place, with SHIB now accepted by 772 merchants worldwide.
Given this, many SHIB holders find themselves wondering, "Should I sell my Shiba Inu now or wait for further merchant adoption?" We'll explore this question later in this article, as it involves careful consideration of several factors.
ShibaSwap Decentralized Exchange
One of Shiba Inu's primary use cases is its utility within the context of ShibaSwap, its own decentralized exchange. This exchange allows users to swap for various cryptocurrencies (e.g., LEASH, BONE), stake their SHIB, or provide liquidity.
What Is a Decentralized Exchange?
A decentralized exchange (DEX) is a cryptocurrency exchange that allows for direct transactions between users without requiring a centralized intermediary. DEXs are built on blockchain networks (e.g., Ethereum, BNB Chain) and use smart contracts to facilitate trading.
With the number of decentralized finance (DeFi) users expected to exceed 9 million by 2025, the demand for platforms like ShibaSwap could surge. As a result, it could position SHIB as one of the key players in the expanding DeFi ecosystem.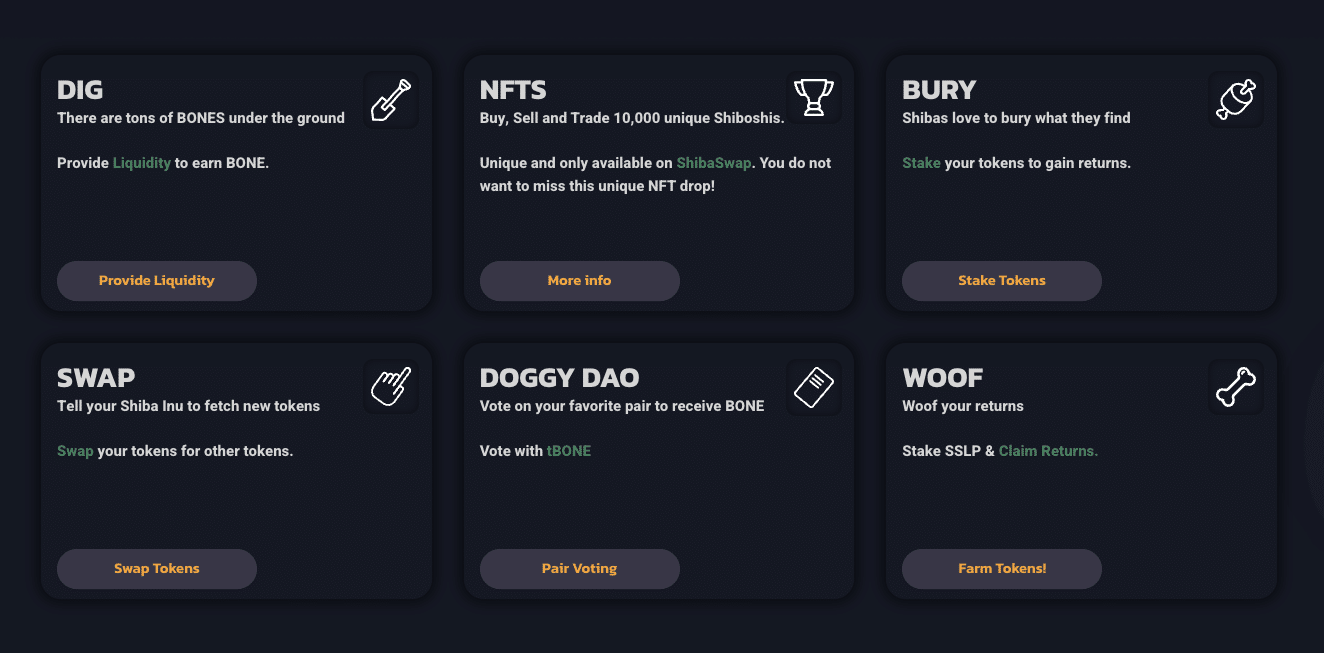 Crypto Gaming
Another way that Shiba Inu could be used is in the crypto gaming space. The rise of play-to-earn (P2E) games, where players can earn cryptocurrency for participating, offers a promising avenue for integrating SHIB into various platforms.
For example, a crypto gaming company could integrate SHIB, allowing players to use their holdings to purchase in-game assets or initiate transactions. Given Shiba Inu's status in the crypto market, this could be mutually beneficial, as it might attract a vast audience of SHIB enthusiasts to the game.
Shibarium Network
The recent launch of the Shibarium network has opened up new possibilities for SHIB tokens. Shibarium, as a layer-2 scaling solution, provides faster transaction speeds and lower fees – making it more attractive to decentralized application (dApp) developers.
With over 1.2 million wallet addresses now connected to Shibarium, the network is beginning to gain mainstream adoption. This is excellent news for SHIB's utility, as the token could have several use cases within the context of Shibarium.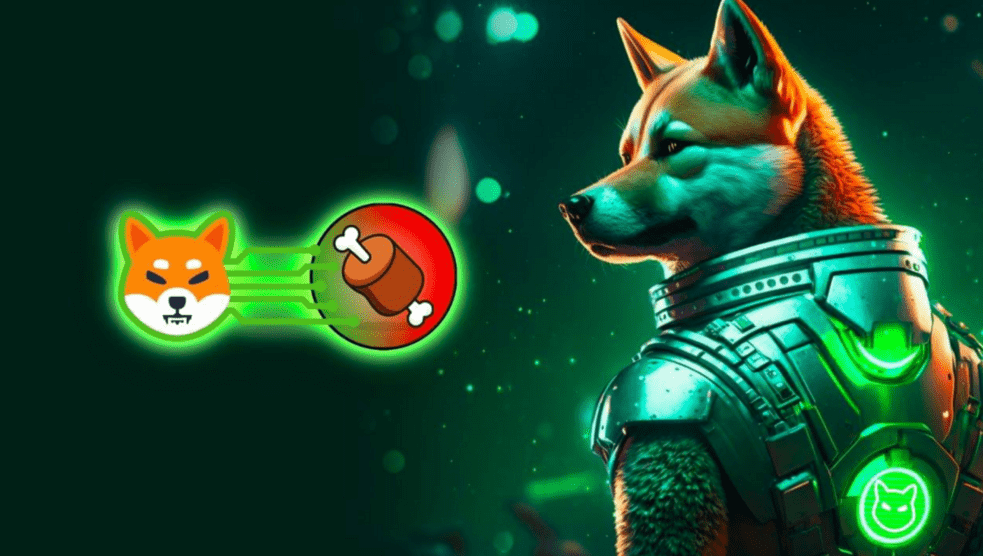 For example, SHIB could be used to access and interact with various dApps built on the network, including games and marketplaces. Additionally, SHIB could serve as a bridge between blockchains (e.g., Ethereum), enabling cross-chain compatibility.
Ecosystem Governance
Finally, like many of the best altcoins on the market, SHIB can also be used from a governance perspective. SHIB holders can use their tokens to vote on proposals that affect the Shiba Inu ecosystem, such as new features or partnerships.
Voting is conducted through the Doggy DAO, which is the organization that governs the ShibaSwap marketplace. Currently, all proposals on this DAO are closed, likely because it is still in its beta phase.
Is Shiba Inu a Better Short-Term or Long-Term Investment?
So, is Shiba Inu coin a good investment for the short term or long haul? Ultimately, this comes down to individual investment strategies and risk appetite, which will differ from investor to investor.
For short-term traders, Shiba Inu may offer opportunities to profit from volatile price swings. As a smaller coin compared to Bitcoin and Ethereum, SHIB can experience massive pumps and steep declines over days – or even hours.
Due to this, those seeking the best cryptocurrency to trade can try to time their buys and sells to cash in on these price spikes. Although risky, with the proper analysis and market timing, some traders have found tremendous success using this approach.

However, it's important to note that short-term trading requires constant price monitoring and quick reactions. Is now a good time to buy Shiba Inu coin can be challenging to determine, as slight errors with timing can wipe out gains – or even lead to losses.
On the other hand, a long-term approach may fit investors who believe in Shiba Inu's potential. Those who think that SHIB could gain mainstream traction and utility over the next few years may believe that accumulating tokens while prices are low might pay off hugely.
How to Invest in Shiba Inu Safely
When questioning "Is Shiba Inu coin worth buying?" it's essential to research how to invest in SHIB safely. Here are four key points to bear in mind:
Use reputable exchanges, like eToro or Coinbase, which have robust security measures
Store your SHIB holdings in a cold wallet to safeguard them from theft
Dollar-cost average into positions, rather than buying all at once, to minimize the impact of price volatility
Set stop-losses on your investment to limit downside
Unsurprisingly, this strategy takes strong convictions, as downturns could last for weeks or months. As such, referencing SHIB as one of the best long-term crypto projects requires an in-depth understanding of how crypto prices move – especially in the meme coin space.
Ultimately, the right investment horizon depends on the investor's unique investing style and level of risk tolerance. Active traders may prefer short-term moves, while passive traders may opt for longer timelines.
However, neither approach is entirely risk-free when it comes to SHIB investing. As such, investors must analyze their own goals before deciding is investing in Shiba Inu a good idea.
What Expert Traders Say on Whether You Should Buy Shiba Inu Coin
With all the buzz around meme coins, many beginners wonder, "Is Shiba Inu coin worth buying?" or "Is cryptocurrency a good investment?".
1. Austin Hilton
Austin Hilton, a popular crypto analyst on YouTube, believes that Shiba Inu can potentially hit $1 in the next 4-5 years. He points to the size of the SHIB burn program as a catalyst that could drive the token's price higher over time, especially when combined with growing adoption in the broader crypto market.
However, Hilton also noted that nobody knows how many SHIB tokens Shibarium will burn, making it difficult to determine the circulating supply going forward. As such, Hilton urged patience from investors – but still believes that SHIB is going higher in the long term.
2. Zach Humphries
Zach Humphries, a well-known crypto trader with a YouTube audience of 116,000 YouTube subscribers, claimed that "SHIB is officially dead" in a recent video. However, Humphries' statement had more to do with issues in the broader US economy than SHIB itself.
Humphries cited a tweet from the Watcher.Guru Twitter account, which noted that 61% of Americans are living paycheck to paycheck. Given this, many US residents cannot invest as much as they'd like – limiting the flow of capital to cryptocurrencies, such as Shiba Inu.

3. Avi Lev
Crypto analyst Avi Lev recently gave his honest opinion on whether Shiba Inu can ever reach $0.01. For this to happen, SHIB's value would need to rise 136,886% from its current level.
Lev pointed to the disappointing launch of Shibarium as one of the key reasons that he's skeptical SHIB can ever hit $0.01. However, Lev did note that as the US economy recovers in 2024, there's likely to be a resurgence in interest for SHIB – although not enough to push it to the heights many holders are hoping for.
4. ClayBro
Finally, ClayBro, a prominent crypto investor on YouTube, sees strong potential for Shiba Inu – believing it could be bottoming out. ClayBro pointed out the sharp drop in social media mentions for SHIB because he thinks the coin could be at the bottom of its market cycle.
However, ClayBro noted that the slowdown in inflation, combined with the Fed halting interest rate hikes, could spark additional interest in riskier assets like Shiba Inu. So, for those wondering, "Is now a good time to buy Shiba Inu coin?" it could be worth considering ClayBro's analysis.
Where to Buy Shiba Inu
As an established meme coin, Shiba Inu is available on most major cryptocurrency exchanges. However, due to their strict regulation and transparent pricing structure, we recommend using eToro or Coinbase to invest in this coin.
eToro – Heavily-Regulated Broker with Transparent Fee Structure
As a heavily regulated platform, eToro offers a safe and secure environment for investors to buy, sell, and store SHIB. The exchange is licensed by FINRA, FCA, CySEC, and ASIC, giving investors peace of mind when entering the crypto market.
Unlike many cryptocurrency exchanges, which tend to cater to experienced traders, eToro is ideal for beginners. The platform has a simple interface and a comprehensive library of educational resources to guide new investors.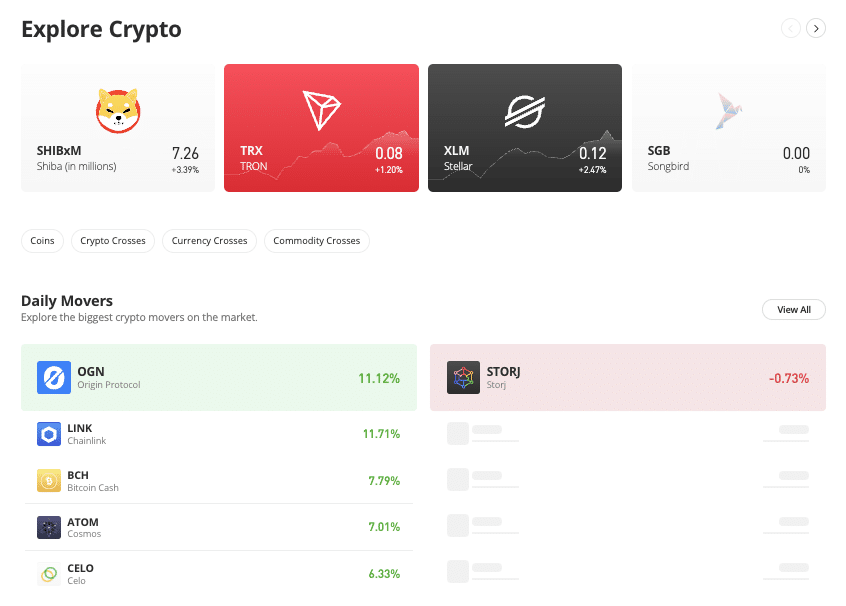 Getting started with eToro takes just a few minutes – would-be users must create an account, verify their identity, and deposit at least $10. eToro supports several payment methods, including credit/debit cards, PayPal, Skrill, and bank transfers. Importantly, deposits in USD are free to make.
Once funded, those wondering how to buy tokens can easily invest in Shiba Inu and other popular cryptocurrencies. eToro charges a flat 1% fee whenever a crypto position is opened or closed, plus the market spread, which is the difference between the bid and ask prices.
How to Create an eToro Account
Is Shiba Inu coin still a good investment or not is just one part of the puzzle – investors must also review how to get started with an exchange like eToro. Here are the four short steps to do so:
Sign up by providing a valid email address and creating a password
Complete eToro's KYC checks, including uploading a copy of a passport or driver's license for Proof of Identification
Deposit at least $10 in your account
Search for SHIB and open your position (minimum $10).
eToro even offers an innovative CopyTrader tool. This feature lets users automatically copy the moves made by seasoned investors on the platform. As such, it takes the guesswork out of trading volatile asset classes like cryptocurrency.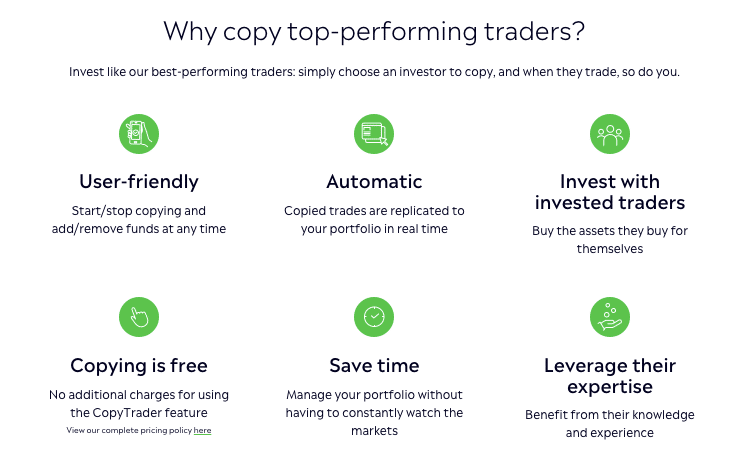 With competitive fees, a wealth of educational resources, and innovative tools like CopyTrader, eToro is the ideal choice for those seeking to buy or sell Shiba Inu.
Coinbase – US-Based Crypto Exchange Ideal for Beginner Traders
Investors seeking an alternative platform to make their SHIB investment may wish to check out Coinbase. This is because Coinbase is currently the second-largest crypto exchange in the world (as measured by daily trading volume) and is even listed on the NASDAQ stock exchange.
Coinbase is one of the most popular and trusted cryptocurrency exchanges in the US, offering hundreds of digital assets to buy, sell, and trade – including Shiba Inu. Investors will be charged a spread of approximately 0.50% for opening/closing crypto positions, plus a variable fee based on the transaction amount and payment type.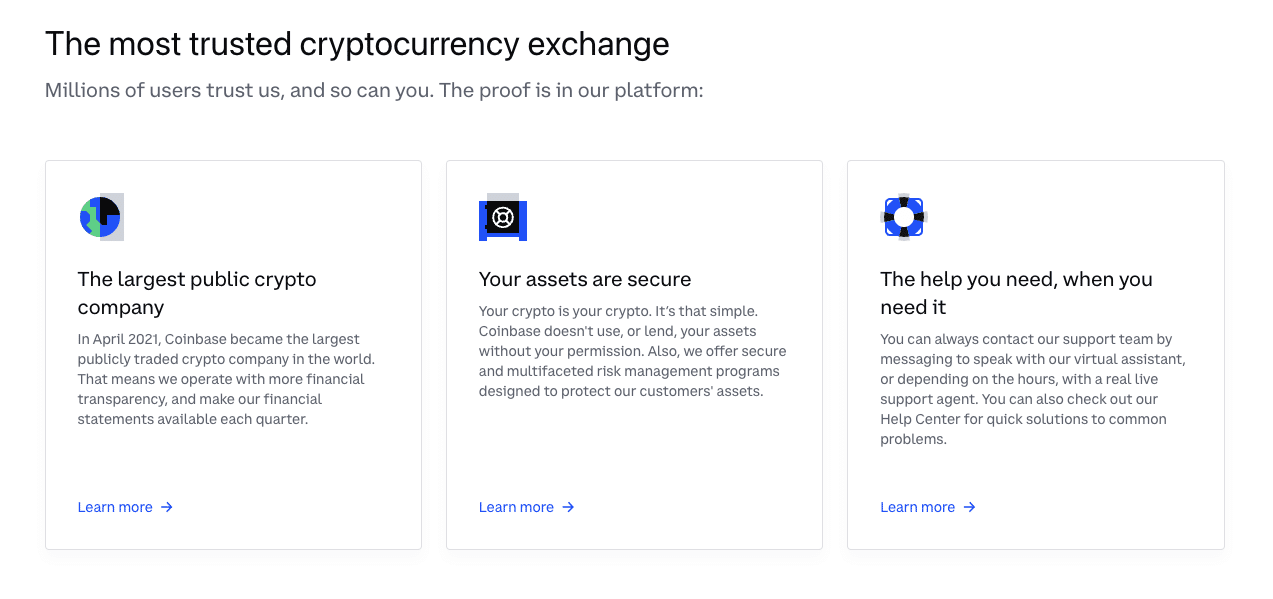 US-based investors can use credit/debit cards, ACH transfers, or wire transfers to fund their Coinbase account. The platform stores 98% of customer holdings offline in cold storage, ensuring they are as safe as possible.
However, one of the main selling points of using Coinbase is its user-friendly design. Coinbase's sleek interface makes buying and selling SHIB easy, even for newcomers. Moreover, Coinbase has a free library of educational content to help users learn more about crypto, including online lessons and a blog.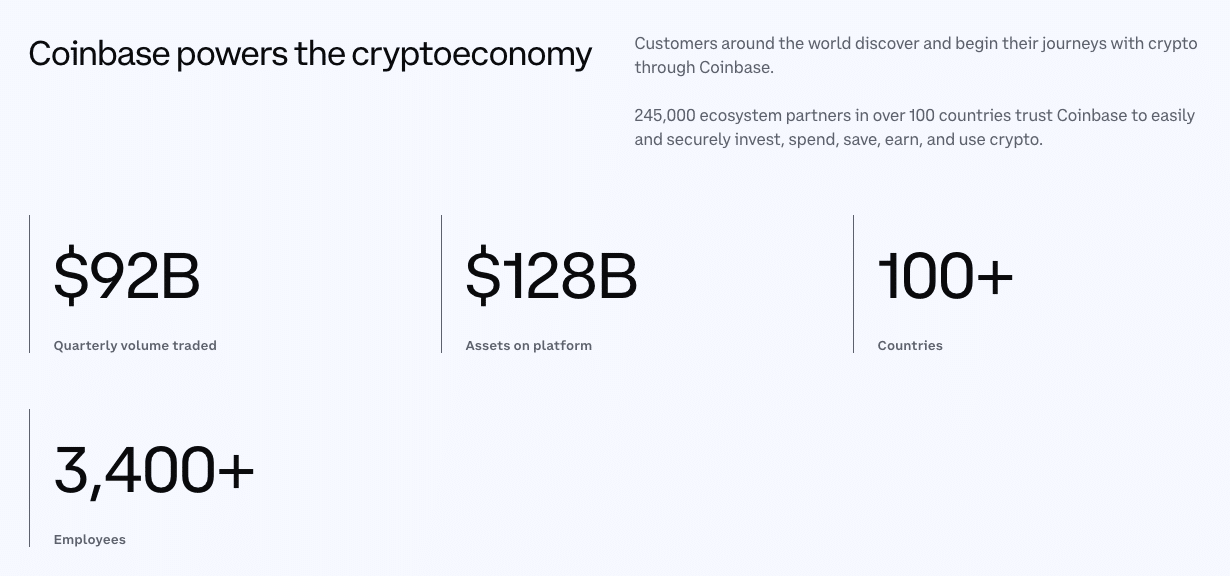 More advanced investors may wish to supplement their SHIB trading with Coinbase's additional features. These features include recurring purchases, staking, crypto-backed loans, and NFT investing.
Due to its stellar reputation and streamlined trading experience, Coinbase is a suitable option for new and veteran investors looking to trade SHIB without a hitch.
Is Shiba Inu Coin a Good Investment? Our Conclusion
Putting everything together – is Shiba Inu coin still a good investment in 2023?
Investment decisions, especially in the world of meme coins, should only be made after careful consideration of various factors. Relating this to Shiba Inu, there are several points to consider.
Firstly, the recent launch of Shibarium sets Shiba Inu apart from many other meme coins. The development team is making evident strides toward establishing SHIB as a token with real-world utility rather than just another hype-driven meme coin.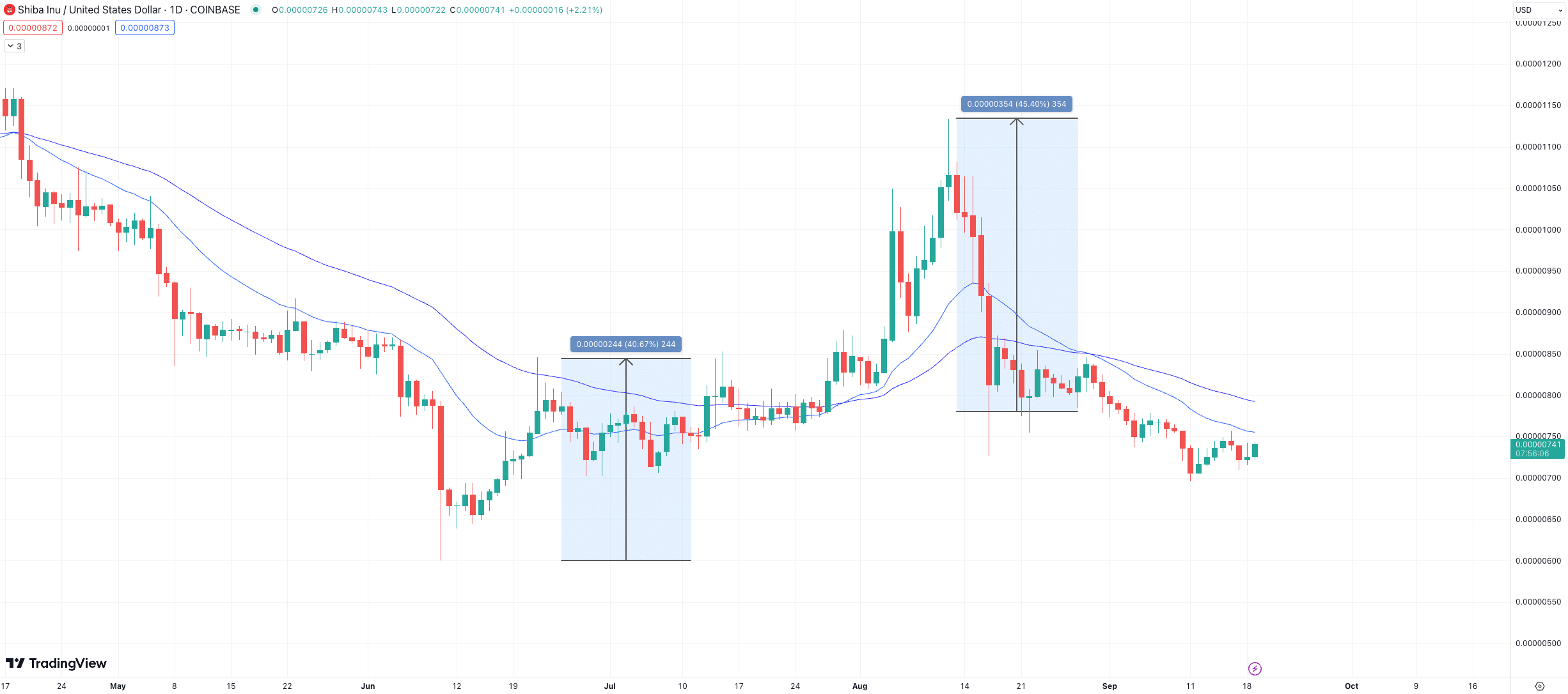 Second, while SHIB is now trading over 90% below its previous all-time high, the token can still produce sizable returns. For example, in June 2023, SHIB's value rose 40% in just one week – with no clear catalyst,
Lastly, Shiba Inu's community backing remains strong. Shiba Inu's subreddit, the SHIBArmy, boasts over 480,000 members, while the official SHIB Twitter account has 3.7 million followers.
Ultimately, "Should I buy Shiba Inu coin?" is a topic that will continue to be debated on social media, mainly due to the token's history of producing exponential returns. However, while there are benefits to owning SHIB, investors must also be aware of the token's high volatility level.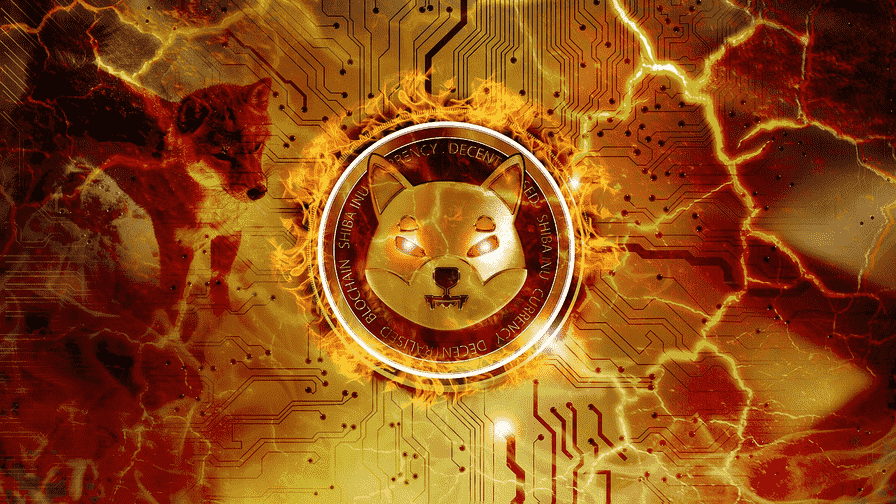 While many traders are drawn to SHIB, the crypto market holds hidden gems that may have better price prospects. At Techopedia, we regularly review the best cryptos to buy, researching an array of factors to ensure our insights are as accurate as possible.
Readers can dive into our comprehensive reviews and insights by clicking the link below:
References
https://www.cmegroup.com/markets/interest-rates/cme-fedwatch-tool.html
https://www.shibariumscan.io/
FAQs
Is Shiba Inu still worth investing in 2023?
Does Shiba Inu have a future?
Will Shiba Inu coin reach $1?