Solana soared over 15,000% in one year during the last bull, earning the title of "Ethereum killer" and generating a significant community. However, one of the worst collapses in recent years followed, with the SOL price plummeting 96% from its all-time high (ATH).
Despite this, Solana has shown promising signs of a recovery recently. This Solana price prediction considers Solana's controversies, its fundamentals, community and technical analysis to forecast short and long-term SOL prices.
Solana Price Prediction Summary
Solana launched in April 2020 with an initial price of $0.9511.
The price reached an ATH of $260.06 on 6 November 2021.
Currently, SOL is priced at $15.89, down 93% from its ATH.
According to our Solana price forecast, SOL will reach $14.25 by the end of 2023.
Our 2025 Solana price prediction estimates a price of $65.
| | | | |
| --- | --- | --- | --- |
| Year | Minimum Price | Average Price | Maximum Price |
| 2023 | $8 | $14.25 | $20.5 |
| 2024 | $35 | $42.5 | $50 |
| 2025 | $40 | $65 | $90 |
| 2030 | $77 | $111.5 | $146 |
Solana Price History
Solana was conceptualized in 2017 by Anatoly Yakovenko and developed by the Solana Labs technology company. Initially, the SOL token was sold in private and presales, with the final presale round in March 2020 priced at $0.22.
Once it launched on exchanges, the SOL price quickly shot up, trading ranging between $0.50 and $1 until July 2020. In July, the price broke $1 and began to climb, reaching $10 in March 2021.
The Solana project also raised lots of venture capitalist funding, even after the project was available to trade on exchanges.
A press release in June 2021 by Solana announced the project raised over $300 million in funding in a round led by Andreessen Horowitz and Polychain Capital and also included Almeda Research.
The high level of venture capitalist interest flooded the Solana ecosystem with liquidity, enabling it to reach unprecedented heights quickly. Within five months of the announcement on 6 November 2021, Solana peaked at its ATH of $260.06.
However, the large amounts of SOL that venture capitalists and institutions held ultimately led to Solana's demise.
Following its ATH, the SOL price dropped as crypto moved into a bear market.
However, one year on from its ATH, the founder of the Binance cryptocurrency exchange, Changpeng Zhao (CZ), said he would sell all his FTT tokens due to concerns regarding the solvency of the FTX exchange. This holds significance in the Solana story because FTX, and its sister company Alemda Research, were the largest holders of SOL coins at the time.
As part of Binance's exit from FTX equity last year, Binance received roughly $2.1 billion USD equivalent in cash (BUSD and FTT). Due to recent revelations that have came to light, we have decided to liquidate any remaining FTT on our books. 1/4

— CZ 🔶 Binance (@cz_binance) November 6, 2022
CZ's announcement triggered an array of events, ultimately leading to the collapse of FTX. The collapse inadvertently meant FTX and Almeda Research had to sell their SOL tokens, causing the price to plummet to lows of $8.42, which was -96.76% from its ATH.
Since the collapse, the price has significantly recovered, currently trading at $15.89. Still, the price remains 93% down from its ATH.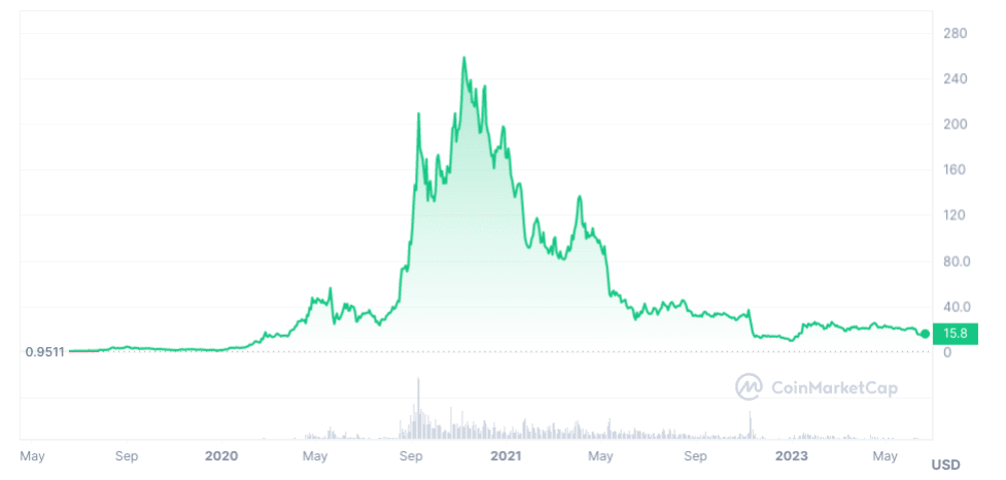 Solana price history key points:
Solana went through multiple private and presale offerings, with one offering a month before its exchange launch priced at $0.22.
The initial SOL exchange launch price was $0.9511 and remained below $10 until March 2021.
In June 2021, Solana raised over $300 million in a private sale, which included investments from Almeda Research.
Following the collapse of FTX and the subsequent bear market, Solana collapsed by over 96% from its $260.06 ATH.
The price has recovered since its lows, currently priced at $15.89, 93% from its ATH.
Solana Price Prediction 2023
Recently, the SEC sued Binance and Coinbase for selling unregistered securities. Within the allegations, Solana was listed as a security.
However, this is not the first time the SEC has attacked Solana; the SEC has previously accused Solana Labs of selling unregistered securities in the form of Solana tokens during its ICO in 2018-2020.
Ultimately, at a time when Solana was slowly beginning to recover, the SEC's allegations caused the coin to crash again. The price dropped over 40% following the SEC suing Binance and Coinbase, and while it has recovered slightly, it is unlikely that Solana is out of the woods yet.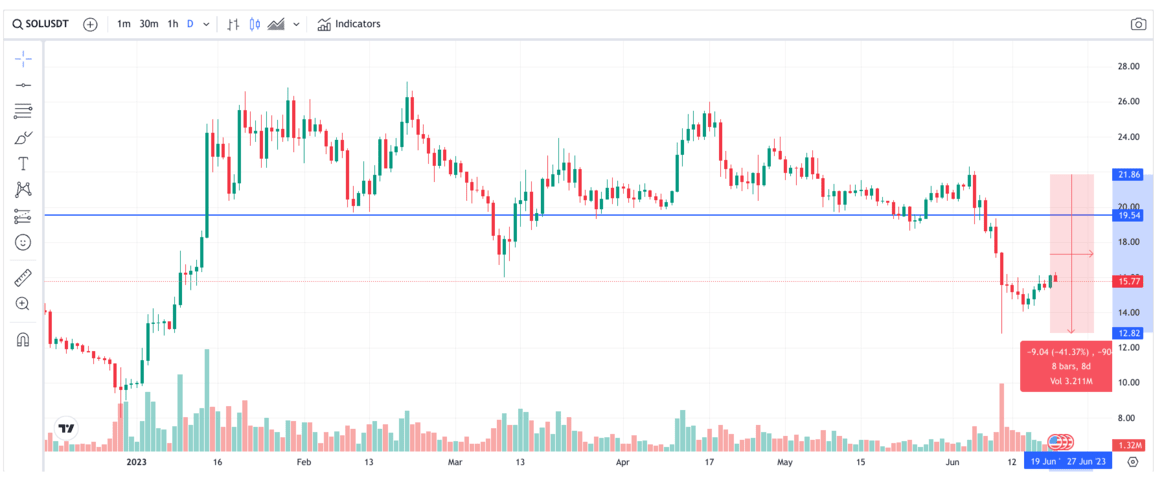 The popular stock and crypto exchange, Robinhood, has said it will delist Solana along with Cardano and Polygon due to the recent crackdown, and any coins left on its exchange on 27 June will be sold, with the money given to holders.
This means a significant amount of SOL sell pressure could be on the horizon, forcing the price down further.
Considering this, we could see the SOL price move lower. However, the delisting could cause significant volatility in both directions since many traders may have already begun selling and shorting SOL to front-run the upcoming sell-off.
Despite regulatory FUD, the Solana ecosystem has been performing relatively well. Following the FTX collapse in 2021, Ethereum co-founder, Vitalik Buterin tweeted that Solana "has a bright future".
Some smart people tell me there is an earnest smart developer community in Solana, and now that the awful opportunistic money people have been washed out, the chain has a bright future.

Hard for me to tell from outside, but I hope the community gets its fair chance to thrive🦾🦾

— vitalik.eth (@VitalikButerin) December 29, 2022
However, the main thing to note about Solana is that it is still a widely used blockchain with a thriving developer community. While its price may not currently represent it, the project's fundamentals have somewhat improved since its collapse.
With this in mind, the volatility caused by the Robinhood sell-off could cause the price to move lower. However, whether SOL makes a recovery ultimately depends on how the case with the SEC moves toward the end of 2023.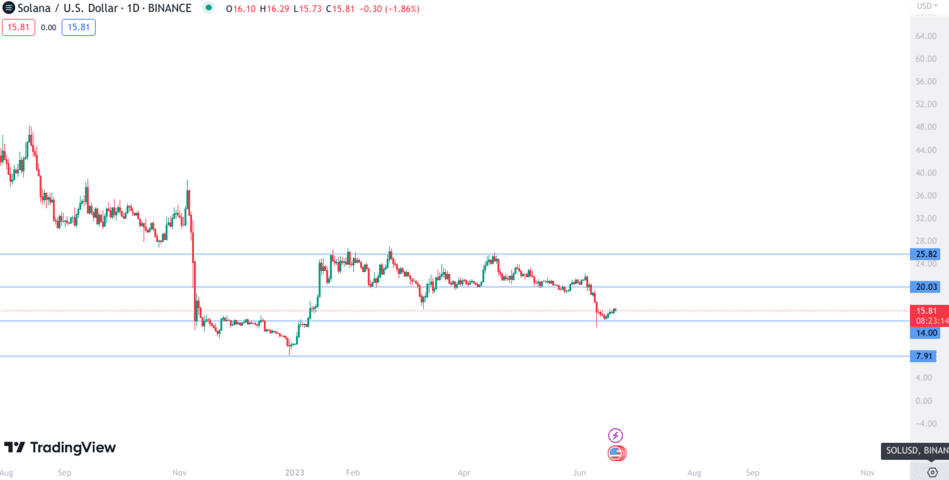 If the SEC's case against crypto worsens, we could see SOL head towards its bear market lows of around $8, but progress in the case could help SOL recover highs of $20.5. Therefore, our Solana price prediction estimates an average price of $14.25 by the end of 2023.
| | | | |
| --- | --- | --- | --- |
| Month | Potential Low | Average Price | Potential High |
| July 2023 | $8 | $12 | $16 |
| August 2023 | $7 | $10 | $13 |
| September 2023 | $10 | $13.5 | $17 |
| October 2023 | $11 | $17 | $23 |
| November 2023 | $9.5 | $15.5 | $21.5 |
| December 2023 | $8 | $14.25 | $20.5 |
Cryptoassets are highly volatile and unregulated in most EU countries, Australia and the UK. No consumer protection. Tax on profits may apply. Your capital is at risk.
Solana Price Prediction 2024
Considering SOL's significant descent from its ATH, it certainly is one of the cryptos with the highest potential. While many thought its collapse would be the end of Solana, on-chain analytics tell a different story.
According to theblock.co, Solana currently has around 230K daily active users. In comparison, the network had about 600K daily users around the time of its ATH, despite now being 93% lower in price.

Moreover, Ethereum currently has around 400K daily active users, attesting to the Solana community's strength despite its price downfall.
Another factor to consider regarding the usage of Solana is that the next crypto bull market is expected to occur in 2024. This will likely onboard many more users to crypto and renew the interest of previous users in the Solana ecosystem.
Solana is theoretically capable of processing up to 65,000 transactions per second (TPS); this makes transaction fees much cheaper than on networks like Ethereum, which can only process 10-12 TPS.
In a bull market, this could lead to significant new levels of demand for the Solana network, as we saw in the last bull run. This is especially true since Solana has retained a substantial portion of its user base, despite SOL's poor performance.
However, many SOL holders may be holding to recover profits, leading to excess sell pressure as the price increases. This is especially true if the blockchain cannot bring in new demand from outside its current user base.
With this in mind, our Solana price prediction estimates a potential high of $50, a low of $35 and an average price of $42.5 by the end of 2024.
Solana Price Prediction 2025
Several factors will determine whether Solana can become one of the best coins to buy for the next bull run.
As mentioned, Solana is capable of processing 65,000 TPS. However, the Solana blockchain is known for suffering outages due to issues regarding its validators.
One of the tradeoffs with such high scalability is that the hardware required to run a validator node is costly. Therefore, Solana is considerably more centralized than Ethereum. Currently, there are 1,843 validators on Solana; meanwhile, Ethereum has 783K validators.
Fewer validators means fewer nodes to maintain the network, sometimes causing outages in times of high demand or when bad actors attack the network.
For the Solana blockchain to continue gaining adoption, it is crucial to solve this problem and increase the number of validating nodes or make current validator nodes more reliable.
According to DeFiLlama, Solana has 104 protocols on its blockchain, the ninth highest of all crypto networks. This shows plenty of innovation is occurring on the chain and means it could flourish in the future.
The main issue Solana must fix is its outages and validator issues. The high degree of centralization and frequent outages puts the chain at security, censorship and financial risk. It must overcome this to succeed in the next bull market, where the network will likely be stress-tested.
With all this in mind, our Solana price prediction estimates an average price of $65, with a potential high of $90 by the end of 2025. However, an inability to solve the technical and centralization issues could stunt SOL's growth, causing potential lows of $40.
Solana Price Prediction 2030
Although many in the Solana community are calling for new ATHs, it is important to consider that the future SOL price action will likely be a more organic product of supply and demand.
During its last bull run, FTX was the largest holder of Solana, and FTX founder Sam Bankkman-Fried pleaded guilty to fraud in December 2022. The charges against him included manipulating the price of the FTX exchange token, FTT, which may have had implications on Solana's price too.
With this in mind, Solana will see less parabolic growth due to reduced institutional and venture capitalist funding.
That said, Solana remains one of the most innovative and vibrant crypto projects, recently introducing products such as the Solana Mobile.
There is undoubtedly potential for Solana to be a long-term crypto. However, investors must remain aware of the centralization and security risks that could cause SOL to lose all its value.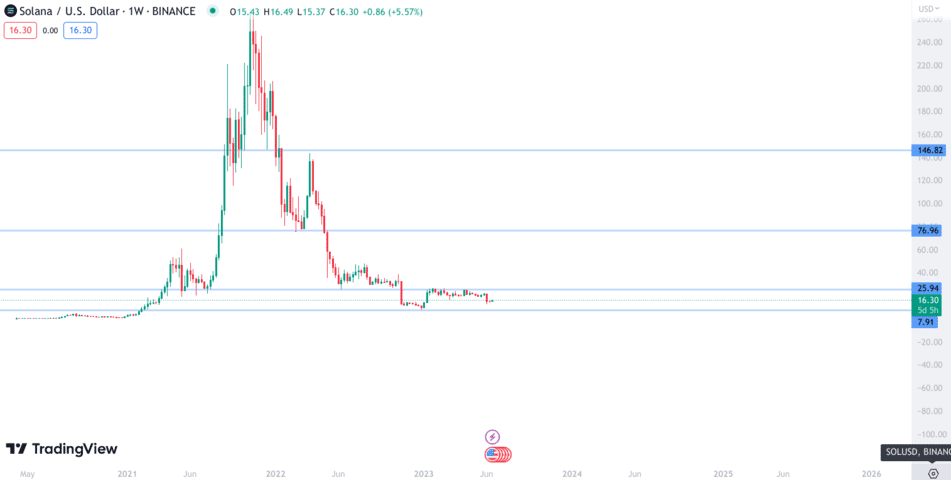 While we do not expect SOL to regain its ATHs by 2030, it still has the potential to succeed. Provided it fixes the abovementioned issues, our Solana price prediction estimates an average price of $111.5, a maximum price of $146 and a minimum of $77 by the end of 2030.
Possible Highs and Lows of Solana Price
Solana was one of the best utility cryptos of the 2021 bull run. Many investors want to know whether it can regain its ATH. Below are our expected highs and lows for the price of Solana.
| | | |
| --- | --- | --- |
| Year | Minimum Price | Maximum Price |
| 2023 | $8 | $20.5 |
| 2024 | $35 | $50 |
| 2025 | $40 | $90 |
| 2030 | $77 | $146 |
What Do Other Analysts Predict for Solana?
Below we have summarized the SOL price predictions from several top analysts and media outlets.
The Changelly Solana price prediction estimates potential highs of $21.91, lows of $18.66 and an average price of $19.29 by the end of 2023.
According to the CoinPedia Solana price prediction, the price will reach possible highs of $36.87, lows of $22.18 and an average price of $29.68 by the end of 2023.
AMBCrypto's SOL price forecast estimates a maximum price of $6.51, a minimum price of $4.34 and an average price of $5.42 by the end of 2023.
Based on the DigitalCoinPrice SOL forecast, the price could reach a possible high of $36.11, a low of $14.77 and an average price of $34.92 by the end of 2023.
The Bitnation Solana price forecast estimates a maximum price of $29.60, a minimum price of $19.73 and an average price of $24.67 by the end of 2023.
What is Solana and What is it Used For?
Solana is a layer-one blockchain created by Solana Labs and launched in 2020. The blockchain uses a Proof-of-Stake consensus mechanism and is theoretically capable of up to 65,000 TPS.
If you read our Ethereum price prediction, you will know that Ethereum uses PoS. However, Solana's mechanism differs since it also incorporates a novel concept known as Proof-of-History. This enables transactions to be time-stamped and makes transactions more scalable since validators only compute a portion of transactions.
The primary purpose of Solana is to run smart contract applications. Thanks to its scalability, it does so at a lower cost than Ethereum.
Users commonly trade NFTs and interact with DeFi apps on Solana, but the Solana Foundation also aims to eventually integrate stock trading onto the blockchain too.
The SOL coin powers Solana's blockchain is used to pay gas fees, and is staked by validators to secure the network. Like Ethereum, Solana validators who behave maliciously can have their stake slashed.
Solana Overview
| | |
| --- | --- |
| Cryptocurrency | Solana |
| Ticker Symbol | SOL |
| Rank | 9 |
| Price | $16.51 |
| Price Change 24H | 3.66% |
| Market Cap | $9,085,135,478 |
| Circulating Supply | 399,494,474.24 SOL |
| Trading Volume 24H | $265M |
| All Time High | $260.06 |
| All Time Low | $0.5052 |
What Influences the Price of Solana?
Historically, institutional and venture capitalist interest has massively impacted the price of SOL, but the recent collapse means whales have mostly exited the coin.
The most recent price influence on SOL is the SEC's action against Coinbase, Binance and the Solana project itself. If the SEC wins in court, proving Solana is a security, this could lead to a significant downside for the SOL price.
Another factor that could negatively impact Solana's price is its centralization and outages. If these issues continue, SOL's potential for growth will be limited since the blockchain will not be fit for purpose.
However, if it fixes those issues, Solana's user base will soar. This could cause its price to increase drastically. Despite being down 93%, Solana still has over 230K daily users, illustrating the chain is still in demand and has the potential to recover much of its price in the future.
The final factor affecting SOL's price is the broader crypto markets. We will likely see Solana follow the broader market's performance. However, to what extent depends on the factors mentioned earlier.
Is Solana a Buy?
Solana is a solid project with an intriguing use case and impressive tech. Its community's ability to rally behind the coin is impressive, even in times of hardship.
While we forecast Solana has plenty of potential to run, it is also essential to remain aware of the risks. As well as being targeted by the SEC, Solana also carries technical risks, which could cause the network to fail in times of higher demand.
Conclusion
Solana is an innovative blockchain with one of the strongest communities in crypto. However, we do not foresee it regaining its ATHs by 2030. The main reason is that its previous ATH resulted from FTX and other VCs injecting billions into the ecosystem.
Looking ahead, we believe some other cryptos are much more attractive investments. We've even compiled a list of the best cryptos to buy in 2023 saving you the time and effort.
Cryptoassets are highly volatile and unregulated in most EU countries, Australia and the UK. No consumer protection. Tax on profits may apply. Your capital is at risk.
References
https://www.wsj.com/articles/ftx-and-sam-bankman-fried-your-guide-to-the-crypto-crash-11669375609
https://www.sec.gov/files/litigation/complaints/2023/comp-pr2023-101.pdf
https://www.bloomberg.com/news/articles/2023-06-09/robinhood-removes-3-crypto-tokens-following-regulatory-crackdown
https://www.cnbc.com/2022/02/21/bitcoin-btc-bull-market-may-not-return-until-2024-huobi-co-founder.html
https://www.cnbctv18.com/cryptocurrency/solana-suffers-second-outage-this-month-but-signs-point-to-possible-comeback-16049801.htm
https://www.forbes.com/sites/sarahemerson/2022/12/21/ftx-alameda-gary-wang-and-caroline-ellison-plead-guilty-to-fraud/
FAQs
What will Solana be worth in 2025?
How much will Solana cost in 2023?
Can Solana reach $1000 in 2025?