It's been an excellent year for meme coins, with the likes of DOGE, PEPE, and SHIB generating tremendous price momentum.
However, with price movements in many meme coins slowing down, there's a unique opportunity for new projects to enter the fray and capture investors' attention.
Sponge Token ($SPONGE) is one project making waves in this regard – after an explosive launch in May, where the price rocketed over 1,200% in just a week, the token is now up 300% in the last month as wider market conditions improve.
Could $SPONGE 100x?
Since DOGE burst onto the scene in May 2021, investors have become enamored with the possibilities that meme coins offer. However, only a select few have gone on to produce exponential returns immediately after launching since these coins often require extensive community backing before exploding.
This wasn't the case for $SPONGE, which enjoyed an unprecedented launch in May. Unlike other meme coins, $SPONGE wasn't hyped up before release – it was listed on the Uniswap DEX with little-to-no fanfare. The token's modest arrival mattered not, with the token's price roaring upwards in the first few days after its listing. Having launched for $0.00005844, the price soared to an all-time high of $0.0024 on May 8 – a more than 3,200% (32x) price increase as 24-hour trading volume reached over $100 million.
The token was quickly listed on CoinMarketCap and featured on its "Top Crypto Gainers" page, becoming one of the biggest trending coins in the space.
However, amid poor macroeconomic conditions, interest in $SPONGE – and meme coins in general – waned and the token dipped back below $0.0001 during August and September. However, October and November have proven to be incredible bounceback months for the token – which is now up 300% in a month at the time of writing and reached a local high of $0.0006 in mid-November.
Excitement around the coin has not only come because of a huge upswing in the wider crypto market – with Bitcoin enjoying a strong resurgence with spot Bitcoin ETFs from major investment firms such as Fidelity and BlackRock, close to being approved by the US Securities and Exchange Commission – but because the project continues to have strong fundamentals and recently announced major new utility after it announced a staking pool.
At the time of writing, more than 325 million tokens have been locked into the staking pool at a current value of $125,000 – with staking rewards currently offering 265% APY. The project also recently completed a $100k airdrop, with 747 holders receiving a share of the price, with the top winner earning more than $6,000 of $SPONGE.
According to Etherscan, there are now almost 12,000 unique token holders with on-chain data revealing there are still several whales holding more than 100 million tokens each.
Having already achieved 32x gains after launch before a large dip, there remains a long road to a 100x increase from its launch price, but with 2024 expected to be a bull run, with billions of dollars flowing into the space, and the next Bitcoin halving approaching, it is not beyond the realms of possibility.
Sponge Token Price Prediction – How High Could $SPONGE Go?
If you're wondering how to buy Sponge Token today you're not alone. $SPONGE's resurgence over the last month has reignited interest in a token that was already one of the best performers of 2023.
However, as with all trending meme coins, many in the investment community are already speculating as to whether $SPONGE can sustain this momentum – and if so, where the price could ultimately go.
As was seen with meme coin success stories earlier this year, including with $SPONGE, Pepe Coin and Turbo, token prices can keep going up and up. This often seems illogical, considering the lack of utility these coins have – but it also highlights the tremendous power of the crypto community.
With $SPONGE now having added utility through its staking pool and more airdrops planned, as well as improving conditions in the wider crypto market, it wouldn't take a lot of momentum to push the token to a new all-time high.
$SPONGE continues to see huge growth in its socials, with the Sponge Token Twitter page now heading towards 30k followers. In addition, $SPONGE's Telegram community is inching closer to 10,000 members as more investors aim to learn about the developers' ambitions for the coin.
Ultimately, there's no way of accurately predicting which price $SPONGE could reach, given the volatility in meme tokens. However, based on $SPONGE's trajectory, there's a solid chance that the token could return to $0.00065 in the next couple of weeks, having briefly returned to that price in mid-November. Past that, the next port of call could be $0.00075, given its psychological status as a round number.
Its staking pool and seasonal airdrops will also incentivize holding and trading, with $SPONGE users rewarded for both.
Investors also need to be wary of a price pullback, which is common with meme coins. If a pullback occurs, it can often provide another appealing opportunity for investors to buy in at a reduced price point before the next leg to the upside.
Best Place to Buy Cryptocurrencies
Even though you can't buy $SPONGE on Binance yet, you can buy over 350 other cryptocurrencies including popular coins like Bitcoin and Ethereum and meme coins like FLOKI, DOGE and MEME.
Binance boasts some of the lowest spot trading fees of 0.1%, and you can even buy coins directly with a credit card. Granted, this comes with higher fees, but it's a fast and convinient way if you're in a hurry.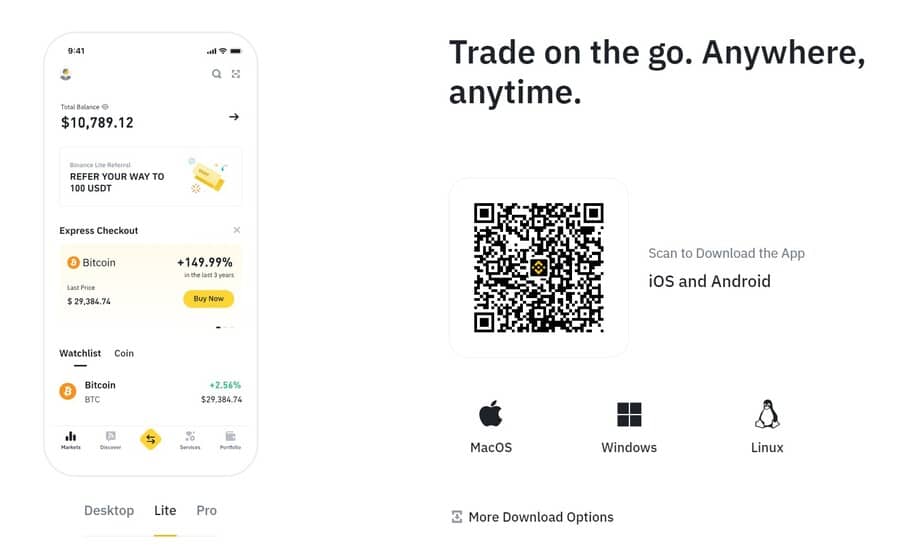 As a Binance user, you get access to useful features including:
Binance Earn where you lock your coins for a pre-determined period of time and you earn annual percentage return.
Binance Launchpad where you get access to new coins that are yet to be listed.
Crypto options and futures where you can trade on leverage and speculate on future price of various crypto assets.
Automate your trading with trading bots and copy trading.
Don't invest unless you're prepared to lose all the money you invest. This is a high-risk investment and you should not expect to be protected if something goes wrong.
Why Has $SPONGE Exploded & What Are Analysts Saying?
Many in the crypto community are already discussing why $SPONGE has exploded in price and why similar tokens have not.
Crypto analyst Jacob Bury shed light on this earlier this year, stating that investors who missed the boat with PEPE and TURBO appear to be looking towards $SPONGE as a viable alternative. Bury even stated in a YouTube video that $SPONGE could be yet another meme token that might 1,000x in value, although this was when the token first hit the market.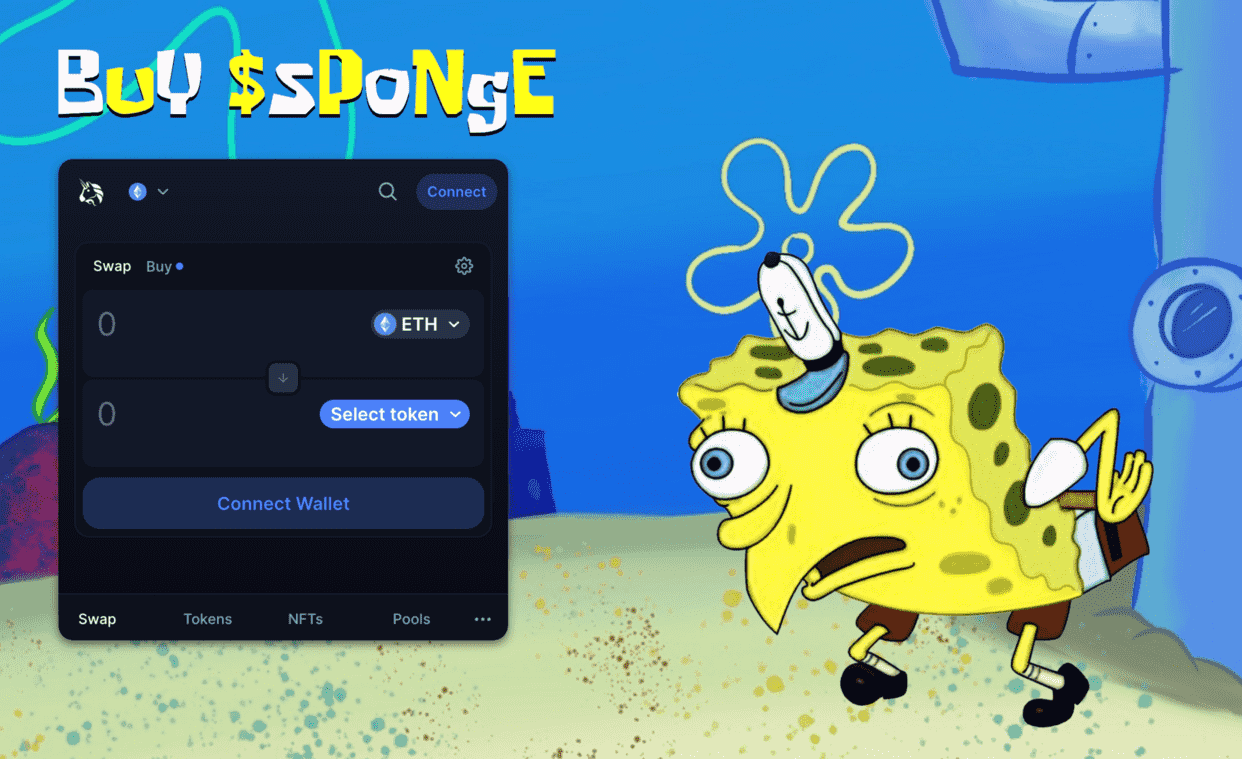 With 2024 expected to be a huge year for crypto, with potentially billions of dollars flowing into the ecosystem and trickling down into meme coins, $SPONGE could yet hit new heights in the next 12 months.
Institutionally investment is expected to reach unprecedented levels – with the likes of Standard Chartered predicting that Bitcoin could hit $120,000 by the end of next year. A healthy BTC will drag the rest of the market with it and, as has been seen in previous bull runs, those making profits from large cap coins tend to cycle into more speculative investments such as meme coins.
$SPONGE already has the name recognition and now the utility to see huge price increases should market conditions continue to improve.