It's been an excellent year for meme coins, with the likes of DOGE and SHIB generating tremendous price momentum in recent months.
However, with price movements in many meme coins slowing down, there's a unique opportunity for new projects to enter the fray and capture investors' attention.
SpongeBob Token ($SPONGE) is one project making waves in this regard – and has already produced returns of over 100x less than 24 hours after launching.
Unprecedented $SPONGE Explosion Provides 100x Returns
Since DOGE burst onto the scene in May 2021, investors have become enamored with the possibilities that meme coins offer. However, only a select few have gone on to produce exponential returns immediately after launching since these coins often require extensive community backing before exploding.
This wasn't the case for $SPONGE, which has had an unprecedented climb since launching in the afternoon of May 4th. Unlike other meme coins, $SPONGE wasn't hyped up before release – it was listed on the Uniswap DEX with little-to-no fanfare.
$SPONGE's modest arrival mattered not, with the token's price roaring upwards in the hours after its listing. At the time of writing, $SPONGE is now valued at $0.00036 – an incredible 1,200% higher than its initial launch price.
According to Etherscan, there are now over 1,700 unique token holders, and more than 4,300 transactions have been completed – all in less than one day.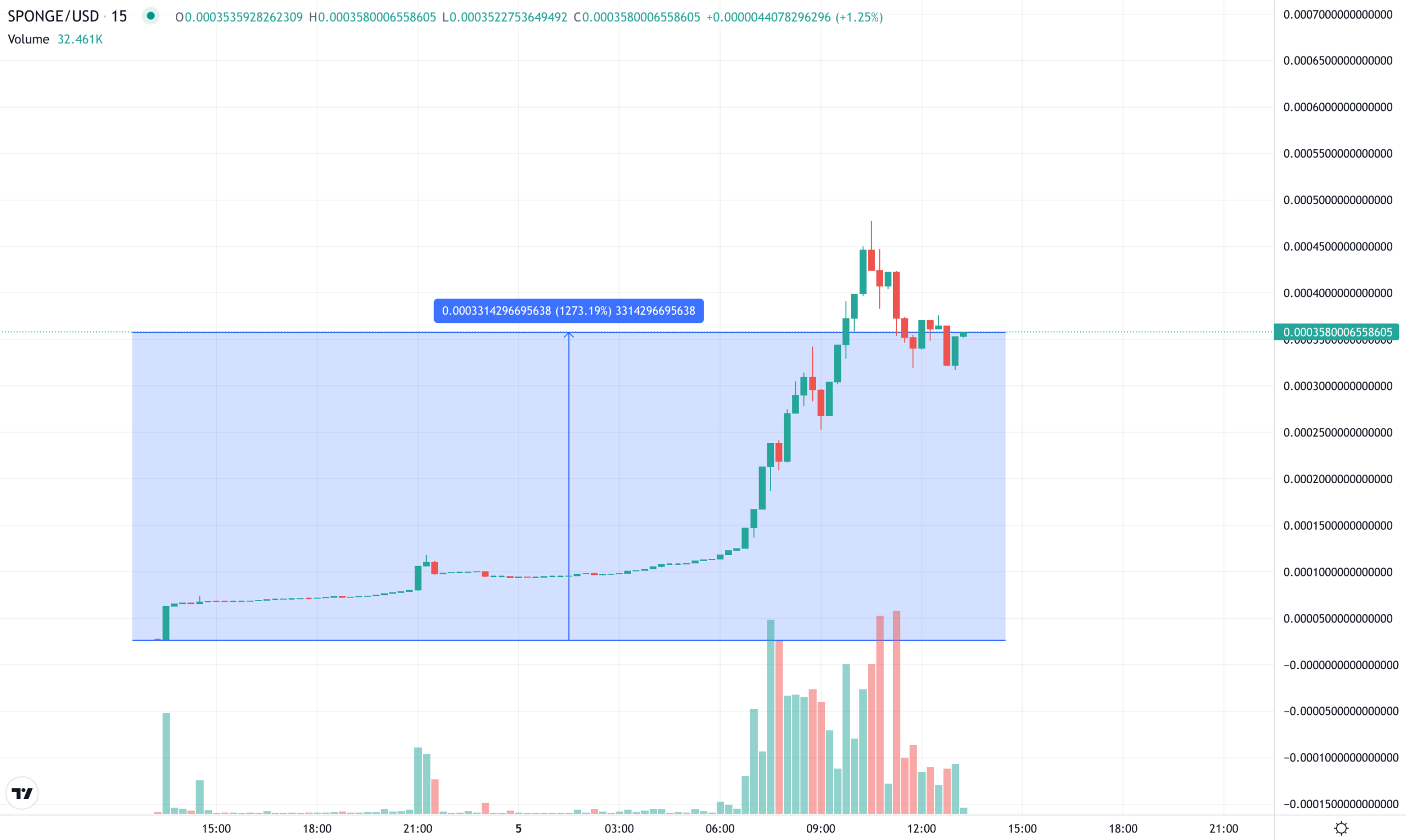 The token's remarkable rise has even prompted leading analytics platform CoinMarketCap to list it.
$SPONGE's progress hasn't just been facilitated by retail traders but also by crypto "whales." Per several on-chain data sources, there have been at least seven buy orders placed that are valued at over $50,000 – and one that exceeds $100,000.
Ultimately, the tremendous growth experienced by $SPONGE over the preceding few hours has helped the token reach a market capitalization of $14.38 million, according to DEXTools.io.
The token has even been featured in second place on CoinMarketCap's "Top Crypto Gainers" page, just behind the XOLO project.
SpongeBob Token Price Prediction – How High Could $SPONGE Go?
If you're wondering how to buy Spongebob tokens today you're not alone. $SPONGE's growth shows no signs of slowing, with traders from all over the world piling in to gain exposure to the project's upward momentum.
However, as with all trending meme coins, many in the investment community are already speculating as to whether $SPONGE can sustain this momentum – and if so, where the price could ultimately go.
As has been seen with recent meme coin success stories, like Pepe Coin and Turbo, token prices can keep going up and up. This often seems illogical, considering the lack of utility these coins have – but it also highlights the tremendous power of the crypto community.
$SPONGE has already seen rapid growth in its socials, with the SpongeBob Token Twitter page quadrupling its follower count in the past 12 hours.

In addition, $SPONGE's Telegram community is inching closer to 1,000 members as more investors aim to learn about the developers' ambitions for the coin.
Ultimately, there's no way of accurately predicting which price $SPONGE could reach, given that the coin is less than one day old. However, based on $SPONGE's trajectory, there's a solid chance that the token could hit $0.00065 in the coming day – nearly double the current price.
Past that, the next port of call could be $0.00075, given its psychological status as a round number.
Investors also need to be wary of a price pullback, which is common with early-stage coins. If a pullback occurs, it can often provide another appealing opportunity for investors to buy in at a reduced price point before the next leg to the upside.
Why Has $SPONGE Exploded & What Are Analysts Saying?
Many in the crypto community are already discussing why $SPONGE has exploded in price and why similar tokens have not.
Crypto analyst Jacob Bury has shed light on this, stating that investors who missed the boat with PEPE and TURBO appear to be looking towards $SPONGE as a viable alternative.
In fact, Bury even stated in a recent YouTube video that $SPONGE could be yet another meme token that might 1,000x in value – which will be music to the ears of early investors.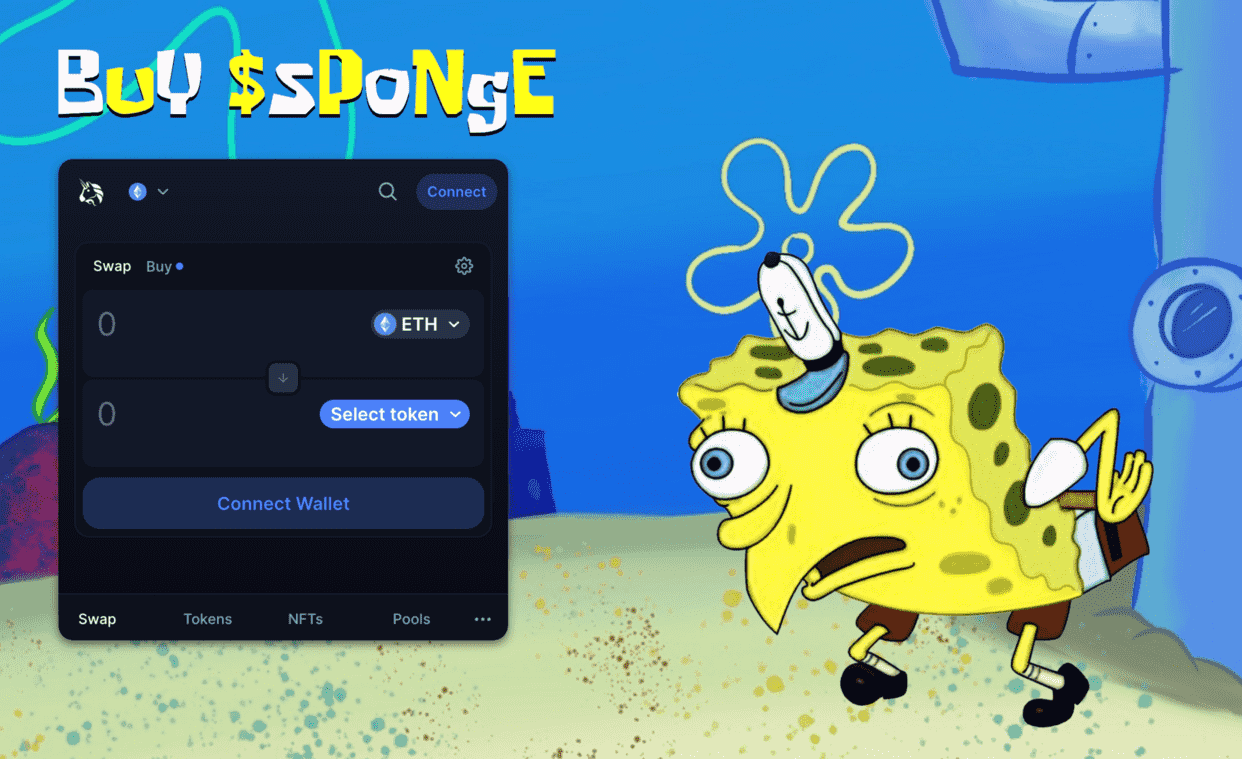 Another facet of the SpongeBob Token project that has got investors excited is the fact that no use cases have even been developed yet. This means that $SPONGE's price increases are being driven solely by "hype" from retail traders.
As such, this adds further belief that $SPONGE could soar higher once the development team adds some utility to the token. No movement has yet to be seen on this front, although that's common when it comes to new meme tokens.
Ultimately, things are looking excellent for $SPONGE holders at present – and with the momentum continuing to build, there appear to be plenty of profit opportunities to go around.