After starting 2023 on a positive note, Stellar has been on a steep uptrend that registered over 180% growth YTD. Moreover, the in-network updates, like the recent launch of the platform's cross-chain bridge, have left a lot of investors wondering about the Stellar price prediction in 2023.
This article expands on the XLM price history, forecasts future potential, and compiles expert opinions to thoroughly gauge the Stellar price forecast until 2030.
XLM Price Forecast 2023 to 2030 – Summary
Below is a summary of XLM price predictions from 2023 to 2030:
Stellar showed a positive trend in 2023, with over 180% growth, achieving its April 2022 high of $0.197 by July 13, 2023.

Market analysts predict that XLM could breach the $0.24 mark by the end of 2023. The Stellar coin may oscillate around a base level of $0.11.

The price forecast for Stellar in 2024 depends on several factors, including market sentiment and external influences. However, if the bullish momentum gains traction, XLM might reach over $0.3.

Looking ahead to 2025, if Stellar continues to innovate and simplify its network for developers, the price could hit highs around $0.45, with lows around $0.31.

In the long-term outlook until 2030, given the steady growth of the blockchain sector and Stellar's trust-building efforts, Stellar's native token, XLM, could reach a high of $1.5, with a potential low of around $1.2.
| | | | |
| --- | --- | --- | --- |
| Year | Potential Low | Average Price | Potential High |
| 2023 | $0.11 | $0.15 | $0.24 |
| 2024 | $0.25 | $0.27 | $0.3 |
| 2025 | $0.31 | $0.4 | $0.45 |
| 2030 | $1.2 | $1.4 | $1.5 |
Stellar Lumens Price History
Although it's essential to remember that previous performance doesn't guarantee future outcomes, understanding Stellar Lumens' historical price trends can offer valuable insights. This can be vital in gauging XLM's past performance or framing our future price predictions.
In early 2023, XLM was valued at $0.0711, a notable plunge from its 2021 peak of $0.79, which it hasn't regained in subsequent rallies. It's worth noting that XLM reached its record peak (ATH) of $0.8755 during the volatile 2018 crypto boom.
Post its May 21 peak, XLM's rapid decline mirrored the overall market slump. The token ascended to $0.25 by March-end last year, only to encounter a prolonged drop that lowered its price to $0.105 on May 12 – a day marked by a market crash, notably impacting Terra coins.
From the onset of 2023, Stellar embarked on a sharp upward journey, witnessing over 180% growth to equal its previous April 2022 high of $0.197 by July 13, 2023.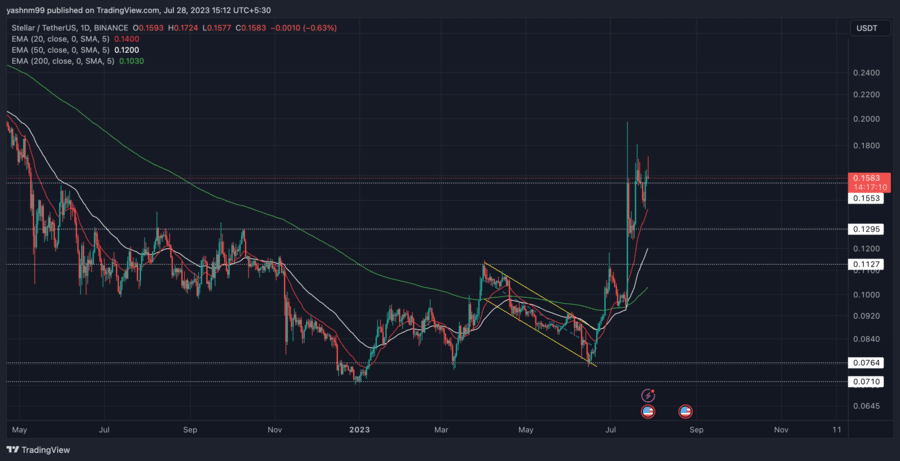 Soon after, the price slid to a low of $0.12 amid market uncertainties, which could spark a short-term uptrend. The coin has experienced bullish momentum in the recent few days after bouncing back from the $0.07 support level.
This sharp rise saw the price climb above the 20-day, 50-day, and 200-day Exponential Moving Averages (EMAs) – indicating a bullish advantage. EMAs are a trading tool that averages a coin's price over a specific period, placing more emphasis on recent data and helping to identify price trends and potential reversals.
Moreover, the 20-day and 50-day EMAs crossed above the 200-day EMA—a trading event known as a 'golden cross' in technical analysis, often seen as a bullish signal.
This uptrend sketched a 'bullish flag' on the daily chart. A bullish flag appears during an upward trend and signals a potential continuation of the same trend. It's like a pause, a flag before the price resumes its upward climb.
As a result, the price broke the resistance barrier at $0.12-$0.15. Since then, the bulls have been battling to maintain the upward trend. The $0.17 level posed strong resistance, causing a brief pullback. However, a closure above this level could indicate a sustained upward trend.
At press time, XLM is the 21st largest crypto by market cap, making it one of the top cryptos to watch.
To summarize, Stellar's key price points include:
Stellar's all-time high was $0.8755 during the January 2018 crypto bubble.

XLM started 2023 for $0.0711, dropping from a high of $0.79 in May 2021.

The crypto experienced a steady decline after its 2021 peak, with a brief recovery in March, before hitting a low of $0.105 in May.

In 2023, XLM saw a substantial increase, with a 180% growth to reach its April 2022 high of $0.197 on July 13th.

Recently, XLM exhibited a bullish trend, overcoming a resistance barrier of $0.12-$0.15.
Stellar Price Prediction for 2023
Amid the ongoing market recovery, investors are actively looking for the next crypto to explode. Stellar traded at an 85% discount from its ATH levels at press time.
However, forecasting its performance for the rest of 2023 depends on several market factors and recent trends, especially after the recent SEC loss in its lawsuit against XRP.
Potential investors should closely monitor for a close above the resistance zone of $0.17 to gauge a possible upswing. If achieved, buyers can expect Stellar to approach resistance levels near $0.24 before igniting a rally.
Alternatively, a drop below the current support level could expose Stellar to further declines, potentially delaying near-term recovery. Our analysis suggests that XLM could potentially breach the $0.24 mark by year's end. The Stellar coin may oscillate around a base level of $0.11.
A month-by-month glimpse of XLM price predictions for the remainder of 2023 is summarized below:
| | | | |
| --- | --- | --- | --- |
| Month | Potential Low | Average Price | Potential High |
| August 2023 | $0.11 | $0.13 | $0.17 |
| September 2023 | $0.13 | $0.16 | $0.19 |
| October 2023 | $0.14 | $0.17 | $0.2 |
| November 2023 | $0.17 | $0.2 | $0.22 |
| December 2023 | $0.18 | $0.21 | $0.24 |
Stellar Price Prediction for 2024
Drawing a roadmap for Stellar price in 2024 involves piecing together several factors. If the bullish momentum gains traction, breaching the $0.24 resistance is possible, aiming for a zone well above $0.3 (potential high). However, the year's likely low might hover around $0.25. Yet, much depends on market sentiments.
Notably, the past saw SEC's legal action against top crypto exchanges like Coinbase and Binance, which triggered market fluctuations. A major change came when a New York judge ruled that XRP hadn't breached securities law, a verdict that notably favored Stellar Lumens.
Stellar, created by a Ripple co-founder to enhance global payments, is renowned for its ties with Circle, the architect of USD Coin— the world's second-largest stablecoin.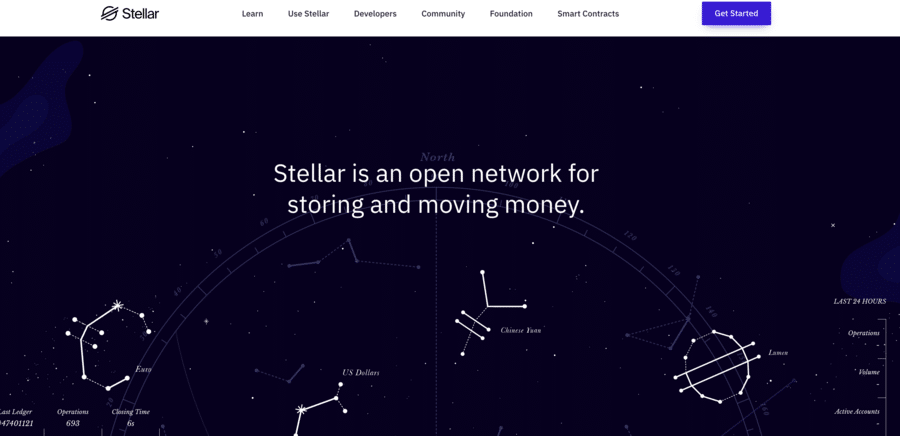 These associations made Stellar investors keenly monitor the SEC vs Ripple case. Stellar's significant presence in the crypto world meant a victory for SEC might have brought legal headaches for Stellar too.
However, the SEC's defeat is good news for Stellar Lumens, paving the path for broader adoption of its payment technology in the financial industry.
Stellar Lumens' ascent also aligns with a recent dip in US consumer inflation. The data from June showed a yearly increase of 3%, the lowest rate since March 2021.
Lower inflation rates could make cryptos, including Stellar, more appealing to investors as a hedge against inflation. Consequently, this could aid Stellar's growth and strengthen its position in the market, further contributing to its promising outlook for 2024.
XLM Price Prediction for 2025
A vital part of the XLM price forecast for 2025 depends on how the Stellar network evolves and innovates. Stellar must simplify the building process on its network, either by enhancing its traditional offerings or adopting innovative DeFi smart contract standards. This adaptability could be the key to expanding its builder ecosystem, making it more inclusive for developers of all sizes.
By doing so, Stellar can provide a scalable technology stack that encourages mainstream adoption and connects these developers to a vibrant DeFi environment. Stellar is prioritizing the following strategic goals to simplify and scale innovation:
Wallet Tools

: This initiative makes it easier for developers to build wallets for Stellar. These initiatives could significantly enhance Stellar's network, potentially boosting the XLM price.

Soroban Development

: This entails creating a user-friendly, scalable, smart contract platform linked with Stellar's network.

Scaling & Decentralization

: Ensuring that Stellar's technology infrastructure and ecosystem can comfortably accommodate an influx of traffic.
Given these factors, we anticipate Stellar's price trajectory for 2025 to hit highs around $0.45, with the lows finding support near the $0.31 mark.
XLM Price Prediction for 2030
Looking into the crypto market's potential until 2030, it's clear that the blockchain sector is growing. In 2022, the global blockchain market was worth $11.14 billion, predicted to rise to $469.49 billion by 2030, with a Compound Annual Growth Rate (CAGR) close to 60%.
Stellar seeks to capitalize on this growth by increasing the utility of its platform. However, beyond tech upgrades, it's aiming to build trust, a critical factor for long-term success.
It means proving its value to everyone involved, from policymakers to businesses and developers. Stellar aims to show that it's a reliable participant in shaping blockchain regulations.
The Stellar Development Foundation (SDF) must also communicate how its technology can effectively offer real-world advantages.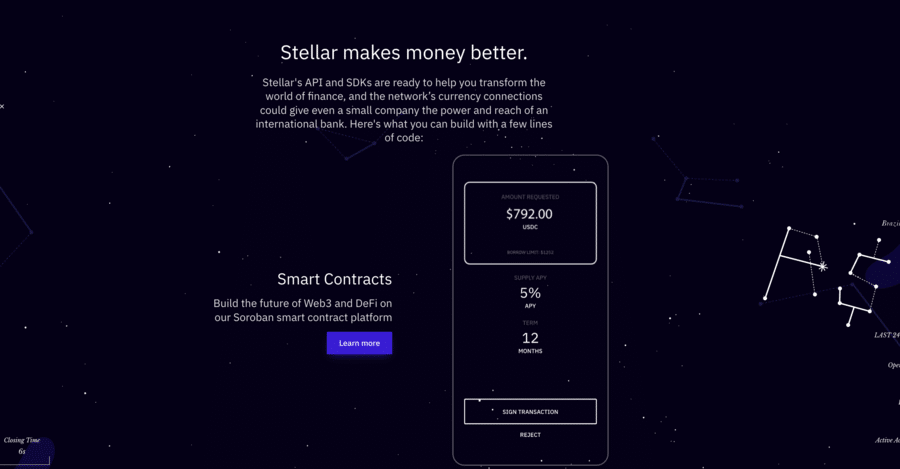 Stellar's trust-building strategy revolves around three key areas. Firstly, it aims to be a reliable source of policy information for both the public and private sectors under the 'Public Policy' initiative.
Secondly, under 'Public Profile,' it plans to increase Stellar's visibility among businesses and developers, incentivizing them to leverage the platform.
Finally, Stellar's 'Products' focus will ensure that its wallet products cater to new and seasoned users. Consequently, Stellar's native token, XLM, could hit a high of $1.5, with a possible low of around $1.2.
However, it's essential to consider the sentiment toward Bitcoin and broader economic trends when making these predictions. Identifying the best long-term investment involves a comprehensive understanding of these factors.
Nonetheless, given the volatility of the crypto market, investors must always be prepared for unexpected twists and turns.
Potential Highs & Lows of Stellar Price
Here is a quick overview of XLM's price forecast until 2030:
| | | | |
| --- | --- | --- | --- |
| Year | Potential Low | Average Price | Potential High |
| 2023 | $0.11 | $0.15 | $0.24 |
| 2024 | $0.25 | $0.27 | $0.3 |
| 2025 | $0.31 | $0.4 | $0.45 |
| 2030 | $1.2 | $1.4 | $1.5 |
What Do Other Analysts Predict For Stellar?
As we examine some of the top analysts' Stellar price predictions, remember that they are merely estimations based on various technical and other criteria.
While these predictions vary, they all expect Stellar to grow. However, it's vital to consider the crypto markets' volatility and treat these predictions as part of a larger research strategy, not as definitive guides.
Digital Coin Price's analysis indicates Stellar's value could surge to $1.66 by 2030. Here is a detailed breakdown of their predictions for the next decade:
The prediction for 2023 anticipates a minimum price of $0.14, an average price of $0.33, and a maximum price of $0.35.

By 2024, these figures are expected to rise to a minimum of $0.34, an average of $0.41, and a maximum of $0.41.

They project the figures to climb gradually each year, reaching a peak in 2030 with a minimum price of $1.55, an average of $1.65, and a maximum of $1.66.
Telegaon, on the other hand, has a contrasting, more optimistic view of Stellar:
For 2023, their projection spans from a low of $0.27 to a high of $0.45.

Their 2024 forecast ranges from a minimum of $0.46 to a maximum of $1.26.

By 2030, they predict a price range from $10.41 to $14.02, with their most significant surge forecasted in 2029, with a maximum price reaching $10.35.
Meanwhile, CoinCodex predicts a more conservative outlook for Stellar:
Their 2023 prediction sets the price between $0.128 and $0.178.

In 2024, they estimate the price to rise to between $0.128 and $0.785.

The most optimistic prediction is set for 2025, where they forecast a minimum price of $0.285, an average price unknown, and a maximum of $0.855.
Finally, PricePrediction.net foresee a consistent rise in Stellar's price over the coming decade:
Their 2023 prediction sets the price between $0.18 and $0.19.

In 2024, they estimate the price will increase to between $0.25 and $0.31.

The most optimistic prediction is set for 2030, where they forecast a minimum price of $2.66, an average price of $2.73, and a maximum of $3.04.
What is Stellar Lumens?
Stellar Lumens is an open-source network engineered for transactions and asset creation. Its unique ability lies in supporting the creation, sending, and trading of digital representations of all types of value – from conventional currencies like U.S. dollars and Bitcoin to physical assets like real estate.
Stellar uses a unique algorithm called the Stellar Consensus Protocol to manage a ledger that keeps track of all accounts and tokens on its network. Every five seconds, all account balances and pending operations are broadcast to the entire network for validation by computers running the Stellar software, known as nodes.
Designed to facilitate financial interoperability on a global scale, the platform allows various financial systems to communicate and transact efficiently on a single platform.
Launched in 2014 by Jed McCaleb and Joyce Kim, the Stellar network has swiftly risen in popularity, processing billions of transactions and securing partnerships with prominent companies.
Unlike many other digital currencies, Stellar isn't trying to replace the current financial systems but aims to enhance them, acting as a bridge between different currencies and financial systems. This includes both fiat and cryptos, making cross-currency transactions feasible and simple.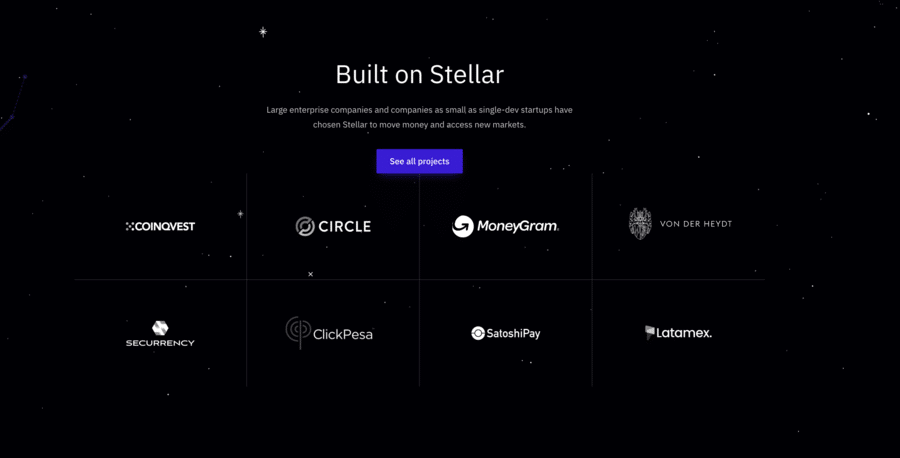 On Stellar, third-party services known as network anchors facilitate transactions, allowing users to send funds globally.
Moreover, the platform enables the purchase of digital versions of various currencies, providing a valuable alternative for those living in countries with unstable national currencies. With recent support for non-fungible tokens (NFTs) and smart contracts, the network continues to expand its reach.
Stellar tokens are highly configurable by design, allowing specific compliance needs such as KYC protocols, Reg D ownership requirements, and time-locked escrows.
These tokens, representing any form of value, can be traded peer-to-peer via Stellar's built-in decentralized exchange (DEX), creating a truly global and efficient market.
Stellar Lumens Overview
| | |
| --- | --- |
| Cryptocurrency | Stellar Lumens |
| Ticker Symbol | XLM |
| Price | $0.158 |
| Price Change 24H | -2% |
| Market Cap | $4,324,603,588 |
| Circulating Supply | 27,269,529,852 |
| Trading Volume | $302,012,856 |
| All-Time High | $0.875563 |
| All-Time Low | $0.00047612 |
What Factors Influence the Price of Stellar?
Stellar operates within a complex system of market influences and technological factors. Understanding these drivers is essential to making informed investment decisions.
Here are some key aspects that can impact the Stellar price.
Market Demand

: Like other cryptos, Stellar is subjected to market demand and supply dynamics. Increased demand for Stellar Lumens can lead to a rise in the coin's price and vice versa. New partnerships, integrations, or positive news about the Stellar network can increase demand.

Technological Developments

: The Stellar Consensus Protocol and the network's ability to facilitate cross-currency transactions quickly and at a low cost give it an edge in the competitive crypto market. Any advancements or setbacks in these areas can affect Stellar's market perception and, ultimately, its price.

Network Anchors

: These third-party services are crucial to Stellar's functioning. They allow users to deposit and withdraw assets while making cross-border transactions possible. As such, the efficiency and reliability of these network anchors can directly impact the value of Stellar Lumens.

Regulatory Environment

: The

global regulatory environment for cryptos can significantly impact Stellar's price

. Because Stellar works with traditional financial systems, any changes in crypto regulations, both positive and negative, can influence its price.

Adoption and Partnerships

: Stellar's integration into new platforms, partnership with prominent companies, or widespread adoption for transactions can cause an increase in demand, thus raising its price.

Global Economic Conditions

: As Stellar is designed to bridge conventional and digital currencies, global economic conditions can influence its price. For example, in regions with unstable national currencies, Stellar offers a valuable alternative that can drive up demand.
Conclusion
Despite considerable volatility and various market influences, Stellar has shown potential for future growth. Stellar's recent bullish momentum, cross above the EMAs, and increasing partnerships indicate an upside potential in the near term. However, it is critical to consider the coin's correlation with Bitcoin to gauge its short-term volatility.
The global blockchain market's projected expansion by 2030 supports its long-term outlook. Nonetheless, making a well-informed choice based on your capacity for risk and monitoring market fluctuations regularly is vital.
To safeguard against possible Stellar losses, diversifying your portfolio with other promising cryptos is crucial. However, with over 50,000 cryptos, pinpointing those with growth potential can be tricky. Our 'Best Cryptos' page offers detailed reviews of such crypto projects.
References
https://www.coingecko.com/en/coins/stellar
https://coinmarketcap.com/currencies/stellar/
https://tradingview.com/symbols/XLMUSDT/
https://stellar.org/press-releases/allbridge-launch-connects-stellar-network-to-ethereum-solana-and-polygon
https://www.reuters.com/legal/us-judge-says-sec-lawsuit-vs-ripple-labs-can-proceed-trial-some-claims-2023-07-13/
https://www.fortunebusinessinsights.com/industry-reports/blockchain-market-100072
https://www.cnbc.com/2023/07/12/inflation-rose-just-0point2percent-in-june-less-than-expected-as-consumers-get-a-break-from-price-increases.html
https://money.usnews.com/investing/cryptocurrency/articles/will-cryptocurrency-regulation-affect-crypto-prices
https://priceprediction.net/en/price-prediction/stellar
https://digitalcoinprice.com/forecast/stellar
https://telegaon.com/stellar-lumens-price-prediction-2022-2023-2025-2030/
https://coincodex.com/crypto/stellar/price-prediction/
FAQs
What will Stellar be worth in 2025?