Surf Reward is a new presale cryptocurrency disrupting the $600 billion advertising industry through an innovative ad-blocker and revenue share model. Despite being newly launched, the presale has raised over $200K. This Surf Reward price prediction considers its fundamentals, tokenomics, market trends, competition, and team's track record to determine its short and long-term price potential.
With the Bitcoin halving and crypto bull run looming, new presale projects could be poised for tremendous hype and price appreciation in the coming months. However, a handful of cryptos massively outperform others in each bull run; could Surf Reward be one of them?
A Brief Summary of the Surf Reward Price Forecast
End of 2023: With the presale likely selling out just before the end of 2023, we could see a significant explosion in price for Surf Reward heading toward the end of the year. Considering its promising use case and innovative referral scheme, combined with its launch price of $0.05, we may see it climb to $0.07 by the end of 2023.
End of 2025: Surf Rewards innovative revenue-distribution rewards holders while growing the project's liquidity pool to ensure long-term growth. Considering its valuable use case for the $600 billion advertising industry, $SURF could see significant price appreciation. With this in mind, our Surf Reward price prediction estimates a price of $0.16 by the end of 2025.
End of 2030: Its robust tokenomics, team's proven track record, and cutting-edge use case could provide significant long-term potential. Therefore, we estimate a Surf Reward price of $0.2 by the end of 2030.
What is Surf Reward?
Surf Reward is a new cryptocurrency protocol that enables users to profit from the ads that they see on the internet.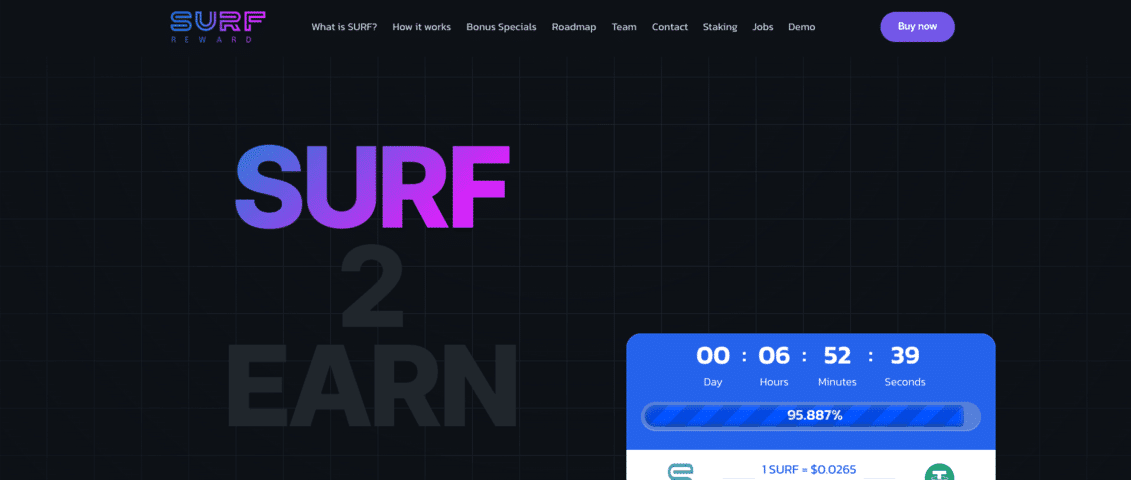 Traditionally, the website owner or an intermediary profits from selling ads, but the end-user receives no payment. However, Surf Reward offers a browser extension that blocks native ads and replaces them with ads from its partners. It then sends a portion of this revenue back to users as staking rewards.
Moreover, Surf Rewards partners must buy ad space with the $SURF token, providing utility and a steady and predictable stream of long-term demand.
30% of this revenue will be distributed to Surf Reward stakers, 60% will be added to the project's liquidity pool, and 10% will be allocated to development and marketing.
According to a Surf Reward YouTube explanatory video, allocating the majority of coins to the liquidity pool will naturally balance the $SURF price, even if stakers sold their tokens, which they may not.
The project's staking mechanism offers generous rewards up to 5,000% annual percentage yield (APY). However, the APY will decrease as the staking pool size increases, so those looking to maximize their gains should act fast.
Surf Reward Price Prediction
As we have analyzed what Surf Reward is and provided our summarized price predictions, we will now look closer at where its price could be headed.
Surf Reward Price Prediction 2023
The value that Surf Reward provides as it is positioned between two pivotal industries provides significant price potential. Market participants have already shown a keen eye for the project, with it raising over $200K in a short space of time.

Adding to this the advantages of buying the presale, like a discounted price and a staking APY up to 5,000%, it becomes evident that the project could be poised to explode following its presale. The Surf Rewards referral scheme could also bolster its price potential.
Another factor to consider is the possibility of Bitcoin spot ETF approvals, which JP Morgan believes will occur in Q1 2024. The anticipation of these approvals is generating massive market optimism, enabling many altcoins to surge.
With this in mind, our Surf Reward price prediction estimates a price of $0.07 by the end of 2023. If correct, this is a 164% gain from its current price.
Surf Reward Price Prediction 2025
Moving to 2025, one of the most central factors in Surf Rewards' success will be its robust tokenomics. With a real-world use case and robust tokenomics, the project holds significant long-term potential.

This is furthered by its targeting of a largely untapped industry worth $600 billion in 2022.
Another factor is that the 2024 Bitcoin halving is expected to kickstart a new bull run, which will likely carry over into 2025 and inject lots of new liquidity into the market.
Therefore, our Surf Reward price forecast estimates a 2025 price of $0.16. This would equate to a 503% increase from its current presale price.
Surf Reward Price Prediction 2030
Surf Reward was created by Abelius Capital AG, a public limited company founded in 2019 under German law. The company has a proven track record of investing in real-world assets like property and now aims to leverage blockchain technology as it tackles the advertising industry.

This adds legitimacy, resources, and credibility to the project. Moreover, factors like its cutting-edge use case and compelling tokenomics will also add to its long-term potential.
Considering this, our Surf Reward price prediction estimates a price of $0.2 by the end of 2030. This would result in a 654% gain from its current presale price.
Potential Highs and Lows of Surf Reward
While it remains to be seen how far Surf Reward can go, our analysis has found that it is one of the top cryptos to watch. Here is our estimated lows and highs for the Surf Reward price between 2023-2030.
| | | | |
| --- | --- | --- | --- |
| Year | Potential Low | Average Price | Potential High |
| 2023 | $0.5 | $0.6 | $0.07 |
| 2025 | $0.12 | $0.14 | $0.16 |
| 2030 | $0.15 | $0.175 | $0.2 |
What Could Cause the Surf Reward Price to Go Up?
With Surf Reward already faring as one of the top ICOs, there will be several factors affecting its price once it launches on exchanges. We have explained the most prominent ones below.
Token Utility
There are two prominent utility-driven demand streams for $SURF. These are advertisers requiring the token to purchase ad space and the community requiring the token for staking. Both of these could swallow up the available supply, causing the price to increase.
Revenue Distribution
Another token-specific factor to consider is the distribution of revenue. With 60% of tokens allocated to the staking pool, this could help stabilize the price while limiting sell pressure, equating to a higher price.
Presale Hype
With the presale already raising over $200K and there being numerous advantages to buying it, like a discounted price and higher staking APY, we expect a fast sell-out. In this case, the price will likely go up after its exchange listing due to a sense of fear of missing out (FOMO).
Speculation
Considering its strategic placement at the intersection between the $600 billion advertising industry and the $1.26 trillion crypto industry, we could see significant speculation-driven demand for the token as investors look for exposure to a revolutionary new use case.
How to Buy Surf Reward on Presale – Beginner's Guide 2023
Now that we have established that Surf Reward could be one of the best future crypto projects, we will explain how to purchase the $SURF presale in five quick-fire steps.
Since it is in its presale, you can purchase $SURF directly from the Surf Reward presale website. $SURF is a BEP-20 token so you need to get started with a Binance Smart Chain-compatible software wallet.
Step One: Create a Software Wallet
Create a Binance Smart Chain compatible wallet to get started. The most common ones are MetaMask and Trust Wallet. For this demonstration, we will be using MetaMask on mobile.
Visit the MetaMask website and download the browser extension. Once it has downloaded, head to the MetaMask dashboard and create an account, ensuring that you store your seed phrase securely, as you will need it if you ever lose access to the account.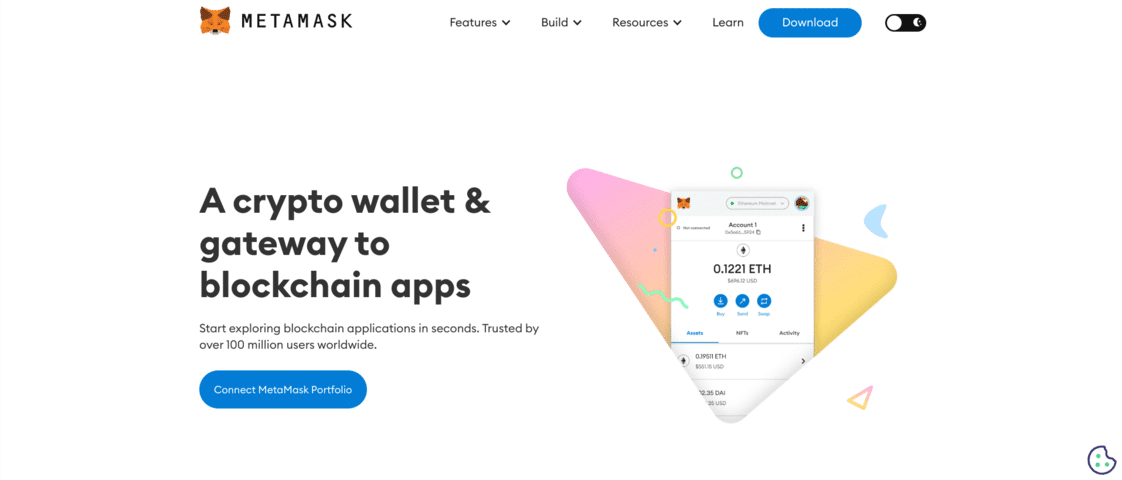 Step Two: Deposit Funds to the Wallet
Either buy BNB or USDT with a card from the MetaMask dashboard by clicking Buy & Sell and then completing the payment. Alternatively, you can buy BNB or USDT on a centralized exchange and send it to your MetaMask wallet.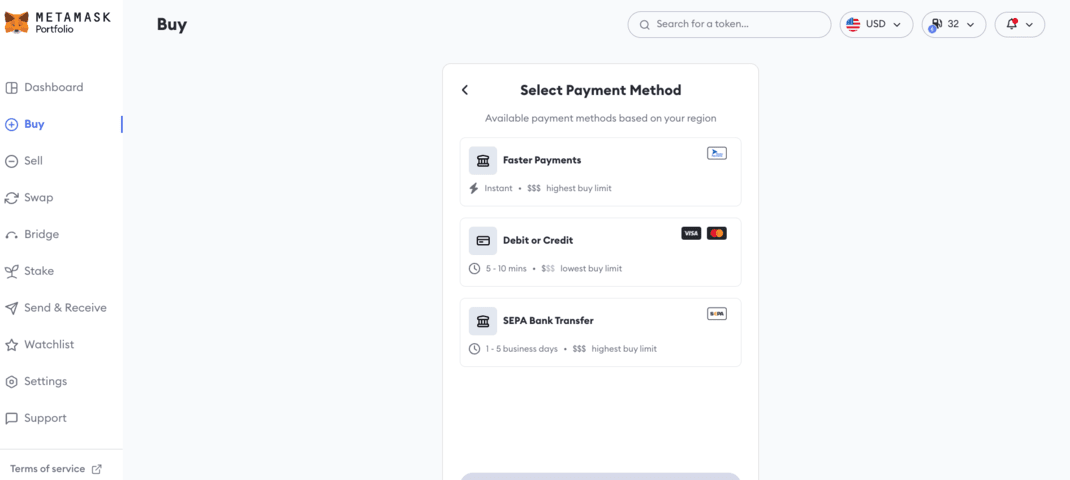 Step Three: Visit the Surf Reward Presale
Head to the Surf Reward website, select Connect Wallet and then follow the instructions, also authorizing the connection when prompted by MetaMask.
Step Four: Complete Your Purchase
Choose the amount of $SURF you want to buy and then complete your purchase. You can also choose to stake your tokens at this stage.
Step Five: Claim Your $SURF Tokens
At the end of the presale, you can visit the Surf Reward website to claim your tokens and add them to your wallet. Alternatively, you can leave them in the project's staking pool to compound your holdings.
Conclusion
While not without risk, our Surf Reward price prediction determined that the project holds notable short and long-term potential. Its solid use case, robust tokenomics, and vastly experienced team all indicate a bright future. Therefore, we estimate a price of $0.2 by the end of 2030. This is a 654% increase from its current price.
However, with the presale price increasing every seven days, those looking to secure the most upside potential must act fast.
References:
FAQs
Is Surf Reward worth buying?
How much is the Surf Reward presale?
What will Surf Reward be worth in 2025?