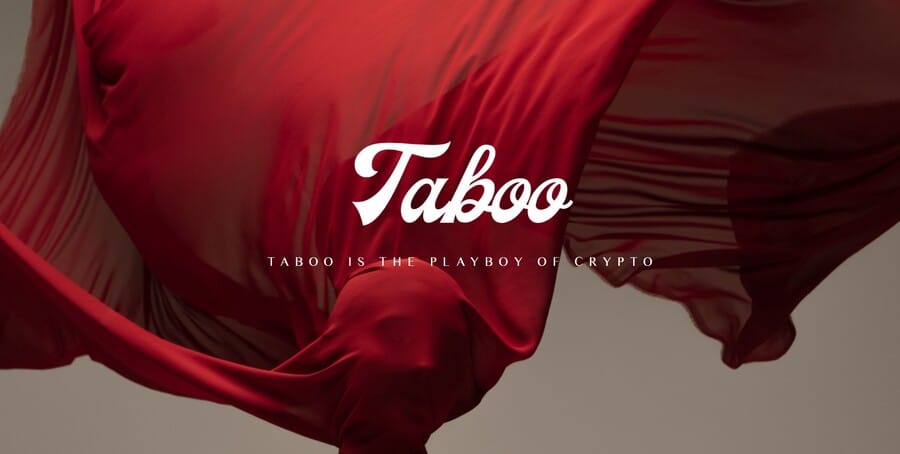 Taboo is an adult NFT and streaming platform powered by its native TABOO token. The platform has its own NFT marketplace where you can buy TABOO tokens, stake the tokens with up to 16% APY or use them to buy adult-themed NFTs and get tiered membership access.
TABOO token is ranked 580 by market cap, which currently stands at 26 million from a total supply of 9.7 billion TABOO tokens. This is a BEP20 token built on the BNB blockchain.
Our Taboo token price prediction weighs several factors that affect the TABOO coin price, including the macroeconomics, token utility and price charts.
Taboo Token Price Prediction Summary
Taboo token (TABOO) was launched in May 2021 at a price of $0.00046.
TABOO peaked at $0.05237 in November 2021 and has failed to reach that price again.
Our Taboo token price predictions estimate a price of $0.0032 by the end of 2023.
Based on our 2025 Taboo token price forecast, TABOO could trade at $0.0045.
Taboo Token Price Prediction 2023-2030
Our Taboo token price forecast points to an average price of $0.0024 for 2023.

According to our Taboo token price prediction, we could see the price revisit November's high of $0.0029 by the end of 2023.

Technical analysis shows Taboo token price could trade between $0.0008 and $0.0045 in 2025. 

Taboo token forecast for 2030 points to a $0.0110 high.
| | | | |
| --- | --- | --- | --- |
| Year | Potential Low | Average Price | Potential High |
| 2023 | $0.0020 | $0.0026 | $0.0032 |
| 2024 | $0.0019 | $0.0036 | $0.0053 |
| 2025 | $0.0008 | $0.0026 | $0.0045 |
| 2030 | $0.0095 | $0.0102 | $0.0110 |
Taboo Token Price History
TABOO is the native crypto token of the Taboo adult NFT project, which is used for staking and purchasing NFTs in the Taboo marketplace among its use cases.
The TABOO token launched in May 2021 at a price of $0.00046 and reached an all-time low of $0.0001255 in August of the same year. After that, it went on to reach an all-time high of $0.05237 a few months later in November 2021. After reaching the peak, the price started to drop
Since then, the Taboo token has had periods of trading sideways and trading lower until it reached a bottom of $1.16 in July 2022.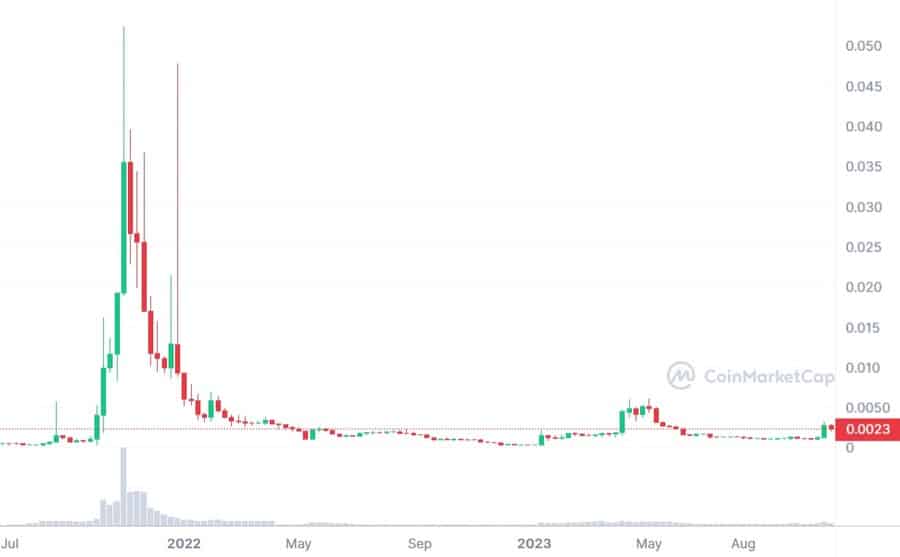 Taboo token price history key points:
Taboo token launched in May 2021 at a price of $0.00046

It peaked in November 2021 at $0.05237

The lowest price since inception was $0.0001255, which was reached three months post-launch

TABOO has a market cap of $27 million from 9.7 billion tokens, which is the circulating supply and the total token supply at the moment
Taboo Token Price Prediction 2023
Cryptocurrencies have traded in a bear market since Bitcoin reached the top in November 2021. Coincidentally, that's when the TABOO token also reached its all-time high. The Federal Reserve raised interest rates 11 times since then, making borrowing money to invest in riskier assets like cryptocurrencies and tech stocks expensive, which caused the collapse of crypto prices.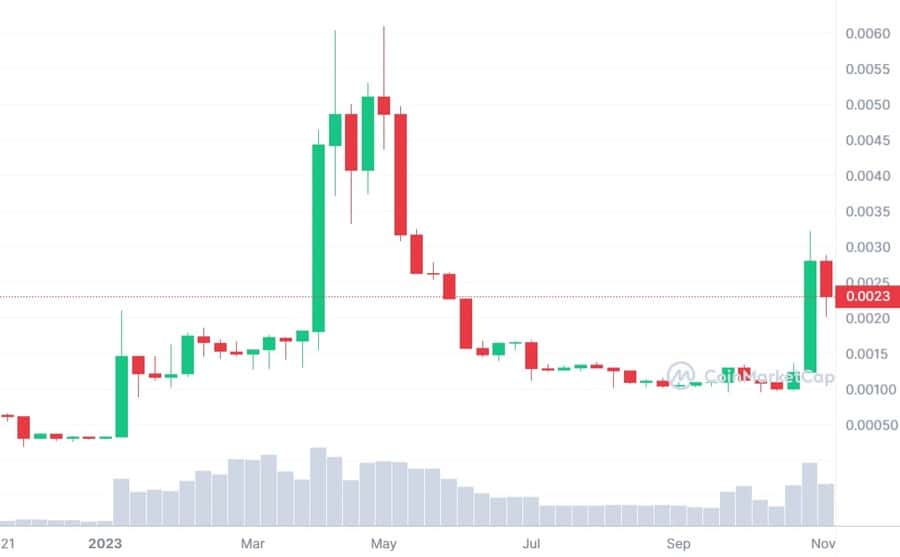 There are multiple catalysts that can turn this around and push crypto token prices higher. These catalysts are: the start of interest rate cuts buy the Federal Reserve, the approval of a spot Bitcoin ETF by the SEC, as well as project developments within the Taboo ecosystem.
The spot Bitcoin ETF approval by the Securities and Exchange Commission (SEC) is approaching, likely to happen by the end of 2023 or early 2024, and this can start the new crypto bull run because financial institutions wanting to have a spot Bitcoin ETF will have to actually own Bitcoin, thus driving demand.
As for the Taboo project itself, the team announced a V3 upgrade designed to increase token demand, incentivize token staking as well as rewarding token holders with access to high quality content. There is a small chance that this happens by the end of 2023, though, and is more likely to happen in 2024.
All this means we could see TABOO trade as high as $0.0032 by the end of the year if there's no spot Bitcoin ETF approval by the SEC and the V3 upgrade isn't live. The TABOO token price could go higher if any of these catalysts appear by the end of 2023.
Experts at AMBCrypto, however, see TABOO trading up to $0.0021 by the end of 2023, with an average price of $0.0018 for the entire year. CaptainAltcoin, on the other hand, has a more optimistic forecast where the TABOO token hits $0.0028 by the end of the year.
| | | | |
| --- | --- | --- | --- |
| Month | Potential Low | Average Price | Potential High |
| November 2023 | $0.0020 | $0.0025 | $0.0030 |
| December 2023 | $0.0024 | $0.0028 | $0.0032 |
Taboo Token Price Prediction 2024
Aside from macroeconomic and crypto-specific factors, the price of Taboo tokens is heavily affected by what the team behind the project delivers.
In late 2023 and in 2024, the team plans to launch a V3 Taboo update that will include:
New website and NFT marketplace
Members-only enclave
New merchandise
TABOO live streams where you can tip TABOO tokens
Taboo magazine similar to Playboy
Model pages
Taboo calendar
Taboo-branded ledger hardware wallet devices
The new website and NFT marketplace will be cross-chain that will use layer 2 protocols like Polygon but also layer 1 blockchains like Fantom and Harmony due to lower transaction cost and faster transaction speed, making it appealing to a broader user base.
On the creator side, Taboo plans to curate models via an application process where creators will have to qualify to be on the platform. The goal is to have the highest quality models that will attract more users on the platform.
All of the V3 updates are designed to increase demand for the TABOO token as well by incentivizing users to hold more TABOO. This will grant them access to more content with higher quality.
In a Twitter post from November 2023, the team announced that they have "attracted interest from some of the largest media outlets in the world."
🚨Global Press Release Campaign🗞

As you all know, we have been laser-focused on positioning our brand, evolving our ecosystem, and scaling the opportunity to join TABOO🔥

With our new and improved direction, and the traction we're gaining, we are getting NOTICED from some… pic.twitter.com/RCMmpbDuIK

— TABOO OFFICIAL (@taboo_io) November 14, 2023
With an increased media exposure, the team believes more potential investors will buy TABOO tokens, which is likely to positively affect the token price through 2024.
If all goes well with the media campaign, the new releases and the other crypto catalysts, the TABOO token can trade as high as $0.0053 in 2024, challenging the same price reached in April 2023.
Meanwhile, CoinCodex analysts see the TABOO token trading in a wide range of $ 0.002466 and $ 0.006546 throughout the year, which is a 126% difference.
On the other hand, DigitalCoinPrice experts forecast a jump to $0.00795 sometime in 2024, which is on the higher end and not entirely impossible, especially if the new bull run starts.
Taboo Token Price Forecast Long-Term Outlook – 2025-2030 Predictions
Since there is no project roadmap that extends beyond 2024, we have to rely on the overall crypto market movements to forecast TABOO's price between 2025 and 2030.
Within these five years, the crypto market is likely to have gone through one more bear and bull cycle. This means, we will potentially see another drop in prices before they recover and attempt all-time highs later in the decade.
Depending on how the Taboo V3 update is received by users and investors and whether new platform releases increase project exposure in the meantime, the TABOO token could trade between $0.0008 and $0.0110 between 2025 and 2030 based on the overall crypto movements alone. 
TechNewsLeader experts are bullish on the TABOO token in 2025 and see a price of $0.003 to $0.004. By 2030, the experts forecast a move up to an average price of $0.021, which is a 577% gain from their 2025 price prediction.
Bitget analysts, however, forecast a modest price increase of the TABOO token between 2025 and 2030. By 2025, they see TABOO exchanging hands at $0.003440 and by 2030 at $0.004391, which is around 40% increase.
Potential Highs & Lows of Taboo Token Price
TABOO is a BEP20 token of the Taboo project. This means the token has utility only within the Taboo platform. And that's not bad. You can use the token to purchase NFTs on the Taboo marketplace or to stake it to earn up to 16% APY or to get exclusive membership access.
Because of that, the token price largely depends on the overall crypto market as well as the Taboo project itself.
Depending on these factors, the TABOO token is likely to trade within the following price range from 2023 to 2030:
| | | | |
| --- | --- | --- | --- |
| Year | Potential Low | Average Price | Potential High |
| 2023 | $0.0020 | $0.0026 | $0.0032 |
| 2024 | $0.0019 | $0.0036 | $0.0053 |
| 2025 | $0.0008 | $0.0026 | $0.0045 |
| 2030 | $0.0095 | $0.0102 | $0.0110 |
What do Other Analysts Predict for Taboo Token?
TABOO price predictions vary depending on who you ask. We gathered TABOO coin price predictions from the most prominent experts in the crypto space, and this is what they say:
CoinCodex experts see TABOO trading between $0.0045 and $0.0018 by 2025, with a peak of $0.22033 by 2029.
Similar price forecasts come from PricePrediction whose experts believe TABOO will trade between $0.005 and $0.006 in 2025 while reaching a top at $0.028 in 2029. By 2030, their price prediction is even more optimistic at $0.042 per coin.
DigitalCoinPrice is optimistic about TABOO's token price in 2025 where the token is likely to trade between 0.0082 and $0.0102. In 2030, their experts see the token exchange hands at an average price of $0.0285.
Crypto experts at CaptainAltcoin see TABOO trading between 0.0029 and $0.0041 by 2024, which is slightly on the conservative side compared to other TABOO price predictions.
BitcoinWisdom forecasts Taboo's token trading between $0.006851 and $0.007993 in 2025. Within 2030, they see TABOO exchanging hands for $0.018726 on average.
What is TABOO Coin and What is it Used for?
TABOO is the native token of the Taboo platform, which you can use to gain access to NSFW content or to purchase NFTs on the platform. You can also stake your tokens to earn up to 16% APY if you lock your tokens for 12 months.
Out of the initial supply of 10 billion tokens, there are 9.7 billion left in circulation as of this writing. Almost half of the entire supply is planned to be burned.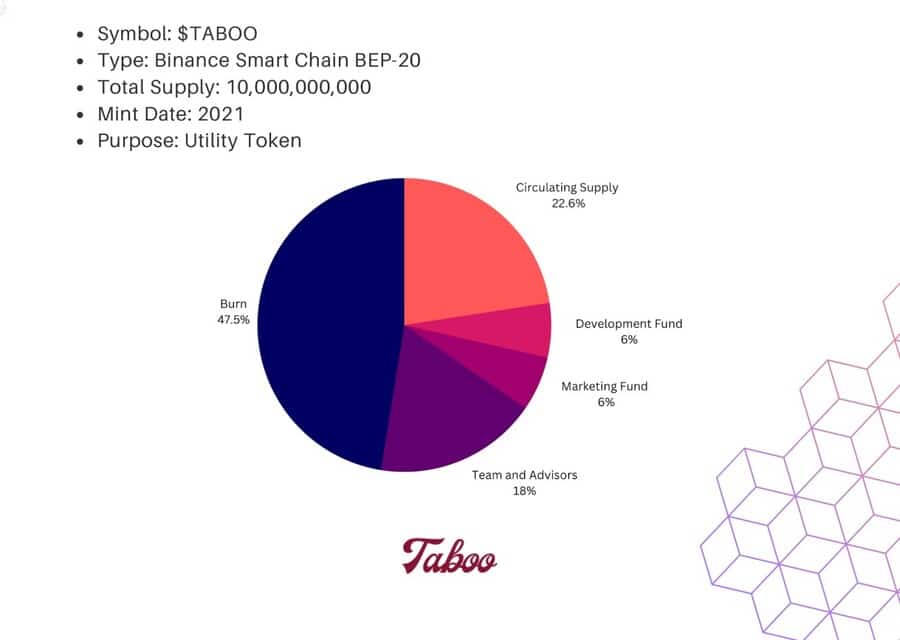 Depending on how many tokens you hold, you can get a tiered membership access, each with its own benefits and requirements.
For example, Tier 1 has no holding requirements but you pay a 10% fee for every transaction. Tier 2, on the other hand, requires TABOO holdings worth $1,000, while you get lower transaction fees and discounts in the Taboo merch store. This tier also grants access to NSFW content on the platform.
Tier 4 is the ultimate level on the Taboo platform where you need to have a minimum of $10,000 in TABOO tokens held in your wallet or staked on the platform. This gives you access to Taboo private events and a chance to meet Taboo creators at parties in a safe and controlled environment.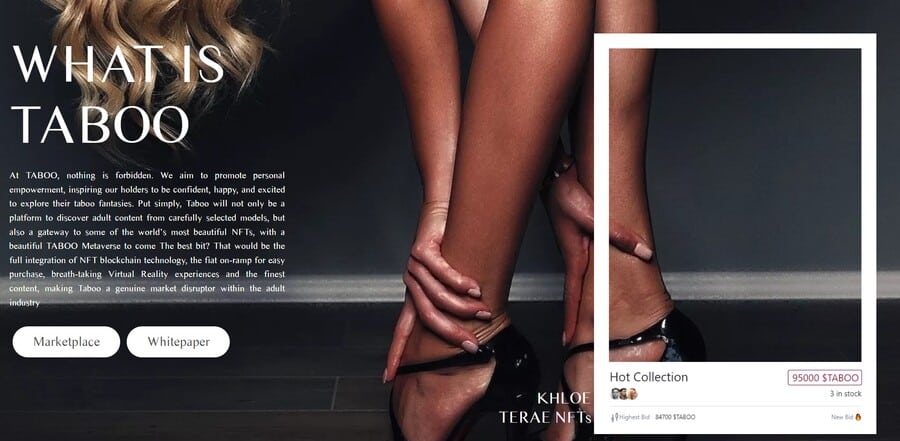 Taboo Token Overview
| | |
| --- | --- |
| Cryptocurrency | Taboo Token |
| Ticker Symbol | TABOO |
| Rank | 580 |
| Price change 24H | 9.75% |
| Market cap | $27,073,604 |
| Circulating supply | 9,782,678,080 |
| Trading volume 24h | $1,086,148 |
| All-time high | $0.05237 |
| All-time low | $0.0001255 |
What Influences the Price of Taboo Token?
The price of the TABOO token is affected by factors such as central bank interest rates and inflation, crypto market news, market hype and regulation as well as the Taboo project itself and what it offers.
In the current environment with high interest rates and high inflation, the token may trade sideways. However, if any of the catalysts such as the spot Bitcoin ETF approval by the SEC or a hint of slowing down inflation and the Fed potentially cutting interest rates is likely to start another bull run in the crypto market, which will positively affect TABOO's token price.
If the Taboo project manages to tap the estimated $300 billion adult industry market cap by 2025, as outlined in the Taboo Whitepaper, this will likely push TABOO's price even higher than the price estimates. 
Is Taboo Token a Buy?
Taboo token trades at a 90% discount from its all-time high at $0.05237. If you're bullish on the project – or if you want to use Taboo's platform services – this could be a good time to buy, especially since 2024 seems like it will be a positive year for the crypto market.
But if you're looking for a speculative point of view, Bitcoin will have to start the bull run first and pull the major altcoins like Solana and Ethereum high with it before liquidity can start going into the smaller altcoins.
Conclusion
TABOO is the native token of the Taboo platform, which offers adult NFTs, merch and events to its holders. You can stake the token to earn passive income and get access to special benefits on the platform or you can buy it with the intent to sell it if the price goes up.
However, if TABOO doesn't seem appealing enough, compare the best cryptocurrencies to buy. No matter which crypto you decide to invest in, make sure to do your own due diligence as the crypto market is more volatile than the stock market.
References
FAQs
What will the Taboo token be worth in 2025?
How much will the Taboo token price be in 2030?